Today's internet is by land, sea, air and space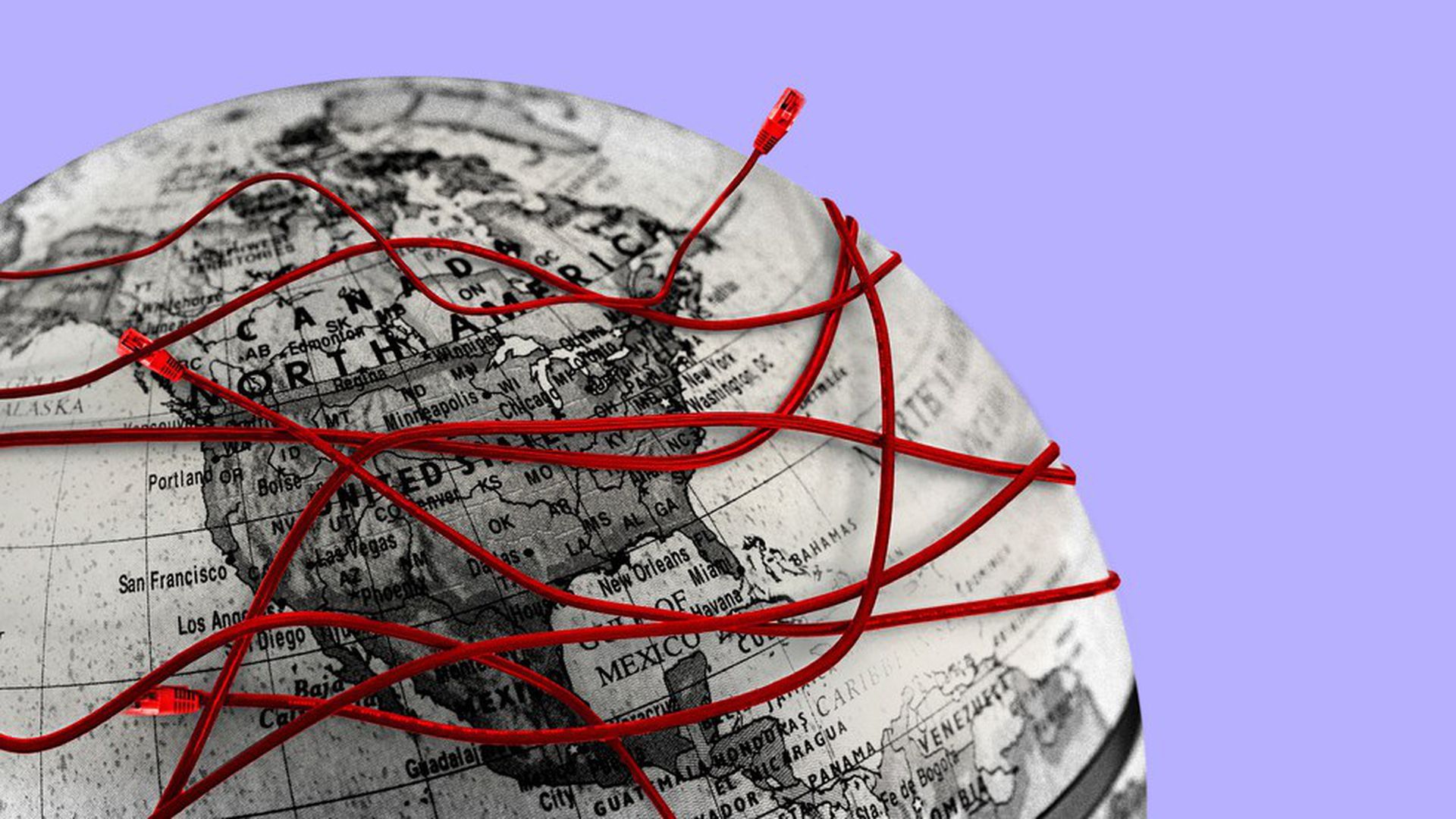 The internet is an invisible mesh that enables instantaneous global communications, but delivering all those bits quickly to more people in more places requires increasingly exotic approaches. That latest viral video might start out in an underwater data center before traveling to a satellite, undersea cable or balloon — then hopping wirelessly to reach your phone.
Why it matters: Today's bandwidth needs require either a long physical connection or a lot of creativity. Bringing the internet to still-unconnected locations typically requires a lot of the latter, forcing tech companies to think in new ways about where to place wires, cables and servers.
Here are a few things you may not realize about how communication pipes work around the world:
Hundreds of thousands of international cables are actually buried underwater. These cables, which run along the ocean floor, carry the vast majority of all transoceanic digital communications. They've been laid over decades and mostly connect the east coast of the United States to western Europe and western China to parts of Southeast Asia and territories in the Pacific. National security experts fear that the cables, which can be difficult to physically monitor, could be vulnerable to tampering by Russia or other states.
Even the cloud is increasingly moving under water. Data centers require cheap cooling and power, and it turns out the ocean provides both. The waves provide the energy while the water provides the cooling. Microsoft has been working on this approach for a while, more aggressively of late. It built its first underwater data server, called

Project Natick,

in 2016. Microsoft CEO Satya Nadella says that underwater server farms are now a key part of the company's plans for future data centers, per Ars Technica.
"Wireless" technologies actually use a ton of wires. Yes, the signals are sent through the air from base stations to phones, tablets and other devices. But at some point, the antennas have to connect back to dense fiber networks in the ground that link to the internet's backbone.
Speaking of which, those wireless base stations often stick out like a sore thumb. That's why wireless towers are often disguised to look like other things. Towers, especially in neighborhoods and rural areas, are often built to look like trees or fake street lights, so they aren't such an eyesore. This will probably become more common in the 5G world, where more radios are needed.
Space has become the new frontier for wireless signals. Today, satellites are often the last resort for delivering Internet and phone calls. They help close the gap in uncovered areas, but are typically costly and slow. But cheaper rocket launches and better technology may make satellites a more viable option for delivering fast, affordable consumer broadband services around the world, per Axios' Kim Hart. A number of companies, from SpaceX to ViaSat, are launching satellites that orbit closer to the earth, which is expected to reduce the lag time — or latency — of internet data, since the signal will not have to travel as far.
Google's parent, Alphabet, has been testing the use of balloons to help bring connectivity in remote areas via Project Loon. Last year it used the same approach to help bring temporary service to hurricane-ravaged Puerto Rico.
Bottom line: You might not care where your data is stored or how it gets to you as long as it does so quickly, securely and inexpensively. But carrying more data at faster speeds to even more of the planet requires engineers to keep thinking creatively.
Go deeper