Trump's kids crisis gets worse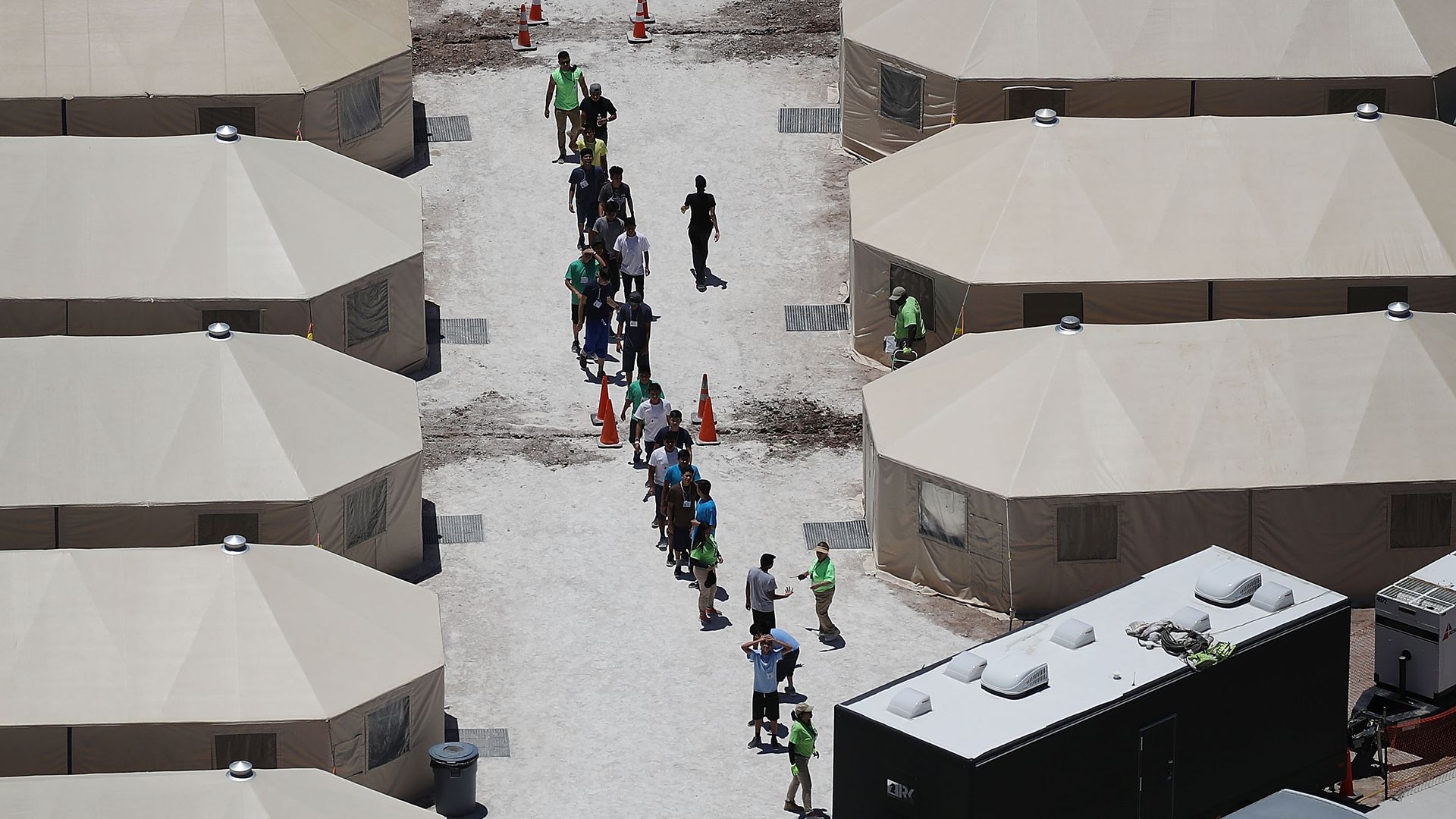 A majority of the separated migrant families who were in the news earlier this year have been reunited. But another kids crisis is growing: The Trump administration is struggling to provide shelter and find homes for a record-breaking 13,000+ migrant children in its custody.
The big picture: Even though the scandal is mostly out of the news, the numbers have ballooned, from 2,400 detained migrant children last year to 13,000 today, the N.Y. Times reports. The federal government is struggling to house them, resulting in traumatic forced moves from established shelters to spartan tent cities.
The Times reports a shocking detail about the move of hundreds of migrant kids in recent weeks from shelters in Kansas to New York, to "a barren tent city on a sprawling patch of desert in West Texas":
"In order to avoid escape attempts, the moves are carried out late at night because children will be less likely to try to run away. For the same reason, children are generally given little advance warning that they will be moved."
"[I]n the rows of sand-colored tents in Tornillo, Tex., children in groups of 20, separated by gender, sleep lined up in bunks. There is no school."
Why the numbers are growing: Not only was there a surge of minors caught attempting illegal solo crossings of the border this summer, new vetting policies at the Department of Health and Human Services have slowed the process for releasing these kids to suitable families already in the U.S.
Some potential caretakers, known as sponsors, have even been arrested by ICE on immigration charges. That could scare away relatives or other caretakers from applying to sponsor migrant children.
There are not only more kids in custody, but they're being held longer:
An increasing number of kids under 18 years old are being detained by the U.S. government for an average of almost two months — where previously, the average had only been 34 days, per the Times.
Why it'll get worse: "[D]eep structural forces threatening to send even more migrants north: hunger, joblessness and the gravitational pull of the American economy," the WashPost's Nick Miroff reports from Guatemala City.
"The Trump administration has already tried to stop them with one of the harshest measures in its tool kit — separating parents from their children — and the strategy failed."
What the administration says: A Department of Homeland Security official told me: "The lack of awareness and discussion of ... debilitating loopholes [under current laws and court rulings] remain one of the great underreported stories of our times."
Be smart: With no ability in Congress to pass something as complex and divisive as immigration reform, this shocking situation looks to be a continuing crisis.
Go deeper