How Trump can regulate Google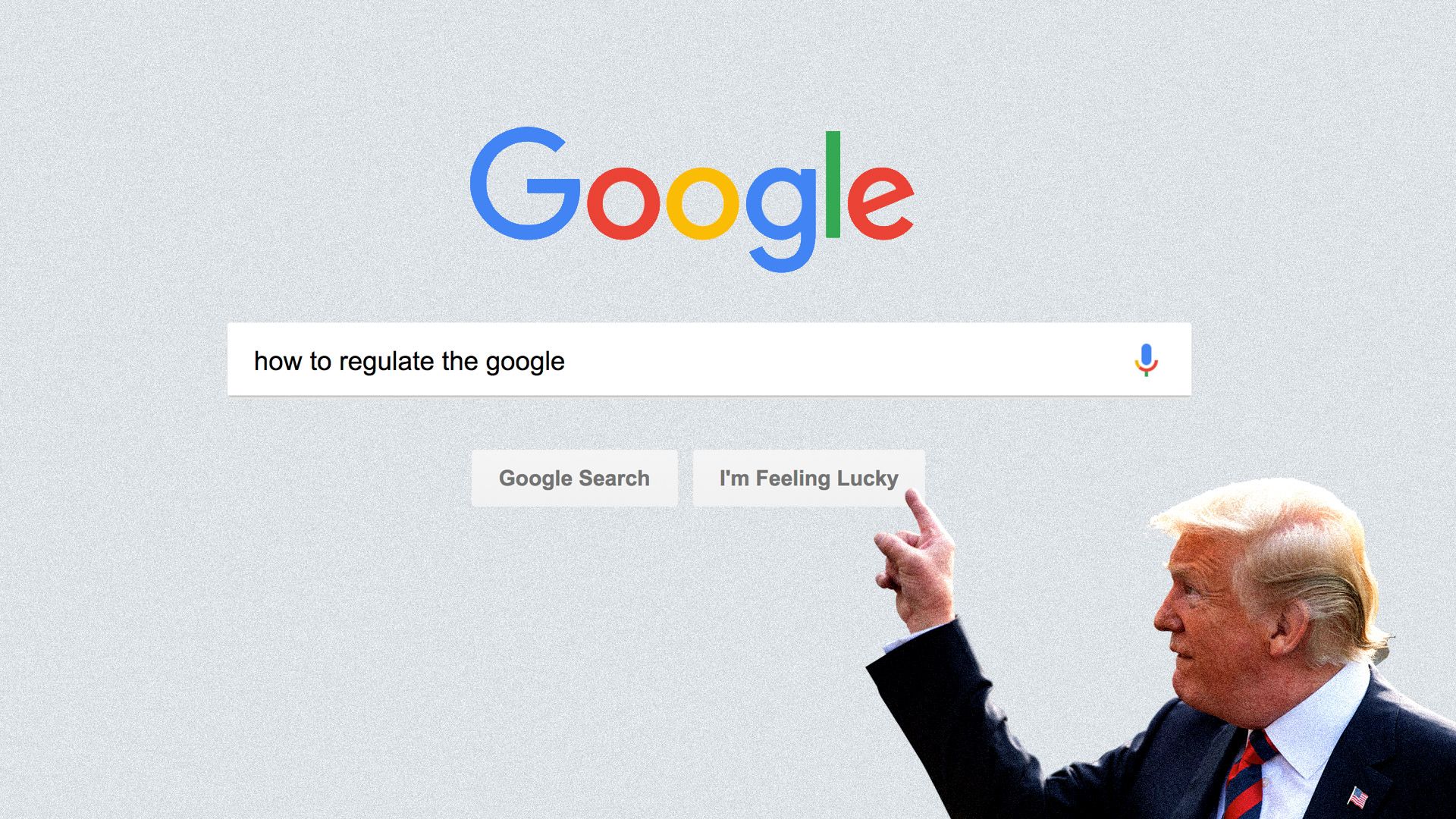 The Trump administration could take a number of routes as it considers regulating Google — as well as Facebook and Twitter — over what it perceives as an anti-conservative bias in the way its search engine surfaces news.
The bottom line: There's little that the White House could do without Congress. But there have never been more proposals on regulating large web platforms circulating around Washington than there are right now — even if they are long shots.
The options proposed so far vary in their ambition and scope. Several require action from Congress:
Requiring more transparency around algorithms: Congress could create a requirement that it should be possible to audit the algorithms that determine what content is presented to users. That's an idea that could gain traction on the left given broader concerns about online content discrimination.
Making it easier to sue Big Tech: Right now, legal language known as Section 230 shields online platforms from being sued over the user-generated content they host. But lawmakers are increasingly reconsidering that law in response to concerns about malicious content online. A 2017 memo circulated by conservative activist Phil Kerpen explicitly recommended using this approach to address the right's concerns about perceived liberal bias.
Designating Google as a "common carrier": This unlikely option would allow Congress to appoint a regulator to oversee Google (as well as other online platforms) given its significant power and reach, something that could in turn lead to more restrictions on how it moderates content.
The Justice Department could also look at whether Google has violated antitrust regulations more broadly — something that could, in theory, lead to the company's breakup — but the president is not supposed to influence the way that agency enforces the law.
It could also force Google to make its intellectual property public, Google critic Jonathan Taplin told Axios last year.
The Federal Trade Commission could also pursue a case against Google if it thought the company had deceived consumers. The agency has settled with the company, rather than suing it, in the past over privacy and competition concerns — and the contents of those settlements could give it another way to make a case against the company.
Reality check: The right has been alleging for years that large tech companies are intentionally and systematically biased against them, but there's little evidence to back up those claims.
"Search is not used to set a political agenda and we don't bias our results toward any political ideology," said a Google spokesperson in a Tuesday statement after Trump tweeted.
Other instances of algorithmic bias have surfaced, however; ProPublica was a Pulitzer Prize finalist last year for its reporting on how racial and other biases are often baked into software.
Yelp public policy staffer Luther Lowe, a consistent critic of the search giant, suggested in a tweet that the real incentive for Google to meddle with search results is to privilege its own business, not because of politics.
What's next: Trump widened the target Tuesday afternoon by saying Twitter and Facebook, as well as Google, "are really treading on very, very, troubled territory." Still, when it comes to web platforms, Congress seems more interested in taking action on political disinformation and privacy than on alleged anti-conservative bias.
Republicans aren't likely to drop the issue. Next week, Twitter's Jack Dorsey will face their questions when he appears before the House Energy and Commerce Committee. On the same day, Dorsey will join Facebook Chief Operating Officer Sheryl Sandberg — and potentially a representative from Google — at a Senate hearing on political disinformation on their platforms.
Go deeper