The jury is still out on whether e-cigs help treat tobacco addiction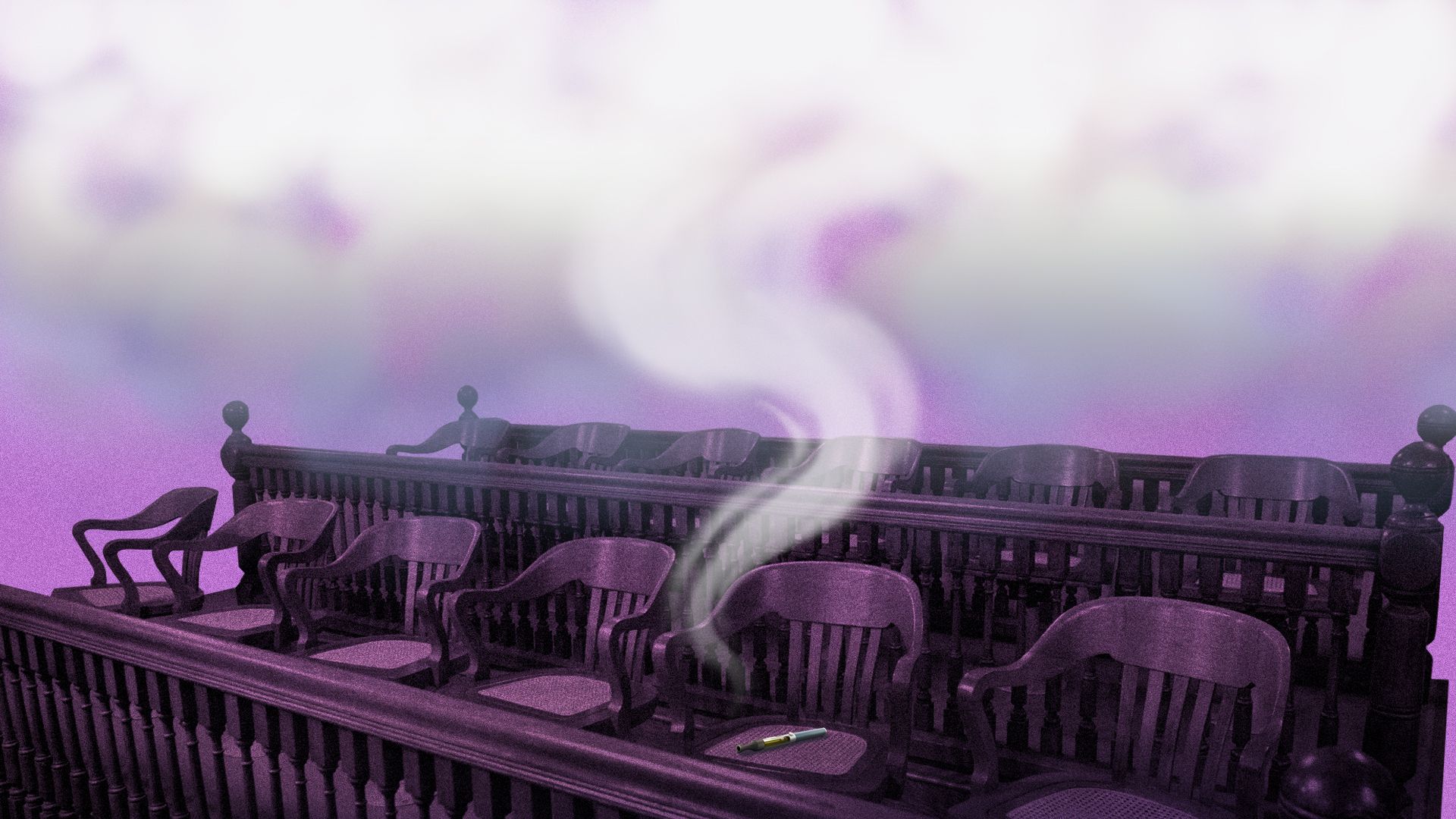 Research continues to show varied results on the question of whether e-cigarettes can help tobacco smokers quit, although recent evidence appears to be leaning toward the "no" side.
Why it matters: If vaping can help smokers quit, it could save some of the 480,000 Americans who die yearly from tobacco-related conditions. But, even if they can help smokers quit, there's also indications e-cigs are ushering in a new generation of adolescents hooked on nicotine who may be more likely to start smoking tobacco later.
Background: E-cigarettes are touted by some as a safe way for adults to quit smoking cigarettes. When vaping, usually the e-liquids are heated and inhaled with a reusable tool — and since it doesn't contain the tar in cigarettes, it's considered less carcinogenic.
However, the concerns about the rising rates of e-cigarette use among youth have reached all the way to the top public health official in the country. The surgeon general issued a report on e-cigarette use among youth that found that "youth and young adults are uniquely vulnerable to the long-term consequences of exposing the brain to nicotine, and concludes that youth use of nicotine in any form is unsafe."
Promoting e-cigs as cessation tool
What we're hearing: The American Cancer Society issued a commentary paper in early June that says the need to halt the use of combustible tobacco products is an absolute priority and e-cigarettes should be considered a possible tool to achieve this.
"We need to be open to considering these as one tool to help smokers quit. ... Even though the jury is still out ... the state of science is that they are less significantly harmful than smoking combustible products. It's a matter of degree."
— Jeffrey Drope, scientific vice president of economic and health policy research, ACS
Tony Abboud, executive director of the Vaping Technology Association, says the ACS statement helps point out common misunderstandings, and emphasized that it supports e-cigarette use.
"We have to focus on what is important here, and that is ending combustion."
— Tony Abboud, executive director, Vaping Technology Association
Studies saying e-cigs can help people quit smoking tobacco include those in the British Medical Journal and Substance Use and Misuse.
Caveat: Drope says there's a fundamental problem with many studies — several (for either side) show association rather than causation. "A lot of these studies suffer from the same fundamental problem — there's a really complex set of mechanics so it's difficult to tease out" why the studies got their results, he tells Axios.
Advocating against e-cigs as cessation tool
What we're hearing: Some recent research indicates that e-cigarettes may not only fail to help smokers quit, but they could make it worse. Smokers will add on e-cigarettes when they are in places that don't allow tobacco smoking and they'll just smoke both products.
"Evidence is actually picking up that overall e-cigarettes suppress smoking cessation."
— Stanton Glantz, director, Center for Tobacco Research Control & Education
The health risks are high, Glantz says. Even if smokers swap out some of their tobacco usage, they will still have terrible health consequences, since smoking one cigarette a day still gives you half the heart risk as smoking a pack.
"Overall, when the dust settles, [e-cigarettes] will be as bad as cigarettes. The risk profile may be different, but the overall result will be negative."
— Stanton Glantz
Studies saying e-cigs don't help people quit:
A July PLOS One study found U.S. adult smokers who did not use electronic vaping devices were more than twice as likely to quit as those who did.
A JAMA Network Open study out last week concludes the "[u]se of e-cigarettes was most common among smokers, and dual users had the highest prevalence of respiratory symptoms. On a population level, this study indicates that the present use of e-cigarettes does not adequately serve as a smoking cessation tool."
The regulatory landscape
Watch for local and state governments to take direct action, both Glantz and Drope say. Just last month, San Francisco banned flavored tobacco products, including candy-flavored vaping liquids, despite R.J. Reynolds Tobacco Company's $12 million campaign.
What's happening now: The FDA has taken a strong stance against the unlawful use of e-cigarettes by youngsters, particularly in their use of the vaping product Juul, which looks like a cool USB flashdrive, offers an array of flavors and is popular enough to have become a verb: "juuling."
"Juul appeals to young people, and we're very concerned about that," Drope says. "But, we don't really understand if it's a gateway mechanism. It's a very difficult causal pathway to identify, and no one's done that [completely]."
The agency is also considering limiting the flavors available for e-cigarettes.
The FDA is also examining lowering the amount of addictive nicotine. But Drope warns that the science suggests limiting the nicotine quantity in e-cigarettes too much at the same time as conventional cigarettes (which he supports) may hinder people quitting smoking.
In the meantime, Drope says, research shows unequivocally that higher taxes on tobacco products will lower consumption effectively under most conditions. "Categorially, that's the most effective tool." 
Meanwhile, lawsuits against Juul and against the FDA have been filed in recent months. The FDA does not comment on pending legal actions, but Juul told Axios' Marisa Fernandez earlier this week that the company "does not believe the cases have merit and will be defending them vigorously."
Go deeper:
Editor's note: This piece has been changed to clarify Drope's position on nicotine.
Go deeper