Facebook meets with developers amid swirling controversy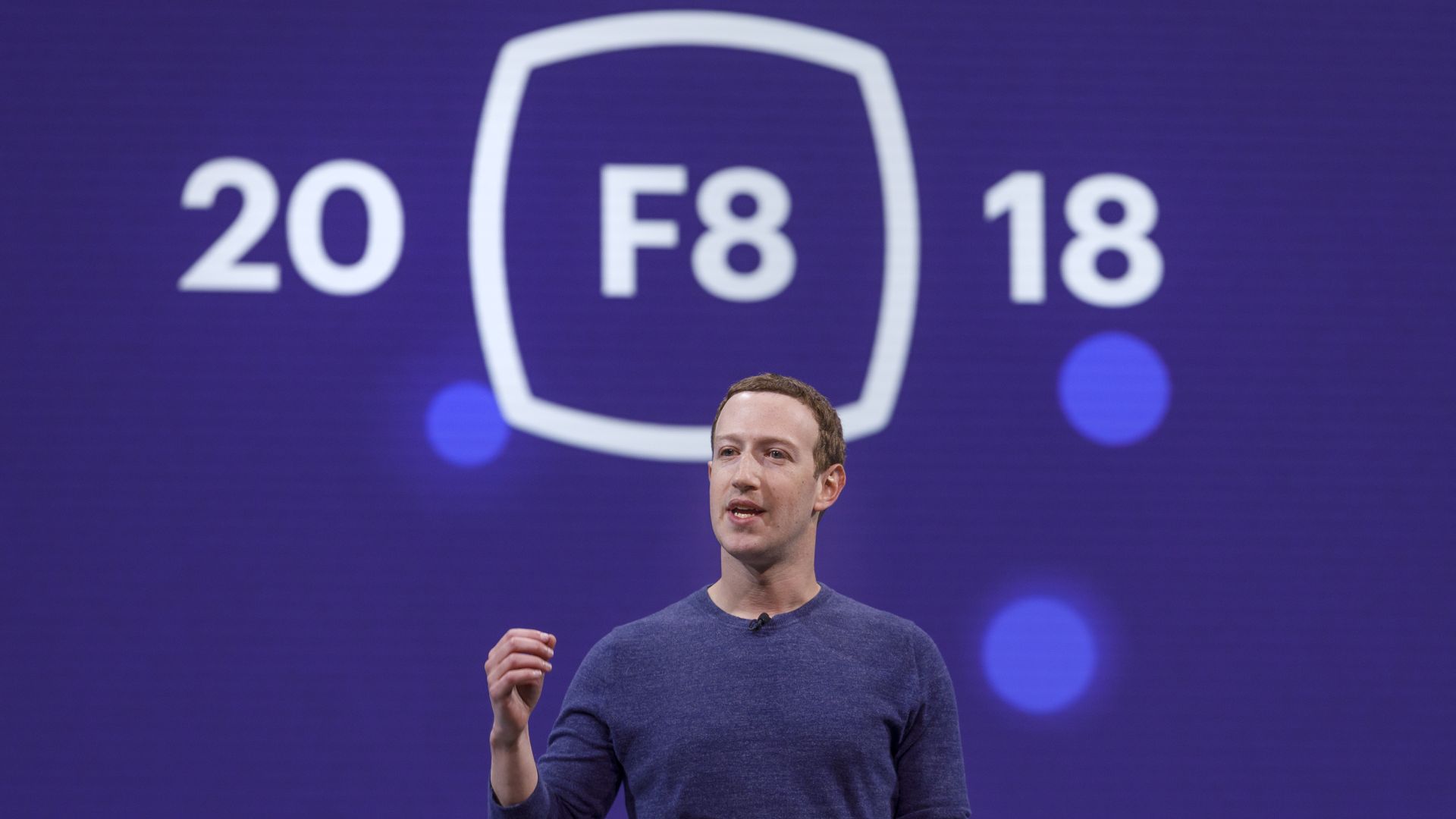 Facebook's F8 developer conference is just yet started, but CEO Mark Zuckerberg has already announced an upcoming feature for users to have more control over the data about them the company stores.
Why it matters: It's a sign of what we can expect from the company's announcements — new features centered around privacy and security. It remains to be seen what Facebook will offer developers, who in general have been losing options as Facebook cracks down in the name of protecting users.
Zuckerberg's announcement isn't the only bit of news to dribble out early. Amazon already posted pre-order information for Oculus Go, Facebook's standalone VR headset. It's priced at $199, but is already sold out.
Threading the needle: Zuckerberg began his talk talking about the need to add security and privacy features to protect users, but also for the company and the platform to keep moving forward. He also thanked developers, who have borne the brunt of many of the new restrictions, for their patience.
Be smart: Everything Facebook announces at F8 is going to be viewed through multiple lenses, including what it means for developers, what it means for consumers and what it means from a privacy standpoint.
Here's what Facebook announced:
The company is reopening its app review process, said Zuckerberg at the top of his keynote.
Watch Party: a feature to watch videos and chat with Facebook friends at the same time — "like when you're testifying in front of Congress," joked Zuckerberg, showing some sense of humor about the 10 hours he recently spent testifying in front of lawmakers.
Dating: features to finding romantic partners. The upcoming features will be separate from the main Facebook product and will not include a user's friends, said Zuckerberg, adding that privacy and safety will be important. A short demo showed a Tinder-like user profile with photos and information about the user.
Instagram updates:

Video chat—"it turns out that a lot of people are using live video to just hang out when they can't physically be together," said Zuckerberg.
AR camera effects, which the social media giant unveiled last year for the main Facebook app. Users will be able to create their own filters for Instagram.

WhatsApp updates:

Group video calling is coming soon to the chat app. Already, WhatsApp users spend two billion minutes everyday voice and video chatting through the app.
New tools for big businesses to connect with consumers and manage a large volume of communications.

Messenger updates:

A new and simplified design for the chat app.
AR camera effects are also coming to Messenger.
Messenger chief David Marcus touted the app's growing popularity among businesses: there are now 300,000 business bots used every month, and more than eight billion messages are sent between users and businesses every month.

Virtual reality:

Oculus Go, its standalone VR headset, will begin shipping today, and will cost $199 (as Facebook announced last year). There are already over a thousand apps for Oculus Go, according to Zuckerberg.
Oculus TV: a new app that lets users watch live and on-demand content through partnerships with Hulu, Showtime, and other content partners. This summer, Oculus will add the ability to watch content with friends.
Oculus Rooms: an updated version of the app for socializing in virtual reality. The company has also partnered with Hasbro to let users play its games in VR.
Oculus Venues: an app that lets users watch live events like sports and concerts.

Third party integrations are coming to the Stories format on Facebook and Instagram, announced product chief Chris Cox. This means that a user could, for example, choose to share a song from Spotify, add a photo, and share it into their Stories reel. A deep-link to the song will be attached, enabling friends to tap on it and listen to the song.

Expect brands and artists to be quite excited about the Stories format expanding this way.
Go deeper