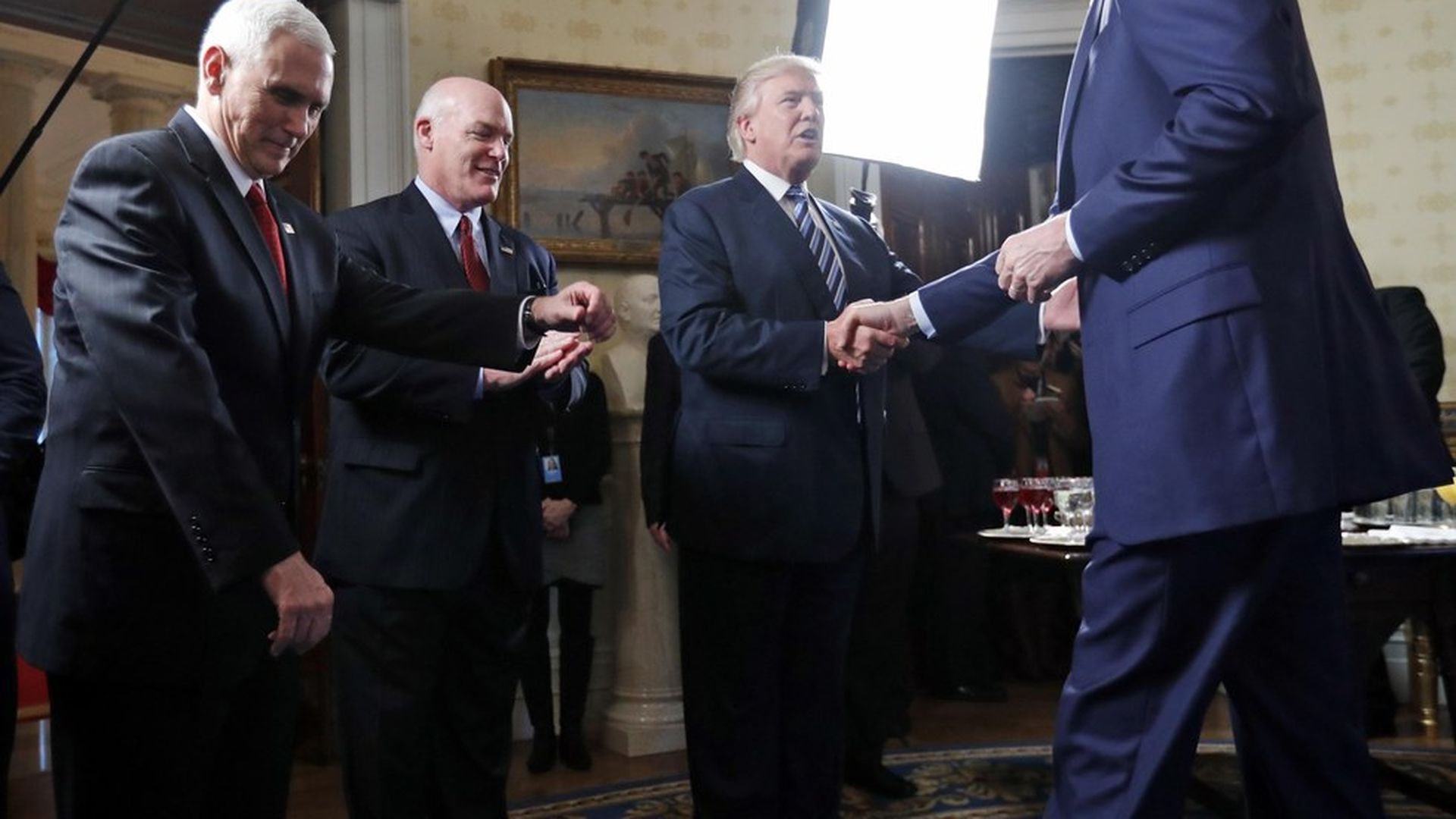 Details are being filled in on how and why President Trump decided to fire James Comey:
Washington Post: Trump was "increasingly agitated" by Comey's statements drawing attention to the Russia probe, "angry" that Comey wouldn't investigate leaks or his wiretapping claims and had "long questioned Comey's loyalty and judgement."
NY Times: Trump openly talked about firing Comey for a week — eventually coming up with a plan while watching the Sunday shows at Bedminster. Pence, McGahn and Kushner were on board, Priebus and Bannon more resistant.
CNN's Jake Tapper: "Comey's refusal to provide the president of any sort of assurance of personal loyalty," and his acceleration of the Russia probe.
WSJ: Beginning about three weeks ago, Comey started receiving daily instead of weekly updates on the Russia investigation as he became increasingly "concerned by information showing possible evidence of collusion."
Axios' Jonathan Swan: This was a POTUS-driven decision. Staff had almost zero impact, and the vast majority learned about it on TV.
Full coverage: Comey's farewell letter, the Russia probes, Flynn subpoenas, where the staff stood, money laundering investigated, Russia/Trump links, Schumer on prosecutor, Comey invited to testify, bizarre scenes, the WH scramble.
Quick hits
Trump is "white hot" with anger about how this is playing out, per CNN's John King.
White House released a new timeline, saying Trump was inclined to fire Comey after watching his Russia testimony last week.
Comey was invited to testify in front of the Senate Intelligence Committee, which is investigating Russia's meddling in the 2016 election, on Tuesday.
Comey reportedly asked for more resources for the Russia investigation days before he was fired.
Comey wrote a letter thanking FBI staff and saying he wouldn't dwell on Trump's decision.
Potential replacementsNBC was given a list of the following names to replace Comey:Andrew McCabe, deputy AG and current acting FBI directorWilliam Evanina, Office of Director of National IntelligenceAdam Lee, the Special Agent in Charge in Richmond, Va. officeMichael Anderson, the Special Agent in Charge in ChicagoPaul Abbate, FBI Executive Assistant Director for the Criminal, Cyber, Response and Services BranchWhite House confusion
Axios' Jonathan Swan learned that some admin. officials, including fairly senior-level officials, were confused by the news. White House officials and Trump confidants felt exposed and vulnerable. They didn't have the information, the preparation, the tools, to defend the President. "It's insane. The whole thing is just insane," one WH official told Swan.
The Atlantic's Rosie Gray and McCay Coppins learned more about those who did know what was coming. One senior administration official told them everyone in the know was preparing for a fight from the fallout. And although many observers were baffled by the way it was handled, Gray and Coppins point out "this president has never been one to glide above the fray. ... He invites conflict at every turn; visits scandal with more scandal; and deliberately, relentlessly, heightens the various dramas that surround him."
Paul Ryan stays loyal
"Most importantly, he lost the confidence of the president," Ryan said Wednesday evening. He waited nearly a full 24 hours after Comey's firing to make a public statement on the issue, which he called "no small thing, and quite a serious matter."
This was "building for months"
Reuters reports that Trump's anger with Comey had been a long time coming. WH officials told Reuters' Steve Holland and Jeff Mason that "a turning point came when Comey refused to preview for top Trump aides his planned testimony to a Senate panel." They wanted to know Comey's narrative for his May 3 Senate hearing on how he handled the investigation into Hillary Clinton's emails; he refused, Trump considered that an act of insubordination.
The Russia investigation
FBI and admin. officials gave NBC and Politico another reason for Comey's termination: he wouldn't let go of the Russia investigation. Two WH advisers told Politico that Trump "had grown enraged by the Russia investigation, frustrated by his inability to control the mushrooming narrative around Russia. He repeatedly asked aides why the Russia investigation wouldn't disappear and demanded they speak out for him." Another adviser said that at times, Trump would "scream at television clips about the probe."
Go deeper