A year of dirty old men exposed in sex scandals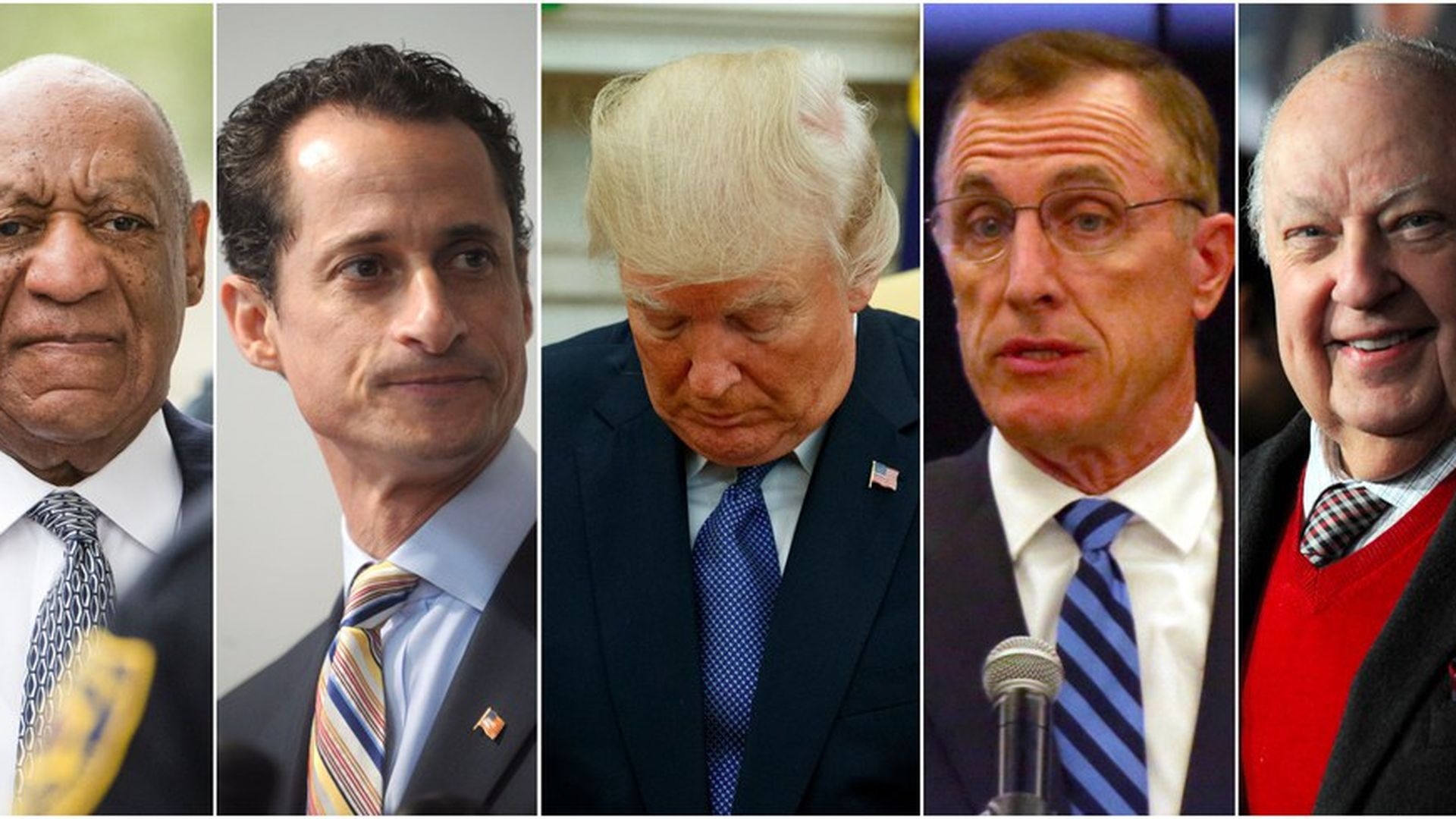 It's been the year of dirty, old man scandals — from Donald Trump dragging Bill Clinton's accusers to the presidential debates, to Fox News hosts dropping like flies after harassment allegations, to sexism run rampant in Silicon Valley and most recently, Harvey Weinstein.
Why it matters: Many of those who have been accused of sexual harassment have lost their jobs. Donald Trump, who has yet to pay any settlements or admit to sexual assault, became President.
Harvey Weinstein: The film producer has been accused of sexual harassment by at least 16 women, including Angelina Jolie and Gwyneth Paltrow, since last week. Multiple of his former company's assistants or former executives also admitted they knew of the unwanted sexual advances. Roger Ailes: Gretchen Carlson filed a lawsuit against Fox CEO Roger Ailes for sexual harassment last summer, and later Megyn Kelly, as well as 6 other women, claimed Ailes had made unwanted advances toward them in the work place. Ailes resigned from Fox News last summer and passed away earlier this year. Bill O'Reilly: The host of the "O'Reilly Factor" was fired by Fox News in April, 18 days after the New York Times reported that at least 5 women had received large settlements after suing O'Reilly for sexual harassment. Megyn Kelly claimed that part of the reason for her own departure from Fox News was Bill O'Reilly's behavior. Anthony Weiner: The former Democratic representative for New York was sentenced to 21 months of prison for sexting a 15-year-old. Last September, the New Yorker reported that Weiner had been sending explicit texts and photos to other women, and he and his wife filed for divorce shortly after. Back in 2011, Weiner resigned from Congress after he was found to have been sending sexual texts and photos to other women. Bill Cosby: The celebrity's trial for 3 counts of sexual assault ended in mistrial in June, due to two jurors refusing to convict him. Cosby's retrial is set for March 2018. Tim Murphy: Last week, Rep. Tim Murphy resigned after reports that he had encouraged his former mistress to have an abortion, despite his pro-life stance. Justin Caldbeck: The Silicon Valley Venture Capitalist was accused of sexual harassment by at least 5 different women, reported by Axios as well as several other news outlets. He has taken an indefinite leave of absence from his company, Binary Capital.Dave McClure: The Venture Capitalist resigned as a general partner of all funds and entities managed by the investment group 500 Startups, which he founded in 2010 after a history of alleged sexual harassment toward several women came to light. Donald Trump: Trump has been accused of sexual harassment by many women and was caught seemingly confessing to it on the Access Hollywood tape, in which he bragged, "Grab them by the pussy." He went on to win the presidency. Trump has denied the allegations against him, and has not paid settlements to any of his accusers, as far as we know.
Go deeper