House goes to town on health care poison pills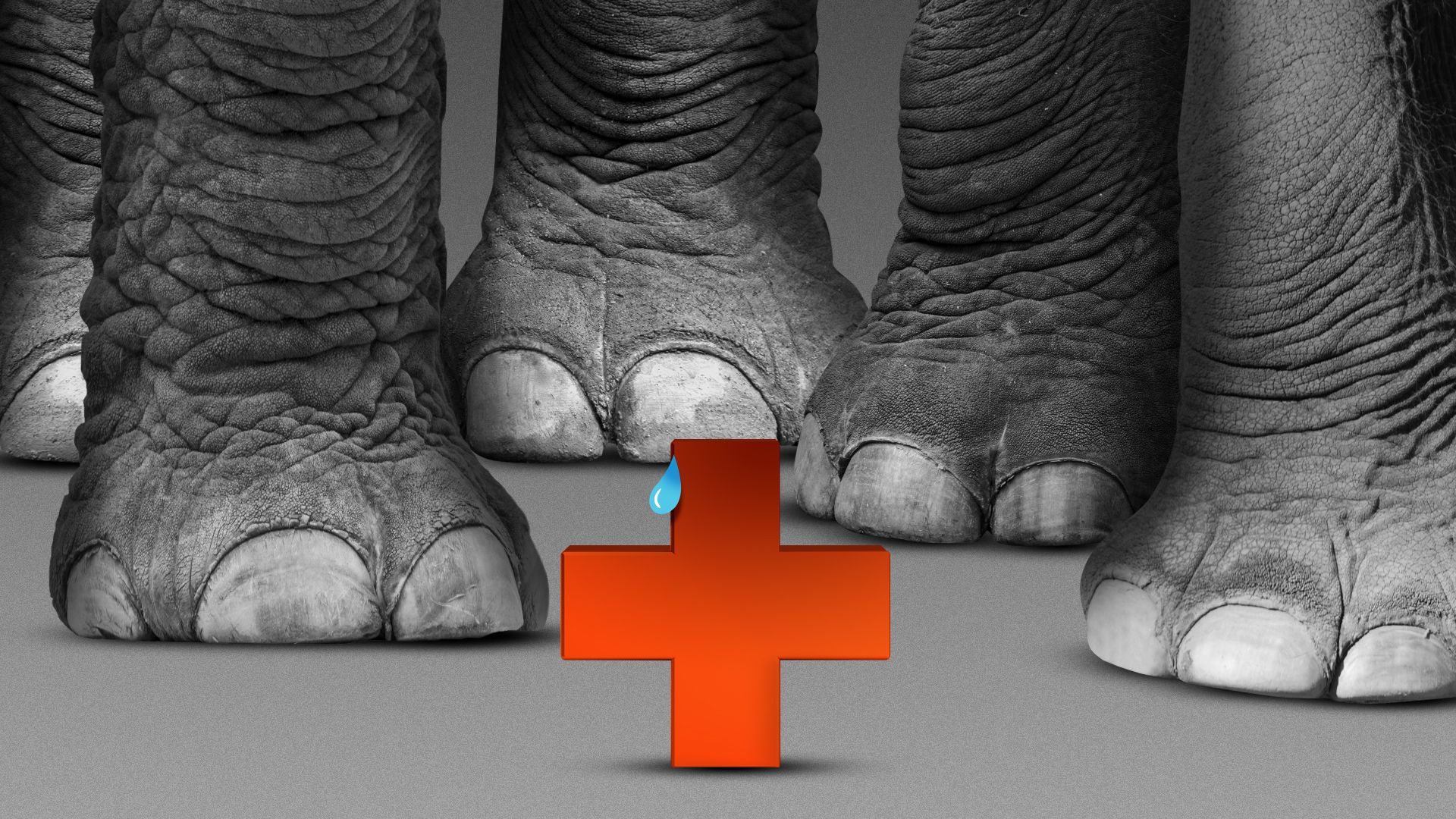 House GOP appropriators are loading up their spending bills with anti-abortion and anti-gender affirming care measures — a trend that could endanger Speaker Kevin McCarthy's goal of passing 12 separate appropriations bills.
Why it matters: Without agreement across the Republican conference, not to mention between the GOP House and the Democratic Senate, it's time to start planning for a shutdown at the end of September.
What they're saying: "Most Republicans are pro-life, and we don't feel like any government funding should be spent towards that," Rep. Robert Aderholt, chair of the House Labor-HHS subcommittee, told Axios in a recent interview.
But that stance has already earned the Ag-FDA and Veterans Affairs bills veto threats from the White House, and others are sure to follow.
Details: At least eight of the 12 spending bills contain anti-abortion and/or anti-gender affirming care measures:
1. Ag-FDA: The bill would reverse current FDA guidance that allows for the mailing of the abortion pill mifepristone, instead returning to former in-person dispensing requirements.
2. Commerce, Justice and Science: The bill would ban gender-affirming surgeries in federal facilities.
3. Defense: The legislation would prohibit the use of funds for paid leave or travel for federal employees or their dependents to obtain an abortion.
This Biden administration Defense Department policy was already targeted in the House version of the NDAA, and has also resulted in a military promotion blockade in the Senate.
The bill also would ban using Defense Department funds for gender-affirming surgeries and hormone therapy.
4. Financial Services: It would block insurance plans in the Federal Employee Health Benefits Program from covering the cost of gender-affirming surgeries, puberty blockers or hormone therapy.
It would also maintain a policy of forbidding the use of federal funds for abortions for those with insurance plans in the Federal Employee Health Benefits Program.
5. Homeland Security: The legislation would block funds for abortions for those in the custody of Immigration and Customs Enforcement, as well as hormone therapy medication or surgeries for those in ICE custody.
6. Labor-HHS: It would eliminate funds for Title X grants, which help to fund family planning programs, such as at Planned Parenthood clinics.
It would also disallow gender-affirming surgeries and hormone therapy for those enrolled in Medicare, TRICARE or Medicaid.
The bill would maintain the Hyde amendment provisions that bans federal funds from being used for abortions.
7. Military Construction-Veterans Affairs: The bill would prohibit funds for implementing a Biden administration rule that allows the Department of Veterans Affairs to provide abortion counseling or access to abortions to veterans and VA beneficiaries in certain situations.
It would also ban gender-affirming surgeries and hormone therapy at VA facilities.
8. State-Foreign Operations: It includes a Trump-era expanded "Mexico City policy" that blocks federal funding for international global health programs to NGOs that provide abortion counseling or services.
It would also forbid funds to NGOs that offers counseling or medical services involved with gender-affirming care.
The other side: House Appropriations Ranking Member Rosa DeLauro told reporters last week that she doesn't know how the GOP is going to get some bills, including Labor-HHS, out of the full committee, let alone the floor.
"You've got to look at the three pieces of what's happening in each of these bills. Programmatic cuts... then you look at the rescissions [from IRA and the infrastructure bill] ... And then you've got the riders."
"Overall, I think it's going to be very very hard to get these bills forward," she added.
What we're watching: Whether House GOP members will vote for a swath of anti-abortion and anti-gender affirming care measures, along with deep cuts to federal departments and government programs.
Yes, but: The odds of most of these measures ending up in the final spending bills, and getting past President Biden and the Democratic Senate, are pretty slim.
The bigger issue is whether the bills can really emerge with no trace of them at all. But the Senate is trying to show the way.
Senate Appropriations already approved Ag-FDA in June without much fanfare and in a bipartisan manner. The Labor-H appropriations mark-up is also scheduled for Thursday in the Senate.
Go deeper