Axios World
November 05, 2019
Welcome back to Axios World. We're zipping around the world tonight in 1,696 words (6 minutes).
Thanks for joining me! Please tell your friends and colleagues to sign up, and I'd love your tips and feedback:

[email protected]

.
1 big thing: Protests burning in Iraq and Lebanon could singe Iran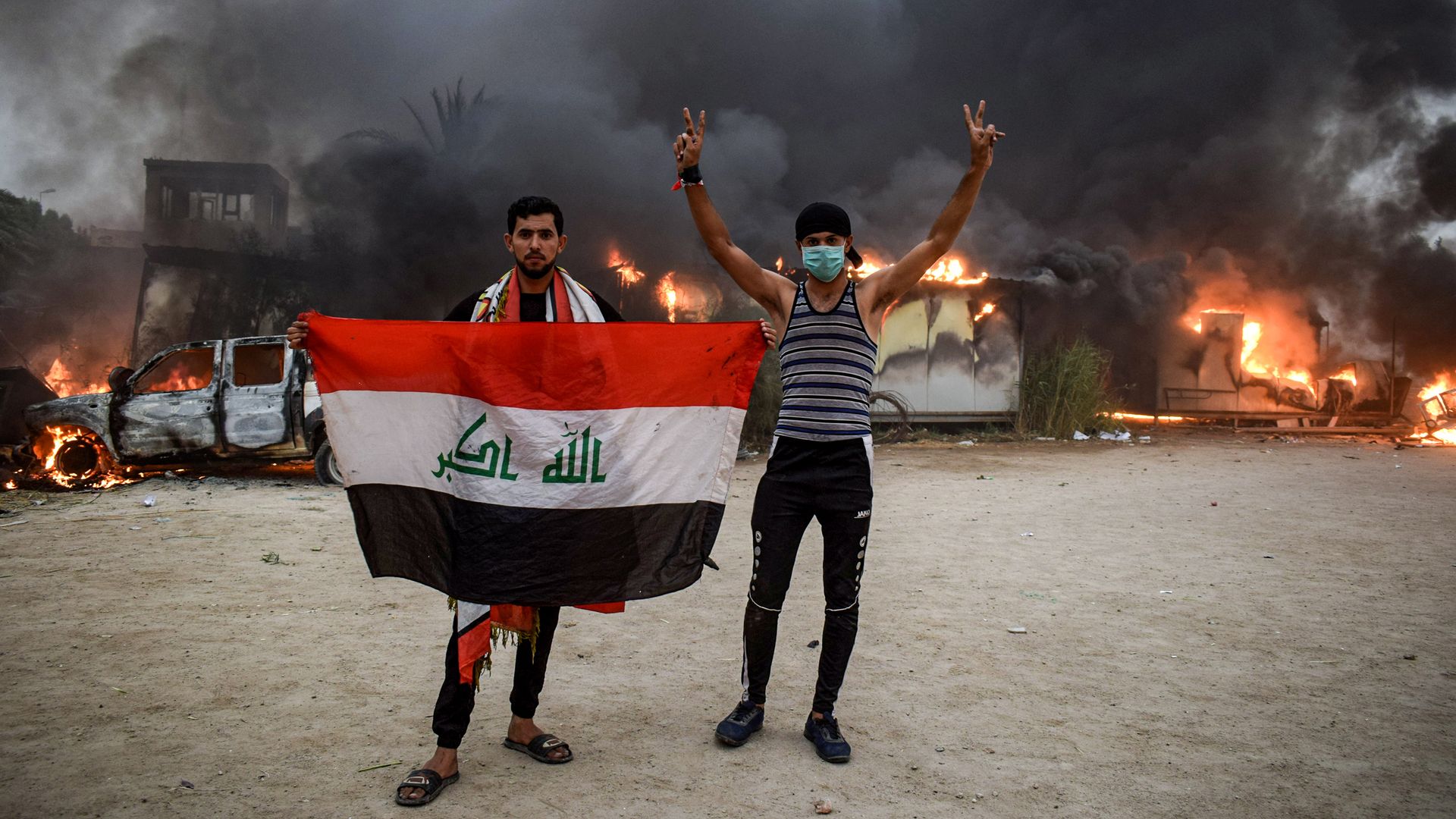 Earth-shaking demonstrations in Lebanon and Iraq have the political classes in both countries in retreat — and regional power Iran under pressure.
The big picture: Political offices in both countries are divvied up between religious and ethnic groups, but protesters claim the political factions have divided power and wealth among themselves at the expense of the citizens.
Iran has deep links to key players in both countries and has grown its influence enormously within the current systems.
Tehran thus sees the protests as a threat to its regional ambitions. Its leaders are also wary that they could inspire demonstrations in Iran itself.
Driving the news: Qassem Soleimani, head of the elite Quds Force of the Islamic Revolutionary Guard Corps, made a secret trip to Baghdad last week to prevent the ouster of Iraqi Prime Minister Adel Abdul-Mahdi, who had been under pressure to resign, Reuters reports.
While Mahdi remains in office, his Lebanese counterpart, Saad Hariri, has offered his resignation. Both leaders have been the targets of public anger.
Iraqi President Barham Salih promised electoral reforms in a televised address on Thursday. He wouldn't guarantee Mahdi would remain in office in an interview last month with Axios on HBO.
Despite the concessions made so far, protests continued in both countries over the weekend.
Zoom out: "Baghdad and Beirut's fragile democracies were born of conflict: a devastating civil war in Lebanon, which pitted religious communities against each [other] and ended in 1990; and the power vacuum that followed the ousting of Saddam [Hussein]," FT notes.
"The consequence in both countries was the construction of complex, power-sharing political systems" that protesters claim "have become corrupted by the political parties they empowered, preventing effective governance and frustrating citizens demanding better standards of living."
Zoom in: Some protestors are specifically targeting Iranian influence.
The Iranian consulate in the Iraqi Shiite holy city of Karbala was attacked on Sunday, with protestors accusing Iran of "propping up the 'corrupt, inefficient' government they want to overthrow," the Telegraph's Josie Ensor reports.
"In recent days, they have been seen burning posters of Iranian Supreme Leader Ayatollah Ali Khamenei, which would have been unthinkable before the recent protests began last month."
"Militias backed by Tehran have tried to help put down the rallies, which are growing in scale, deploying snipers and firing on unarmed demonstrators," Ensor writes.
That violence has only spurred further outrage over Iranian influence.
What they're saying: Khamenei claimed in a speech that "the U.S. and Western intelligence agencies, with the help of money from regional countries, are instigating unrest in the region." He urged authorities in both countries to "stabilize these security threats."
The Trump administration has for years denounced Iran's regional influence, but has been relatively restrained in the face of the recent protests.
"That may be the wisest path to take," writes the WashPost's Ishaan Tharoor, "given Tehran's eagerness to dismiss these seemingly indigenous, nonsectarian movements as the product of American malfeasance."
Go deeper: One year of "maximum pressure" on Iran
2. Interview: A Law and Justice view on sovereignty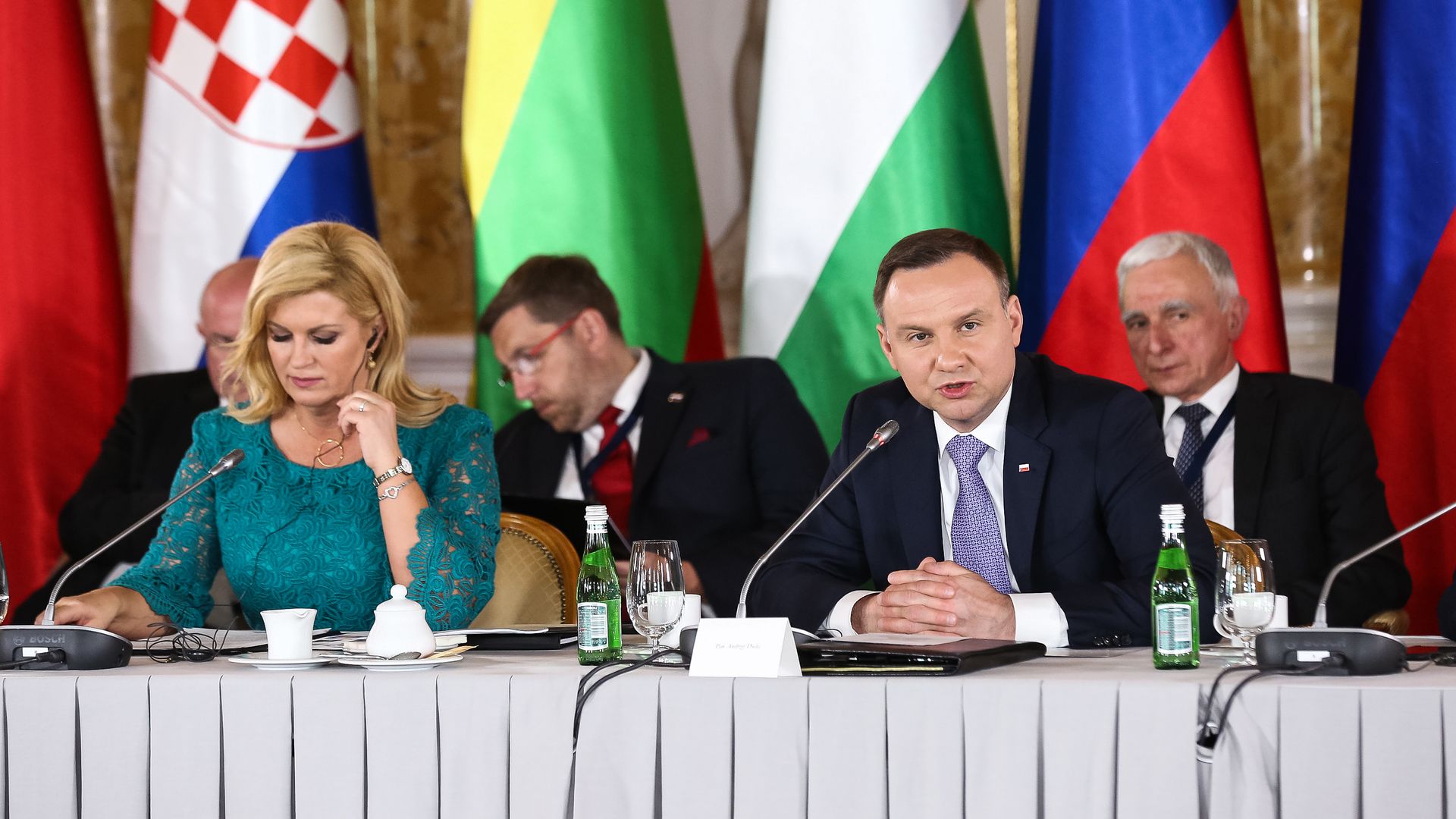 Poland's populist ruling party, Law and Justice, has earned the praise of President Trump for defending "sovereignty" and the criticism of Brussels for weakening democratic institutions, particularly the judiciary.
What they're saying: Piotr Naimski, a senior Law and Justice official and the minister responsible for energy strategy, told me in a phone interview last week that such critics are "completely wrong."
He denied accusations that the government had cracked down on independent media and civil society and said those "false judgments" from elsewhere in Europe might be reactions to Poland "trying to secure the sovereignty of our country."
Interview excerpt:
Axios: What does it mean on the substance for Poland to talk about sovereignty? Because obviously Poland is a sovereign country. What are we supposed to take away from that idea?
Naimski: "Being a sovereign country, we have a right to describe our strategy in ways we think are the best for the Polish nation. And of course international cooperation is the basis for security, economic wellbeing and so on, but the interests of the country should be discussed."
"On the other side of this we do have our historic traditions. ... The Polish nation is a Catholic nation in vast majority. The Polish nation has been established on those Christian roots. The whole of Europe was, but in some places in Europe people tend to forget about that."
Axios: But if you're a non-Christian living in Poland are you less Polish?
Naimski: "Poland used to be very a multicultural and multinational country, if you know the history of Poland. And it stays very tolerant of course. But tolerance, sometimes, doesn't mean that we have to accept or introduce what we wouldn't like to our national pattern."
The bottom line: Naimski went on to defend Poland's record on immigration, having accepted many Ukrainian refugees, and said the government was made up of "Polish patriots" — not nationalists.
3. Asia: Indonesia's reformer changes his tune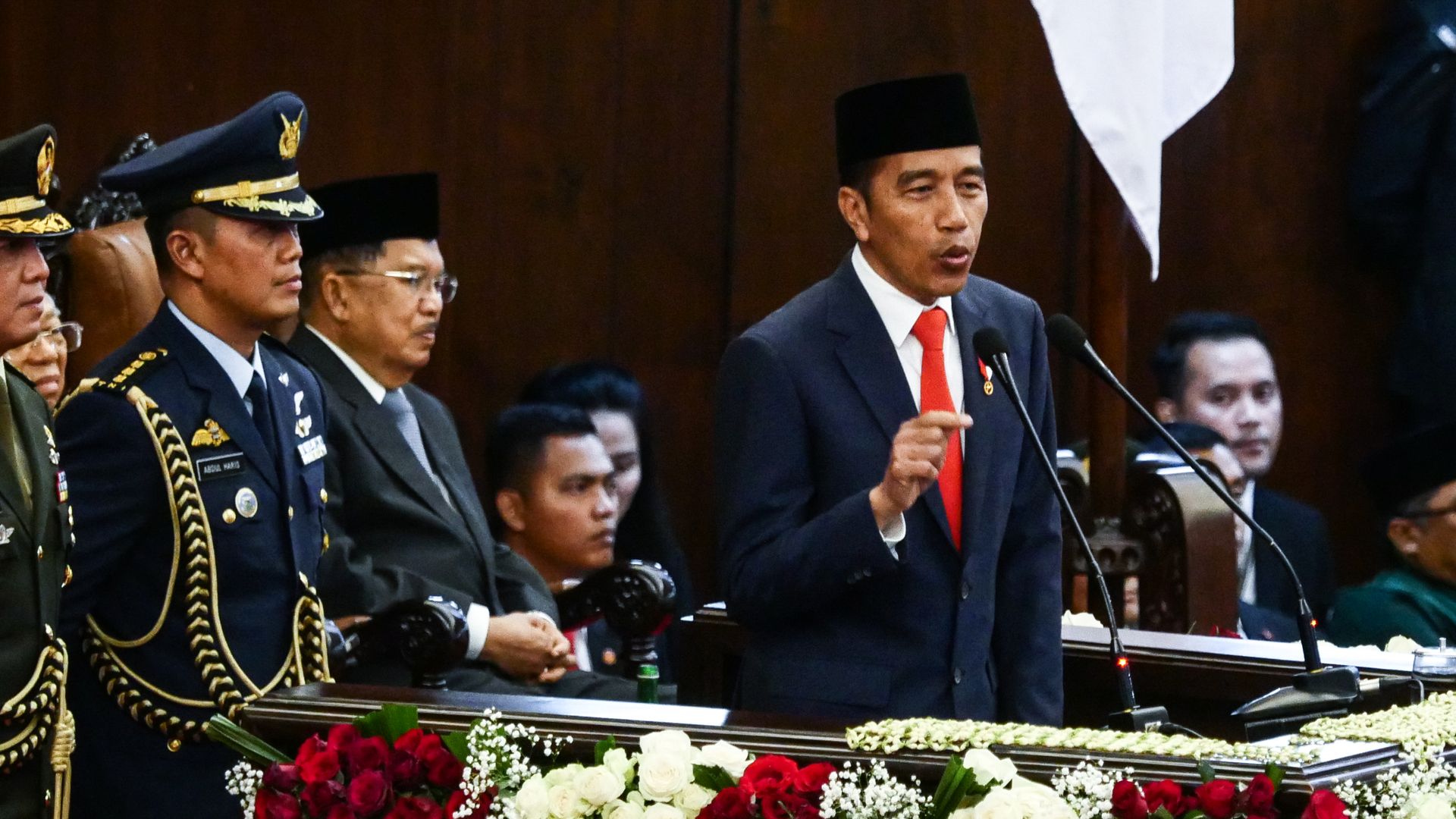 President Joko Widodo, newly sworn in for his second term, has outraged Indonesians by appearing to abandon his fights against corruption and for political change, Joshua Kurlantzick of the Council on Foreign Relations writes for Axios Expert Voices.
Jokowi is Indonesia's first president not to emerge from the military or the political elite and has presented himself as a reform-minded man of the people.
His shift in focus may put civil liberties and the country's hard-won democratization at risk.
Driving the news: Jokowi did little as parliament passed legislation gutting the country's anti-graft watchdog. Thousands demonstrated against that decision and other potential laws that would drastically reduce personal freedoms. The protests left hundreds injured and three students killed.
In winning his second term, he fought off a challenge from Prabowo Subianto — a former general who has touted his strongman, anti-democratic appeal and has allegedly overseen widespread rights abuses — only to turn around and appoint him defense minister.
The arrangement keeps his rival close, but Prabowo is known as a loose cannon and will have significant authority as defense minister.
Where it stands: Jokowi's economic program has been relatively successful. His administration has taken important steps to reduce poverty and improve growth, although Indonesia's economy still struggles with monopolies, graft and red tape.
The bottom line: Jokowi's economic focus might further boost Indonesia's growth rate, while cementing a parallel legacy of democratic decay.
4. China: "Siri, am I happy?"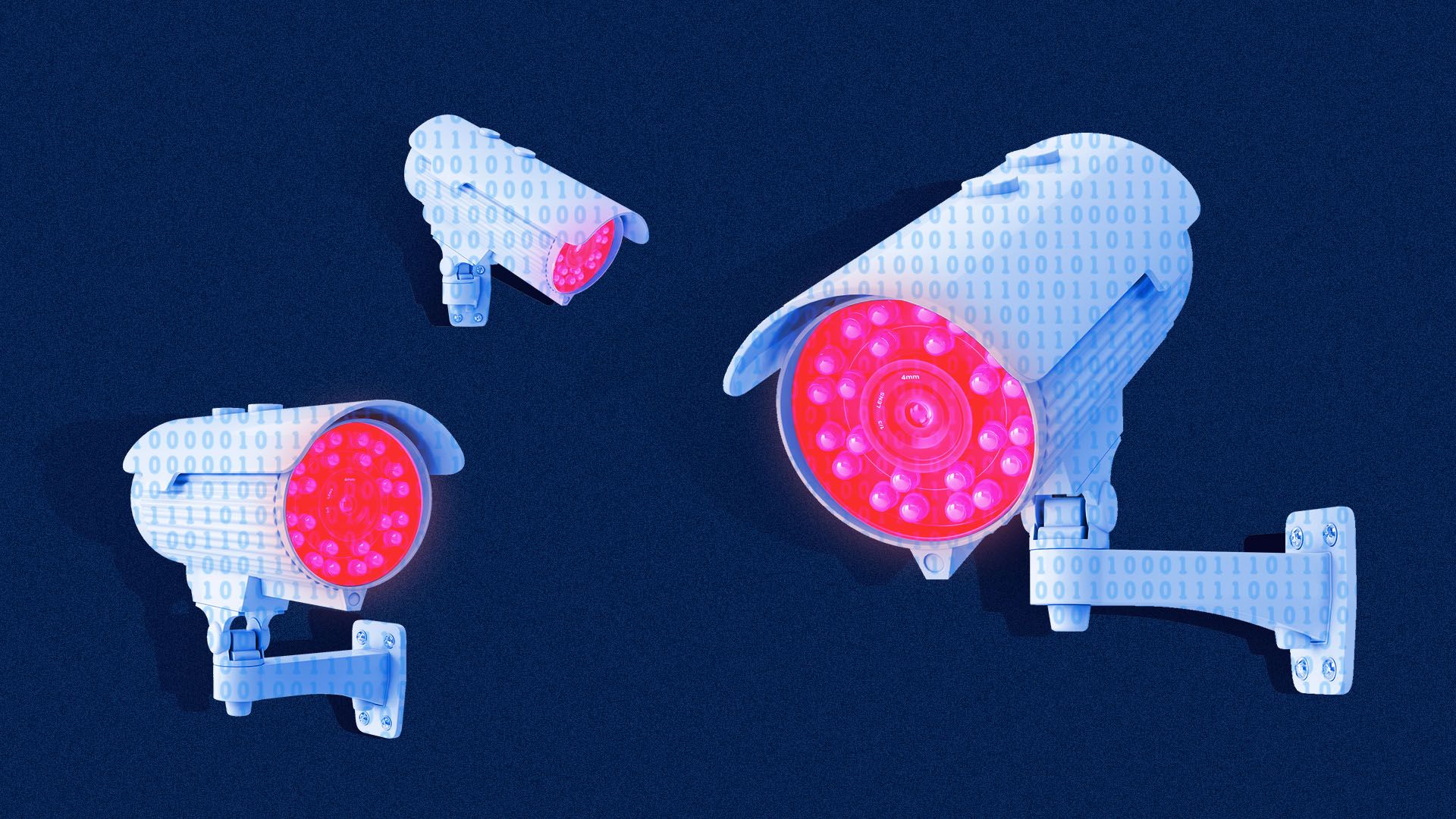 "Emotion recognition was the crime prevention buzz-phrase on everyone's lips this week at China's largest surveillance tech expo."
That sentence would nestle nicely into dystopian fiction, but it's actually from FT.
Reality check: "The science on emotion recognition is pretty bogus," ACLU senior policy analyst Jay Stanley tells my colleague Orion Rummler.
A July study found that it is not possible to confidently assign emotional states to facial expressions "regardless of context, person, and culture" — "as much of current technology tries to do."
What's happening: China says it's rolling out the tech in Xinjiang, where Uighur Muslims are kept in mass detainment camps, and in subway stations and airports to "identify criminal suspects," per FT.
A "policing expert" from Xinjiang told FT that the tech allows police to quickly "identify criminal suspects by analysing their mental state," and thus "prevent illegal acts including terrorism and smuggling."
The technology is also being developed in the U.S.
Microsoft claims that its Face API program can identify emotions like contempt, happiness and disgust.
Amazon says its Rekognition program can identify facial expressions, but not necessarily "internal emotional state."
Between the lines: Even if the tech doesn't track emotions all that well, being watched or even thinking you're being watched can still have a psychological effect and encourage people to change their behavior, as seen in workplace polling, Orion writes.
Orwell certainly thought so.
5. What I'm reading: Raiding the Amazon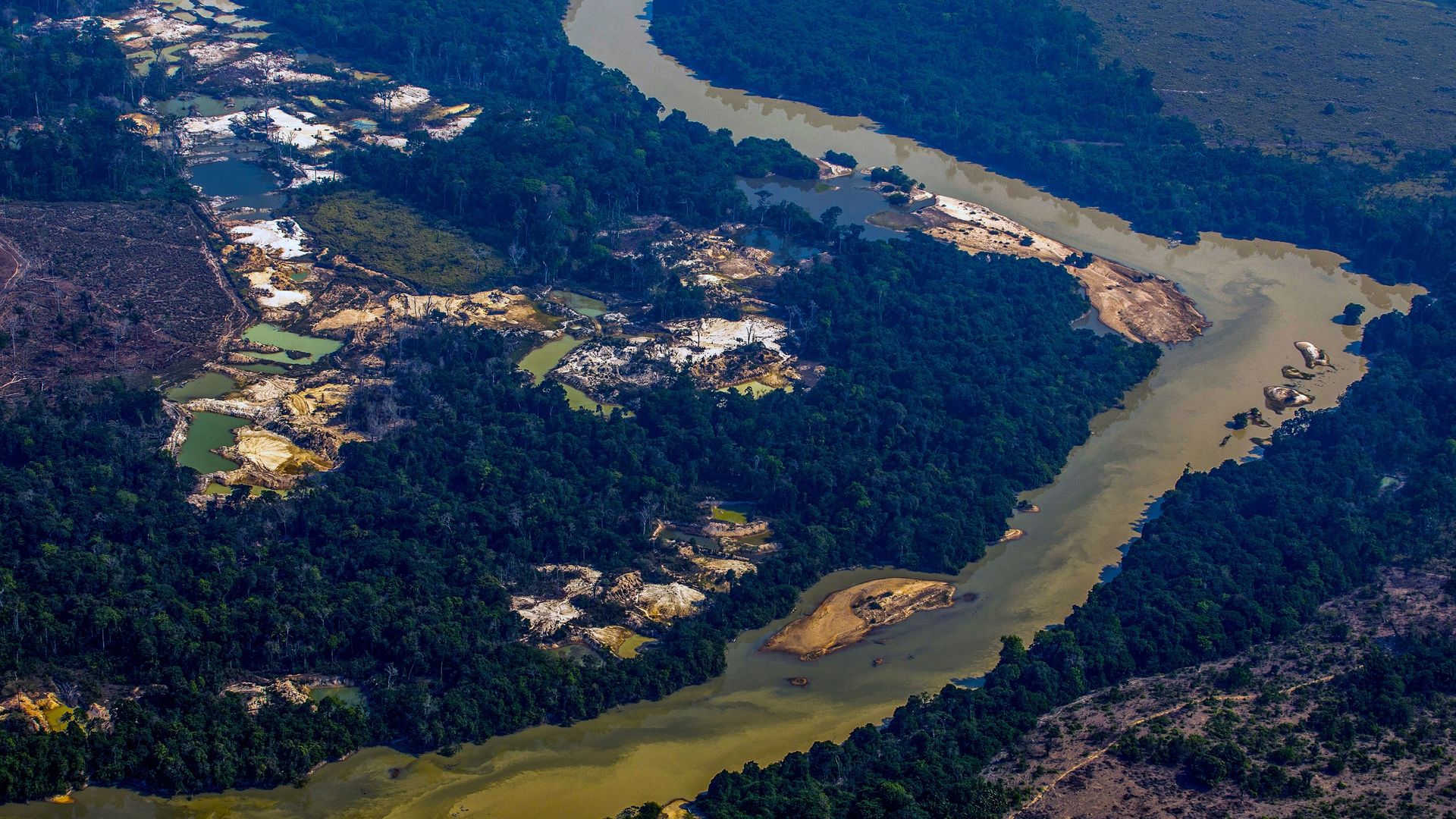 Jon Lee Anderson goes deep into the Amazon for this week's New Yorker, reporting from an indigenous reserve where both the environment and the local way of life are at risk from illegal mining and deforestation.
The backstory:
"The conquest of the forest began in earnest in the seventies, after Brazil's government, which was then a military dictatorship, carved a highway into the Amazon and encouraged people to move in."
"Since then, millions of settlers have founded towns and cities, built roads, dammed rivers, and burned forests, ultimately clearing an area larger than France."
"Much of their land sits uneasily alongside indigenous reserves ... more than four hundred thousand square miles, in which approximately nine hundred thousand people live."
The latest:
"[President Jair] Bolsonaro has complained for years that indigenous protections are a senseless brake on development."
"'The Indians do not speak our language, they do not have money, they do not have culture,' he once said. 'How did they manage to get thirteen per cent of the national territory?'"
"Since last year, the rate of deforestation in Brazil has increased nearly forty per cent, with thousands of fires — many of them intentionally set —scorching forests across the Amazon."
The bottom line: Illegal gold mining brings in an estimated $1 billion per year, and the practice is growing more lucrative and more common — with massive environmental repercussions.
6. What do you want to read?
Thank you for the overwhelming response to the U.K. special report. I'm incredibly fortunate to have such an engaged, curious and kind readership.
Why it matters: Most (but not all) of those who wrote in said they'd like to see more special reports in the future, which means I need to come up with some ideas.
I have one more up my sleeve for later this month, but I'd like to squeeze in another in December. I won't be able to travel for it, so this one will likely tackle a theme rather than a particular country.
Let me know if any of these are of interest, if you have another idea, or what you'd like a deeper dive on down the road. Thanks in advance!
Foreign policy and the 2020 U.S. election: What does the race (and impeachment) mean for America's place in the world.
The world in 2020: big events and trends to watch out for.
Populism around the world: Is the wave crashing or still rising?
U.K. election round 2: picking up where we left off around election time.
People of the world: Where are populations rising and falling, thriving and struggling, and why?
Just reply to this email to let me know what you think.
7. Stories we're watching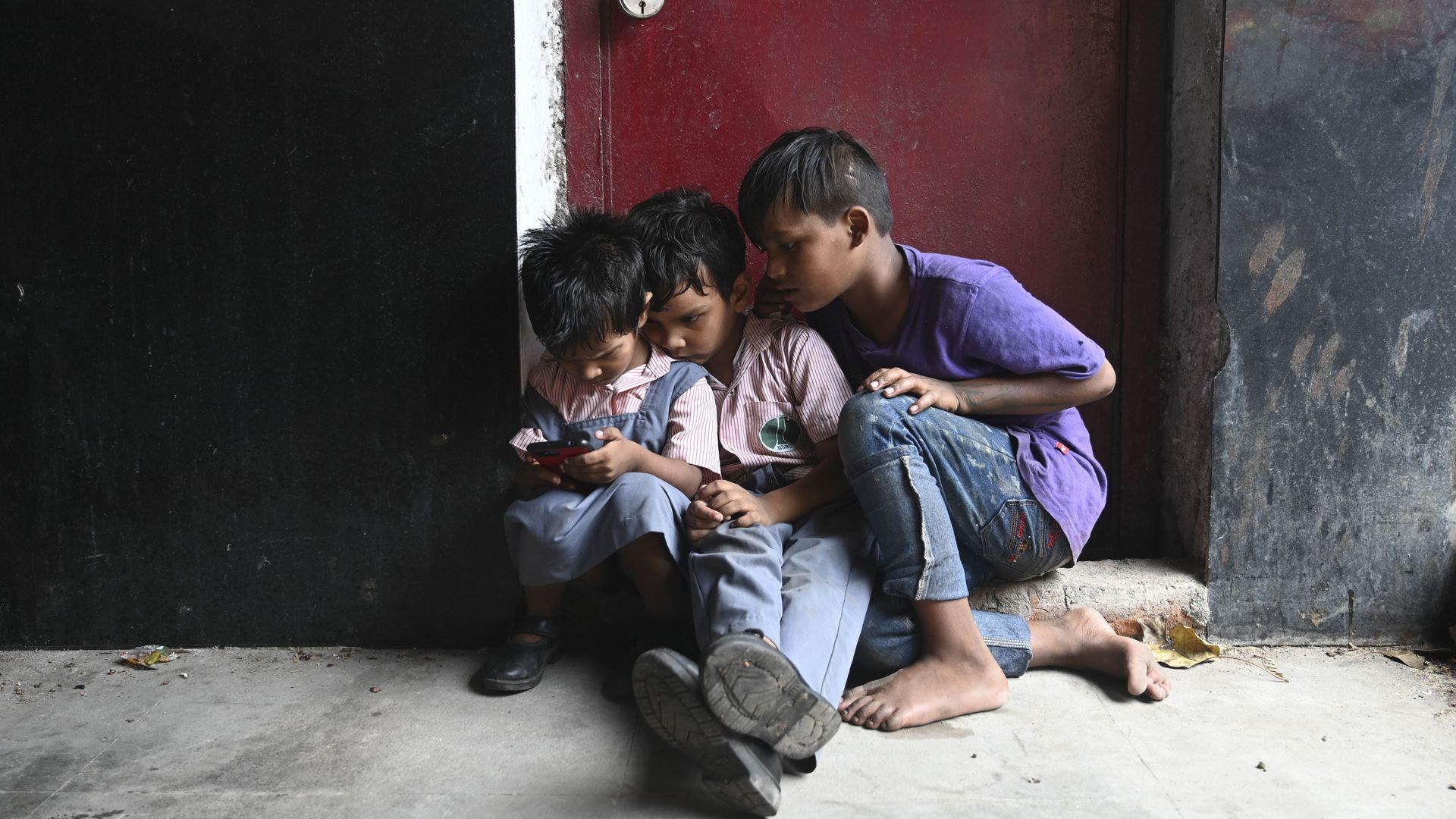 Quoted:
"The U.S. is proud of our record as a world leader in reducing all emissions, fostering resilience, growing our economy, and ensuring energy for our citizens. Ours is a realistic and pragmatic model."
— Mike Pompeo today,
announcing the U.S. would begin to formally withdraw
from the Paris Climate Agreement. The U.S. is the only country in the world not to support the accord.