June 03, 2019
Welcome to Axios World, where two evenings a week we break down the big stories from around the globe.
Thanks for joining me! Please tell your friends and colleagues to sign up, and I'd love your tips and feedback:

[email protected]

.
Tonight's edition is 1,584 words (~6 minute read)
1 big thing: A crackdown that's lasted 30 years
Thirty years ago right about now, Chinese troops were beginning a brutal crackdown on pro-democracy protesters in Tiananmen Square that would leave an estimated 1,000–1,500 dead.
Flashback: What began in April as student demonstrations tied to the death of a reformist former leader, Hu Yaobang, "swelled as older people joined and the list of demands broadened," writes Willis Sparks of GZERO Media.
"The occupation of the square took on a life on its own, and some within the Communist Party leadership began to see a threat to their monopoly on political power."
"The contest for control of the square soon became a battle for information. ... Any sign of movement by police or soldiers sent protesters scrambling to landline telephones in nearby buildings to call supporters to flood the square to make it more difficult for security forces to enter."
What happened next, on the morning of June 4, is infamous around the world and a closely guarded secret in China.
Dong Shengkun, a protestor who was arrested after Tiananmen and spent 17 years in prison, saw armored vehicles and soldiers firing indiscriminately.
"There was blood and brain matter all over the ground. There were dead people lying in the streets. Those who survived got up and helped the injured back indoors or into the alleys," he told the Washington Post's Anna Fifield.
"In tears, I told a major that I was in the army, too, and that I never imagined that some day my own comrades would be pointing their guns at me."
The Chinese Communist Party (CCP) has rewritten textbooks, authored propaganda and aggressively censored any information related to the massacre in an effort to erase not only historical memory of it, but also the democratic idealism that powered the protests.
Chinese Defense Minister Wei Fenghe said Sunday that authorities made the "correct" decision 30 years ago. His rationale was that "political turmoil" had to be sorted out, and China has "enjoyed stability" since.
The crackdown "cut short a decade of Chinese political enlightenment," Minxin Pei writes for Nikkei Asian Review.
"Indeed, it is difficult to imagine the intellectual fervor and diversity of the 1980s when we look at today's China, where ideological re-indoctrination, censorship, and persecution of outspoken thinkers have turned the country into an intellectual wasteland."
"No one knows what China would look like had the enlightenment movement of the 1980s not been cut short. … But one thing is sure. In the aftermath of the crackdown, the CCP launched a systematic campaign of anti-enlightenment to eradicate the movement's influence."
The big picture: 1989 is remembered in the U.S. and Europe as a time of democratic possibility because of an event that happened five months later — the fall of the Berlin Wall, Gideon Rachman writes in the FT.
The world looked destined to go the direction of Berlin, with walls coming down and politics opening up — even in China. It hasn't quite worked out that way.
2. Trump's day with royalty
The first day of President Trump's state visit to the U.K. concluded with a state dinner this evening at Buckingham Palace.
Trump is in Europe to mark the 75th anniversary of D-Day. The Queen noted in her toast that her first-ever state visit had been "at the invitation of President Eisenhower," who had commanded the allied invasion.
She also made what appeared to be a subtle rebuke of Trump's "America First" worldview, noting the roles of "international institutions" and "nations working together" in ensuring "that the horrors of conflict would never be repeated."
Trump praised the queen and the spirit of the British people in his toast. He was less diplomatic on Twitter earlier in the day.
Trump encouraged a boycott of AT&T to pressure the company to mandate more favorable coverage at CNN, which it owns. He also called London Mayor Sadiq Khan, who has been sharply critical of him, a "stone cold loser."
Trump also weighed in on British politics before even setting foot in the U.K.
He told the Sun that Boris Johnson would make an "excellent" choice to succeed outgoing Prime Minister Theresa May, and suggested to the Sunday Times that populist provocateur Nigel Farage be enlisted to negotiate Brexit.
Go deeper:
3. World news roundup: Revolutions under pressure
1. "Sudan's ruling military moved to crush the protest movement opposing its grip on power as security forces overran the main sit-in site in the capital early Monday, unleashing furious volleys of gunfire, burning down tents and killing at least 30 people," per AP.
"With the assault, the generals signaled an end of their tolerance of the pro-democracy demonstrators" with whom they have "negotiated over who would run the country after the April ouster of longtime strongman Omar al-Bashir."
2. "Algeria's constitutional council scrapped a presidential election planned for July 4 citing a lack of candidates, prolonging a period of political transition and risking more anger from protesters," per Reuters.
3. Secretary of State Mike Pompeo has said the U.S. is now prepared to hold talks with Iran "with no preconditions" but will also keep up its "maximum pressure" campaign.
Ayatollah Ali Khamenei recently ruled out negotiations, but has previously "permitted, groaningly, diplomacy on numerous occasions," Al-Monitor points out. "So expect the back channels ... to pick up in the coming weeks."
4. Latin America: Understanding Juan Guaidó
In a New Yorker profile published today, Jon Lee Anderson paints Venezuelan opposition leader Juan Guaidó as an "accidental president" and an ordinary guy with a few quirks, like keeping an astrologer in his entourage.
Guaidó's former schoolteacher tells Anderson there's "nothing special" about the man locked in a power struggle with Nicolás Maduro — but that's good because Venezuela can't handle another strongman.
Citing Guaidó's humble origins, a former U.S. official joked, "We needed someone who wasn't a member of the Caracas Polo Club."
Still, he quickly became a vessel for the hopes of millions. Anderson describes women at a rally with "their hands in the air, like believers at a Pentecostal sermon."
Maduro's supporters are in the streets too, many of them with weapons.
"The opposition's events often had the ritual earnestness of a campus protest," Anderson writes. "The regime's felt like a cross between a block party and an Army Reserve parade.
The view from Washington has changed. Anderson writes that there had been concerns in Caracas over muscular rhetoric from the likes of Sen. Marco Rubio and John Bolton, Trump's national security adviser. Now, he writes, "Trump seems to have lost interest in a confrontation."
The suffering in Venezuela continues. Anderson describes slum dwellers waiting 10+ hours to fill a bucket from a trickle of water.
The latest: Talks in Oslo between representatives of Guaidó and Maduro ended without any agreement last week, but both sides say they should continue.
5. Global threats: What worries the experts
I've been studying the full conversations our "Axios on HBO" colleagues had with former holders of America's top national security positions — Leon Panetta, David Petraeus, Janet Napolitano, Lisa Monaco and H.R. McMaster — highlights of which aired in our season 2 premiere last night.
Between the lines: Many of the global threats they highlighted are familiar: Russian aggression, nuclear brinkmanship, cyberattacks. But one concern that cropped up multiple times was that America has never faced such a tangled web of threats at a time of such internal division.
Panetta said the last time the global threat picture was this crowded and combustible was in the lead-up to the First World War.
Petraeus said that as a superpower, the U.S. must "keep many plates spinning simultaneously while making sure the most important of those plates don't fall and don't break." Some of them are certainly wobbling.
Take climate change, which Napolitano described as a threat multiplier. There's no political consensus on what to do about it, or whether to do anything at all.
"The dysfunction in Washington may be our worst national security threat," Panetta contended.
What to watch: Another threat Panetta cited was growing collaboration between China and Russia.
"What I consider two of our strongest adversaries are now working together to try to undermine stability in the United States of America," he said.
China has now announced that President Xi Jinping will visit Russia this week.
Go deeper: Read our special report
6. What I'm watching: Kushner's big interview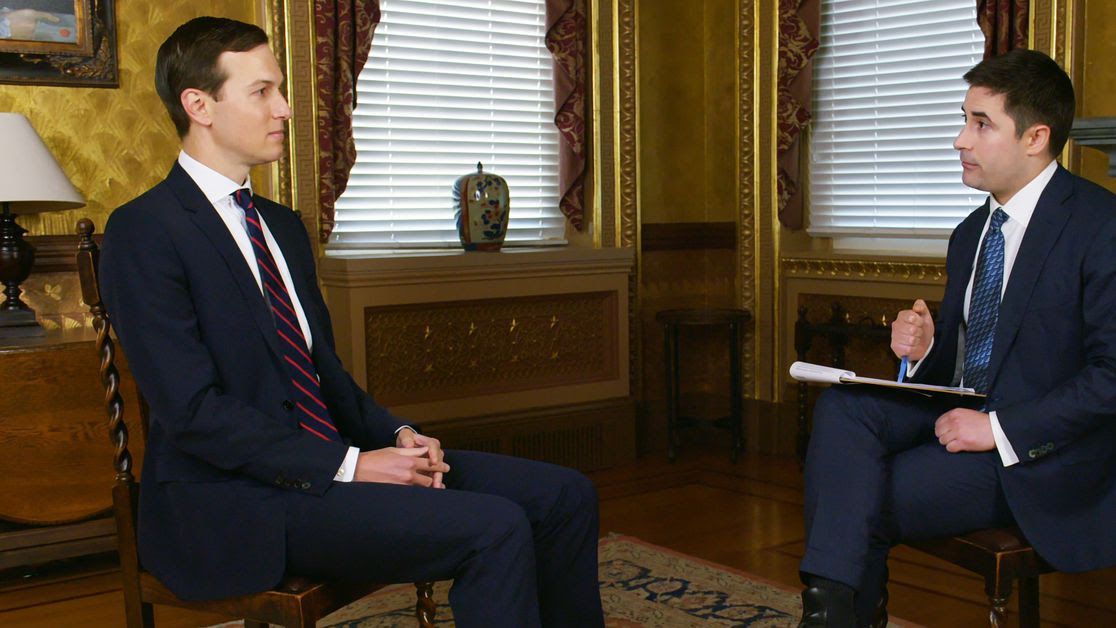 I'm biased, but if you haven't seen my colleague Jonathan Swan's full interview with Jared Kushner it really is a must watch (watch clips here, and the whole episode on HBO).
You may have already seen the viral clip on Trump and birtherism, but there were some good nuggets on foreign policy as well.
Kushner suggested that the Palestinian people aren't currently "capable of governing" themselves. He said they deserve "self-determination," but not necessarily without Israeli political or military interference.
Kushner deflected several questions on his relationship with Saudi Crown Prince Mohammed bin Salman, including on whether the Saudis should return the body of murdered journalist Jamal Khashoggi.
Kushner spoke proudly of his grandparents' experience of arriving in the U.S. as refugees, but defended Trump's decision to slash the number of refugees the U.S. accepts.
Worth noting: Secretary of State Mike Pompeo told Jewish leaders in a closed-door meeting that he understands why people might think the administration's Middle East peace plan "is going to be a deal that only the Israelis could love," the Washington Post reports.
Pompeo conceded that the plan might not "gain traction." Trump later said Pompeo "may be right," but he's more optimistic.
7. Stories we're watching
Quoted:
"Yes, I paid a price, but I have never regretted it for a moment. I feel so much more fortunate than those who lost their lives, and I feel a responsibility to make sure that our people know our history — not the history written by those in power, but the truth." 
— Dong Shengkun, who spent 17 years in prison after the Tiananmen protests,
speaking to the Washington Post
Thanks for reading — see you Thursday evening.