Welcome to Axios World, where two evenings a week we break down what you need to know about the big stories from around the globe.
Thanks for joining me! Please tell your friends and colleagues to sign up here, and I'd love your tips and feedback: [email protected]
1 big thing: A Church in crisis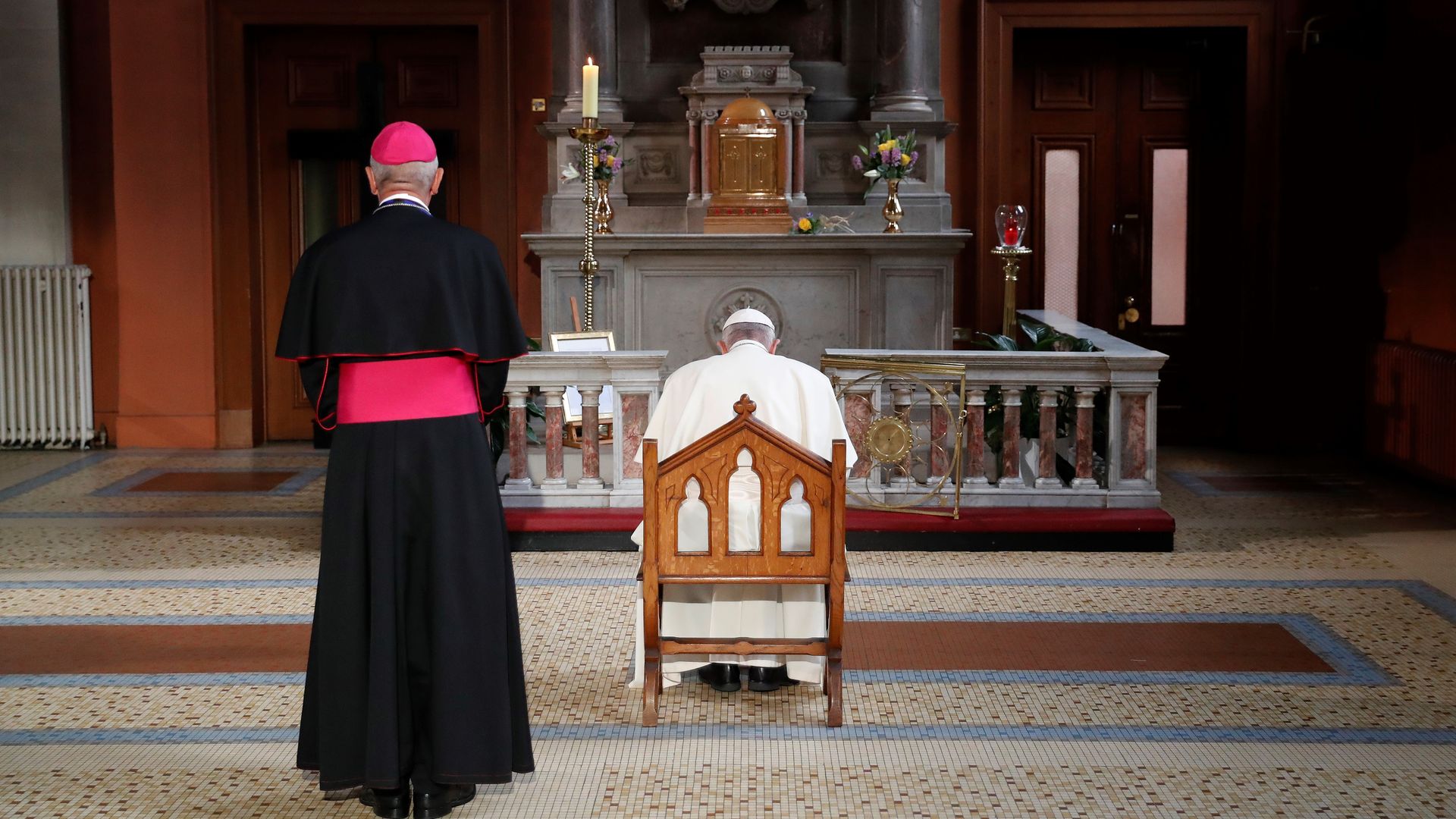 Pope Francis spent much of his visit to Ireland over the weekend seeking forgiveness — for those guilty of "abuses of power" and "sexual abuses," and for "some members of the hierarchy" who knew of the abuses and did nothing.
The Vatican's former ambassador to Washington claims the pope falls into that second category.
Archbishop Carlo Maria Viganò writes in a stunning 11-page letter that he told Francis in 2013 that Cardinal Theodore McCarrick had been sanctioned by Pope Benedict XVI over numerous allegations of sexual misconduct, but Francis nonetheless rehabilitated McCarrick. McCarrick resigned last week, the first cardinal to do so in 90 years. He maintains his innocence.
Asked about the allegation by reporters on Sunday, Francis wouldn't confirm or deny it, saying: "I will not say a single word on this. I think this statement speaks for itself, and you have the sufficient journalistic capacity to draw conclusions."
Responses to the letter have varied widely, as the Wall Street Journal notes in a piece headlined: "Pope Faces Crisis of Credibility Over Coverup Accusations."
Rev. Robert Imbelli of Boston College told the Journal: "The pope leaves it to journalists in their professional competence to evaluate the truth….Clearly, their work would be facilitated by the release of relevant documents."
Massimo Faggioli of Villanova University tells Slate's Isaac Chotiner that Viganò has made unsubstantiated claims in the past, and seems to be out to settle scores.
The backdrop: Francis has previously sought forgiveness for his handling of a major sex abuse scandal in Chile. Confidence in his ability to handle such scandals is falling among U.S. Catholics, per Pew.
The bigger picture: Sex abuse scandals are eroding trust in an institution already struggling with declining membership in nearly every country across Europe and the Americas.
A Pew survey found that, as of 2015, while 32% of Americans were raised Catholic, just 21% remained so — more than double the drop-off among Protestants. U.S. Catholics are also older, on average, than members of other major religions.
It's not just that people are becoming less religious. In Brazil, for example, Protestantism has grown rapidly as Catholicism has become less dominant.
Membership in the Church has held steady at around 18% of the global population for decades, according to Vatican data, with growth in Africa making up for declines elsewhere.
Consider the case in Ireland, though: The last papal visit was in 1979, when the Church dominated many aspects of Irish life. One-third of the country's entire population turned up to hear John Paul II speak. This time, one attendee told NPR she had decided not to tell acquaintances she was going: "It wasn't a popular thing to say."
2. Asia: UN report calls for genocide charges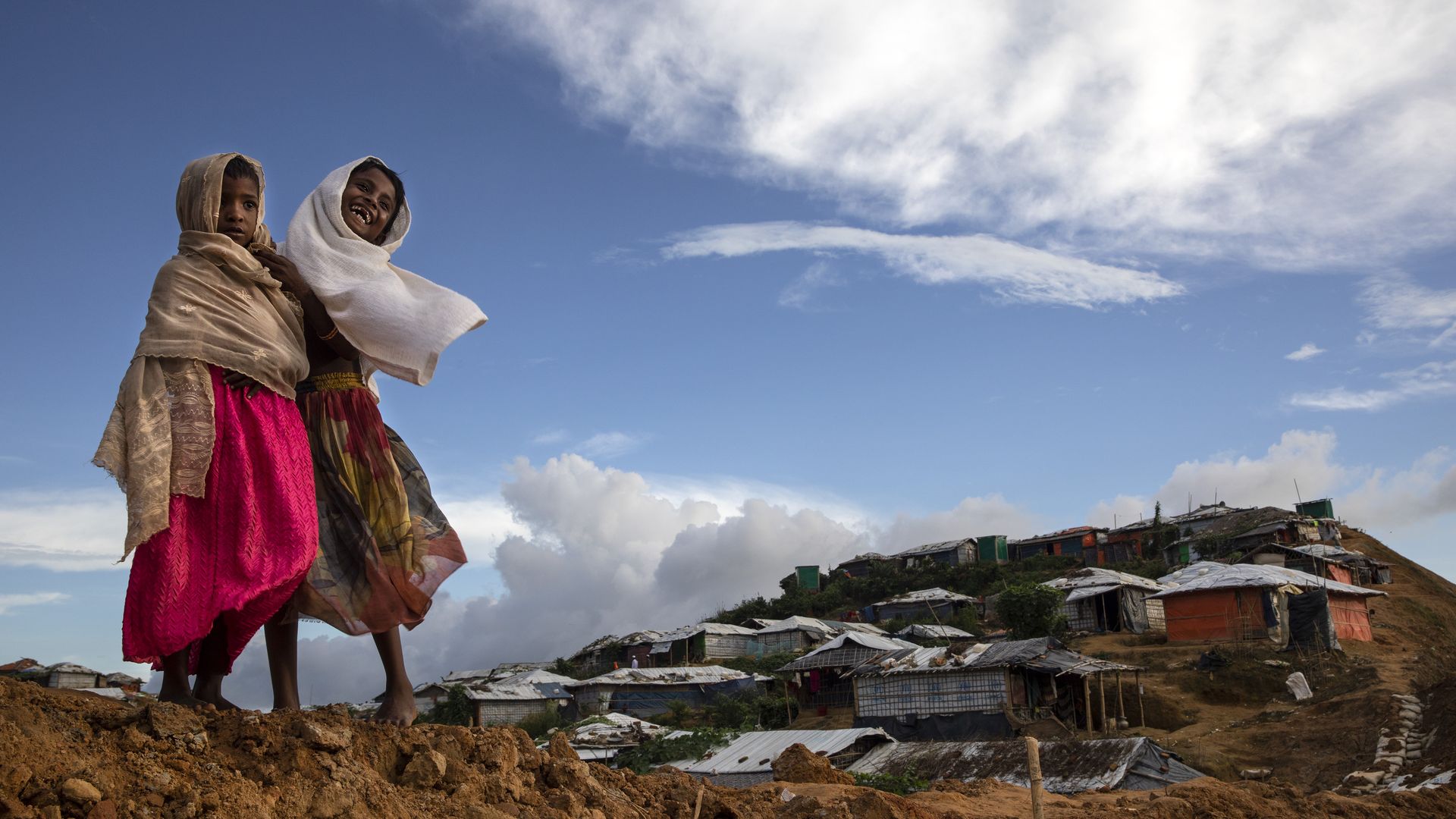 The UN Human Rights Council is calling for Myanmar's military leaders to face genocide charges for the campaign of mass murder, rape and village burning that has led upwards of 700,000 members of the Rohingya minority to flee the country, most of them to Bangladesh.
The backdrop: Myanmar and Bangladesh signed a repatriation agreement last November, but the refugees have not returned. Linah Alsaafin of Al Jazeera has been reporting from the refugee camps and asked Rohingya whether they'd ever return home.
Hujjatul Islam, 12: "I was in Year Three in school when I was in Rakhine. Now I can't find a proper school here except for the madrasahs where we learn the Quran. I'll go back if we have Rohingya recognition. We would much rather die here if Myanmar forces us to go back without granting us citizenship."
Mahmud Yunis, 35: "I have no demands. I want to go back to my village without any compensation or conditions. I used to be a porter. Now I do nothing."
Dildar Begam, 35: "I have nine children and a husband. It took us two days to reach Cox's Bazar. I saw so many massacres, rapes, and homes set on fire. I would only go back if Myanmar granted us Rohingya recognition. I don't feel good here because this is not my land."
Mir Ahmad, 60: "I am willing to go back to Rakhine if the Myanmar government meets our demands, such as compensation and recognizing us as citizens. Here I can get food and shelter. I feel better here than in my own village because there's more security. But I want to return to Fukira Bazar because there, I can live in dignity."
Go deeper: Read the full Al Jazeera report.
3. Australia: Let's try the next guy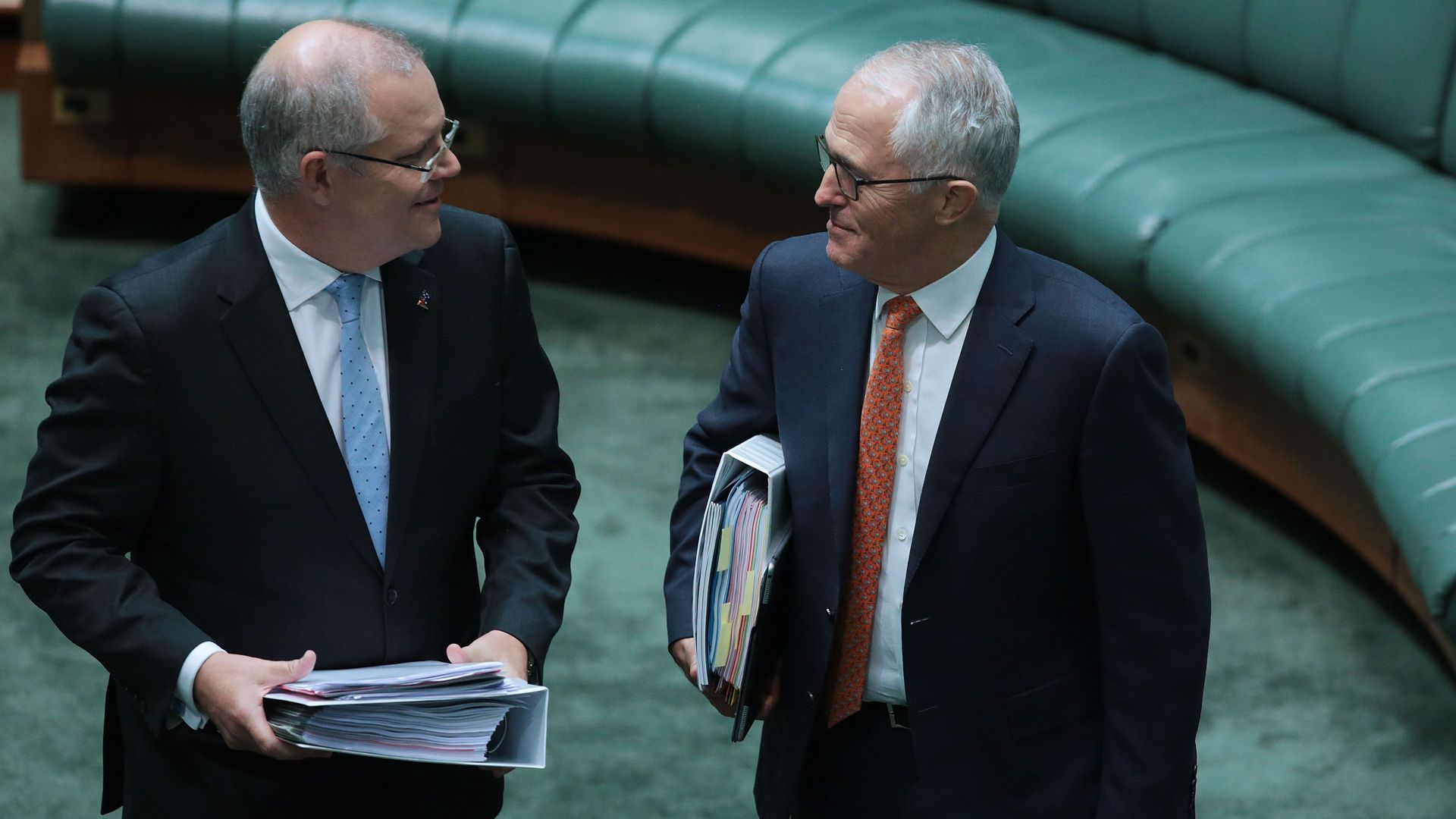 Conservative rebels in Australia's ruling Liberal Party managed to oust Prime Minister Malcolm Turnbull last week, but not to replace him with one of their own. Scott Morrison, the former Treasurer and a Turnbull ally, now steps into the top job.
The trend: The change of leadership seems to have accomplished little but to sink the center-right Liberals in the polls. This will be the 6th change of prime minister in Australia in just over a decade as intraparty squabbles have led to a "revolving-door" era in the country's politics.
Here's how many times leadership has changed in G20 countries over that period (since Dec. 2007):
Zero times: Germany (Angela Merkel took office in 2005).
Once: China, India, Indonesia, Saudi Arabia, Canada, Mexico, Argentina.
Twice: USA, U.K., France, Brazil.
Three or more times: South Africa (3), South Korea (4), Japan (5), Italy (6), Australia (6).
Hard to place: Politics in Russia and Turkey have been dominated by one central figure for this entire period, though both Vladimir Putin and Recep Tayyip Erdogan have shuffled between the roles of president and prime minister.
4. Europe: Anti-immigration backlash hits Sweden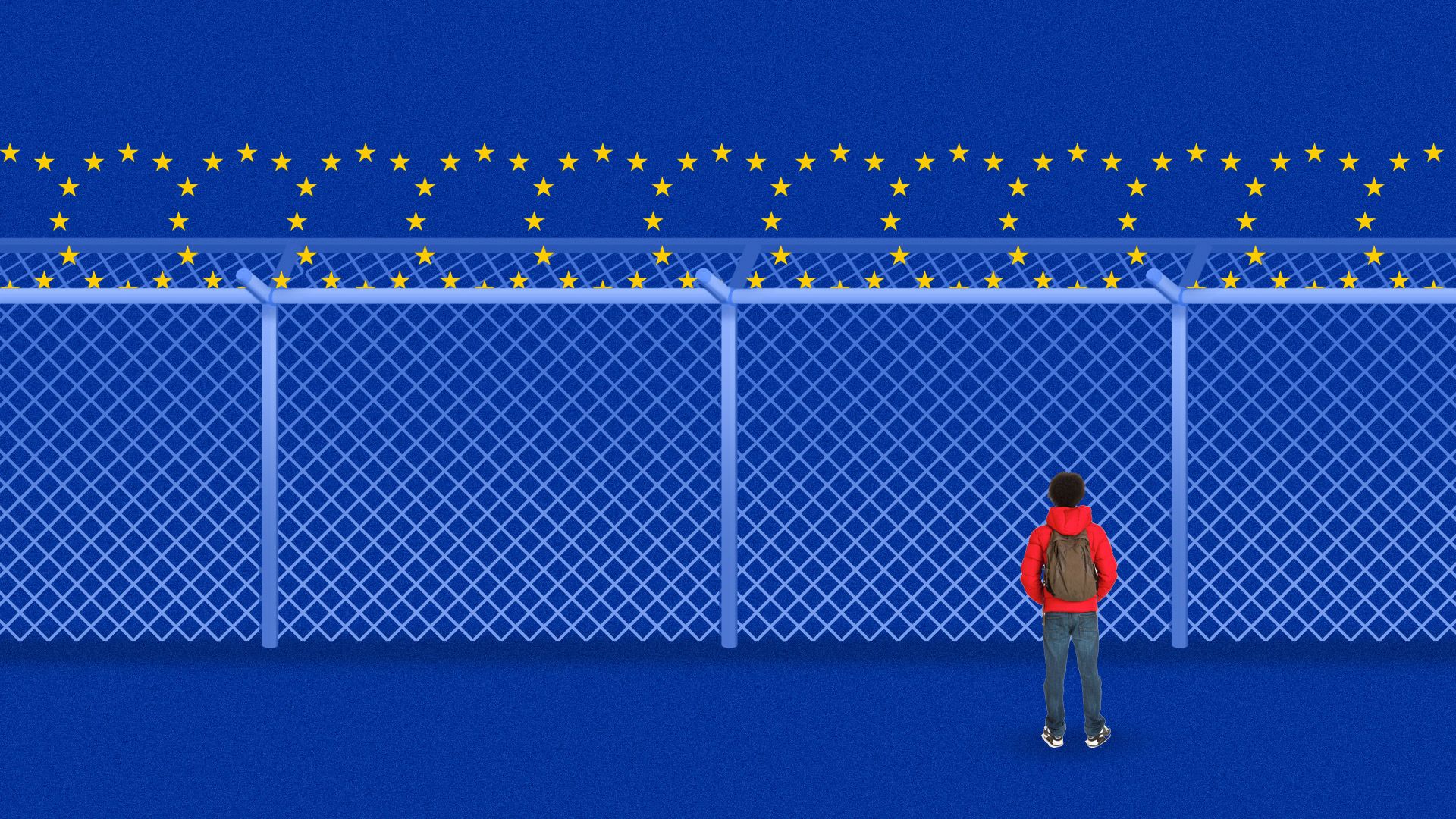 The far-right Sweden Democrats are set to be the next European party to ride fears over immigration to a strong finish on election day. Ahead of the September 9 election, they sit second in the polls with around 20%.
Newfound competition from the far right is pulling mainstream parties all over Europe to the right on immigration, Axios' Zach Basu reports. Sweden is no exception. The ruling Social Democrats have backed off the country's "open hearts" approach.
The Swedish example...
"Sweden attracts surprisingly few highly skilled migrants from other rich countries, thanks to its cold weather and high taxes," per the Economist. "Many locals fear that culturally distant newcomers will not adopt Sweden's liberal values and will strain its generous welfare state."
"From generous motives, Sweden has adopted policies towards refugees tailor-made to provoke a backlash. It has admitted huge numbers — for a while almost anyone arriving from Syria could get asylum. In 2015 the country let in 163,000, or 1.6% of the population."
18.5% of the population is now foreign-born, compared to 13% in the U.S.
5. North America: Halfway to a NAFTA breakthrough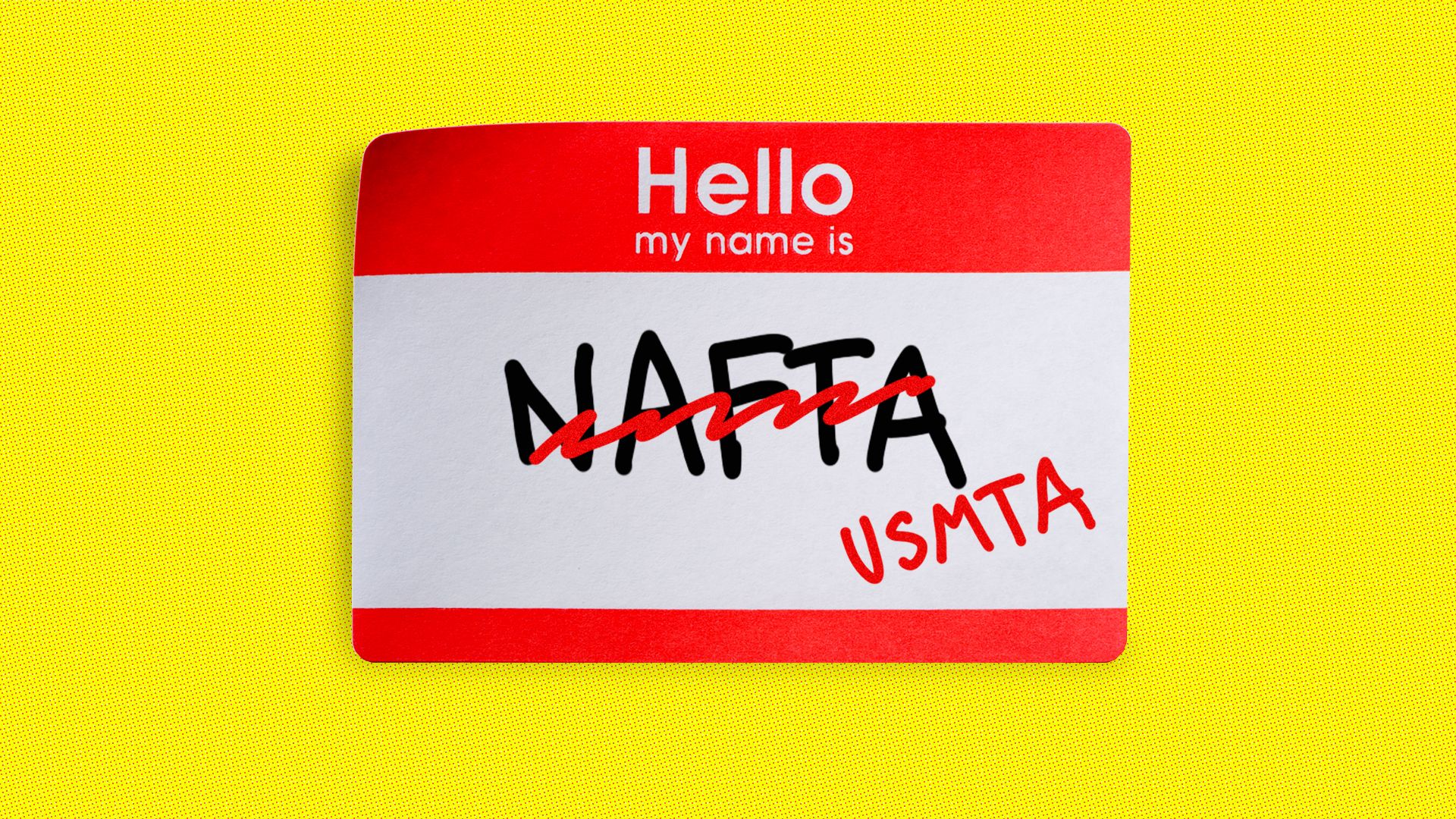 President Trump today announced what he's calling a breakthrough in NAFTA talks, though it only included two of the trade pact's three members.
Details: The understanding with Mexico would require 75% of an automobile's value to be manufactured in North America, up from NAFTA's current level of 62.5%. It would also require 40% to 45% of the car to be made by workers earning at least $16 an hour.
How to read this, from Foreign Policy's Keith Johnson:
"The agreement they reached Monday updates the trade relationship between the two countries, a necessary step on the road to a new three-way NAFTA deal. ... But it could potentially leave Canada out in the cold and put the White House at odds with lawmakers in Congress who want to include America's northern neighbor."
"It could also end up being little more than a public relations stunt by an administration desperate to secure a win after more than a year of failures on trade, according to analysts."
The bottom line: "It's not at all clear if Canada — or the U.S. Congress, for that matter — will support the outlines of the new trade deal."
What's next: Negotiations with Canada are expected to begin today, Axios' Zach Basu reports. Both the U.S. and Mexico have expressed a desire to have Canada join the agreement, but according to U.S. Trade Representative Bob Lighthizer, the deal is set to be presented to Congress either way.
6. Global: Cooling your home, heating the world
The Economist breaks down the staggering benefits, and costs, of increased access to air conditioning around the world in the latest issue.
"At the moment, only 8% of the 3bn people in the tropics have air-conditioning, compared with over 90% of households in America and Japan. But eventually, it will be near universal because so many trends are converging behind its spread: ageing, since old people are more vulnerable to heat stroke; urbanisation, since fields cannot be air-conditioned but offices and factories must be; and economic growth."
"At current growth rates, according to the International Energy Agency (IEA), which advises national governments, 1bn air-conditioners will be installed globally in the next ten years. That would increase the world's stock by two-thirds."
Breaking it down...
Pros: Temperature controls for food and medications would have huge human upsides in the developing world. Cooler offices and schools are hugely beneficial — studies show heat kills productivity among workers and students — and cooler homes will save lives.
Cons: As AC use spreads, energy consumption spikes. Plus, inconsistency in AC demand incentivizes energy companies to use coal. That means air conditioners will cool our homes but warm our world.
Go deeper: AC demand is the next climate challenge.
7. Stories we're watching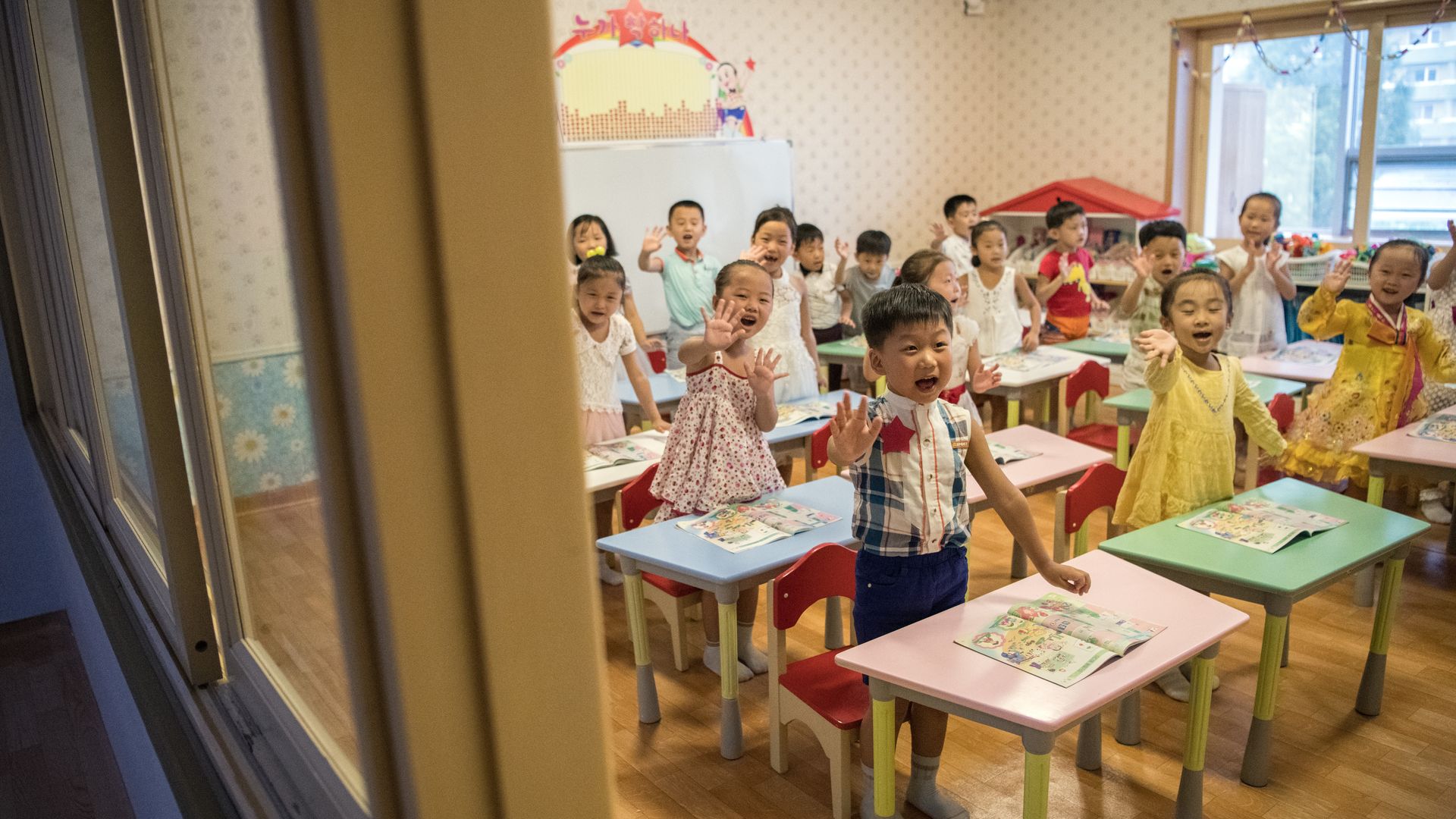 Quoted:
"A hug from you would be very nice."
— Trump signing off from a call with Mexican President Enrique Peña Nieto, who — according to the translation — had said he extended the U.S. president an "affectionate hug."
Thanks for reading — see you Thursday evening!