Axios Vitals
September 20, 2019
Good morning. Today's word count is 745, or ~3 minutes.
1 big thing: Democrats and the "public option" options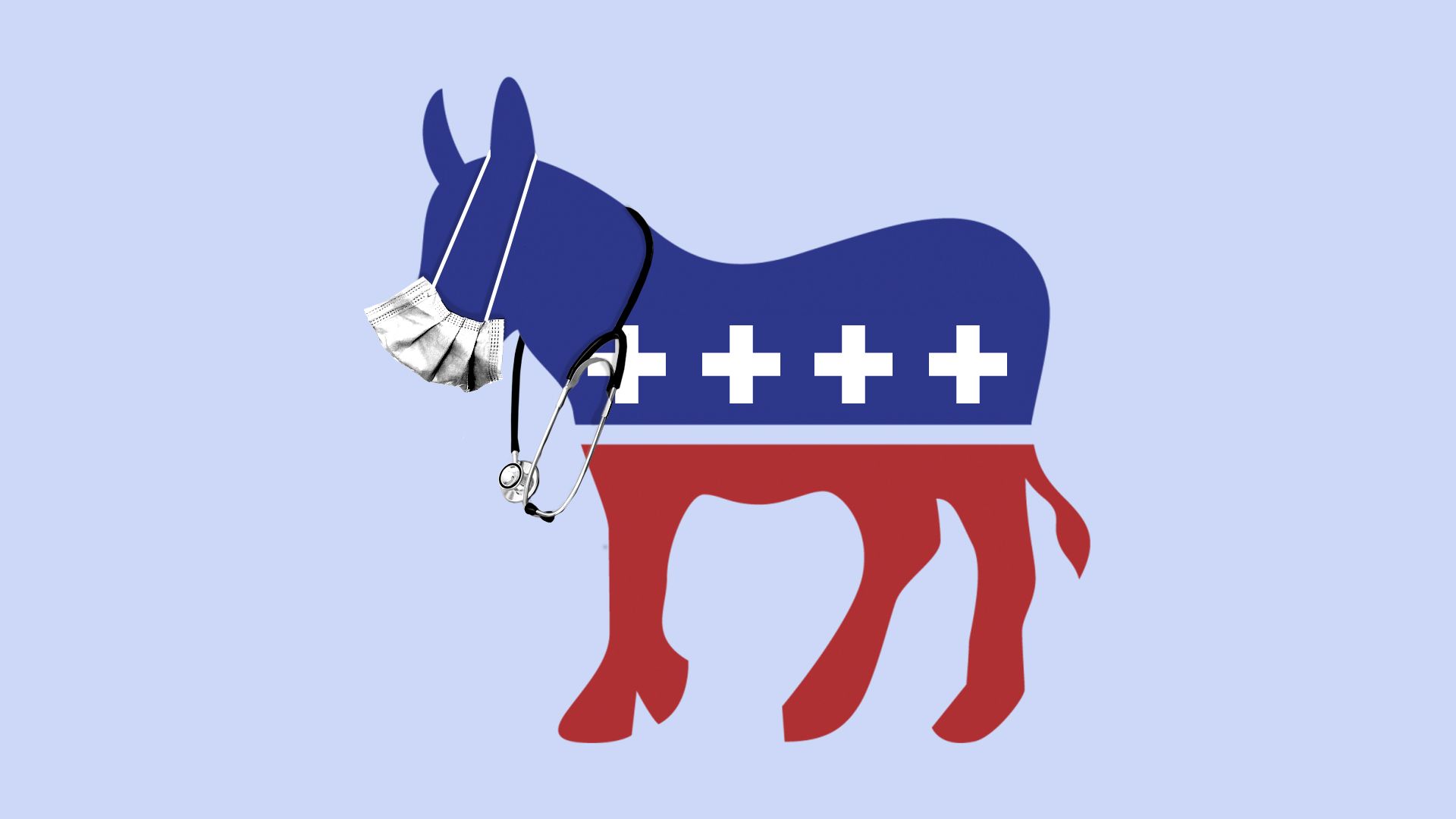 The Medicare for All debate is often defined as a single-payer system versus a public option that preserves a role for private insurance — but there are big differences among the public option plans that the 2020 Democrats have proposed.
Why it matters: These differences impact enrollees' pocketbooks, the burden on taxpayers and the amount of disruption a public option would have on the existing system.
All also involve tradeoffs.
Enrollment: Some plans move closer to universal coverage than others by using automatic enrollment measures. But higher enrollment usually means higher cost to the taxpayers.
For example, Medicare for America — embraced by Beto O'Rourke — would automatically enroll the uninsured, people with Affordable Care Act plans, Medicaid beneficiaries and newborns into a beefed-up version of Medicare, Vox reported earlier this year.
By contrast, Pete Buttigieg's plan would focus on auto-enrolling a smaller universe of people, and Joe Biden's plan would target an even smaller one.
Cost containment: Some of the plans would aggressively limit prices — which would lower costs for patients but inevitably draw massive pushback from providers.
Buttigieg would cap out-of-network provider payment rates at 200% of what Medicare pays.
O'Rourke's Medicare for America plan would pay doctors at Medicare rates, per Vox, which are generally much lower than what private insurance pays.
Biden would focus on tackling market concentration.
Disruption: Some of the plans have wider-ranging effects. While some people would be happy to give up their current coverage, others would be livid.
Biden and Buttigieg would both build on the current ACA structure, but add a public option and allow those with employer insurance to opt into it.
O'Rourke would essentially require everyone to either have their employer-sponsored insurance or the Medicare-like public option, eliminating the ACA marketplace and Medicaid.
2. Surprise billing arbitration may favor doctors
More evidence is piling up that when doctors and insurers sit at a table with a third-party arbiter to solve billing disputes, the outcome could benefit the doctors, Axios' Bob Herman writes.
Driving the news: 2 new government reports show how arbitration, one of the solutions being considered by Congress, works in theory and in the real world.
New York created an arbitration process a few years ago, and doctors on average have been paid well above 80% of their billed charges in emergencies, according to an analysis of the state's report by Loren Adler of the Brookings Institution and the USC-Brookings Schaeffer Initiative. Charges are made-up figures with no relation to costs or quality.
Separately, creating a federal arbitration process "would be likely to result in larger payment rates to providers," especially for doctors who are already paid at higher-than-average rates, the wonks at the Congressional Budget Office said.
The bottom line: Washington has not settled on a single surprise billing solution. It's not difficult to see why providers are pushing for a process that pays them many multiples above Medicare and average in-network rates.
3. Pelosi's drug bill may not be dead yet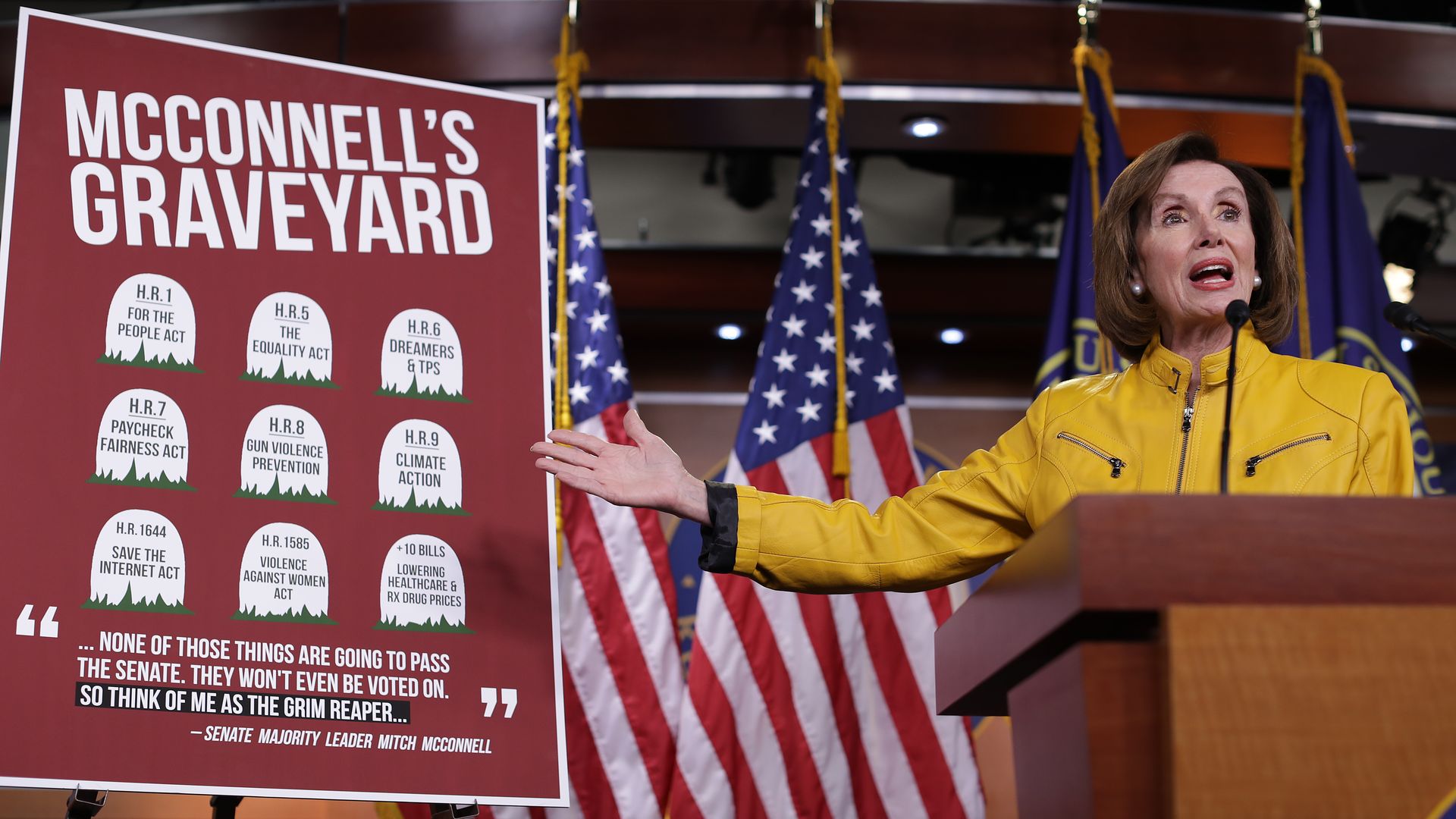 House Speaker Nancy Pelosi released an aggressive proposal to reign in drug prices yesterday, and in a now-familiar fashion, Senate Majority Leader Mitch McConnell said he hated it while President Trump kept the door open.
What they're saying: "I like Sen. Grassley's drug pricing bill very much, and it's great to see Speaker Pelosi's bill today," Trump tweeted.
A few hours earlier, McConnell told Politico in an interview about the Pelosi proposal that "of course we're not going to be calling up a bill like that."
My thought bubble: Pelosi's bill probably isn't going to become law. But we're also living in the Wild West of politics, so I wouldn't bet on anything right now.
4. Vaping update, in 3 sentences
The number of possible cases of severe respiratory illnesses among people who vaped nicotine or cannabis products has jumped by nearly 50%, to a total of 530, the Centers for Disease Control and Prevention announced Thursday.
A Missouri man in his mid-40s became the 8th person in the U.S. to die from a lung-related illness linked to vaping on Thursday, according to the state's Department of Health and Senior Services.
Altria's $12.8 billion investment for a 35% stake in Juul is at risk of becoming one of the worst corporate investments of all time, Axios' Dan Primack writes.
5. Doctors take on child abuse
Some pediatricians who are stationed at major hospitals across the country are working with child welfare and law enforcement officials to help protect abused children from additional harm, Axios' Marisa Fernandez writes.
Why it matters: These doctors' conclusions check out most of the time, but murky evidence can risk the breakup of innocent families when doctors misidentify child abuse, an investigation by NBC News and the Houston Chronicle found.
Child welfare investigations are confidential, and there is no way for the public to know how often parents lose custody.
Physicians carry out their own investigations and sometimes overstate the reliability of their findings, using terms like "100%" and "certain" when something is hard to prove.
Wronged parents have faced financial ruin or lost jobs when they fought against Child Protective Services. Children can also suffer emotionally.
The bottom line: "The reporting reveals a legal and medical system that sometimes struggles to differentiate accidental injuries from abuse, particularly in cases involving children too young to describe what happened to them."
Still, an estimated 1,688 children died from abuse and neglect nationally in fiscal year 2017.