Axios Vitals
August 12, 2020
Good morning.
Today's word count is 987, or a 4-minute read.
1 big thing: America's flying blind on its coronavirus response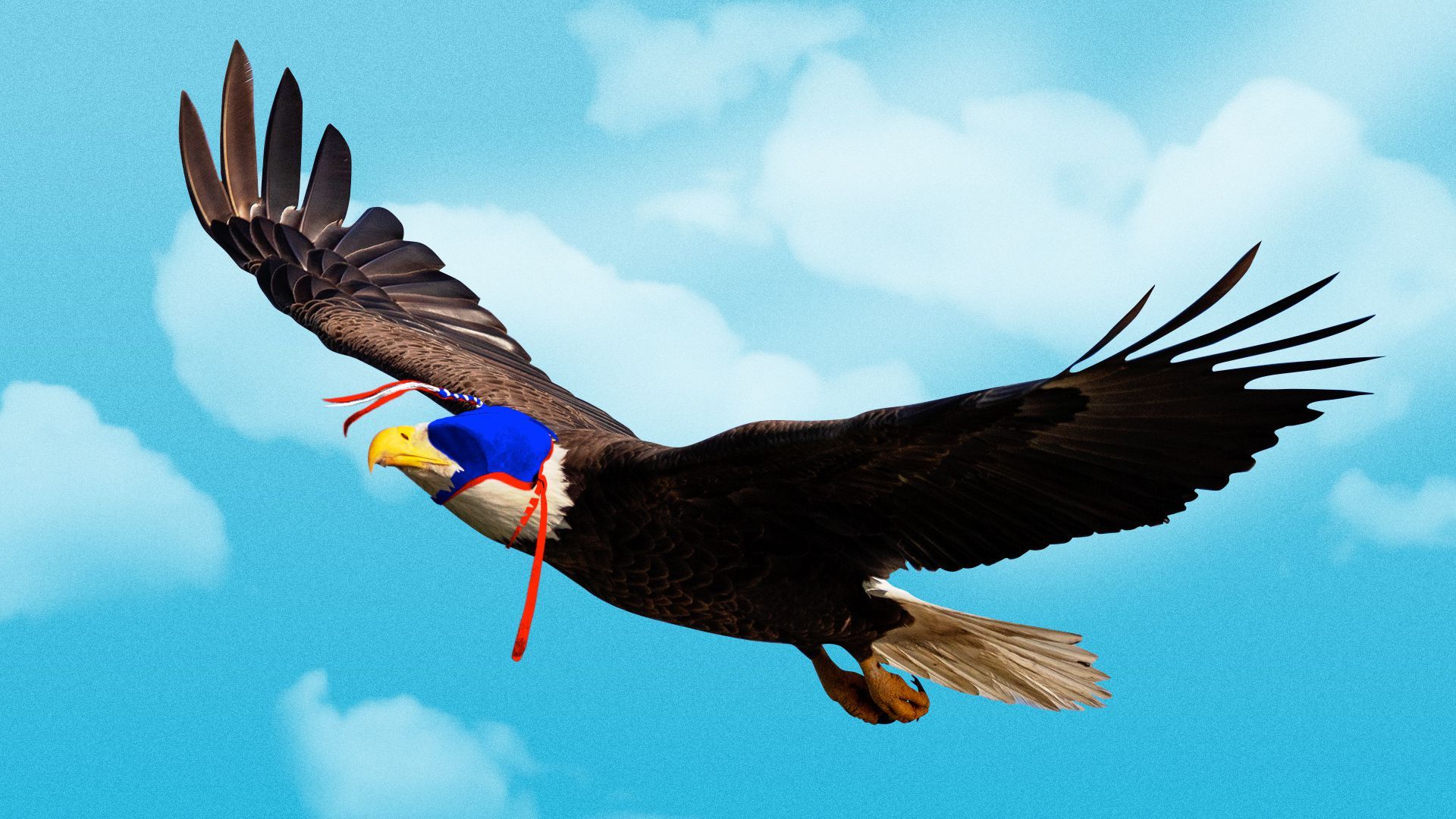 A month after the Trump administration changed how hospital data is reported, the public release of this data "has slowed to a crawl," the Wall Street Journal reports.
The big picture: This is the latest example of how the world's wealthiest country just can't get it together.
Testing and case data — which tell the story of where people are getting sick — have been a problem for the last six months. This latest fiasco blurs the picture of how many people are getting very sick at a given time, which until now has been a more reliable measure of the pandemic.
Driving the news: The Department of Health and Human Services last month ordered states to report coronavirus hospitalization data directly to the agency, rather than to the Centers for Disease Control and Prevention, as they'd been doing.
Now, important data, like the number of beds occupied by coronavirus patients, is lagging by a week or more.
The implications go beyond tracking the virus. Hospitalization data is also used by agencies to determine where to send remdesivir and personal protective equipment.
What they're saying: "The transition has been a disaster," Jeffrey Engel, senior adviser to the Council of State and Territorial Epidemiologists, told the WSJ. "What HHS said was that the CDC was not nimble enough and couldn't handle new data elements, and that's simply not true."
The other side: HHS officials told the WSJ that the new system has a more complete set of data, but that the quality-control process has led to some delays as the new system gets up and running.
The bottom line: We're doing a terrible job handling the pandemic, at least relative to other wealthy countries. The fact that we don't have a good idea of what's happening in real time — and it's getting worse — is one of the major contributors to that failure.
2. The top-selling drugs in the U.S. in 2019
The 10 highest-selling drugs in the U.S. last year gave away more than $23 billion in rebates to insurance intermediaries, but still netted $50 billion in sales, Axios' Bob Herman reports.
The big picture: The U.S. drug pricing system is filled with confusing numbers, and many entities profit off the flow of drugs, but pharmaceutical companies retain a vast majority of the proceeds.
By the numbers: Humira, the rheumatoid arthritis blockbuster made by AbbVie, continues to generate more revenue than any other drug, due to AbbVie extending U.S. patents and consequently retaining higher U.S. prices.
After subtracting about $3 billion in discounts that went to drug distributors and other supply chain entities, Humira generated about $21.9 billion in "non-discounted invoice sales," according to a report from data analytics firm IQVIA.
Another $6.5 billion in rebates went to pharmacy benefit managers, health insurers and employers, leading to $14.9 billion in net U.S. Humira sales for AbbVie.
Between the lines: Drugs that have more competitors usually offer higher insurance rebates than drugs with few or no competitors.
Intravenous cancer drug Keytruda and immunology drug Stelara have no real competitors, and therefore don't have large rebates.
Blood thinners Xarelto and Eliquis and diabetes drug Trulicity are battling several other drugs in their classes, and therefore offer rebates well over 50% of their list prices to get preferred slots on lists of covered drugs.
3. The latest in the U.S.
The Big Ten and Pac-12 announced Tuesday that they've voted to postpone their 2020 fall sports seasons, including football, due to risks posed by the coronavirus pandemic, hoping instead to play in the spring.
A record 137 people have died from the coronavirus in Georgia on Tuesday, surpassing the state's record from last week, according to the Georgia Health Department.
Florida's health department on Tuesday reported 276 new coronavirus deaths, surpassing the state's record from July 31.
President Trump's executive action calling on states to provide 25% of an additional $400 in weekly unemployment benefits poses "significant administrative burdens and costs," according to a bipartisan letter from the leaders of the National Governors Association.
4. The latest worldwide
Mexico reported Tuesday 6,686 new cases and a "near-record" 926 additional deaths from COVID-19 in 24 hours, AP notes.
New Zealand Prime Minister Jacinda Ardern said Tuesday it's too early to say whether next month's elections will be postponed, after four members of the same family tested positive for COVID-19. Auckland is locking down and the rest of the country faces lesser restrictions for 72 hours.
Israel has called on its army to take over COVID-19 testing operations, per the Washington Post. The military's expanded role includes the deployment of 3,000 additional soldiers and civilian staff.
5. Russia's vaccine gamble
Russia's announcement Tuesday that it had approved a vaccine for COVID-19 was met with skepticism by vaccine and health care experts around the world, including medicinal chemist, author and expert on drug development Derek Lowe, who joined the "Axios Re:Cap" podcast yesterday.
Why it matters: The vaccine, dubbed "Sputnik V," has barely started Phase 3 clinical trials and is being panned as a publicity stunt.
If it ultimately is not proven safe and effective, it could pose public health risks and undermine public confidence in the vaccine research and development process everywhere, Axios' Naomi Shavin writes.
What's happening: Russia announced it had approved the vaccine and that the country plans to inoculate health care workers, teachers and others in the coming months.
Yes, but: According to AP, the vaccine has only been tested on dozens of people at this point, far from the tens of thousands of volunteers typically involved in Phase 3 clinical trials.
What they're saying: "We are speeding up everything that can possibly be sped up," Lowe said. "We're right on the ragged edge already. So the idea that we need to press the gas pedal down even further and cut a bunch more corners to try to catch up, in quotation marks, with the Russian vaccine is a terrible idea."
Go deeper: Fauci says he "seriously" doubts Russia's coronavirus vaccine is safe
6. Trump administration buys more vaccine doses
The U.S. government has agreed to buy 100 million doses of Moderna's experimental coronavirus vaccine for $1.5 billion, or $15 per dose, Bob writes.
Why it matters: The Trump administration, through Operation Warp Speed, has now bought initial batches of vaccines from Moderna, GlaxoSmithKline and Sanofi, Pfizer, Novavax, Johnson & Johnson and AstraZeneca before knowing whether they are safe and effective.
The federal government also appears to own some of the patent rights associated with Moderna's vaccine.
Editor's note: The second item and chart have been corrected to show there was roughly $50 billion (not $58 billion) in U.S. net sales. We had previously included international sales for Biktarvy, Enbrel, Januvia, Remicade and Stelara.