Good morning ... President Trump may be whacking Merck CEO Kenneth Frazier on Twitter over and over again for leaving his manufacturing council, but Frazier already made his point about Trump's handling of Charlottesville — and his protest is what most people will remember.
But first, here's why one of the nation's biggest hospital chains is in full meltdown.
https://www.axios.com/newsletters/axios-vitals-7a986c4a-f4be-4c39-84f1-7343a619d59e.html?chunk=0#story0
The collapse of Community Health Systems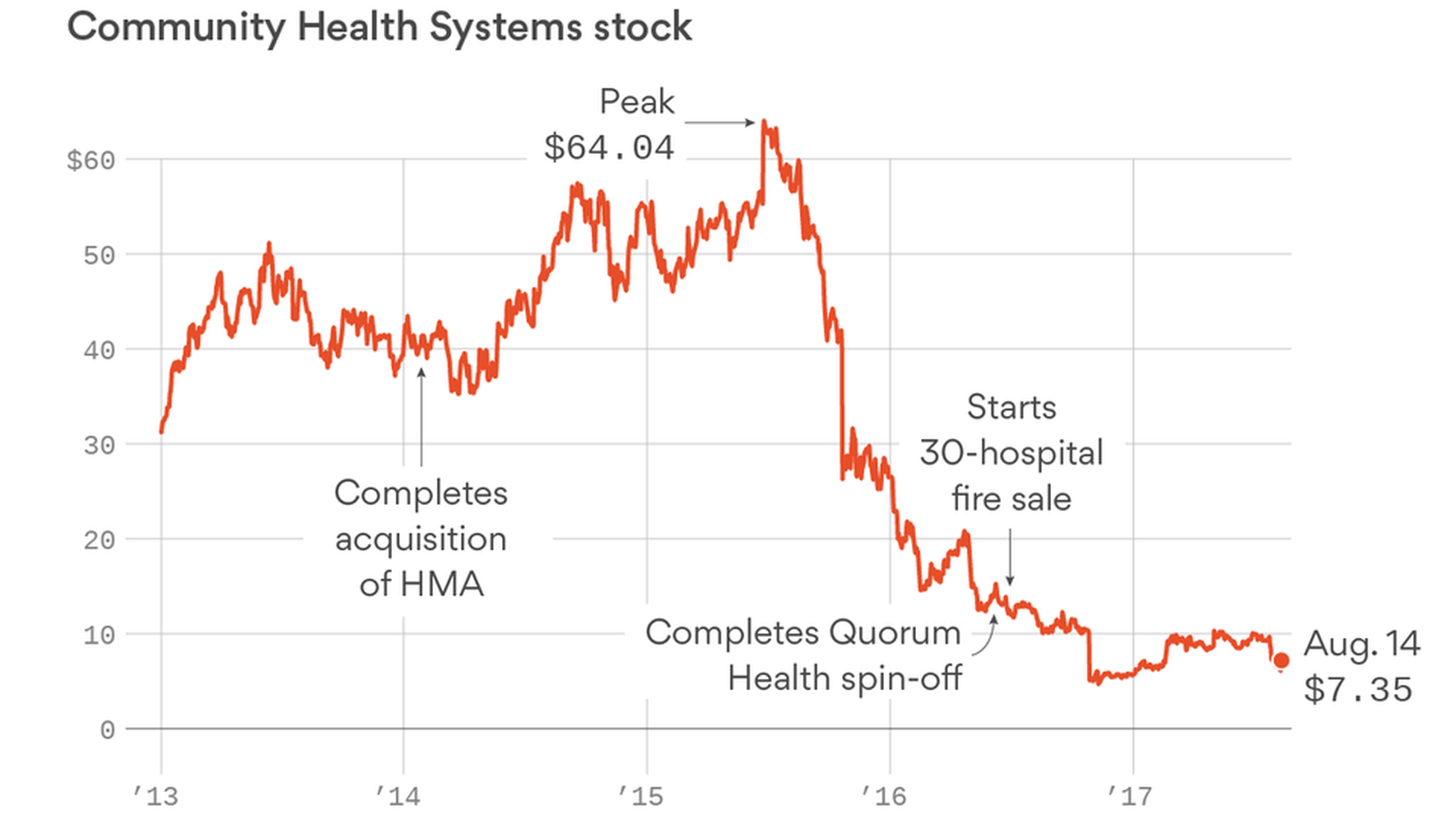 Bob Herman has a deep dive this morning into the implosion of what used to be the nation's largest for-profit hospital chain. Community Health Systems is now hemorrhaging money, sitting atop a mountain of debt and teetering on the edge of bankruptcy — all major reasons why the company has lost almost 90% of its market value.
What happened? It made the ill-advised decision to acquire Health Management Associates, a for-profit hospital chain that had a slew of financial and legal problems. Since then, it has had a crumbling market cap, billions of dollars of net losses, and a ballooning debt load. One health care investment banker called the HMA purchase "the death knell."
https://www.axios.com/newsletters/axios-vitals-7a986c4a-f4be-4c39-84f1-7343a619d59e.html?chunk=1#story1
Merck CEO takes a stand
When Merck's Frazier announced yesterday he was resigning from Trump's manufacturing council, suggesting it was over the president's initial failure to condemn white supremacists after the Charlottesville violence, there weren't a lot of health care CEOs or advocacy group leaders who followed his lead.
Frazier did have two important CEOs join him last night: Kevin Plank, CEO of the sportswear company Under Armour, left the manufacturing council per CNBC, as did Intel CEO I Krzanich.
Krzanich's statement read like a rebuke of Trump: "I resigned because I want to make progress, while many in Washington seem more concerned with attacking anyone who disagrees with them."
Kaiser Permanent CEO Bernard Tyson spoke out after Trump's do-over yesterday, tweeting: "The President should consistently demonstrate zero tolerance for white supremacy, neo-Nazi groups. We must be unwavering."
And Georges Benjamin, executive director of the American Public Health Association, told Bob he supported Frazier's decision: "Leaders need to call out racism and hatred when they see it. That's for health care leaders or any other leader. It affects our health. It's one of those social determinants."
But as the New York Times' Andrew Ross Sorkin pointed out, there's no mass movement of health care CEOs, or any other CEOs, to criticize Trump's handling of Charlottesville — or to defend Frazier after Trump attacked him on Twitter following his announcement.
As one CEO told Sorkin: "Just look at what he did to Ken. I'm not sticking my head up."
https://www.axios.com/newsletters/axios-vitals-7a986c4a-f4be-4c39-84f1-7343a619d59e.html?chunk=2#story2
"This was exactly the America I knew"
This one's really worth a read: Jennifer Adaeze Okwerekwu, a STAT columnist who got her MD from the University of Virginia, wrote about her medical school experiences in Charlottesville yesterday. She was fed up with everyone who reacted to this weekend's events by saying this isn't what Charlottesville is really like:
"In Charlottesville, this was exactly the America I knew. This was the Virginia I knew. This was the medicine I knew. Even on graduation day, one the happiest days of my life, my family broke bread at a restaurant I later learned was owned by a man affiliated with the University of Virginia who had made controversial and racist statements."
https://www.axios.com/newsletters/axios-vitals-7a986c4a-f4be-4c39-84f1-7343a619d59e.html?chunk=3#story3
Get ready to hit "refresh" on the CBO website again
Sure, it's not as exciting as a new cost estimate for an Affordable Care Act repeal bill. But the Congressional Budget Office is putting out a report this afternoon about what happens if the Trump administration cuts off the cost-sharing reduction payments to insurers. The agency is working on the report with the Joint Committee on Taxation staff.
Suspense level: Pretty low. We know a cutoff would raise premiums, because the insurers have been telling us that. But CBO's predictions would give new ammunition to insurers who are pushing for a resolution — and to Democrats and ACA supporters who insist that Trump and the GOP are destabilizing the ACA markets with their actions.
What to watch:
How much premiums would increase.
How much market instability the cutoff would create.
Whether it would actually reduce federal spending or cost money, as the Kaiser Family Foundation has already predicted, since the ACA tax credits would adjust to cover the higher premiums.
How the Trump administration and congressional GOP leaders react. They could question CBO's methodology as they did during the repeal debate — or they could just say it won't change their minds, because they don't want "insurer bailouts" without any changes to the ACA.
https://www.axios.com/newsletters/axios-vitals-7a986c4a-f4be-4c39-84f1-7343a619d59e.html?chunk=4#story4
Wonks aren't ready to bail on payment reform
The evidence on all of those cool new ways of delivering and paying for health care — the ones that were supposed to save money and improve quality like bundled payments — are kind of "meh." But a team of health care experts led by Len Nichols, director of the Center for Health Policy Research and Ethics at George Mason University, writes in the Health Affairs blog that it's too early to give up on these models.
What's on the line: Accountable care organizations, care coordination, patient-centered medical homes, and bundled payments. (ACOs and bundled payments are newer ways to pay for care, while patient-centered medical homes are supposed to improve the delivery of care by creating teams of providers to meet patients' needs.)
Reasons to keep models: The team suggested various reasons why the mediocre results shouldn't be the end of the road:
Improvements take time.
Not all patients need the improvements now, so better to focus on the ones who do.
There could still be savings in unexpected places.
The small savings are still something — and "more robust cost reduction strategies" may do better.