Axios Vitals
August 10, 2017
Good morning ... We are all about context here at Vitals, so today we're going to give you lots of it — about rising health care costs, who's actually getting hit by those Affordable Care Act rate hikes, and what's really going on with insurer competition. Then we can all go back to Twitter, where context isn't really a thing.
The different ways your health care costs are going up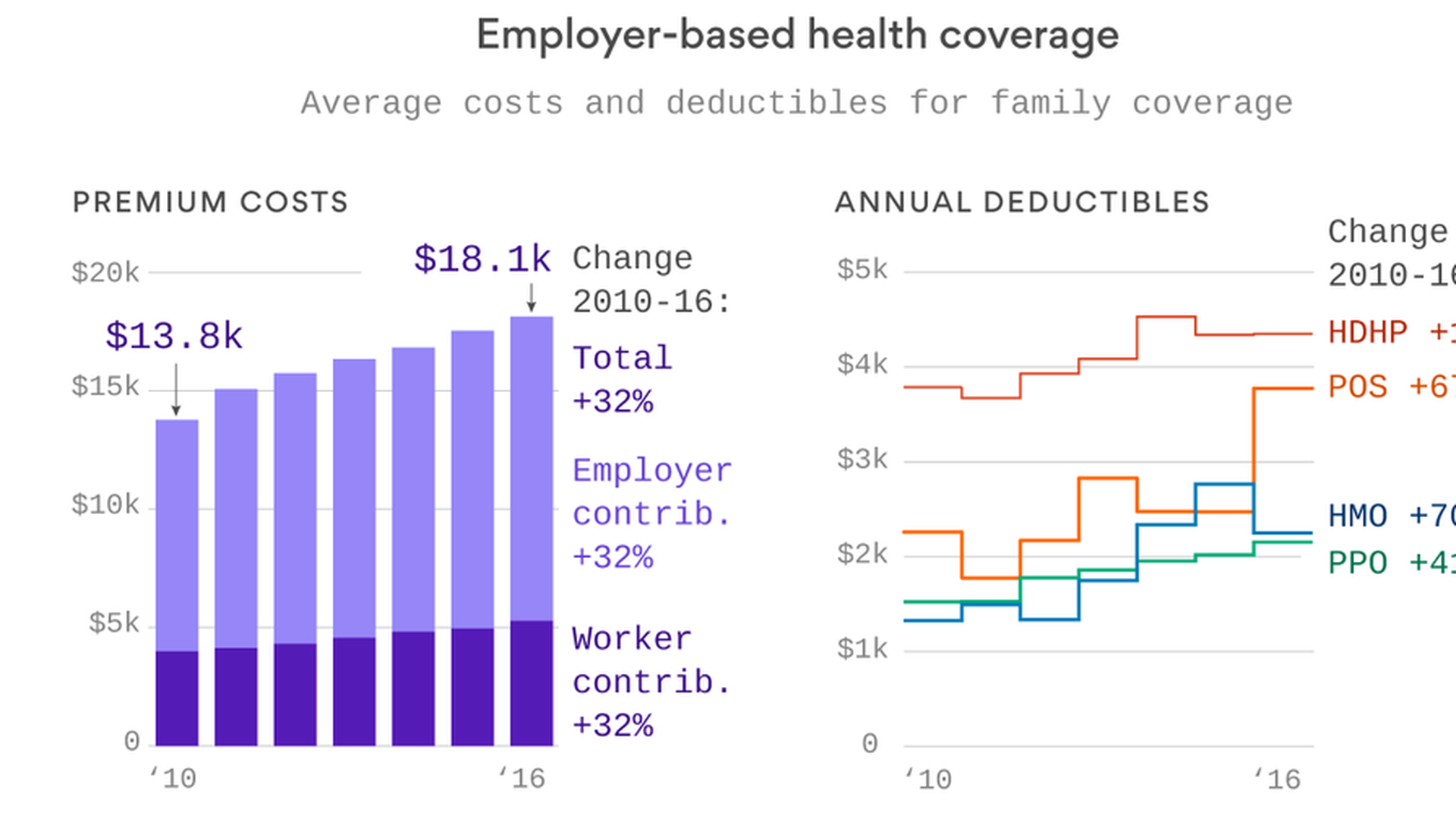 We've spent so much time talking about Affordable Care Act costs this year that it's easy to forget what most people are actually paying for health care — the 156 million Americans who get their health coverage through the workplace. Turns out, most of us aren't seeing sky-high premium increases. But it's also worth remembering that deductibles matter too — because that's what we pay out of pocket before insurance kicks in.
Take a look at these two graphics from Axios datavisuals genius Chris Canipe. The premium increases between 2010 and 2016 weren't that bad — they're single digits each year, and just add up over time. But you can see some big increases in deductibles, especially in point-of-service plans and HMOs.
Why it matters: That's a big reason why people feel their health care costs going up, because it means they're paying more out of pocket. And when prescription drug prices rise, they're more likely to feel it directly.
Yes, there's an ACA crisis — but not for everyone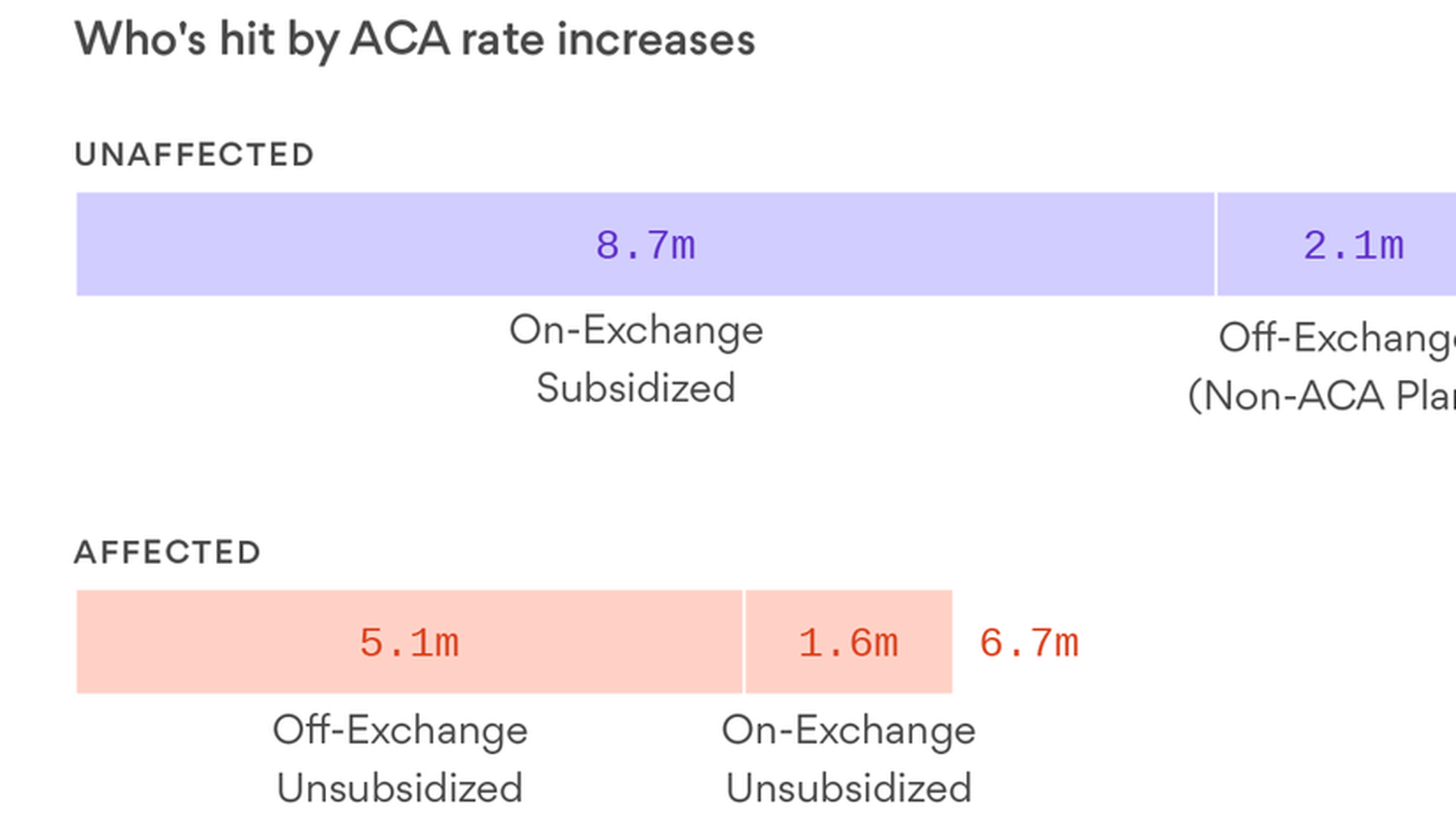 The Kaiser Family Foundation's Drew Altman puts the ACA's rate hikes in context in today's column. When we talk about those double-digit ACA premium increases, they're going to affect about 6.7 million people. That's a lot for sure, and well worth addressing, he says — but it's not the majority of the people in the individual market. Most of them are shielded, either because they get tax credits or because they're in "grandfathered" plans that are unaffected.
And don't forget: That's compared to the 156 million people who get health insurance through the workplace, and the 74 million who get it through Medicaid and CHIP.
Yes, but: As we've learned this year, 6.7 million is still a lot of "Obamacare victims" to call out whenever the Trump administration wants to draw attention to the law's problems.
The real ACA competition problem
The Centers for Medicare and Medicaid Services put out its latest county-by-county map of how many insurers are participating in the ACA marketplaces next year. The biggest problem isn't the 17 counties with no insurers. It needs to be solved, but the number has been shrinking as insurers have stepped in to fill the need. The bigger issue is the 1,409 counties that are expected to have only one insurer — nearly 45 percent of all counties.
Why it matters: The point of the ACA marketplaces was to be, you know, marketplaces — where people could shop around for health insurance, compare plans, and pick the ones that fit their needs. People can't really do that when there's only one insurer.
Trump nukes McConnell (on Twitter)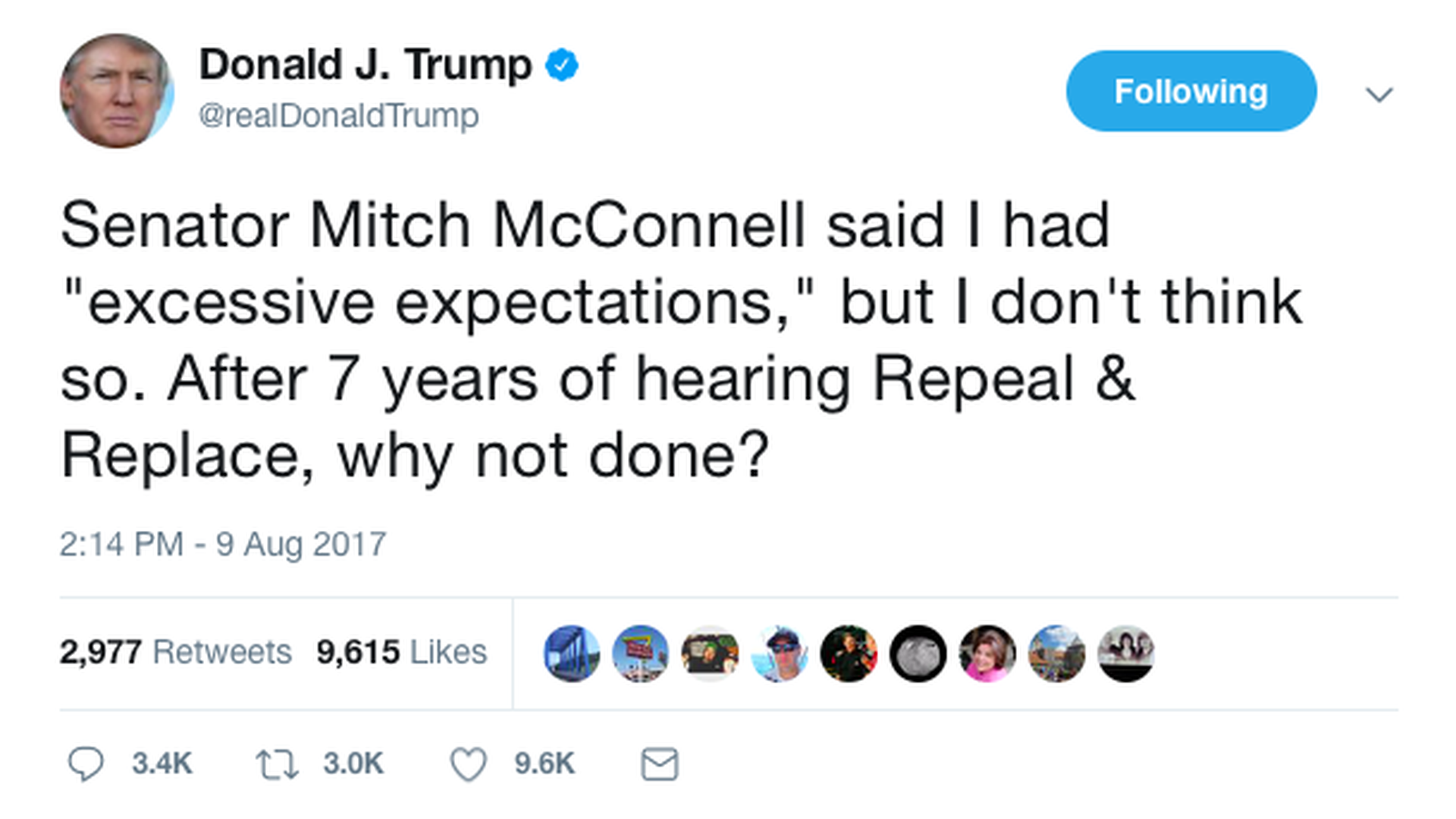 It was easily President Trump's third-most-talked-about tweet yesterday, and it wasn't a huge surprise. He was responding to an unusually blunt speech Senate Majority Leader Mitch McConnell gave in Kentucky on Monday, in which he said Trump had "excessive expectations about how quickly things happen in the democratic process."
The back story: Trump called McConnell before the tweet to scold the majority leader for his comments, per the New York Times.
Between the lines: The two were talking past each other. McConnell, the Senate veteran, was pointing out the practical difficulties of something as big as a rewrite of the health care system. But Trump was talking about the basic goal Republicans have been setting for themselves for seven years. They did promise to repeal and replace the ACA — not just if they could agree on it. Whose side do you think Republican voters will take?
What's making the premiums so high
Altman's column draws on a new Kaiser Family Foundation survey out this morning about the ACA premium increases in 21 major cities. Here's something else that caught my eye: There's a good breakdown of the reasons behind some of the insurers' biggest increases — a lot of which are due to uncertainty over whether the Trump administration will pay the ACA's cost-sharing reduction subsidies and whether it will enforce the individual mandate.
You should look at the survey for the full list, but a few examples:
Pacificsource Health Plans, Idaho: 23.2% increase due to CSR uncertainty
New Mexico Health Connections, New Mexico: 20% increase due to mandate uncertainty
CareFirst BlueChoice, Maryland and Virginia: 20% increase due to mandate uncertainty
Blue Cross Blue Shield of Tennessee: 7% increase due to mandate uncertainty, 14% increase due to CSR uncertainty
New health care tax strategy: Ask for another delay
Since they couldn't get the ACA repealed, opponents of the law's health care taxes are asking Congress to delay two of the big ones again. In a letter to House Speaker Paul Ryan and Senate Majority Leader Mitch McConnell this morning, Americans for Tax Reform, FreedomWorks and other conservative groups are asking them to put two of the big ones on hold: the medical device tax and the tax on health insurers. Both were suspended before, but they're supposed to come back in 2018.
The argument: Insurers are pushing against the health insurance tax too, with an argument guaranteed to appeal to Republicans: They make premiums higher for everyone. An Oliver Wyman study commissioned by UnitedHealth Group showed how much the tax adds to premiums, not just in the individual market, but in the small and large group markets as well as Medicare Advantage.
Why it matters: With powerful industry groups and conservative leaders on the same side, it wouldn't be surprising if congressional Republicans agree to attach a delay to a year-end spending bill — if they can figure out how to pay for it.
The drug pricing lawsuits pile up
The latest one targets Walgreens, and similar to the CVS lawsuit we wrote about yesterday, the new class-action lawsuit accuses Walgreens of charging customers more for generic drugs than they would have paid without insurance — and then giving the money they collect from copayments to third parties, called pharmacy benefit managers. Walgreens says the lawsuit "lacks merit and we will vigorously defend against the allegations."
Why it matters: The two lawsuits — both filed by the same law firm — are sure to draw more scrutiny to the role that pharmacies and pharmacy benefit managers might have in high drug prices. At a time when Congress is still making noises about getting involved, it's attention they don't need.
What we're watching in September: Senate HELP Committee hearings on bipartisan ACA stabilization bill, week of Sept. 4; Senate Finance Committee hearing on CHIP reauthorization, same week; Healthcare Security Forum, sponsored by the Healthcare Information and Management Systems Society, Sept. 11-13.
Tell me what else you want for good summer newsletter reading: [email protected].