Good morning ... Our Axios health care team has just expanded! We're thrilled that Sam Baker has joined us as the deputy health care editor. You may know his work from National Journal and The Hill, and he brings a lot of experience and a ton of smarts. We're teaming up on Vitals now, and he's going to help us make the Axios health care news stream even better, too.
https://www.axios.com/newsletters/axios-vitals-6cfcfee1-9f4f-4572-8e9e-8b0c03d68a10.html?chunk=0#story0
Whatever happened to IPAB repeal?
https://www.axios.com/newsletters/axios-vitals-6cfcfee1-9f4f-4572-8e9e-8b0c03d68a10.html?chunk=1#story1
When SCOTUS says "patents," it kind of means "drug prices"
The drug industry's pricing structure took a hit yesterday at the Supreme Court, via a 7-1 decision about patent law and international sales. It's a complicated case, and not directly pharmaceutical related, but here's the upshot: The court's ruling could make it easier for middlemen to buy prescriptions drugs overseas, where they're heavily discounted, then resell them inside the United States, where they'd normally be much more expensive.Why it matters: It's not like the Supreme Court just solved our drug-pricing debate. Federal law still bans importing drugs from other countries. But if that ever changes, or if the "gray market" for imported, discounted drugs grows anyway, some experts fear that drug makers would raise their prices in the developing world. They might even quit selling certain products in some foreign markets — a possibility the industry itself raised in a Supreme Court brief.
https://www.axios.com/newsletters/axios-vitals-6cfcfee1-9f4f-4572-8e9e-8b0c03d68a10.html?chunk=2#story2
The public really wants the Senate to rewrite the House bill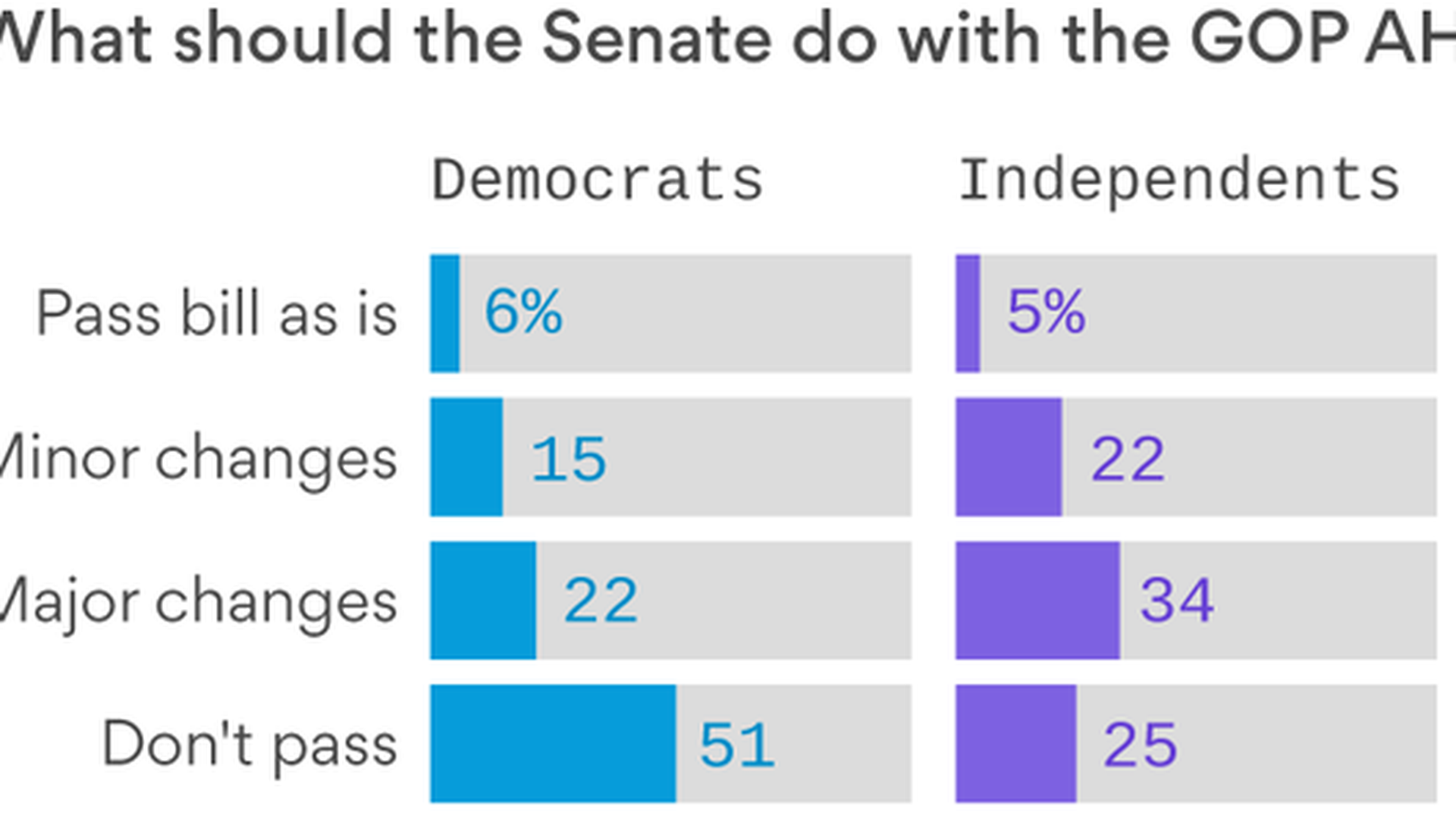 Partisanship is driving Americans' views of the GOP health care bill — and of the system it would replace. That's the gist of the Kaiser Family Foundation's latest tracking poll, which found stark partisan divides over…pretty much everything in health care. But there's a general consensus on one thing: Most Americans want the Senate to rewrite the House bill.
Why it matters: A less popular bill is less likely to pass, and harder to defend even if it does. Republicans know there's a playbook for capitalizing on an unpopular, party-line health care bill. It's a playbook they wrote.
https://www.axios.com/newsletters/axios-vitals-6cfcfee1-9f4f-4572-8e9e-8b0c03d68a10.html?chunk=3#story3
Why it's so hard to do apples-to-apples with CBO
We got some smart pushback on our item yesterday about how the Congressional Budget Office's predictions on the ACA matched up with reality. So it's worth acknowledging that this stuff is never as cut-and-dried as it might seem.
Coverage: Peter Orszag, a former CBO director, said it doesn't work to directly compare the ACA's coverage gains — 20 million people — to CBO's prediction that 32 million would gain coverage. That's because the number of uninsured probably would have risen if the ACA had never become law.
In reality, he says, it's more like 22 million people gained coverage. And CBO's 32 million prediction was also made before the Supreme Court made the law's Medicaid expansion optional, lessening the impact it could have had.
Premiums: A Senate Democratic aide points out that last week's HHS report, which found that individual market premiums doubled between 2013 and 2017, isn't directly comparable to CBO's prediction that individual insurance premiums in 2016 would have been 10 to 13 percent higher than under the old system.
Why? Because the HHS report was comparing two different individual markets — one before the ACA, and a heavily changed one after the ACA. And CBO was only looking at one year. (Orszag also points out that premiums probably would have risen 30 to 50 percent between 2013 and 2017 anyway, even without changes in the law.)
The bottom line: Orszag's point is well taken — you should always consider what would have happened if the law had never passed. And it's worth noting that experts have different interpretations on the premiums — but the main point was that nothing in CBO's estimates warned Congress that people could see substantial premium increases because of the changes they were considering.
https://www.axios.com/newsletters/axios-vitals-6cfcfee1-9f4f-4572-8e9e-8b0c03d68a10.html?chunk=4#story4
Mallinckrodt might sell its generic drug business
This would be a big deal in the business world (h/t Dan Primack): Mallinckrodt, the speciality biopharmaceutical company, is considering a sale of its generic drug unit for as much as $2 billion, Reuters reported last night. That would leave it focusing mostly on branded specialty pharmaceuticals. (One reason it might want to get rid of the generic unit, per Reuters: its products include opioids.)
https://www.axios.com/newsletters/axios-vitals-6cfcfee1-9f4f-4572-8e9e-8b0c03d68a10.html?chunk=5#story5
More on the activist cloud hanging over Athenahealth
Two weeks ago, Bob Herman reported on how activist hedge fund Elliott Associates bought a hostile stake in Athenahealth, and how it wouldn't be surprising if Elliott pushed the cloud-based health care technology company to sell. Athenahealth CEO Jonathan Bush made his first public comments about Elliott at a J.P. Morgan event last week, indicating that he's at least open to hearing out Elliott.
Bush on why he thinks activist investing can be good: "It's a healthy thing to have someone come in and say, 'Your baby is fat. That's not a pretty baby, that's a fat baby.'"
But don't buy this as a happy relationship: Bush mentioned he spoke on the phone with Jesse Cohn, a senior manager at Elliott who is overseeing the Athenahealth stake, and basically said this while gritting his teeth: "[Cohn] gave me a nice 11 minutes before he filed…it sounds like he's got a lot of ideas."
https://www.axios.com/newsletters/axios-vitals-6cfcfee1-9f4f-4572-8e9e-8b0c03d68a10.html?chunk=6#story6
The latest in health care lobbying
Bob Herman has your periodic reminder that D.C. is awash with lobbyists wrangling over the intricacies of health care policy, as well as the ACA repeal efforts. Here are some notable lobbying registrations from the past month:
The Blue Cross and Blue Shield Association hired Keith Fontenot of Hooper, Lundy & Bookman for a narrow reason: to lobby on "issues related to federal reimbursement for cost-sharing subsidies under the Affordable Care Act." Yep, the subsidies that Trump has threatened to cut off. Fontenot used to be Obama's top health care official in the Office of Management and Budget.Ford Motor Company hired Bose Public Affairs Group (specifically Victor Smith, who used to be Vice President Mike Pence's secretary of commerce), and Boeing hired Mehlman Castagnetti Rosen & Thomas for various, unclear health issues. Remember: Companies like Ford and Boeing have hundreds of thousands of employees with health insurance, and they are just as sick of the rising costs.Stride Health, an insurance brokerage startup that serves self-employed people, tapped Franklin Square Group to push for issues that "improve access to health insurance and other benefits for the independent workforce." This is Stride's first time lobbying.