Axios Vitals
May 19, 2017
Good morning ... We've got more for you today on how much the National Institutes of Health really spends on overhead costs. And we were all set to ignore the chatter about a budget problem that could force the House to re-vote on the health care bill — but you should probably be semi-prepared, just in case.
Here's how much NIH spends on indirect costs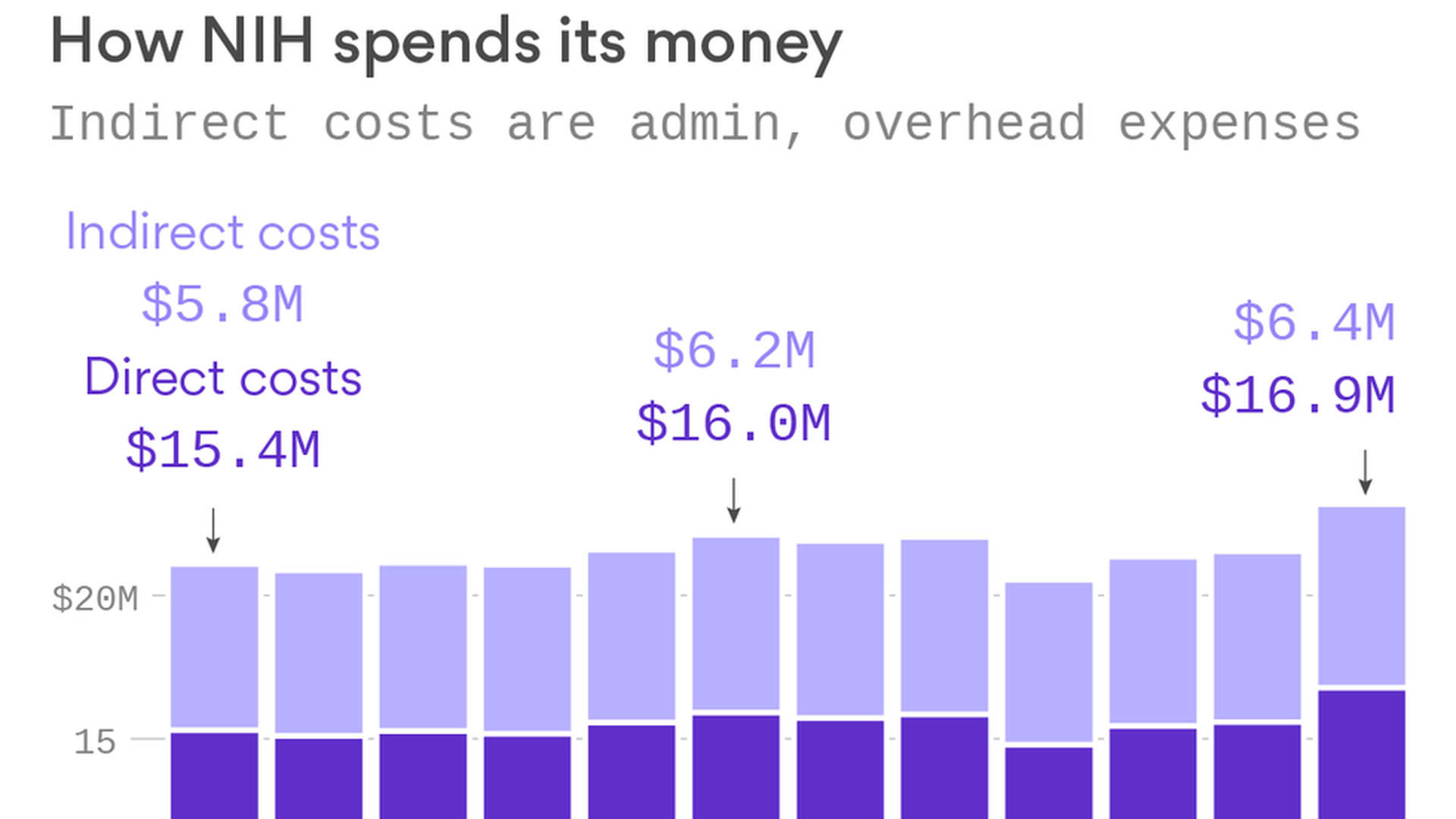 The Trump administration and congressional Republicans are starting to give more scrutiny to how much the National Institutes of Health spends to cover administration and overhead costs, rather than research expenses. This chart, taken from NIH budget tables, shows how the two kinds of funding compared to each other since fiscal 2005. This is the information Rep. Andy Harris used when he questioned NIH director Francis Collins about it at a Wednesday hearing.
The takeaways:
Indirect costs have hovered at roughly 27% of total spending for more than a decade.
Direct costs have remained steady at around 72%.
For private funders, 10% is more typical for indirect costs, like this example from the Alzheimer's Association Research Fellowship. (Collins says universities can only afford to accept such low overhead funds from private funders because NIH gives them more.)
Because nothing is implausible anymore ...
You're probably going to start hearing more about a scenario in which the House might have to vote on the health care bill again. Why? It's all because the House didn't wait to get a final Congressional Budget Office estimate before they voted on the bill. Because it's being done under budget "reconciliation" rules, it has to save at least $2 billion. The older versions would have saved way more than that — but as Bloomberg's Billy House reported yesterday, it's no longer clear that the bill still does, after all of the last-minute changes.
Threat level: I would have said it's not very high. But then Vox's Dylan Scott posted a story last night that walked through some private groups' estimates of the changes in more detail. His story was more convincing: Yes, there could be a problem, especially if the state waivers from ACA rules encourage more people to buy health insurance. The bill could also spend too much on programs under the jurisdiction of the Senate HELP Committee.
The bottom line: We'll know for sure when CBO releases its final estimates next week. For now, just be aware that it's a possibility. And if it happens — hey, that's why careful lawmakers wait for CBO estimates before they vote.
Senate working group still hasn't decided things
The infamous Senate Republican working group met yet again Thursday, this time to talk about tax credits. It's only been two weeks since the House passed its bill, but as one senior GOP aide put it to Caitlin Owens, "The working group has made lots of progress in sharing their feelings."
They weren't kidding when they said they're starting from scratch and not just rewriting details. Many members have spoken for a long time about beefing up the House tax credits to help lower-income and older people. But when Caitlin asked Sen. Ted Cruz whether the group is even all in agreement about advanceable tax credits — which is what the House bill has — his response was: "That is one of the many aspects of the bill that are the subject of discussion."
Between the lines: The lack of any decisions about very basic structural pieces of the bill highlights the ideological diversity of Senate Republicans. Getting the necessary 50 votes is going to be difficult.
What we're watching: Whether next week's Congressional Budget Office score of the House bill will help the Senate pick up its pace. "We're interested in what CBO has to say about the House bill, but that doesn't keep us from writing our own bill," Sen. Lamar Alexander, chairman of the Health, Education, Labor and Pensions Committee, told reporters.
Republicans to Price on user fees: Sorry, we can't hear you
The reauthorization of the Food and Drug Administration's user fees is moving along, but Democrats have been worried that the Trump administration might trip everything up. They've been complaining because Health and Human Services secretary Tom Price has been writing letters trying to get Congress to add one of the administration's ideas at the last minute: making the industry pay the full cost of medical product reviews.
It's easy to see why that wouldn't go over well, especially after the whole balance between federal funding and user fees has been carefully negotiated between Congress, the FDA, and the health care industry. So at the markup of the user fee bill yesterday in the House Energy and Commerce health subcommittee, Rep. Frank Pallone urged Republicans to just say "No."
The bottom line: Turns out he didn't have to worry about it. Committee chairman Greg Walden and health subcommittee chairman Michael Burgess both took the low-key approach: They just ignored the administration proposal. And Walden sent a signal that he's not interested in reopening the bill: "If we do not have the bill to the president's desk in July … desperately needed treatments will not reach patients."
The latest insurer payments bombshell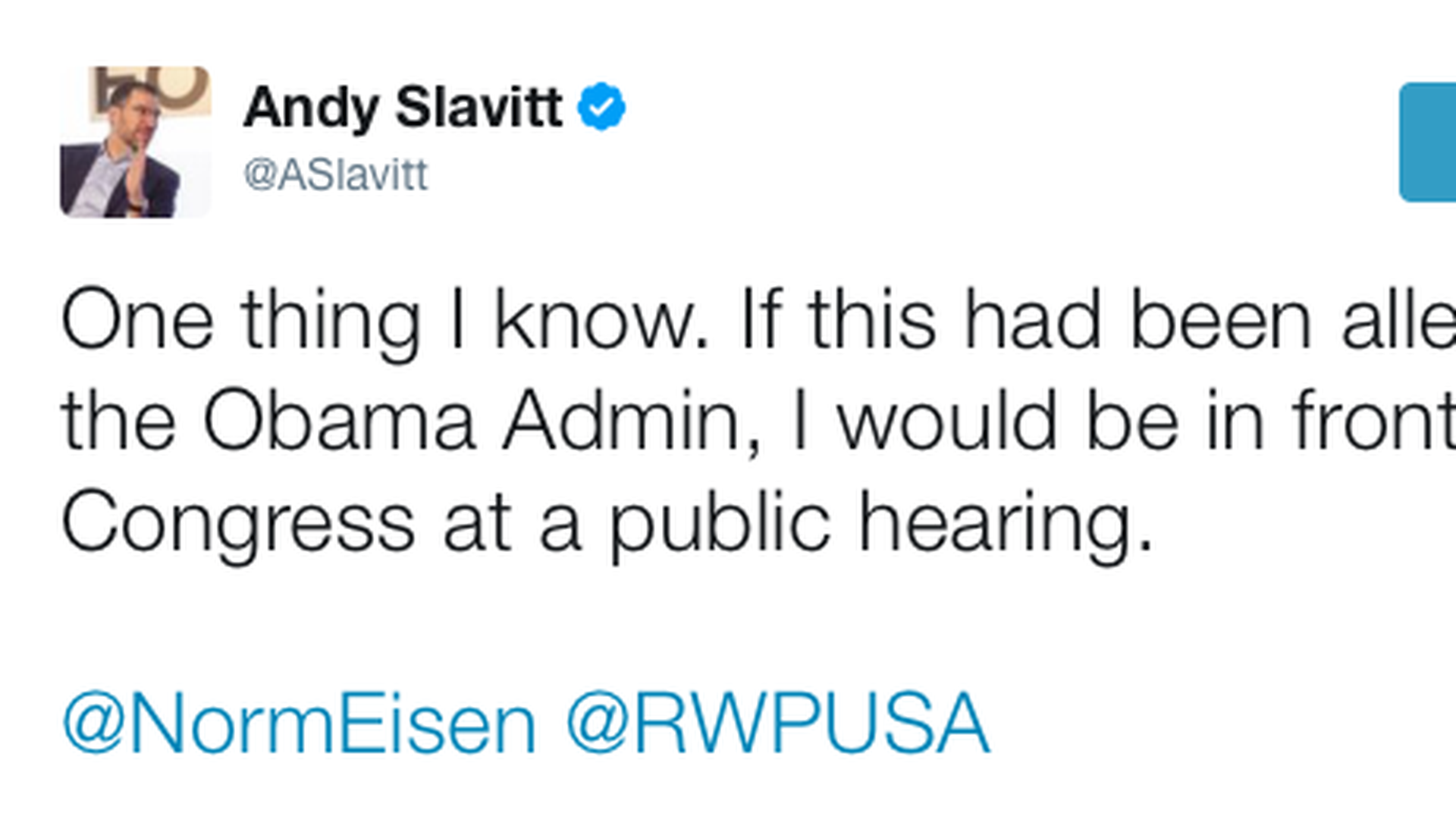 The Los Angeles Times set health care Twitter on fire yesterday with this anecdote, buried deep within a story about insurers' frustrations about the Trump administration. During a conversation with insurance industry executives, Centers for Medicare and Medicaid Services administrator Seema Verma allegedly offered to pay them for the Affordable Care Act's cost-sharing reduction subsidies — if they'd agree to support the ACA repeal bill.
The shock waves: Liberals called it everything from coercion to extortion. CMS issued a denial: "The statement about Administrator Verma suggesting that the administration would fund CSR's is absolutely false. What she said at the AHIP meeting in April was that no decisions had been made about CSR's," said CMS spokeswoman Jane Norris, who was at the meeting. But we get the sense this isn't the last time Verma, and others who were in the meeting, will be asked about it.
Don't miss the rest of the story: It has some harsh quotes from insurance company executives about the Trump administration's general management of the ACA, like this one: "There is a sense that there are no hands on the wheel and they are just letting the bus careen down the road."
And don't forget the subsidies lawsuit: The Democratic attorneys general of 15 states and the District of Columbia, led by California Attorney General Xavier Becerra, are trying to intervene in the House Republican lawsuit against the insurer payments. Their goal: make sure the insurers actually get paid.
What's next for Athenahealth? A sale wouldn't be surprising
Now that Paul Singer's hedge fund, Elliott Associates, is breathing down the neck of health care technology company Athenahealth, CEO Jonathan Bush is in a tough spot, Bob Herman reports. The outspoken leader likely will have to consider selling his company, or he could get pushed out if he decides to ignore pressure from its new activist investor.
History shows that when Elliott gets involved with what it perceives to be "undervalued" tech companies, private-equity firms or other bigger companies scoop up those targets. Some recent examples, all of which were spurred by Elliott, include:
Informatica sold for $5.3 billion in 2015.Mentor Graphics was bought out for $4.5 billion in 2016.LifeLock was acquired for $2.3 billion in 2016.Elliott is also pushing Advisory Board Company, which has a big health care consulting division, to be acquired.Looking ahead: Athenahealth's stock price has been volatile over the past three years and has missed financial expectations several times, and the company said it "looks forward to talking with [Elliott] to hear their views about the company." But don't be surprised if or when this turns into a multi-billion-dollar buyout, with or without Bush's blessing. Read Bob's Q&A with Bush from March for more about the company.
What we're watching today: President Trump and Vice President Mike Pence meet with Office of Management and Budget director Mick Mulvaney, 11 a.m. Eastern.
What we're watching next week: The House files its status update on the ACA subsidies lawsuit with the U.S. Court of Appeals for the District of Columbia, Monday, May 22. Trump releases his full budget for fiscal 2018, Tuesday, May 23. The Congressional Budget Office says it will release the cost estimate for the House-passed version of the American Health Care Act "early in the week of May 22."
Have a great weekend, and don't be shy if you have news or feedback: [email protected]