Axios Vitals
May 30, 2017
Good morning ... This is looking to be a slower week on the health care front, so we're going to keep the newsletters shorter and not waste your time. Just be aware that top Senate Republicans will be writing the first draft of a health care bill while Congress is on recess. The Budget Committee will take the first crack at it, with the GOP leadership and the Finance and HELP Committees all pitching in.
And it's not too late to sign up for our newest thing! This afternoon, we're launching Axios PM, Mike Allen's afternoon update with the most important stories of the day. It'll be a super-speedy rundown of everything you missed, so if you've been crashing on something and you've tuned out, this is your way to catch up. Sign up here.
The risk of ignoring CBO's warnings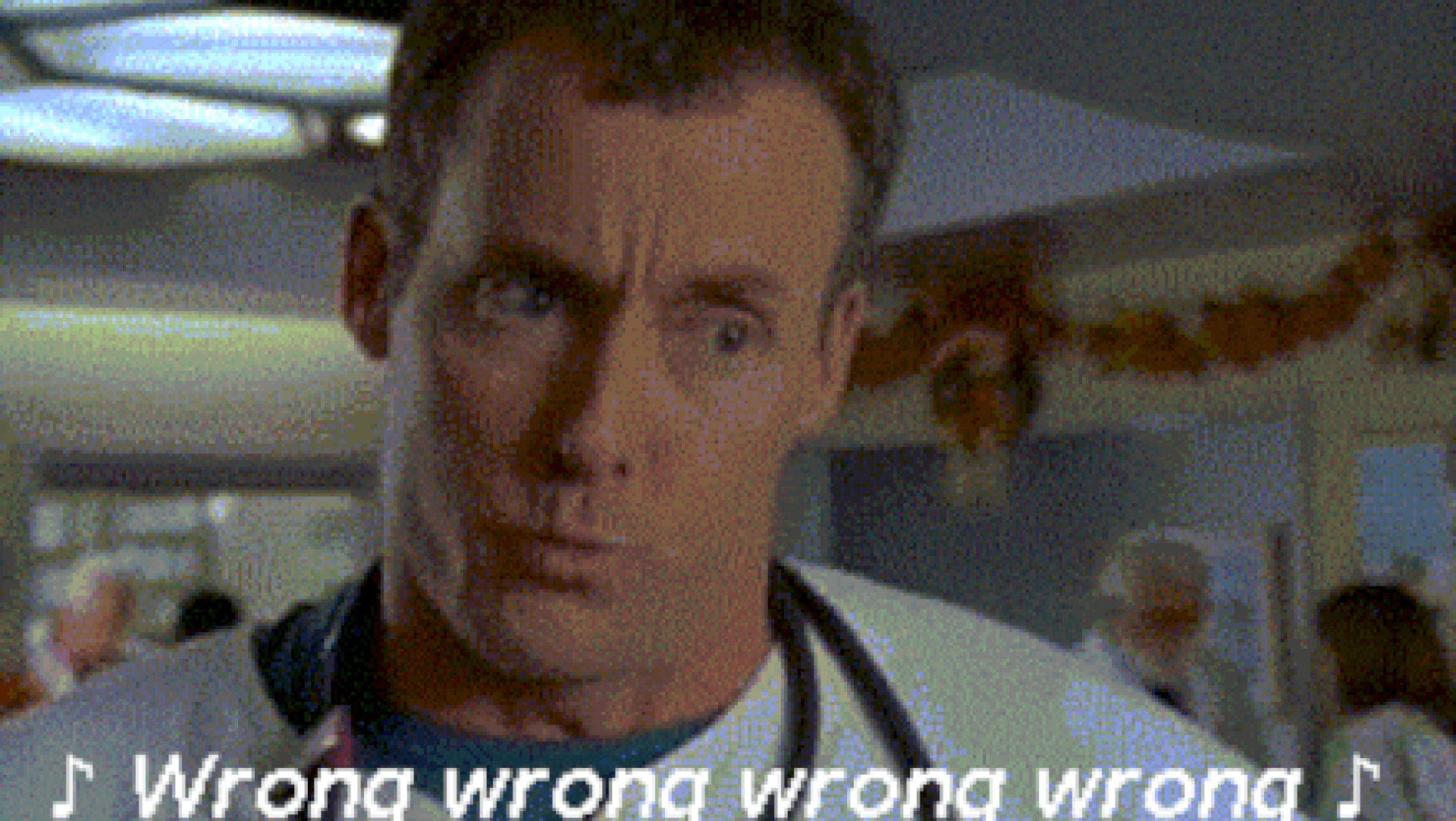 Republicans are heading into their next phase of health care — drafting the Senate bill — with a lot of skepticism about the Congressional Budget Office. Health and Human Services secretary Tom Price declared that CBO "was wrong when they analyzed Obamacare's effect on cost and coverage, and they are wrong again." Senate Majority Whip John Cornyn tweeted in response to a House Democrat who quoted CBO's warnings about the House bill: "Fake news."
Senate Republicans can't ignore CBO completely — they have to pay attention to the cost estimates to make sure they comply with budget rules. But they can decide how much to worry about CBO's most dire predictions about the House bill, like escalating premiums for people with pre-existing conditions and unraveling state markets.
Reality check: There's a lot of analysis out there, including from conservative experts, about how badly CBO missed the mark with its estimates of the original Affordable Care Act. So let's take a quick look at what they got right and what they got wrong.
Prediction: 32 million uninsured would gain coverage.
Reality: 20 million uninsured gained coverage.
Prediction: 23 million people would be enrolled in the ACA exchanges in 2017.
Reality: 12.2 million people are signed up for 2017.
Prediction: 17 million people would gain coverage through Medicaid and CHIP in 2016.
Reality: CBO nailed this one: 17 million gained coverage through Medicaid and CHIP in 2016.
The difference: Yes, CBO was off — but the big lesson is that the ACA "only" covered 20 million uninsured people. There were no warnings that the law would have catastrophic effects. This time, there are. So Republicans have to decide whether it's worth the risk to ignore those warnings.
Yes, but: You could argue that CBO should have issued a stronger warning about premiums with the original ACA. Its 2009 analysis only estimated that individual insurance premiums would be 10 to 13 percent higher in 2016 than they were under the old system. Instead, HHS found last week that average individual insurance premiums doubled between 2013 and 2017.
The other implication of the CBO report: election-year pain
That's what the Kaiser Family Foundation's Drew Altman lays out in today's column. He walks through all of the pain points in the CBO report — rising premiums in the short term, higher rates for older people, tax credits that don't help older and low-income people, and the state budget fights that are sure to follow from the cutbacks in federal Medicaid funds.
The bottom line: If CBO is right, there will be damaging effects that kick in before the 2018 mid-term elections, and another round that will become issues in the 2020 election. The impact, Altman writes, will be "the political equivalent of tearing off a bandage slowly." Read his column here.
Here's how chronic conditions drive up health spending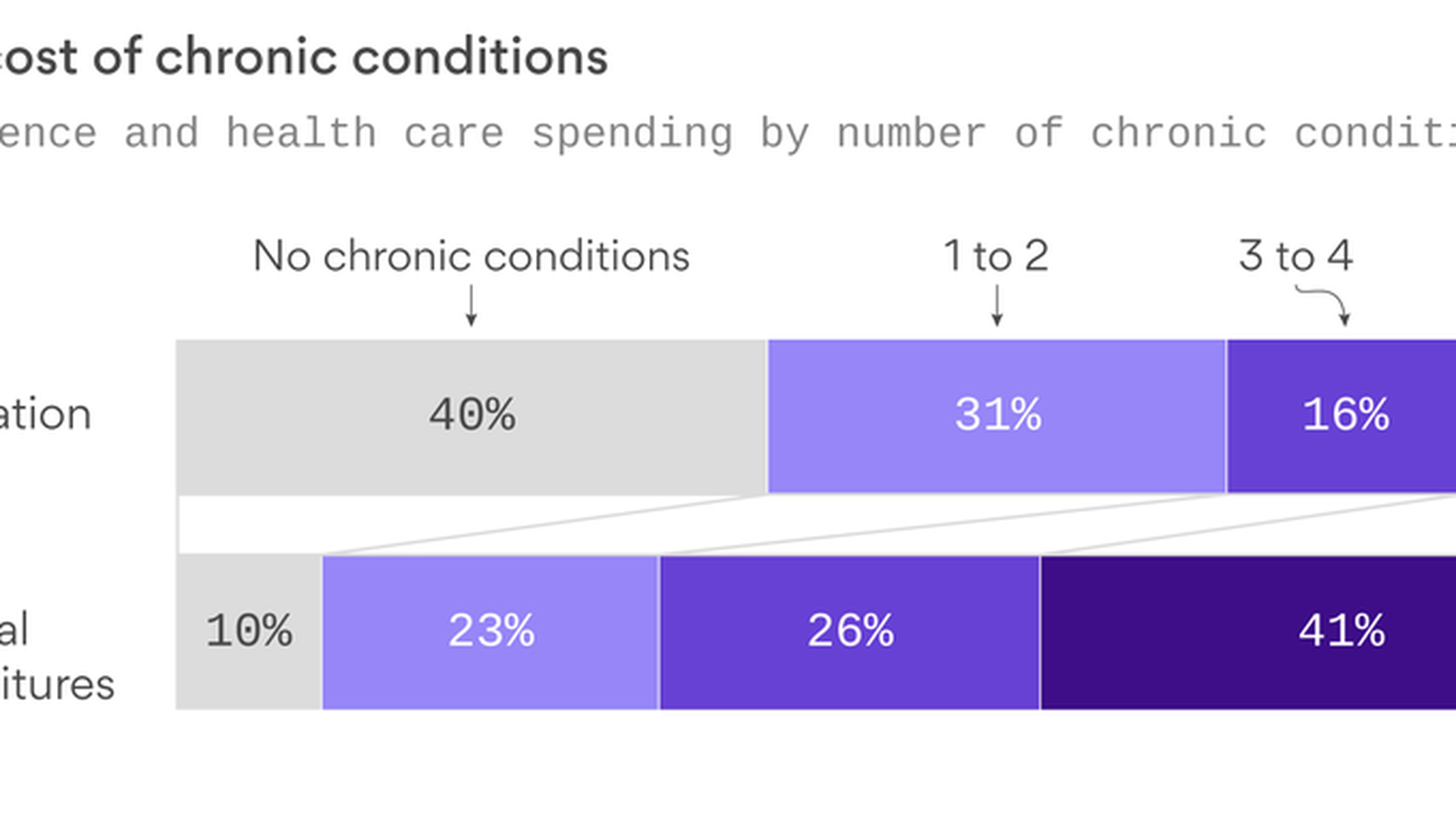 We've heard a lot about how a small number of people with serious health problems drive a disproportionate amount of health care spending, but a new report by the RAND Corporation, prepared for the Partnership to Fight Chronic Disease, shows that reality in vivid detail. The big finding: 12 percent of people with five or more chronic conditions account for 41 percent of total health care spending.
Why it matters: The big dilemma in health care right now is how to cover the costs of the sickest people — and if Congress doesn't keep the ACA system, which covers all people in the same insurance pools regardless of health, then it has to come up with a better system. This chart shows how the spending is distributed for all patients.
Of note: Six out of 10 U.S. adults have at least one chronic condition.
High drug prices are un-closing the Medicare "doughnut hole"
The Wall Street Journal's Joseph Walker had a must-read story this weekend about how rising drug prices are affecting seniors who get their prescription drug coverage through Medicare Part D. The part that caught my eye probably won't get as much attention as the rest of the story: The rise in drug prices are undermining the Affordable Care Act's attempts to close the Part D "doughnut hole."
What's happening: The "doughnut hole" was the gap in coverage where, after a certain amount of drug spending, seniors would have to pay the full cost of brand-name drugs until their catastrophic coverage kicks in. The ACA is slowly closing that hole, so this year they'll only have to pay 40 percent of those costs after they've had $3,700 in drug expenses. But because drug prices are increasing so much, the Journal reports, the benefits of the ACA changes are disappearing.
Why it's happening: It's partly due to rising prices for existing medicines, and partly because new drugs are being introduced that cost more than $50,000 a year.
While you were weekending ...
What we're watching today: Sen. Chuck Grassley holds Guthrie County town meeting, 2:15 p.m. Central.
What we're watching this week: Senate Republican leaders and staff write the first draft of the health care bill over the recess.
What we're watching next week: The Senate comes back and passes health care, right? Also, the investment bank Jefferies holds its global health care conference in New York City, June 6-9.
Thanks for reading, and always have the courage to tell us what else we should be covering: [email protected].