Axios Sneak Peek
May 28, 2017
Welcome to Sneak Peek, our weekly lookahead for both ends of Pennsylvania Avenue. I'd love your tips and feedback: [email protected].
And...you asked for it ... You got it! Axios PM — Mike Allen's super-quick take on what's happened while you've been doing actual work — detonates Tuesday afternoon following the holiday weekend. Sign up here
1 big thing: Trump jolts Europe
After spending time with President Trump at the G7, German Chancellor Angela Merkel has concluded that the United States can no longer be relied upon as a security blanket for Europe. Merkel's comments foreshadow a transformation of the U.S.-European alliances that have underwritten post-WWII stability. Her comments, Sunday, per the AFP:
Europe "must take its fate into its own hands" faced with a western alliance divided by Brexit and Donald Trump's presidency, Merkel told a crowd Sunday at an election rally in Munich, southern Germany.
While Germany and Europe would strive to remain on good terms with America and Britain, "we have to fight for our own destiny", Merkel went on. Special emphasis was needed on warm relations between Berlin and newly-elected French President Emmanuel Macron, she said.
"We Europeans truly have to take our fate into our own hands."
"The times in which we could completely depend on others are on the way out. I've experienced that in the last few days."
What's behind this: Trump publicly lectured NATO allies that they must stop shirking their financial commitments and begin paying for their own defense rather than relying on the U.S. While the White House publicly refutes this, Trump's unmistakable message to Europe on his first foreign trip was that the days of unquestioning protection from the U.S. are over.
Side note: As the NYT's Maggie Haberman points out, the place where Merkel's comments will be best received is Russia. Putin is constantly looking for ways to sow discord between European countries and the United States. (Though, it's also worth noting that if NATO countries respond to Trump's pressure by meeting their defense spending commitments, this is bad news for Putin.)
What's next: Trump unsettled Merkel by making the U.S. the only G7 nation to refusing to reaffirm the Paris Accord on climate change. (We scooped yesterday that Trump has told confidants he's planning to exit the Paris deal. With Trump there's always the caveat that he could change his mind...But based on my conversations over the past 24 hours, I expect EPA Administrator Scott Pruitt will present a detailed withdrawal plan to Trump and Trump will act on it.)
2. Hardliners vs 🌎 (aka Gary Cohn)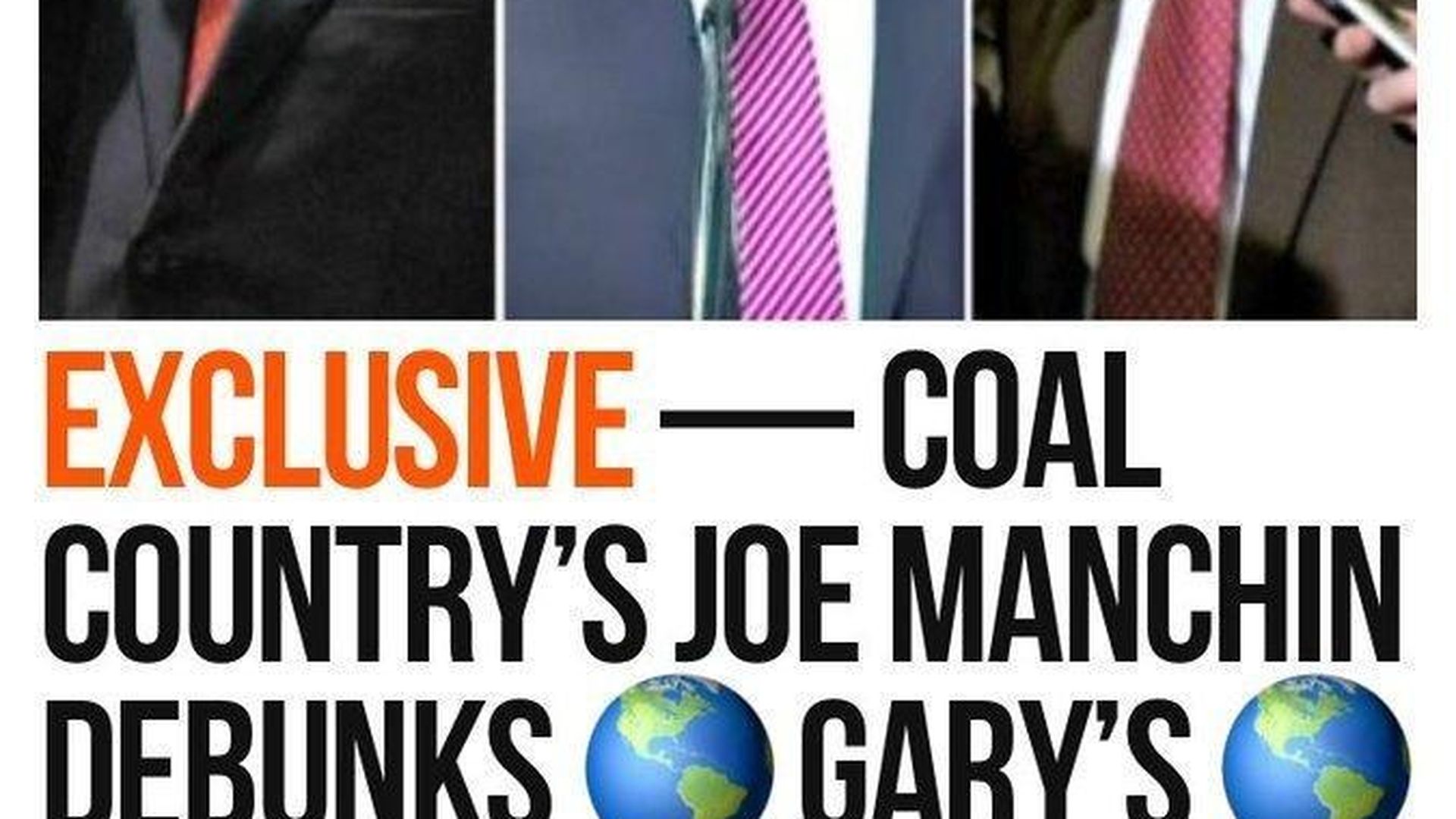 Almost three days have passed since Gary Cohn expressed skepticism about the future of the U.S. coal industry, but expect conservative hardliners to keep weaponizing Cohn's comments.
The offending comments, made by the President's top economic advisor Thursday aboard Air Force One: "Coal doesn't even make that much sense anymore as a feedstock. Natural gas ... is such a cleaner fuel ... If you think about how solar and how much wind power we've created in the United States, we can be a manufacturing powerhouse and still be environmentally friendly."
The conservative backlash:
Breitbart News, the right-wing website formerly run by Trump's chief strategist Steve Bannon, ran an immediate hit piece accusing Cohn of launching a "war on coal." The website followed by goading Joe Manchin — "a Democratic U.S. Senator from the heart of coal country in West Virginia" — into attacking Cohn from the right.
Fun thing: Breitbart is embracing the 🌎 emoji in headlines relating to Cohn. (As we told you a few weeks back, this is the nickname that nationalists in the Trump administration use in text messages to refer to the man they also call "Globalist Gary.")
Myron Ebell, who ran Trump's EPA transition team and wrote the agency's action plan, isn't happy about Cohn's comments and emails me: "NEC Chairman Gary Cohn does not represent the people who voted for Donald J. Trump ... I hope that what President Trump learned is that the other G7 leaders are marching in lockstep in the wrong direction and that it is up to him to lead the world towards energy abundance and prosperity."
Thomas Pyle, who headed Trump's energy transition team, emailed me this in response to Cohn's comments: "The wind and solar industry has been built on the backs of American taxpayers and yet still produce a tiny fraction of the energy we consume in the U.S., significantly less than coal. President Trump is a successful businessman who understands the severe impacts that the policies of politicians past have had on working class families in the American Rust Belt. He hardly needs to evolve on this subject."
3. The shows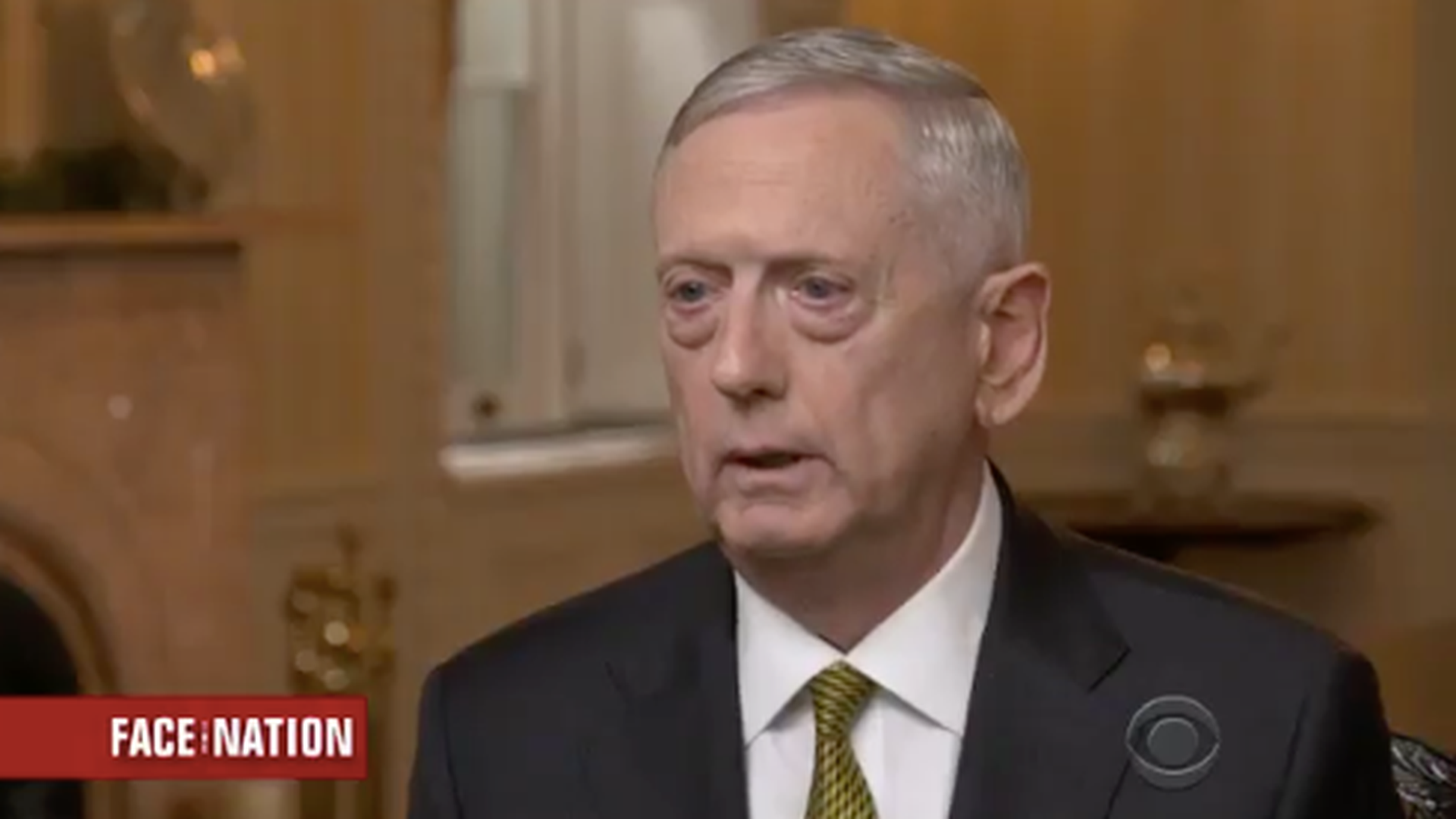 The President had the generals representing him on Sunday's shows. General Mattis outlined the strategy to destroy ISIS and General Kelly beat back questions about Jared Kushner's reported request for a secret backchannel to communicate with the Russians.
Defense Secretary James Mattis to John Dickerson on CBS' "Face the Nation":
On ISIS: "Probably the most important thing we're doing now is we're accelerating this fight. We're accelerating the tempo of it."
Strategic shift: "We have already shifted from attrition tactics where we shove them from one position to another in Iraq and Syria, to annihilation tactics where we surround them."
Elaborating: "You see that right now, for example, in western Mosul that is surrounded... We have got efforts underway right now to surround their self-declared caliphate capital of Raqqa. That surrounding operation is going on. And once surrounded, then we'll go in and clean them out."
The money quote: Dickerson asked Mattis what keeps him up at night. Mattis' response raced around social media: "Nothing. I keep other people awake at night."
Homeland Security Secretary John Kelly to Martha Raddatz on ABC's "This Week":
On Kushner backchannel reports: "It's both normal, in my opinion, and acceptable. Any way that you can communicate with people, particularly organizations that are maybe not particularly friendly to us is a good thing."
On which security vulnerability concerns him most: "Aviation ... we're very definitely going to raise the bar in terms of baggage security."
Budget bonus: Lindsey Graham gives reason #459 why Trump's budget is dead on arrival. The hawkish Republican Senator told Dana Bash on CNN's "State of the Union": "Twenty-nine percent reduction in State Department funding, that takes soft power off the table ... destroying soft power does not make us safer. And that's what his budget does."
4. Coming attractions
The House and Senate are in recess this week, but leadership sources in both chambers preview important legislation that'll land when Congress returns on June 5.
In the House: A leadership source tells me he anticipates the "Financial CHOICE Act" will hit the House floor when they return. The bill repeals and rolls back major pieces of the Dodd-Frank Wall Street Reform and Consumer Protection Act — the sweeping financial regulations that President Obama pushed through after the 2008 financial crash.
Repealing Dodd-Frank has been a priority for Republicans, led by House Financial Services Committee chair Jeb Hensarling.
Republicans say Dodd-Frank crushed community banks and stifled economic growth. Democrats say removing these regulations will likely lead to more reckless Wall Street behavior and ultimately another crash.
In the Senate: A big veterans' bill designed to "reform the VA by allowing the secretary to dismiss bad employees and ensure appropriate due process protections for whistleblowers," says Mitch McConnell's spokesman Don Stewart. Bill highlights, per Rebecca Coffman of Concerned Veterans for America:
Reduces the time it takes to terminate an employee found to have engaged in misconduct.
Requires the VA Secretary to explain to Congress why he or she didn't follow through on a recommendation to terminate someone.
Takes VA employees who are found to have engaged in misconduct off the payroll while they are going through the termination and appeals process.
Allows VA Secretary to retroactively take back bonuses given to employees who engage in misconduct or commit a crime.
Reduces pensions of VA employees found guilty of felonies related to their employment at the VA.
5. 1 thing to watch: Dems to tie Russia to Iran
A well-placed Senate Democratic aide emails this tip: "Expect many Senate Dems to push for the Senate to not do Iran sanctions without Russian sanctions."
What this means: Democratic leaders will exploit the ties between Iran and Russia — and the administration's weak position with regard to anything concerning Russia — to demand that no new sanctions are imposed on Iran without additional sanctions to Russia.
Our thought bubble: Democrats who support the Iran nuke deal, like former Secretary of State John Kerry, are worried about a bill that passed through the Senate Foreign Relations Committee last week. The bill imposes new sanctions on Iran over its ballistic missile tests and other destabilizing behavior. These additional sanctions don't relate to the nuclear deal, but some Democrats are anxious that imposing these sanctions could unravel the Iran deal.