November 04, 2022
🎉 Happy Friday! Long newsletter today, but it's worth every second of your time (in my totally unbiased opinion).
🏀 1 big headline: The Nets suspended Kyrie Irving at least five games without pay for promoting an antisemitic film on social media. Irving posted an apology late Thursday night.
Today's word count: 2,336 words (9 minutes).
Let's sports...
1 big interview: ⚽️ MLS commissioner Don Garber
LAFC hosts the Philadelphia Union in tomorrow's MLS Cup final (4pm ET, Fox), putting a bow on a season that saw the debut of Charlotte FC and the opening of the biggest soccer-specific stadium in the U.S.
🎙 Interview: I spoke with MLS commissioner Don Garber about playoff expansion, the league's landmark deal with Apple, Messi rumors and more. Highlights from our conversation...
Playoff expansion: The MLS postseason currently features 14 teams in a single-elimination format. But recent reports suggest the league could expand the playoffs from 13 games to as many as 30. Here's Garber:
There's been some energy around creating a format where every team has the opportunity to host a home playoff game. And we're looking at that, because home field advantage in our league really does matter.
You've got to balance the excitement of winner-take-all with the traditional home and away format that's part of soccer culture. So we'll take a look at it in the offseason. It's possible we end up with a changed format, but we're a long way from making any decisions.
2022 World Cup: The USMNT was once the singular American "product" at the World Cup. Now, with roughly 40 MLS players expected to compete in Qatar, there's another entity representing America on the world stage.
Back in the day, our ability to capitalize on the excitement of the World Cup — and our connection to it — was through the USMNT.
Today, it's just as important that we have players playing for Canada, or for Mexico, or Gareth Bale playing for Wales. ... I think we could have as many as six players playing for Ecuador.
Apple TV: Starting next season, all MLS games will be streamed exclusively on Apple TV, a groundbreaking deal that puts everything in one place (what a concept!). It should also help MLS grow internationally.
We're playing the global game but are not yet a global league — and Apple is a global company that can help us expand our reach.
And it isn't just about growing the fanbase — it's also growing awareness among players who might want to play here. Whatever country they're in, they'll be aware of MLS because of the exposure through Apple.
2026 World Cup: The U.S., Canada and Mexico will co-host the first 48-team World Cup in 2026. It's an event that could change the trajectory of North American soccer, and preparations have already begun.
I think it's rare in any business, or even in life, that you know exactly where you're going to be four years down the road and are able to plan for it. That's what we have with the World Cup.
There's a countdown clock to [an event] that will capture the attention of everybody in our three countries. From the pros to youth soccer, we're all looking at how we can use the run-up to 2026 as rocket fuel.
Messi buzz: Inter Miami is "increasingly confident" that Lionel Messi could sign with the club after his PSG contract expires this summer, The Athletic reported last week ($). I asked Garber about the rumors.
Obviously any time there are discussions or rumors about arguably the best player of a generation coming to your league, it's super exciting. But, importantly, he is under contract.
Should he decide that he wants to be in MLS soon or in the future, I'm sure he would be welcome with open arms.
Big Four vs. Big Five: With so much talk about Sports Equinoxes lately, I asked Garber if he thinks the "Big Four" (NFL, NBA, MLB, NHL) will eventually become the "Big Five," with the addition of MLS. His response:
I think there are five major sports leagues now.
2. ⚾️ Houston vs. Philly: Split decision
Philly and Houston split their two-sport battle on Thursday, with the Eagles moving to 8-0 and the Astros moving to within a win of a championship, Axios' Jeff Tracy writes.
World Series: Houston took Game 5 in a 3-2 thriller, handing the Phils back-to-back losses for the first time this postseason.
Justin Verlander (5 IP, 6 K, 4 BB, 4 H, 1 ER) finally got the World Series monkey off his back, earning his first win in his ninth career start in the Fall Classic.
Jeremy Peña continues to swing a scorching bat, with three hits, two RBI and a homer — the first ever by a rookie shortstop in the World Series.
"Thursday Night Football": The Texans (1-6-1) hung around and trailed by only four entering the fourth quarter, but the Eagles pulled out the 29-17 victory to stay undefeated.
Star performers: QB Jalen Hurts (21/27, 243 yards, 2 TD), TE Dallas Goedert (8 rec, 100 yards, TD), RB Miles Sanders (17 carries, 93 yards, TD) and DT Javon Hargrave (3 sacks) powered the Birds.
Even in defeat: Texans RB Dameon Pierce continued his stellar rookie campaign with career highs in carries (27) and rushing yards (139).
🍿 Highlight of the night ... A leaping catch at the wall in the ninth inning by Astros CF Chas McCormick, who grew up in Pennsylvania rooting for the Phillies at this very ballpark.
3. 🏀 NBA snapshot: Dubs lose again
Welcome to a new section called "Snapshot," our attempt to recreate the experience of reading the sports page as a kid. Feedback is welcome as we experiment with how to best recap last night in the NBA, NHL, etc.
It was a quiet Thursday in the NBA — on the court, at least — with just four teams in action across the league.
Scoreboard:
Magic 130, Warriors 129: Golden State is 0-5 on the road, with four straight losses to teams with a combined record of 11-25 record. Jalen Suggs (26 pts) and Paolo Banchero (22) fueled Orlando.
Nuggets 122, Thunder 110: Nikola Jokić notched his 79th triple-double (15-13-14) to pass Wilt Chamberlain for sixth on the all-time list. Shai Gilgeous-Alexander led OKC with 37 points (13-17 FG).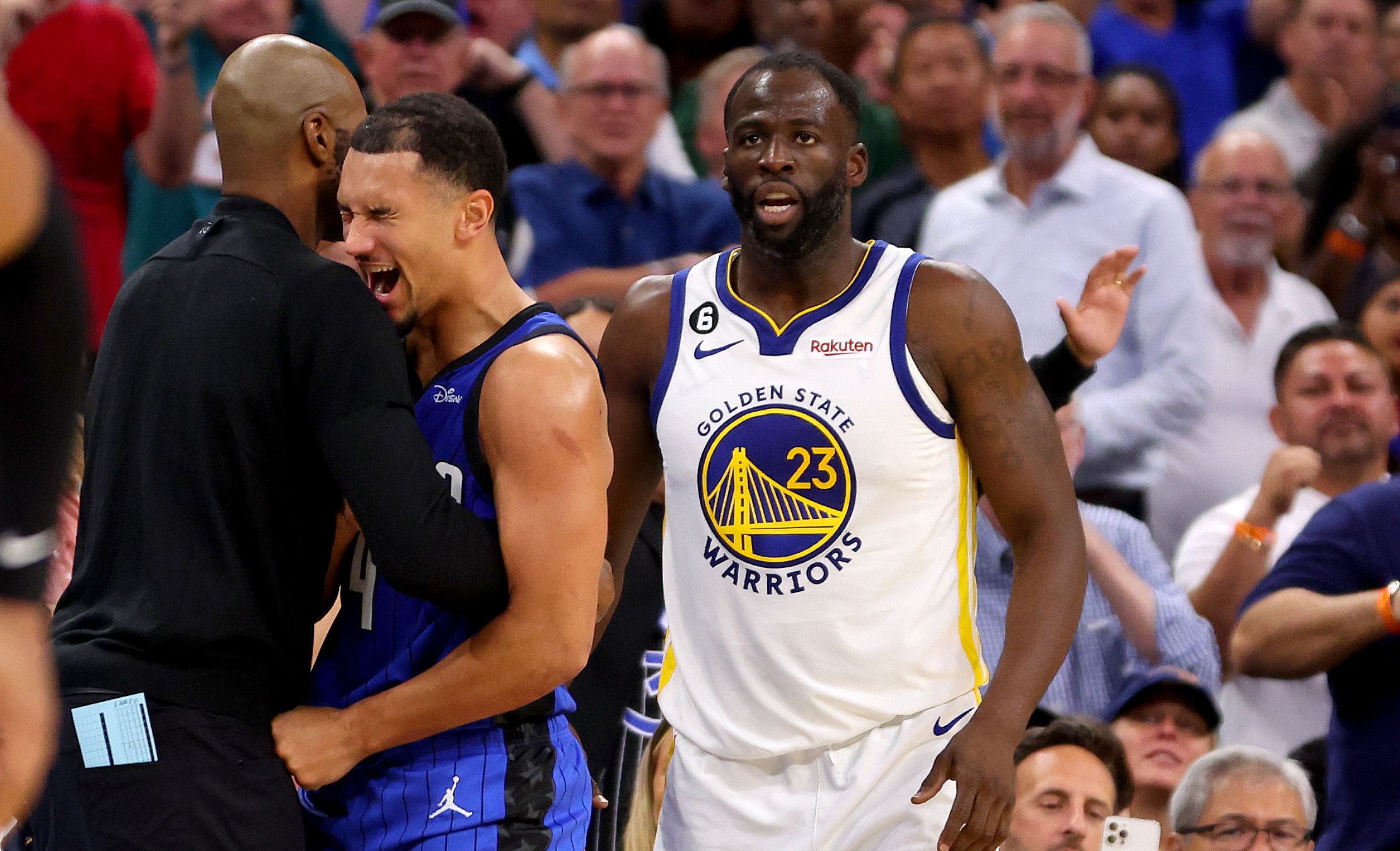 ⭐️ Star of the night: Jalen Suggs scored 15 points in the fourth quarter — and came up clutch on defense — en route to a career-high 26 points (plus nine assists and four steals). Best game of his young career.
📊 Stat leaders:
Points: L. Dončić, DAL (36.1 ppg); G. Antetokounmpo, MIL (33.6); K. Durant, BKN (32.5); S. Gilgeous-Alexander (32.3); J. Morant, MEM (31.4)
Rebounds: R. Gobert, MIN (14.0 rpg); G. Antetokounmpo, MIL (12.7); N. Vucevic, CHI (12.3); J. Nurkić, POR (12.3); J. Allen, CLE (12.0)
Assists: C. Paul, PHX (11.0 apg); J. Harden, PHI (10.0); T. Haliburton, IND (9.4); T. Young, ATL (9.4); N. Jokic, DEN (9.1)
💬 What they're saying ... Steve Kerr says it's "time to try something different" with the team's rotations to "save" the struggling Warriors.
"We have to save us. Because nobody else is coming."
📆 Today in history (Nov. 4, 1995) ... 27 years ago today, the Seattle SuperSonics played their first game at the newly christened KeyArena. 13 years later, in 2008, they played their final game there.
4. ⚡️ Lightning round
💔 RIP, Ray: Ray Guy, arguably the greatest punter ever, died Thursday at age 73 following a lengthy illness. Al Davis famously selected the future Hall of Famer in the first round of the 1973 draft.
🏀 Slap on the wrist: An independent panel has spared Louisville basketball major penalties from NCAA allegations leveled in the wake of a federal probe of corruption in college basketball.
🏀 Spurs scandal: A former Spurs psychologist has sued the team for allegedly ignoring Josh Primo's repeated sexual misconduct. She says Primo, who was released last week, exposed himself to her nine times.
⚽️ Sudden retirement: Barcelona legend Gerard Piqué, who began his youth career at Barça in 1997 and spent 14 seasons in the first team, will retire after Saturday's match against Almeria.
5. 🏀 Matt Ryan: L.A.'s unlikely hero
A year ago, Matt Ryan was working in a cemetery and delivering food for DoorDash. On Wednesday, he played the hero for the 10th-most valuable sports franchise in the world, Jeff writes.
Driving the news: Ryan, 25, sent Wednesday's Lakers-Pelicans game to OT with a game-tying three at the buzzer, helping L.A. earn its second straight victory after starting the season 0-5.
The three gave him a career-high 11 points, upping his season average to 6.2 points in 14 minutes a game while shooting a team-best 45% from deep for the shooting-deprived Lakers.
"My confidence when it comes to shooting is unwavering," Ryan told reporters after the game. "I wouldn't be here if that wasn't the case."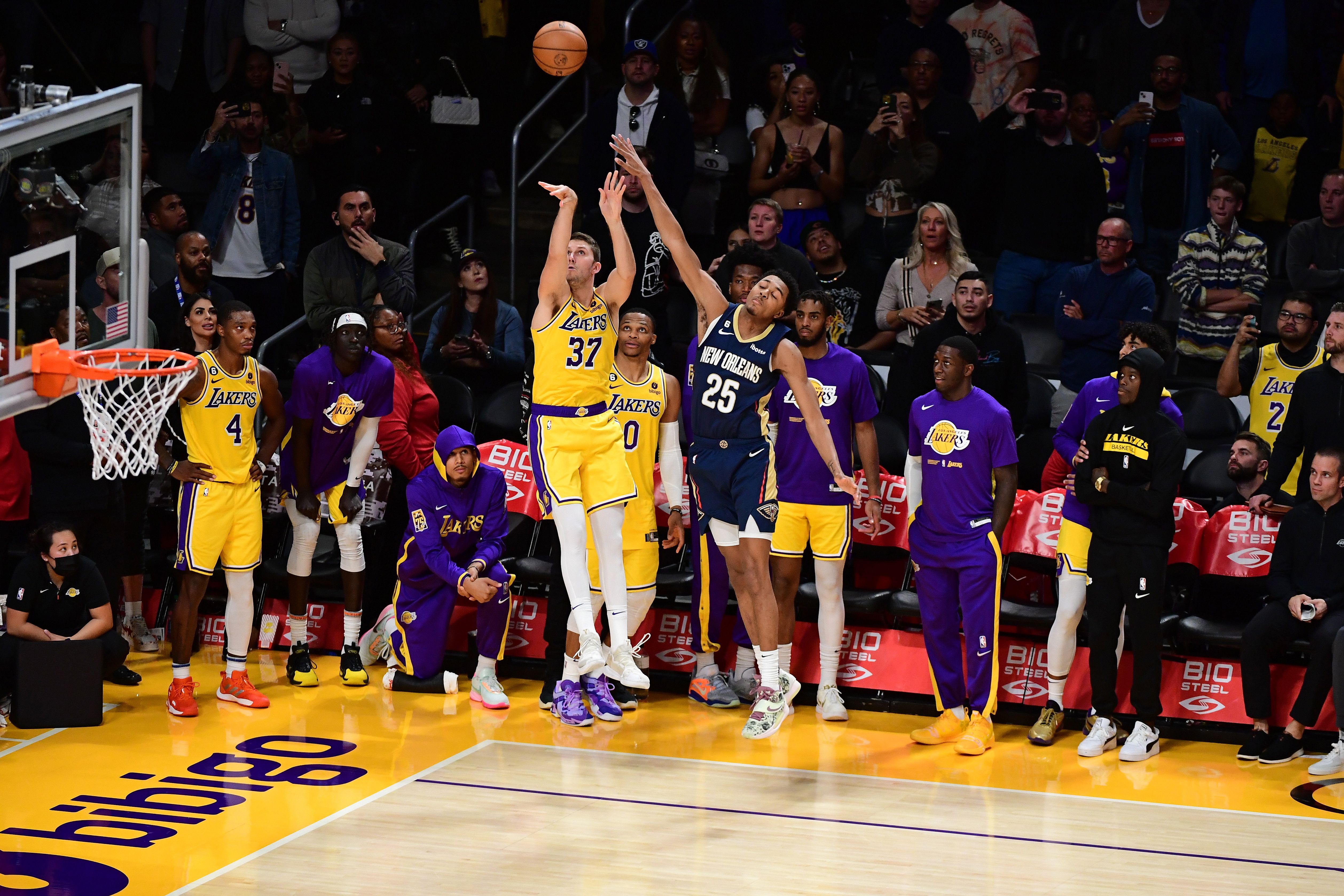 Catch up quick: It's been quite a journey for Ryan, who played for Notre Dame, Vanderbilt and UT Chattanooga from 2015 to 2020. In that final stop, he averaged 15 points on 36% from deep, garnering some NBA attention.
Yes, but: Then COVID happened.
The pandemic wiped out 2020's NBA workouts and Summer League, leaving Ryan too far off teams' radars to even get an invite to the G League's 2021 bubble season.
He didn't want to give up, but had to make money, so in 2021 he started working landscaping at a cemetery in Yonkers, New York, and delivered food for DoorDash, training when he could.
After brief stints with the Cavs (Summer League) and Nuggets (G League), the Celtics signed Ryan this past February. He played just one game, but spent the rest of the season and playoffs with Boston.
Finally, the Lakers came calling during training camp, and he made the team. He's played five of seven games so far and could be exactly the type of shooter that has long thrived alongside LeBron James.
The last word: While Ryan's new employer is thrilled to have a sharpshooter, his former employer is missing his 6-foot-7 frame.
"His height absolutely came in handy," Ryan's landscaping boss at the cemetery told The Athletic ($).
"There's some branches, some things that are way high up. ... Some of the guys working for me are short — I mean, really short."
6. 🚨 Cheating comes to fringe sports
Numerous niche sports have been rocked by cheating scandals in recent weeks, Jeff writes.
7. 🌎 The world in photos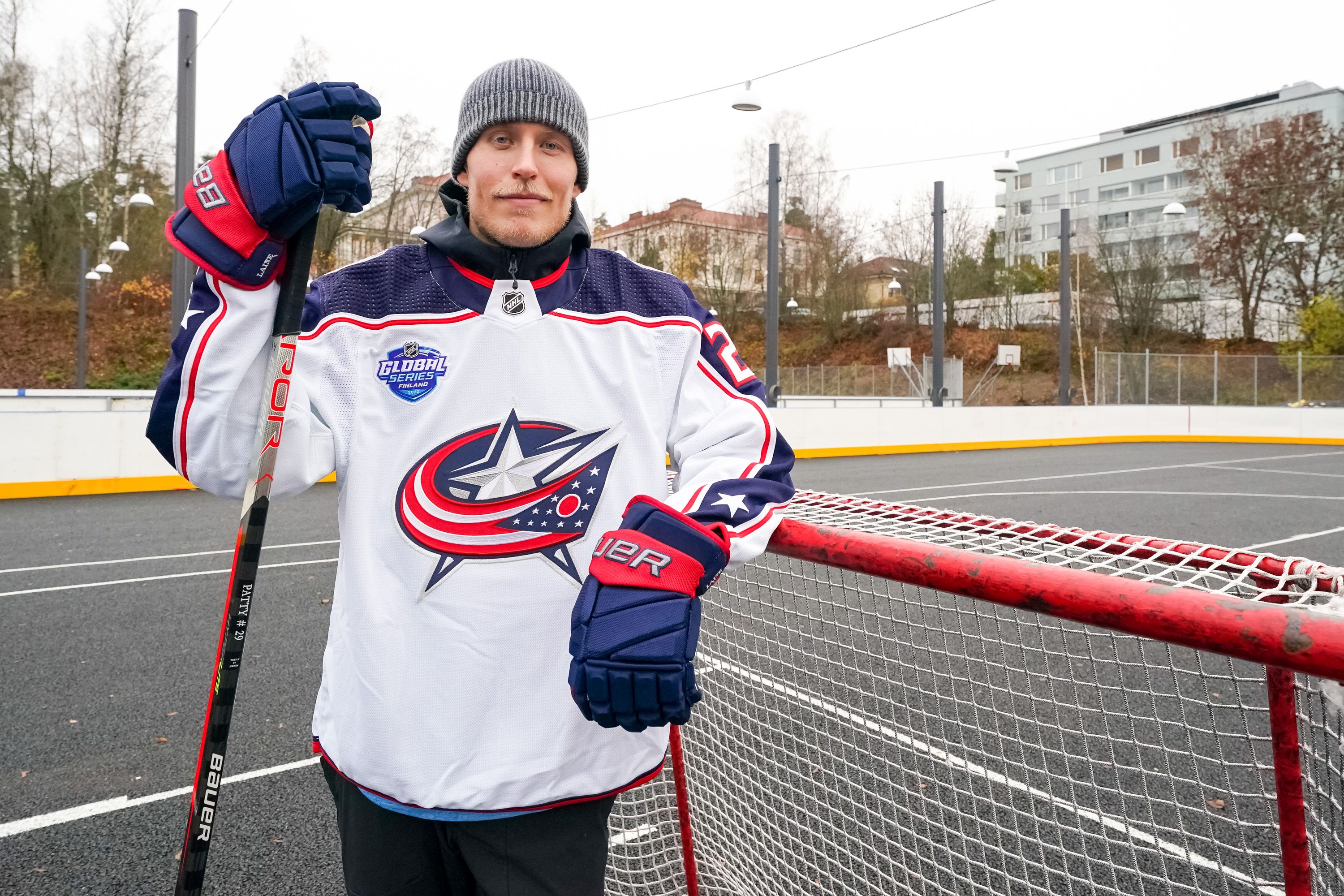 TAMPERE, Finland — Blue Jackets Finnish winger Patrik Laine visits a childhood outdoor rink prior to tonight's game against the Avalanche, part of the 2022 NHL Global Series.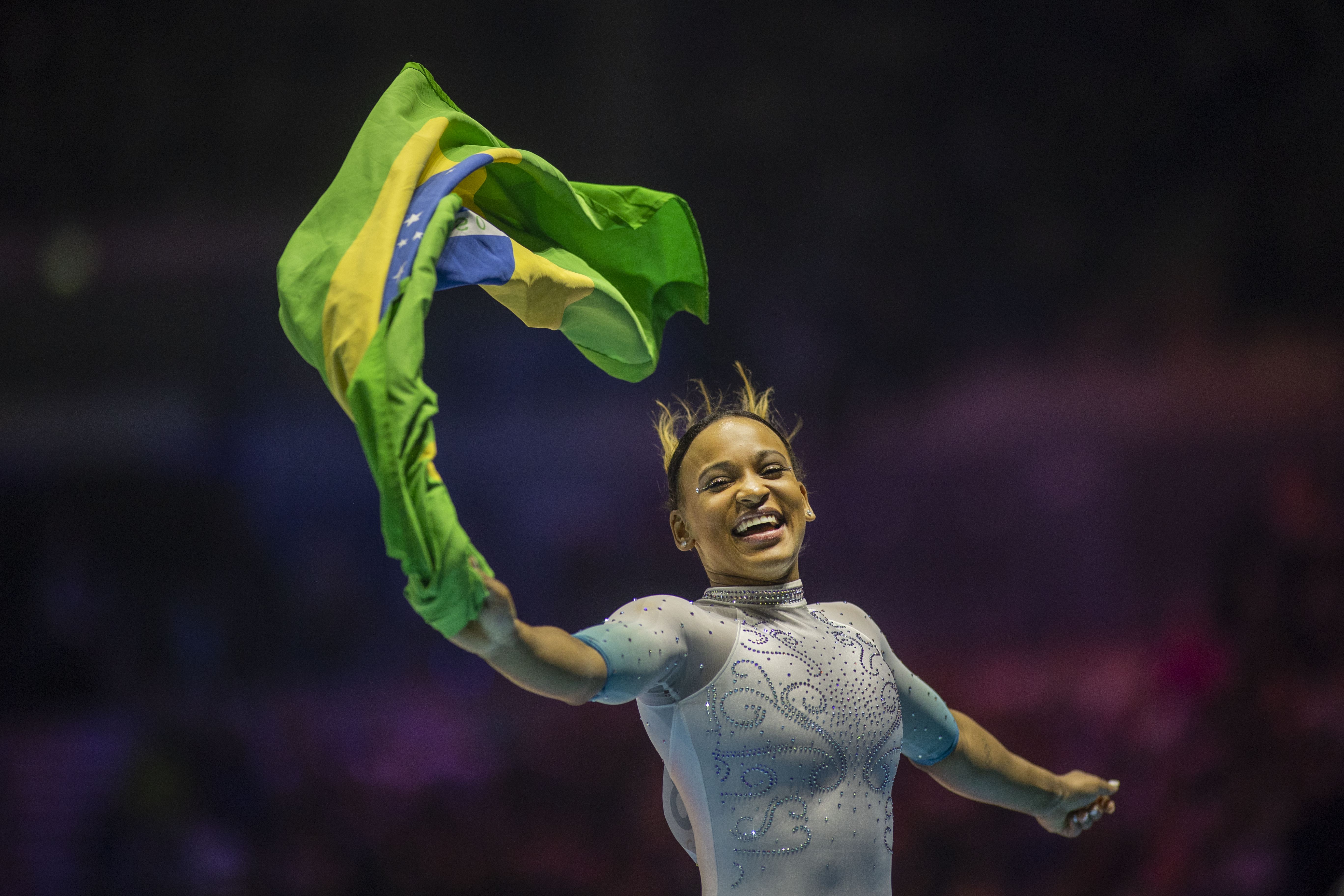 LIVERPOOL, England — Brazil's Rebeca Andrade made history on Thursday, becoming the first South American gymnast to win the all-around title at the world championships.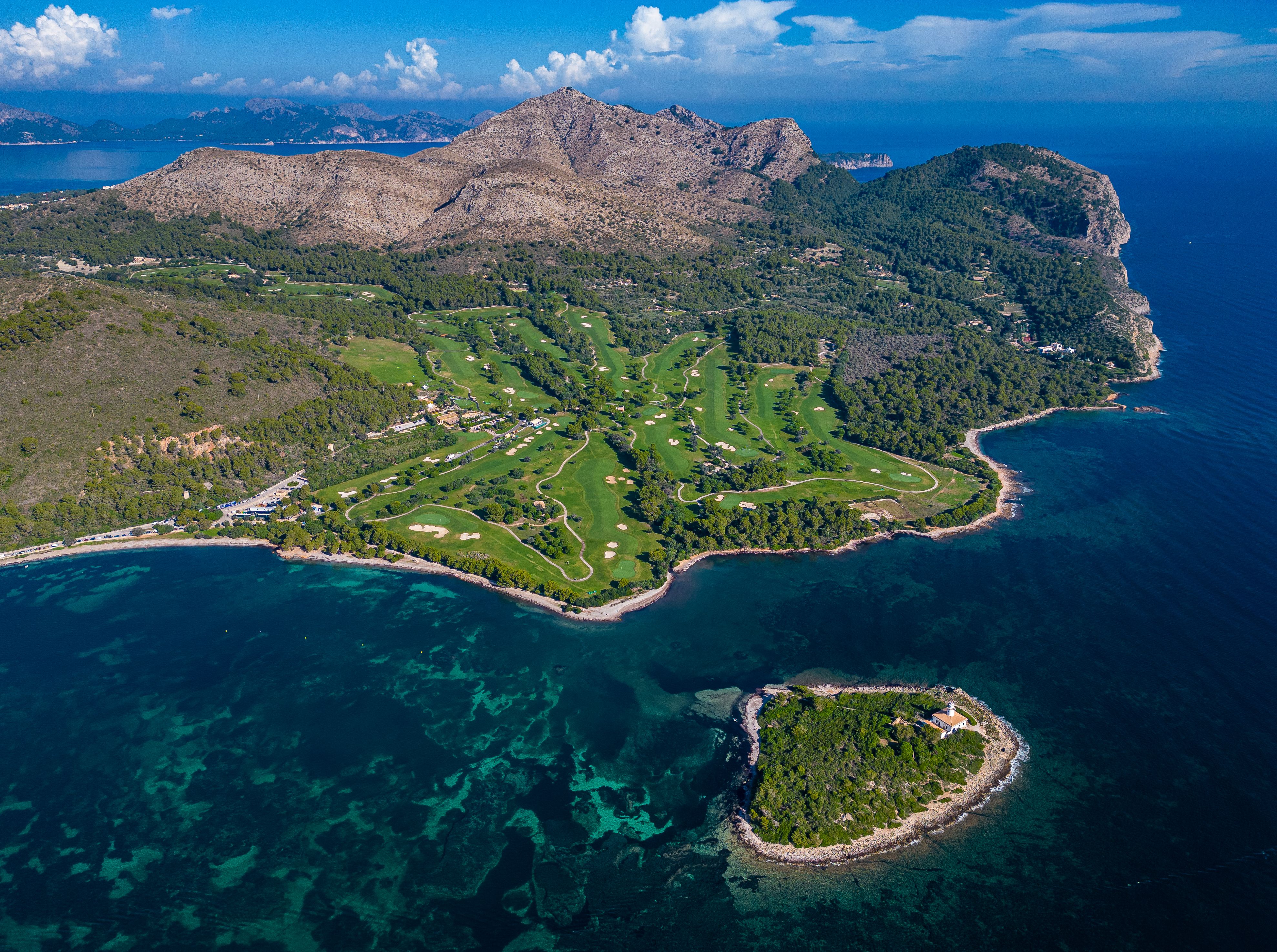 ALCUDIA, Spain — The season-ending championship on Europe's Challenge Tour is being held at Club de Golf Alcanada, which sits on the coast of Mallorca and looks stunning.
8. 📺 Watchlist: All eyes on Athens
Georgia hosts Tennessee on Saturday (3:30pm ET, CBS) in just the fifth regular-season meeting between the AP's top two teams this century.
Heisman watch: Tennessee QB Hendon Hooker is the current Heisman favorite, per BetMGM. No Vol has ever won the award.
Ticket prices: This is the most expensive regular-season college football game ever, per TickPick, with the current get-in price at $626 and some seats going for over $5,000.
More to watch: Championship rounds in MLB, MLS, NASCAR and tennis, plus some tantalizing soccer matchups abroad. What a weekend!
9. 🏈 College football trivia
TCU is off to an 8-0 start for the fifth time in the last 20 seasons, fifth-most among FBS teams over that span.
Questions: Who are the only four schools with more 8-0 starts?
Hint: SEC, ACC, Big Ten, Mountain West.
Answer at the bottom.
10. 🤯 1 wild stat: Something's gotta give
The Tennessee-Georgia game has one of those classic sports coincidences that seems almost too crazy to be true, Jeff writes.
By the numbers: Georgia has gone 37 straight home games without allowing 30 points, and Tennessee has scored 30+ points in 11 straight games overall.
The last time Georgia allowed 30+ at home? 2016 against Tennessee, the Vols' last win over the Dawgs.
The last time Tennessee failed to score 30+ points? Last season's 41-17 loss to Georgia.