Axios Sports
June 09, 2022
👋 Good morning! Welcome to a special edition about the newly-launched LIV Golf, which threatens to upend the sport. Enjoy! Love, Kendall and Jeff.
Tune in: LIV's inaugural event tees off in London at 9am ET here.
Share: I have a tweet at the top of my profile that you can easily retweet to share today's edition. You can also share this link directly.
🏀 ICYMI: The Celtics beat the Warriors, 116-100, to go up 2-1. Oklahoma torched Texas, 16-1, to take a 1-0 WCWS Finals lead. The Angels lost their 14th straight game.
Today's word count: 2,328 words (9 minutes).
Let's golf...
1 big thing: Golf descends into chaos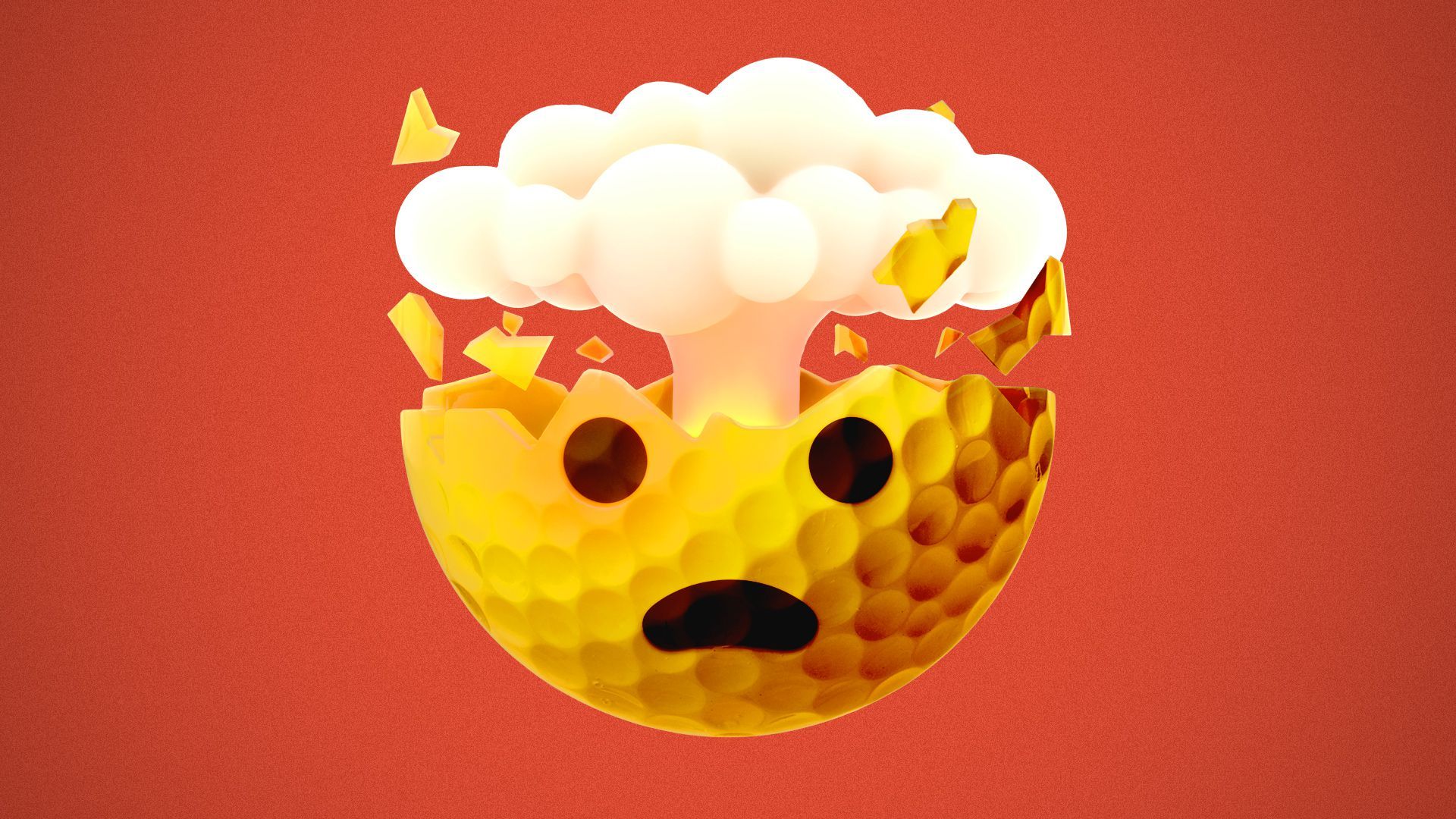 After months of speculation, LIV Golf finally tees off today in London. Across the Atlantic, the PGA Tour continues its season in Ontario.
Why it matters: We may be witnessing the dawn of a new era, or maybe just the early days of a well-funded startup doomed to fail. Either way, men's professional golf has changed forever, and there's no going back.
State of play: LIV is highly controversial, partly due to conflicts with the PGA Tour and partly because of where the money is coming from: the Saudi Arabian government.
The PGA Tour has threatened to ban golfers who compete in LIV events and some players have responded by resigning from the Tour.
LIV is funded by Saudi Arabia's sovereign wealth fund, and critics allege the country is using golf to boost its global image (aka "sportswashing").
By the numbers: A huge part of LIV's appeal is money. The Saudis have pledged $400 million for this season, with $255 million going toward prize money. They're also giving top players guaranteed money just to join.
Each LIV golf event has a $25 million purse, and the winner gets $4 million. There are no cuts, so even last place earns $120,000. The season finale has a $50 million purse.
By comparison, the 2022 Masters had a record $15 million purse, and winner Scottie Scheffler pocketed $2.7 million. The 39 players who missed the cut went home with nothing.
What they're saying: In February, Dustin Johnson said he was "fully committed to the PGA Tour." Three months later, he's one of the faces of LIV and has resigned from the Tour completely.
"I'm very thankful for the PGA Tour ... I've done pretty well out there for the last 15 years. But this is something that was best for me and my family. It's something exciting and something new."
— Johnson
The other side: "You know, it's a bummer," reigning PGA champion Justin Thomas said Wednesday ahead of the Canadian Open. "I think a lot of us are — I don't know if annoyed or tired is the right word."
"My stance on it has been pretty clear from the start," added Rory McIlroy, who has pledged allegiance to the Tour. "It's not something that I want to participate in."
"I certainly understand the guys that went," he added. "I think for me ... any decision that you make in your life that's purely for money usually doesn't end up going the right way."
The big picture: As a non-profit, member-run organization, the PGA Tour can't play favorites. Its mandate is to provide Tour pros, operating as independent contractors, with opportunities to play competitive golf.
The end result is a bloated schedule and an economic structure in which the needle-movers (think: Tiger Woods) are subsidizing their lesser-known peers. The Tour has found new ways to reward elite players, but there's still a sense from some that they're underpaid.
LIV Golf, fronted by Hall of Famer Greg Norman, can play favorites, and is promising life-changing money. Norman tried something similar in 1994 with the World Golf Tour, but the PGA Tour shot it down (then basically stole the idea). How will it play out this time?
The bottom line: LIV is here, and it will likely be here for a while. The question is what it ultimately becomes: A PGA Tour competitor that demands attention, or a glitzy sideshow that never truly breaks through?
🎙 Listen: Professional golf, explained (Business Breakdowns) ... Neil Schuster of the "No Laying Up" podcast provides a brilliant overview.
Update: The PGA Tour on Thursday suspended the 17 members who are competing in the London event.
2. How it works: LIV Golf, explained
The inaugural LIV season runs from today through Oct. 30 and doesn't conflict with any current majors. Five events are based in the U.S. and two are at courses owned by former President Trump.
How it works: Each regular-season event will be three rounds (54 holes) and will feature 48 players. PGA Tour events are four rounds (72 holes) and regularly feature 100+ players.
Format: There will be no cuts, so everyone plays all three rounds and gets paid. Tournaments will use shotgun starts, meaning groups tee off simultaneously from all 18 holes.
Teams: Players will be divided into 12 four-person teams based on a draft conducted the week of each event. Each team will have a LIV-appointed captain who picks their teammates that week.
Scoring: The individual event will be scored as usual (stroke play). The team score will be the sum of the best two scores from the first two rounds, plus the best three scores in the final round.
Payouts: $25 million purse per event ($20 million for individual prizes; $5 million for the top three teams). The top three individuals after the seven regular-season events will share an additional $30 million.
Finale: The team championship will be a seeded four-day, four-round, match-play knockout event, with teams competing for $50 million.
How to watch: This week's event (9am ET) will be broadcast on LIVGolf.com, Facebook and YouTube. Arlo White, NBC's longtime Premier League play-by-play voice, will be the lead commentator.
P.S. ... LIV is the Roman numeral for 54, the number of holes in each tournament. Hence the name.
Go deeper: Events list (LIV)
3. What to watch: The big unknowns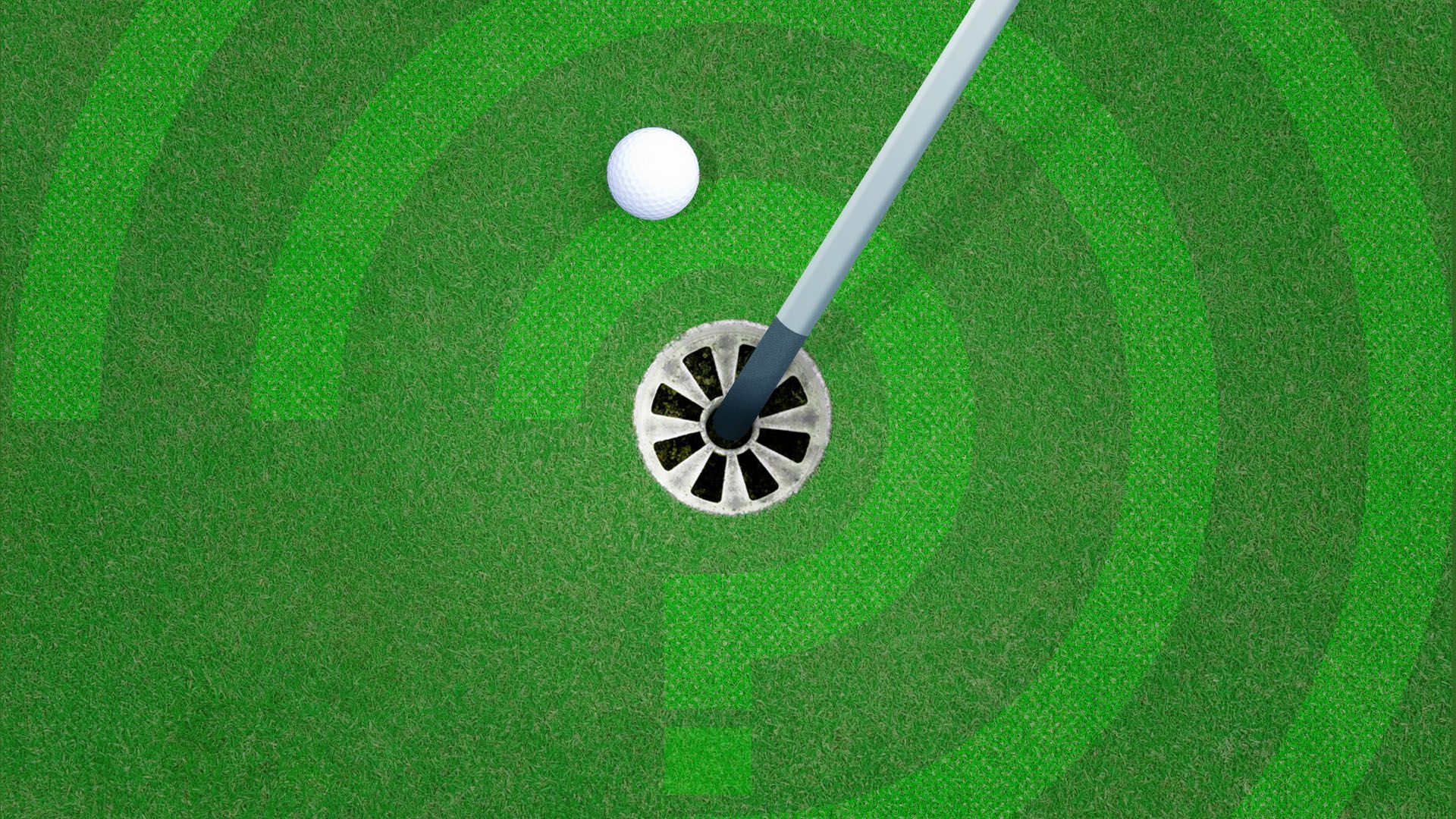 Here's one big thing we know: LIV has virtually unlimited resources to make this work. Here are four big things we don't:
1. Can golfers play on both tours? The PGA Tour has threatened to ban LIV golfers, but they can play in next week's U.S. Open, which is run by the USGA. If players can join LIV without forgoing majors and/or Tour membership, it's a much easier decision.
2. When will networks get involved? Media rights are the lifeblood of pro sports. LIV doesn't currently have any network deals, but that's bound to change. The question is when, who, and for how much?
3. Why should fans care? LIV has talent and an intriguing format, but it's still competing against the established PGA Tour. Huge prize money can lure top players, but fans care more about legacy and tradition, which money can't buy. Once the launch buzz fades, will they stick around?
4. Who else will join? Bryson DeChambeau and Patrick Reed (and likely Rickie Fowler) will join LIV later this month, giving the upstart league nine major champions. If more jump ship and start cashing huge checks, it could have a domino effect.
4. The field: 12 teams, 48 players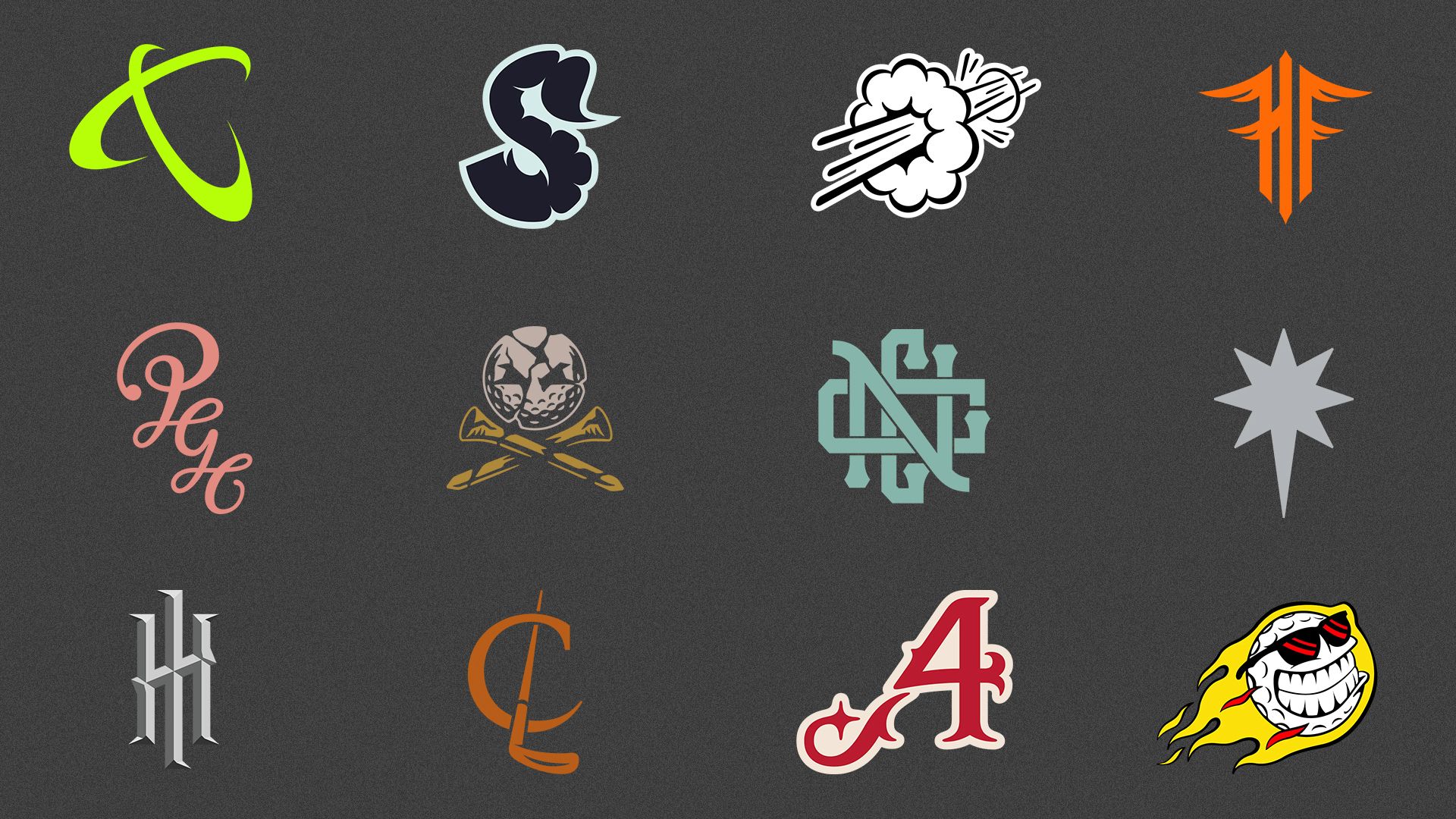 The 48-player field is set for this week's event, with captains drafting their rosters on Tuesday. Here are the 12 teams, with captains listed first.
4 Aces: Dustin Johnson (world No. 15), Shaun Norris (68), Oliver Bekker (96), Kevin Yuan (1,050)
Hy Flyers: Phil Mickelson (72), Justin Harding (109), Ratchanon Chantananuwat (269), Chase Koepka (1,562)
Punch: Wade Ormsby (265), Matt Jones (69), Ryosuke Kinoshita (89), Blake Windred (259)
Cleeks: Martin Kaymer (215), Pablo Larrazábal (70), JC Ritchie (156), Ian Snyman (367)
Iron Heads: Kevin Na (34), Sadom Kaewkanjana (118), Hideto Tanihara (180), Viraj Madappa (493)
Smash: Sihwan Kim (139), Scott Vincent (91), Jinichiro Kozuma (106), Itthipat Buranatanyarat (591)
Crushers: Peter Uihlein (327), Richard Bland (67), Phachara Khongwatmai (136), Travis Smyth (395)
Majesticks: Ian Poulter (92), Lee Westwood (78), Sam Horsfield (74), Laurie Canter (119)
Stinger: Louis Oosthuizen (21), Hennie Du Plessis (133), Charl Schwartzel (126), Branden Grace (123)
Fireballs: Sergio Garcia (57), David Puig (1,751), James Piot (1,751), Jediah Morgan (239)
Niblicks: Graeme McDowell (374), Bernd Wiesberger (94), Turk Pettit (600), Oliver Fisher (1,034)
Torque: Talor Gooch (35), Hudson Swafford (95), Adrián Otaegui (165), Andy Ogletree (1,371)
By the numbers: As you can see, the PGA Tour still boasts a vast majority of the world's best golfers. Two-thirds of the London field is ranked lower than No. 100 in the world, including six players below 1,000.
5. Chart du jour: Money talks
Three of the PGA Tour's top 10 career money leaders have taken their talents to LIV.
Why it matters: Even for the richest golfers of all time, LIV represents a massive pay bump.
Wild stat: Phil Mickelson ($200 million) and Dustin Johnson ($125 million) will reportedly be paid more to join LIV than Tiger Woods has earned on the course in his career ($120.9 million). Again, that's just to join — it doesn't even include the huge prize money.
What they're saying: "Please, for the love of God, guys, embrace what you're doing. Own it. Be it. Lean all the way into it," writes The Athletic's Brendan Quinn (subscription). "Guys, just say it's the money."
6. 📸 Pics du jour: Live from London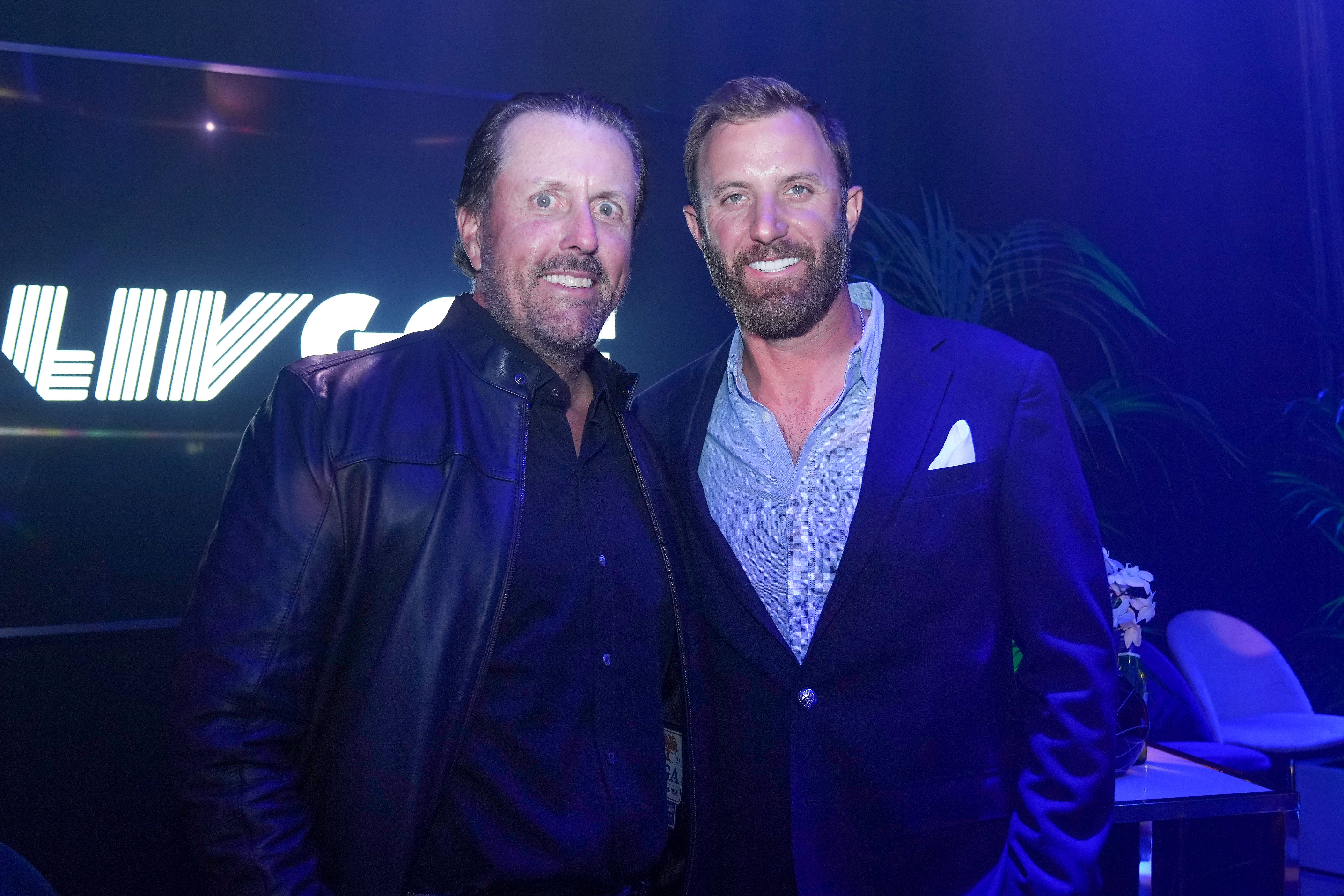 The superstars: Here we have Phil Mickelson and Dustin Johnson at the opening of a hot new nightclub. Hang on, I'm actually being told this was at LIV's draft event, which featured music from DJ Fat Tony.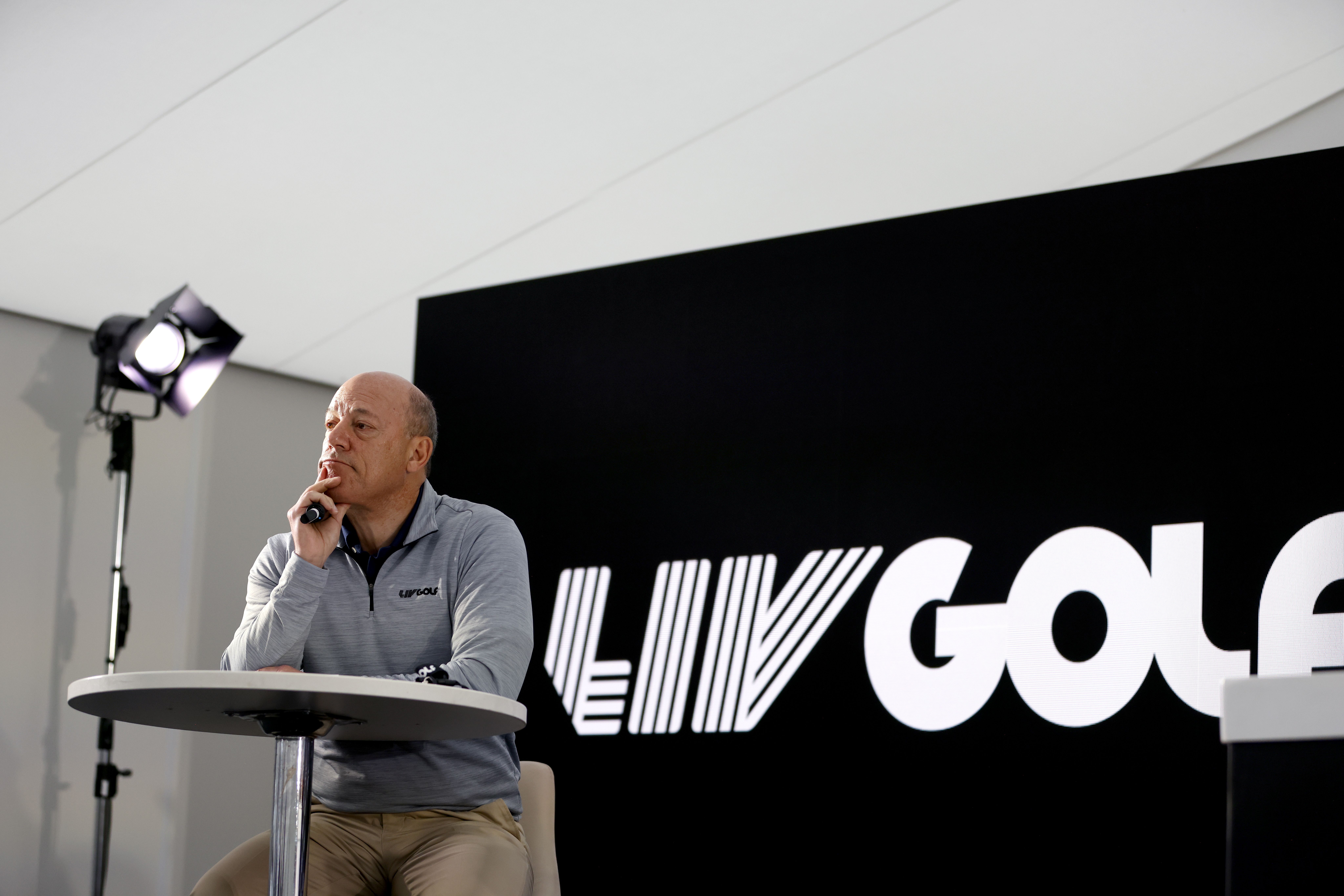 The press conference: Ari Fleischer, who served as former President George W. Bush's press secretary from 2001 to 2003, moderated Tuesday's media event, which got a little heated.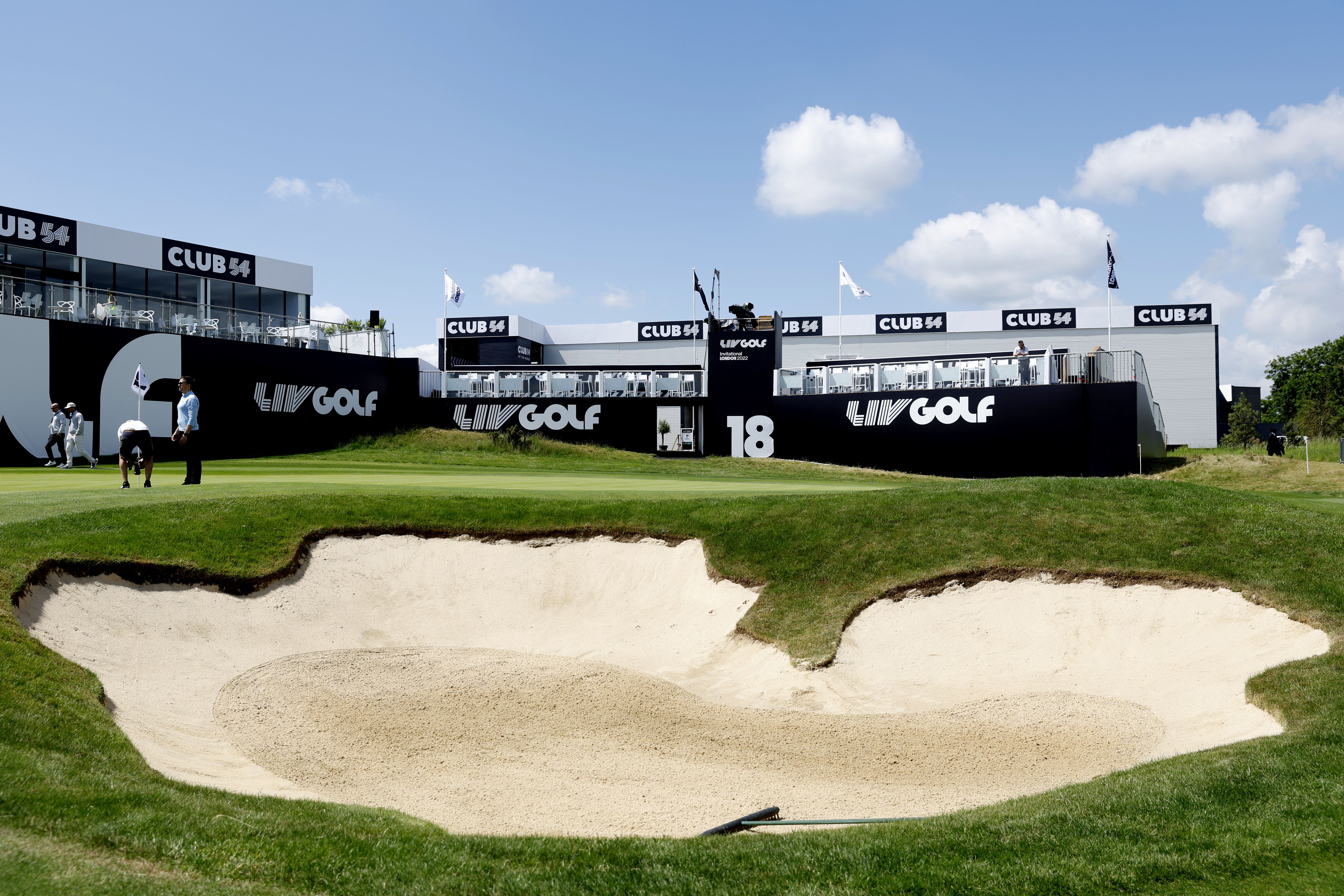 The course: Here's the 18th green at Centurion Club, a 7,100-yard par 72 course that opened in 2013 in St. Albans, a small cathedral city 20 miles northwest of London.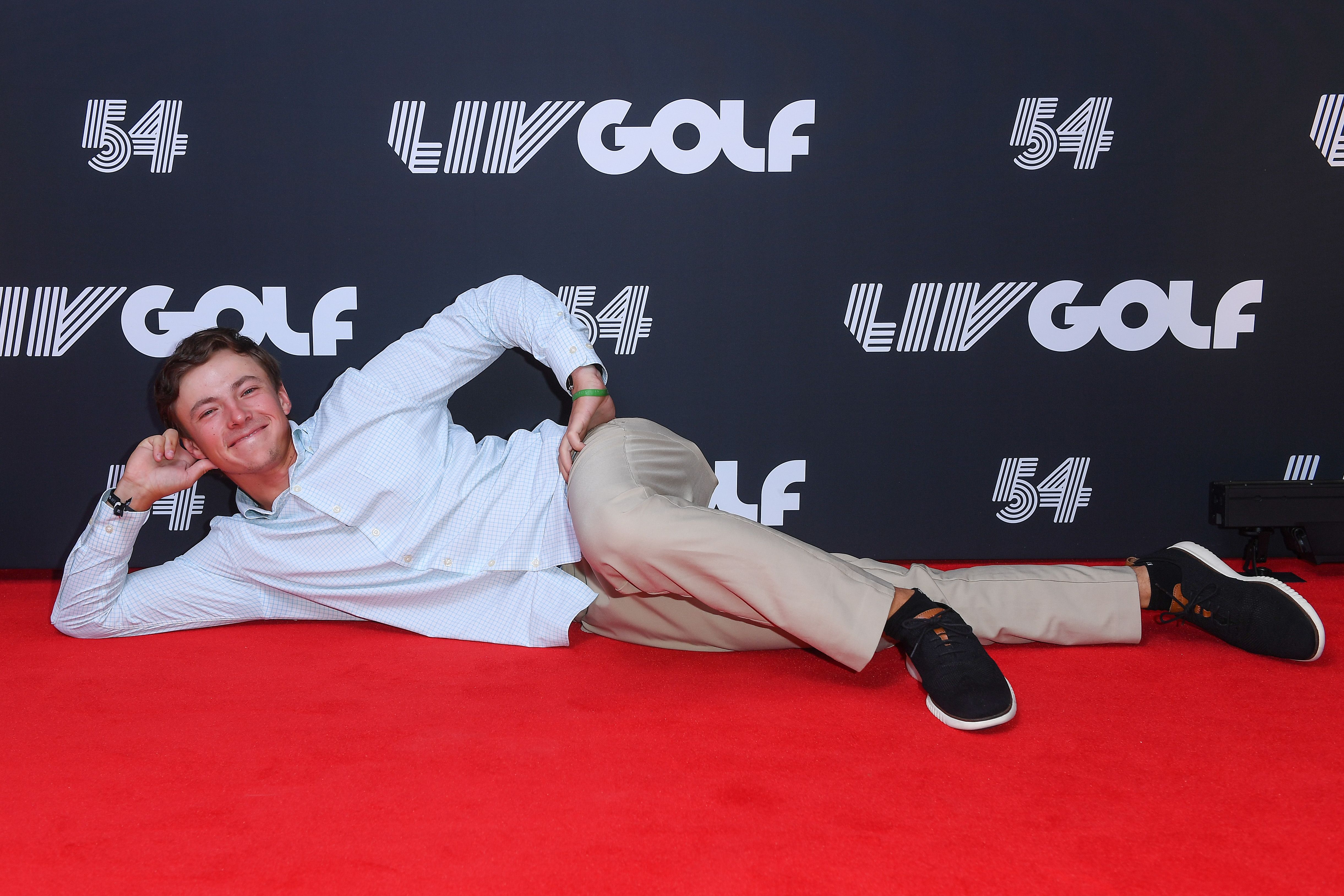 The kids: James Piot, a 2021 Michigan State graduate who won last year's U.S. Amateur, is one of the youngest in the field at age 23.
7. 🇸🇦 When sports aren't just sports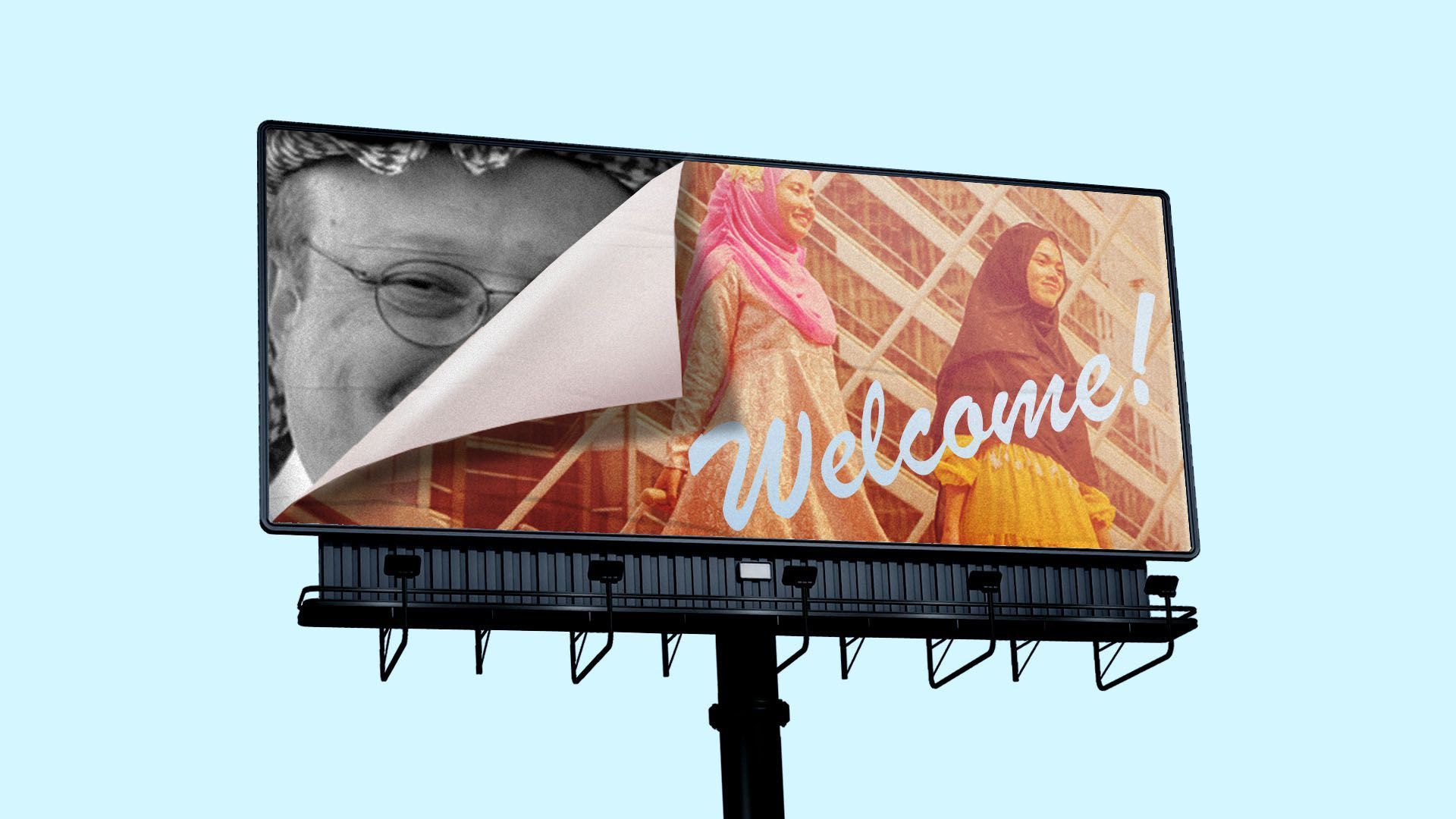 The controversy surrounding LIV hinges largely on its backers, with critics suggesting Saudi Arabia is engaging in "sportswashing."
Why it matters: Sports are universally beloved and seen as mostly apolitical, so countries often use them "to promote a welcoming picture on the international stage" per Amnesty International.
"When the media circus rolls out of town," Amnesty says, "things go back to being as bad as they ever were."
Saudi Arabia's record on human rights is among the worst in the world, and its use of sportswashing is among the most prevalent.
Context: The Saudis have spent at least $1.5 billion on sportswashing efforts not including LIV, per The Guardian, hosting boxing bouts, an F1 Grand Prix and buying Premier League club Newcastle United.
What they're saying: Northern Ireland's Graeme McDowell explained his decision to join LIV on Tuesday, saying "it would be crazy to walk away from" this much money. He then basically summed up sportswashing:
"If Saudi Arabia wanted to use the game of golf as a way for them to get to where they want to be, and they have the resources to accelerate that experience, I think we're proud to help them on that journey."
The big picture: The CIA has concluded that Saudi Crown Prince Mohammed bin Salman (MBS) ordered the 2018 murder of Washington Post journalist Jamal Khashoggi.
"Look, we all make mistakes," Norman said last month in reference to Khashoggi's gruesome murder.
To which Khashoggi's fiancee Hatice Cengiz responded: "How can we go forward when those who ordered the murder are still unpunished, and continue to try to buy back their legitimacy?"
The bottom line: The Saudi Arabian government plans to pour billions into an upstart golf tour. Perhaps it's all part of their plan to generate "non-oil GDP growth." Or maybe it's deeper than that.
8. The divorce: Norman and Nicklaus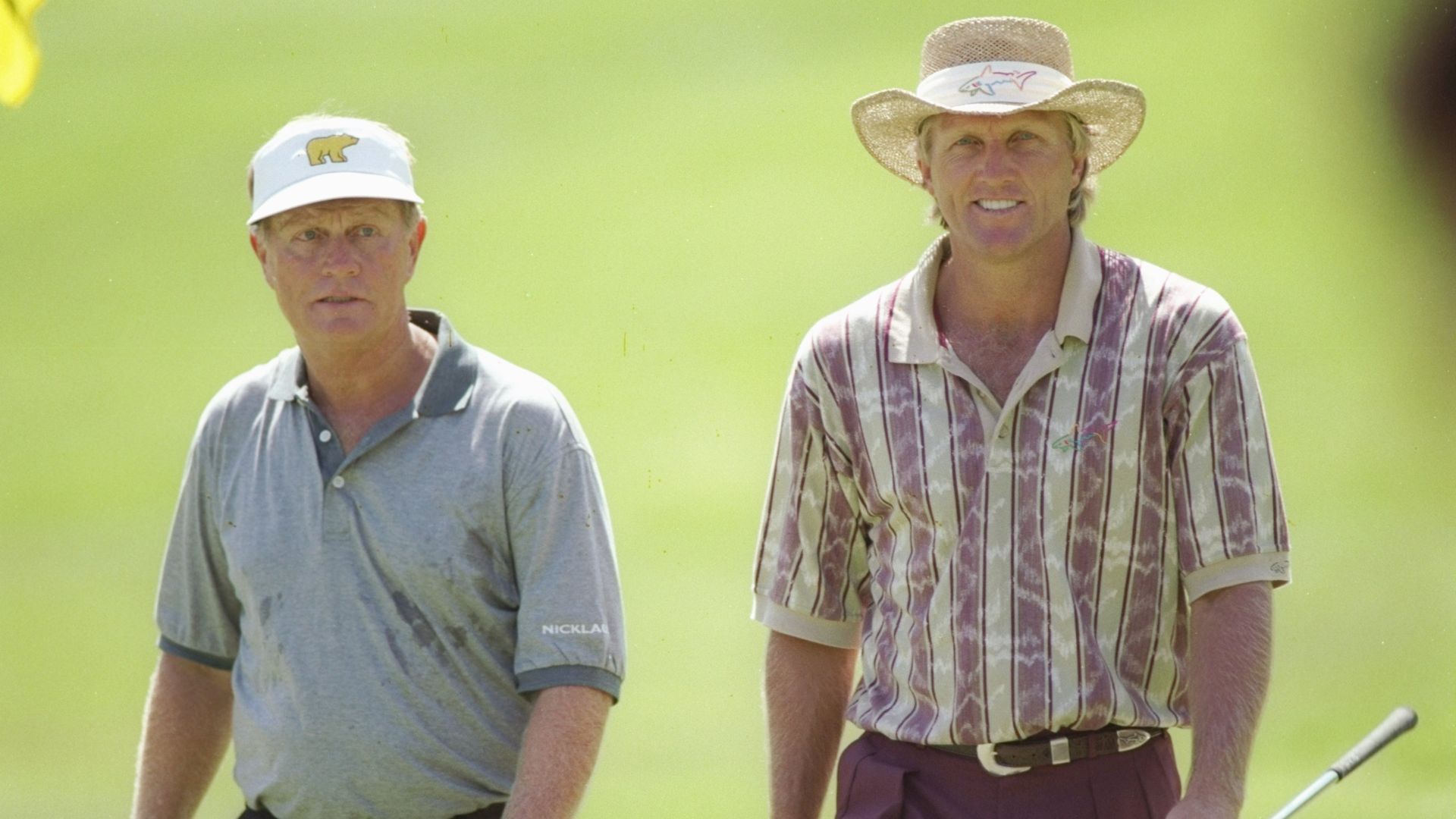 Greg Norman once considered Jack Nicklaus a mentor and father figure. Now, Nicklaus refuses to speak to him.
What they're saying: Nicklaus, 82, said he was offered over $100 million to lead LIV but turned down the job that ultimately went to Norman, 67. He's since put his "unwavering support" behind the PGA Tour.
Norman responded this week, calling Nicklaus a "hypocrite" and claiming he'd attended a LIV presentation and given his blessing.
"When he came out with those comments, I'm thinking: Jack must have a short memory," Norman told WashPost.
The backdrop: Norman grew up in Australia idolizing Nicklaus and mimicking his swing. He even grew his hair out like "The Golden Bear," earning the nickname "The Golden Cub."
At the 1986 British Open, some friendly advice from Nicklaus (in short: loosen your grip) helped Norman win his first of two majors.
The two shared more history at Augusta that year when Norman bogeyed the 18th hole, paving the way for Nicklaus to become the oldest Masters champion ever.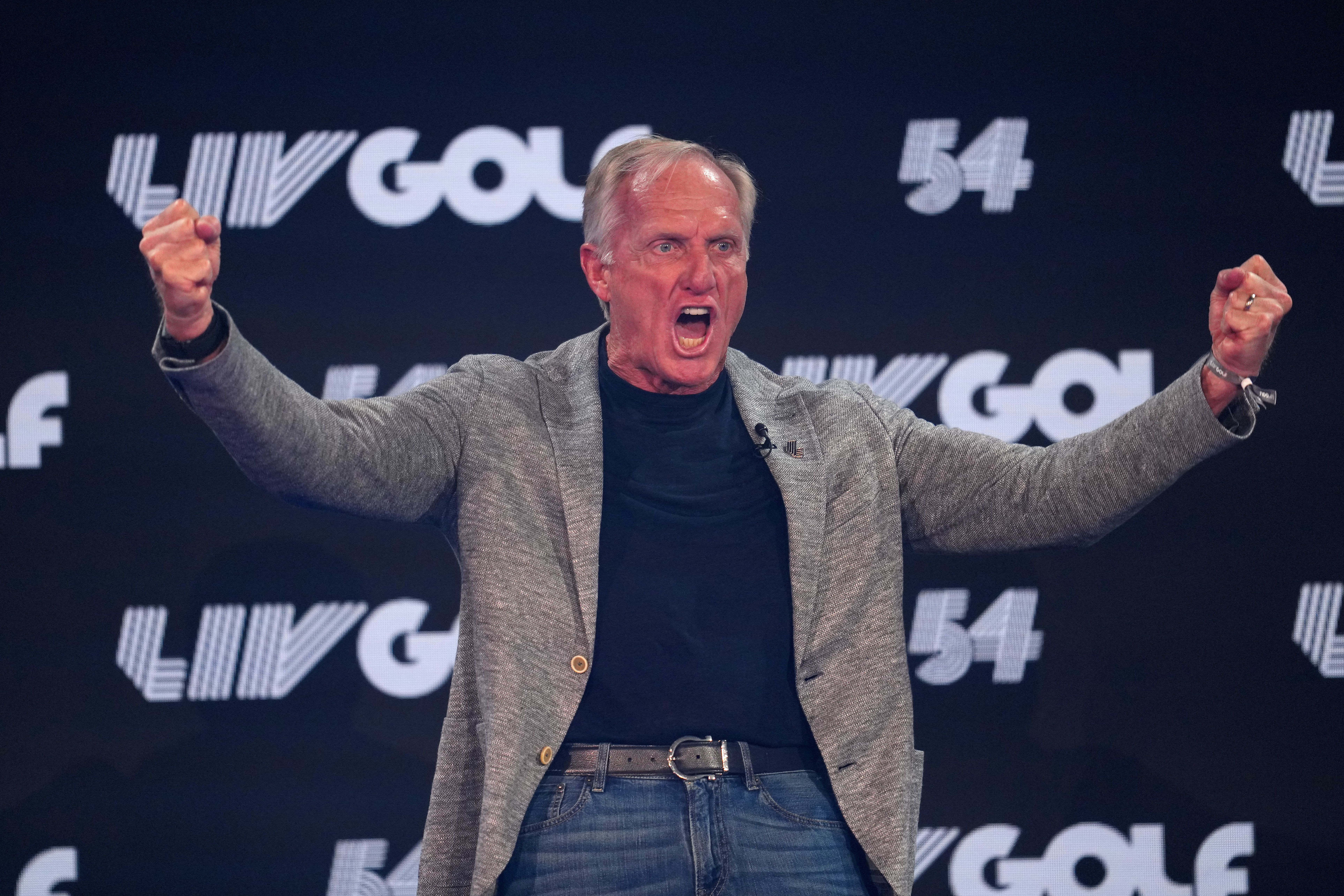 The big picture: Nicklaus, winner of a record 18 majors, is revered as an all-time champion. Norman was always going to be remembered more for his off-course earnings and business empire.
So perhaps it's no surprise that things have unfolded this way, with Nicklaus staying loyal to the tour he helped build and Norman off chasing riches.
That doesn't make it any less sad, though: A four-decade friendship woven through golf's past has become collateral damage in a battle over its future.
The last word: "The sport he once ruled is at war, and Norman ... is leading the attack," WashPost's Kent Babb writes:
"His reputation is in tatters. He's increasingly isolated. His default setting has always been aggression, a man who goes for it even when he shouldn't, and he's showing no sign of letting up."
Go deeper: The Shark is on the attack again (WashPost)
9. The divergence: Phil and Tiger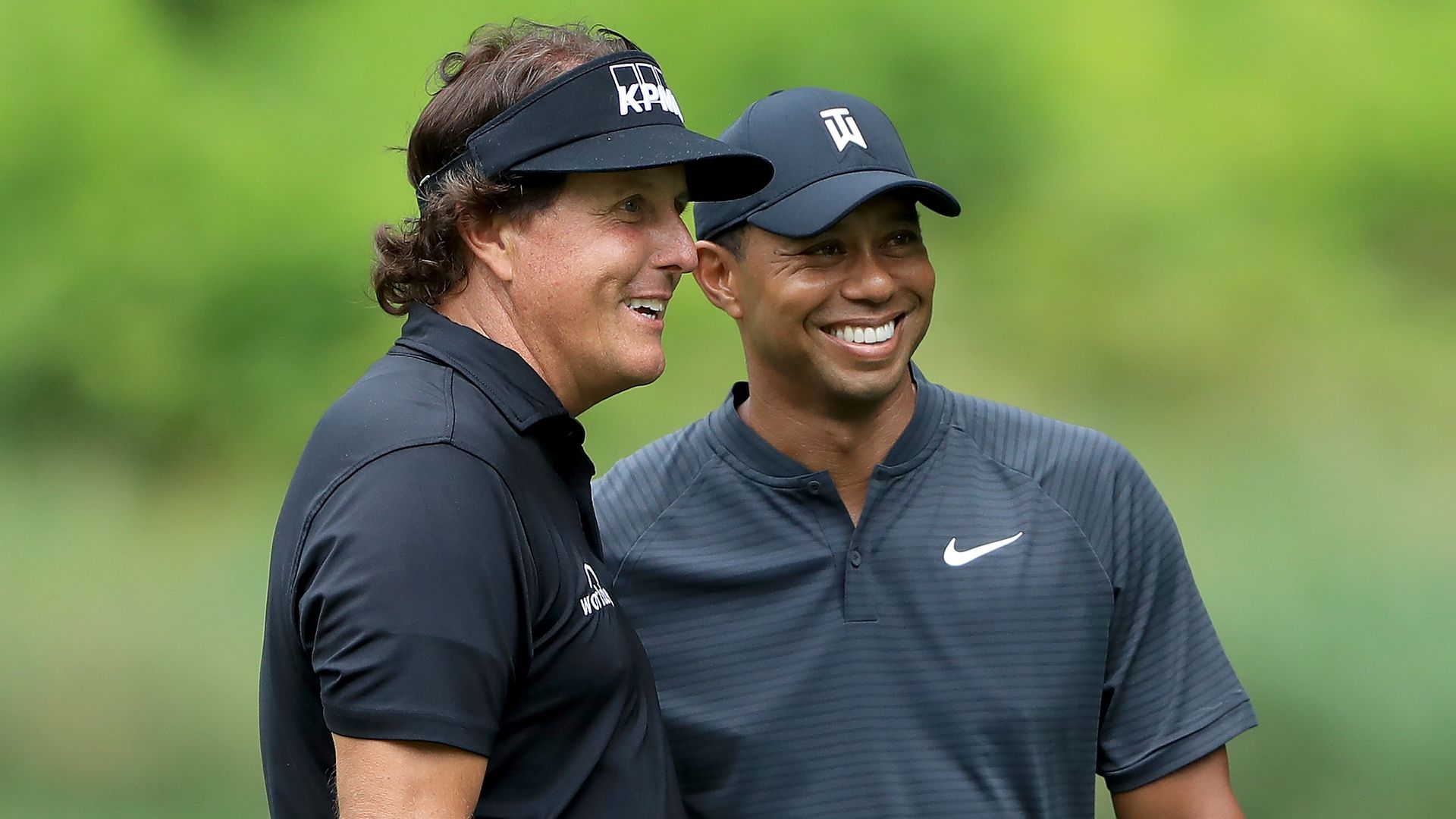 Phil Mickelson and Tiger Woods will forever be linked. But recent events have altered their legacies in immeasurable ways.
Mickelson spent months away from golf after his controversial comments about Jamal Khashoggi caused intense backlash and cost him longtime sponsors. Now he's one of the faces of LIV, adding fuel to the belief that he's always been a money-first guy.
Woods, once a machine, is more human than ever these days, playing the role of proud father, aging athlete and hobbled underdog. He reportedly turned down "high nine digits" to join LIV, a decision that could come to define this chapter of his career.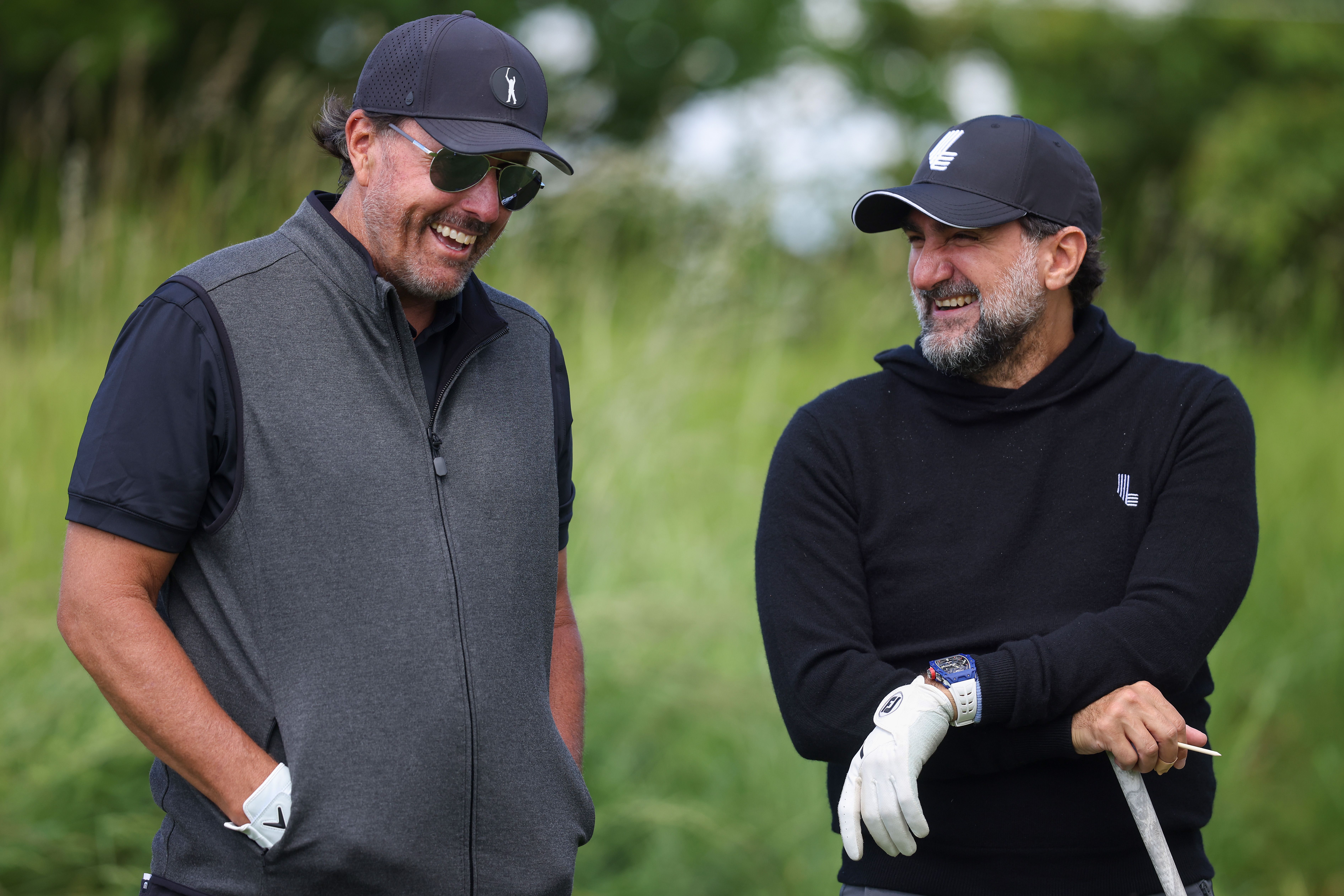 Go deeper: The next, uncertain phase of being Phil Mickelson has officially begun (ESPN)
10. 🍿 1 Netflix thing: Get your popcorn ready
Netflix is currently filming Season 1 of their new "Formula 1: Drive to Survive"-style documentary series about the PGA Tour season.
Expected release: Early 2023.
Talk tomorrow,
Kendall "Pretty wild, huh?" Baker
🙏 Share today's edition: I have a tweet at the top of my profile that you can easily retweet. You can also share this link directly with friends, family and colleagues. Thank you!!!
Editor's note: The first item has been updated to reflect that the total prize money is $255 million, not $225 million.