Axios Sports
July 28, 2023
🎉 Happy Friday! Welcome to the final edition of Axios Sports. What a ride it's been! Thank you all so much for reading and supporting. Some of the messages I received this week were so kind they made me tear up.
📫 Let's stay friends: To continue getting your daily sports fix, sign up for my new newsletter at Yahoo Sports. It will launch in the coming weeks. Enter your email on this page, and you're in. It literally takes five seconds.
Today's word count: 1,885 words (7 minutes).
Let's sports...
1 big thing: ⚾️ Never seen anything like it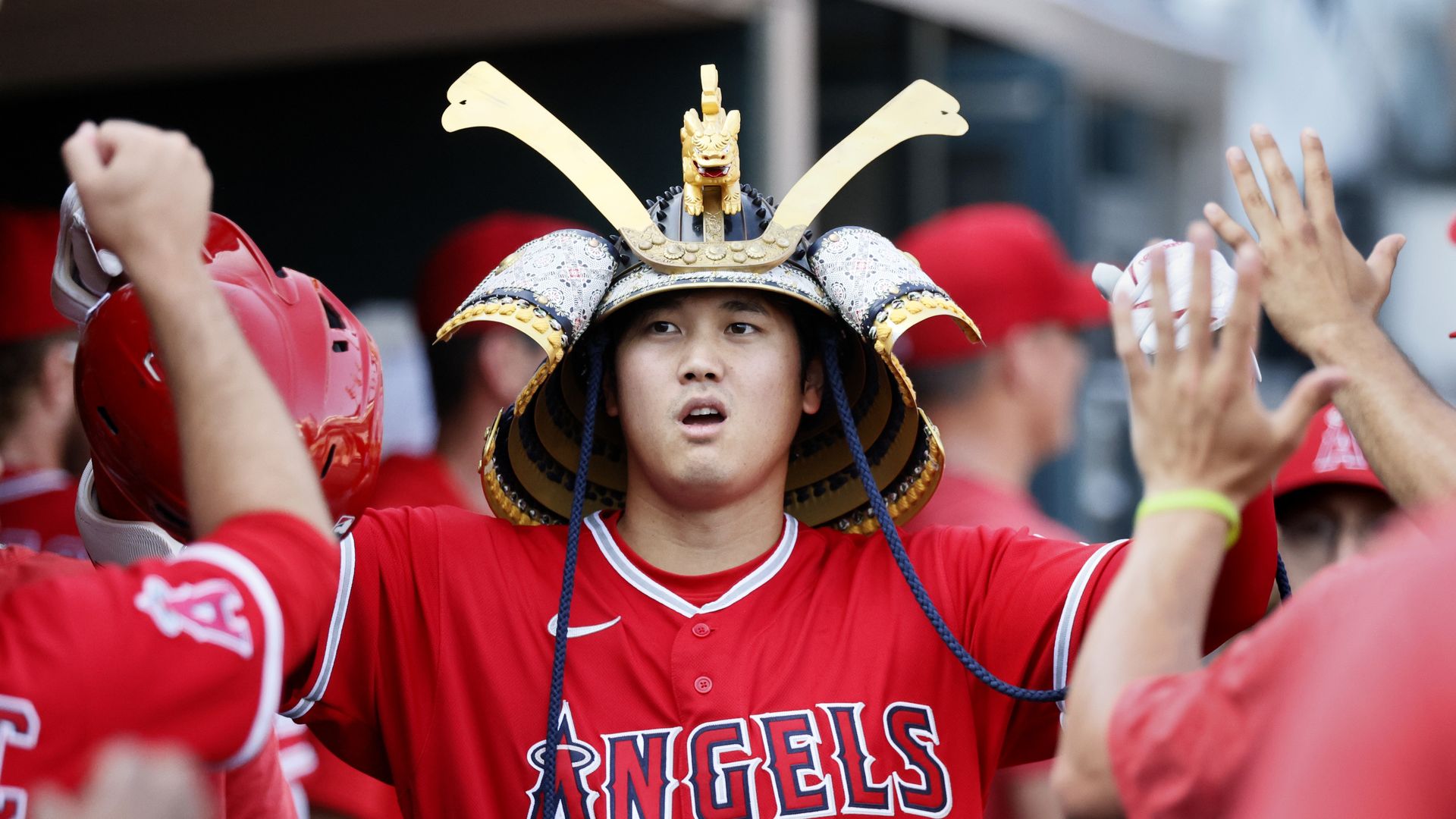 After Shohei Ohtani pitched a one-hit complete game shutout in Thursday's doubleheader against the Tigers, I messaged Jeff: "I swear, if he homers in the second game…"
And then he did! TWICE!!!
Why it matters: We are running out of words to describe the magic of Ohtani, who seems to do the unthinkable on a weekly basis.
But we mustn't limit ourselves to the English language when talking about an athlete of such cosmic abilities.
This is where the Japanese can lend us a hand with a word they use to describe him: "Nitoryu," which refers to a samurai fighting with two swords.
The big picture: Ohtani has yet to even play an MLB postseason game, so it can be controversial to call him the best baseball player to ever live.
Plus, "greatest of all time" is always open for debate because what is greatness? Is it talent? Success? A combo of the two?
What isn't up for debate, in my mind, is that we have never seen anything like this. Not in baseball. Not in any sport.
There have been plenty of all-time great athletes that made us say, "Wow!" Ohtani makes us say, "What?!"
State of play: The Angels are going for it, moving into buying mode ahead of Tuesday's trade deadline as they seek their first playoff berth since 2014. After weeks of trade speculation, the team has made it clear that Ohtani is staying put for the rest of the season before he becomes a free agent.
What to watch: Ohtani has an MLB-leading 38 home runs (six more than anyone else) and is just four homers behind where Aaron Judge was at this point last year en route to setting the American League record with 62.
We are all witnesses. Can't wait to tell my grandkids about Shotime.
2. ❤️ Dear Jeff
Before we sign off here at Axios, I wanted to take a moment to tell you a little bit about my wingman Jeff Tracy, who is reading this for the first time just like you are because he has no idea I wrote it (sneaky!).
Jeff is the best. We first met through a mutual friend when I was writing Sports Internet, the newsletter that ultimately became Axios Sports when Axios acquired it in 2019. Jeff was a sports nut like me and asked if he could contribute, so I had him write a few things. I think he made a sports-themed crossword puzzle once, too (we may have to bring those back at Yahoo!).
Anyway, he was really good. Like, really good. When I went to Axios, he started his own baseball newsletter on the side. And when there was an opening for a sports reporter here, he was the perfect candidate. The sample newsletter he included in his application blew the whole hiring team away.
We've now been working together for 1,229 days. I know that exact number because his first newsletter was literally the day sports shut down due to COVID-19. Impeccable timing, dude! We were a little nervous… "What the heck are we gonna write about?" But we made it work.
Writing a daily newsletter is a grind. And if you do it with another person, you have a pretty intense relationship. Messaging at all hours of the day. Staying up late. Waking up early. It's a bit like a marriage, and I'm sure there were plenty of days when Jeff hated my guts. "Really, Kendall? It's 9pm and you need me to edit this down to 250 words and rework the 'Big picture'?"
I can be very demanding when it comes to this newsletter. I literally can't sleep unless I feel like we did our absolute best. In that sense, I imagine I was a bit difficult to work with at times, expecting Jeff to be as maniacal as me. But he never complained. Rarely even got frustrated. He just did the work.
Jeff also has NO EGO. Yes, Axios Sports had my name on it. Yes, I edited every story. But Jeff carried plenty of the weight and probably didn't get as much credit as he deserved. That didn't seem to bother him, though, which is pretty special. If it had been another person in his spot, perhaps there would have been some tension. But with Jeff, it was all about the team.
I'll end by addressing Jeff directly: Thank you so much, man. You're an awesome colleague, friend and human being, and I should tell you that more often (classic dudes, never telling each other how we feel!). It's been an absolute pleasure, my friend, and I can't wait for what's next.
3. 🎰 Coming soon: NFL slot machines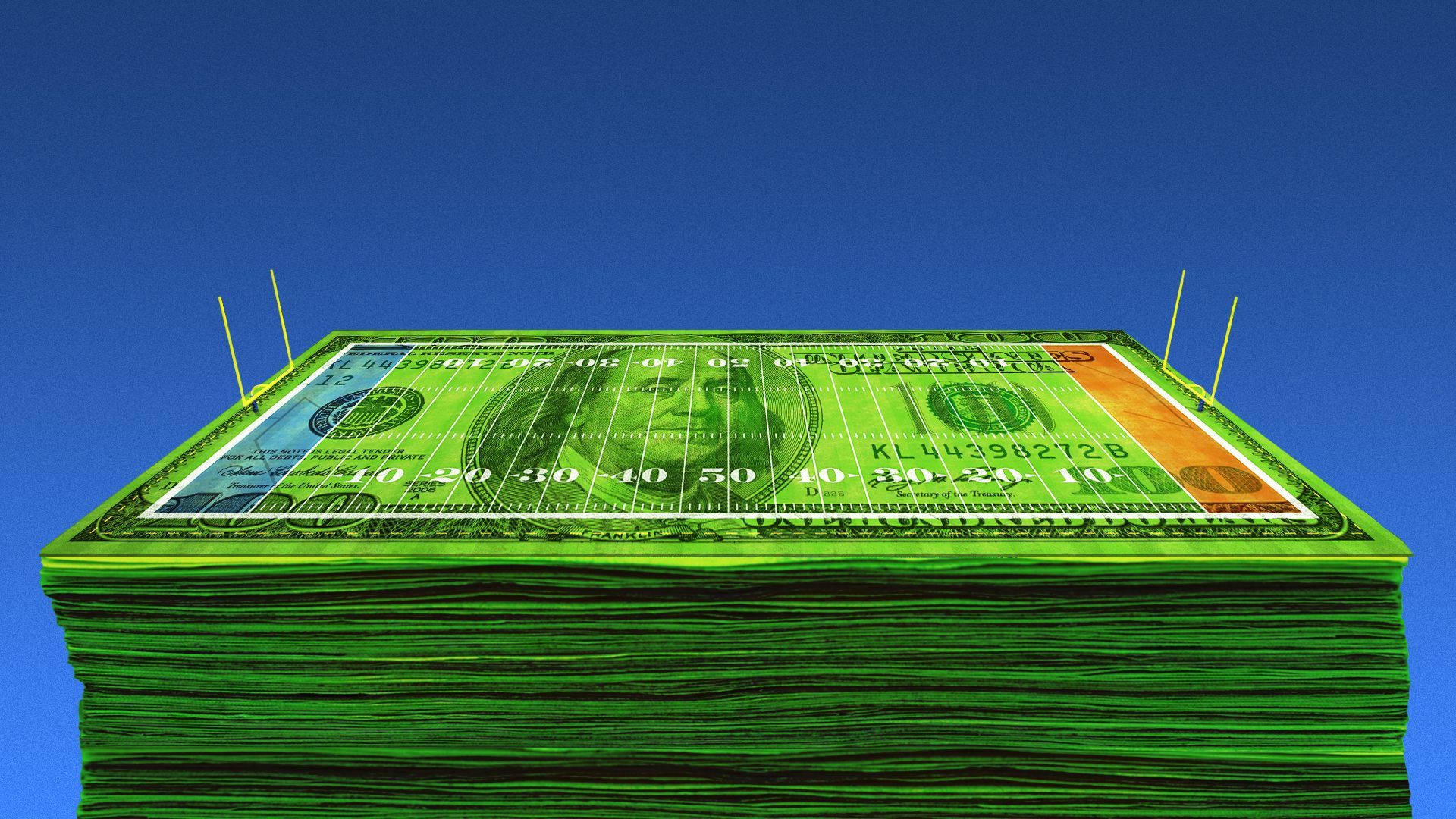 NFL-themed slot machines are coming to casino floors this football season.
Driving the news: Aristocrat Gaming, a leading slot machine and casino game manufacturer, unveiled the machines on Thursday after signing a multiyear agreement with the league.
The big picture: It's remarkable how much the NFL's stance on gambling — and Las Vegas — has changed over the past decade. A few notable events:
August 2012: The NFL (and other leagues) sue New Jersey to block the state from offering sports betting, arguing that gambling "threatens the integrity" of sports.
June 2015: The NFL cancels a fantasy football convention in Las Vegas because of the perceived association with gambling.
March 2017: The NFL approves the Raiders' move to Vegas.
May 2018: The Supreme Court strikes down PASPA, giving states the go-ahead to legalize betting on sports.
April 2021: Caesars, DraftKings and FanDuel become official sports betting partners of the NFL
February 2020: The NFL approves in-stadium betting lounges, allowing sportsbooks to take bets during games.
July 2023: Aristocrat unveils NFL-themed slot machines.
4. ⚡️ Lightning round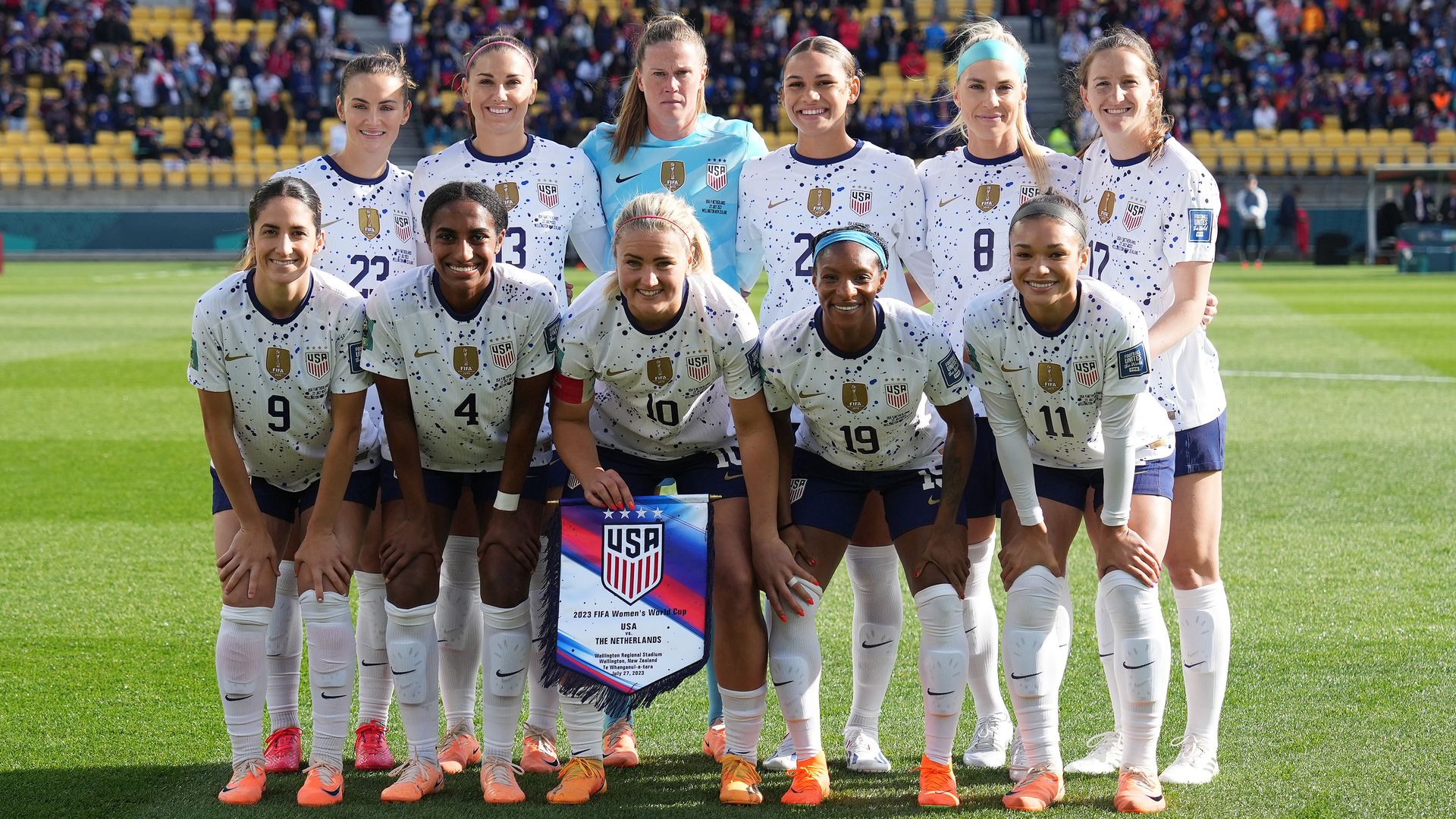 ⚽️ Record ratings: The USWNT's 1-1 draw against the Netherlands drew 6.4 million viewers on Fox, making it the most-watched Women's World Cup group stage match ever on U.S. English-language television.
🏈 Stars carted off: Bengals QB Joe Burrow (calf) and Dolphins CB Jalen Ramsey (knee) were carted off the field at training camp on Thursday. Burrow will undergo further testing, while Ramsey needs surgery and is expected to miss the start of the season.
🙏 Bronny update: Bronny James is home from the hospital and "everyone [is] doing great," his father, LeBron, said Thursday, three days after Bronny suffered cardiac arrest.
⛳️ Unreal shot: Nick Hardy had the shot of the day (and maybe the year) at the 3M Open, landing a 9-iron 11 feet from the pin from 176 yards out and directly behind a tree (which broke his club). He's tied for sixth at 6-under.
⚽️ Silva retires: Real Sociedad's David Silva, 37, retired on Thursday days after suffering a knee injury. "El Mago" ("The Magician") won four Premier League titles with Manchester City, where he was honored with a statue.
5. 🌎 The world in photos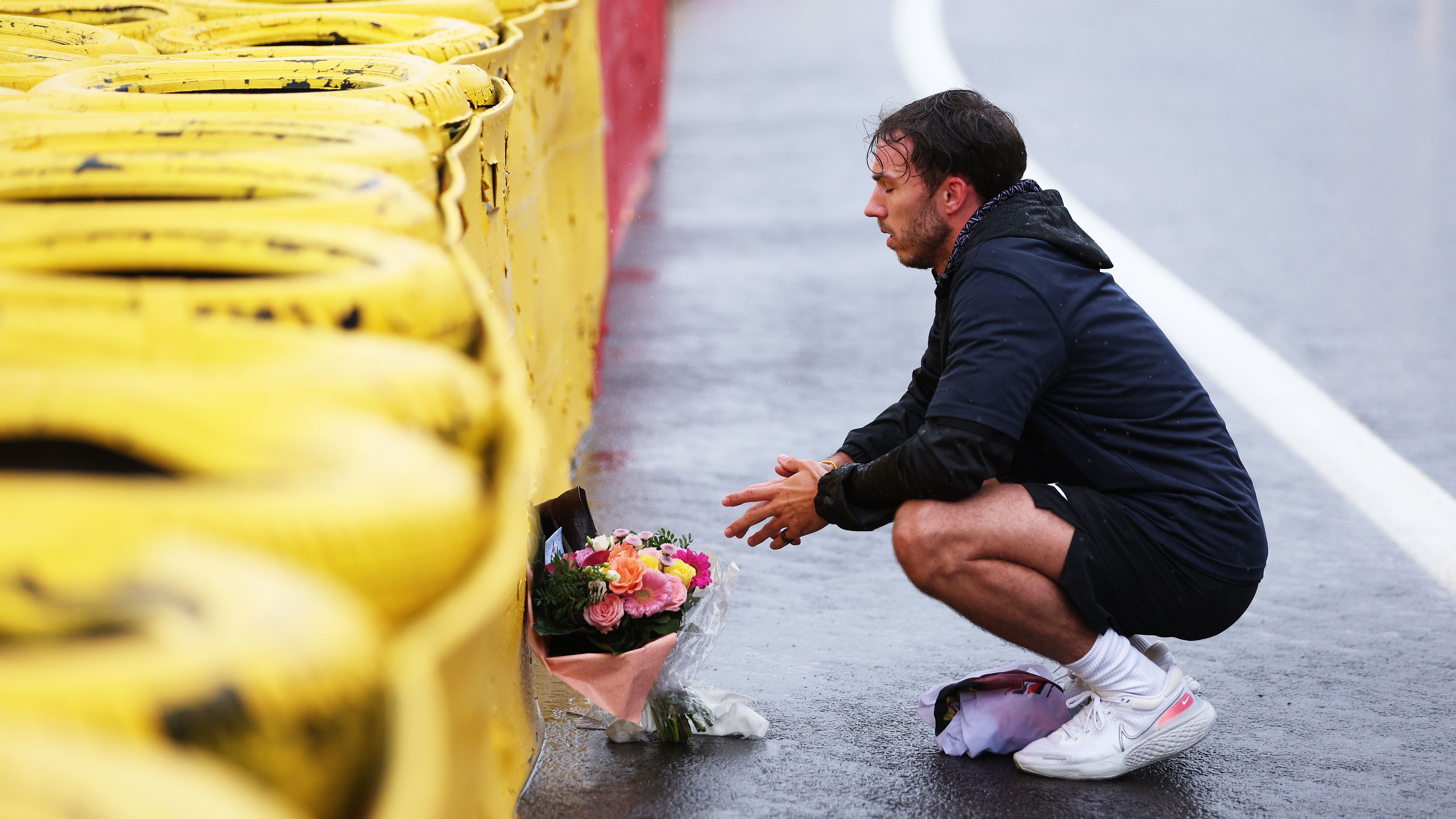 SPA, Belgium — Formula 1 driver Pierre Gasly lays a wreath in tribute to the late Anthoine Hubert, who tragically died at age 22 following a 2019 accident at Circuit de Spa-Francorchamps, site of this weekend's Belgian Grand Prix.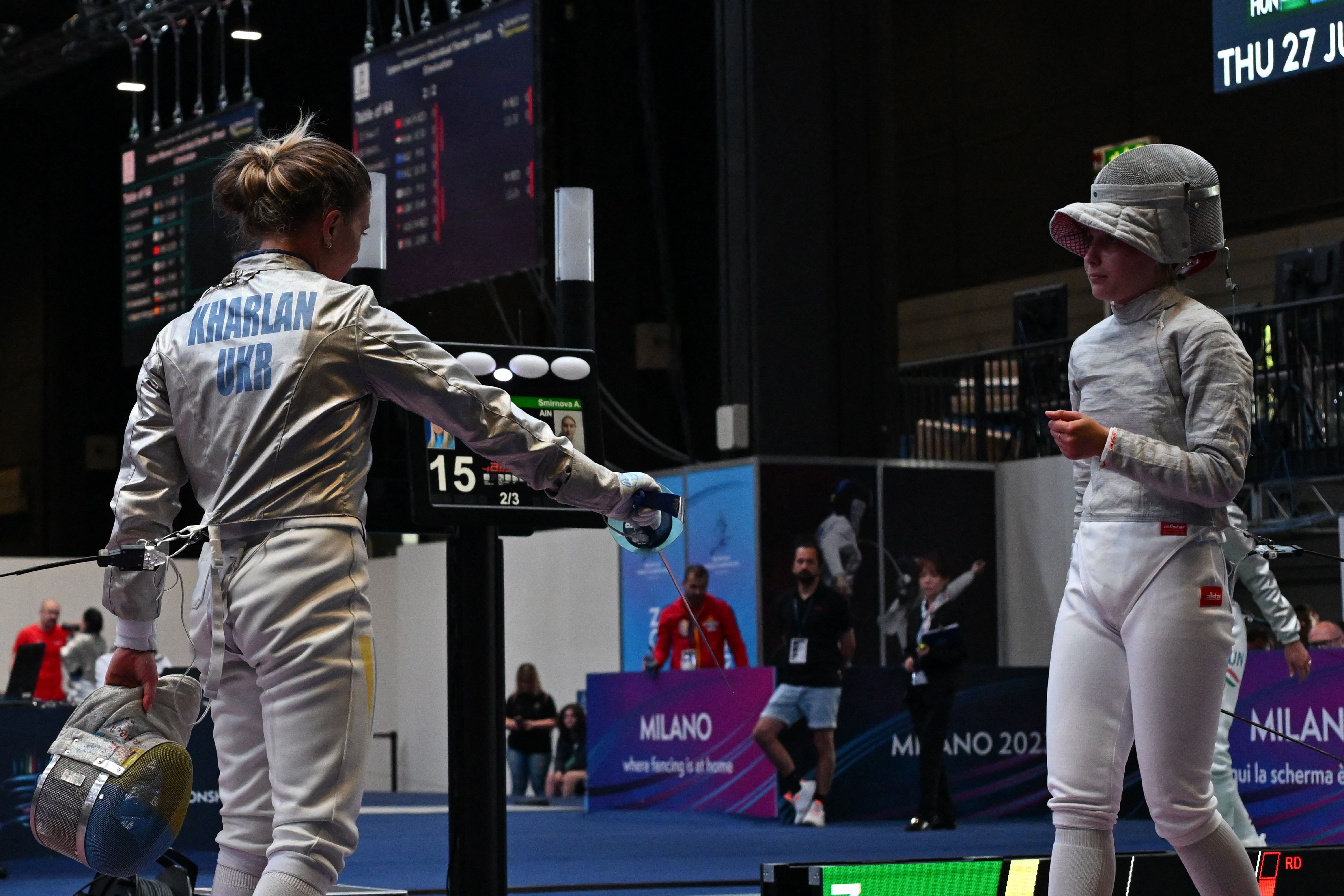 MILAN — Ukraine's Olga Kharlan was disqualified from the fencing world championships on Thursday after refusing to shake her Russian opponent's hand after beating her. Ukraine has called for Kharlan to be reinstated.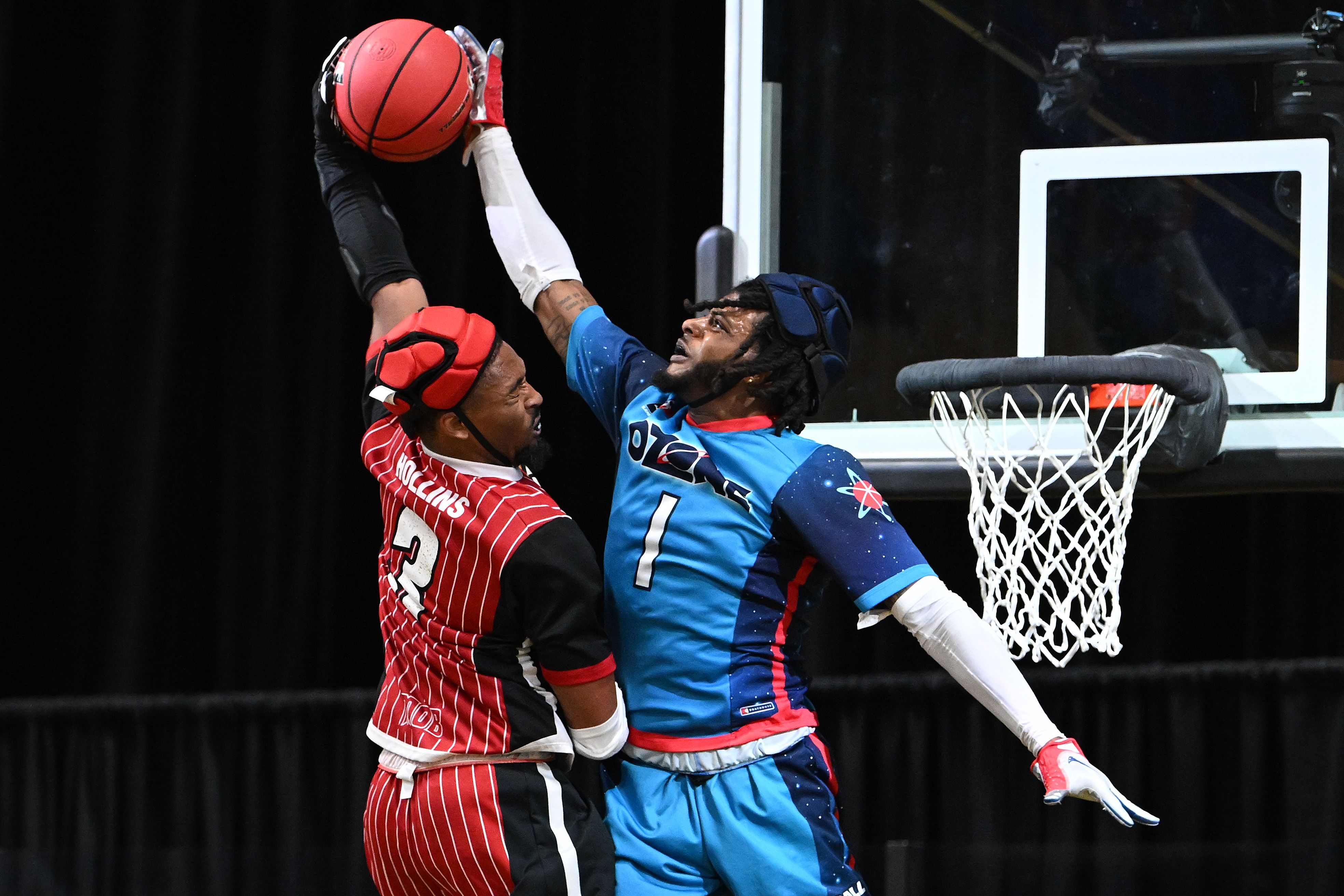 LAS VEGAS — SlamBall is so back.
6. 📆 July 28, 1994: Baseball on strike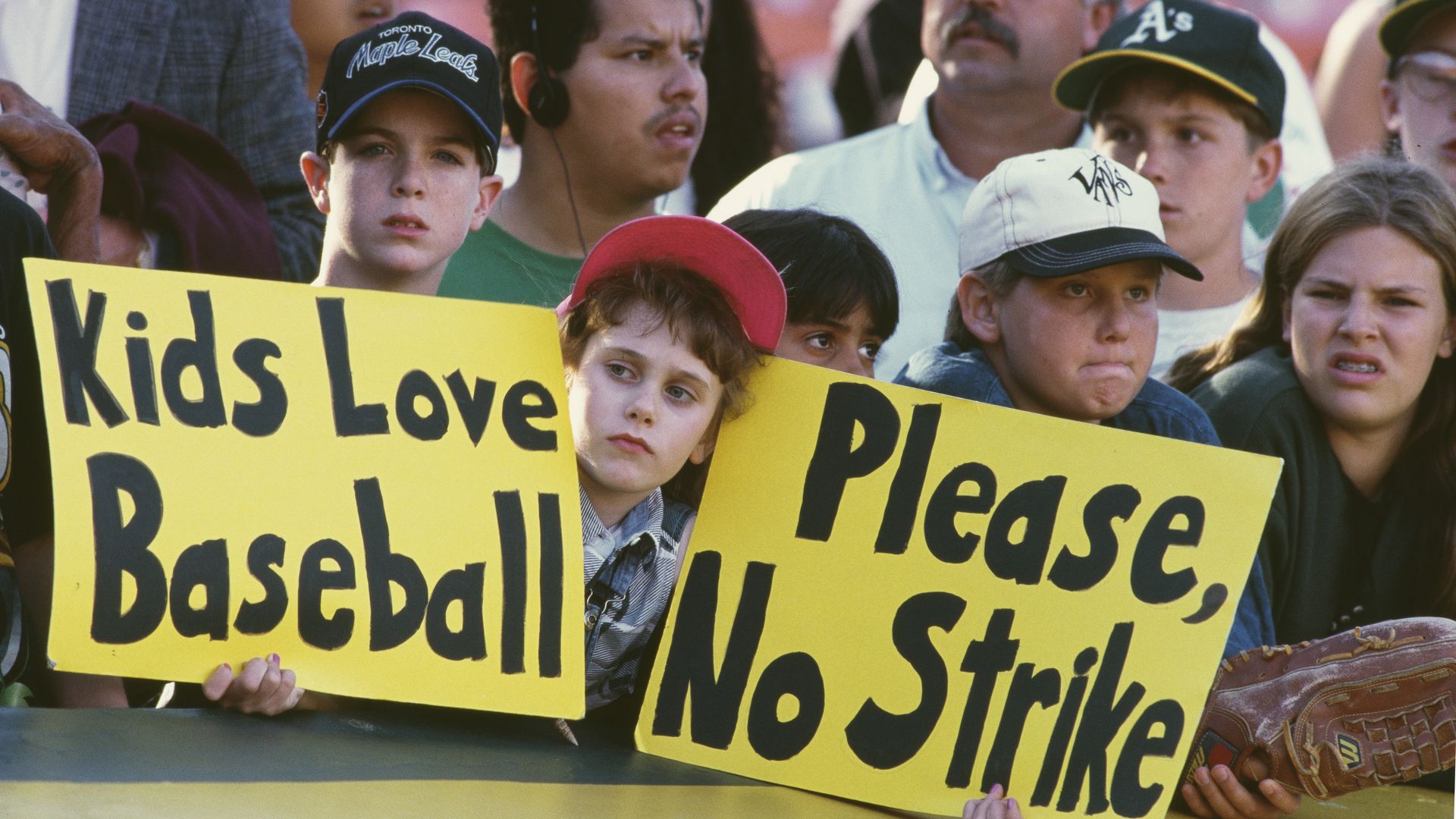 29 years ago today, with negotiations at a standstill, the MLBPA decided it would go on strike. Two weeks later, the longest work stoppage in MLB history began, Jeff writes.
Details: The decision to strike was driven by owners' desire to implement a salary cap, which was and remains a non-starter for players.
The strike lasted 232 days, resulting in the cancellation of 938 games as well as the 1994 World Series.
Play resumed on April 25, 1995, kicking off an abbreviated 144-game season.
The big picture: In the aftermath, the league and players entered a period of relative harmony, going nearly 30 years before enduring another work stoppage — the 99-day lockout that threatened the 2022 season.
But they reached an agreement at the 11th hour and played a full 162-game schedule last year as the league brought in record revenues of nearly $11 billion.
Now, we're in year one of the pitch clock era and Rob Manfred, who served as outside counsel for the owners during the 1994 strike, just had his contract extended to remain commissioner through at least 2028.
Go deeper: Oral history of the strike (ESPN)
7. 📺 Watchlist: Group stage continues
The Women's World Cup group stage continues this weekend as the record 32-team field slowly gets whittled down to the 16 knockout participants.
More to watch:
8. 🍺 The Ocho: Beer mile
Corey Bellemore has proven yet again that when it comes to the beer mile, everyone else is fighting for second place, Jeff writes.
Driving the news: The 28-year-old Canadian dominated at the ninth annual Beer Mile World Classic in Chicago earlier this month, beating the field by 34 seconds.
He finished with a time of 4:30, just two seconds shy of his own world record.
The craziest part? He did it while wearing only one shoe after his left spike fell off due to a collision just 10 seconds into the race.
How it works: Runners chug a 12-ounce beer to begin the race, run a lap, and then repeat that process three more times. As Bellemore says, the event is as much about strategic belching as speedy running and chugging.
"After you chug those beers, the first hundred meters of the next lap, you really have to focus on getting the burps out. You want to burp, but not burp too deep because then you'll puke."
—
Bellemore
Go deeper: How the beer mile became a serious competition (The Ringer)
9. 🌎 Geography trivia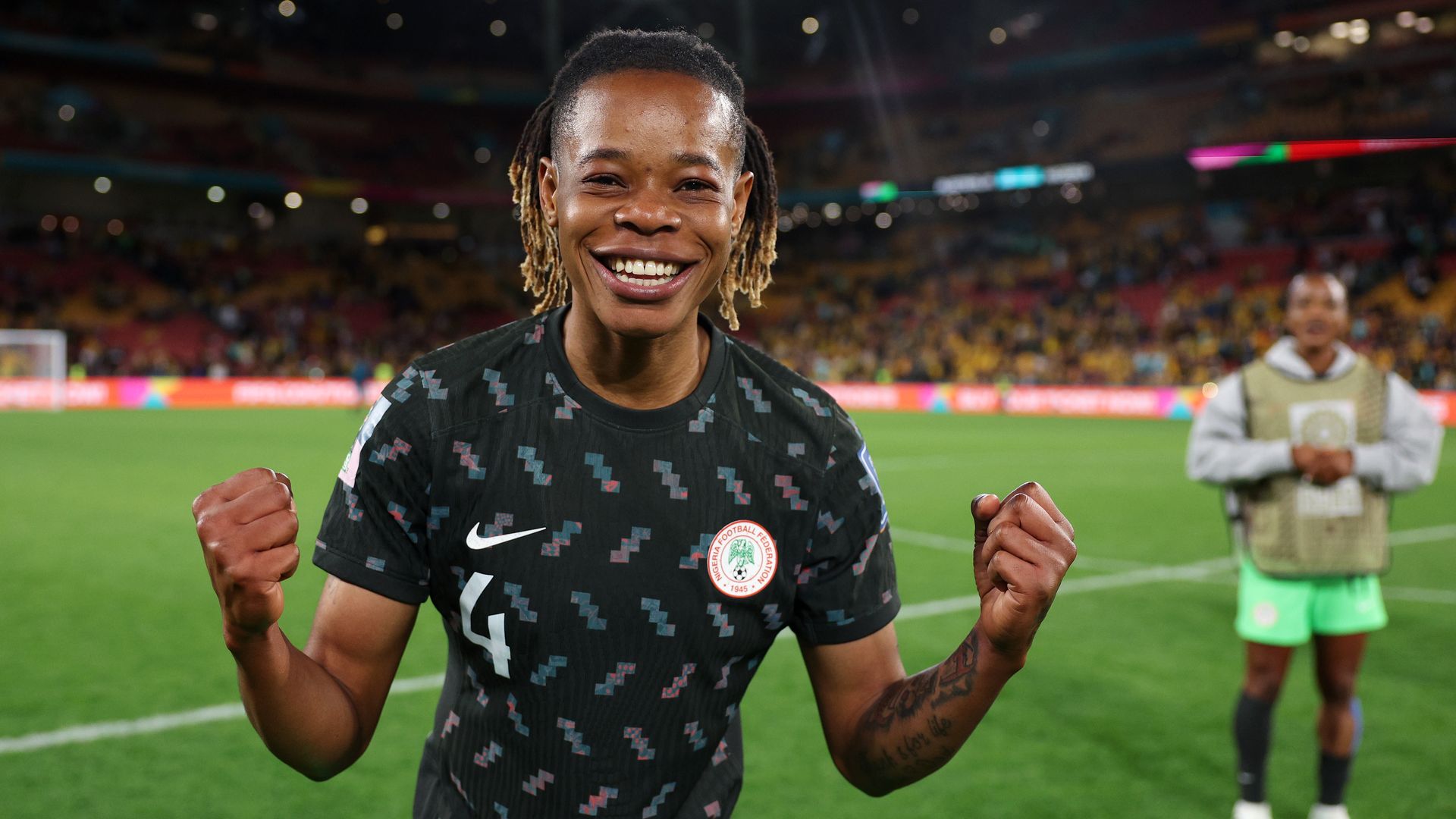 Nigeria, which upset co-host Australia on Thursday at the Women's World Cup, is the sixth-most populous country in the world (224 million people).
Question: Name the only five countries with a larger population.
Hint: Four are in Asia.
Answer at the bottom.
10. 👋 1 final thing: This isn't goodbye!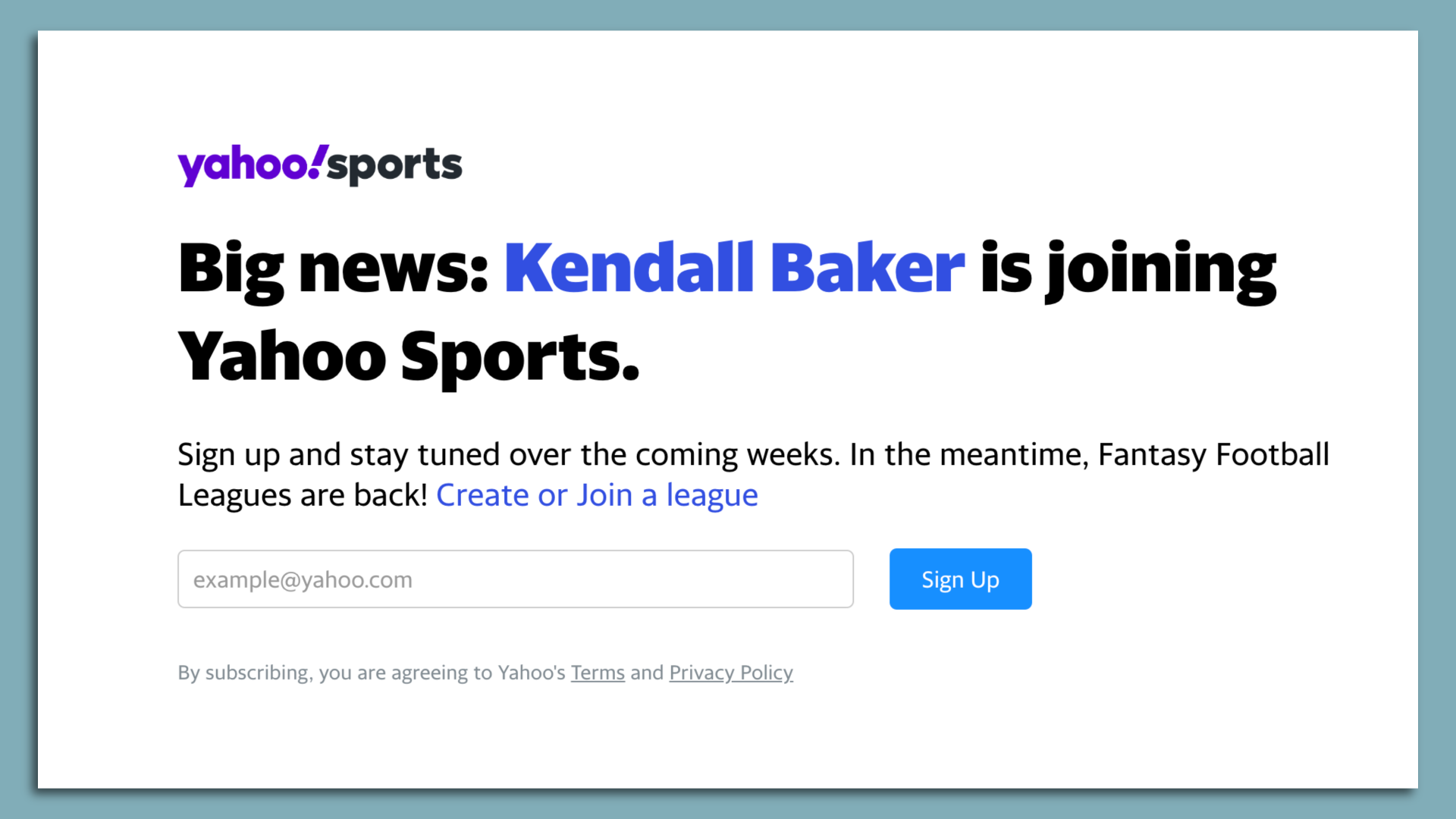 Thanks again for a wonderful 4.5 years of Axios Sports. Now it's time for the next chapter.
Talk soon,
Kendall "Yahooooooo!" Baker
Trivia answer: India (1.4 billion), China (1.4 billion), USA (340 million), Indonesia (278 million), Pakistan (240 million) ... Source
🙏 Thanks for reading! Follow us for more (@kendallbaker and @jeffreytracy). Thanks to Matt Piper for copy edits.