Axios Sneak Peek
September 06, 2020
Welcome to Sneak Peek, our weekly look ahead from both ends of Pennsylvania Avenue, plus our best scoops.
My colleague Alayna Treene, an Axios White House reporter, is filling in for me today.
Happy Labor Day weekend. We are 58 days away from Election Day.
Situational awareness: North Carolina started mailing ballots on Friday. Several other states will also begin sending out ballots in the coming days.
Today's newsletter is 1,879 words, a 7-minute read.
1 big thing ... Scoop ... McCarthy warns Trump's war on mail could screw GOP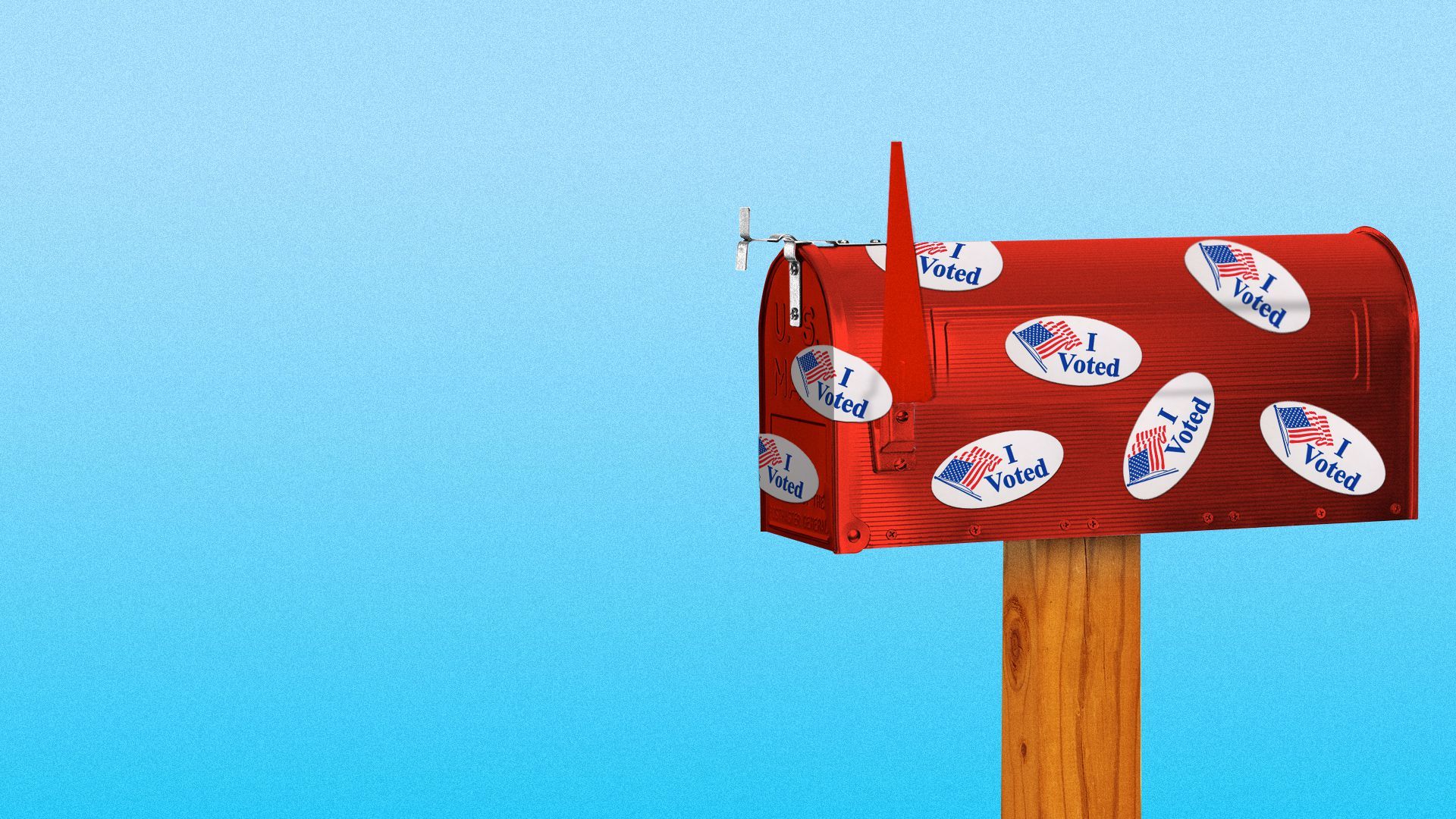 House Republican Leader Kevin McCarthy is privately encouraging voting by mail and warned President Trump the party could be "screwed" by his fight against mail-in voting, Alayna reports.
"We could lose based on that," McCarthy (R-Calif.) told me at a diner in Salt Lake City last week, during a campaign swing that began in the Pacific Northwest.
McCarthy said the party can't afford for Republicans to sit home, afraid of getting COVID-19, while Democrats flood the field with mail-in ballots.
McCarthy is particularly worried about deterring senior citizens.
McCarthy said he's spent hours telling Trump that this preoccupation will hurt the president's own re-election, as well as Republicans running for Congress.
"I tried to show him ... you know who is most afraid of COVID? Seniors. And if they're not going to go vote, period, we're screwed," McCarthy told me.
Trump trashes mail voting in part because he sees the messaging as good cover if he loses to Joe Biden in November, sources close to the president's re-election campaign tell Axios.
Last week, Trump even encouraged supporters in North Carolina to violate the law and vote twice — through the mail and in-person — to test the process.
The backdrop: I traveled with McCarthy last week as he campaigned and raised money for candidates in Oregon and Utah. At every stop, he told Republicans to vote by any means necessary.
He told donors in both states the story of Republican Mike Garcia's knockout win in May's special election for California's 25th district, the seat that former Democratic Rep. Katie Hill carried by 9 points in 2018.
"It was a seat everyone thought was unwinnable, but we won it," McCarthy told donors at a winery in Oregon.
McCarthy attributed the win in part to the twist in which California Gov. Gavin Newsom, a Democrat, mandated late that all ballots be cast by mail to prevent the spread of the coronavirus, avoiding the obstacles of same-day voter registration.
Between the lines: McCarthy says he agrees with Trump that there's a difference between absentee voting, in which voters request a ballot, and vote-by-mail programs, where jurisdictions automatically send ballots to registered voters.
McCarthy sees vote by mail as particularly problematic in states that don't have the infrastructure to handle such ballots on a massive scale.
But he said most Americans don't get the distinction.
Reality check: There's no evidence that voting by mail is plagued by fraud. Trump himself voted by mail in Florida last month.
2. Republicans' internal conflict over diversity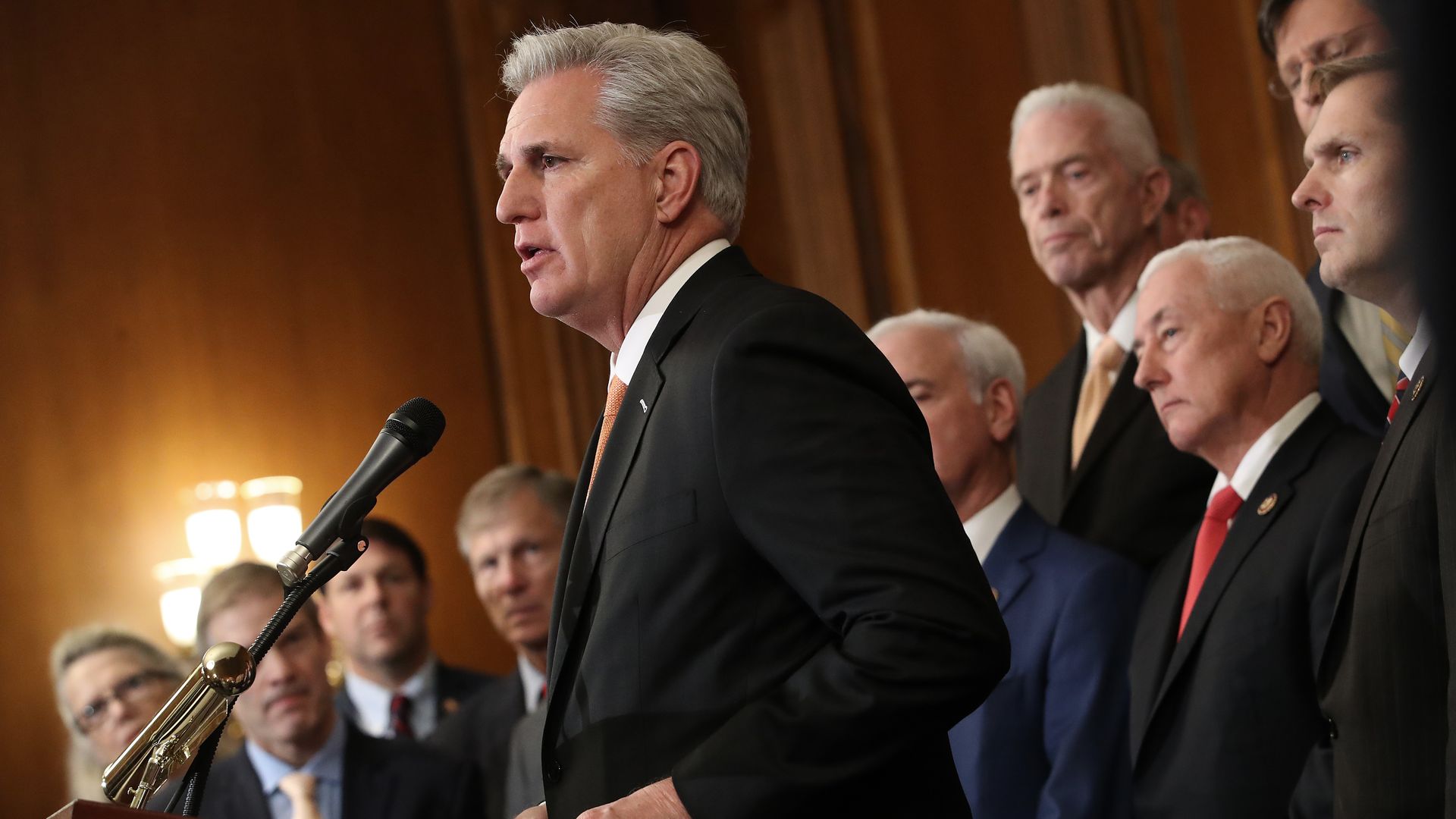 The aftermath of national protests around racial injustice is giving Republicans two strategic paths in their uphill fight to take back the majority in the House of Representatives — but those paths may be on a collision course, Alayna reports..
The big picture: The GOP is leaning hard into courting women and people of color to be their candidates and to vote for them. They're also running with Trump's law-and-order message to try to win back softening support with white, college-educated men.
But it's hard to do both at the same time.
Driving the news: Republicans seeking to diversify their ranks have faced resistance over their handling of race relations in the U.S. — in large part thanks to Trump, who according to polling fails miserably on the issue of race.
But McCarthy and other Republican lawmakers I interacted with on last week's West Coast trip said violent protests around the country have been a game-changer in helping shift the conversation from racism to safety and security.
Some white men who backed Trump in 2016 have been incredibly turned off by Trump's response to the George Floyd protests. The significance of that is huge, McCarthy says.
Now that the conversation has turned to violent riots and Trump's push for law and order, "White males are coming back," McCarthy says. "It doesn't mean they've changed their views about race in America ... but now they're afraid about their safety."
The discrepancy underscores how GOP leaders are trying to straddle opposite wings of the party — one that wants to better embrace the changing dynamics of the country and a more populist base that is self-preservative at its core.
Don't forget: Since the 2018 midterm elections, when Democrats advanced with the most diverse class of freshmen in congressional history, McCarthy redoubled his efforts to recruit more female candidates and people who are younger and more racially and ethnically diverse.
"When you look ahead 20 years from now, our party will have to match what the country looks like," McCarthy said.
He's also making a concerted effort to support them on the trail.
Last week, McCarthy visited the districts of Alek Skarlatos, the 27-year-old former National Guard soldier who tackled a terrorist on a train in Paris, and Burgess Owens, the former NFL player and Trump favorite (the president called into Owens' fundraiser last week to congratulate him over McCarthy's speakerphone) who isn't afraid to talk about being a proud Black Republican.
Both are scrappy candidates who face tough elections in competitive districts. They both would also add needed diversity to the party, McCarthy said.
By the numbers: 90 women, 73 minority candidates and 104 veterans will be Republicans' nominees on the ballot for November, according to data provided by McCarthy's office.
31% of female nominees are in the National Republican Congressional Committee's top open-target seats.
Between the lines: McCarthy sees a more diverse group of GOP freshmen as a success story in any case. "Even if we don't win the majority, we'll at least have made broad gains on the diversity front," he told me.
3. Trump hunts for foreign policy wins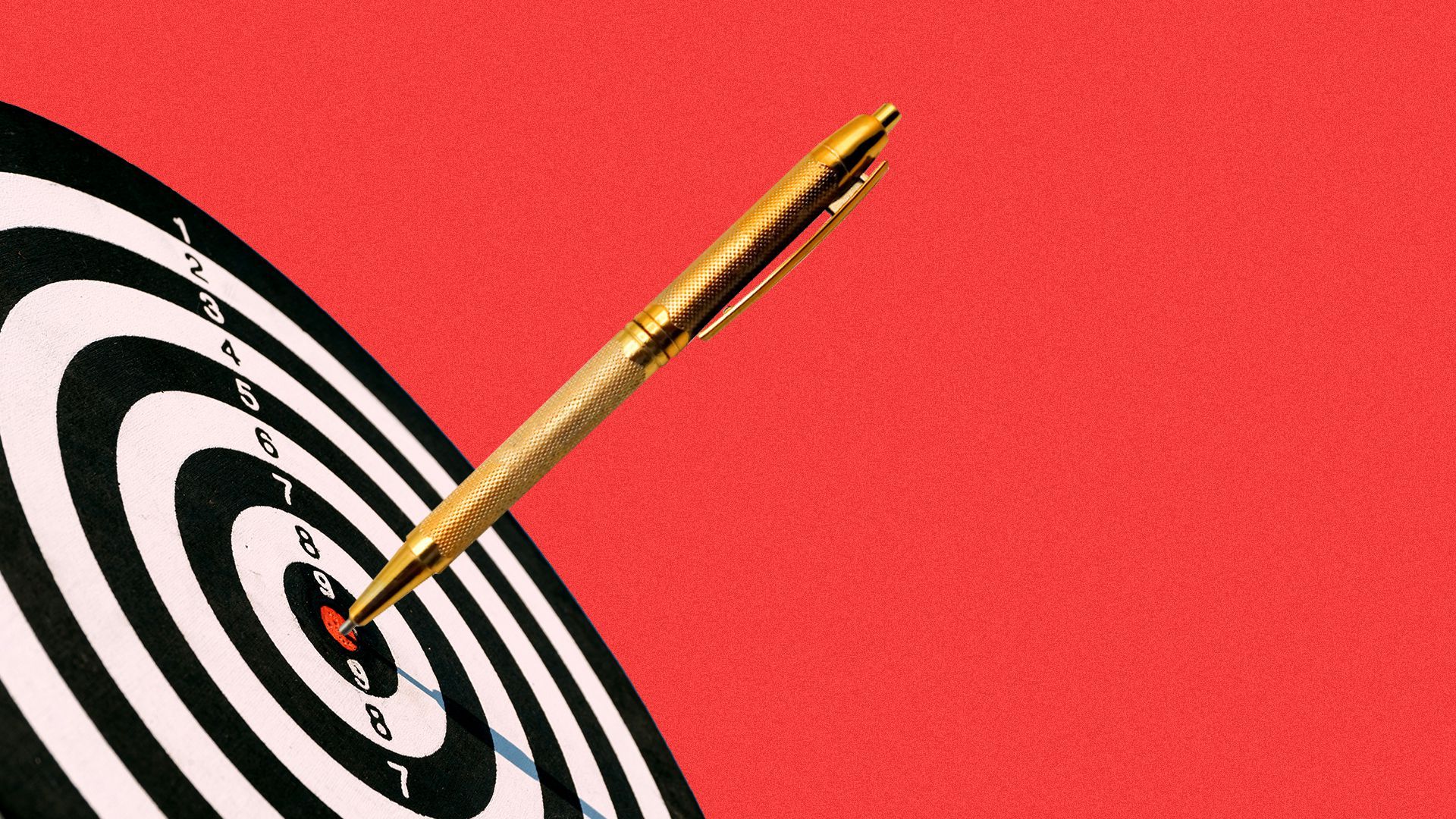 President Trump is on the hunt for foreign policy wins he can showcase ahead of November's election — even if that means getting creative, Axios' Dave Lawler writes.
Why it matters: Trump's aides are working to recast him as "a true peacemaker," as national security adviser Robert O'Brien put it on Friday. "It's happened in the Balkans, it's happened in the Middle East, and we have more to come."
Be smart: The grand bargains Trump has sought with North Korea, Iran and China remain far out of reach.
More events like Friday's Oval Office ceremony could be in store between now and Nov. 3.
Setting the scene: Trump was flanked by the leaders of Serbia and Kosovo to sign what he heralded as "a truly historic commitment" to "economic normalization."
In a surprise twist, Serbia also said it would move its embassy to Jerusalem, while Kosovo agreed to recognize Israel (Trump described that as a "great day for peace with Middle East," though Kosovo is in Europe and has never fought with Israel).
The Serbia-Kosovo deal addressed some sticking points in relations, but a long-sought breakthrough proved elusive after Serbia made clear it would not recognize Kosovo's independence.
Between the lines: "There is substance in this agreement, but it didn't deserve an Oval Office signing with President Trump," emails Ryan Scherba, editor of Balkan Insider. "Even after reading through it multiple times, it really seems all over the place."
What's next: "It's time for the president to start harvesting some of the accomplishments that he spent years building the foundation in order to achieve," Jared Kushner said on Friday.
Leaders from Israel and the UAE are expected to gather at the White House the week of Sept. 13 to sign another normalization deal, Axios' Barak Ravid reports.
Kushner and Secretary of State Mike Pompeo both recently visited several Arab capitals and hope to be able to announce another deal on recognition of Israel soon, perhaps with Bahrain or Sudan.
It's unclear if those efforts will bear fruit before the ceremony, but in any case, the White House plans to invite Arab ambassadors to attend as a signal of support, Barak reports.
Israel-UAE talks are ongoing, and the rush is on to get as much agreed to as possible before heading to the White House.
What we're watching: Nuclear proliferation is "the most important thing" facing the world, Trump declared on Friday.
He's had a string of calls with Vladimir Putin on arms control, and his administration recently dropped its insistence that China take part in any nuclear talks in order to pursue a framework agreement with Russia.
The impetus for talks is the expiration in February of the Obama-era New START. But Trump clearly wants a separate agreement before then, and perhaps before November.
In a recent interview with Axios, arms control envoy Marshall Billingslea expressed caution about the prospects of a deal. If one is reached, it could involve a summit between Trump and Putin.
4. Republicans to vote on skinny bill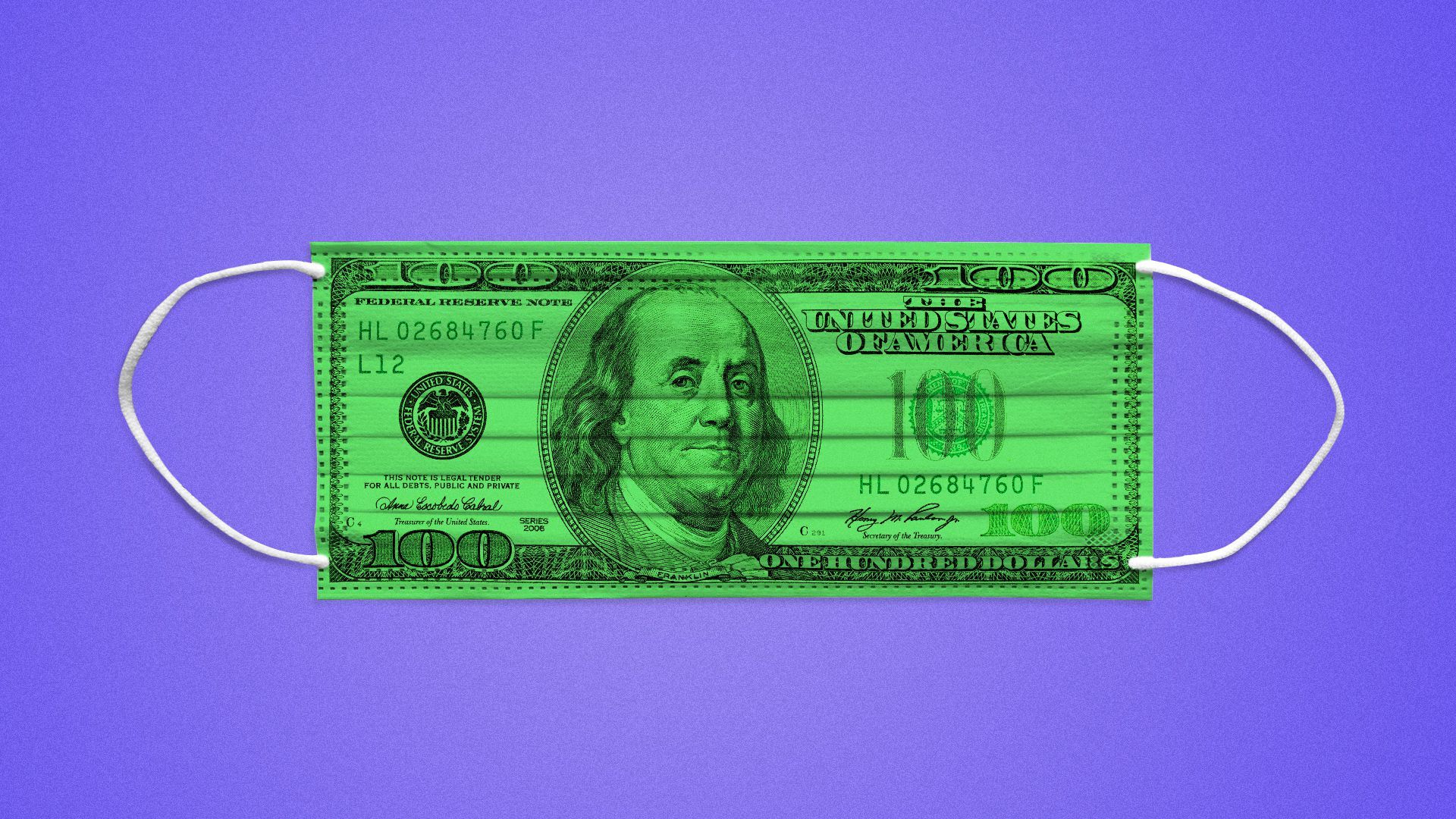 As Congress remains deadlocked on new stimulus funding, Senate Republicans are preparing to pass their own slimmed-down version of a bill this week — without Democrats, Alayna reports.
Why it matters: Several weeks have now passed since key relief programs from the CARES Act expired and millions of Americans continue to struggle under the enormous weight of the pandemic.
Senate Majority Leader Mitch McConnell said he's skeptical Congress can reach a deal before November because "the cooperative spirit we had in March and April has dissipated as we've moved closer and closer to the election."
The price tag being discussed could fall between $500 billion–$700 billion, sources familiar with the talks say — far short of the $2.2 trillion Democrats demand.
Driving the news: Nearly every morning during recess, Senate Republicans had a call with the White House's top negotiators, Treasury Secretary Steven Mnuchin and Chief of Staff Mark Meadows, to discuss the status of the stimulus talks and where the vastly opinionated conference can find common ground.
Most GOP senators, particularly those in competitive re-election races, agree that they need to do something to cushion the economic blow of the pandemic, despite largely disagreeing on what legislation should like.
The conference has decided that they can get behind a narrow, scaled back package that addresses only the key issues with widespread GOP support, including more money for schools, widespread liability protections and restructured unemployment benefits.
"We have a focused, targeted solution that we hope the House would pass," Sen. John Barrasso (R-Wyo.) said Tuesday.
Between the lines: Many Senate Republicans privately expect this effort will fail but see the expected vote as a maneuver to put Democrats, who passed their $3 trillion HEROES Act in May, on defense.
"They would like to change the conversation and highlight the immediate needs in a skinny bill and force Democrats to essentially shoot it down," a Senate GOP aide told Axios.
The other side: "Republicans may call their proposal 'skinny,' but it would be more appropriate to call it 'emaciated,'" Senate Minority Leader Chuck Schumer wrote in a letter to Senate Democrats on Thursday, saying Republicans "are trying to 'check the box' and give the appearance of action rather than actually meet the truly profound needs of the American people."
5. Sneak Peek diary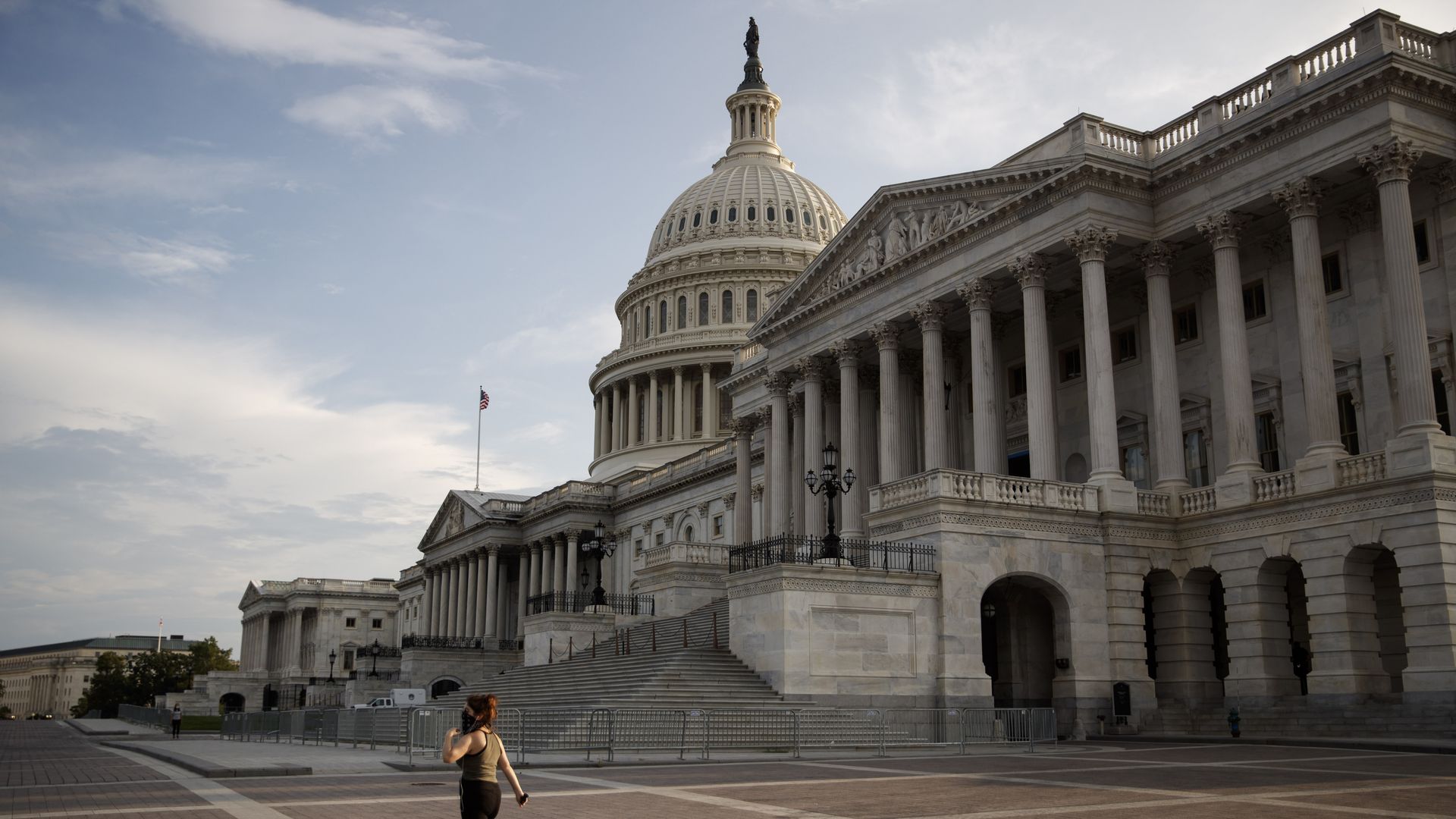 The House is on recess through Sept. 14.
The Senate reconvenes at 3pm on Tuesday. This week, the Senate is expected to vote on a "skinny" stimulus bill (see item 4) and consider the following nominations, Alayna reports:
Brett Ludwig as a judge for the Eastern District of Wisconsin.
Christy Wiegand as a judge for the Western District of Pennsylvania.
Hala Jarbou as a judge for the Western District of Michigan.
Thomas Cullen as a judge for the Western District of Virginia.
Diane Gujarati as a judge for the Eastern District of New York.
President Trump's schedule, per a White House official:
Tuesday: Trump will deliver remarks on the environment in Jupiter, Florida.
Later he will give a speech in Winston Salem, North Carolina.
Thursday: Trump will deliver remarks in Freeland, Michigan.
Friday: Trump and Biden will mark the 19th anniversary of the Sept. 11 attacks with visits to a memorial in Shanksville, Pennsylvania. Vice President Mike Pence is in New York.
Later Trump awards the Medal of Honor to Sgt. Maj. Thomas "Patrick" Payne, a Ranger assigned to the U.S. Army's Special Operations Command, who helped rescue about 70 hostages set to be executed by Islamic State militants in Iraq in 2015.