Axios Sneak Peek
December 14, 2020
Welcome to Sneak Peek, our nightly lookahead from both ends of Pennsylvania Avenue, plus our best scoops.
🚨 Breaking news: Spy novelist John le Carré has died, the New York Times reports.
Today's newsletter is 1,208 words, a 4½-minute read.
1 big thing: Scoop ... Biden weighs Power for USAID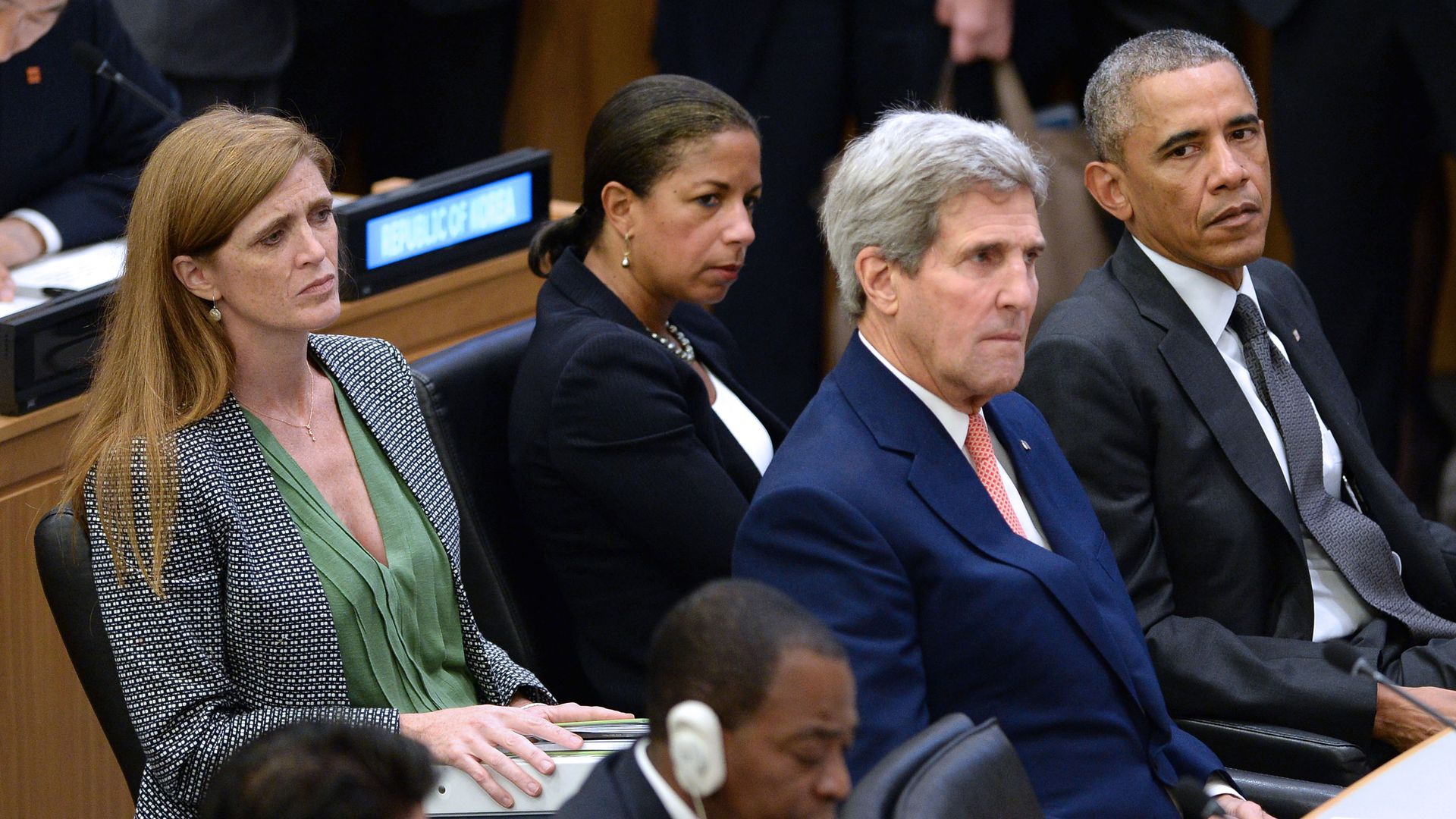 Joe Biden is considering Samantha Power to head the United States Agency for International Development, which would place a high-profile figure atop foreign aid and coronavirus relief efforts, people familiar with the matter tell Axios' Hans Nichols.
Why it matters: Installing Power — a former U.S. ambassador to the United Nations and author of a Pulitzer Prize-winning book about genocide — would signal the Biden administration plans to revitalize foreign assistance and use it as an instrument of soft power and to achieve humanitarian goals.
Power was a prominent member of President Obama's Cabinet and recently wrote a Foreign Affairs article about the president-elect headlined: "The Can-Do Power: America's Advantage and Biden's Chance."
Biden hasn't made a final decision on the position, and there could be other candidates — including those who were passed over for Cabinet positions — in the mix.
Power was featured in "The Final Year," a documentary about Obama's foreign policy team, and previously worked as a journalist covering conflict in the Balkans.
2. Scoop: O'Brien takes wife on COVID-era tour of Europe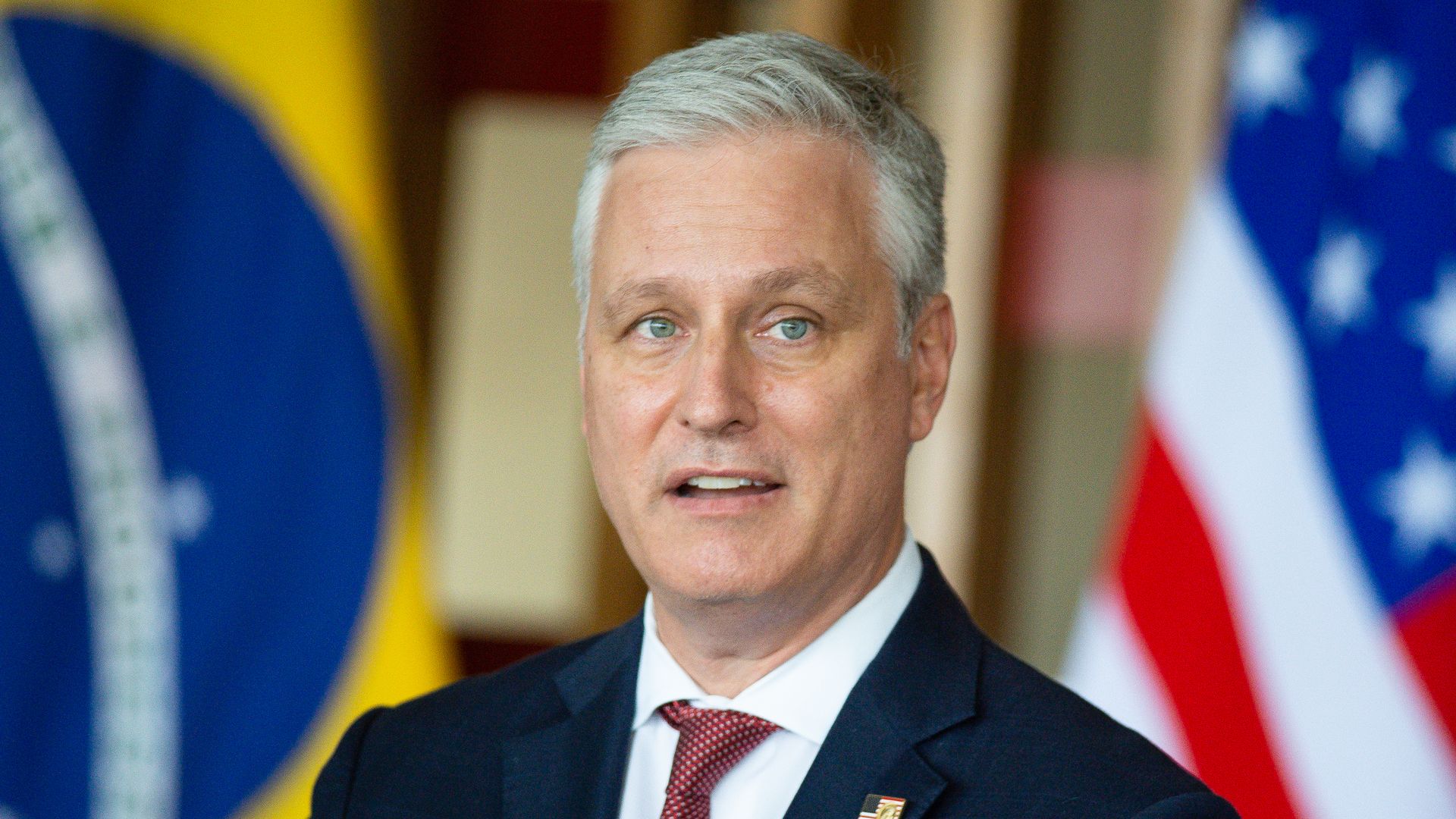 National security adviser Robert O'Brien is taking his wife on a holiday tour of the Mediterranean and European romantic capitals, including seeking a private tour of the Louvre despite it being closed because of coronavirus restrictions, people familiar with the trip tell Axios contributor Glen Johnson.
Why it matters: The White House announced the Paris stop amid an inquiry from Axios, but the entirety of the trip — which also includes stops in Tel Aviv, Rome and London — is causing consternation among his hosts and questions about the need for his wife to tag along.
The White House announced today that O'Brien would be traveling to Paris Monday to lead a U.S. delegation to the 60th anniversary of the signing of the Organization for Economic Co-operation and Development Convention. The release did not detail that O'Brien's wife, Lo-Mari, would be joining him.
"While we don't comment on spousal travel on specific trips, anytime Ambassador O'Brien has his wife on official trips, any associated costs for her travel are paid for by Ambassador O'Brien and there is no additional cost to taxpayers," National Security Council spokesperson John Ullyot told Axios.
3. Scoop: Kennedy focusing beyond Peace Corps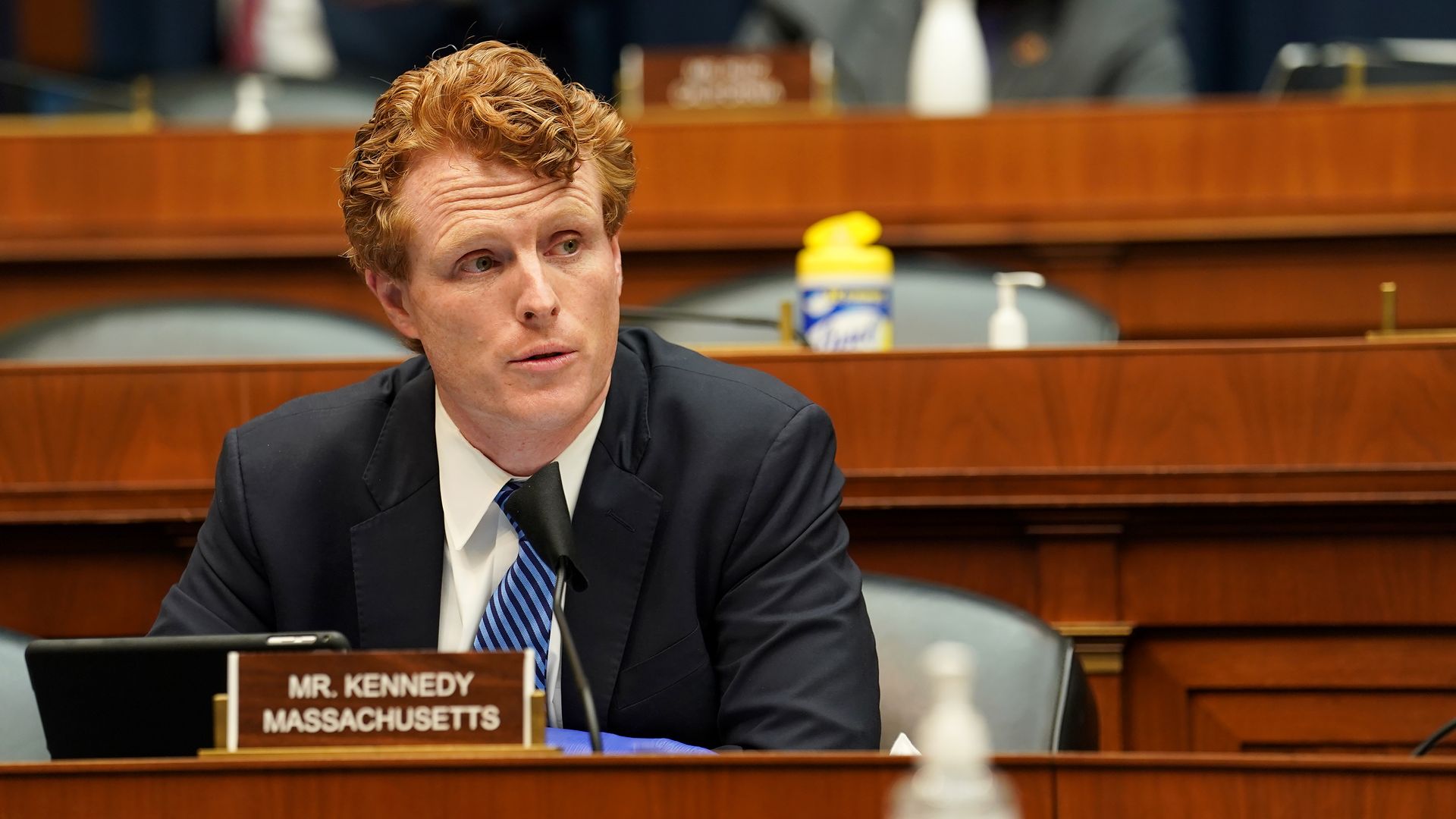 While numerous people inside Washington have mentioned the possibility of outgoing Rep. Joseph P. Kennedy III serving as the next director of the Peace Corps, the post isn't under discussion by the Biden transition and he is interested in other ways to serve the country, people familiar with the search tell Axios' Glen Johnson and Margaret Talev.
Why it matters: What seemed like a bright political future for Kennedy prematurely dimmed in September when he lost his primary to replace Sen. Edward Markey. Now, the Massachusetts Democrat is considering his next move, prompting talk of the Peace Corps post or U.S. attorney in Boston — neither of which have been discussed with him, the people said.
A person close to Kennedy said they had never heard U.S. attorney mentioned, and that while Kennedy loved his time in the Peace Corps, he would hope to serve the country in some other way than as its director.
A Biden transition official said the Peace Corps job is not yet being actively discussed, and the official also did not believe Kennedy would be interested in the post.
4. Electoral College gets extra security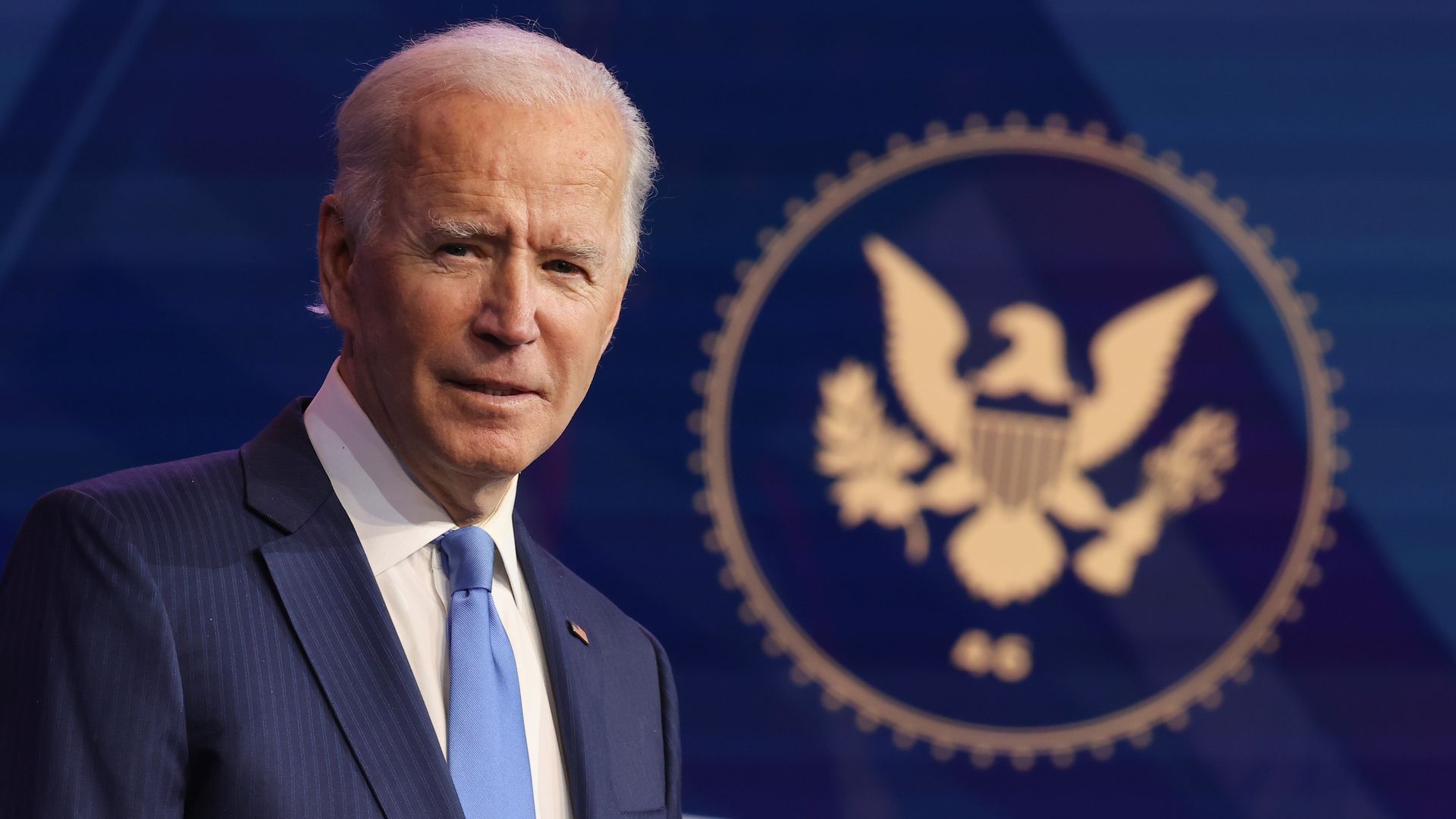 Even in a pandemic, federal law requires electoral votes to be signed by electors. So tomorrow, they will converge on state capitols, some of which will be under extra guard because of the post-election turmoil, Axios' Stef Kight reports.
Some states — including California, Wisconsin, Maryland and New Mexico — are live-streaming the meetings so people can watch safely from home.
To prevent a multistate super-spreader, states are requiring masks and enforcing social distancing. Texas officials said at their gathering, temperatures will be taken at the door.
Peter Bartz-Gallagher, a spokesperson for the Minnesota secretary of state, tells Axios there will be "less ceremonial activity." Most attendance will be limited to electors and essential staff, with just a few spaces for the public.
In this virtual age, it's a low-tech process:
Electors vote twice — once for president and another for vice president —according to the National Archives.
The votes are recorded on six certificates, which are paired with the state's certification of election results. Every elector must verify and sign the sets of electoral votes.
The votes are then sent by mail to the National Archives and the vice president.
One big question: Will there be a problem with "faithless electors" who try to buck the will of the state's voters?
"We might see some Trump electors casting faithless votes as some sort of protest, but that wouldn't impact the outcome," election law expert Michael Morley tells Axios.
33 states have laws forbidding electors from voting for someone other than the winner of their state's elections, but few have penalties for doing so.
5. First look: Congress least productive in decades
"Twitter replaced floor debates in 2020," public affairs software firm Quorum writes in a new report showing the 116th Congress as the least productive since the 1970s, writes Axios' Neal Rothschild.
The big picture: Skyrocketing social media engagement and prolific numbers of bills filed that never went anywhere belie what happens when an increasingly divided and uncompromising Congress collides with an election-year pandemic.
By the numbers: Congress enacted just 28 pieces of legislation this year, according to Quorum's report, previewed by Axios. That's far fewer than in any other year since it started tracking the data in 1990.
At the same time, Quorum found the highest volume of legislation introduced in an election year since 2000.
Election years have lower legislative output, as representatives turn their focus from governing to campaigning.
There's still some time for Congress to pass bills, but even an effective and efficient final few weeks will leave 2020 well below previous lows.
The 116th Congress (2019 and 2020 combined) will be the least productive since at least the 1970s — the earliest data available.
6. Rep. Bass lobbies for Senate appointment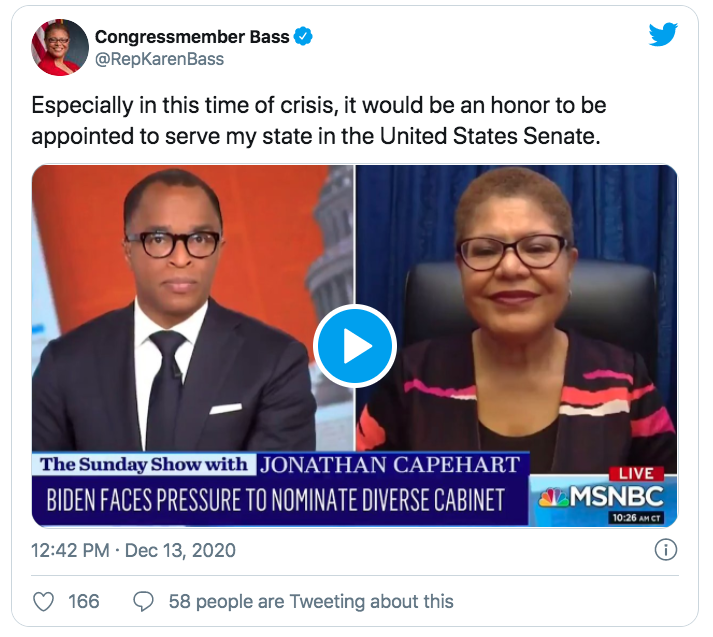 Rep. Karen Bass is openly lobbying for Gov. Gavin Newsom to appoint her to the California Senate seat Kamala Harris will vacate, today tweeting out her latest television interview making her own case, Glen reports.
Why it matters: Bass (D-Calif.) is dispensing with the normal niceties of quietly and passively awaiting an appointment, instead publicly noting the Senate will lack a Black female member when Harris departs, and she's saying that would be "a real big deal."
As she did in interviews last week, Bass said on MSNBC today that not appointing another Black woman such as herself, given "the outsized participation that we had in this election, I think that it would be shameful."
She added: "If the governor called me and asked me if I'd be willing to serve, I would absolutely be willing to serve."
Bass previously was under consideration to be Biden's running mate — the job that ultimately went to Harris.
Newsom is facing intense lobbying from the Congressional Black Caucus and the Congressional Hispanic Caucus as he weighs who will serve out Harris' term as the state's junior senator.
7. Sneak Peek diary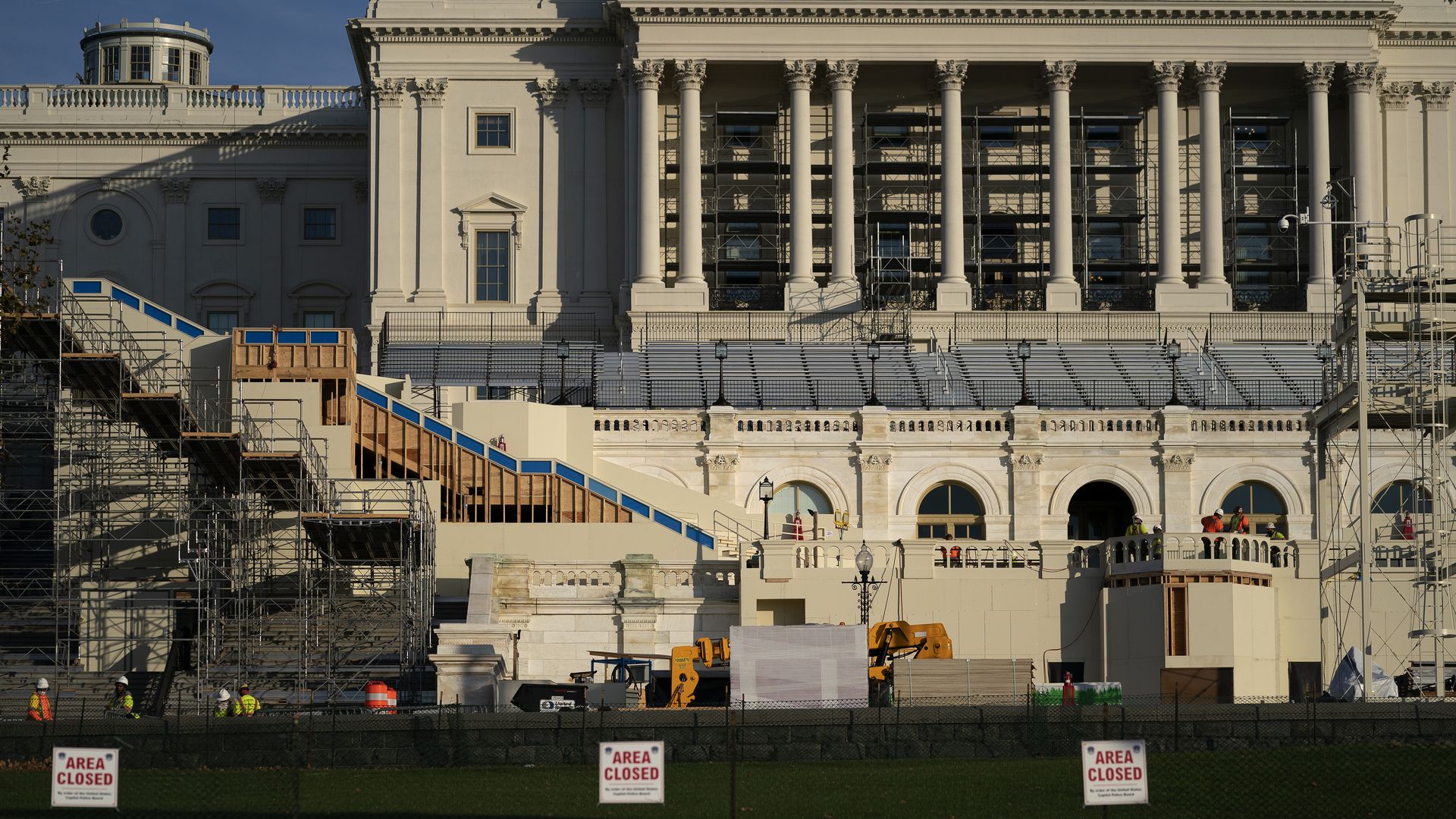 House and Senate leaders will continue to negotiate a coronavirus relief bill and a long-term spending deal this week, Axios' Alayna Treene reports.
They plan to tie the two together into one big package — called an omnibus bill — they can quickly pass in both chambers. The hope is to get this done by the end of the week so members can break in time for the holiday recess.
Many lawmakers are skeptical they can reach a compromise on coronavirus relief funding in that time frame, but if there's one thing we know about Congress, it's that there's no motivator like going home for the holidays.
What's next: A bipartisan group of senators plans to release the full legislative text of their $908 billion bill tomorrow.
Democratic leaders think this bill should be the vehicle for ultimate passage, while Senate Majority Leader Mitch McConnell prefers the proposals put forth by the Senate GOP and the White House.
8. Picture of the day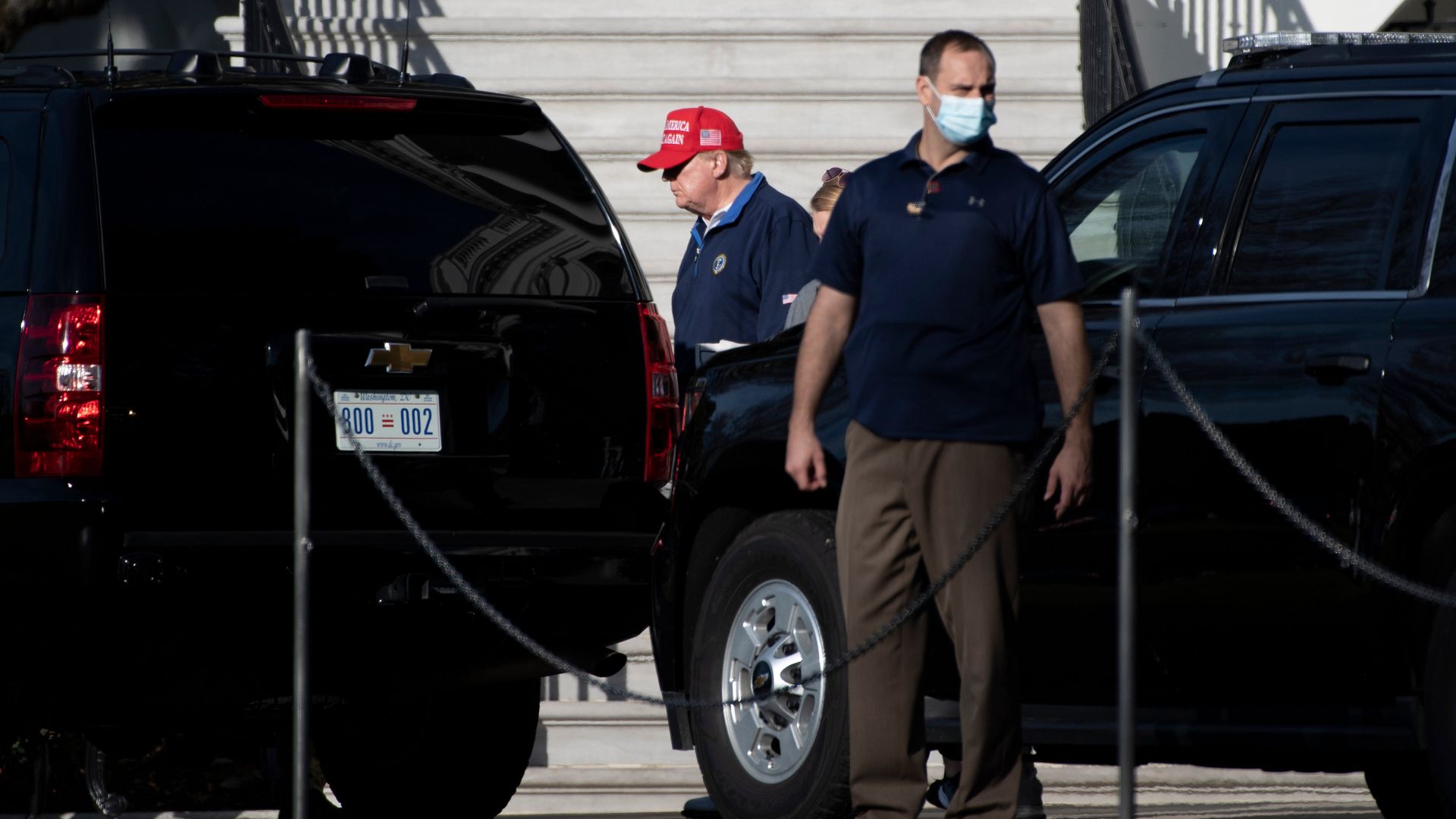 President Trump takes advantage of unseasonably warm weather to play golf today.
Editor's note: Adds detail about Power's journalism career and omits reference to Cameroon incident. Corrects that O'Brien will address OSCE meeting on Monday, instead of Tuesday.
👏 Thanks for letting us give you a head start on your week. We'll be back tomorrow night. Sign up here.