Axios Sneak Peek
July 14, 2019
Welcome to Sneak Peek, our weekly lookahead for both ends of Pennsylvania Avenue, plus our best scoops.
Please encourage your friends and colleagues to sign up.
Smart Brevity count: 1,971 words (~7 minutes)
1 big thing: How Donald Trump conquered the Republican Party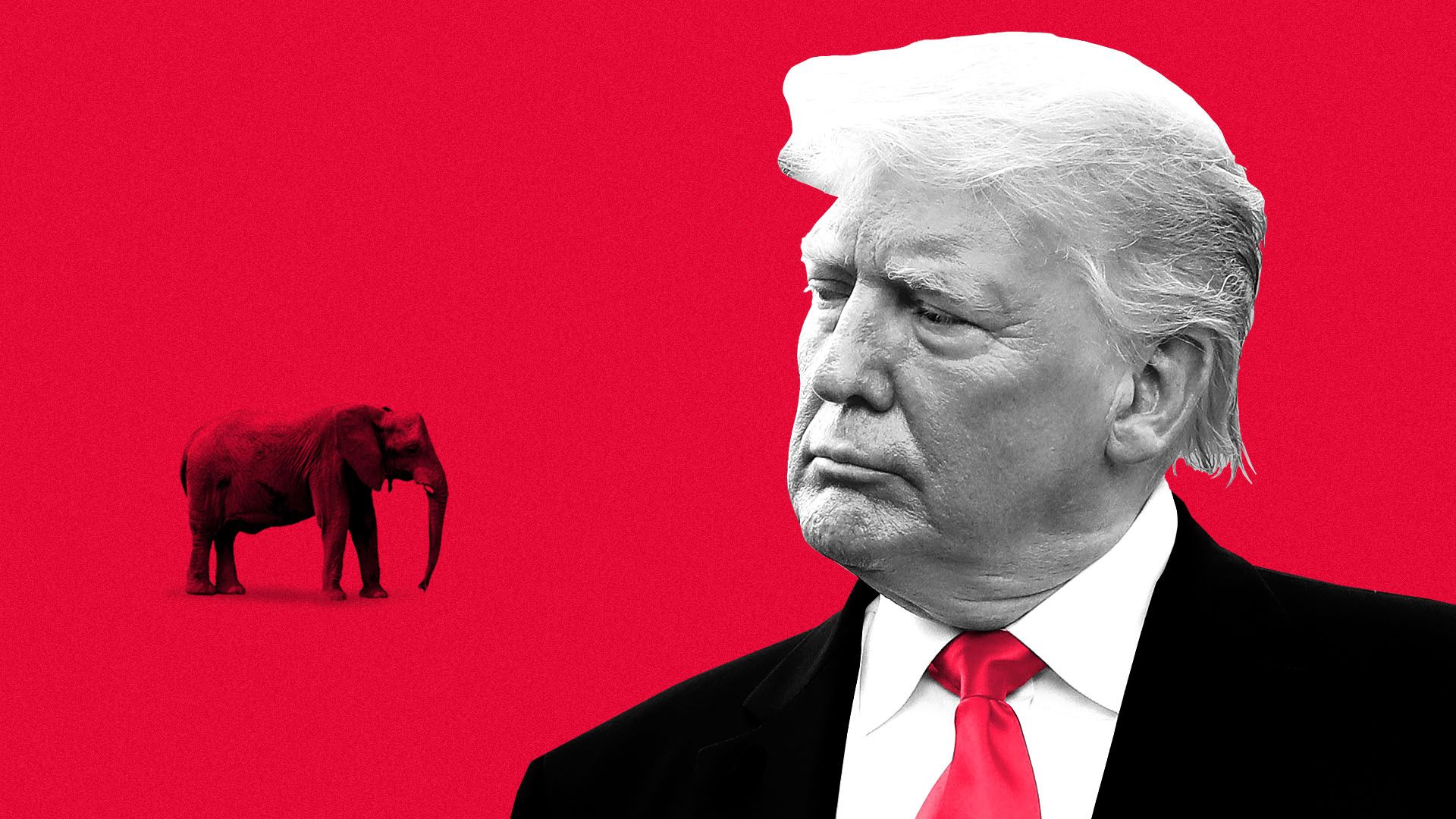 Republican members of Congress said nothing when President Trump told minority congresswomen to "go back" to where they came from.
Trump tweeted this morning that "Progressive Democrat Congresswomen" should "go back and help fix the totally broken and crime infested places from which they came."
Trump was almost certainly talking about the group popularly known as "the squad" — Ilhan Omar of Minnesota, Alexandria Ocasio-Cortez of New York, Ayanna Pressley of Massachusetts, and Rashida Tlaib of Michigan.
WaPo's Phil Rucker points out that "three of the four members of 'the squad' were born in the United States, so they would 'go back' to Cincinnati, Detroit and New York." (Omar was born in Somalia and came to the U.S. as a refugee.)
Between the lines: Trump knows he can say whatever he likes and face no consequences from the party he has conquered.
The few Republicans who dared to defy him either got crushed by pro-Trump candidates in primaries (Rep. Mark Sanford), quit the party (Rep. Justin Amash) or retired (Sens. Jeff Flake and Bob Corker). One remaining critic, Sen. Mitt Romney, mostly pushes back by issuing stern but ineffectual tweets. And Sen. Ben Sasse, who used to lambaste the president, has mostly gone silent. 
No modern president, besides George W. Bush immediately after the 9/11 attacks, has enjoyed such popularity with Republican voters.
What's new: Tim Alberta, the chief political correspondent for Politico Magazine, has a book out this week that documents Trump's conquest of the Republican Party — the domination evidenced above. Axios obtained an advance copy of the book, "American Carnage," which is deeply reported and engrossing. The book reveals Trump's delight in tormenting Republicans who he views as weak or disloyal, and it helps explain the partywide silence on days like today.
Two exclusive excerpts are especially revealing:
1. The tormenting of Diane Black
"Not everyone was lucky enough to land Trump's support. Diane Black, the Tennessee congresswoman, was running in a crowded GOP primary to become the state's governor.
During a meeting with several House Republicans ... she pulled the president aside. 'You really need to endorse me,' she told him, stabbing a finger at his chest. Trump found her rude and presumptuous. 'She got in my personal space,' he told aides afterward. 'Big mistake.' ....
The White House political director Bill Stepien ... asked an intern to aggregate a full record of everything Black had ever said about Trump, good and bad. The list was printed out and carried over to the Oval Office.
Trump scanned the document, picking out the negative remarks, then pulled out a Sharpie. 'Diane,' he wrote. 'This is NOT good!' He furiously underlined the word 'NOT,' then asked Stepien to hand-deliver the document to Black. [Note: Black lost in the Republican primary race.]"
2. The tormenting of Erik Paulsen
"In one case, Trump endorsed as a means of punishment. Having heard that Minnesota congressman Erik Paulsen was distancing himself from the White House in the hope of holding his seat in the Twin Cities' suburbs, the president stewed and asked that the political shop send a tweet of support for Paulsen — thereby sabotaging the moderate Republican's efforts.
When his aides demurred, Trump sent the tweet himself, issuing a 'Strong Endorsement!' of the congressman in a late-night post that left Paulsen fuming and his Democratic opponent giddy. [Note: Paulsen lost his re-elect.]"
2. New poll: Trump trails Biden, Warren and Sanders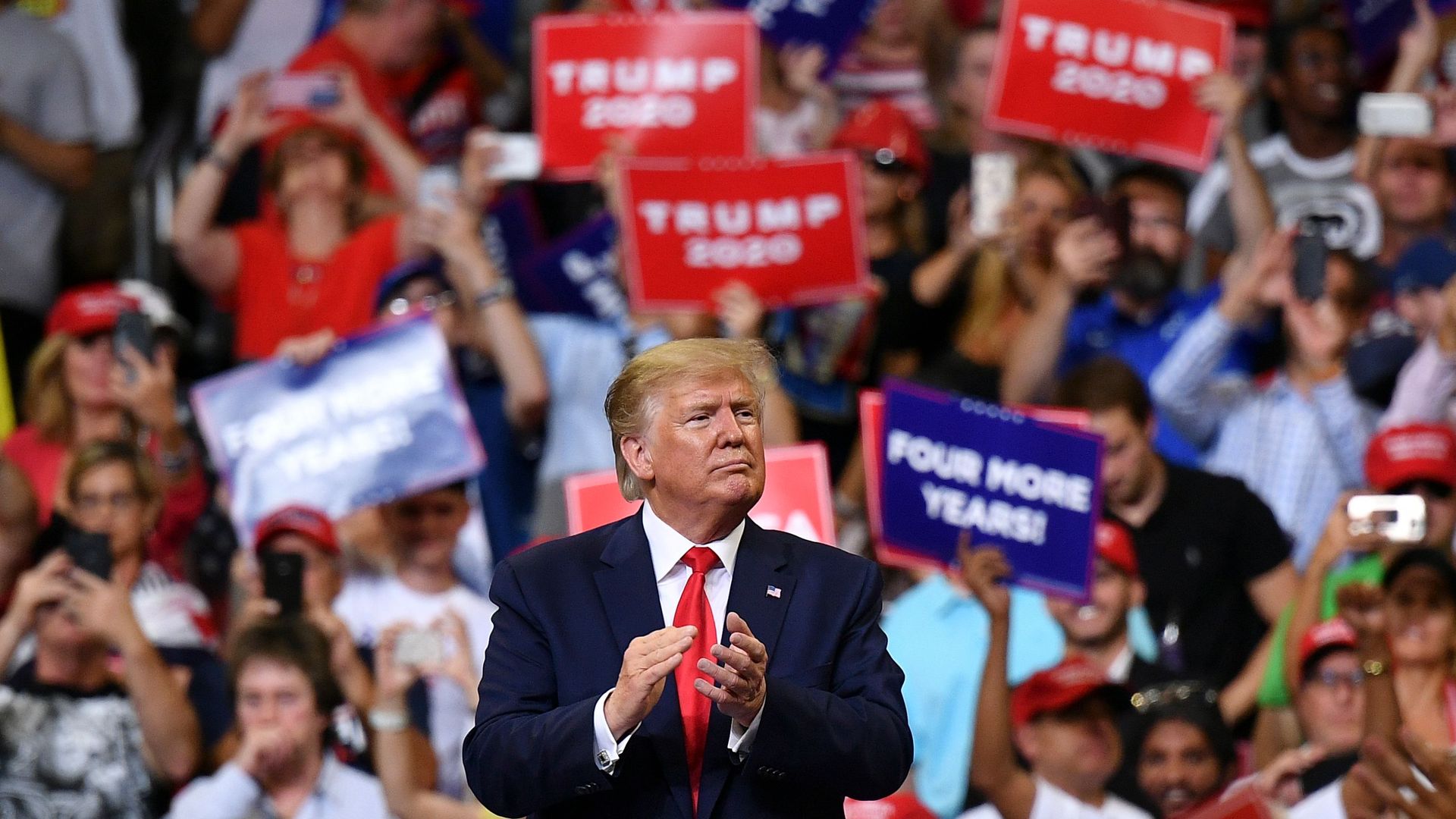 "President Donald Trump trails the top Democratic contenders in hypothetical matchups, according to the NBC News/Wall Street Journal poll's first ballot tests of the 2020 general election," per NBC News' Mark Murray.
By the numbers:
"Former Vice President Joe Biden leads the president by 9 points among registered voters, 51 percent to 42 percent — outside of the poll's margin of error of plus-minus 3.5 percentage points.
Sen. Bernie Sanders, I-Vt., is ahead of Trump by 7 points, 50 percent to 43 percent.
Sen. Elizabeth Warren, D-Mass., holds a 5-point advantage, 48 percent to 43 percent.
And Sen. Kamala Harris, D-Calif., is ahead by just 1 point, 45 percent to 44 percent — a jump ball."
The big picture: "With more than 200 days until Iowa caucuses and more than 470 days until Election Day 2020, the poll is a very early snapshot of the general election, and much can change. But Trump is faring worse than Barack Obama at this same stage of his re-election race."
3. Top 2020 Dems wouldn't reverse Trump's Jerusalem decision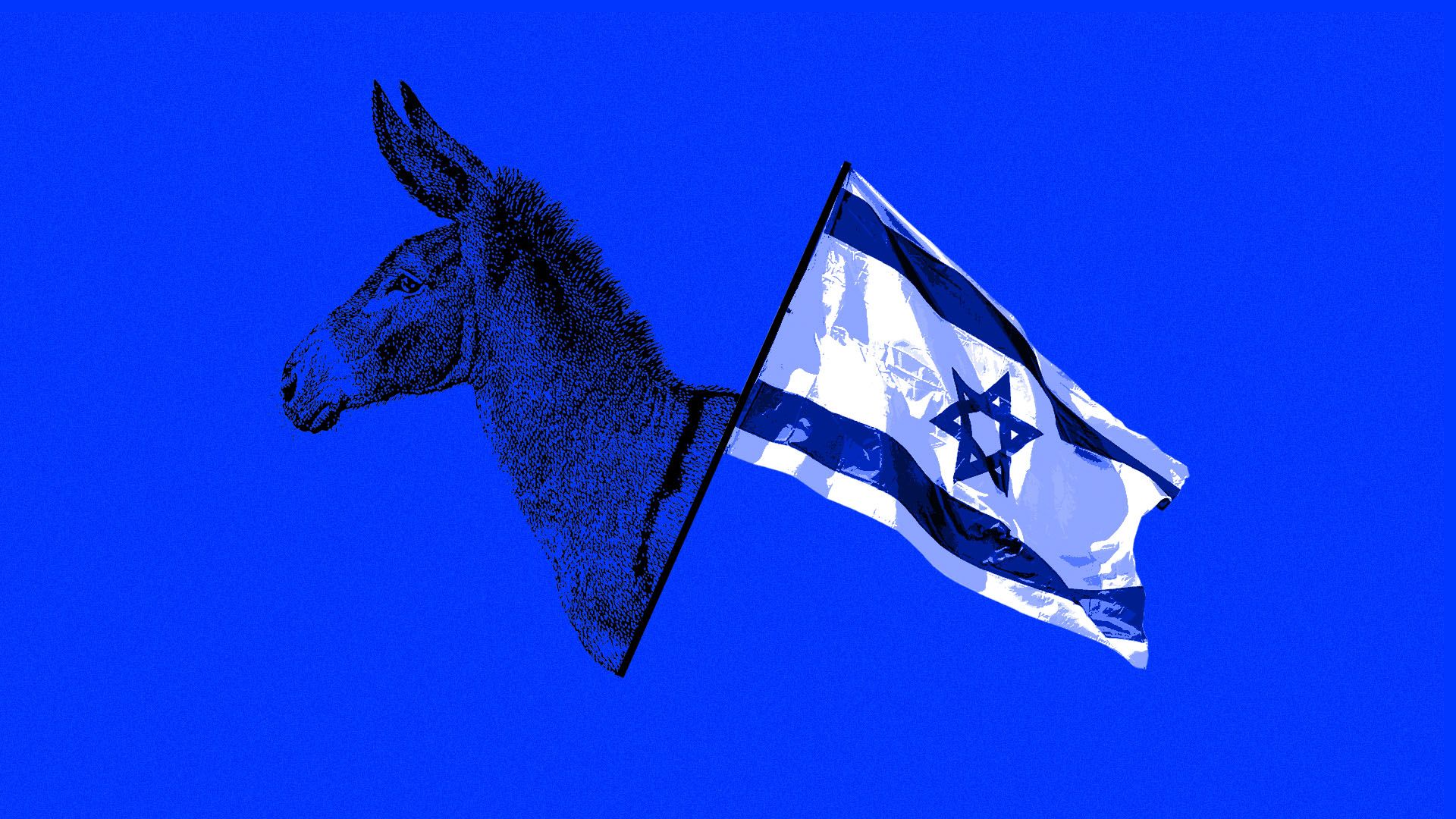 The 2020 Democratic presidential frontrunners have accepted President Trump's Jerusalem move, Axios' Alayna Treene reports.
Over the last week, Alayna reached out to all the top-tier candidates, and not one of them — including Biden — said they would move the U.S. Embassy in Israel back to Tel Aviv.
Why it matters: Many prominent Democrats, including most of the presidential contenders, chastised Trump for moving the embassy to Jerusalem in 2017, claiming it would escalate tensions in the region and destroy any chance for a peace deal between the Palestinians and the Israelis. But now, none say they would reverse Trump's decision.
State of play: In addition to Biden, Sens. Cory Booker, Amy Klobuchar and Kirsten Gillibrand, as well as former Rep. Beto O'Rourke and South Bend, Indiana, Mayor Pete Buttigieg, said they would not reverse Trump's decision.
Spokespersons for Sens. Harris, Sanders and Warren, as well as Julián Castro, did not respond to multiple phone calls and emails seeking comment, despite having sharply criticized Trump at the time of the move.
What they're saying:
"Vice President Biden would not move the American Embassy back to Tel Aviv," a campaign spokesman told Axios. "But he would re-open our consulate in East Jerusalem to engage the Palestinians. He would also return the United States to the effort of encouraging a two-state solution — the only way to truly guarantee Israel's long-term security as a Jewish and democratic state and meet the legitimate aspirations of the Palestinians for a state of their own."
"I opposed the move of the embassy because I believed it should have been included in the larger process of negotiations," Booker told Axios. "Now that the embassy has been moved, I do not see moving it back as either practical or productive."
"[Gillibrand believes] Trump's decision came at the wrong time," Gillibrand's campaign spokesman told Axios. "While she won't undo that unproductive and impulsive decision, she would undertake new diplomatic initiatives to restart peace negotiations."
Read the candidates' full responses here.
Go deeper: Read Alayna's full piece, which includes new reporting from Axios Israel contributor Barak Ravid, who has interviewed Democratic foreign policy advisers about this sensitive subject.
4. 2020 Dems divided over rule shielding presidents from indictment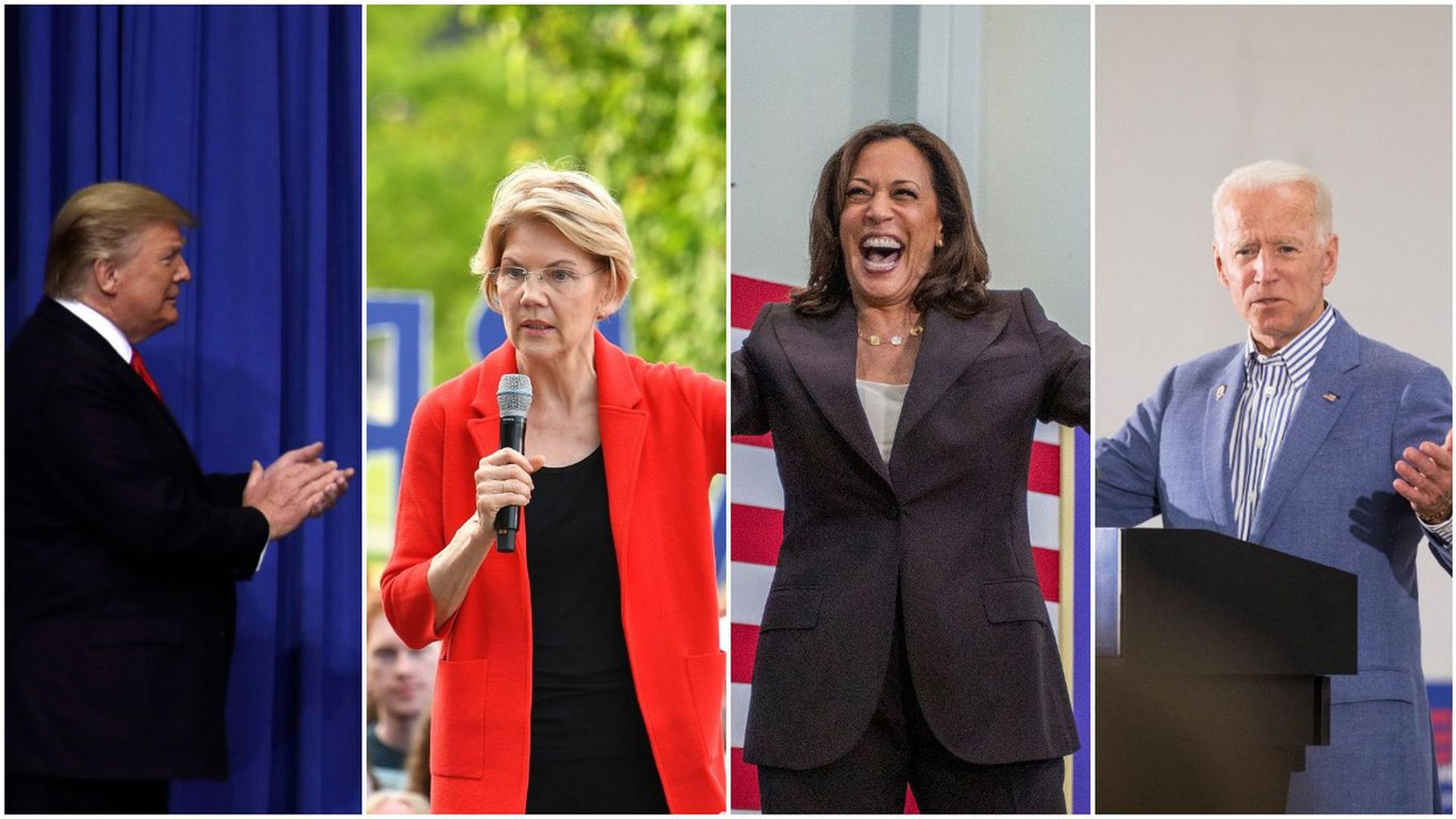 The leaders of the Democratic presidential field are divided about whether to ax a decades-old rule barring the indictment of a sitting president because of President Trump, Alayna reports.
Why it matters: The candidates are grappling with the same issues facing Democrats in Congress: how to hold Trump accountable despite the precedent their actions will set.
State of play:
Would change the rule: Sens. Warren, Booker, Klobuchar and Gillibrand, as well as former Secretary Castro, said that, if elected, they would direct the Justice Department to withdraw the decades-old guidance that former Special Counsel Robert Mueller cited when explaining his thinking on his decision against charging Trump.
Would review the rule: Biden and Sen. Harris.
Vague statements: Former Rep. O'Rourke and Mayor Buttigieg issued vague statements about the policy that fell short of calling for its rescission. Both emphasized that "no one is above the law."
No response: Sen. Sanders.
Read their full responses here.
Context: In 1973, in the heat of the Watergate scandal, the Justice Department's Office of Legal Counsel (OLC) issued an internal memo saying a sitting president cannot be indicted. In 2000, former President Bill Clinton's DOJ reaffirmed that finding. The memo cited Constitutional concerns and said impeachment was the appropriate way to remove a sitting president who committed crimes.
In May, Mueller cited the OLC guidance during a press conference following the release of his report. He said that charging Trump with a crime was "not an option," despite stating that if his team "had confidence that the president clearly did not commit a crime, we would have said so."
This led several congressional Democrats to ramp up their calls for impeachment, while others went so far as to consider possible legislation that would nullify the policy.
Go deeper: Read Alayna's full piece, which includes some skeptical responses to these Democrats' claims.
5. Hill preps to grill Big Tech over monopoly questions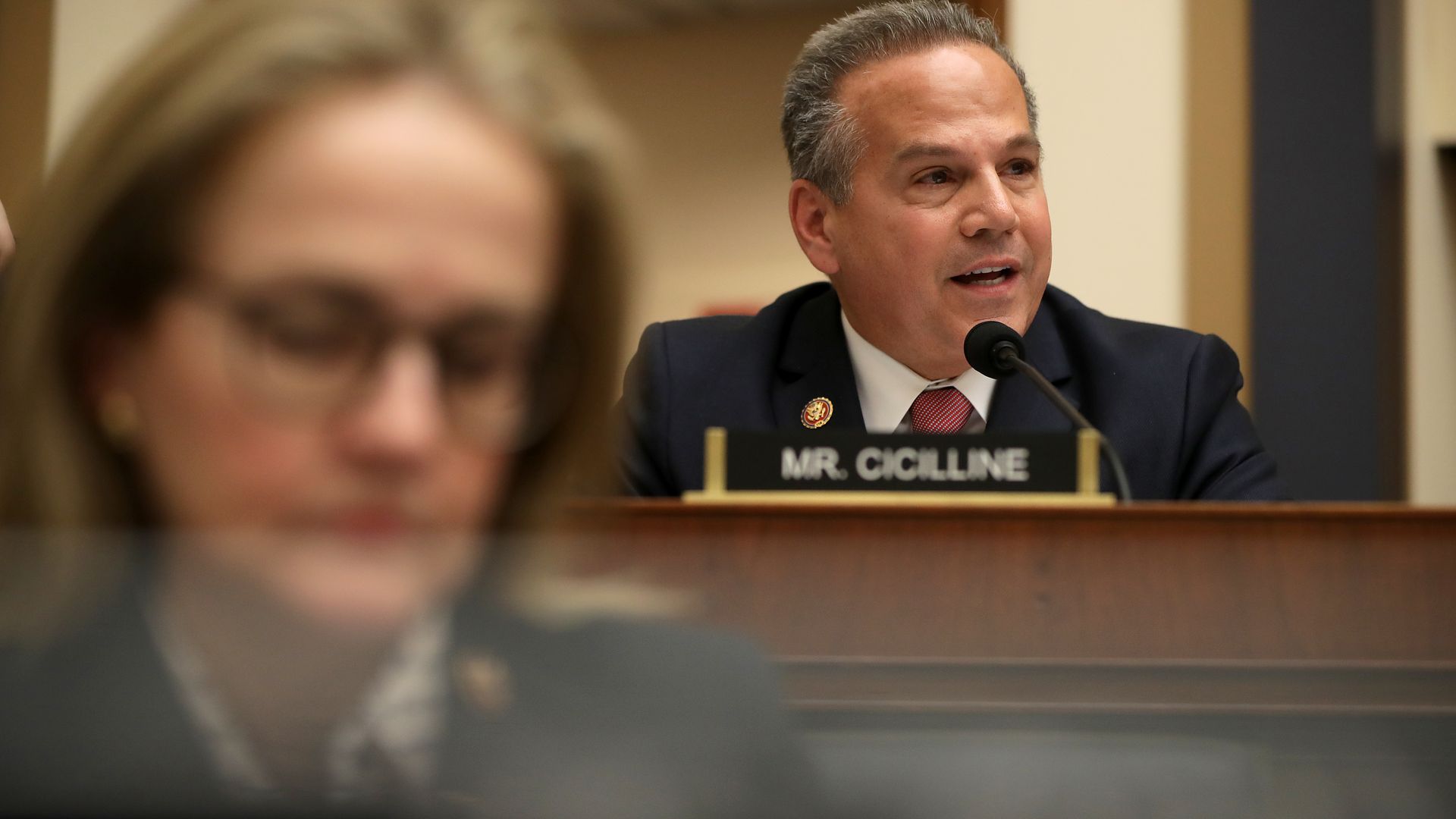 A behind-the-scenes battle to shape Capitol Hill scrutiny of Big Tech's power will burst into public view this week in the most significant way yet, Axios' David McCabe reports.
Driving the news: Representatives of Google, Facebook, Amazon and Apple will face questions Tuesday from members of the House Judiciary Committee's antitrust subcommittee as part of its investigation into their market power.
What we're hearing: The companies — all of which have briefed committee staff in the last month — are bringing antitrust heavy hitters to the hearing.
Google witness Adam Cohen has been a prominent part of its attempt to defang antitrust concerns in Europe.
Amazon's Nate Sutton is a veteran of the Justice Department's price-fixing case against Apple for allegedly conspiring with publishers to raise the price of ebooks.
What they're saying: An Apple spokesperson pointed Axios to its public website on the competition issue, while a Google spokesperson referred us to CEO Sundar Pichai's previous comments. Amazon and Facebook declined to comment.
Behind the scenes: Competitors and critics hoping to turn the heat up on the tech giants have been making the rounds in Washington.
Yelp chief executive and Google antagonist Jeremy Stoppelman took meetings on Capitol Hill last week.
Spotify, which is pursuing an antitrust case against Apple in Europe, has also been working Congress in advance of the hearing, according to two people familiar with its efforts.
The bigger picture: Numerous congressional committees and members are scrutinizing the major tech players, after several years of mounting criticism of the companies on different fronts.
Sen. Marsha Blackburn (R-Tenn.) announced last week she'd be leading a tech task force for the Senate Judiciary Committee. She also met for more than half an hour last week with Chris Hughes, the Facebook co-founder who has called to break up the social giant.
What to watch: Whether the Justice Department or Federal Trade Commission pursue formal cases against any of the four companies testifying on Tuesday.
Yes, but: Even if they come to fruition, these cases can take years to develop.
6. Sneak Peek diary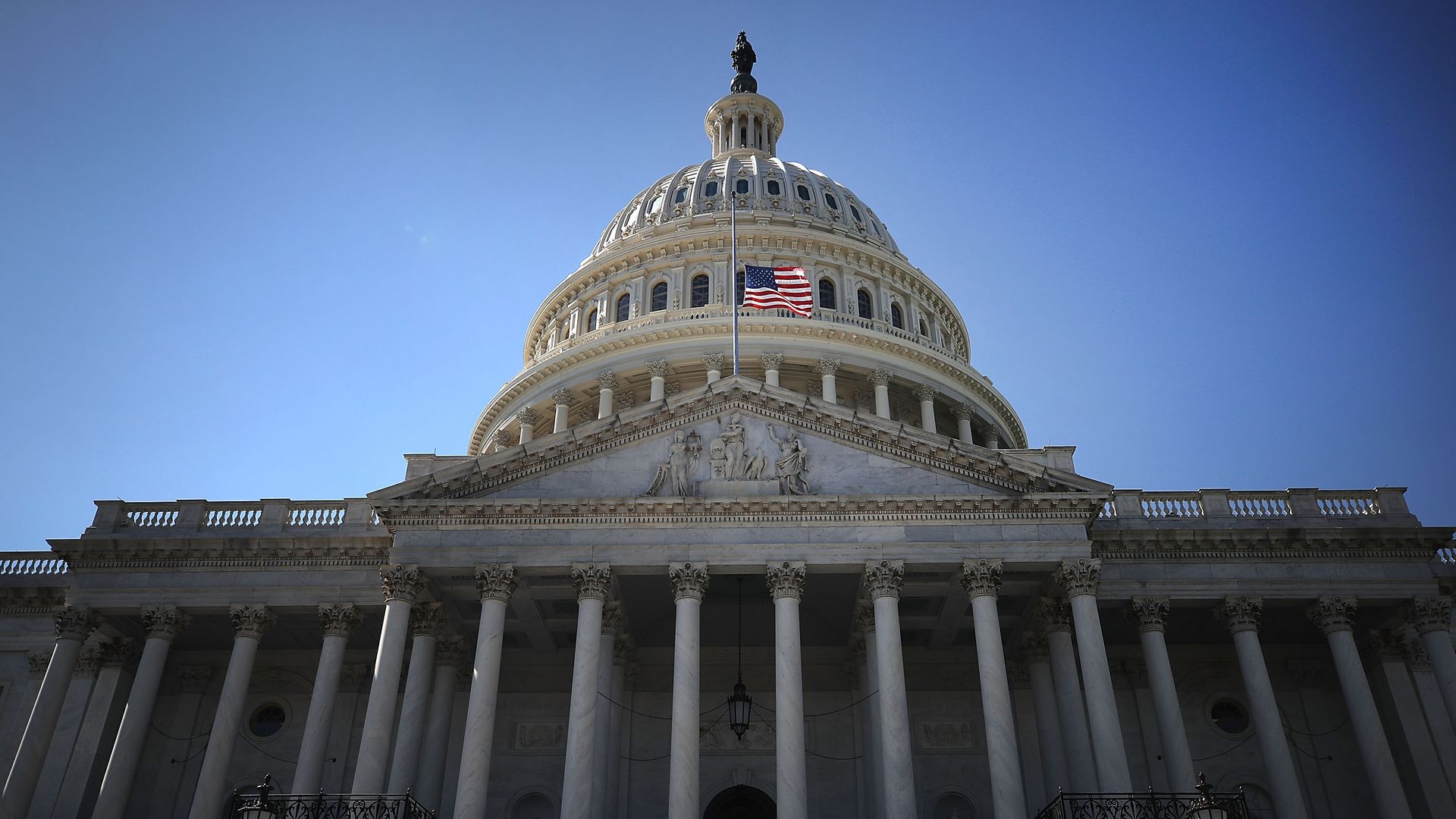 The House will consider H.R. 3494 — The Intelligence Authorization Act. The bill would authorize funding and enable congressional oversight of the U.S. Intelligence Community.
The House will also consider a resolution to hold Attorney General Bill Barr and Commerce Secretary Wilbur Ross in contempt over their stonewalling of congressional subpoenas regarding their push to add a citizenship question to the 2020 Census.
The House will review H.R. 582 — the Raise the Wage Act. This legislation would gradually increase the minimum wage to $15 by 2024.
The Senate will process 4 tax treaties that were reported out of the Foreign Relations committee in late June, as well as confirm the following nominees, in this order, per a Republican leadership aide:
Peter Joseph Phipps as a judge for the Third Circuit.
Protocol amending the Tax Convention with Spain.
Protocol amending the Tax Convention with Swiss Confederation.
Protocol amending the Tax Convention with Japan.
Protocol amending the Tax Convention with Luxembourg.
Clifton L. Corker as a judge for the Eastern District of Tennessee.
Lynda Blanchard as U.S. ambassador to the Republic of Slovenia.
Donald R. Tapia as U.S. ambassador to Jamaica.
President Trump's schedule, per a White House official:
Monday: Trump will participate in the Third Annual Made in America Product Showcase. He will also have lunch with Vice President Pence.
Tuesday: Trump will meet with his Cabinet. Later he will have lunch with Secretary of State Mike Pompeo.
Wednesday: Trump will speak at a campaign rally in Greenville, North Carolina.
Thursday: Trump will meet with the prime minister of the Netherlands at the White House. The two will also participate in a flag presentation ceremony.