Axios Sneak Peek
June 14, 2022
Welcome back to Sneak. Smart Brevity™ count: 994 words ... 3.5 minutes.
⚡ Situational awareness: Former President Trump released a 12-page, conspiracy-filled statement tonight accusing the Jan. 6 committee of attempting to distract Americans from the economy and stop him from running in 2024.
1 big thing: Dems' sabotage ads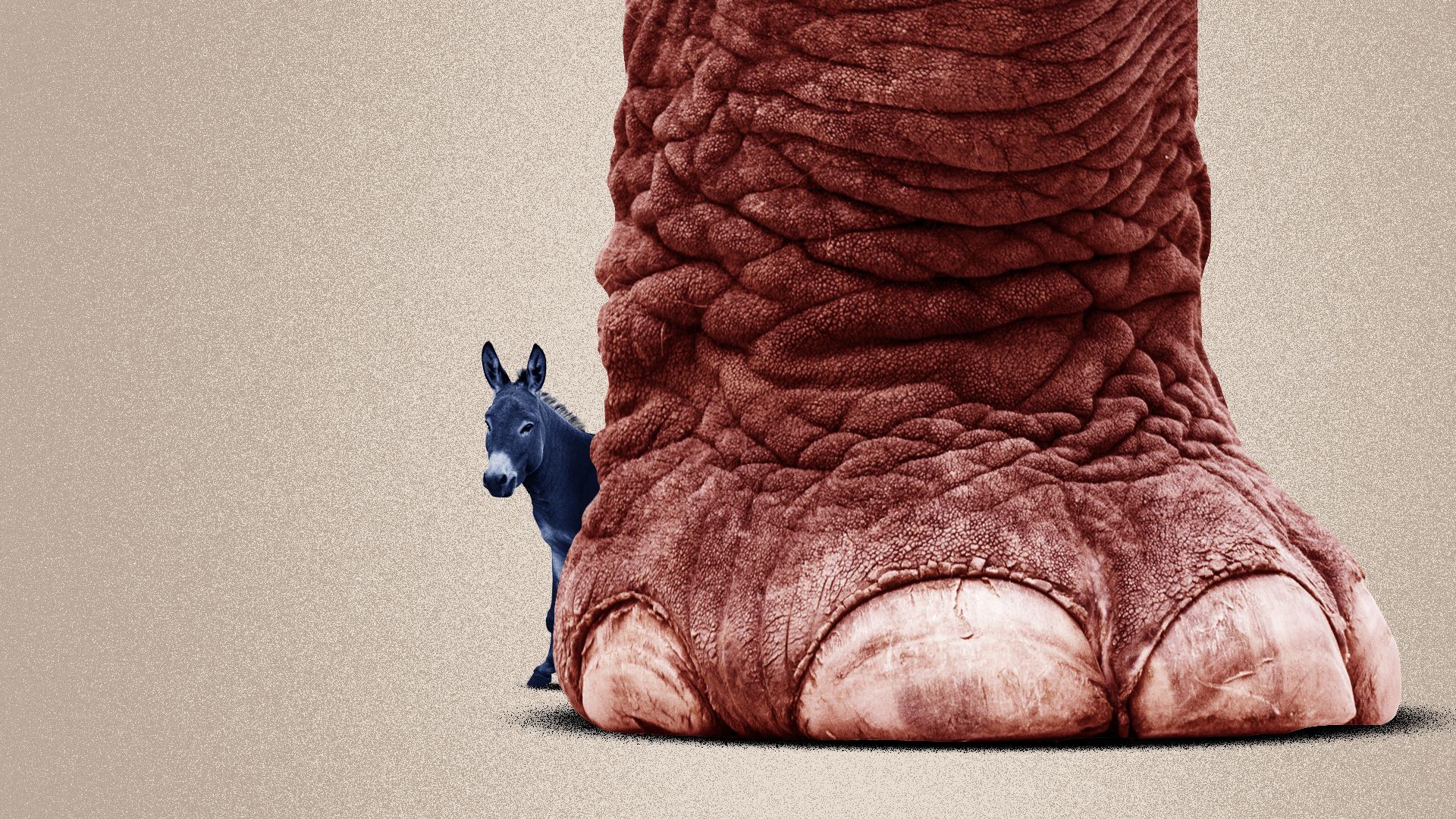 Democratic groups are buying ads touting some of the most extreme pro-Trump candidates in Republican primaries around the country — meddling in GOP contests to set up more favorable matchups in November, Axios' Sophia Cai reports.
Why it matters: The risky gambit assumes general-election voters will reject candidates who embrace conspiracy theories or lies about the 2020 election. But it could dramatically backfire by vaulting fringe Republicans into national office.
Driving the news: Ahead of last week's primaries, the Nancy Pelosi-affiliated House Majority PAC funded a 30-second TV ad promoting self-declared "Trump Conservative" Chris Mathys against moderate Republican Rep. David Valadao in California's 22nd District.
In California's 40th District, Democrat Asif Mahmood had been running ads casting Republican Greg Raths — who had to apologize last month for using antisemitic tropes — as his head-to-head opponent instead of moderate Rep. Young Kim.
In Colorado, a new Democratic super PAC cut a TV ad boosting far-right, election-denying state Rep. Ron Hanks in the June 28 GOP primary to decide who will take on Sen. Michael Bennet (D-Colo.).
In the Pennsylvania governor's race, the state Democratic Party used campaign resources to boost Republican state Sen. Doug Mastriano — who has been subpoenaed by the House Jan. 6 committee for his involvement in the pro-Trump "Stop the Steal" campaign.
Mastriano won the GOP nomination over former Rep. Lou Barletta (R-Pa.), prompting Cook Political Report to shift its forecast for the general election from "toss up" to "lean Democrat."
Flashback: In elections past, the tactic has been deployed with mixed success.
In a Politico piece titled, "How I Helped Todd Akin Win — So I Could Beat Him Later," then-Sen. Claire McCaskill (D-Mo.) described her 2012 strategy of engineering her ultimate general election opponent.
But Hillary Clinton's 2016 presidential campaign shows how the strategy can backfire in devastating fashion: The team sought to elevate Donald Trump in the GOP primaries, believing he would be an easier general election matchup.
2. Jan. 6 committee eyes wire fraud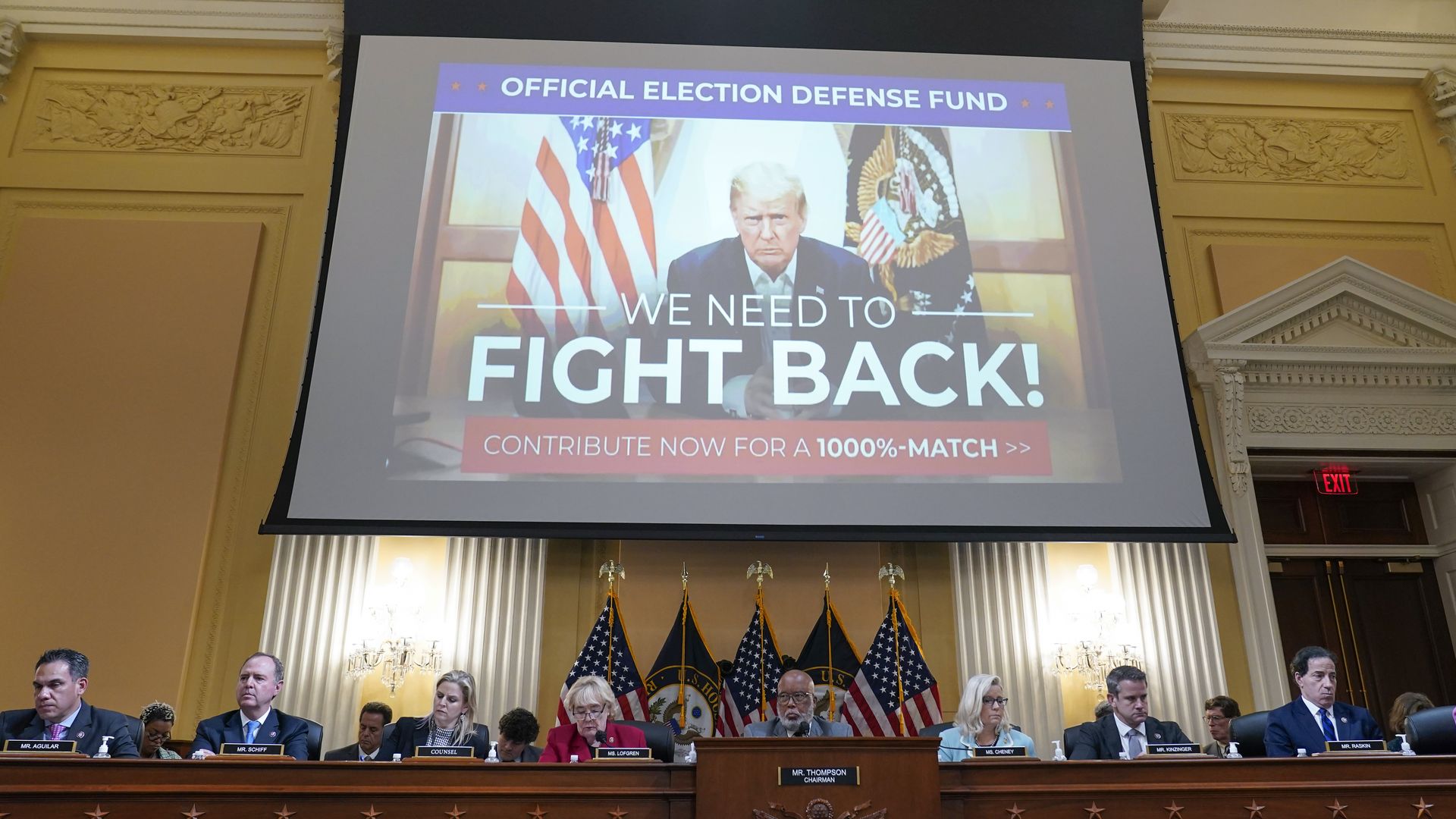 The House Jan. 6 committee made its clearest attempt yet today to establish potential criminal liability by people in former President Trump's inner circle, Axios' Lachlan Markay reports.
Driving the news: Rep. Zoe Lofgren (D-Calif.) and Amanda Wick, the committee's chief investigative counsel, zeroed in on what the Trump campaign's fundraising emails described as its "Official Election Defense Fund."
Those emails were central to a Trump fundraising operation that brought in about $250 million after the 2020 election, in part by promising the money would fund legal challenges and other efforts to overturn the election.
In reality, the committee alleged, millions of dollars were funneled to vehicles like Save America — a leadership PAC set up by Trump after the election — and other political and advocacy groups with ties to top Trump aides.
What they're saying: "The select committee discovered no such fund existed," Wick revealed in a pre-recorded video, citing taped depositions with two Trump campaign staffers.
"Not only was there the 'Big Lie,' there was the Big Ripoff,'" Lofgren said.
"It's clear that [Trump] intentionally misled his donors, asked them to donate to a fund that didn't exist and used the money raised for something other than what he said," she added in comments after the hearing.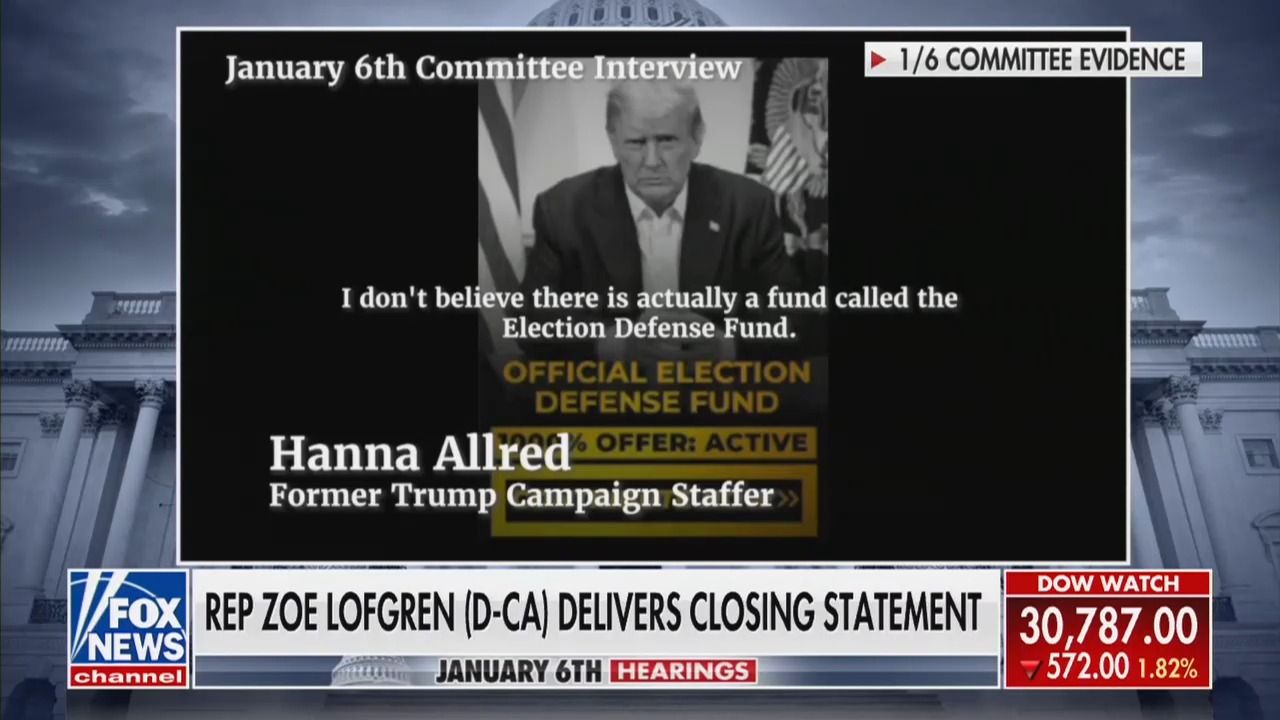 Why it matters: Legal experts say this line of inquiry is a clear effort to show the Trump campaign and its allies may have used fraudulent tactics to raise money in the months after the 2020 election — when many top officials privately knew their claims of voter fraud were false.
"This is an allegation of textbook wire fraud," said Randall Eliason, a former federal prosecutor and white-collar crime professor at George Washington University.
Whether such a case would be successful is a different question: "There might be enough here to start a mail/wire fraud investigation, but there would still have to be a lot of accounting done before you could indict, much less convict, anyone," campaign finance attorney Brett Kappel told Axios.
3. 📉 Charted: POTUS approval in midterm years
In the last four midterm cycles, the president's approval rating by June was at or slightly above where it ultimately landed in early November, Axios' Alexi McCammond writes.
President Biden's average approval has hovered for months in the low 40s, but hit a new low today of 39.7% — worse than former President Trump's was at this point in 2018, according to FiveThirtyEight.
Why it matters: Biden's window of opportunity for improving his standing before the midterms — when presidential approval often dictates the performance of the party in power — is quickly closing.
4. Gun deal's tightrope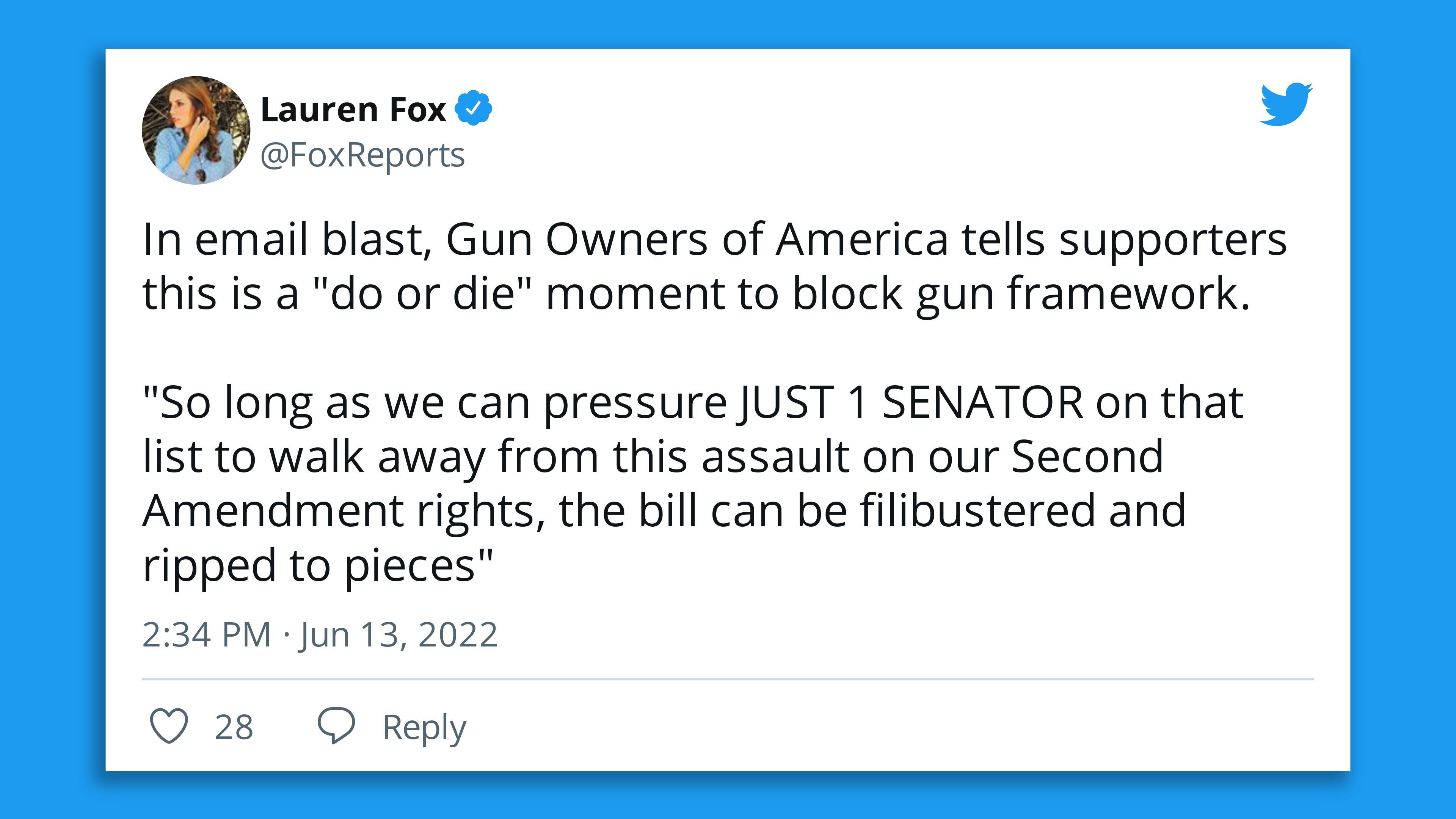 Sen. John Cornyn (R-Texas) said senators working on the bipartisan gun safety deal are pushing to have legislative text wrapped by the end of this week, so the Senate can pass a bill before its two-week July 4 recess — an incredibly ambitious sprint.
Multiple Republicans are refusing to weigh in on the package before seeing the bill text — or waiting for Senate Minority Leader Mitch McConnell to endorse it.
But it's quietly expected McConnell, who encouraged Cornyn to engage in the talks, will ultimately get behind a bill that Cornyn puts forward.
5. 🎧 Buzzy new pod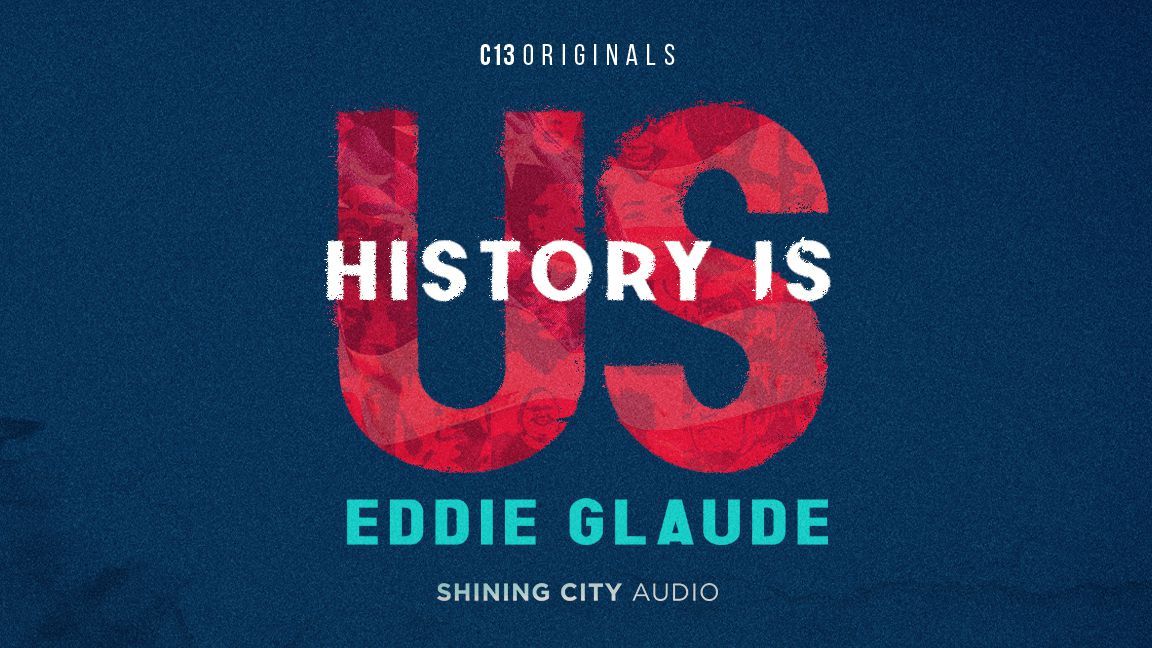 Princeton scholar and author Eddie S. Glaude is teaming up with Pulitzer Prize-winning historian Jon Meacham to launch a new podcast examining America's troubled legacy on race, Axios' Russell Contreras reports.
The six-part series — "History is US" — will be written and narrated by Glaude, who will examine race from Reconstruction to Jim Crow ... the civil rights movement to the election of President Obama ... Jan. 6 to the Buffalo mass shooting.
📬 Thanks for reading! Send us feedback by hitting reply to this newsletter or emailing [email protected]