Axios Science
November 16, 2018
Thanks for subscribing to Axios Science. Please consider inviting your friends and colleagues to sign up. I appreciate any tips or feedback — simply reply to this email or send me a message at [email protected].
Welcome to a special wildfire-themed edition. We'll take a look at some of the factors that led to the deadliest blaze in California history, why wildfire forecasting is behind the curve and what can be done to prevent similar tragedies in the future.
Don't forget to watch "Axios on HBO," airing the next two Sundays at 6:30 and 11:30 p.m. ET/PT.
1 big thing: Humans are a wildfire threat multiplier
The fires that wiped out the town of Paradise, California, and burned all the way to the Pacific Ocean in Malibu are the latest in a 13-month string of the deadliest and most destructive blazes the state has ever seen.
The big picture: These fires have parameters in common — unusually warm and dry preceding conditions, strong winds that caused the fires to spread rapidly, extreme fire behavior and populated areas that are difficult to evacuate on short notice.
No single factor — not climate change, forest management or building practices — is responsible for the deadly blazes the state is now seeing, experts tell Axios. Instead, it's their combination that's making an already dicey situation far worse. And the outlook in coming years, as climate change continues, is foreboding.
"Fire season in California doesn't have a well-defined boundary anymore, that's been true for some time."
— Brenda Belongie, US Forest Service meteorologist
What's happening: Longer-term climate change and population growth are combining to increase wildfire risk in California and more broadly across the American West.
One of the starkest changes firefighters are contending with is an uptick in instances of extreme fire behavior, such as the massive EF-3 fire tornado that accompanied the Carr Fire in July.
The biggest climate change-related impact is manifested in the increased dryness of vegetation.
"The warming equals drying equals more explosive fire growth," said Neil Lareau, a researcher specializing in fire weather at the University of Nevada at Reno.
The housing factor: Another major factor in the impact of these fires is the increasing number of people living in the so-called wildland-urban interface, or WUI, where communities sit next to lands that typically burn. But simply stopping building in such regions is not necessarily a practical solution.
"Almost everywhere we live in the West is wildland-urban interface," said Lareau. "It's overly simple to say we shouldn't be building here."
The bottom line: The recent, deadly fires are the new normal in California, and residents of other Western states should be paying close attention, because they could be next.
Go deeper: Special Report: A 30-year alarm on the reality of climate change
2. Wildfires aren't just a problem for California
A look at a map of all the fires detected by a NASA satellite on July 24 shows that wildfires are not a problem unique to California. Other Western states, British Columbia, Alberta and Alaska were seeing fires that day. So too were areas in Sweden, amidst an unusual wildfire outbreak in Scandinavia associated with a record heat wave.
The big event that day, though, doesn't jump out at you at first. Fast-moving wildfires there killed at least 80 people in tourist villages outside Athens, generating headlines around the world.
This event was eerily similar to what California has just seen — flames fueled by dryness and drawn by strong winds toward populated areas with clogged escape routes and little advanced warnings.
Other areas that experience Mediterranean climates are also prone to severe wildfires in hot, dry and windy periods, including Spain and Portugal.
The fire signatures seen on the map in South America and Africa are likely associated with agricultural fires and land clearing operations in the Amazon.
Go deeper: See a snapshot of global wildfires each day at NASA's WorldView website.
3: Why it's so hard to issue a fire warning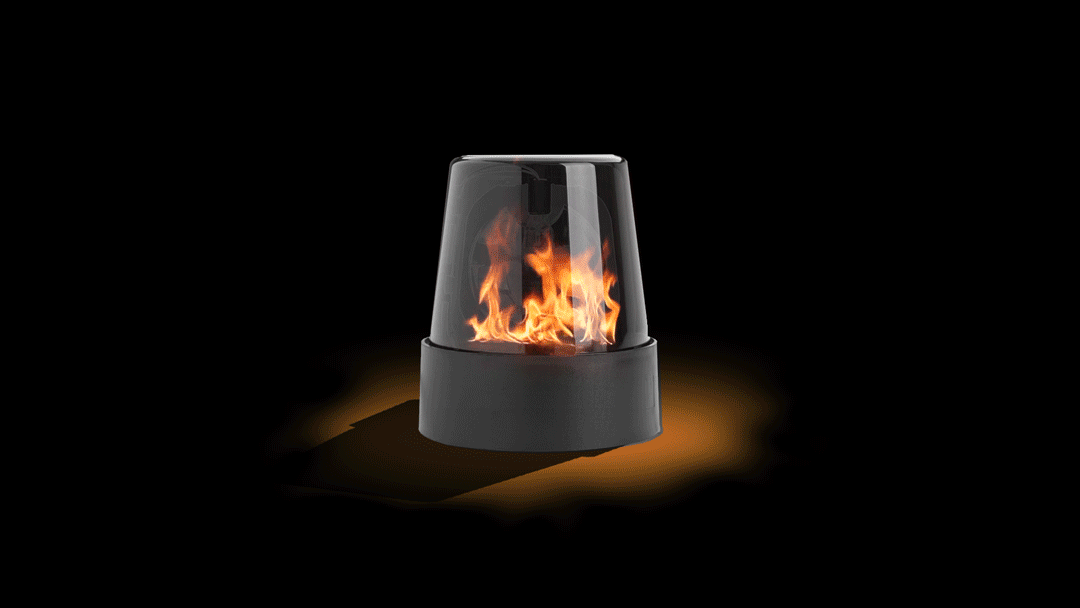 The nearly 30,000 residents of Paradise, California, got no official warning through the National Weather Service that an explosively growing wildfire was headed for their community on Nov. 8.
Why it matters: This was the deadliest wildfire in California history, and with more than 130 still missing, the toll is expected to rise. That so many people could perish in a single disaster due in part to the lack of warning means something is clearly wrong with how we're handling fire emergencies.
The big picture: Weather forecasters knew, and had clearly warned many days in advance, that conditions would be extremely conducive to wildfires in Northern California on Nov. 8. Butte County, which includes Paradise, was designated as being in a zone of "critical" fire weather risk, one of the most severe categories.
But for wildfires, unlike severe thunderstorms and tornadoes, the journey from forecast to a warning being delivered is convoluted — and it's costing lives.
There is such a thing as a "fire warning," though they have seldom been issued, according to Robyn Heffernan, National Fire Weather Science and Dissemination Meteorologist at the National Interagency Fire Center in Boise, Idaho.
But there's a catch: Such a warning must be requested by someone outside of the National Weather Service, such as an emergency manager.
"It's really up to the emergency management community," Heffernan said of the fire warning product.
Partly as a result of the spate of deadly fires in California, Heffernan said discussions are underway about changing the way such a warning works.
Go deeper: Read the entire story.
4. We're on the cusp of better wildfire forecasting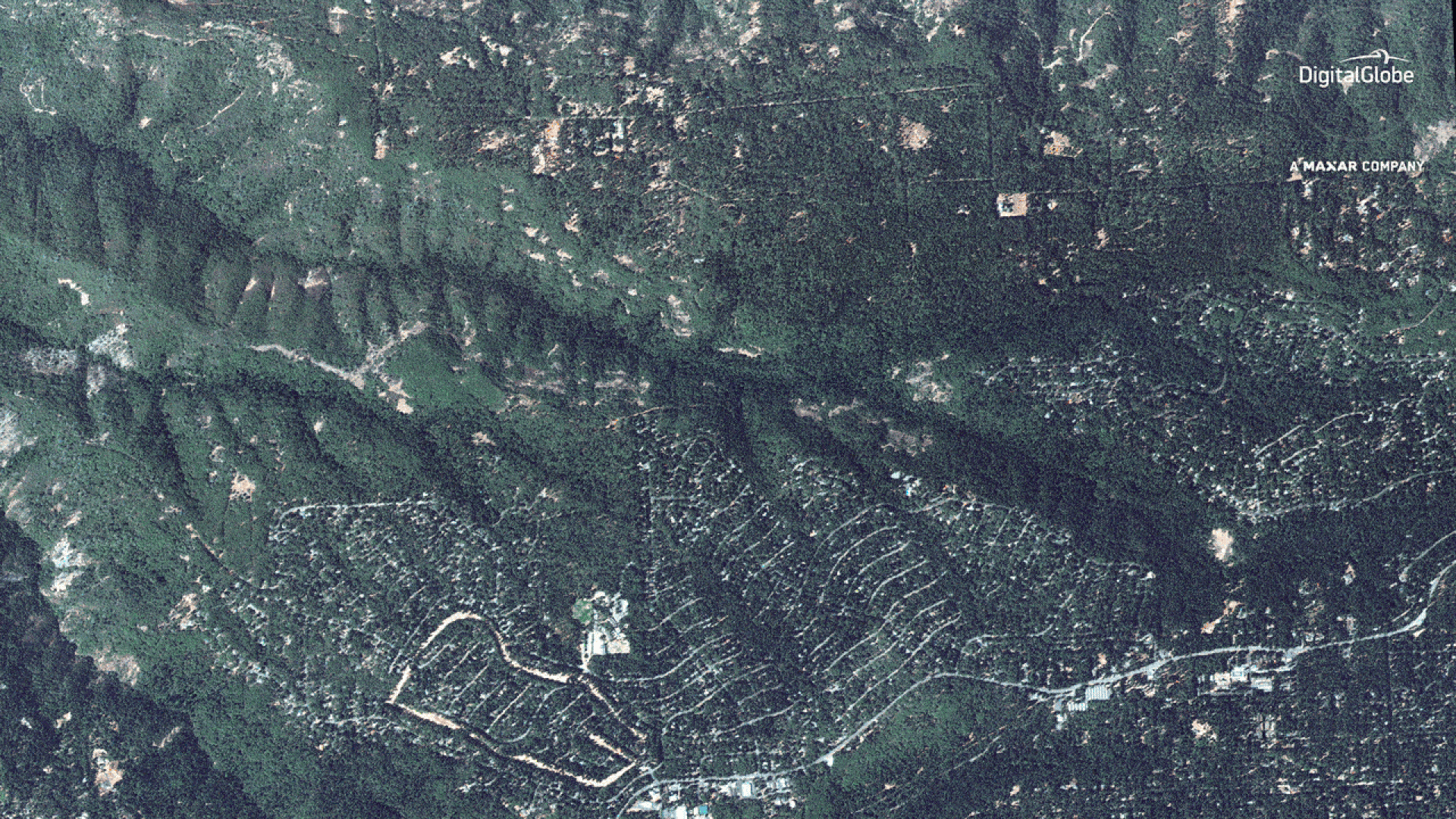 Unlike with tornadoes and hurricanes, there have been no major, multimillion-dollar field campaigns to chase wildfires and unlock their secrets. Perhaps this is because they've tended to burn away from populated areas, until climate change, population growth, land management and other factors changed that.
Now, a hodgepodge of tools and experts exist to help predict fire spread based on models and calculations dating back more than three decades ago. There is no tried and tested computer modeling suite for fire forecasts.
What's working: Weather forecasters are successfully anticipating days that have the potential for disaster if a fire were to ignite.
The gaps: Once a fire gets going, the forecast challenges mount, because fires tend to manufacture their own weather, and there's a tangled web of federal, state and local agencies involved in getting the word out. Also, as explained above, fire warnings are rarely issued.
Researchers working to improve wildfire forecasts told Axios they need more data in order to fine tune their models.
Adam Kochanski, a fire researcher at Utah State University, told Axios that scientists are left to "speculate" about how large fires interact with local weather.
"Almost all operational fire tools" are based on a mathematical model of fire spread developed in 1972 and based on lab experiments, Kochanski and other researchers said.
Such a model ignores fire-induced winds, which can create fire tornadoes and generate other extreme fire behavior.
Fires can also affect the weather itself, and the models don't currently account for that, Branko Kosovic, of the National Center for Atmospheric Research in Colorado, told Axios.
What's next: New safety systems tend to arise only after disasters. In Colorado, devastating wildfires in 2012 and 2013 led the state to fund a new fire forecast model, which will be rolled out in the next two years.
5. Moving back to the fire zone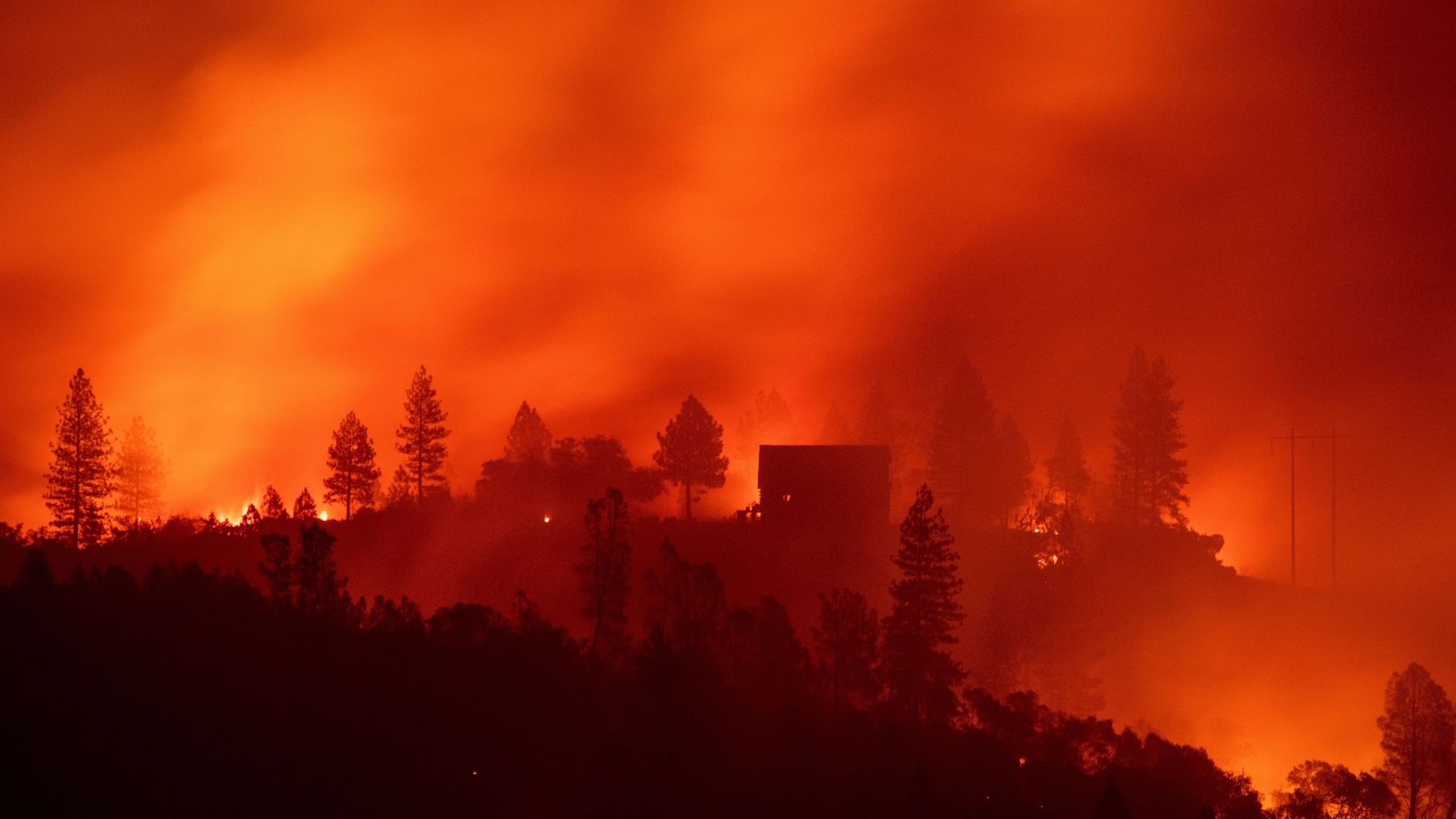 For Californians — many of them inured to routine annual fires, mudslides and earthquakes — a key question is not whether to rebuild when catastrophe strikes yet again, it's whether they can afford it, Axios' Steve LeVine and Kaveh Waddell report.
Driving the news: For many fire victims, insurance — or the government — makes it so they can rebuild on the same lot. But in some of California's most recent spate of fires, that hasn't been enough for people to return.
And a lot of experts see signs that more homeowners could find it hard to rebuild as insurers reassess the risk of a new future of fire.
The big picture: Since the middle of the last century, fire has destroyed an average of 500 homes a year in California, according to the Western Ecological Research Center.
The number of vulnerable houses keeps growing: According to a 2014 study by the Nature Conservancy, builders in the state are on track to add 645,000 homes in highly fire-prone zones by 2050.
In 11 California fires from 1970 to 2009, builders reconstructed 94% of the burned homes within 25 years, NYT reports.
But the level of danger may be growing too high: Insurance losses from California fires last year were about $12.5 billion and this year could be about $6.8 billion, reports Don Jergler of Insurance Journal.
In Redding, 190 miles north of Santa Rosa, the site of the horrendous 2018 Carr fire, insurance companies are hiking rates or canceling policies altogether, said Brad Garbutt, a broker at local Vista Real Estate. "I think you're going to see the major insurance companies stop writing in this area."
The question, Dante Disparte, founder of Risk Cooperative, a D.C. brokerage that provides insurance to insurance companies, tells Axios, is "Should there be residential property that close to forests that are tinderboxes? Should we push back human habitation?"
Go deeper:
6. Axios stories worthy of your time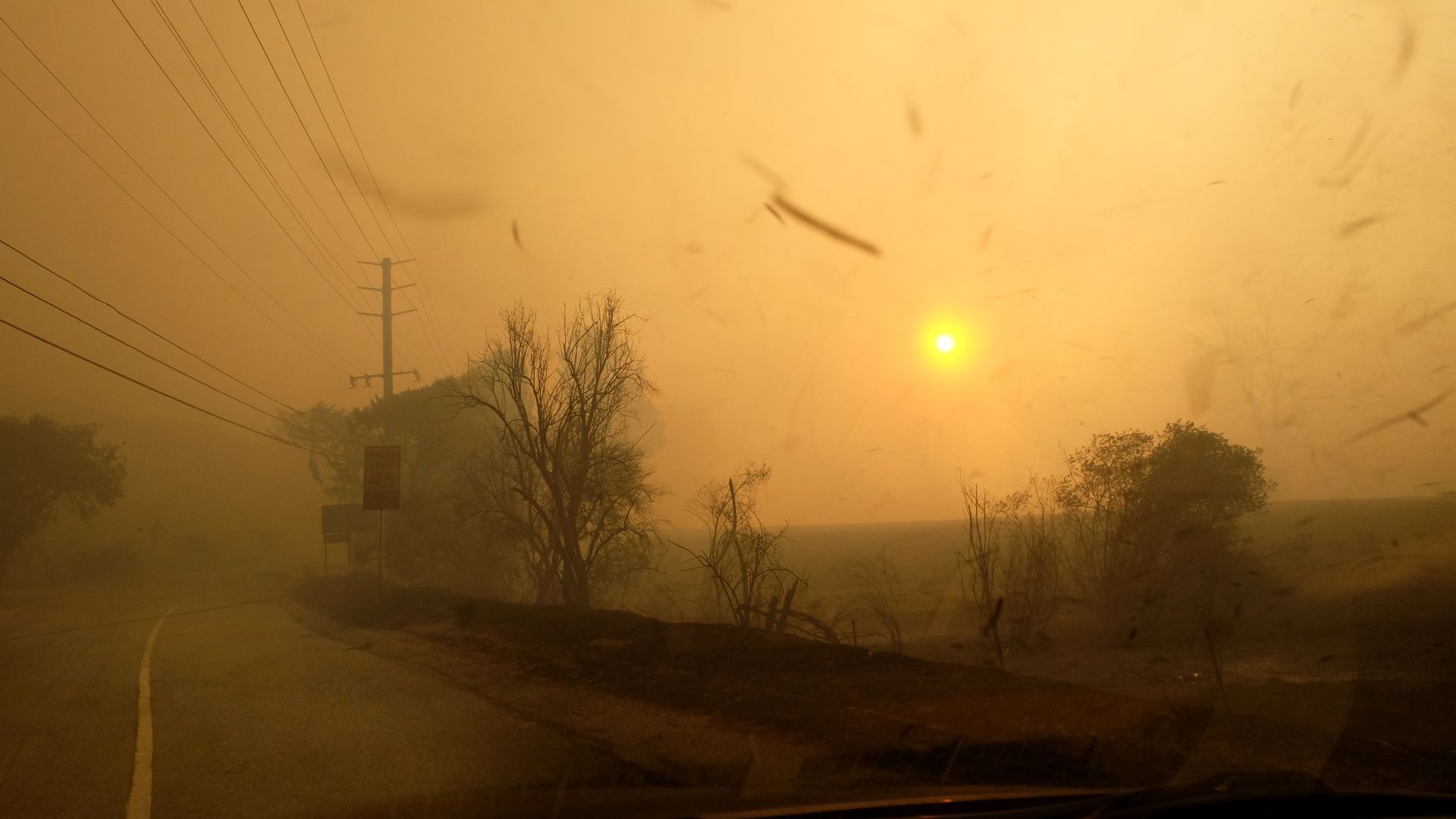 Public health: Wildfires are having a significant public health impact in California and elsewhere, with problems ranging from aggravating asthma and heart disease to long-term stress-related issues, writes Eileen Drage O'Reilly.
Forest management: Forest policies have contributed to California's wildfires, especially in the northern part of the state. But climate change, community building practices, insect infestations and even random chance also play a part, write Ann Bartuska and Matthew Wibbenmeyer for Axios Expert Voices.
Wildfire liability: The California utility PG&E, whose power lines were responsible for sparking more than a dozen fires in 2017, has seen its stock plummet amid speculation that it's equipment sparked the deadly Camp Fire, Courtenay Brown reports.
Ebola outbreak: Senior officials in the U.S. government told reporters Wednesday that the fight against an Ebola outbreak in the Democratic Republic of the Congo is severely hampered by security breakdowns, Eileen writes.
Mysterious illness: The CDC establishes a task force to investigate the disturbing and mysterious polio-like illness affecting toddlers, known as acute flaccid myelitis (AFM), Eileen reports.
7. What we're reading elsewhere
Killer tulips: Antifungal resistance, which is a growing danger for humans, may be at least partly caused by the desire to protect flowers with the same 4 compounds that work in humans, despite the almost 296 others agriculture could also use, Maryn McKenna writes for The Atlantic.
Heat toll: Some male insects experience a huge drop in sperm count from heat waves, which could be one explanation for the decline in the world's insect population, Karen Weintraub reports for the New York Times.
Mind's ear: Scientists hope to eventually use brain implants to take thoughts of paralyzed people and say them out loud, starting with brain-computer interfaces, according to Sharon Begley from STAT News.
8. Something wondrous: A crater underneath the ice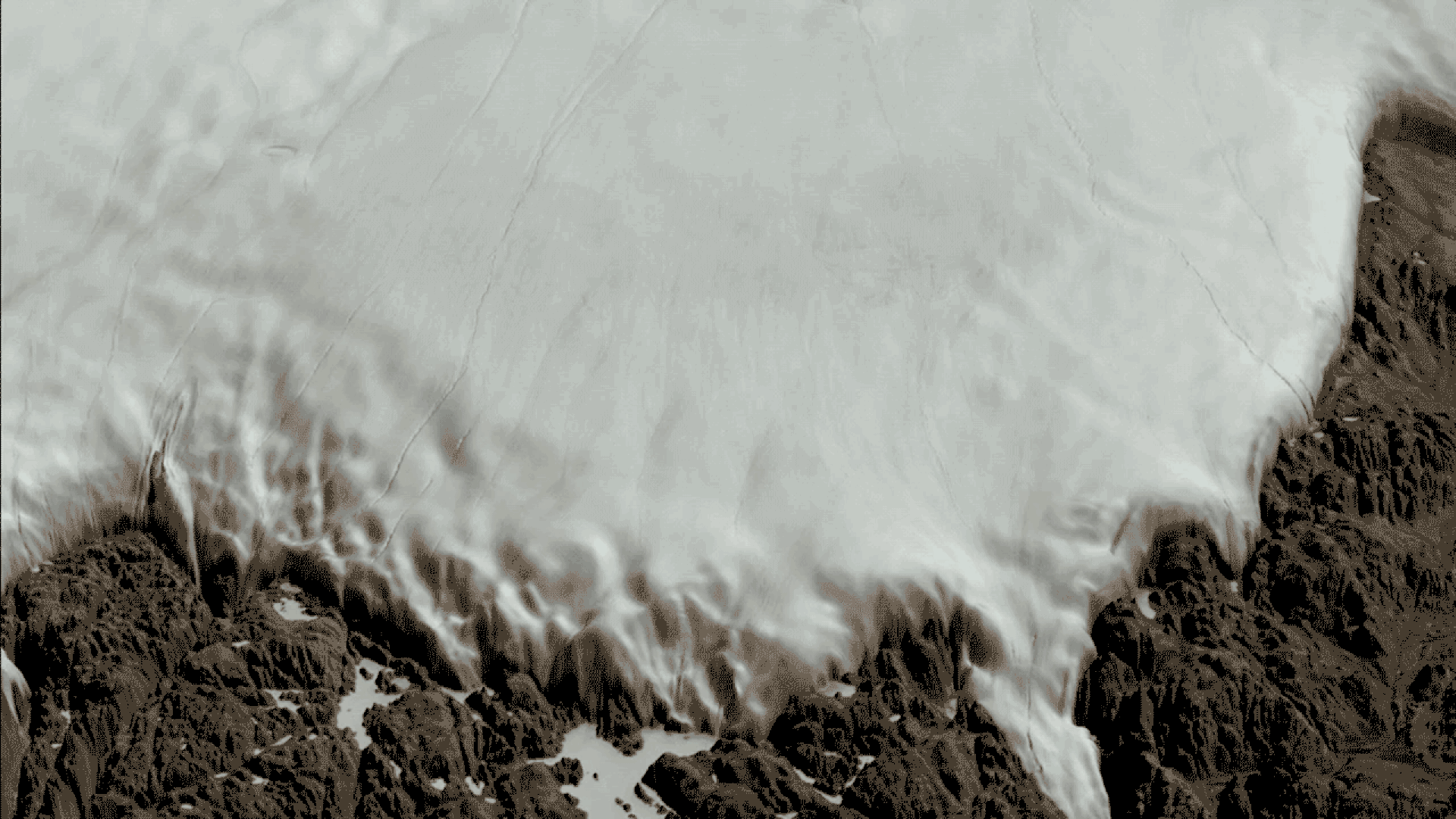 One of the largest impact craters on Earth has been discovered more than a half-mile under ice in northwest Greenland, NASA reported on Wednesday, Haley Britzky writes.
Why it matters: Per NASA, major impacts from asteroids like this have been proven in the past to "profoundly affect Earth's climate" and have serious consequences for life on the planet at the time of impact.
Impacts can vault debris into the atmosphere and reduce the amount of incoming sunlight, thereby cooling global temperatures, for example.
Details: The crater, first discovered in 2015 by researchers from the University of Copenhagen's Center for GeoGenetics at the Natural History Museum of Denmark, measures around 1,000 feet deep and more than 19 miles in diameter, an area "slightly larger than that inside Washington's Capital Beltway."
How they did it: The researchers discovered the crater after inspecting a topography map of Greenland's ice sheet, NASA said. 
They mapped it by research plane and later inspected sediments that had been washed out through a meltwater channel. Some of the sediments showed evidence of a violent impact.
What's next: One of the researchers on the study — Joe MacGregor, a glaciologist at NASA Goddard Space Flight Center — told Axios that what "everyone would really like to know is how old the crater is." Finding that requires a rock sample, which MacGregor said can be as small as a grain of sand, that scientists could date.
The age of the crater would indicate more clearly what its impact on Earth's climate was. For example, if there was ice there when it hit, MacGregor said, "that would have led to a lot of water being vaporized and melted, which would have made its way into the atmosphere and the ocean."
The bottom line: There's lots left on Earth yet to be discovered, MacGregor said.
"There are still large features of the landscape in our world waiting to be discovered, waiting to be found. That takes new measurements of different types, or it takes going to some remote places of the Earth ... but they're still out there."
Thanks for reading! Have a great Thanksgiving if you are celebrating, and I'll see you back here on Nov. 29.