Axios Pro Rata
March 14, 2023
The Axios Pro Rata Players are now pleased to present, A Bank Collapse in Three Acts:
Act 1: The share sale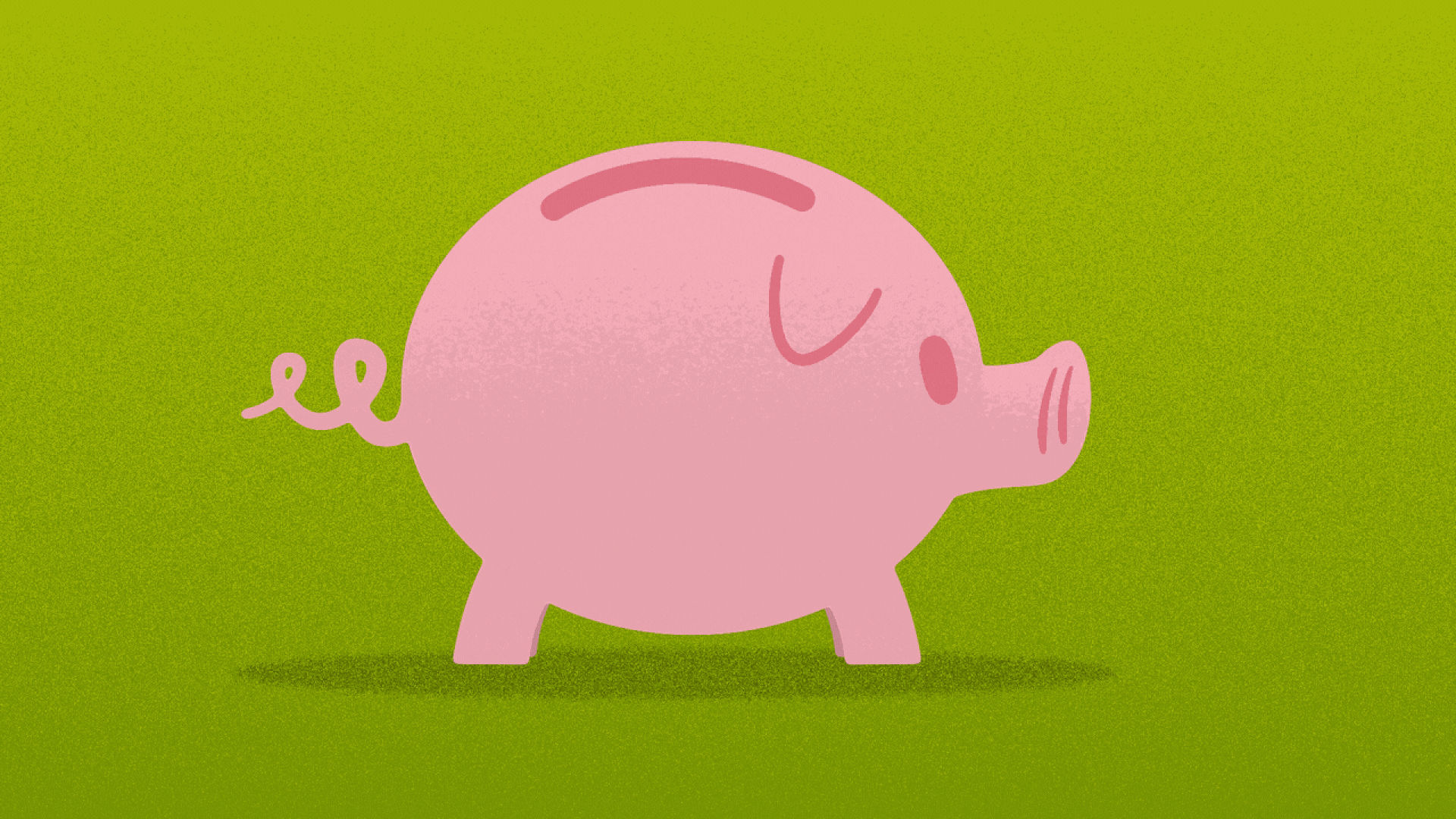 Early in the week of Feb. 27, Silicon Valley Bank was informed that credit rating agency Moody's was considering a double-downgrade, Axios has learned.
SVB knew that such a move could spark something catastrophic, like a bank run, and asked Moody's to postpone its late week committee meeting so that SVB could make its case.
By mid-week, SVB was speaking with bankers at Goldman Sachs about the possibility of a capital raise.
At the same time, SVB execs and directors began reaching out to a small number of private equity firms with which they had relationships, including General Atlantic (which had past experience in the space, having been a major investor in rival First Republic).
The bank got its slight delay from Moody's, but the clock was ticking louder.
A decision was made early last week to raise $2.25 billion via a stock sale, including $500 million from General Atlantic, even though the financial models and other diligence materials weren't ready before Wednesday to do what bankers call a "wall-cross" that might have let complete the deal prior to an announcement.
Instead, SVB announced the share sale after market close on Wednesday, with Moody's downgrading by one notch soon after. There was internal discussion about doing the raise overnight, but lawyers pushed back over fears that investors wouldn't have appropriate time to digest the new information.
Moody's noted that its downgrade could have been steeper if not for the share sale plan (and a related bond portfolio disposal). S&P issued its own downgrade on Thursday afternoon.
Traders reacted very poorly to all of it, with SVB stock down more than 30% at the open.
Goldman and SVB, however, still believed the stock deal could get done. In fact, one source says that the book was fully subscribed by early that afternoon.
That confidence didn't last.
First came the disastrous "stay calm" message from SVB CEO Greg Becker during a webinar, and then reports of large deposit outflows.
By around 1pm PST on Thursday, SVB shared its disastrous midday deposit report with Goldman, which was slathered in materiality.
This effectively killed the share sale and, not too much later, SVB itself.
Act 2: The bank run
Wednesday night's share sale announcement caused worries at Founders Fund, a large venture capital firm that did most of its own banking with SVB, Axios has learned.
Just earlier that week, Founders Fund had initiated a capital call from limited partners, with money being wired directly into its SVB account.
By Thursday morning, Founders Fund's top operations executives were on the phone, quickly deciding to move firm capital to a number of bigger banks. Firm founder Peter Thiel was not part of the conversation.
One source says that the assumption was that they'd return the money to SVB after the crisis had ended.
Discussions began later that morning with some members of Founders Fund's investment team who, once alerted to possible solvency issues, began speaking with portfolio companies about moving money out of SVB.
Founders Fund wasn't the only venture capital firm giving this sort of warning to portfolio companies, nor necessarily the first, but word of its advice spread like wildfire (it also ended up in media reports, including one from Axios).
Almost immediately, the firm came under withering criticism from some other venture capitalists, accusing Founders Fund (and Thiel personally) of sparking a bank run. Some speculated that it was intentional, as payback for some unknown grudge between the two groups.
Founders Fund, meanwhile, kept quiet publicly, telling LPs that this was all about prudently protecting their investments (it also halted the ongoing capital call, so that wires didn't go into the SVB accounts).
In a statement to Axios, Founders Fund CFO Neil Ruthven says: "Thursday morning it was clear we were in the middle of a bank run, and we reacted in line with our fiduciary duties."
Act 3: Selling SVB
After the FDIC seized Silicon Valley Bank on Friday, there were optimistic assumptions that at least SVB's commercial bank would be sold by the time markets opened on Monday.
It was the best option for preventing the sort of psychological contagion that could have caused a national banking crisis.
The FDIC launched an auction process, with bids due by 2pm on Sunday, but it appears to have landed with a thud.
Sen. Bill Hagerty (R-Tenn.) says he was told in an FDIC briefing that only one bid was submitted, from an undisclosed suitor that was only described as a non-globally systemic important bank. That bid was rejected, with senators not told why.
This is the part of the performance we don't yet know what happened, so have to wing it.
Maybe the White House refused to provide protections against future liabilities, thus scaring off potential buyers who didn't have time to conduct proper due diligence.
Maybe Jamie Dimon still has PTSD from the Bear Stearns experience.
Maybe some feared that their offers would be denied over antitrust concerns, or perhaps political pushback from those who don't want big banks to get even bigger (even though they already did, due to inflows from SVB depositors).
The FDIC now plans to launch a second auction for SVB assets, according to the Wall Street Journal.
Elsewhere, HSBC bought up SVB's U.K. arm for just £1, while several private equity firms reportedly are eyeing SVB's loan portfolio.
The BFD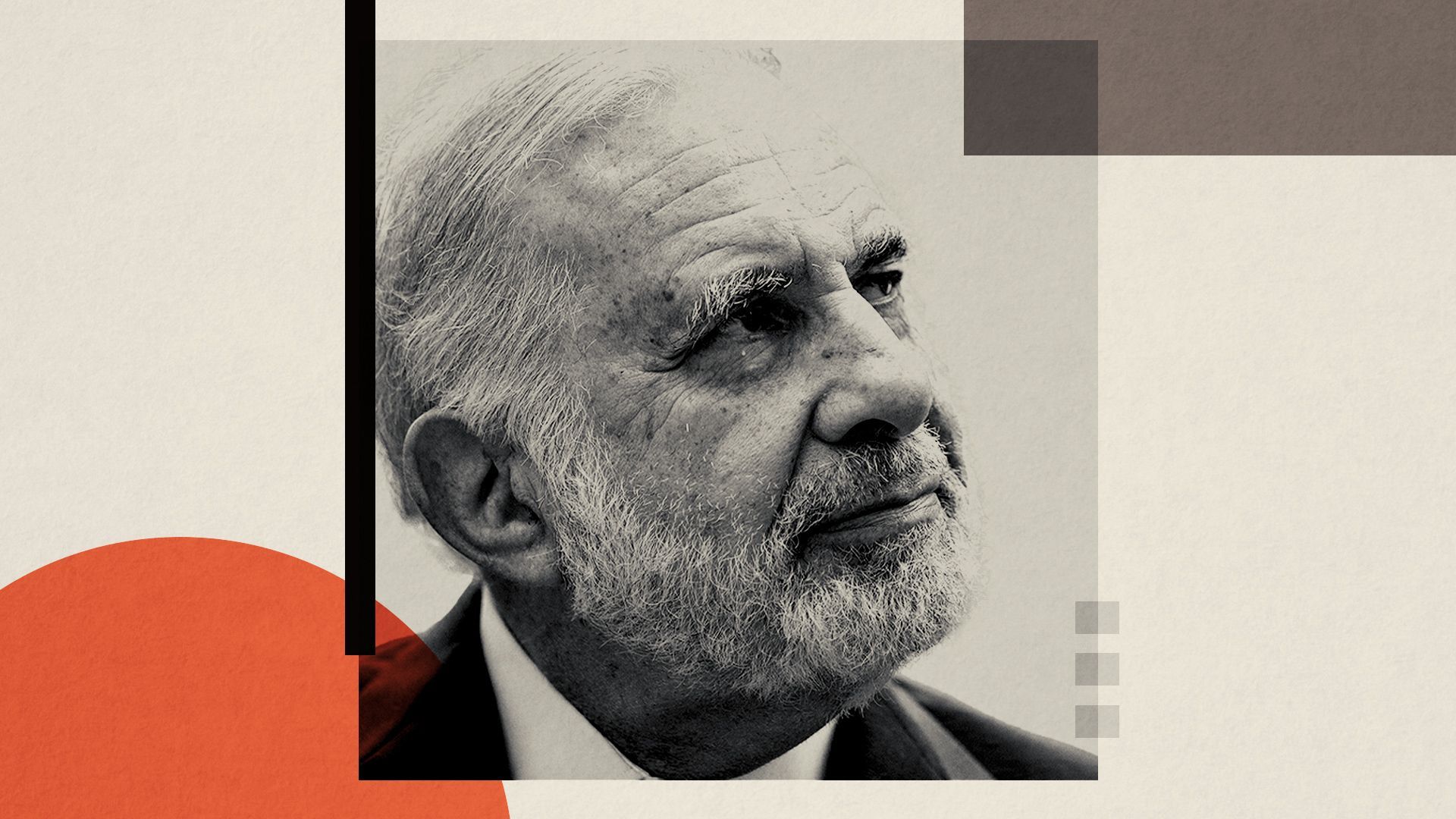 Carl Icahn launched a proxy fight for three board seats at biotech giant Illumina (Nasdaq: ILMN), which he believes erred in competing its controversial $7.1 billion takeover of liquid biopsy firm Grail.
Why it's the BFD: This is the latest high-stakes chapter in Illumina's love story with Grail, which it developed, spun out and then repurchased several years later.
Most of that battle has been with antitrust regulators, including a decision to close the deal over FTC objections, but now it also must deal with the famed activist investor who argues that Illumina's board will "pursue Grail until the end of time without regard to the amount of value destruction they leave in their wake."
Investor reax: Yay!
Illumina shares jumped nearly 17% on Icahn's letter, after having lost over half their value since an August 2021 peak. Its current market cap is around $36 billion.
Illumina reax: Booooo!
The company says that Icahn's director nominees lack "relevant skills and experience," and that the activist investor doesn't properly understand Grail's value.
The bottom line: Illumina prevailed over the FTC, but is still battling European antitrust regulators who have demanded that the Grail deal be unwound.
Venture Capital Deals
• Mitiga, a New York-based cloud and SaaS incident response startup, raised $45m in Series A funding. ClearSky Security led, and was joined by Samsung Next, Blackstone, Atlantic Bridge and DNX. www.mitiga.io
⚡ Airex Energy, a Canadian provider of decarbonization solutions, raised C$38m in Series B funding. Cycle Capital led, and was joined by FTQ Fonds de Solidarité and insiders Investissement Québec, Desjardins-Innovatech, and Export, Development Canada. www.airex-energy.com
⚡ Green Li-ion, a Singaporean battery recycler, raised $20.5m. Trirec led, and was joined by Banpu Next and Equinor Ventures. https://axios.link/3JxLv2r
🚑 AlgoTx, a French biotech focused on peripheral neuropathic pain, raised €20m in Series B funding. Relyens Innovation Santé led, and was joined by UI Investissement and insiders Bpifrance and Omnes Capital. www.algotx.com
• Powered by People, a Toronto-based digital wholesale platform, raised US$8m in Series A funding. Altos Ventures led, and was joined by Golden Ventures and Susa Ventures. https://axios.link/3JzDuuL
• Elate, an Indianapolis-based strategic planning platform, raised $4.9m in Series A funding led by WestWave Capital. https://axios.link/3TduaQs
Private Equity Deals
• Blackstone agreed to buy CVent (Nasdaq: CVT), a Tysons, Va.-based events and hospitality tech provider, for $4.6b, or $8.50 per share. Vista Equity Partners is CVent's majority shareholder, while Blackstone is joined on the buyside by Abu Dhabi Investment Authority.
🚑 Cinven made an indicative €2.2b takeover offer for Synlab, a listed German lab operator. https://axios.link/3l5g1IL
• New Mountain Capital completed its purchase of PerkinElmer's (NYSE: PKI) applied, food and enterprise services business for up to $2.45b. www.perkinelmer.com
• Sun Capital Partners acquired a majority stake in Anderson Business Advisors, a Las Vegas-based provider of corporate services like bookkeeping and entity formation, primarily for real estate investors. www.andersonadvisors.com
• Symphony Technology Group agreed to buy Momentive Global (Nasdaq: MNTV), parent company of SurveyMonkey, for around $1.5b, or $9.46 per share.
Momentive had agreed in late 2021 to be acquired for $4.1b by Zendesk, whose shareholders rejected the deal (and then Zendesk itself was bought).
🚑 Trinity Hunt Partners acquired a majority stake in Supreme Optimization, a Puerto Rico-based digital marketing agency focused on life sciences. www.supremeopti.com
Public Offerings
• WeRide.ai, a Chinese robotaxi developer valued by VCs last spring at $4.4b, filed confidential U.S. IPO docs, per Bloomberg. https://axios.link/3FnFfJj
SPAC Stuff
• Aeries Technology, a provider of professional services and consulting for PE firms and their portfolio companies, agreed to go public at an implied $656m market value via Worldwide Webb Acquisition Corp. (Nasdaq: WWAC), a SPAC led by Purple Innovation's founder. www.aeriestechnology.com
Liquidity Events
• Hahn & Co. hired Evercore to sell the tanker unit of South Korea's SK Shipping Co., per Korea Economic Daily. https://axios.link/3JCwKwd
More M&A
• Arrival (Nasdaq: ARVL), a London-based EV maker whose market cap has slumped to just $12m, secured a $300m equity financing line from Westwood Capital. https://axios.link/3ZOQJ0C
🏈 Mitchell Rales, founder of Danaher Corp., reportedly has joined the Josh Harris-led group bidding on the Washington Commanders. https://axios.link/3Tcygsi
🚑 Novartis (NYSE: NVS) is seeking to sell some of its ophthalmology assets, including dry-eye treatment Xiidra, per Bloomberg. https://axios.link/3ZNlnHs
⚡ NRG Energy (NYSE: NRG) completed its previously-announced $2.8b purchase of Vivint Smart Home, a Provo, Utah-based home security and automation company that had been listed on the NYSE.
• Sainsbury's (LSE: SBRY) will pay nearly £431m to take full ownership of the Highbury and Dragon store property investment vehicles, from Supermarket Income REIT (LSE: SUPR). https://axios.link/3TifUGq
🚑 Sanofi (Paris: SAN) agreed to buy Red Bank, N.J.-based diabetes drug developer Provention Bio (Nasdaq: PRVB) for $2.9b in cash, or $25 per share in cash (more than 3x premium on last Friday's closing price). https://axios.link/3yG51o1
• Vivendi (Paris: VIV) is in talks to sell its Editis publishing unit to International Media Invest for around €700m, per Bloomberg. https://axios.link/3Jj5pxE
Fundraising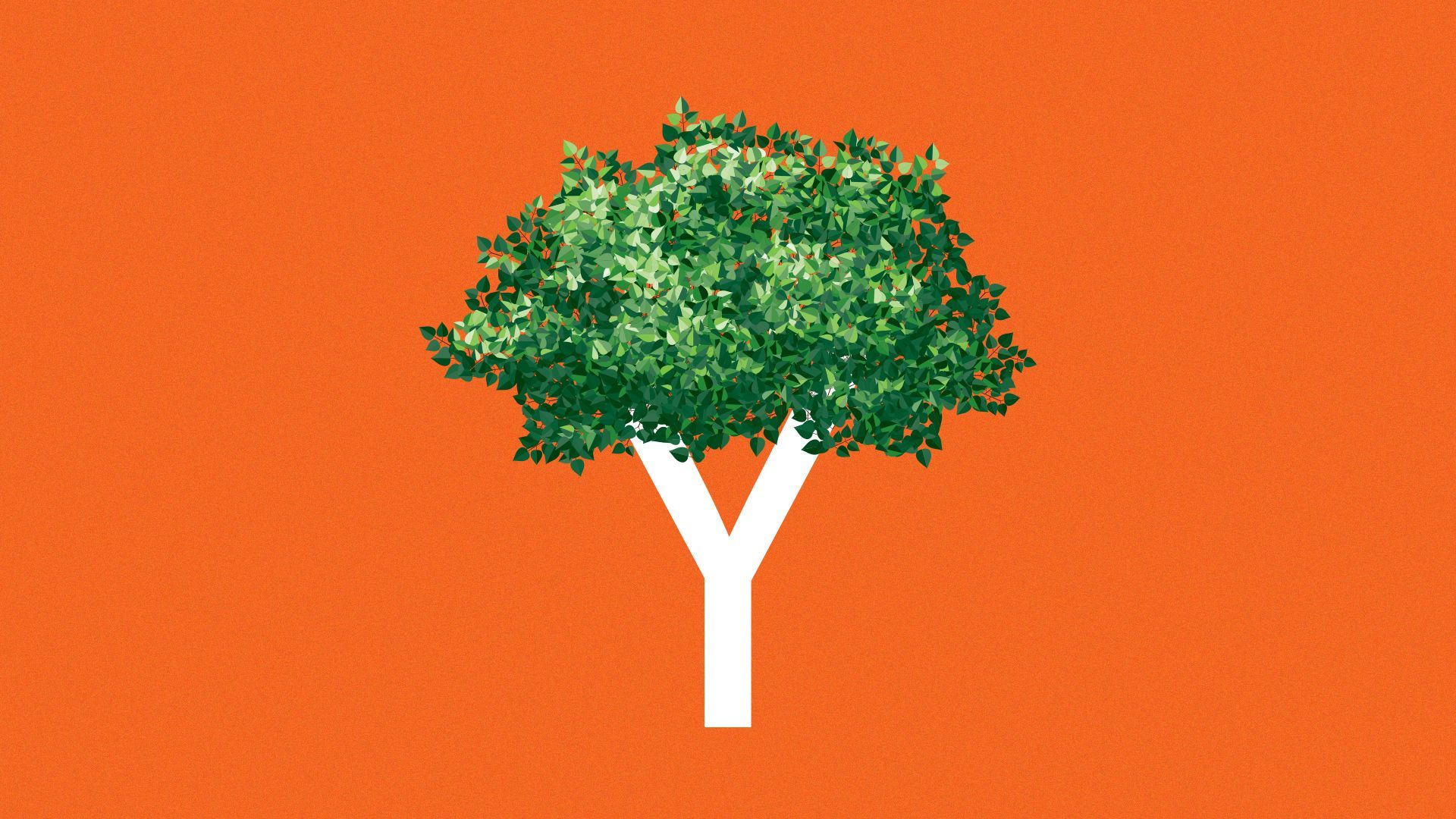 Y Combinator will not raise another Continuty fund, focused on later stage investments, as part of its overall refocusing on early-stage companies.
YC Continuty partners Anu Hariharan and Ali Rowghani will leave to launch their own growth-stage fund, although they've not yet determined a new firm name or fund size target.
There still are outstanding questions about the future of the current YC fund, which Axios has learned is around 40% uncalled.
• Flat6Labs, an Egyptian seed-stage firm, raised $95m for an Africa-focused fund. https://axios.link/404qG55
• Rethink Ventures of Germany raised a €50m fund focused on mobility, automotive and logistics. https://axios.link/3lfM4FW
Final Numbers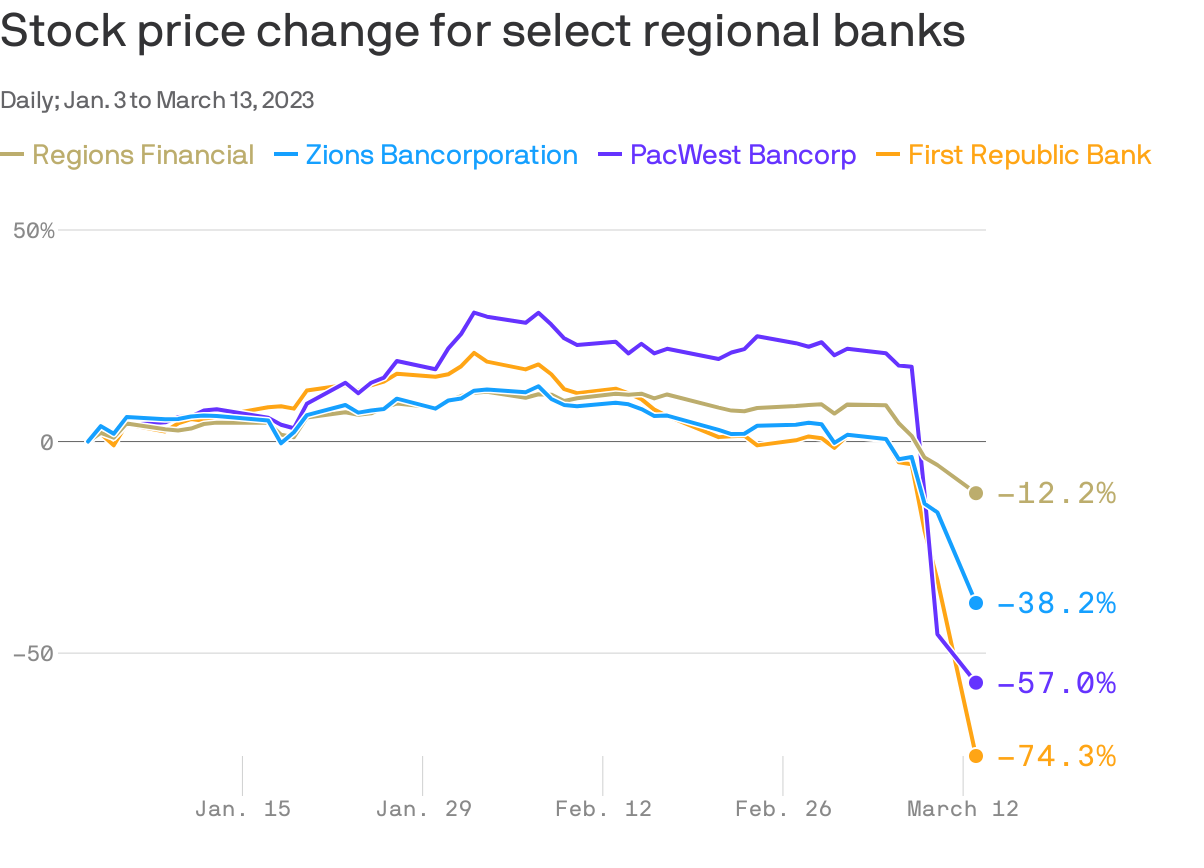 It's been a bad few days for regional bank stocks, with many worrying that Silicon Valley Bank was just the first domino to fall.
But we may be looking at a rebound.
First Republic shares opened up around 56% on Tuesday morning, while PacWest jumped 64%, Regions by 4% and Zions up 15%.
Thanks for reading Axios Pro Rata, and to copy editors Mickey Meece and Bryan McBournie! Please ask your friends, colleagues and playwrights to sign up.