Axios Pro Rata
January 27, 2023
Top of the Morning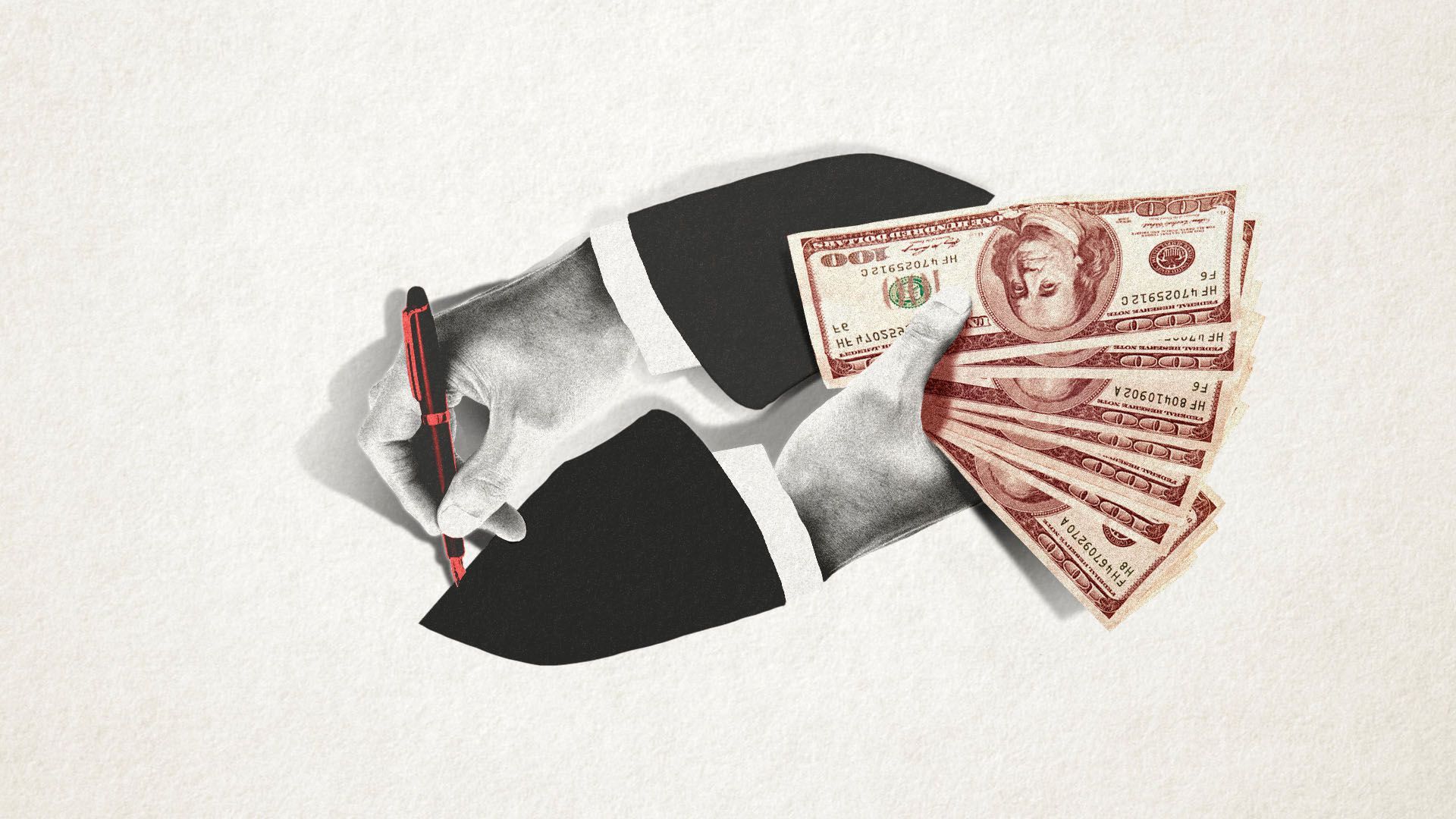 "Did you see the Thrive Capital numbers? What do they mean?"
That was one of several messages I reeived this week from venture capitalists, following a WSJ report that Joshua Kushner's firm sold a 3.5% stake in itself for $175 million to a group of individual investors that included Henry Kravis and Bob Iger.
In short, these other VCs were both puzzled and intrigued. If Thrive is valued at $5.3 billion, on $15 billion in assets under management (AUM), what might they fetch via a GP stake sale? Is this now a comp?
The big picture: There aren't any publicly traded VC firms in the U.S., although diversified alt asset managers trade at much lower multiples than what Thrive fetched.
TPG, for example, has a market cap south of $10 billion, despite $135 billion in AUM.
KKR, co-led by Kravis, has a $47.6 billion market cap on around $496 billion in AUM ($389 billion of which are fee generating).
Zoom in: The industry standard structure for GP stake sales is 1 and one-half. In other words, if you buy a 10% stake in Firm X, you'd receive 10% of all fee income and 5% of carried interest.
But almost all of that is for GP stakes in private equity firms. Venture firm stake sales are much less common, and the structures are customized. As such, the valuations can be elevated.
For example, the carry could be equalized to 1:1. Or the fee percentage could be increased above par. Or the GP agrees to share co-investment opportunities with the investor. Or there's some sort of advisory layer.
An even more popular option is to include carry on existing portfolio companies (i.e., "already in the ground"), which could include public equity that hasn't yet been distributed. Word is that some version of this is included in the deal for Thrive, whose portfolio includes Fanatics, Plaid and SKIMS.
Backstory: Thrive, which declined comment, basically re-traded a small GP stake it had previously sold to Goldman Sachs (in part to provide employees with enough liquidity to invest in Thrive funds, and in part to tighten its Wall Street relationship in the midst of an IPO boom).
The bottom line: The GP stakes business has emerged from the cottage, with several large institutions having launched dedicated practices.
But when it comes to VC, with its higher-risk/higher-return profile, the deals remain bespoke.
The BFD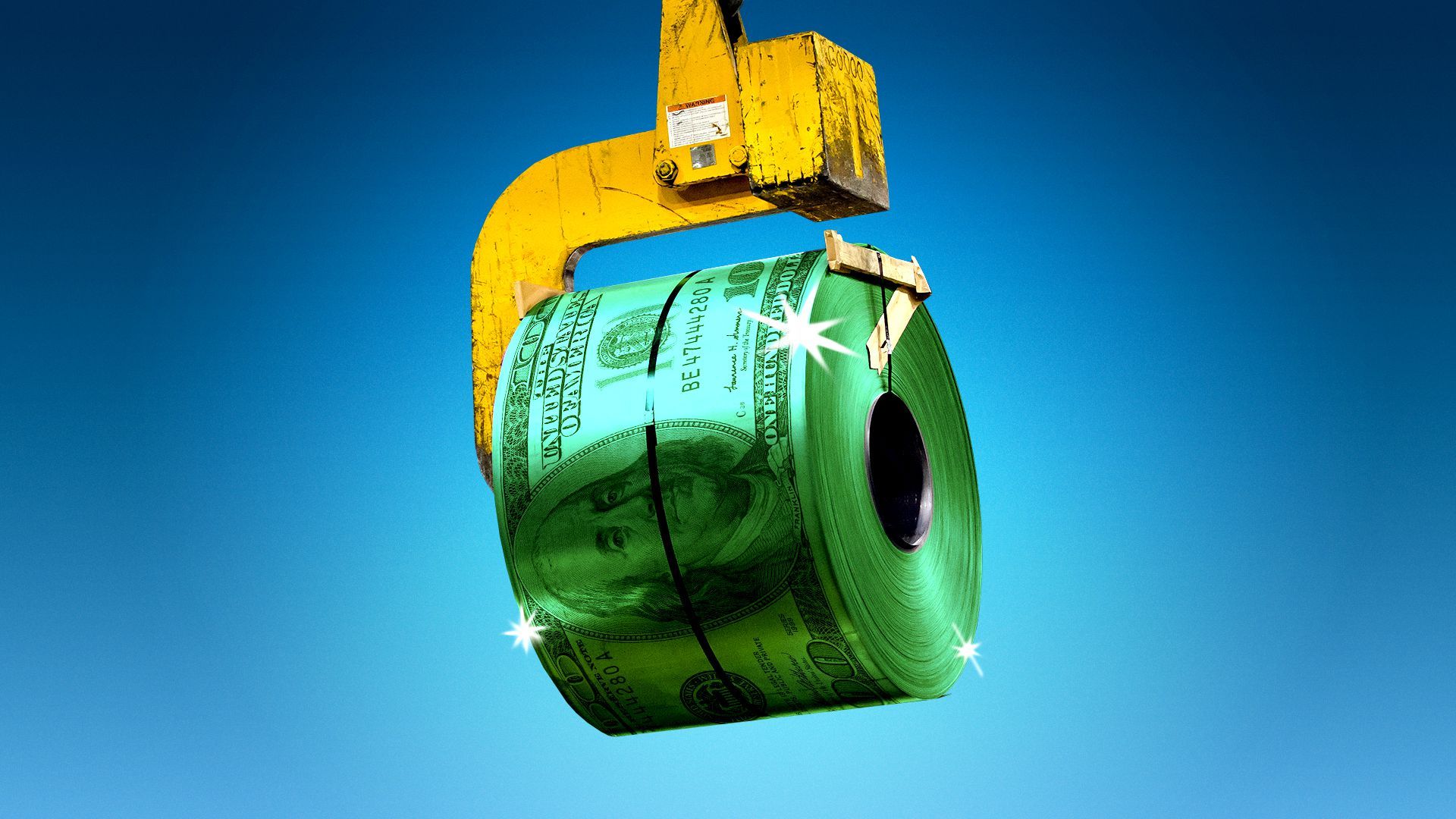 Boston Metal, a Woburn, Mass.-based developer of technology to decarbonize steel production, raised $120 million in Series C funding led by steel giant ArcelorMittal.
Why it's the BFD: Steel production is responsible for between 7%-9% of global carbon dioxide emissions, making it one of the world's dirtiest industries.
Other new investors include Microsoft's Climate Innovation Fund and SiteGround Capital. Existing backers include Fidelity, The Engine, Vale, Breakthrough Energy Ventures, Prelude Ventures, BMW, Energy Impact Partners and OGCI Climate Investments.
The bottom line: "Traditional steelmaking uses blast furnaces that require huge amounts of heat and power to break down iron ore. Some green steel companies incorporate hydrogen to reduce emissions. Boston Metal instead uses 'molten oxide electrolysis' to break down iron. The process only requires electricity, meaning it can be powered with renewables." — Alan Neuhauser, Axios
Venture Capital Deals
🚑 Pearl Health, a New York-based startup helping independent physician practices participate in value-based care models, raised $75m in Series B funding. Andreessen Horowitz and Viking Global Investors co-led, and were joined by AlleyCorp and SV Angel. https://axios.link/3H74X4N
🚑 Micah Orthopaedics, a Westborough, Mass.-based developer of an implant for ACL repair, raised $40m. Sectoral Asset Management and Endeavour Vision co-led, and were joined by Amzak Health, Smith+Nephew, DSM Venturing and the NFL Players Association. It also secured $10m in venture debt from SVB. www.micahortho.com
• Inscribe, an SF-based fraud detection startup, raised $25m in Series B funding. Threshold Ventures led, and was joined by Crosslink Capital, Foundry and Uncork Capital. https://axios.link/3R8sNlf
• Aedifion, a German provider of energy usage management solutions for commercial properties, raised €12m in Series A funding. World Fund and BeyondBuild co-led, and were joined by Hopp. Bauwens, Drees & Sommer, Momeni Venture, BitStone Capital and Phoenix Contact Innovation Ventures. www.aedifion.com
• Elaborate, a New York-based platform that helps doctors communicate and contextualize lab results to patients, raised $10m in seed funding. Tusk Venture Partners led, and was joined by Founder Collective, Company Ventures, Bling Ventures and Arkitekt Ventures. www.elaborate.com
🚑 People Science, an LA-based R&D platform for alternative medicines, raised $5.3m in second-round funding, as first reported by Axios Pro. Acre Venture Partners led, and was joined by Bluestein Ventures, THIA Ventures and FORM Life Ventures. https://axios.link/3R6DXa9
🚑 Uptime Health, a Boston-based medical device startup, raised $4.5m in Series A funding co-led by Wavemaker 360 and Caduceus Capital Partners. www.uptimehealth.com
• Ethos Wallet, a crypto wallet based on the Sui blockchain, raised $4.2m in seed funding. Boldstart Ventures and Gumi Cryptos Capital co-led and were joined by Tribe Capital, Matrix Port and AllianceDAO. https://axios.link/4085P1N
• Caura, a British app for drivers to manage administrative tasks, raised £4m from Lloyds Banking Group. https://axios.link/3kJXvFb
• Salv, an Estonian crime monitoring and compliance platform, raised €4m in seed extension funding. ffVC led and was joined by G+D Ventures. https://axios.link/3jb9ECz
🚑 Free From Market, a Kansas City-based digital health startup focused on personalized food access and selection for lower-income users, raised $2.1m in seed funding. Bluestein Ventures led, and was joined by Acumen America, Beta Boom, KCRise Fund, 1st Course Capital and Asset Blue Ventures. www.freefrommarket.com
Private Equity Deals
🚑 Capsa Healthcare, a Portland, Ore.-based portfolio company of Levine Leichtman Capital Partners, acquired Canadian mobile hospital work station provider Tryten Technologies. www.tryten.com
• CFM, a Tempe, Ariz.-based portfolio company of OceanSound Partners, merged with NXTsoft, a Birmingham, Ala.-based provider of workflow API connectivity solutions for fintech. www.whycfm.com
• Permira acquired a majority stake in Acuity Knowledge Partners, a London-based consultant to the financial services market, from Equistone. www.acuitykp.com
• Shrieve Chemical, a The Woodlands, Texas-based portfolio company of Gemspring Capital, acquired Chem One, a Houston-based provider of dry chemicals. www.shrieve.com
Public Offerings
⚡ TXO Energy Partners, a Fort Worth, Texas-based oil and gas producer, raised $100m in its IPO. The company priced 5m shares at $20 (middle of its range), and will list on the NYSE (TXO). https://axios.link/3wwmA9g
SPAC Stuff
• Rockley Photonics, a Pasadena, Calif.-based maker of silicon photonics chipsets that went public last year via SPAC, filed for Chapter 11 bankruptcy protection. It previously had raised around $280m from backers like Morningside Ventures, Applied Ventures and SIG-i Capital. https://axios.link/3DgfRny
• Twelve Seas Investment IV TMT, a SPAC led by Neil Richardson (North Sea Capital, Lion Capital), withdrew registration for a $200m IPO. https://axios.link/3HgxYLg
More M&A
• Bosch of Germany agreed to increase its stake in listed Swedish power products maker Husqvarna to 12%. https://axios.link/3XNlBgP
🎬 Cineworld, the bankrupt British cinema operator that owns Regal, reached out to 30 potential buyers with bids due by Feb. 16. https://axios.link/3wuUkUm
• Danone (Paris: BN) will launch an auction for U.S. yogurt brands Wallaby and Horizon Organic. https://axios.link/3XJwksy
• Monde Nissin, a Philippines-based noodle maker, acquired a 15% stake in coffee chain and restaurant operator Figaro Coffee. https://axios.link/3JeoFOE
• OpenWeb, a social engagement platform for publishers that was valued by VCs at $1.5b, acquired Jeeng, a New York-based audience management platform, for $100m. Sellers include Genesis Partners, Battery Ventures and Maverick Ventures. https://axios.link/3HxZqW8
⚡ Shell (NYSE: SHEL) said it's considering a sale of its energy retail businesses in Britain, the Netherlands and Germany. https://axios.link/3Jk1cvs
• Vencora, a Toronto-based fintech acquisition platform, acquired Quarzo Tecnología, a Costa Rica-based provider of software for savings funds, mutual funds and cooperatives. https://axios.link/3ZXf58G
🚑 Walgreens (Nasdaq: WBA) is considering a sale of its iA pharmacy automation business, which could fetch up to $2b, per Bloomberg. https://axios.link/3kKvr4x
Fundraising
• Tritium Partners, an Austin, Texas-based lower midmarket PE firm, raised $684m for its third fund. www.tritiumpartners.com
• Volition Capital, a Boston-based growth equity firm, raised $675m for its fifth fund. www.volitioncapital.com
It's Personnel
• Linse Capital, a Puerto Rico-based PE firm focused on industrial technologies, promoted Dario Constantine to principal. www.linsecapital.com
Final Numbers
The bankruptcy of mattress maker Serta Simmons, which we discussed earlier this week, pushed the leveraged loan default rate for the consumer products sector to 8.8%, per Fitch Ratings.
The adjacent retail sector's leveraged loan default rate is at just 0.5%, although Fitch's Eric Rosenthal tells Axios Pro's Richard Collings that he expects that to rise to 5% by year-end.
Retail hasn't been hit by the bankruptcy of Party City or the new default notice for Bed Bath & Beyond, because both are more heavier on junk bonds than leveraged loans.
Thanks for reading Axios Pro Rata, and to copy editors Mickey Meece and Bryan McBournie! Please ask your friends, colleagues and steelmakers to sign up.