Boston Metal nets $120M, backed by Microsoft, ArcelorMittal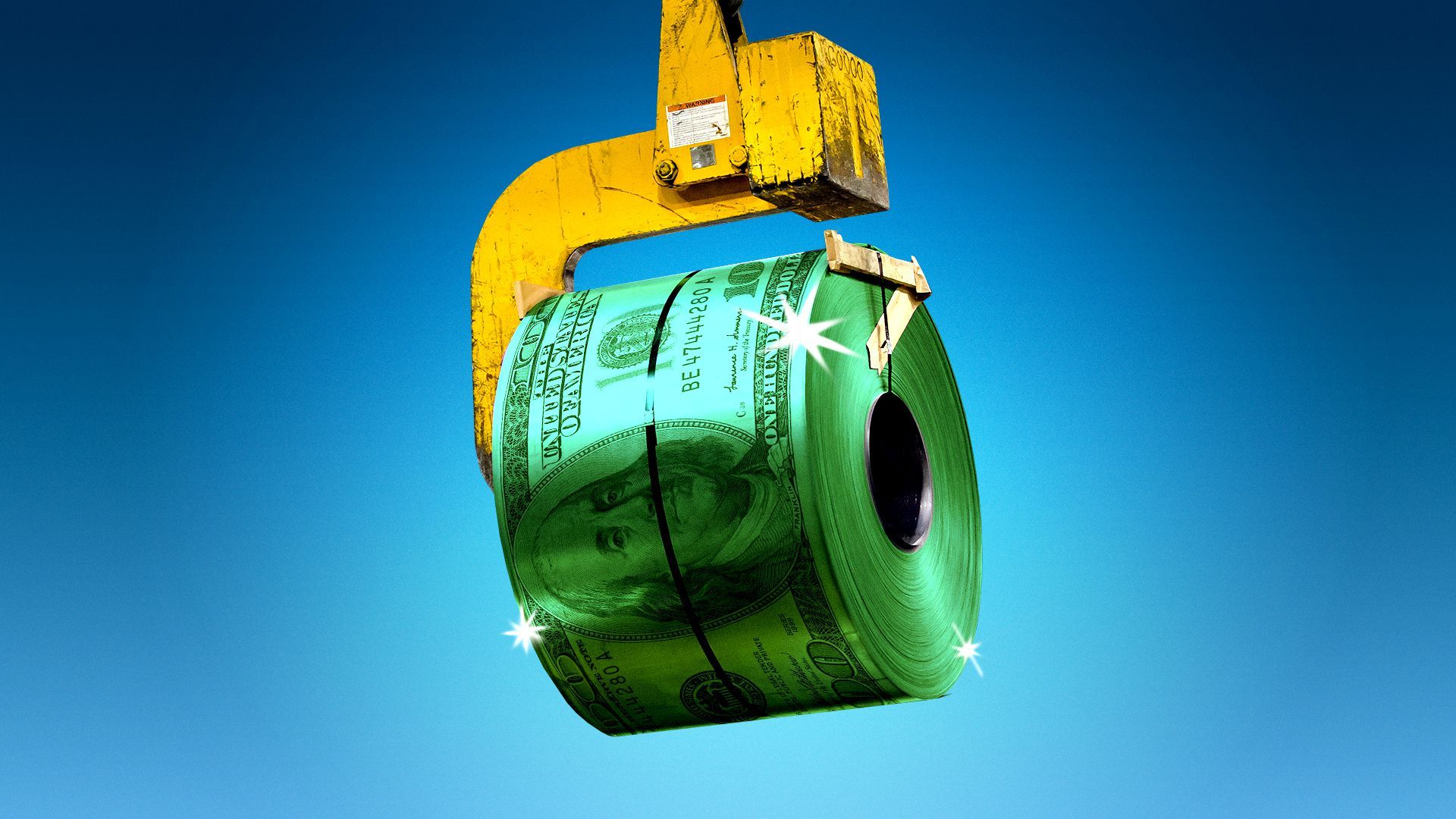 Boston Metal held the first close of a $120 million Series C today for tech it says can fully decarbonize steel production through electrolysis.
Why it matters: Steel is one of the most widely used construction materials, and its production puts it among the heaviest polluting industries in the world.
What's happening: ArcelorMittal, a multi-national steelmaker based in Luxembourg, led the round. The first close for the all-equity round was yesterday.
Two new investors participated — Microsoft's Climate Innovation Fund and SiteGround Capital — joining the company's existing investors.
ArcelorMittal's Irina Gorbounova, and Rick Cutright of existing investor OGCI Climate Investments, joined the company's board of directors.
Boston Metal declined to disclose its valuation. To date, the company has raised about $210 million in equity rounds and about $10 million in government grants.
How it works: Traditional steelmaking uses blast furnaces that require huge amounts of heat and power to break down iron ore.
Some green steel companies, such as Blastr Green Steel in Norway and H2 Green Steel in Sweden, incorporate hydrogen to reduce emissions.
Boston Metal instead uses "molten oxide electrolysis" to break down iron. The process only requires electricity, meaning it can be powered with renewables.
Of note: If electrolysis sounds familiar, that's because it's commonly used in hydrogen production.
Electrolysis can separate hydrogen and oxygen molecules from water, resulting in hydrogen fuel. In Boston Metal's approach, it separates iron from the oxygen in iron oxide that's contained in iron ore.
NASA in 2019 speculated that molten oxide electrolysis could be used for mining on the Moon.
What's next: Boston Metal is ultimately pursuing a licensing play with steel producers. It aims to commercialize its technology by 2026.
The Series C capital will fund expansion of a pilot facility at Boston Metal's headquarters Woburn, Massachusetts, and the preliminary design of the company's first green steel plant.
ArcelorMittal, the steelmaker and lead investor, can exercise a right to establish the first steel production facility using the technology.
Meanwhile, Boston Metal is building a facility to recover high-value metals from mining at its Brazilian subsidiary, Boston Metal do Brasil.
Boston Metal expects first earnings from the subsidiary this year.
Go deeper