Axios New Orleans
October 04, 2023
🥬 Hello, Wednesday. It's National Kale Day.
Today's weather: Sunny with a high of 87. The cold front should arrive late Friday.
🎧 Sounds like: "Salt & Light" by Lauren Daigle
🤳 Situational awareness: The feds are doing an emergency alert test at 1:20pm today for all cellphones, TVs and radios. Your phone may make a loud noise if you have alerts enabled.
Today's newsletter is 846 words — a 3-minute read.
1 big thing: 🧂 Salty school report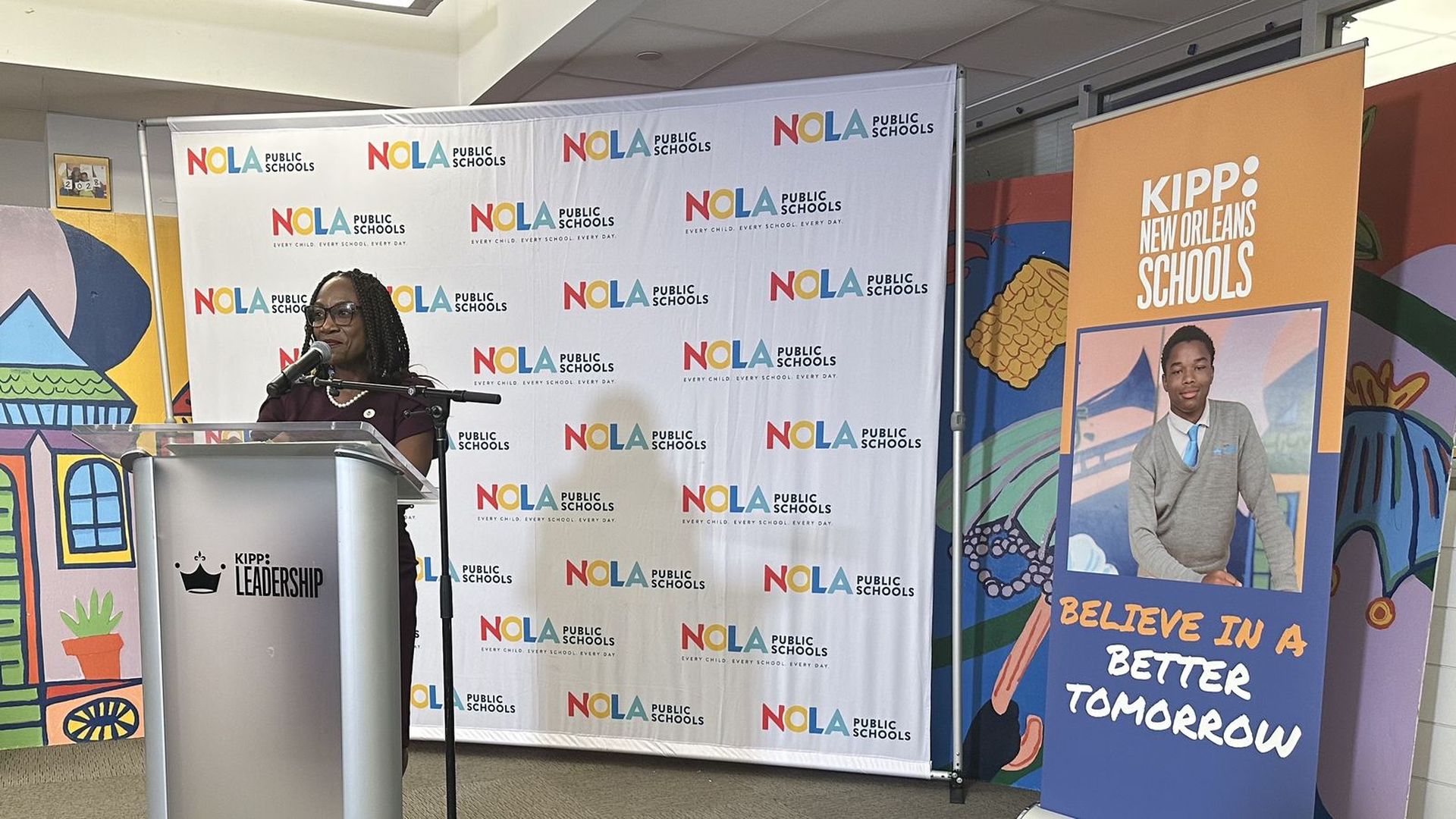 NOLA Public Schools officials are working on plans to keep running "business as usual" should salt water impact the water supply.
The big picture: The system is responsible for 43,000 students.
Catch up quick: Saltwater intrusion in the Mississippi River threatens New Orleans' drinking water.
Mitigation strategies are in the works to keep potable water flowing in homes and businesses, but concern among locals is still growing.
Where it stands: Water fountains in schools filter out microorganisms, lead and sediment, says NOLA Public Schools superintendent Avis Williams, but they do not filter salt.
The latest: Williams said at a press conference yesterday that she is in contact with city and state officials as they monitor the salt's approach.
She is also in touch with Jefferson Parish Schools superintendent James Gray should the two systems need to share information and resources, Williams says.
NOLA Public Schools are monitoring potential impacts on drinking water, meal prep and infrastructure.
If needed, school officials will cover water fountains, purchase heat-and-eat meals and distribute bottled water for students and staff, Williams says.
The Mahalia Jackson Center and McDonogh 35 Senior High School would serve as water distribution centers for the schools.
Officials are also considering purchasing reverse osmosis filters for kitchen equipment.
The biggest infrastructure concern, said NOLA Public Schools COO Don LeDuff, is the impact of salt water on HVAC systems, particularly if they are exposed to salt over a long period of time.
What's not happening: Williams does not expect schools to switch to remote teaching.
Of note: A NOLA Ready webinar aimed at informing businesses about saltwater intrusion is scheduled for 10am tomorrow.
Go deeper: Bids for the New Orleans pipeline plan are in review, a New Orleans Sewerage and Water Board spokesperson says.
2. Council delays vote on mayor's spokesman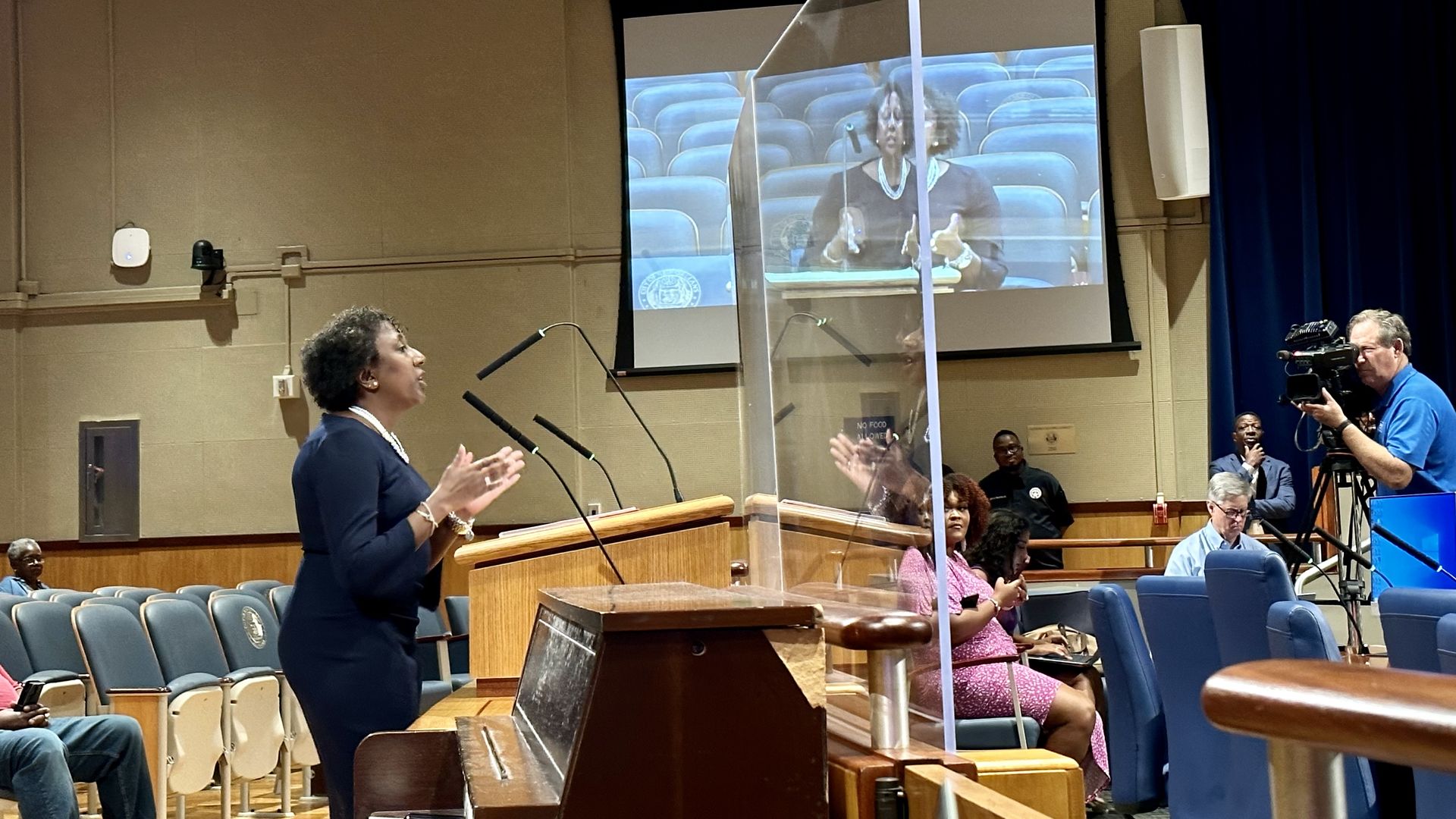 The New Orleans City Council delayed the vote yesterday on the future of Mayor LaToya Cantrell's spokesperson Gregory Joseph until later this month.
The latest: Joseph did not appear at a special meeting of the City Council convened to determine his fate.
Instead, city attorney Donesia Turner made a "limited purpose" appearance on behalf of Cantrell and Joseph and requested a two-week continuance so Joseph could secure an attorney.
The council voted unanimously to grant the delay. Members noted it will likely be the last before they vote on whether to fire him. The vote is now slated for Oct. 17.
Yes, but: Council members weren't happy Joseph did not appear. Instead, Joseph posted a message on Instagram 30 minutes before the hearing in what council president JP Morrell described as a "taunt."
"Honestly, this is Donald Trump-level of insane," Morrell, a Democrat, said.
Joseph yesterday afternoon told Axios he was at work but declined to comment further.
Context: The council on Sept. 12 formally charged Joseph with "incompetence, neglect of duty and gross misconduct" stemming from pro-Cantrell, taxpayer-funded pamphlets he sent during the recall effort.
Joseph was scheduled to give his defense yesterday before the vote.
3. 💰 Fully Dressed: $19.5M condo for sale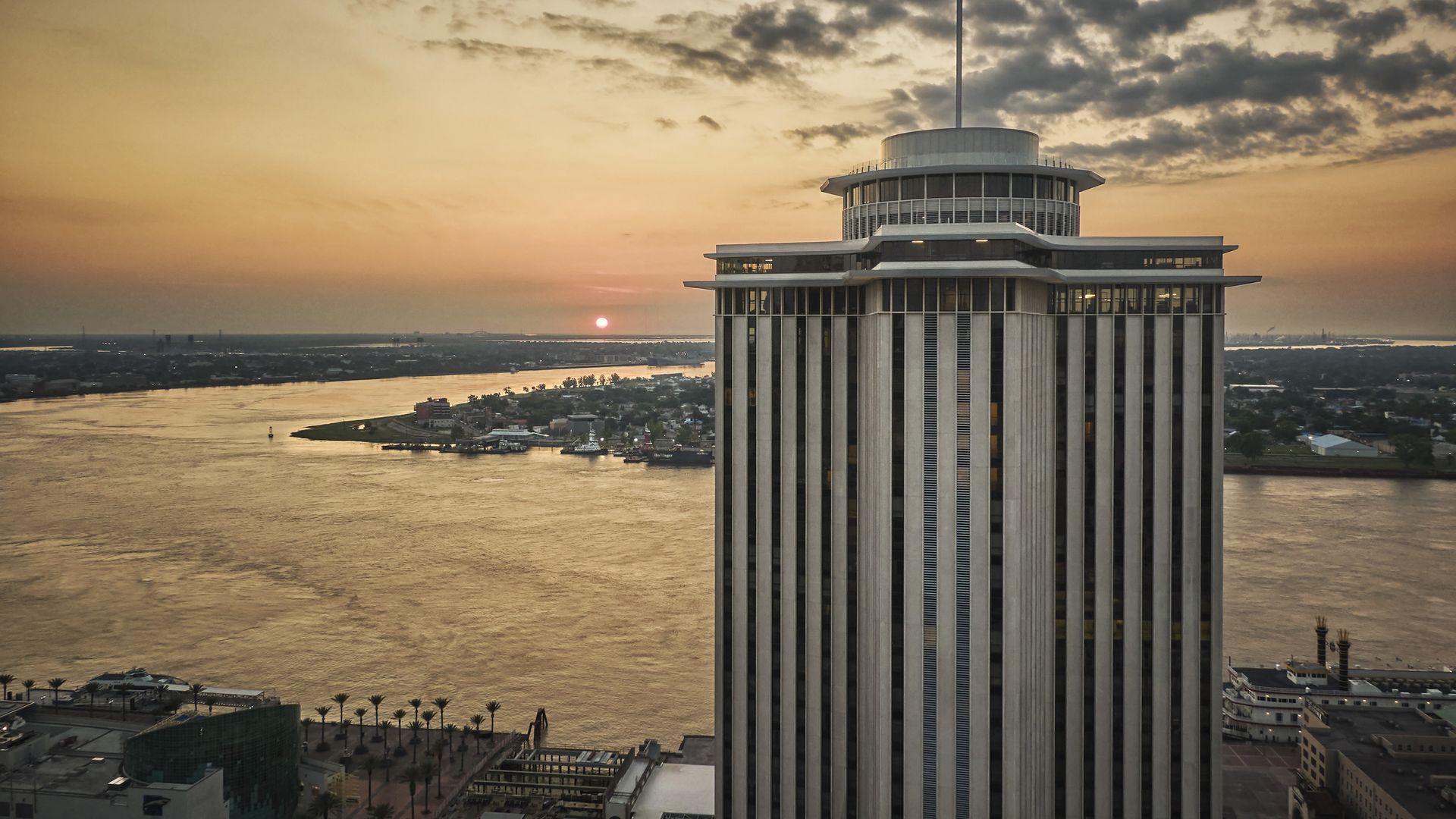 💰 Boysie Bollinger and his wife, Joy, are selling their Four Seasons penthouse for $19.5 million. They set the previous state record for the most expensive condo when they bought it unfinished for $13 million. (WSJ)
🪩 Beyoncé's "Renaissance World Tour" hits North American theaters on Dec. 1. Tickets to see the movie version of the tour will cost $22 plus tax. (Axios)
New Orleans plans to close encampments for houseless people and use federal funding to pay for subsidized apartments for them. (NOLA.com | The Times-Picayune🔒)
🍊 Citrus farmers in Belle Chasse are scrambling to find ways to irrigate as salt water threatens their orchards. (AP)
4. 🍎 Best thing we ate: Mister Apple's candy apple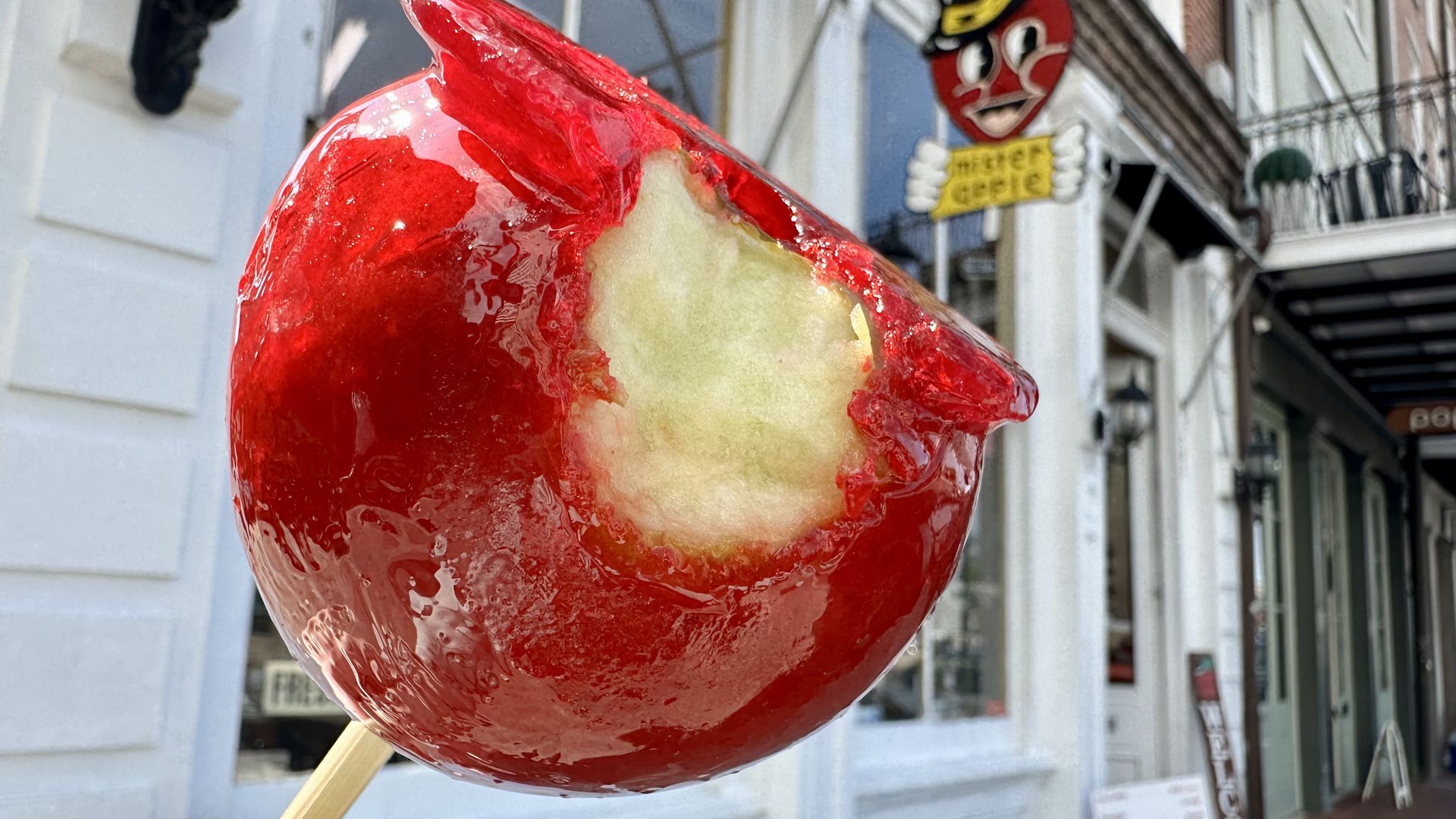 👋🏼 Carlie here. It's still too hot to wear flannel, but at least we can eat like it's fall.
Mister Apple in the French Quarter scratches that itch, making fresh candy apples that are better than any pumpkin spice latte.
My order: Red candy apple ($5.50).
The tart Granny Smith apple is huge, covered in a hard red candy shell and served on a stick for easy eating. I bit right into it on the streets of the Quarter, but you can be polite and cut it into slices for sharing.
Worth noting: Mister Apple is a Black-owned business that's been serving homemade candy apples, pralines, dipped marshmallow sticks, Blue Bell ice cream and other treats since 2008, owner Tim Martin tells Axios.
5. 🔨 River District set to break ground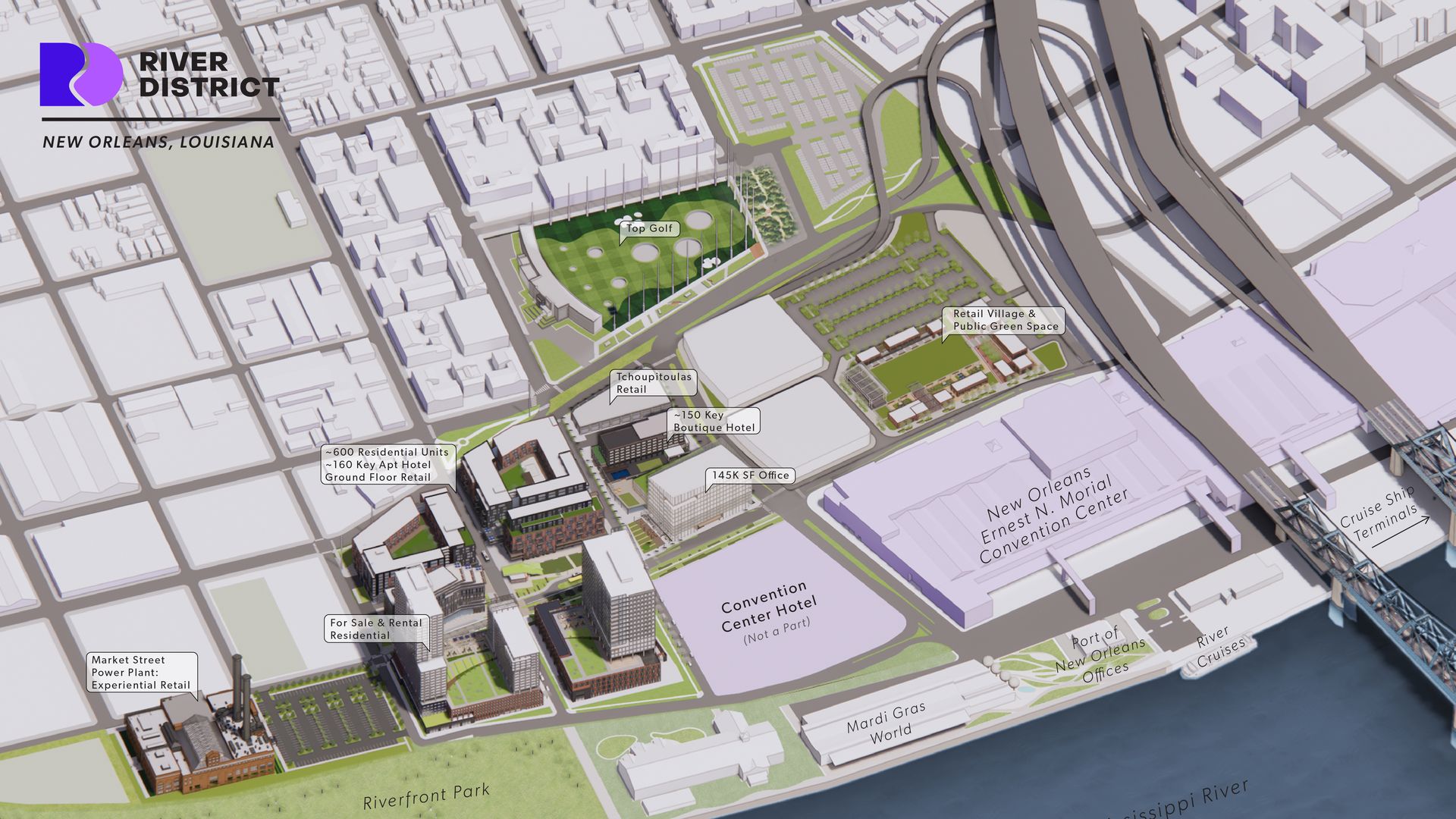 Developers expect to break ground on the River District development in New Orleans by the end of the year.
Why it matters: The massive project will bring into commerce a long-empty stretch of greenway between downtown and the Irish Channel.
The project will include Shell's new building, a Topgolf facility, entertainment venues, green space, retail, at least one hotel and housing.
By the numbers: Developers say the River District will generate $43 million in new tax revenue and more than $1 billion in overall economic activity.
Construction will create 9,000 jobs, developers say, and the completed project will create 6,000 jobs.
😁 Chelsea was delighted to catch up with an old friend this week, who gave her a new book to read: Colson Whitehead's "The Intuitionist."
🎃 Carlie loves October and thinks you can never have enough pumpkins.
🍁 Tell a pumpkin spice latte fan to subscribe.
Thanks to our editor Fadel Allassan and copy editor Steven Patrick.