Good morning and happy Tuesday. Thanks for subscribing to Axios Media Trends. Send tips and ideas to sara@axios.com and tell your friends and colleagues to join the conversation by signing up here.
https://www.axios.com/newsletters/axios-media-trends-c00024b1-27e6-4326-a8a4-694a367c3b22.html?chunk=0#story0
1. How consumers could get shafted by new media
Proponents of major media mergers say that consumers will benefit if regulators approve the deals. But consumers, especially those who can least afford it, could get screwed by these deals:
It takes a very savvy consumer to distill which new services and packages will actually provide the most value, especially given the rapid pace of innovation.
Low-income consumers will be uniquely affected by some of the changes that could go into effect from these massive deals and regulations.
While new "skinny" packages may look cheaper, the total cost of broadband, bundles, and many smaller add-on packages could end up costing consumers more in the long run.
Why it matters: Multi-billion-dollar deals — along with regulatory changes such as the repeal of net neutrality rules — are often justified as ways to spur innovation and increase consumer choice, but consumer advocates argue the actions could actually make access to some popular content more expensive. The real question: Is choice at the expense of price really giving consumers what they want?
Go deeper: Read more in the Axios stream.
https://www.axios.com/newsletters/axios-media-trends-c00024b1-27e6-4326-a8a4-694a367c3b22.html?chunk=1#story1
2. The irony: There's more content choice than ever before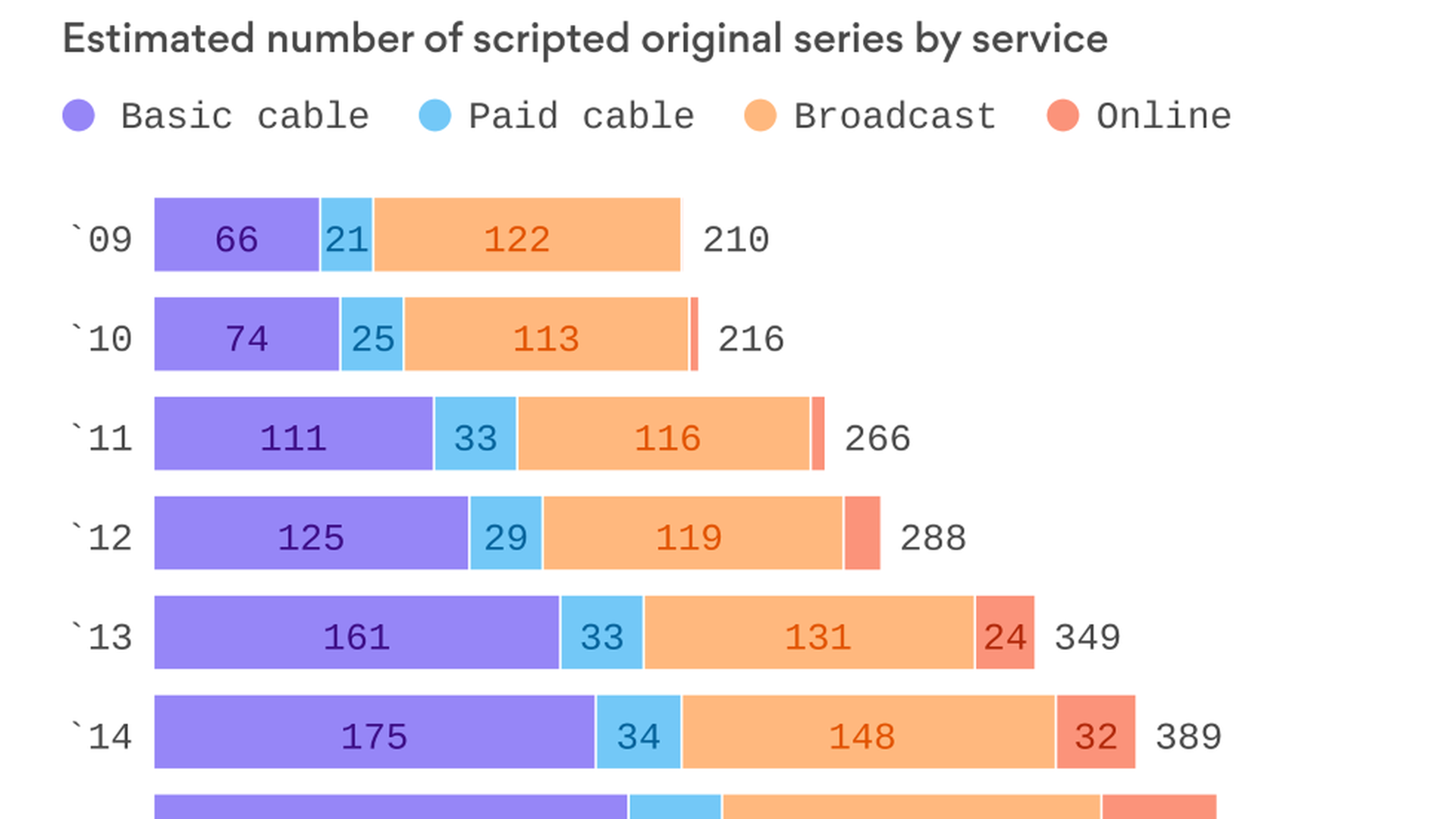 More than 500 scripted TV series will be produced this year, experts estimate, up from around 200 scripted TV series in 2010. But consolidation and regulatory changes could make it more expensive to access, and too many choices can be difficult for consumers.
Sifting through the options: Consumers are having to become more savvy about managing an overwhelming amount of new content and content sources, according to a new PwC study out Monday:
55% of cord trimmers "regularly" subscribe to a trial version of services
33% don't typically keep the subscription after the trial period is over
81% of focus group participants say they share passwords with friends and family
https://www.axios.com/newsletters/axios-media-trends-c00024b1-27e6-4326-a8a4-694a367c3b22.html?chunk=2#story2
3. TV goes to war with tech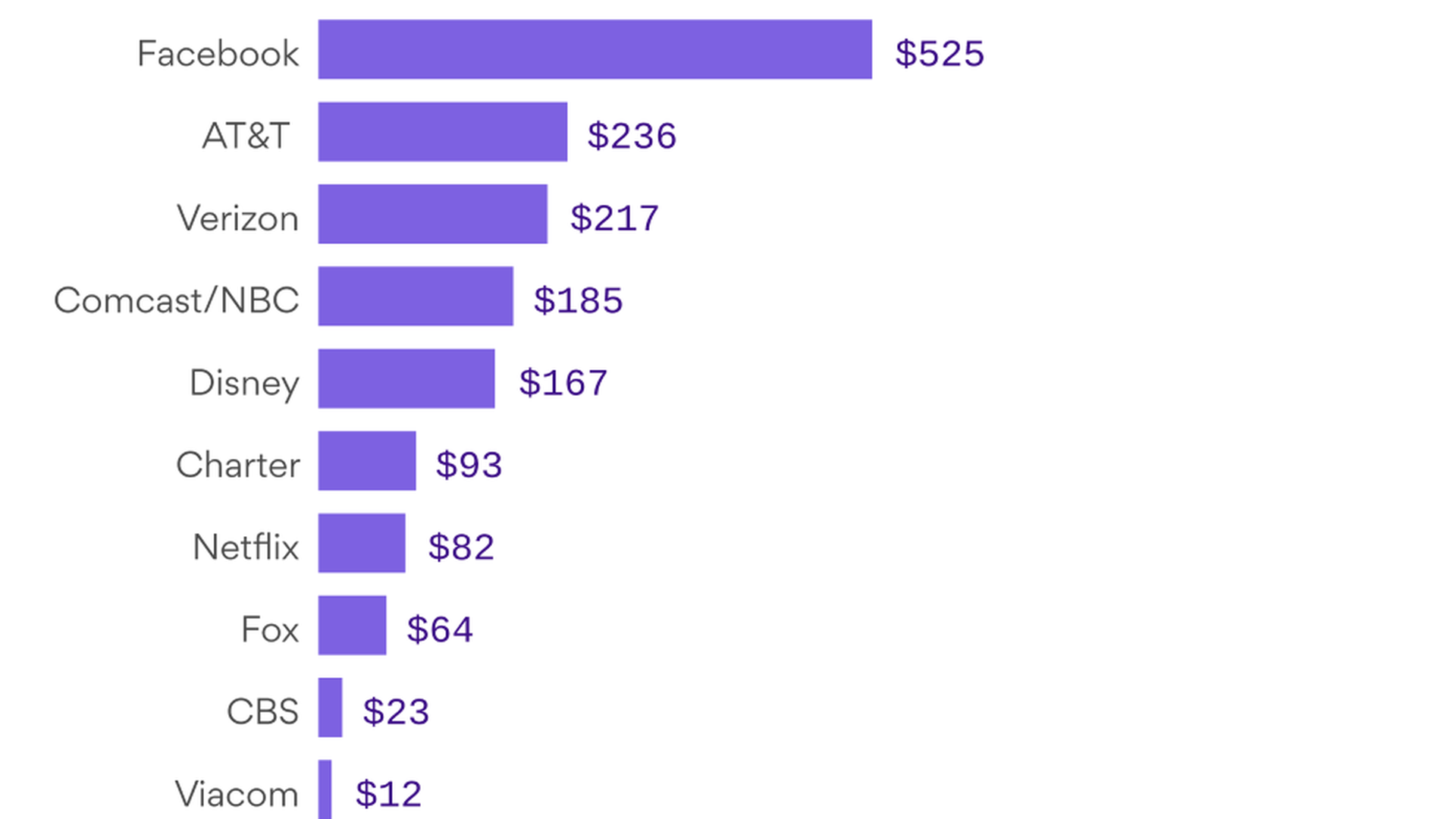 Disney's acquisition of Fox's entertainment assets are another example of TV networks scaling to keep up with tech giants like Netflix and Amazon. Networks consolidating or exploring consolidation:
Discovery Communications, Inc. announced this summer that it's buying Scripps Networks Interactive for $14.6 billion.
Sinclair Broadcast Group announced the acquisition of Tribune Media for $3.9 billion this spring.
Time Warner Inc. reached an agreement to sell to AT&T for $85.4 billion last year.
Lionsgate acquired Starz for $4.4 billion last year.
What about CBS? "With all of its rivals on the move, the TV-network operator needs to find a partner. It has several options," Bloomberg's Tara Lachapelle argues:
The Hollywood route: Lions Gate. "Buying Lions Gate Entertainment Corp. would solve this (give CBS access to a major film studio), as well as give it a business that's even more highly valued by investors."
Going vertical: Verizon. "It's the one potential deal that's truly financially feasible, as opposed to his musings about a Disney or Comcast Corp. merger."
Keeping it in the family: Viacom. "Now that (Viacom) CEO Bob Bakish has made a small bit of progress, there's hope that Viacom can dig its way out of the ratings and debt doldrums. Perhaps a reunion could be a way for CBS to gain more millennial-driven content and a bigger international footprint (one of the draws of the Disney-Fox deal) -- plus it would provide CBS with a film studio."
https://www.axios.com/newsletters/axios-media-trends-c00024b1-27e6-4326-a8a4-694a367c3b22.html?chunk=3#story3
​4. Shot: Facebook's year of outrage politics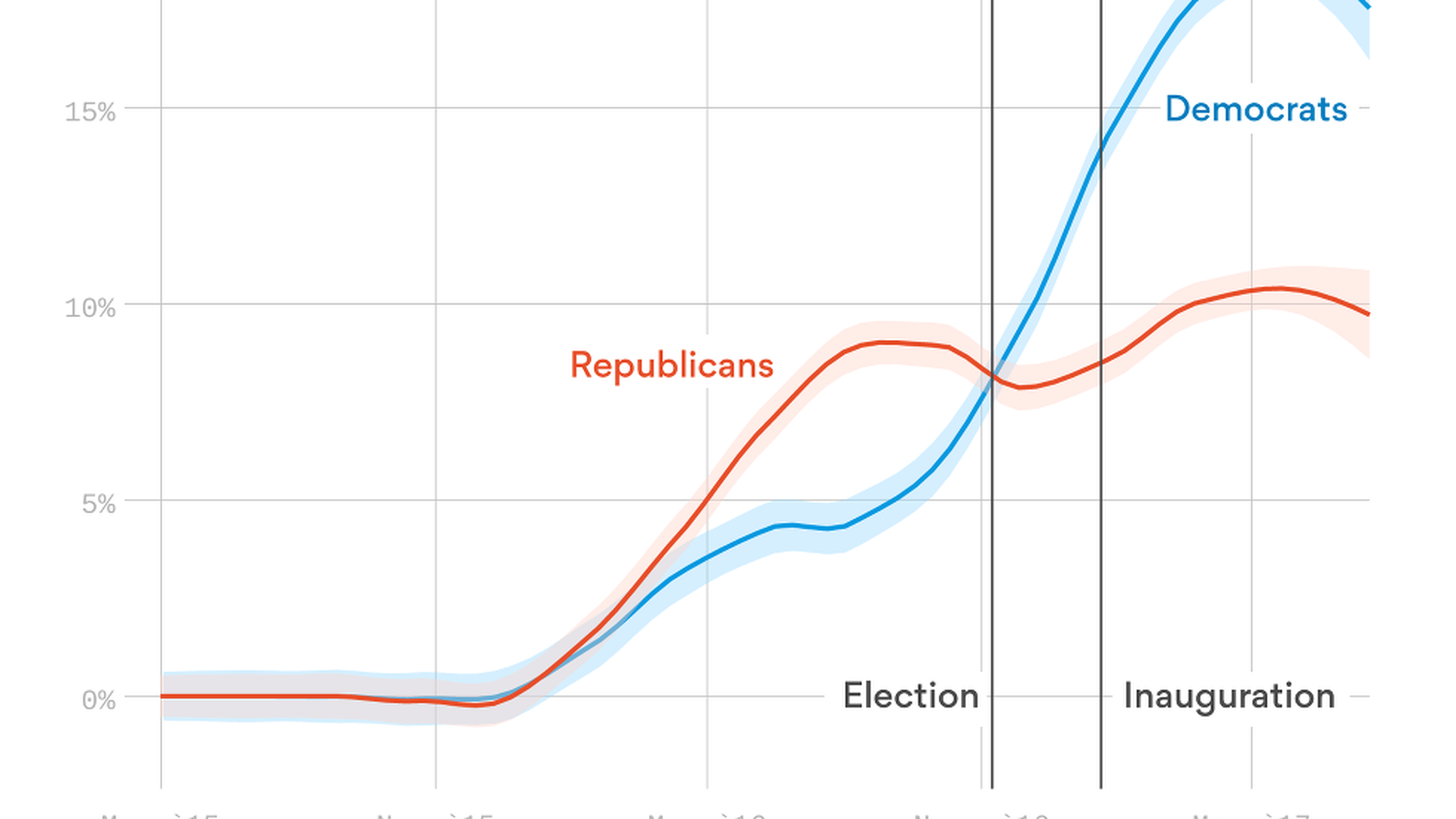 New studies about engagement with congressional Facebook posts and hyper-partisan Facebook pages show that information shared by partisan sources is increasingly leading to angry reactions.
A new study from Pew Research Center finds:
The proportion of reactions from Facebook audiences to Democratic officials' posts that used the "angry" button more than tripled after the election.
Republicans' "angry reactions" stayed pretty much the same before and after the election, hovering around 10%.
The analysis mimics findings from NewsWhip, a social analytics company, that show a high proportion of "angry face" reactions to likes for these hyper-partisan political pages on Facebook. These publishers "are highly adept" at getting their followers to react with strong emotion rather than just a like, per NewsWhip.
https://www.axios.com/newsletters/axios-media-trends-c00024b1-27e6-4326-a8a4-694a367c3b22.html?chunk=4#story4
5. Chaser: Facebook cleans up the News Feed
Facebook announced yesterday that it will begin demoting individual posts from people and Pages (profiles of prominent people of businesses) that use slimy tactics to get people to engage with their content, such as using language that says "LIKE this if you were born in August."
Earlier this year, Facebook removed the advertising rights from Pages that continually published fake news and began down-ranking publishers that posted fake videos.
Why it matters: Facebook is tackling fake news and false information mostly from the lens of consumer deception and spam. This way, it doesn't have to worry about the possibility that limiting certain accounts from a content perspective might violate free speech.
Elsewhere on the web:
Twitter has been more aggressive in publicly going after specific accounts that it views as having violated its terms of agreement, but some of its efforts have been met with skepticism from free speech advocates. New comprehensive rules around bad accounts on Twitter went into effect yesterday, per Axios' Kia Kokalitcheva. Users reported seeing fewer alt-right/far right accounts.
Google announced Friday that it will purge sites that "misrepresent, misstate, or conceal information about their ownership or primary purpose," or "engage in coordinated activity to mislead users," including misrepresenting or concealing their country of origin.
https://www.axios.com/newsletters/axios-media-trends-c00024b1-27e6-4326-a8a4-694a367c3b22.html?chunk=5#story5
6. Gut Check: Facebook vs. Google traffic news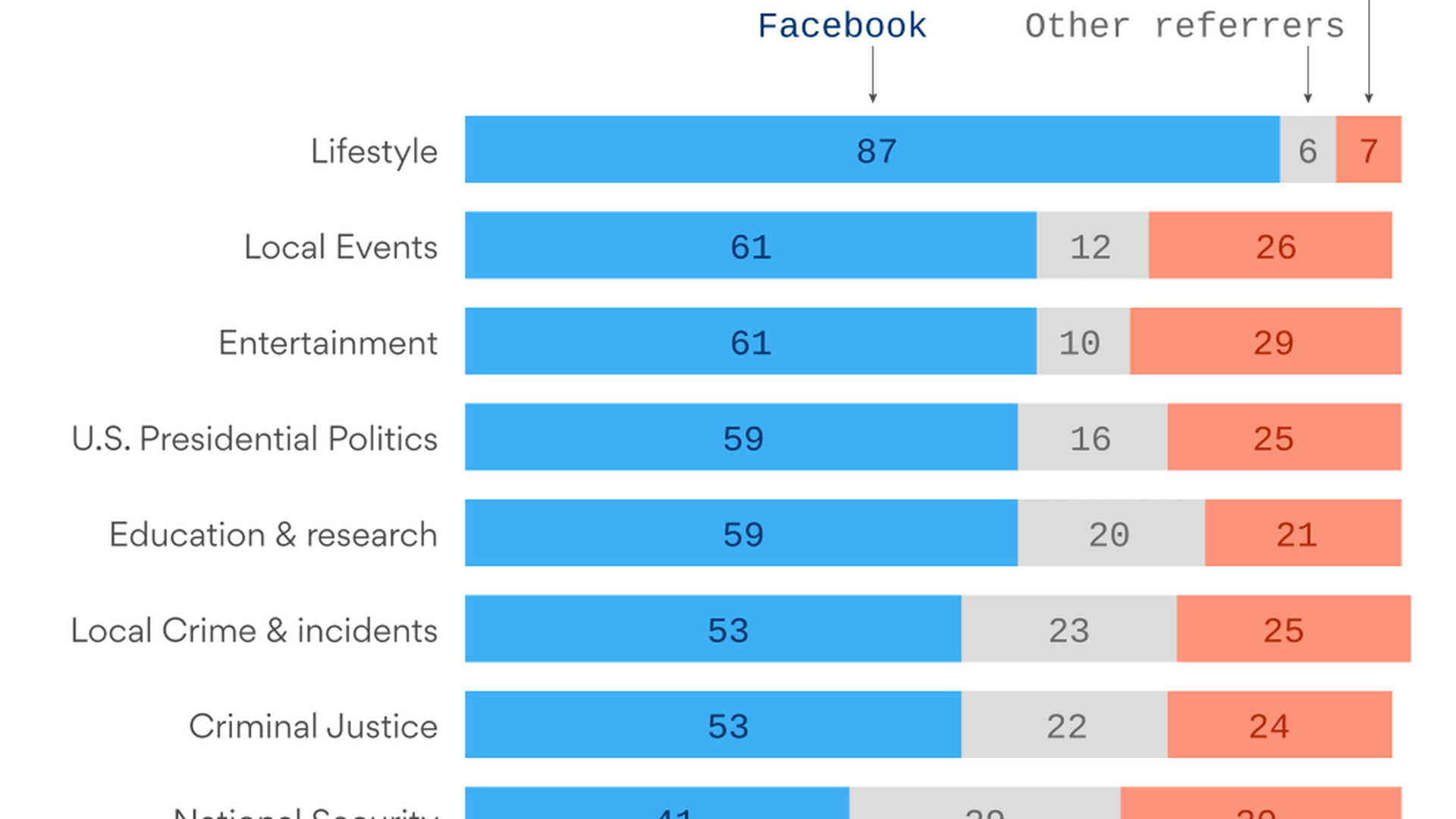 A study from Parse.ly earlier this year that shows how Facebook and Google drive traffic differently in the ecosystem is worth revisiting. Notice state and local politics traffic does better on Google, while national political news traffic, typically outrage-driven, is referred more by Facebook.
https://www.axios.com/newsletters/axios-media-trends-c00024b1-27e6-4326-a8a4-694a367c3b22.html?chunk=6#story6
7. 1 delicious thing: Cooking for subscriptions
The New York Times has more than Donald Trump to thank for its subscription surge. As of Q3 2017, NYT now has 3.5 million total paid subscriptions (up from roughly 2 million two years ago).
The company added 154,000 total net new digital subscriptions last quarter.
26,000 of those subscriptions came from its Crossword product.
23,000 came from Cooking.
Why it matters: Digital publishing is no longer just an ad-driven business, and successful outlets will leverage all of their intellectual property and repackage it in new ways to make money.
NYT Cooking has become a brain trust of revenue opportunities. The Cooking newsletter now has 1.7M subscribers, and can be sold for sponsorship. The Times recently launched gift subscriptions for NYT Cooking, offering one year of unlimited access for $40. It's also selling a NYT Cookbook.
Engagement with Cooking online continues to climb. Cooking saw roughly 5-10% growth in traffic year over year in November. The number of recipe-savers grew roughly 40-50% in the same time. Recipe searches were also up 80% year over year in November.
The push to monetize NYT's massive recipe archive began in 2014. It took the company roughly four months to convert all of its recipes for their current NYT Cooking hub, which boasts over 18,000 tested and curated recipes from Times journalists past and present.
What's next: In 2018, expect an explosion of products from newsrooms that will deliver revenue in many different formats, from e-commerce to subscriptions to books to access.
https://www.axios.com/newsletters/axios-media-trends-c00024b1-27e6-4326-a8a4-694a367c3b22.html?chunk=7#story7
8: BONUS: Your kids will get it
It's been only a few months since HQ Trivia, the buzzy trivia game show app, shot up in popularity — and it already has multiple clones, like The Q, G.O.A.T., Showtime, and Genius, Axios' Kia Kokalitcheva reports.
No surprise: Like everything else in the social app cycle, it was only a matter of time before this happened. In fact, whether HQ Trivia can survive copycats, especially from major players like Facebook, has been the biggest question as the app's popularity has soared.
Go deeper: HQ Trivia is part of a larger recent trend — quiz apps of various kinds.