Axios Media Trends
July 14, 2020
Today's Media Trends is 1,889 words, a 7-minute read. Sign up here.
Tomorrow at 12:30 p.m. ET, I'll be moderating an event on small businesses and the pandemic with Axios Cities Correspondent Kim Hart. I'll be talking to Austin Steve Adler about his decision to pull the plug on #SXSW. Join us.
Tomorrow at 2:00 p.m. ET, I'll be joining Kara Frederick of the Center for a New American Security to talk about digital media manipulation - and challenging you to spot the difference between what's real and fake. Tune in here.
⚡️: Hong Kong Disneyland will close again after reopening last month from a coronavirus-driven shutdown that began in January. Movie theaters have also shut down again.
1 big thing: The New York Times doubles down on TV and film ambitions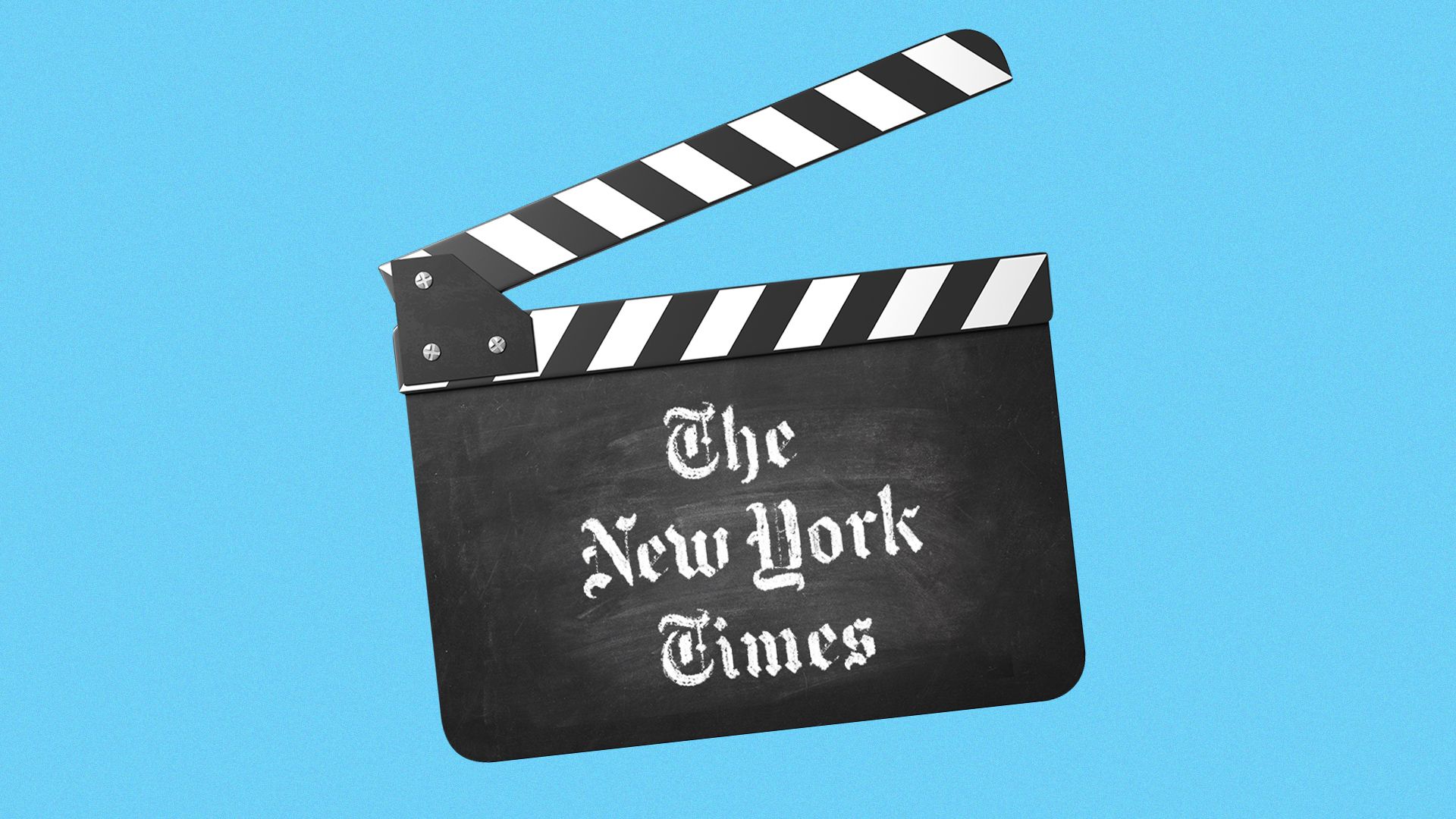 One of the country's oldest and most established media companies is starting to look more like a Hollywood studio than a traditional newspaper.
Driving the news: The New York Times has 10 scripted TV show projects in development, as well as 3 feature documentaries coming out this year and several other documentary projects in development and production, executives tell Axios.
Why it matters: The company has been relatively quiet about how seriously it has taken its TV ambitions over the past year, in part so that it doesn't set itself up for too much scrutiny in experimentation mode, sources tell Axios.
Details: The Times recently announced a slew of new projects that are being green-lit for air, including:
Catch up quick: The Times first got its start in TV when it adapted its "36 Hours" travel column into a show for the Travel Channel back when most digital publishers weren't yet licensing many shows for streaming companies.
It beefed up its TV ambitions a year ago when it launched "The Weekly" on Hulu, in conjunction with FX.
This year, it premiered its first two feature-length documentaries at the Sundance Film Festival and expanded its team to produce more content in-house.
"We are not just passively licensing our IP (intellectual property). We do do a piece of optioning and licensing but we also produce more projects," says Caitlin Roper, editorial director of The New York Times Magazine Labs.
Audio paved the way for The Times to get its talent on board. "Five years ago, people didn't know what to make of being asked to be on a podcast," says Borenstein.
"Now thats it's successful, when Caitlin asks reporters to be on a show, they understand the power of bringing The Times' journalism to new mediums."
The big picture: "Digital publishers have emerged as valuable goldmines of IP to be pursued for TV at scale," says Chris Jacquemin, Head of Digital Content at WME, an agency within Endeavor.
Jacquemin and his team at WME have signed at least 30 digital publishing clients over the past year to work with on TV deals, including ATTN:, Tastemade, Refinery29, Vox Media, and The Athletic.
Be smart: Agencies often help publishers skip development deals and go straight to production deals, saving publishers time and money.
The Times was previously represented by WME and is now represented by Anonymous Content for its TV and licensing deals.
2. Competitors ready to pounce on TikTok bans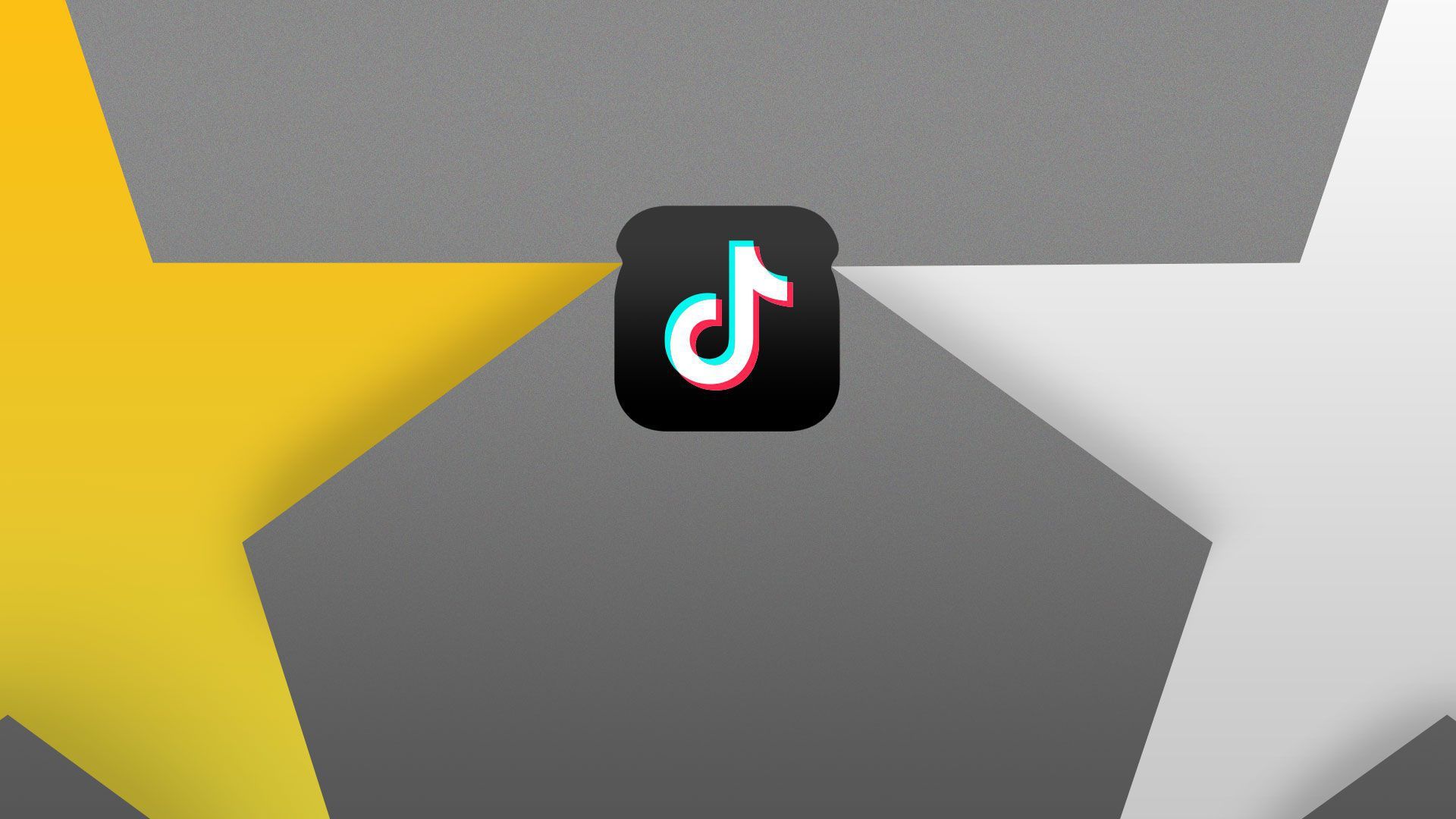 Growing security and privacy concerns over Chinese-owned short-video app TikTok have given a lift to alternatives like Byte and Dubsmash, which have seen spikes in downloads from smartphone users recently, according to data from SensorTower.
Why it matters: If TikTok's meteoric rise in popularity among U.S. youth gets slowed by rising tensions with China, or ended by a threatened ban by the Trump administration, American teens will still have to get their hits of meme-laden video somewhere, Axios' Kia Kokalitcheva writes.
Snapchat is testing a TikTok-style navigation for exploring content, per TechCrunch. The test is focused on public video content within its content arm Discover, not private content sent amongst friends.
Byte, which launched in January and was created by former Vine co-founder Dom Hofmann, experienced a bump in downloads a few days ago following President Trump and Secretary of State Mike Pompeo's talks about possibly banning TikTok in the U.S.
Dubsmash, an older lip-sync video app, has seen a resurgence in downloads following the news of a possible ban.
The big picture: TikTok is getting pulled into the deadly serious geopolitical conflict between China and the U.S., Axios' Scott Rosenberg, Margaret Harding McGill and I write.
More than any other Chinese-owned app, TikTok has found success outside of its homeland. But as the U.S. sounds security alarms and China turns the legal screws on Hong Kong, the company is fighting to prove that it's not beholden to Beijing — and to forestall a threatened ban by the Trump administration.
By the numbers: TikTok grew its monthly user base in India prior to the government ban last month by 328.8% year over year to 79.0 million in 2019.
This year, Business Insider forecasts that it will reach 124.9 million people, up 58.1%, and surpassing Instagram and Snapchat's reach in the region.
Be smart: More institutions continue to put pressure on users and employees to abandon TikTok, including India, U.S. military agencies and political parties, and some companies, like Wells Fargo.
3. A new era for sports rights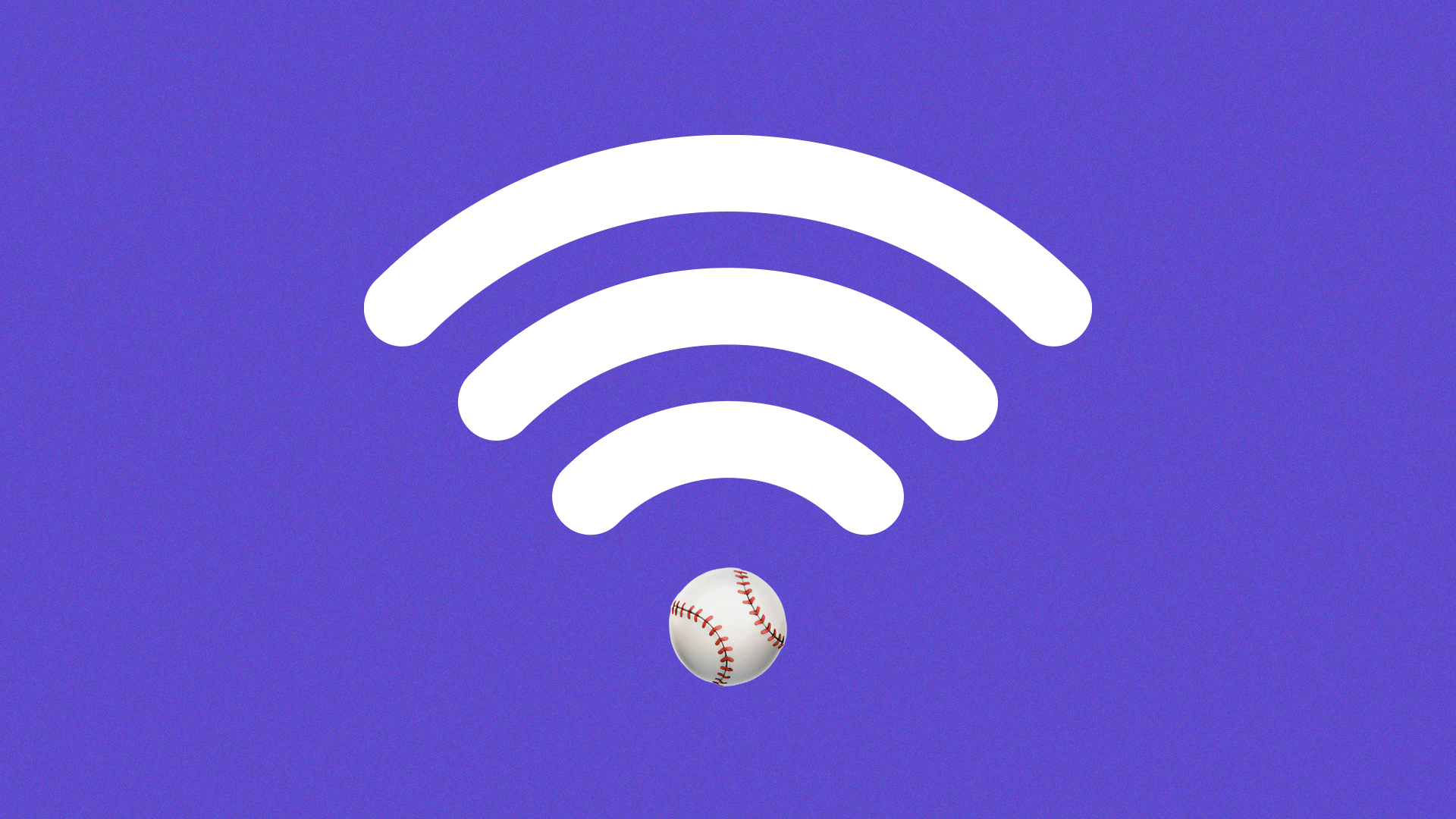 Global entertainment giant IMG Media is partnering up to give social media sports video company Wave.tv broad access to its sports licensing rights, executives tell Axios.
Why it matters: The deal speaks to a new generation of sports programming for younger people on social media who are avid sports fans but don't like sitting through long games on traditional TV.
Driving the news: Wave.tv, which is home to dozens of sports shows across platforms like Instagram, Snapchat, TikTok, Facebook and YouTube, will be able to access a broad range of IMG's licensed sports rights to use for its shows, including Euroleague Basketball and World's Strongest Man.
The partnership includes an overarching contract allowing Wave.tv to access IMG's owned content on a case-by-case basis, as well as individual contracts that include specific licensing agreements depending on the sport.
The companies will split the ad revenue that Wave.tv makes by airing these shows on social platforms.
The big picture: Over the last few years, a new crop of digitally-native sports media companies have popped up to create sports shows for younger generations of sports fans that aren't interested in watching hours-long coverage of games on live TV, including Overtime and Bleacher Report's House of Highlights.
What's next: Wave.tv is expanding to accommodate the flurry of new content rights deals, says Verne. It plans to hire 12-20 additional full-time employees to add to its existing 42 employees this quarter.
4. Watermarking the news
An international coalition of news and tech companies, including the AP, The Washington Post, Facebook and others, is partnering with a different coalition led by the BBC, CBC/Radio-Canada, Microsoft and The New York Times called Project Origin to fight fake news during the U.S. election.
The project aims to place digital watermarks on media originating from authentic content creators. The watermark will degrade when content has been manipulated.
The verification system will be deployed in the month leading up to the U.S. election.
The big picture: There are several initiatives that have simultaneously launched in the past two years that aim to place digital watermarks or labels on news stories to verify their authenticity. To name a few:
Digimarc Corporation researchers introduced a digital watermarking system to combat deepfakes in January.
Newsguard launched in 2018 to add "nutrition labels" to news websites.
Our thought bubble: With separate groups trying simultaneously to solve the same problem using similar labeling and watermarking tactics, it's hard to keep track of what's working and what various news partners should be implementing.
5. Live video duopoly challenged by upstarts
YouTube Live and Facebook Live are being increasingly challenged by upstarts, including Twitch, Twitter and Snapchat.
Why it matters: Three years ago, a survey from TV analysis company Magid found that consumers cited YouTube Live and Facebook Live most often as the platforms they use to stream live video.
Details: The survey doesn't measure hours watched on each platform but rather which platform people say they use, and respondents could select multiple services.
Twitch's hyper-loyal users, mostly gamers, view by far the most live-streamed hours, but according to the survey, fewer total people say they use it for live video.
Today, roughly 1/3 of people say that Facebook and Google-owned YouTube are where they go for streaming live video, compared to mid-40 percentage ranges for both platforms three years ago.
Survey respondents have checked fewer options overall for how many services they say they use to live-stream video. That suggests they are beginning to consolidate their viewing among fewer platforms.
Be smart: Gaming could have a lot to do with this shift, says Matt Bertz, vice president of games at Magid.
"There's a generation coming up in which connectivity is a central part of their lives. They've been playing interactive games with friends, like Minecraft and Fortnite, that required live connections. Live-streaming in general is just an extension of that."
6. Hedge fund wins McClatchy papers in bankruptcy auction
McClatchy, America's second-largest newspaper chain, announced Sunday that Chatham Asset Management, a New Jersey-based hedge fund, will take over the company's assets as a result of its bankruptcy auction.
Why it matters: It's the latest step in the gradual dismantling of an industry that used to be controlled by local families with civic roots and has now largely passed into the hands of bottom-line-focused private equity managers.
The Sacramento, Calif.-based McClatchy newspaper chain, home to publications like the Kansas City Star and the Miami Herald, was one of the few remaining local newspaper companies that hadn't yet been taken over by a big investment firm.
Be smart: McClatchy's transition away from family ownership is a common theme among local media outlets that have struggled to survive the digital era.
Shortly after the 2008 financial crisis, hedge funds and private equity firms began buying up distressed local newspaper companies, eager to apply cost-cutting measures across dozens of papers that could help them squeeze margins for profit.
Prior to the merger of two publicly traded newspaper companies last year, Gannett and GateHouse Media, more than half of the largest newspaper chains in America were owned and operated by investment firms, according to a new report from Penelope Muse Abernathy at the Hussman School of Journalism and Media at the University of North Carolina at Chapel Hill.
7. Scripps sells podcast biz Stitcher to SiriusXM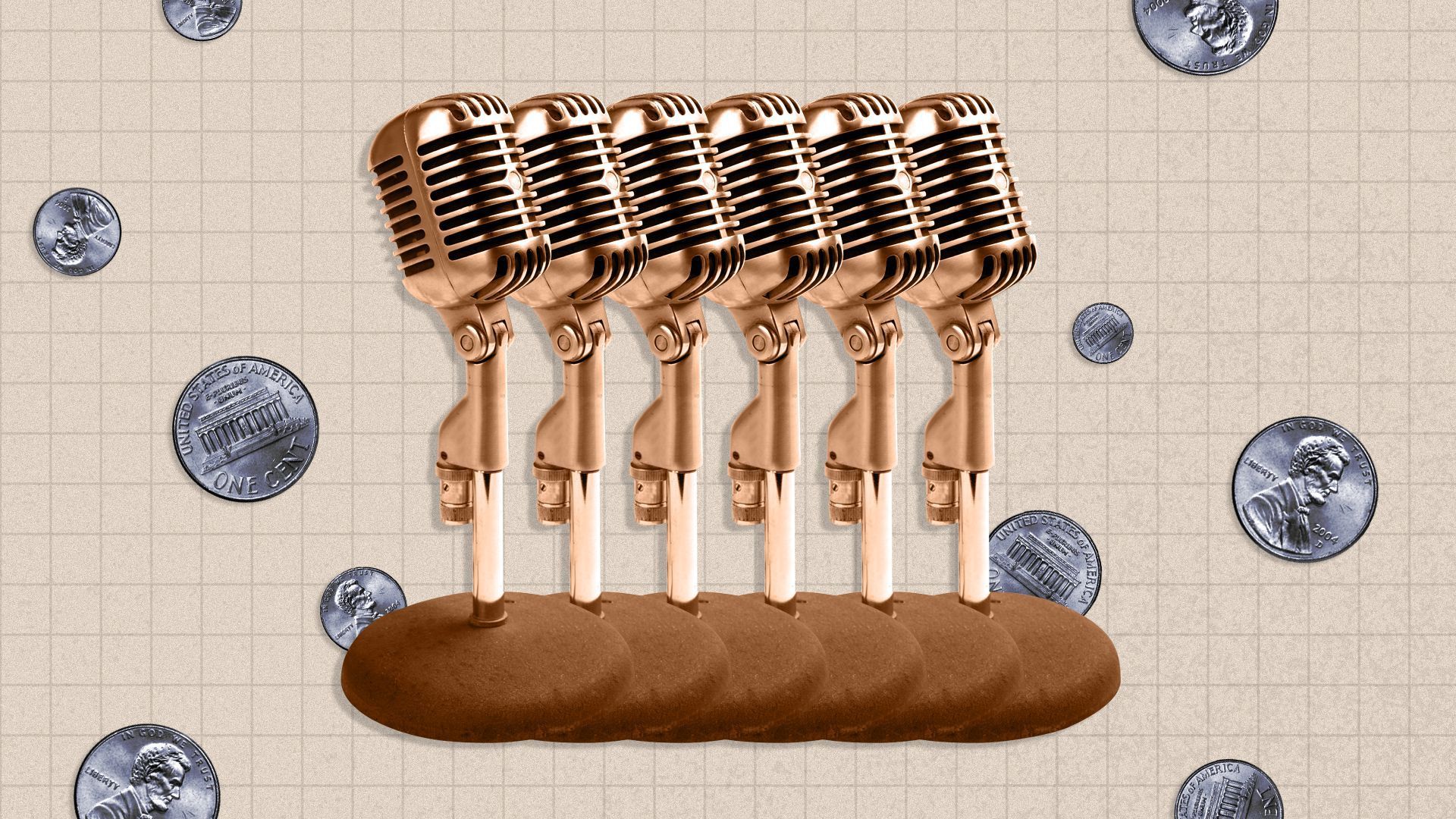 E.W. Scripps Company said Monday that it agreed to sell its podcast company, Stitcher, to SiriusXM for $325 million.
Why it matters: The sale price speaks to the extraordinary growth of the podcast industry.
By the numbers: Scripps bought Stitcher four years ago for $4.5 million. Now, it's selling it for more than four times Stitcher's 2019 revenue of $72.5 million.
Details: The deal includes $265 million of cash upfront, with an earnout of up to $30 million based on 2020 financial results (paid in 2021) and an earnout of up to $30 million based on 2021 financial results (paid in 2022).
The deal includes moving all of Stitcher's employees to SiriusXM.
The state of play: The deal also speaks to SiriusXM's big ambitions to grow as a leader in the podcast space, rivaling Spotify and to an extent Amazon and Apple.
Spotify and Omnicom Media Group, one of the world's largest global ad agencies, announced Wednesday a deal that will see Omnicom spend $20 million on podcast ads in the second half of this year.
The big picture: Most podcasts are typically bought and sold on a per-show or per-episode basis. A big agency's commitment to spending lots of money on podcast ads upfront, like they do with television, is a signal the industry is growing.
8. High-def streaming causes massive at-home data spikes
Households are consuming nearly twice as much data as they did just two years ago because of higher definition streaming.
Why it matters: The coronavirus pandemic has exacerbated the existing trend of people tossing their old television sets and replacing them with new smart TVs and streaming sticks that can stream higher-quality video.
The increase is "very much due to a more streaming in general but also watching content thats at a high video quality, like 4K or Ultra HD," says James Muldrow, Senior Director of Product Management at Comscore.
"These were things that we weren't regularly consuming two years ago as opposed to today."
By the numbers: More than half of U.S. households own at least one smart TV, according to data from TV research firm Parks Associates.
Be smart: A huge driver of smart TV consumption has been the emergence of smart TV operating systems, primarily Android TV and Roku TV, which make smart TVs more easily accessible to more homes.
According to Parks Association, 4K video or Ultra HD capabilities is the most important consideration for consumers when buying a smart TV.