Axios Media Trends
September 19, 2017
Good morning and happy Tuesday. Thanks for subscribing to Axios Media Trends. Send tips and ideas to [email protected] and tell your friends and colleagues to join the conversation by signing up here.
The first Axios "Future of Media" event is tonight. Join me at 6:00 p.m. for a dialogue on the changing media landscape with Axios CEO Jim VandeHei, Snapchat's Peter Hamby, Edelman's Laura Gentles and Goldman Sachs' Liz Bowyer. Email [email protected] to be added to the waitlist.
1. The rush — and risks — to regulating online political ads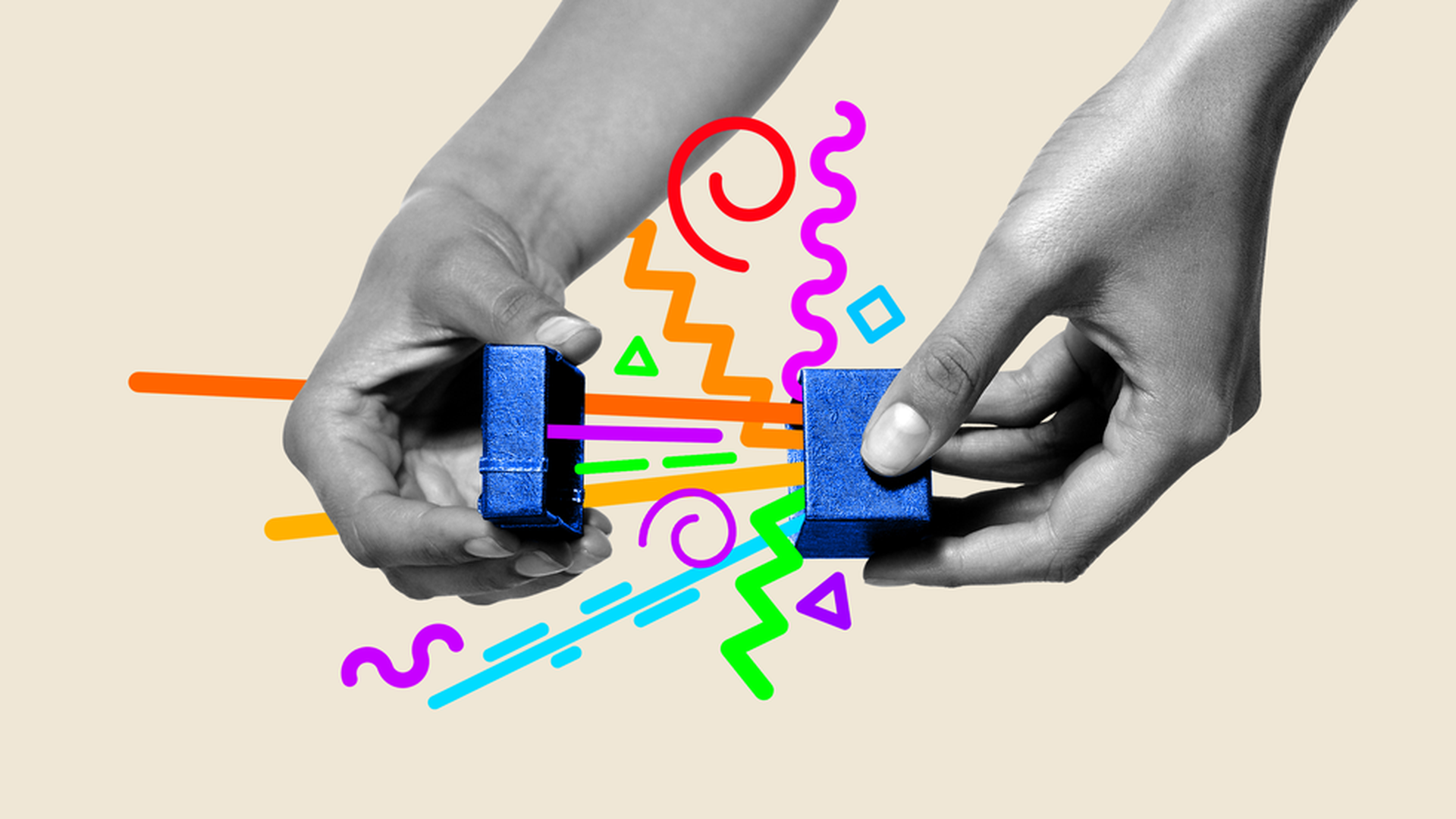 Lawmakers on both sides are arguing that something needs to be done in order to better track spending on digital political ads, in light of recent revelations that Russian groups purchased Facebook ads around the 2016 election. Their efforts are being reinforced by the Federal Election Commission, which unanimously decided to re-open the written comment period on what sorts of disclaimers internet advertising should have.
Why it's unusual: It's the first time the FEC has taken action on this issue in over ten years.
Why it matters: Axios spoke with nearly a dozen political ad buyers, most of whom agree that something needs to be done, but many of whom worry that lawmakers and regulators are rushing to fix a complicated, 21st Century problem with 20th Century tactics.
"No government regulator, and very few members of the media, understand how these mediums are being leveraged by campaigns," says Zac Moffat, CEO of Targeted Victory, the advertising agency that managed the Romney campaign in 2012 and the Cruz campaign in 2016. "It seems like we're taking a knee jerk reaction that folks will feel better about in the short run and be totally inadequate for the complexities of the formats and targeting capabilities."
"The problem with the FEC and potential regulation talk from members of Congress is that they aren't going far enough and it seems like they're taking a TV filter and applying it to ad spends on digital," says Chris Nolan, a veteran Democratic political ad executive and CEO of Spot-On agency, which places political ads for candidates across the country.
By the numbers: Roughly $450 million was spent on Facebook during the 2016 general election and roughly $350 million on Google, according to data from Borrell Associates Inc. That number is only expected to increase as audiences migrate their attention to digital and mobile, specifically.
Go deeper: More perspectives from top political advertising executives
2. Facebook sees dip in news referrals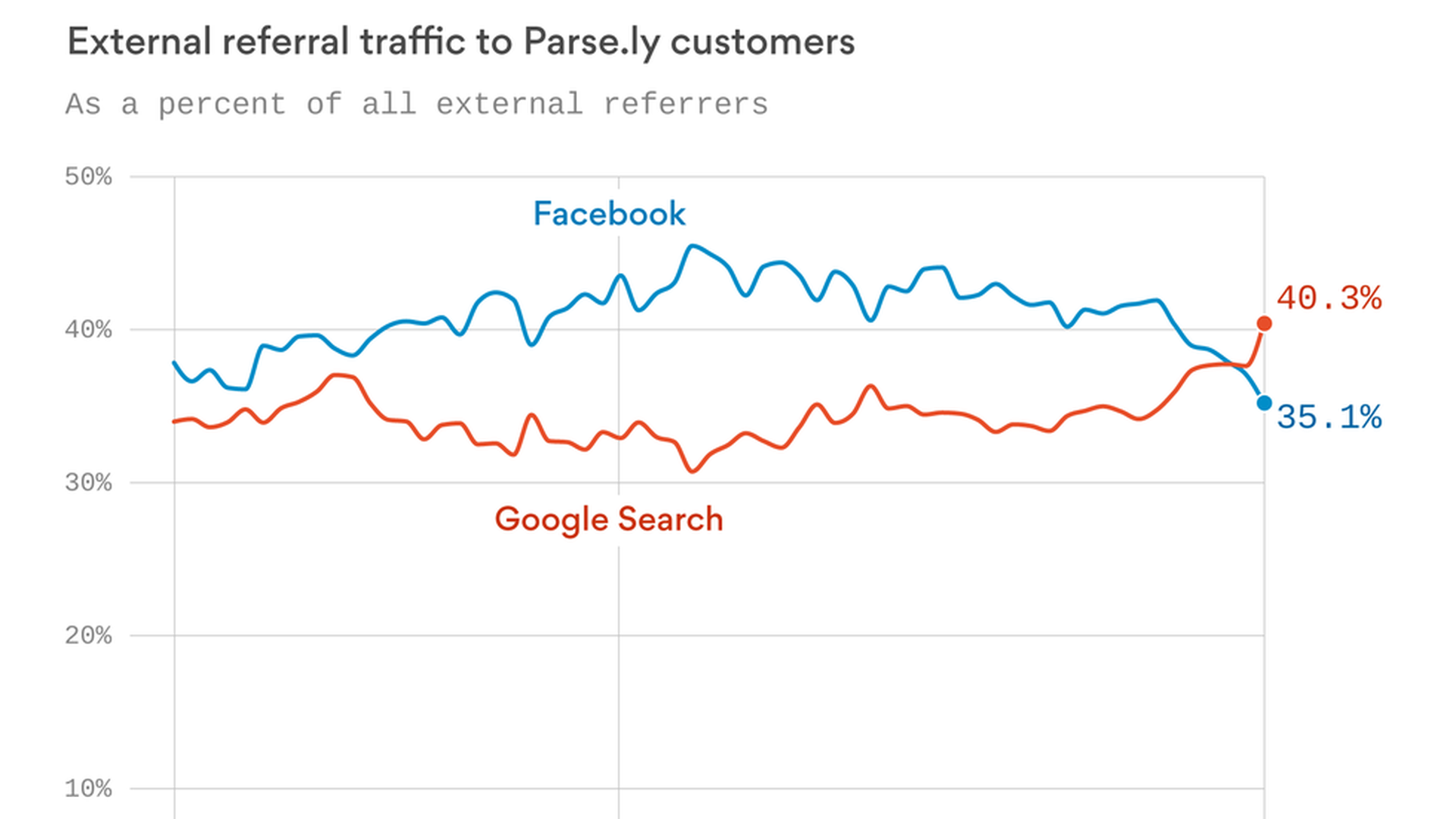 For the first time in more than a year, Google Search is beating Facebook on traffic referrals to digital publishing sites, per Parse.ly's referral network dashboard, made up of thousands of the top digital publishing websites and updated daily.
Why it matters: There could be a correlation between users' scrutiny of Facebook as a news source and the national discussions around fake news and Russian ads on Facebook, but the traffic dip is likely a result of Facebook changing its algorithms.
"Facebook has been doing a lot of experimentation on how to filter out bad sources and elevate good ones," Parse.ly CTO Andrew Montalenti tells Axios. "Google, on the other hand, seems to make these types of changes in waves, where the dips and increases are more sustained." Facebook announced last month changes to its algorithms to help weed out fake videos that drive traffic to spammy pages.
3. L.A.'s video mojo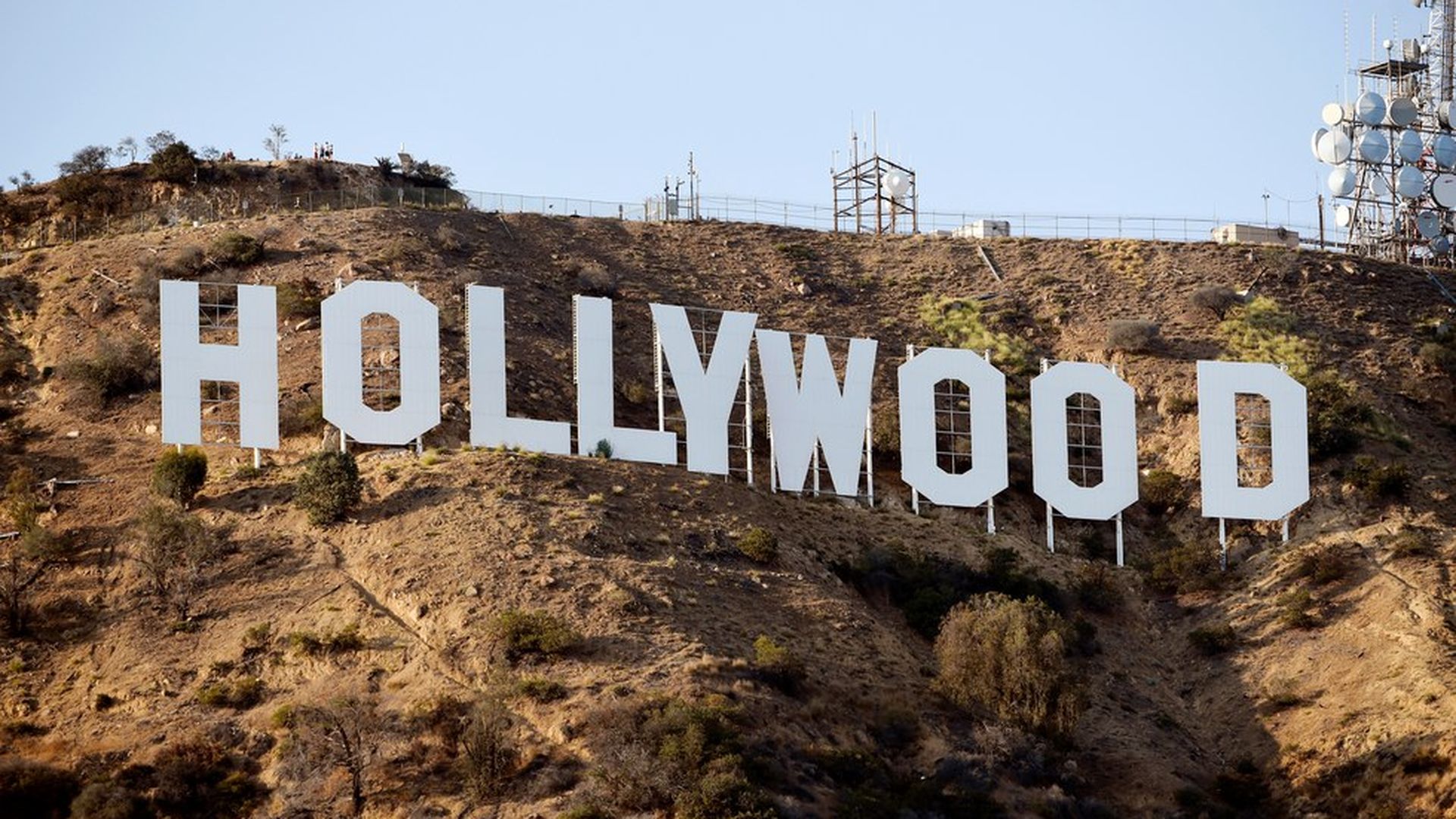 Hulu was the talk of entertainment circles Sunday night, as the streaming service picked up 10 awards and was the first-ever tech company to win best drama, ahead of rivals Netflix and Amazon.
Why it matters: Hollywood Studios continue to face record movie theater revenue declines, but the interest in video and creative is still booming in Los Angeles. This is largely due to new tech giants, like Hulu and Snapchat, as well as millennial-focused digital media sites.
"L.A. is a city where the video talent is second-to-none and it also is a city much more creative and loves politics way more than people recognize and stereotype," says Matthew Segal, cofounder and CEO of ATTN, a digital media company, which recently brought on former Obama aide Valerie Jarrett as an adviser.
Just take a look at the major players in the digital media/news space that are based in New York City, but have moved their video operations to L.A. in the past few years:
4. The Murdochs' global ambitions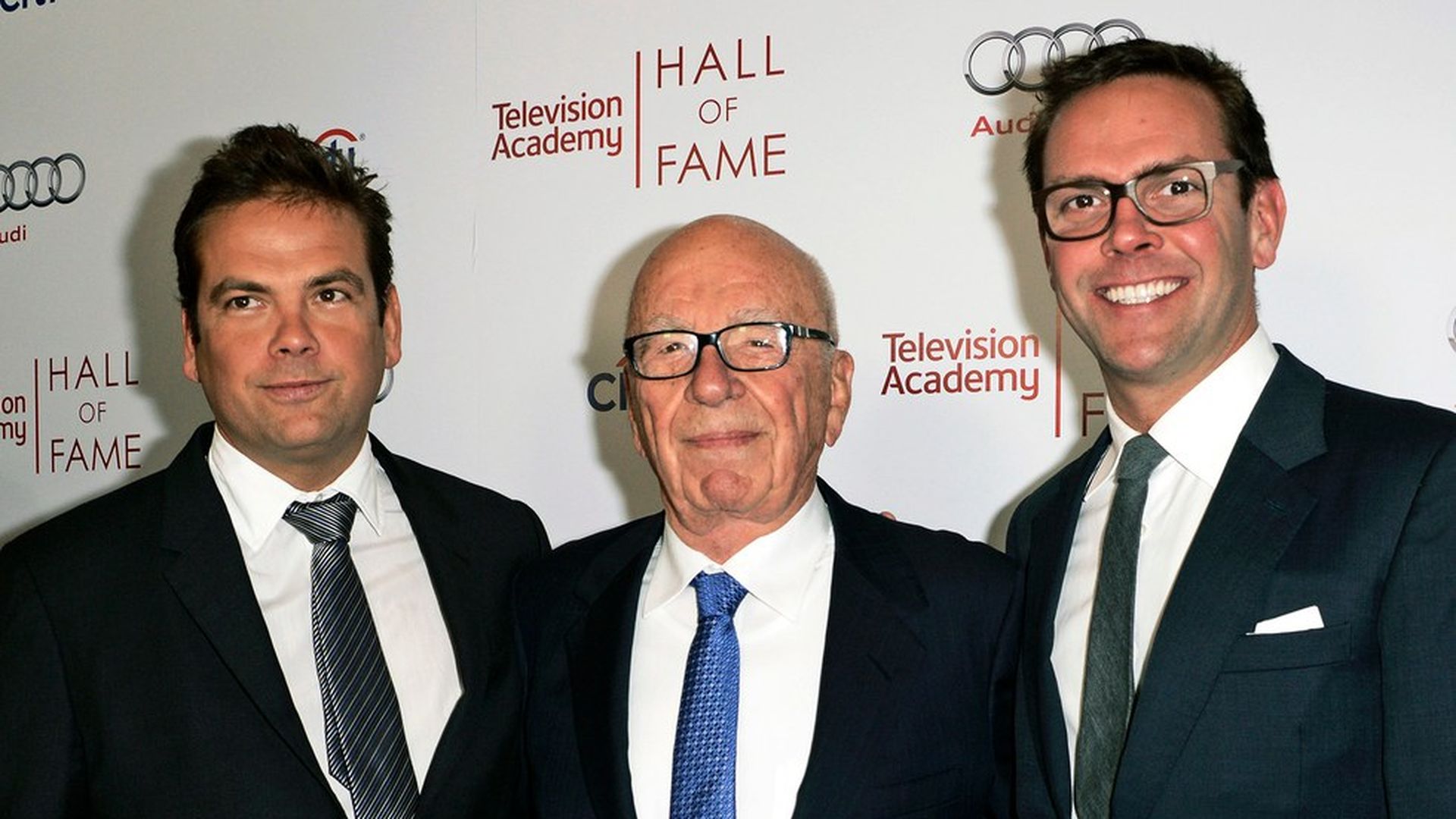 While controversy around Fox News continues to make headlines in the U.S., the Murdochs have their sights on much larger, international television goals, specifically in India.
Star India, 21st Century Fox's TV unit, which reaches 720 million viewers in eight different Indian languages across 40+ broadcast and cable channels, continues to grow in record numbers largely thanks to its digital streaming app, HotStar, which has outranked Facebook Lite in downloads on Android for the past two years.
Cricket: The network scored a major win over Facebook two weeks ago by securing the global digital and broadcast rights to stream Indian Premier League (IPL) cricket for the next five years for a whopping $2.6 billion. Their mega-investment beat out a reported $600 million digital-only India subcontinent bid from Facebook, likely the largest sports distribution bid Facebook has made to date.
Across the globe, the Murdoch TV empire is looking to expand on almost every continent, which makes it different from its biggest U.S. entertainment and telecom competitors:
Europe: 21st Century Fox is awaiting final approval from regulators to buy full stake in Sky, Europe's leading entertainment company serving 22 million network and satellite TV customers across the UK, Ireland, Germany, Austria and Italy.
Latin America: Fox Network Group, which controls Fox's TV and cable channels, has also been expanding its presence in Latin America and Asia with sports broadcasting deals.
Australia: The main video programming distributor in Australia, Foxtel, is controlled by Mudoch-owned NewsCorp, the only entertainment asset NewsCorp owns.
Why it matters: The future growth potential in entertainment and media is huge outside of the U.S. market, which is why new entrants like Netflix and Facebook are so focused on international content and distribution deals. James and Lachlan Murdoch have lived and led media businesses on four different continents – which their tech competitors, like Mark Zuckerberg of Facebook and Reed Hastings of Netflix, can't claim.
Go deeper: Read more about the Murdochs' international growth strategy
5. Media as a family business
Just a quick reminder that family-owned media businesses operate much differently than standard businesses and need to make different generational considerations for major decisions, usually pushing them to think more long-term about investments. Other media executives are paid out with quarterly or yearly bonus incentives, so they tend to think more short-term.
"If you look at the Fox Broadcast Network and Fox News, these were investments that shareholders at the time thought were crazy, and they ended up both leading to phenomenal value creation," says Rich Greenfield, media analyst at BTIG. "That was certainly enabled by family ownership, which allowed them to feel confident in sacrificing short-term revenues to make investments that would build long-term value. regardless of shareholders' opinions."
Some of the biggest family-owned U.S. media businesses, per the Global Family Business index:21st Century Fox and News Corp. (The Murdoch family)Cox Enterprises Inc. (The Cox family)Advance Publications Inc. (The Newhouse family)Other major outlets, like The Washington Post (Jeff Bezos), Bloomberg L.P. (Michael Bloomberg) and the Boston Globe (John Henry), are privately-owned, and thus too have different incentives for long-term and short-term strategy.
6. Live sports audiences are getting older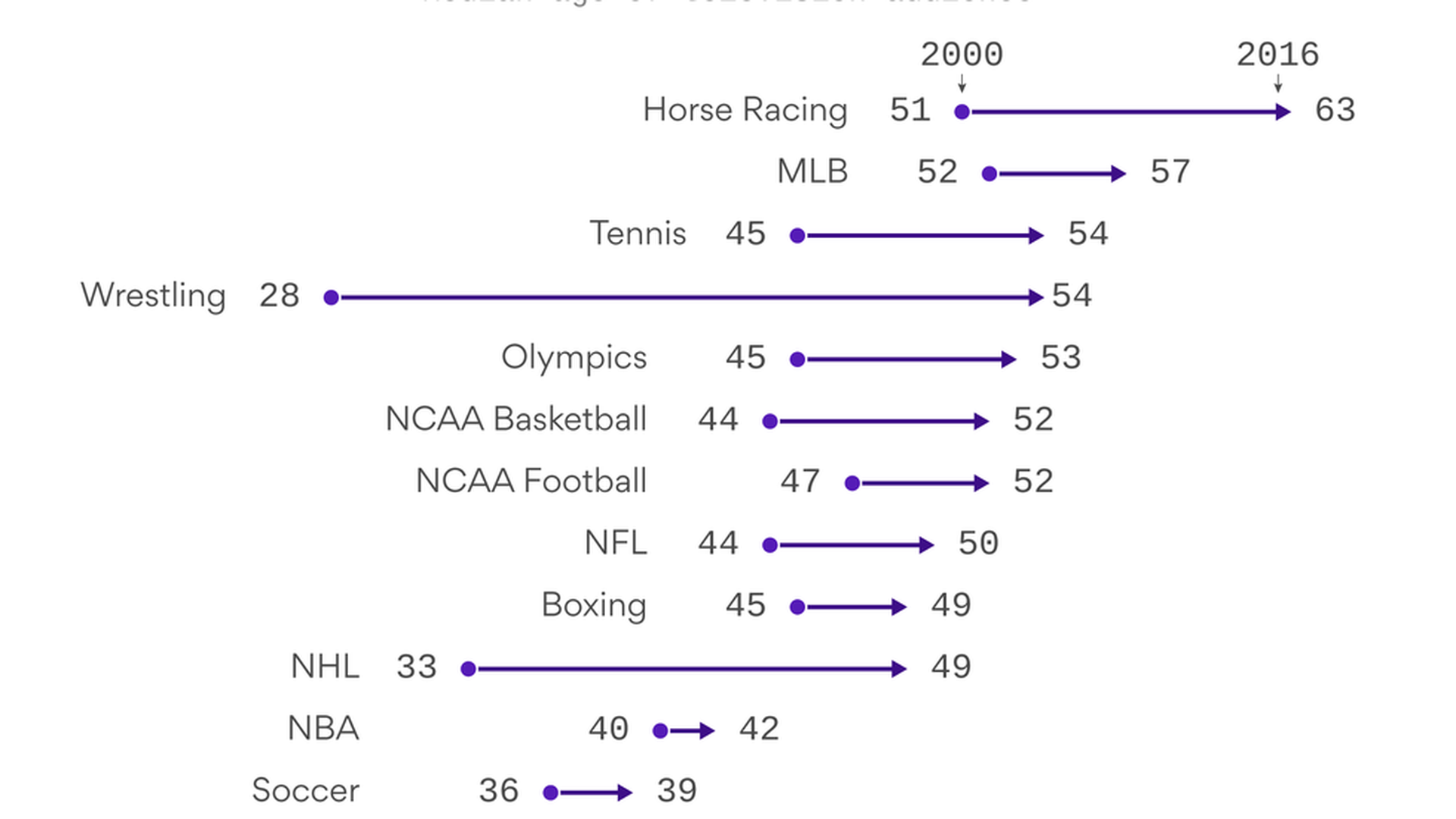 The median age of a people watching live sports on television has increased across every nationally-broadcasted sport, according to Magna Global's latest sports media report.
Other major findings:
Time spent on sports content on social media has increased among younger audiences, as many are turning to social media to catch highlights and reels of games, instead of watching games live.
Sports with more multicultural audiences, like basketball and soccer, have had better luck retaining younger audiences, except for the NCAA. (The median age for the NCAA basketball tournament, one of the first major sporting events to be streamed live, crossed the line into the 50's last year.)
Live viewing is expected to decline for the 2018 World Cup and Olympic games, but streaming is expected to set records.
Why it matters: Advertisers typically rely on live sports to reach a relatively young, engaged audience, particularly for consumer goods. That live TV audience seems to be migrating to digital pretty quickly.
The good news: Regional sports networks have had better luck retaining viewers compared to their national network competitors, reinforcing the importance for fans to see their local teams.
Worthy of your time: Recode took a look at how advertisers are still willing to pay record amounts for NFL ads, despite live TV audience declines.
7. Scoop: Google adds new machine learning to newsrooms
Google is launching new features within its free Cloud Natural Language API that will help newsrooms and other businesses sort information so that it's easier to search later.
The company will announce two updates today:
Automatically classify content: The new features will automatically sort content by 700 different categories, including Arts & Entertainment, Hobbies & Leisure, Law & Government, News, Health, and more.
Analyze sentiment in content: Sentiment analysis, one of the most widely-used features within Google's Cloud Natural Language API, will now offer more granularity with entity sentiment analysis. Users can now understand and separate the sentiment of places or things rather than analyze the sentiment of a sentence or block of text.
Why it matters: Google is seen as a mixed bag for publishers, offering a lot of traffic, but also sucking up a lot of the industry's ad revenue. Still, the features could be game-changers for newsrooms faced with the daunting task of classifying and taxonomizing hundreds of articles per day and thousands of articles in their archives. It will also make translating text from different languages much easier so that publishers can enter new markets more easily.
Publications like Hearst, The Washington Post and Vice have already been testing the new features that will be open to all newsrooms and businesses moving forward.
8. 1 fun thing: Hot topics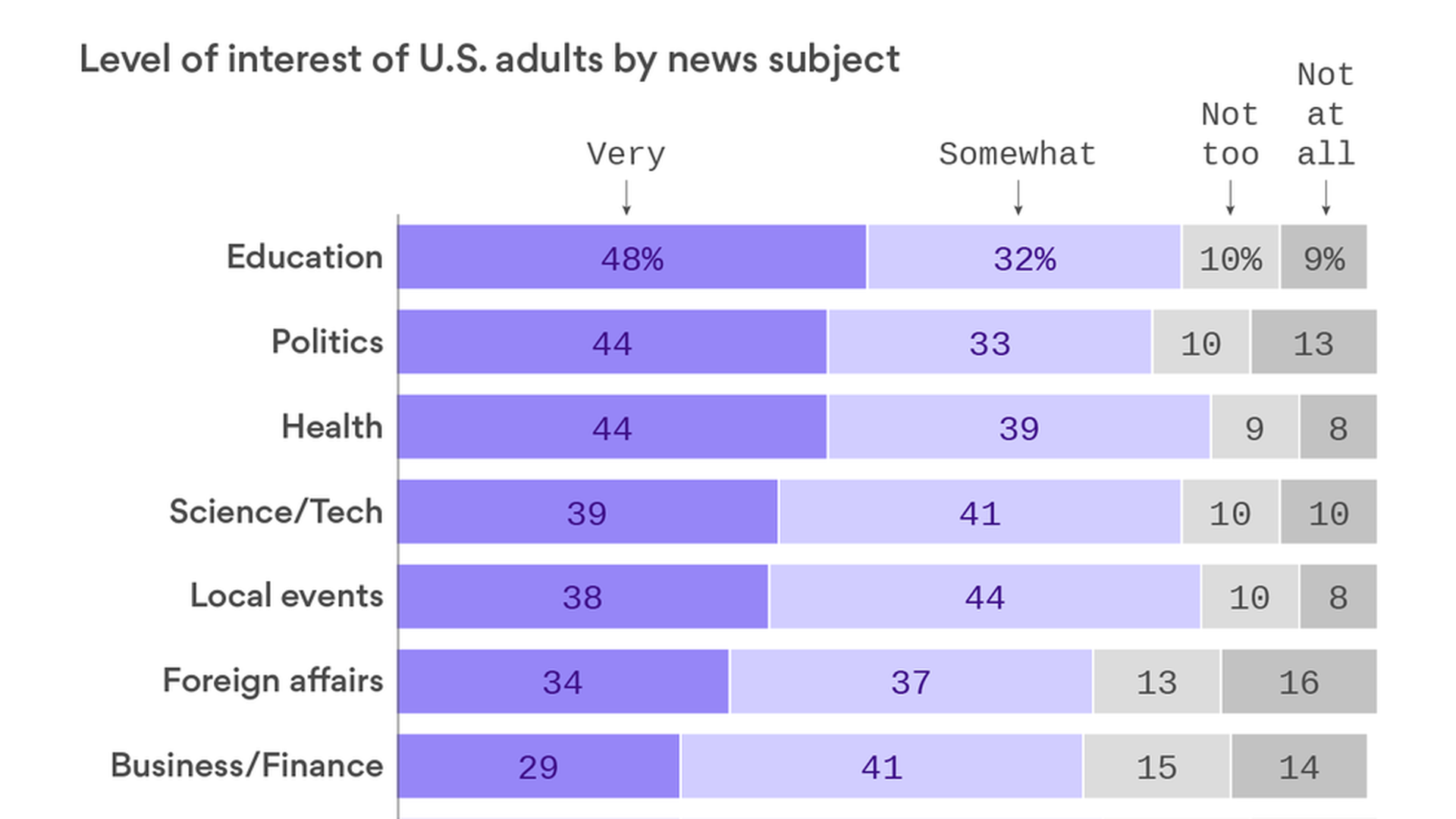 Education, health and politics top the list for news subjects Americans are most interested in learning about, according to Pew Research Center's latest news and information survey, Overall, sports is the topic Americans are least interested in learning about.
Go deeper: News referrals by topic on Facebook compared to Google.