Thanks for subscribing to Media Trends. Tell friends to follow along by signing up here.
Welcome to Q2, often the most brutal quarter for publisher ad sales. There are no major commercial holidays that fall reliably in the quarter, with the exception of Mother's Day. There are no looming advocacy deadlines like Congressional recess that drive cause and appeal messaging. The bright spots: Travel (summer trips), pharmaceuticals (allergies), financial services (tax season), sports (March Madness, NBA finals, Masters) and some retail (dads and grads in June).
1 big thing: Media merger mayhem
In a race for survival, media companies are doing whatever they can to consolidate, offering up new concessions to make sure they can snag or sell any assets that would help their legacy businesses compete with the almighty power of Big Tech:
The latest in the U.S.: CBS's initial bid for Viacom is below current market value, Reuters reports. CBS CEO Les Moonves has offered to stay on for at least two years if the companies agree on terms, according to sources. "The fact that CBS's first bid for Viacom infers such a valuation reflects how CBS views its position in the U.S. media landscape as superior to Viacom's."
The latest across the pond: 21st Century Fox submitted a proposal to the UK's competition authority early Tuesday morning to sell Sky News — the British broadcaster being sought after by Fox and possibly telecom giant Comcast — to The Walt Disney Company, which is planning to acquire most of 21st Century Fox's entertainment assets this year. It's also suggested establishing it as a separate entity with a 15-year funding guarantee. The moves are seen as efforts to ease regulators' concerns over media ownership plurality.
Why it matters: A wave of deals and negotiations over a two-to-three year window will change how news and information are produced, consumed, and disseminated across the world.
Worth noting: If all of these deals shake out, Univision would be one of the largest remaining national broadcasters that's independent. (It recently cancelled its long-awaited IPO.)
The linchpin: Billions in media deals are pending a district judge's decision this spring about whether to allow the Justice Department to block AT&T's $85 billion proposed merger with Time Warner.
The kicker: From the look inside Judge Richard Leon's old-school courtroom in Washington, you would have no idea that the windowless chamber — with no working clocks and no phones or computers allowed — is where one of the most historic media deals about technology and media survival will go down.
2. Trump's radioactive impact on media mergers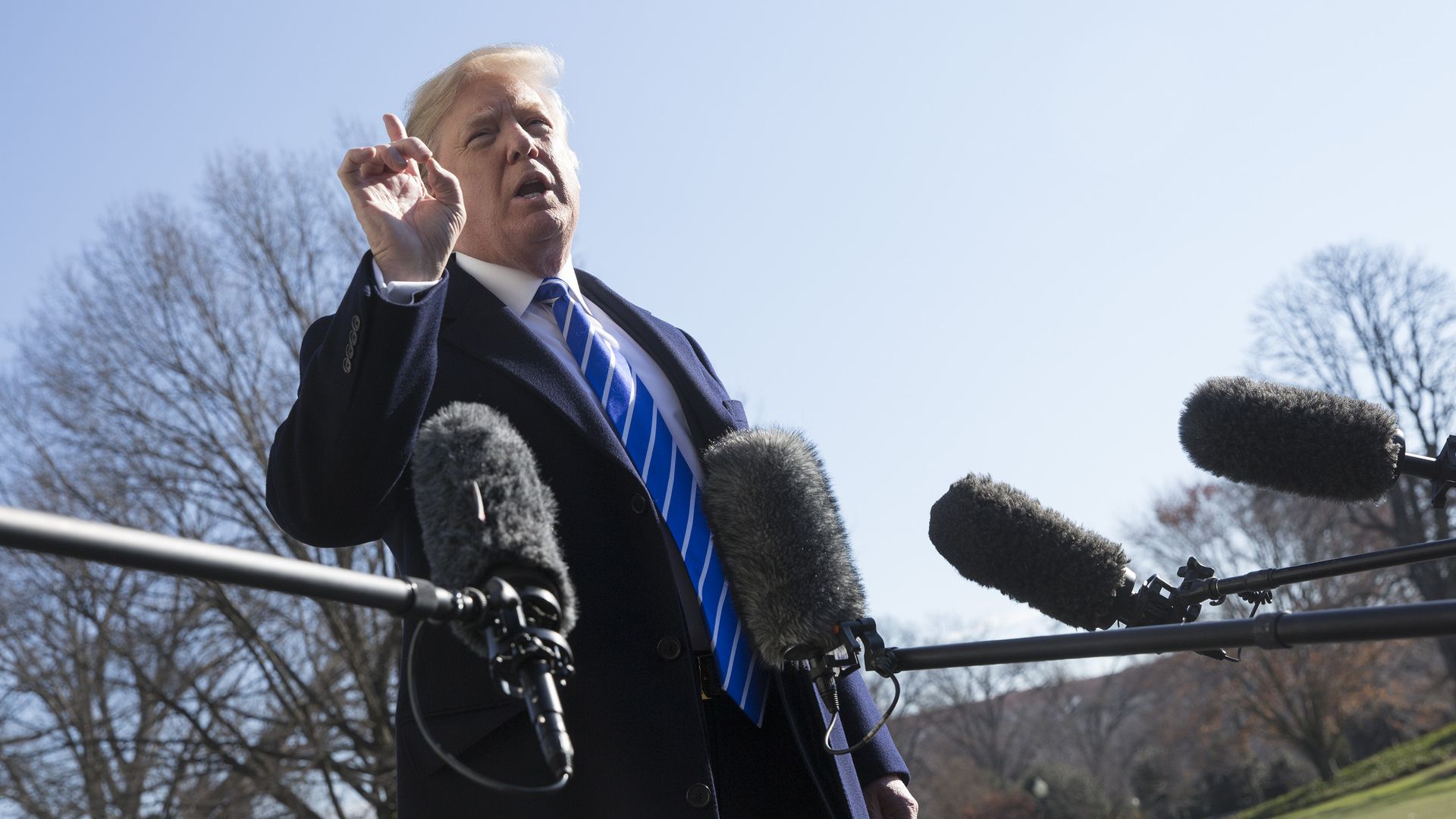 Of the major media deals pending DOJ approval, few have escaped allegations of improper White House meddling, including the latest saga surrounding Sinclair Broadcast Group.
Why it matters: The viral Deadspin video showing dozens of Sinclair anchors reciting scripts about fake news reminded people of a history of Sinclair pro-Trump leanings at a time when the company is pushing to get a $3.9 billion merger approved. The deal would make Sinclair the largest local broadcaster in the country.
Trump previously suggested support for a merger between 21st Century Fox (the parent company to Fox News) and Disney, and declined to support a merger between AT&T and Time Warner (CNN's parent company.)
And Trump tweets this morning:
"The Fake News Networks, those that knowingly have a sick and biased AGENDA, are worried about the competition and quality of Sinclair Broadcast. The "Fakers" at CNN, NBC, ABC & CBS have done so much dishonest reporting that they should only be allowed to get awards for fiction!"
What's next? The DOJ and FCC are currently weighing approval of the deal, which is expected to go through, barring a few requested station divestitures by Sinclair. Rival conservative networks, like One America News, NewsMax and TheBlaze, have been expressing concerns about the merger for months. 
Go deeper: How Trump's FCC made the merger proposal possible in the first place.
3. Gut check: The Sinclair effect
If the Sinclair deal goes through, (barring any proposed divestitures), the Maryland-based broadcaster would reach 72% of U.S. TV households, which is unprecedented for any local broadcaster, regardless of its political affiliations.
Why it matters: Local TV news is still the most popular way for Americans to get their news and it's the only TV news segment that is more heavily consumed by less educated, less wealthy Americans, according to Pew.
Furthermore, consumers may not realize that their local NBC or Fox affiliate is owned by Sinclair or that they are being exposed to scripted messaging around fake news in the first place.
Sinclair Broadcast Group president and CEO Christopher S. Ripley tells Axios' Mike Allen that his stations' "commentary offers a viewpoint that may be ignored by other organizations": "[O]ur critics are stretching to prove a non-business or sinister intent that just simply does not exist."
When asked if he'd run this promo campaign again, or give local stations more flexibility next time, he replied: "The objective of the campaign was to increase viewership so it will either succeed in that regard or not and that is how I would determine if we would do this campaign again."
4. TV networks race into data-based ad sales
In 2017, the NBCU's "Audience Studio," the group that manages its advertising data platform, had over 500 clients buy ads based off of audience data — not Nielsen ratings — a 50% increase year over year, Axios has learned.
The company has sold roughly $1 billion of data-based ads over the past year, and plans to meet the same goal over the next year.
Now, the whole industry is catching on:
AMC announced last week its building a data-driven ad sales operation called "AMCN Agility" to better compete with networks like NBC and Fox.
Fox, Turner and Viacom last year created "Open AP," a consortium of audience-based ad targeting that leverages data across the three networks. The company says that 800 media agency accounts have been created so far.
Audience-based advertising has been a central argument made by AT&T throughout its merger trial with the DOJ.
Why it matters: The rise of streaming and multi-device content consumption has forced marketers to think differently about the most effective way to reach their audiences, and that often means using audience data, not traditional TV ratings, as a currency for television ad buying.
But, but, but: Audience-based ad buying, while growing, it still a very small portion of overall TV ad-buying — accounting for only 10%, roughly, of total TV advertising. And Nielsen, which often gets a bad rap for being "behind the times" is involved in the technology that's powering some of these networks' efforts, like Open AP.
Go deeper: NBC's efforts to take the lead in data-based TV advertising.
5. ESPN's streaming app will launch with new "30 for 30" doc
ESPN's new "30 for 30" franchise film, "The Last Days of Knight" will be available exclusively on the new ESPN+ app, which debuts April 12th for $4.99 per month, Axios has learned.
Why it matters: In a push to boost its streaming efforts, ESPN is putting some of its most popular content behind its new paywall. The network is looking to migrate its linear TV audience to streaming in response to the rapid succession of its audience on linear TV. (ESPN has lost roughly 12% of of its traditional TV subscribers in six years.)
In addition to "The Last Days of Knight," ESPN Films is developing other docuseries exclusively for ESPN+. The full 30 for 30 library will live exclusively on ESPN's new app.
About the doc: "The Last Days of Knight" is the previously untold behind-the-scenes story of CNN's investigation into why high school All-Americans were leaving Indiana University men's basketball coach Bob Knight's program, and the subsequent fallout after the story broke.
The big picture: ESPN+ will be Disney's first over-the-top direct-to-consumer service offering, but not its last.
The network's entertainment direct-to-consumer service will launch next year with content from Marvel, Pixar, etc. and possibly new content assets from a potential merger with 21st Century Fox.
Both streaming services will be powered by BAMTECH, a leader in streaming technology which Disney purchased a majority stake in last year.
Go deeper: ESPN will face some stiff competition as more networks launch sports streaming networks.
6. Spotify begins trading as a public company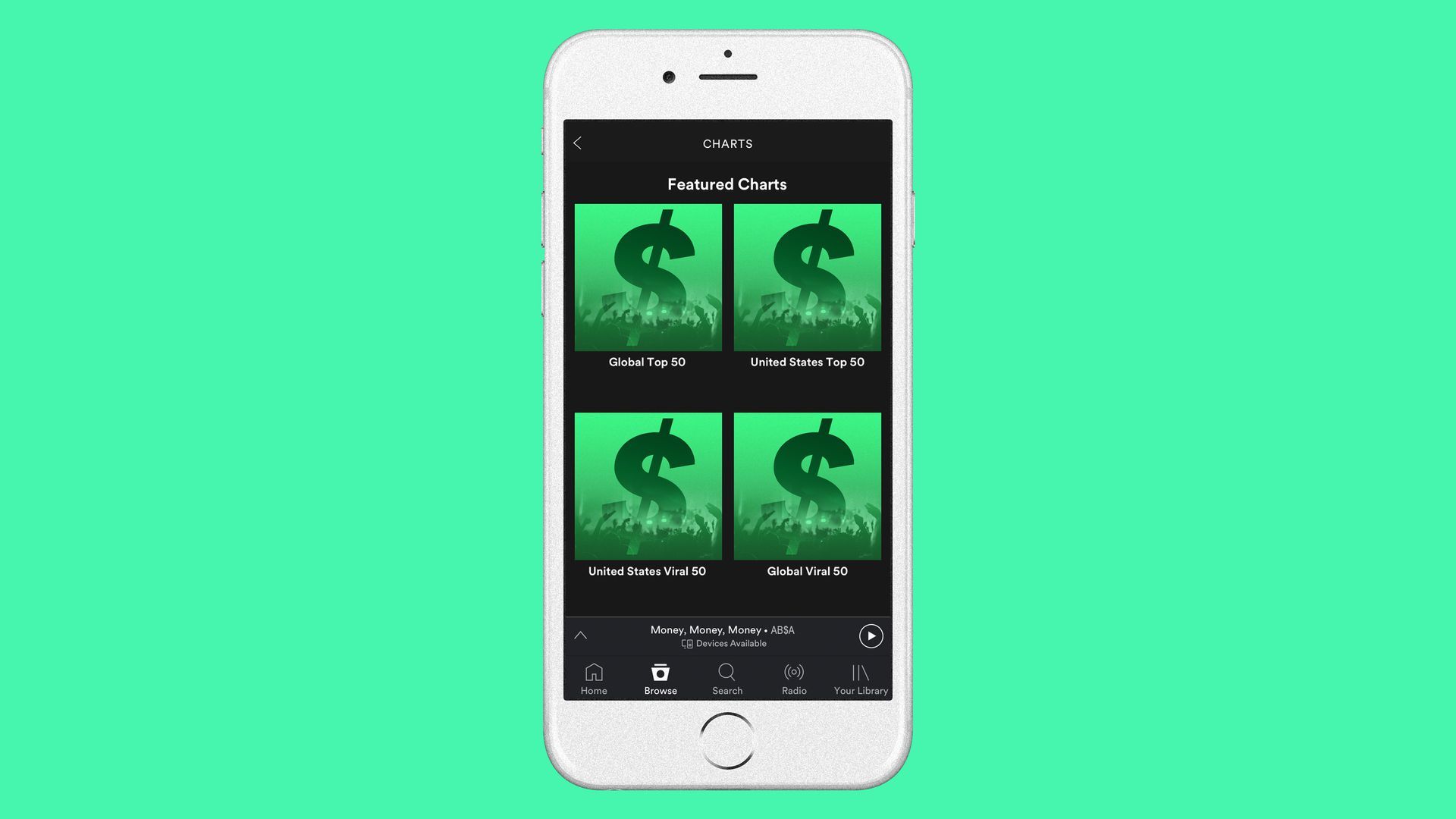 All eyes this morning are on Spotify, as the music streaming giant goes public without a traditional IPO process, Axios' Dan Primack writes.
Why it matters: Precedent. If successful, other private companies could be encouraged to pursue their own alternative paths to public equity, including ones that use investment banks more as navigators than as drivers.
What will it be worth? Per PitchBook: "Based on the share prices of Spotify's private sales in 2018 and the probability-weighted expected return method, we've estimated Spotify's market capitalization will fall between $17 billion and $23 billion."
"Spotify is hoping to be valued as the Netflix of music (or audio broadly) thanks to its ability to serve up custom recommendations to listeners. Not surprisingly, its finance chief previously spent nearly 12 years in the same role at the movie streaming giant," Axios' Kia Kokalitcheva emails me.
Spotify touts the huge amount of data it collects as the key to this ability. Data is also how it believes it can help unsigned or independent artists distribute their music and reach the right fans, potentially sidelining some of what music labels have been providing so far.
But, but, but: Spotify head of creator services Troy Carter has said that the company has no interest in becoming a full-fledged label and owning copyrights, which some argue undermines its attempt to compare itself to Netflix, which does develop some of its own exclusive content.
Unlike Netflix, Spotify's licensing model accounts for the number of times a song is streamed. Music fans also tend to expect to be able to listen to an artist's entire catalog (in part why exclusives have been problematic) and of as many artists as possible, unlike movie and TV show fans which often sign up for multiple services and expect a rotating catalog of content.
7. Movie boss to Hollywood: Don't stress Chinese tariffs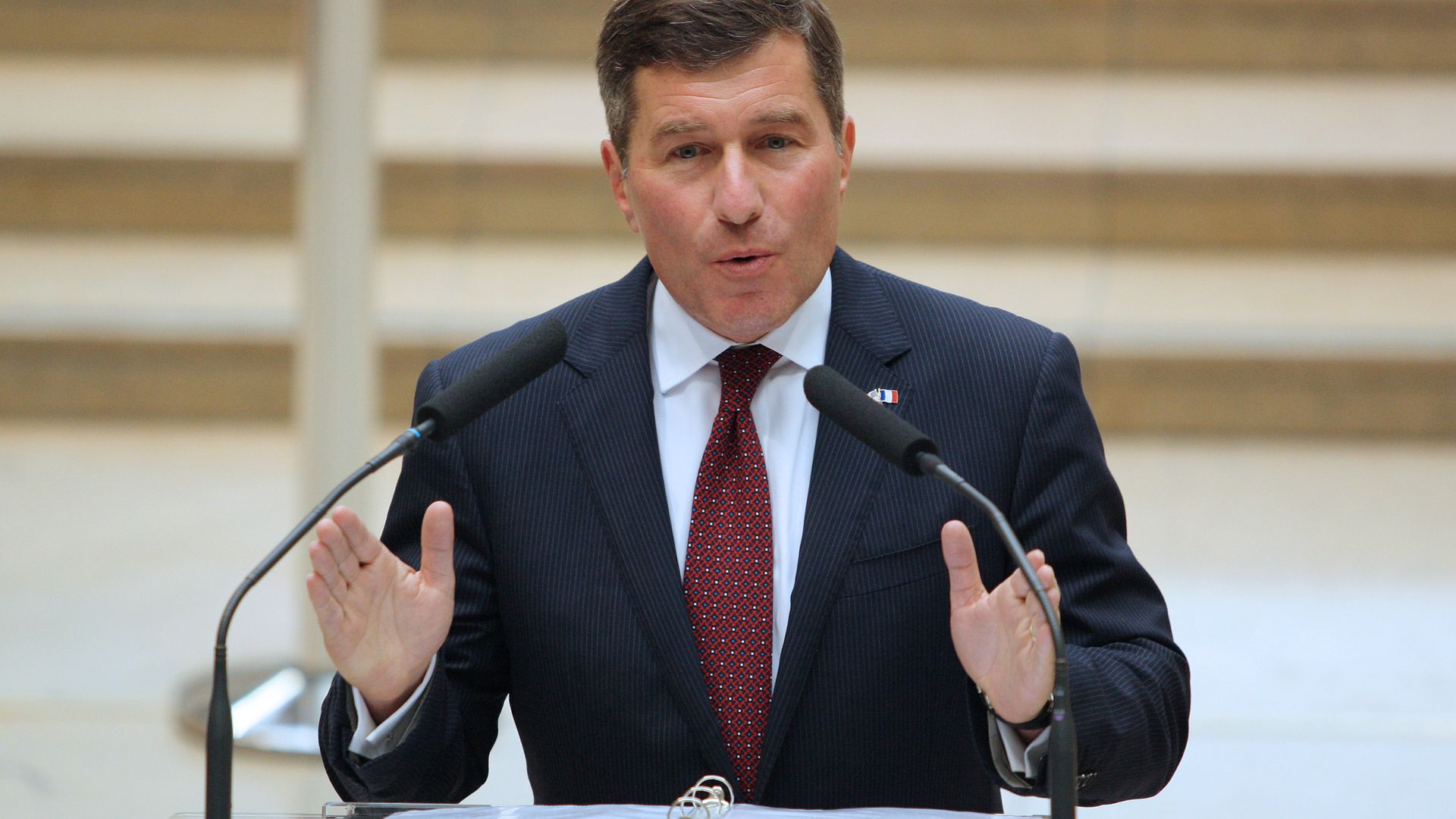 President Trump's plan to impose at least $50 billion worth of annual tariffs and other penalties on China is causing stress for some Hollywood executives, which worry box office revenues could be stifled in one of their most lucrative markets.
But Motion Picture Association of America Chairman Charles Rivkin sees it differently. "President Trump probably knows this industry better than any president since Reagan," Rivkin told The New York Times Sunday.
"I think he understands that entertainment is important both as an economic force — jobs in every single state — and as a projection of American values. It's our soft power. It's showing the world what America is capable of."
— Motion Picture Association of America President Charles Rivkin
Since the signing of an agreement in 2012, which granted greater access to the Chinese market for U.S. distributors, box office revenues in China for American movies have grown from $863 million in 2011 to approximately $8 billion in 2017, making the Chinese box office the second largest in the world.
Why it matters: Market trends suggest that China will be number one film market within the next few years, with the state building roughly 25 movie screens per day.
Case in point: China's box office overtook North America to become the biggest in the world in the first quarter of this year, per Variety.
Another way of looking at it is the key difference between movie industry and other exports is that production studios in the U.S. don't typically compete with Chinese competitors in the same way that manufacturers in the U.S. compete with those in China.
8. Facebook's two weeks of hell
At its peak, Cambridge Analytica was a bigger attention topic than all Donald Trump stories combined, according to data across thousands of Parse.ly's publishers/network.
"People are paying close attention to the Cambridge Analytica scandal... Our data shows that in the past two weeks, views shot up by a factor of 18 when it came to articles mentioning 'Cambridge Analytica', 'Mark Zuckerberg', or 'Facebook' compared to the weeks prior. "
— Andrew Montalenti, co-founder and CTO of Parse.ly
Why it matters: This is rare for non-Trump news stories/topics in the last few months, says Parse.ly. But that only lasted a day. Now that the Facebook fervor has died down, Trump is back on top.
Go deeper: Axios' Kim Hart & David McCabe explain how regulators could go about regulating Facebook.
9. Companies spooked by privacy fallout make changes
Grindr has stopped sharing users' HIV status with its third-party vendors, the company's head of security told Axios' Ina Fried. However, much of the concerns with Grindr's data-sharing practices were a misunderstanding of what was being shared and with whom, says Grindr security chief Bryce Case.
Instagram is limiting how much data some developers can collect from its API — and cutting off others altogether, Recode reports. The news comes after a week of Facebook changes to privacy visibility and third-party data access.
Meanwhile, a movement by publishers to only run ads on trusted websites is picking up steam.
TRUSTX, a programmatic advertising marketplace created in conjunction with 35 verified publishers, has secured $2.2 million in funding from CBSi, ESPN, Meredith, FOX News and NBCUniversal to accelerate the growth of its marketplace created to establish a sustainable future for trusted advertising, Axios has learned.
The marketplace requires buyers and sellers to agree that only ads deemed to be seen by a human and 100% viewable (as per current MRC standards) will be monetized.
10. 1 fun thing: The "Instagram for news" expands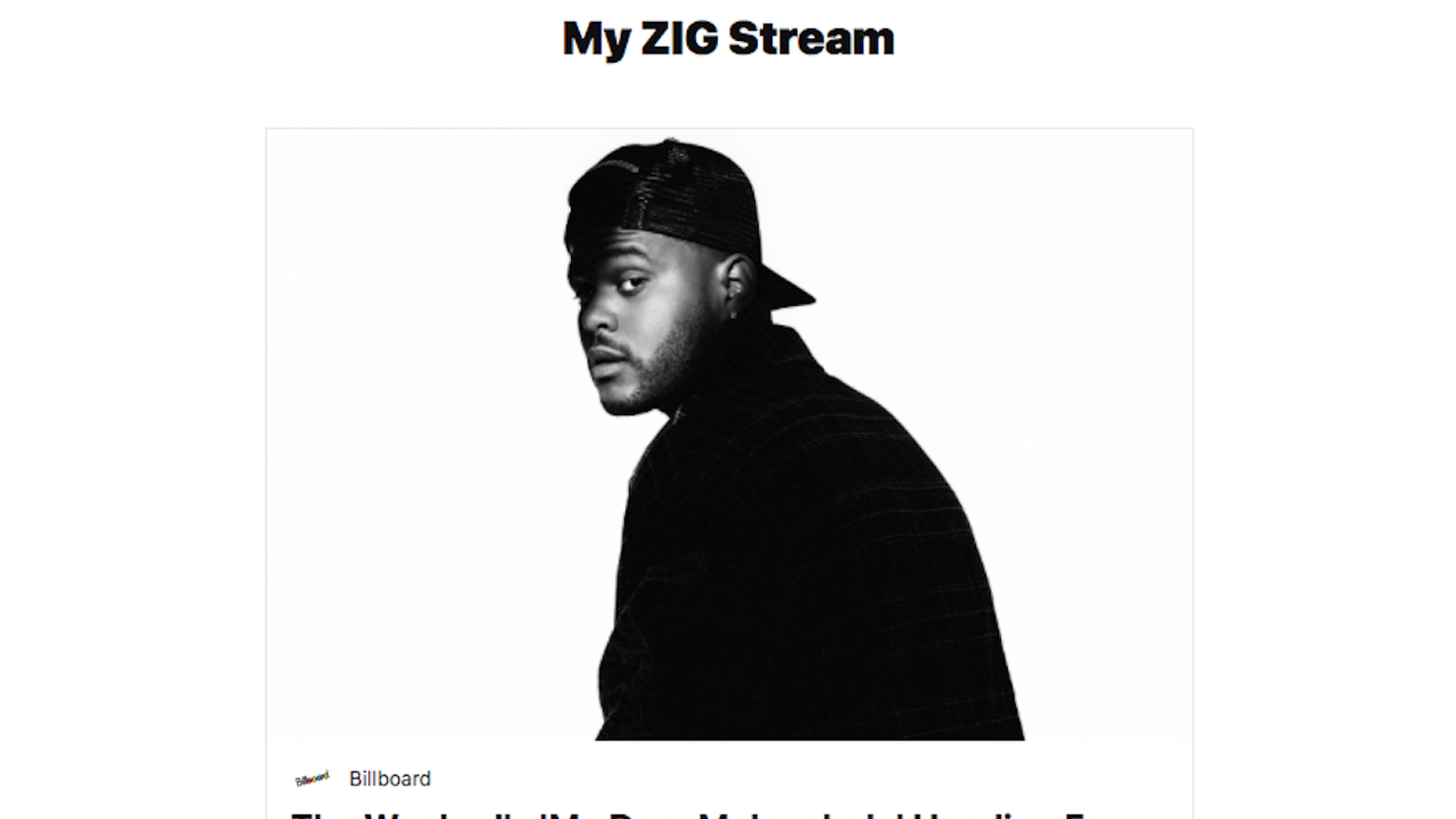 ZIG, the mobile app that delivers news from vetted publishers in the form of mobile pictures and headlines, is launching a website today. It will live on zig.com as well as its Android app. The updates follow a successful launch on iOS in January.
The company, founded by media entrepreneurs Joshua James, Adam Platzner and John Tornow, was initially backed by former Vanity Fair Editor-in-Chief Graydon Carter, music producer Quincy Jones, Ron Meyer, Vivi Nevo, Live Nation, and more.
Some examples of the most engaged people on the app this week ... Kendall Jenner (zig.com/kendalljenner), Jeff Bezos (zig.com/jeffbezos) and Beyonce (zig.com/beyonce)
NOTE: Last week Axios' SurveyMonkey poll of results showed that adults, ages 18+ in the U.S. are not as engaged in Snapchat, with many of them saying they had no opinion of the brand. Snapchat pointed out that many of its users are younger than 18. Fair point! We're going to try and survey younger folks too. Stay tuned ...