Good morning and happy Tuesday. Thanks for subscribing to Axios Media Trends. Send tips and ideas to sara@axios.com and tell your friends and colleagues to join the conversation by signing up here.
Get smarter, faster. Axios is launching a movement to help spread trustworthy, shareable news: the Smarter Faster Revolution. Our mission is to help as many people as humanly possible get smarter, faster on the topics that matter. You can help by signing up to be part of the cause, then recruit others to join our campaign and win cool Axios gifts.
https://www.axios.com/newsletters/axios-media-trends-61ca2e6f-f081-40bd-9bad-c6fb005d8306.html?chunk=0#story0
1 big thing: It's showtime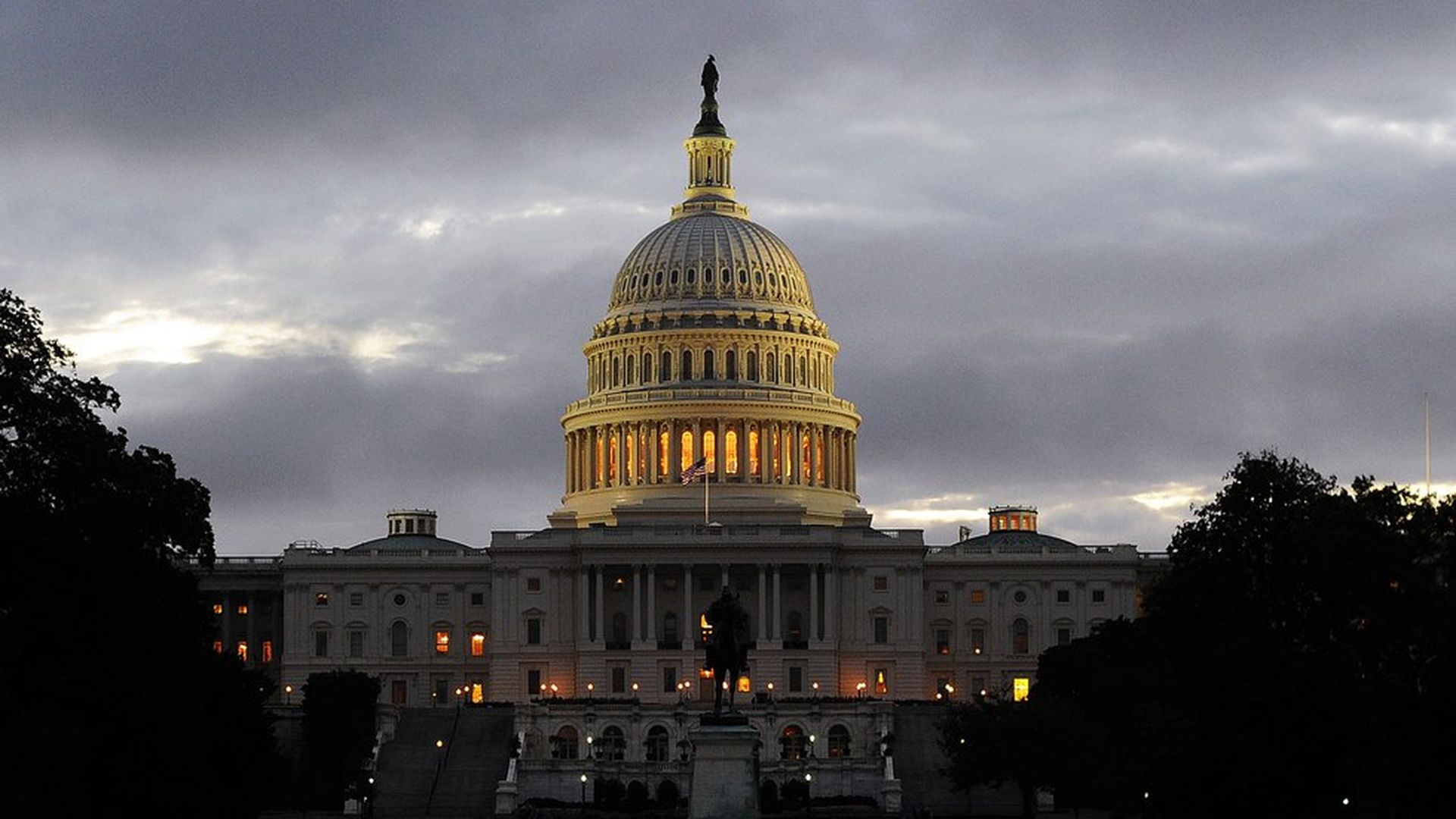 Executives from Google, Facebook and Twitter are headed to Capitol Hill this week to testify about what they know, and when they learned, about Russians meddling on their platforms.
Facebook will tell lawmakers that more than half of the Facebook users in the U.S. were exposed to content on its platform from Russian operatives before and after the 2016 presidential election.
Twitter's top lawyer will announce that the company found thousands of new accounts linked to the same Russian troll farm behind the campaign on Facebook.
Google revealed yesterday that people had been exposed to millions of more pieces of content from fake Russian accounts than previously disclosed.
Lawmakers are going to hammer these companies about how Russian-backed groups were able to buy politically-charged ads on their platforms. They'll want to know how much they knew about the ways fake accounts and bots were used to spread false information and stir chaos around the election.
Why it matters: Unlike their previous closed-door hearings with lawmakers, these companies will have to face members on camera and in the public eye. While they don't face much of an immediate regulatory threat, other than potentially a political ad disclosure bill, their performance will dictate how public opinion and support on Capitol Hill will play out for years to come.
Some context going into this week:
There are three hearings: 1) Senate Judiciary subcommittee hearing today; 2) Senate Intelligence Committee hearing Wednesday; 3) House Intelligence Committee hearing Wednesday.
They're bringing their legal teams: All three companies will bring their general counsels to Wednesday's hearings. Top executives, for the most part, will not be present. Facebook's earnings call is Wednesday, and Sheryl Sandberg and Mark Zuckerberg will be busy explaining some of these issues to investors.
They've been prepping hard: Facebook has reportedly tested language about Russian meddling with focus groups, per the Wall Street Journal. Twitter and Facebook both rolled out their ad disclosure features last week. Google, for the most part, has been quiet, but the company has talked in the past about how they deal with bad ads, including publishing a bad ads report annually.
Go deeper: Axios' David McCabe sets the scene from Capitol Hill.
https://www.axios.com/newsletters/axios-media-trends-61ca2e6f-f081-40bd-9bad-c6fb005d8306.html?chunk=1#story1
2. America loves Google, torn on Twitter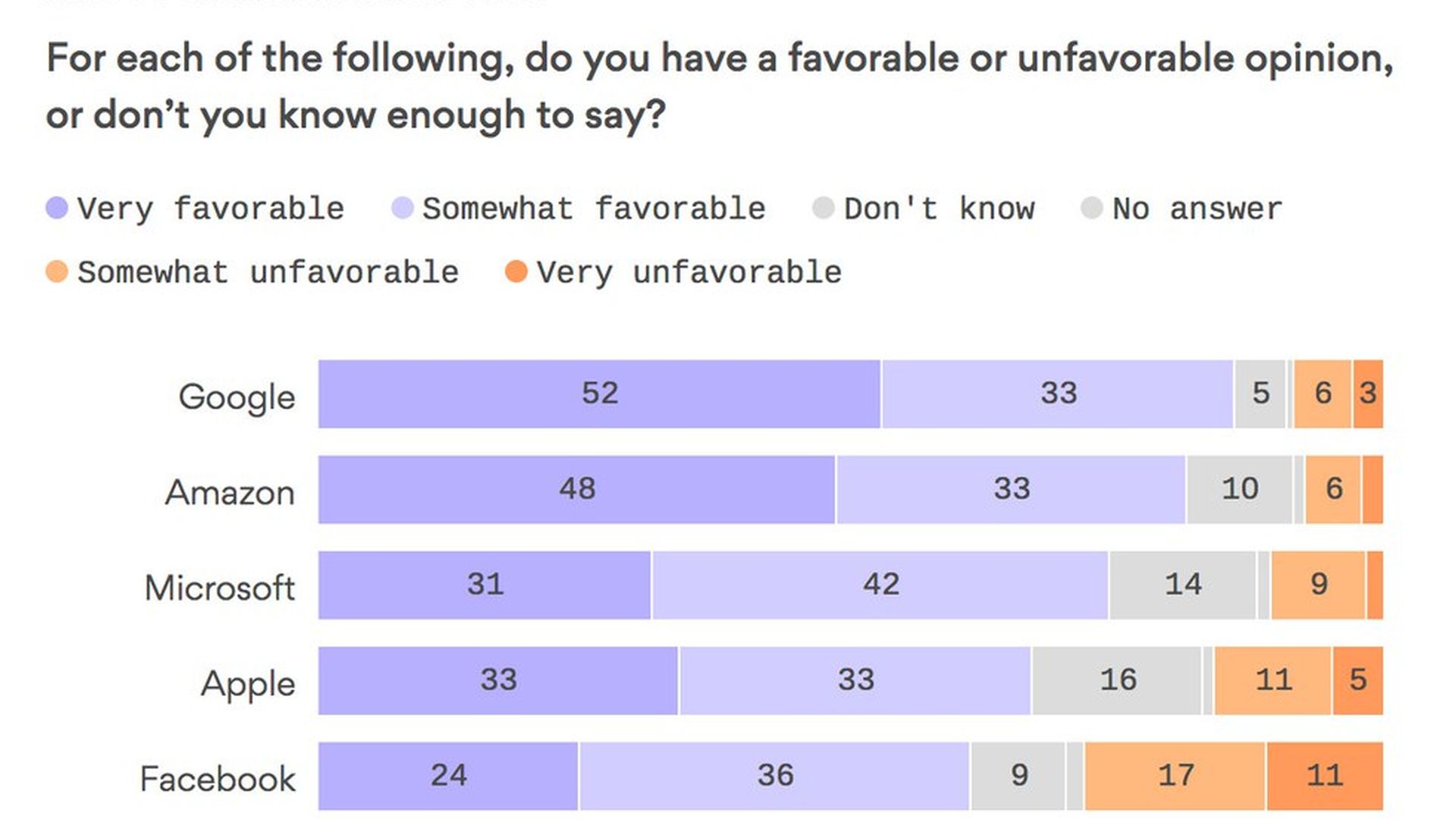 Why it matters: It's unlikely these companies face serious regulatory threats under this administration, which has rolled back regulations and passed new laws that have favored tech and telecom companies (more below). But they risk a narrative forming around whether they can be trusted to police themselves, and that could alter user confidence and thus affect their lucrative advertising businesses.
Where each company stands:
Google, which invests a significant amount of dollars and resources into consumer marketing, seems to have the most stable consumer relationship heading into this week's hearings. Unlike Facebook, which does very little consumer marketing, the public has a less visible look into how fake news spreads on Google properties.
Twitter's last testimony on Capitol Hill didn't exactly win over lawmakers. But its biggest problem is the proliferation of bot accounts on its platform. Earlier this year, a University of Southern California and Indiana University study found that up to 15% of active accounts on Twitter are bots.
Facebook has slowly been more forthcoming about the Russia investigations — like videos and interview with their top executives — but their efforts to be transparent have been hyper-focused on lawmakers and influencers, and the public's trust in Facebook is significantly less than Google. Efforts to stomp out fake news are still stumbling, as Bloomberg's Sarah Frier reports.
One more thing: Google, six years older than Facebook, has also had more exposure to these kinds of problems over the years, including a $500 million settlement for knowingly showing illegal drug ads in 2011.
The bottom line: Google stock reached an all-time high after stellar Q3 earnings last week. Twitter, which surpassed user growth and revenue expectations last quarter, said it may reach profitability next quarter for the first time since going public in 2013. Their businesses are still doing fine despite the Russia hype.
https://www.axios.com/newsletters/axios-media-trends-61ca2e6f-f081-40bd-9bad-c6fb005d8306.html?chunk=2#story2
3. How bots and fake accounts work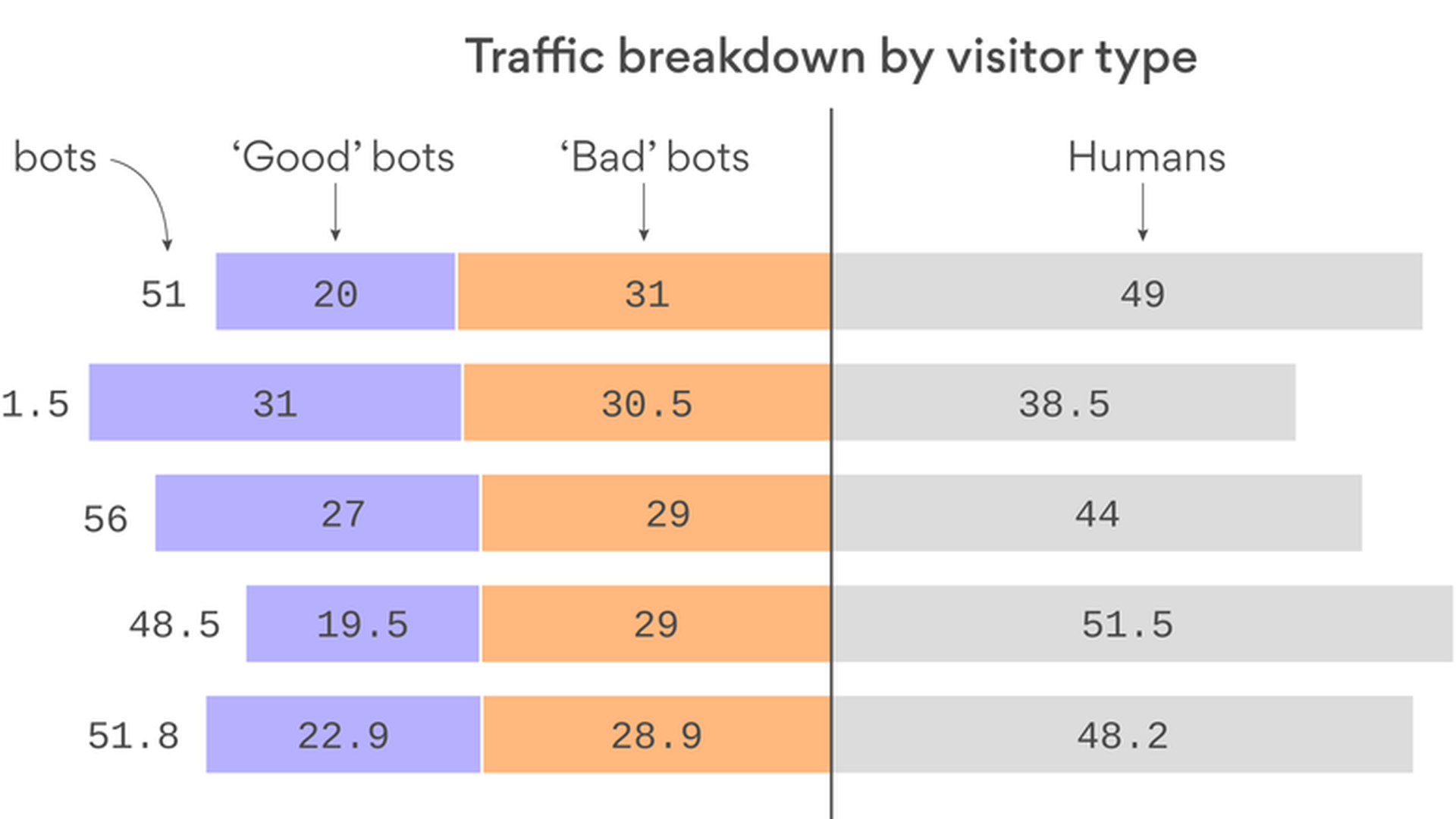 What's the difference between "good" bots and "bad" bots? And why doesn't Snapchat have a fake news problem? Here's a quick guide to some of the discussions that might come up during the hearings this week.
More than half of internet traffic is bots. Bots have always played a major role in our internet ecosystem, although not all bots are bad. (Some, for example, are used to make our search experiences more accurate.) But the bots used to spread fake news are usually bad, and bad bots make up roughly 29% of internet traffic.
Accessibility attracts bots and fake accounts: Google, Facebook and Twitter want to make it easy for users all over the world to get on their platforms, because they believe in free speech and open access. But this level of openness means the barrier to entry on these platforms isn't just low for users, but for bots and bad actors as well.
You'll notice that there aren't many fake accounts or bots on Snapchat, because tight networks of friends interact ephemerally, rather than a broadcast network built on friend discoverability and links that last longer than 24 hours. According to a Snap spokesman, this means the economic payoff is low for spamming, phishing, or circulating images or links via bots compared to the effort required.
Bots are programmed to perform simple internet tasks repeatedly: You can program a bot to like, share, or comment on something. Fake news perpetrators create fake stories that are often amplified by a network of bots that automatically like, share or comment on the content. Algorithms elevate content that is popular, further amplifying the effect.
The Internet Research Agency is the source of many Russian bots: It employs a large staff to spread fake news and disinformation and has been using bots to spread Russian propaganda for years.
Bots don't just spread fake news — they can create it. Distil Networks, a cybersecurity company that focuses on bot detection and mitigation, says it's continually warning its digital publishing clients about ways bad bots are used to skew online polls.
"Online polls have almost no verification to an individual," says Chief Product and Strategy Officer Rami Essaid. "If you go in an online survey, there's not an individualized SSN, or license. They look at people based on cookies or IP addresses that can easily be mimicked through bots by bad actors."
Go deeper: The Russian Methbot that has stolen millions of ad dollars from publishers and advertisers.
https://www.axios.com/newsletters/axios-media-trends-61ca2e6f-f081-40bd-9bad-c6fb005d8306.html?chunk=3#story3
4. Media deregulation blitz begins
The FCC is taking up several key measures that could make way for even more media consolidation under the Trump Administration, after it already signed off on a rule change that cleared the way for the Sinclair-Tribune deal. These rules were put in place decades ago to maintain a diversity of voices in local markets.
TV, newspaper ownership rule:
Per Reuters: "The Federal Communications Commission will vote at its November meeting to rollback landmark media ownership regulations that limit the ability of companies to own multiple TV stations and newspapers in the same market and remove other restrictions, Chairman Ajit Pai told a congressional panel Wednesday."
Per The Washington Post's Brian Fung: "The FCC vote, expected Nov. 16, could also eliminate a rule that prevents TV stations in the same market from merging if the outcome leads to fewer than eight independent stations operating in that market."
Studio elimination rule: Per Variety's Ted Johnson: "The FCC on Tuesday voted to eliminate a rule that required broadcast station groups to maintain a physical presence in the community of their primary local coverage area, a move that critics say will help media companies further consolidate their operations and even be a boost to the ambitions of Sinclair Broadcast Group."
Why it matters: The Trump Administration's laissez-faire approach to media and telecom regulation is part of what has allowed media deals to reach a two-year high in Q3.
What they're saying: Proponents of repealing them (mostly newspapers and broadcast companies) say a new economic solution is needed for local media to survive in the digital age. Opponents (mostly Democrats) worry it could have an impact on democracy and emergency communications.
https://www.axios.com/newsletters/axios-media-trends-61ca2e6f-f081-40bd-9bad-c6fb005d8306.html?chunk=4#story4
5. Media deals reach two-year high in Q3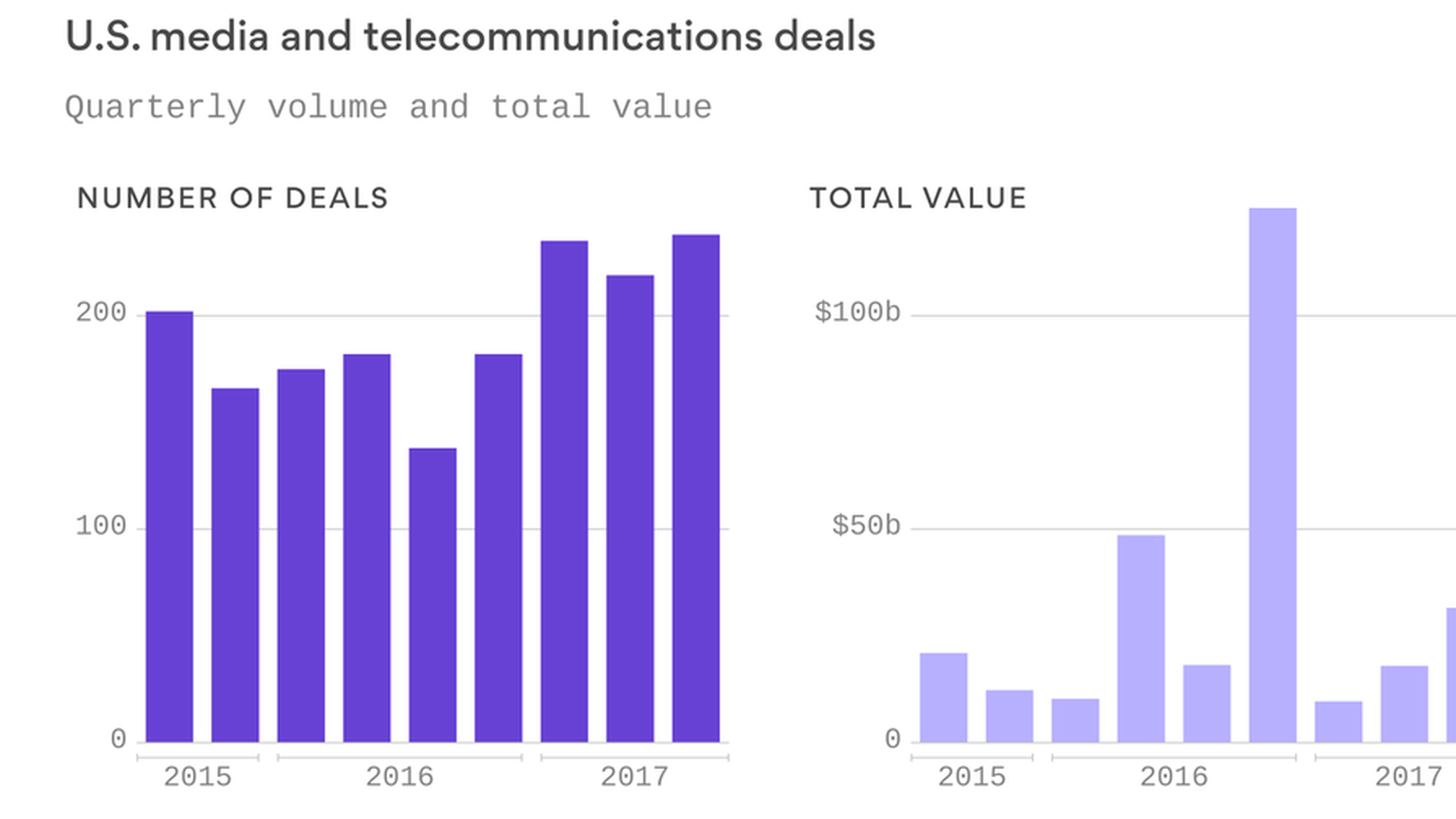 Media and telecom deals continue to increase under the Trump administration, with PwC's latest report showing that deal volumes reached their highest point in the past two years — 238 deals total in Q3 2017.
Seven $1 billion+ deals were announced last quarter, led by Discovery Communications, Inc., announced acquisition of Scripps Networks Interactive Inc for $11.8 billion.
Advertising & Marketing, as well as the Broadcasting and Telecommunications sub-sectors, reached two year highs in Q3.
What's next: Per Variety, Time Warner says it still expects the sale to AT&T to close by the end of 2017.
Zuck in luck: Dispelling rumors that CNN chief Jeff Zucker would be shown the door post-merger, John Stankey, the AT&T veteran who will oversee Time Warner's media businesses if the deal goes through, told Vanity Fair's Joe Pompeo via a statement that "Jeff Zucker is doing a terrific job."
https://www.axios.com/newsletters/axios-media-trends-61ca2e6f-f081-40bd-9bad-c6fb005d8306.html?chunk=5#story5
6. Big cable looks to broadband as cord-cutting intensifies
"With five out of the top seven publicly traded linear pay TV platforms, including the top three, reporting customer numbers, it appears the industry's record-bad third-quarter subscriber losses could indeed surpass 1 million users," Fierce Cable reports. We're still waiting on Dish and Altice earnings, but so far 632,000 Pay-TV subscriber losses have been reported in Q3:
Verizon: Lost 18,000 Fios TV users
AT&T: Lost 251,000 for DirecTV and 134,000 for U-verse
Comcast: Lost 125,000 Pay-TV subscribers
Charter: Lost 104,000 Pay-TV subscribers (Legacy Charter lost 11,000; Time Warner lost ~86,000; Bright House lost 7,000)
Why it matters: Pay-TV losses are forcing the top cable, satellite and video providers to double down on other products and services, especially broadband. Comcast chairman and CEO Brian Roberts said on last week's Q3 earnings call that the majority of its' cable business cashflow is broadband, not video.
Go deeper: I have more in the Axios stream.
https://www.axios.com/newsletters/axios-media-trends-61ca2e6f-f081-40bd-9bad-c6fb005d8306.html?chunk=6#story6
7. The cable killer
A cable lobbyist once told me he thought YouTube TV would be "the cable killer," but it looks like Pay-TV providers have the regular YouTube app to worry about too. Google CEO Sundar Pichai said on Alphabet's earnings call last week that viewers are watching 100 million hours of YouTube on traditional TV sets daily, up 70% from last year.
As Recode's Peter Kafka points out: "It's possible that some of that growth may be coming from YouTube Red, the company's first subscription service, or from YouTube TV, the pay TV service the company launched earlier this year."
https://www.axios.com/newsletters/axios-media-trends-61ca2e6f-f081-40bd-9bad-c6fb005d8306.html?chunk=7#story7
8. Text for ePrivacy bill approved in Europe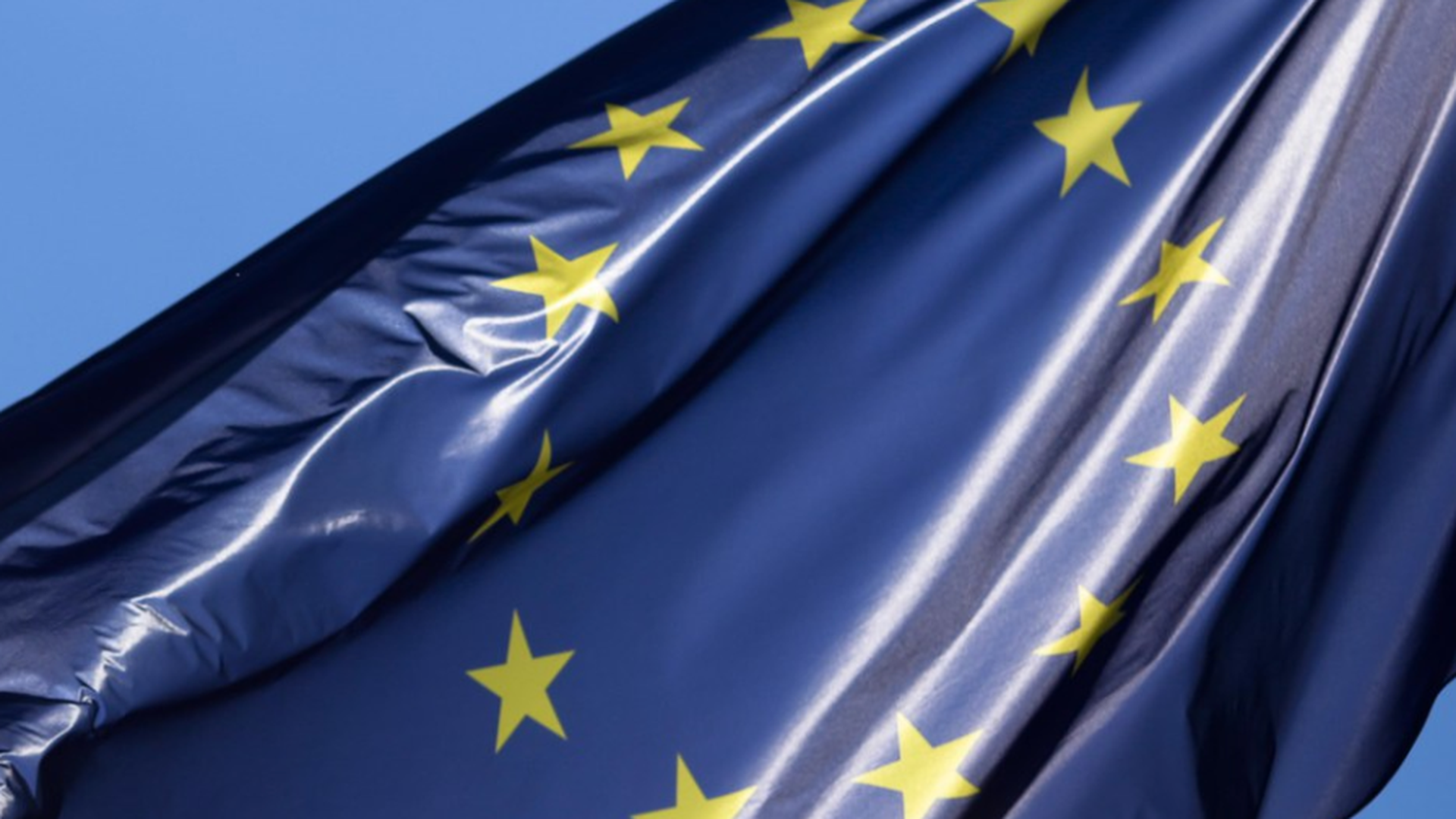 Members of the European Parliament on the Civil Rights Committee voted in favor Monday of text surrounding new ePrivacy rules that sets high standards for privacy and security in electronic communications across the EU. The new rules ban "cookie walls," which block access to a website if users don't agree to having their data collected upon entering the site.
Winners and losers: It's a big win for data privacy advocates and a big loss for tech companies that make money selling data-based advertising, like Google and Facebook. The law is related to the General Data Protection Regulation (GDPR) passed last year in Europe that is meant to give users more control of how their personal data is used. Companies will have to spend a fortune on compliance with both.
Why it matters: It's another example of how serious the EU is about protecting citizen privacy and regulating tech companies to stop them from monopolizing other industries.
https://www.axios.com/newsletters/axios-media-trends-61ca2e6f-f081-40bd-9bad-c6fb005d8306.html?chunk=8#story8
9. Consumers trust print-based outlets more in fake news era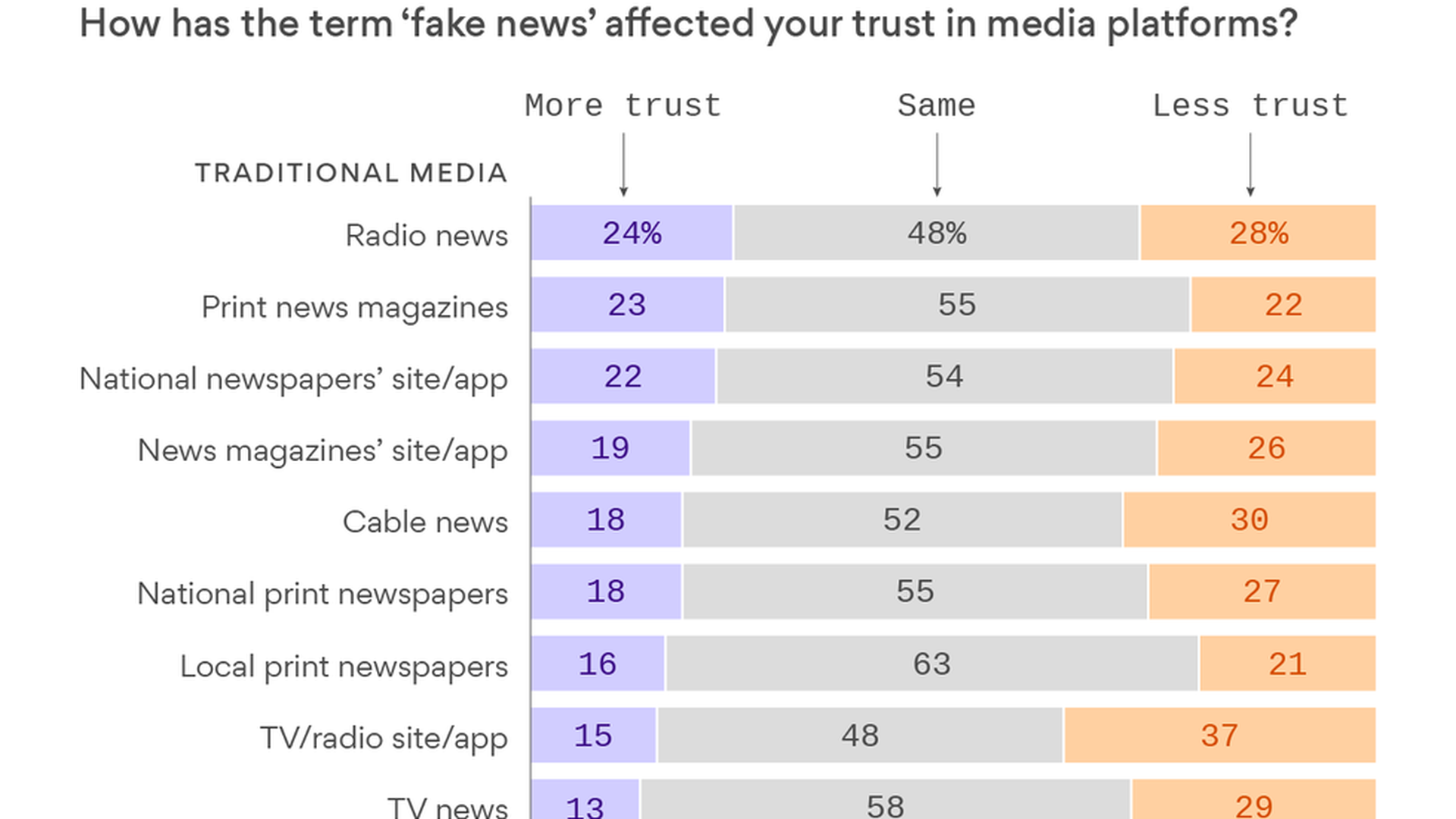 Print institutions are some of the most trusted news sources, despite the fact that their once flagship print products are moving online.
Per Kantar's "Trust in News" study out today, fake news drives more trust in print-based news outlets. Print news outlets (newspapers and news magazines) and their websites are five of the top six types of media that are trusted more amid the fake news epidemic. Messaging apps, online-only news outlets and social media are trusted the least.
Legacy print publications have been very successful at getting consumers to pay for their content online. Per a Digital Content Next study reported by The Wall Street Journal, print publications that are used to thinking about subscriber-first content have a better understanding of the marketing and technology needed to convert subscribers digitally.
https://www.axios.com/newsletters/axios-media-trends-61ca2e6f-f081-40bd-9bad-c6fb005d8306.html?chunk=9#story9
10. 1 burger thing