Axios Media Trends
September 03, 2019
Good morning. Thanks for subscribing to Media Trends. Tell friends to follow along by signing up here.
Today's Media Trends is 1,817 words, < 7 minute read.
Sports plug: 100,000 people now read Kendall Baker's Axios Sports newsletter, just 9 months after it launched. Sign up if you haven't already.
Situational awareness: President Trump's political allies are trying to raise at least $2 million to investigate reporters and editors of the New York Times, the Washington Post and other outlets, Axios' Mike Allen scoops.  
1 big thing: $100 million podcast mystery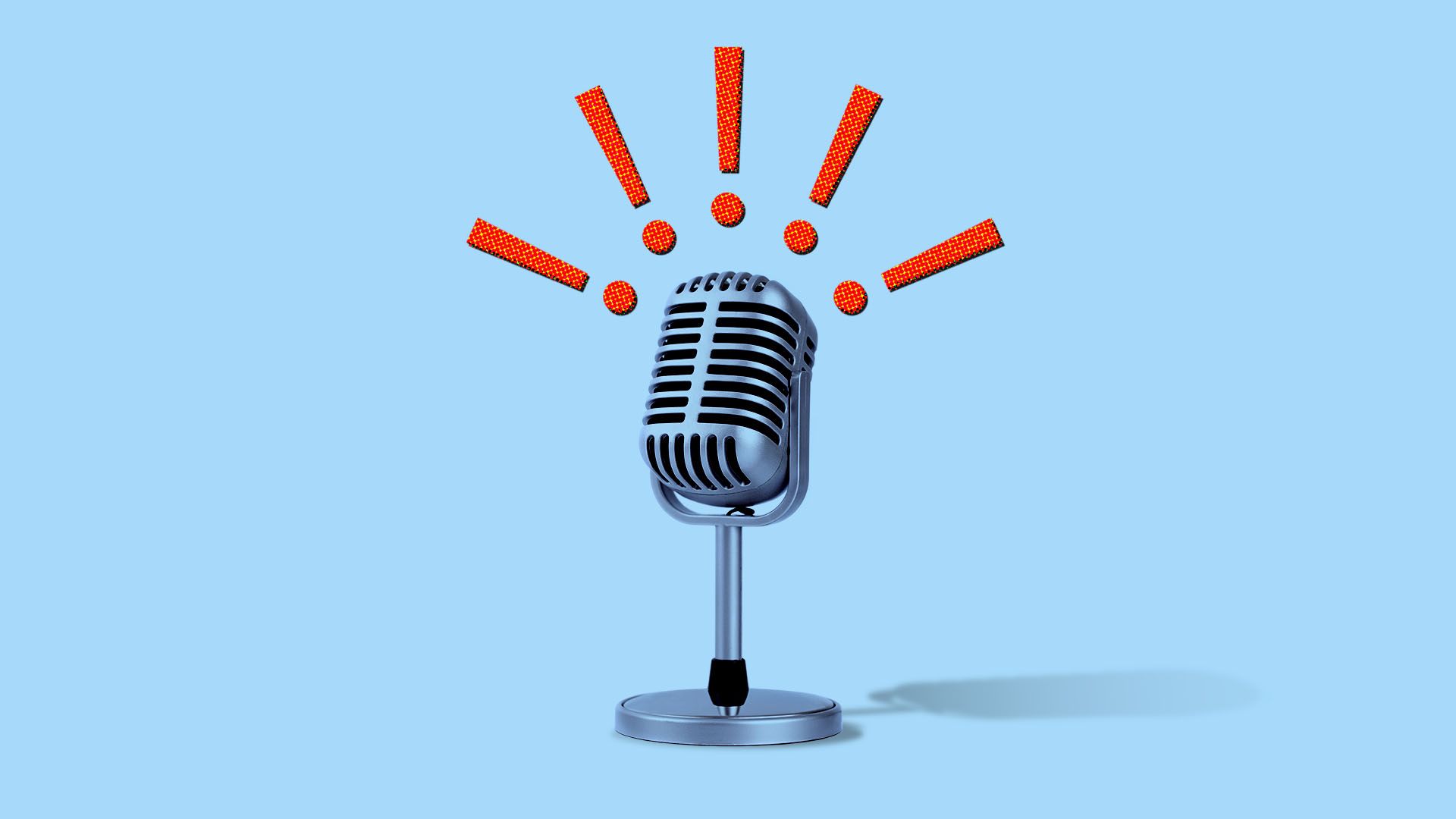 Himalaya Media launched in February as a San Francisco-based podcasting startup that had raised an eye-popping $100 million. But it didn't really have that much money in hand, nor were all the stated investors actually on board, Axios' Dan Primack and I write.
Why it matters: For startups, funding equals credibility. The publication of your inaugural press release is not the right time to fake it 'til you make it.
What the press release said:
The San Francisco-based startup has raised $100M from General Atlantic, SIG and Ximalaya FM and will use this to support the tech innovation, marketing, and content production and acquisition that are driving this launch.
What actually happened: General Atlantic never invested in Himalaya, according to a firm spokesperson.
Instead, it had previously invested an undisclosed amount in Ximalaya FM, the established Chinese podcasting platform that Himalaya also lists as an investor. (Neither SIG nor Ximalaya FM responded to requests for comment, even to confirm that they had invested.) There is no SEC filing or other official public record of an investment into Himalaya.
Once Axios began making calls, Himalaya pulled down the press release (although versions of it remain on the internet, and we've retained a copy).
Peter Vincer, Himalaya's original head of partnerships and marketing, says that Ximalaya FM is Himalaya's majority owner, though that was never disclosed in the press release or subsequent media coverage. (Vincer now leads a spin-out podcast studio, HiStudios, that is controlled by Himalaya.)
Himalaya CEO Yu Wang acknowledged to Axios that General Atlantic didn't invest directly in his company, and said he removed the press release because "some of the language ... was a little bit confusing."
He also said the $100 million was a 3-year commitment mostly from Ximalaya FM, of which Himalaya so far has received only around $10 million.
Wang said there are no financial or timing milestones that Himalaya must hit to receive the remaining money, but wasn't forthcoming when asked what how disbursements would be determined.
He volunteered to show Axios the equity commitment letter, which he claimed to have in front of him, so long as we didn't publish it. We agreed.
The letter never came. Instead, nearly a day later, we were told by an external spokesperson to direct all questions to a representative of Ximalaya FM. We emailed that representative, but she never replied.
Be smart: There's somewhat of a history of Chinese startups overstating fundraises, but it's highly unusual for a U.S.-based company to do so.
The bottom line: Many media outlets — including Axios, Variety, and Fast Company — reported on the supposed deal. Today, however, we know that some of the initial information was false, and it's impossible to validate the $100 million figure.
2. Yang gets media cold shoulder
Despite polling in the top 6 of the Democratic primary and getting plenty of online attention, businessman Andrew Yang is being treated by the media like a bottom-tier candidate, Axios' Neal Rothschild and I write.
Why it matters: The discrepancy between demonstrated voter support and the level of media coverage — both on cable and in the online world — shows that the press is in unfamiliar territory in covering a candidate who's from outside the political world and who keeps a low profile.
Driving the news: Last week, Yang supporters complained of a #YangMediaBlackout after CNN left the candidate off on-screen polling graphics of 2020 hopefuls.
The big picture: In the absence of coverage from major media outlets, candidates must rely on grassroots support and traction in online communities, as Yang has done with podcasts and on social media.
Details: Along with Yang, Tulsi Gabbard and Pete Buttigieg have also under-indexed in media coverage, relative to their polling positions. Meanwhile, Beto O'Rourke and Bill de Blasio have benefitted from outsized coverage.
Flashback: This isn't the first time the media has struggled with how to cover an unconventional candidate. HuffPost famously made the decision to include news about Donald Trump's 2016 candidacy as part of its "entertainment" coverage.
3. Washington Post adds product to masthead
The Washington Post will unveil a new masthead on Tuesday that for the first time in its 141-year-old history will include a vice president of product — Kat Downs Mulder, executives tell Axios.
What's new: As part of its product push, the company will launch a series of new, personalized newsletter products this fall, as well as a dynamic paywall, with Downs Mulder at the helm.
"In 2011, there were four engineers in The Washington Post newsroom. Today there are over 300."
— Fred Ryan, CEO and publisher, The Washington Post
The Bezos talent effect: The new masthead speaks to the company's commitment to growing as a product and technology company under the guidance of Jeff Bezos, who bought the Washington Post for $250 million in 2013.
"Access and ability to recruit and retain engineers has been an amazing byproduct of Jeff's ownership," Ryan says.
"Our engineers are in regular conversation with Jeff about ways to constantly improve our UX (user experience), and how we test and experiment with new products."
4. U.S. tech giants take cues from China
A slew of Chinese-inspired smartphone apps and products are flourishing in the U.S., adding new Chinese influences to American culture and business just as the trade conflict between the two countries intensifies, according to a report by the South China Morning Post and Abacus.
Examples:
Facebook Messenger copying WeChat to move from messaging to everything from payments to tickets to gaming.
Amazon copying Taobao, which is owned by Alibaba, to build live-streaming video for shopping.
Facebook copying TikTok by launching Lasso last year, an app that lets users create viral short videos that often feature lip-syncing.
Why it matters: U.S. tech giants that once inspired Chinese products in the era of PCs and the web are now borrowing moves from East Asian counterparts, mimicking their smartphone apps and innovations.
The big picture: Innovation on the smartphone has flourished in China because phones were the first broadly-adopted screen there.
Be smart: Apps for social media, messaging and video are relatively easy for U.S. tech companies to replicate — they're less regulated by local governments than finance, hardware, or transportation, and less tied to physical supply chains that can be subject to trade-war tariffs.
5. Big Telecom's sweet summer of revenge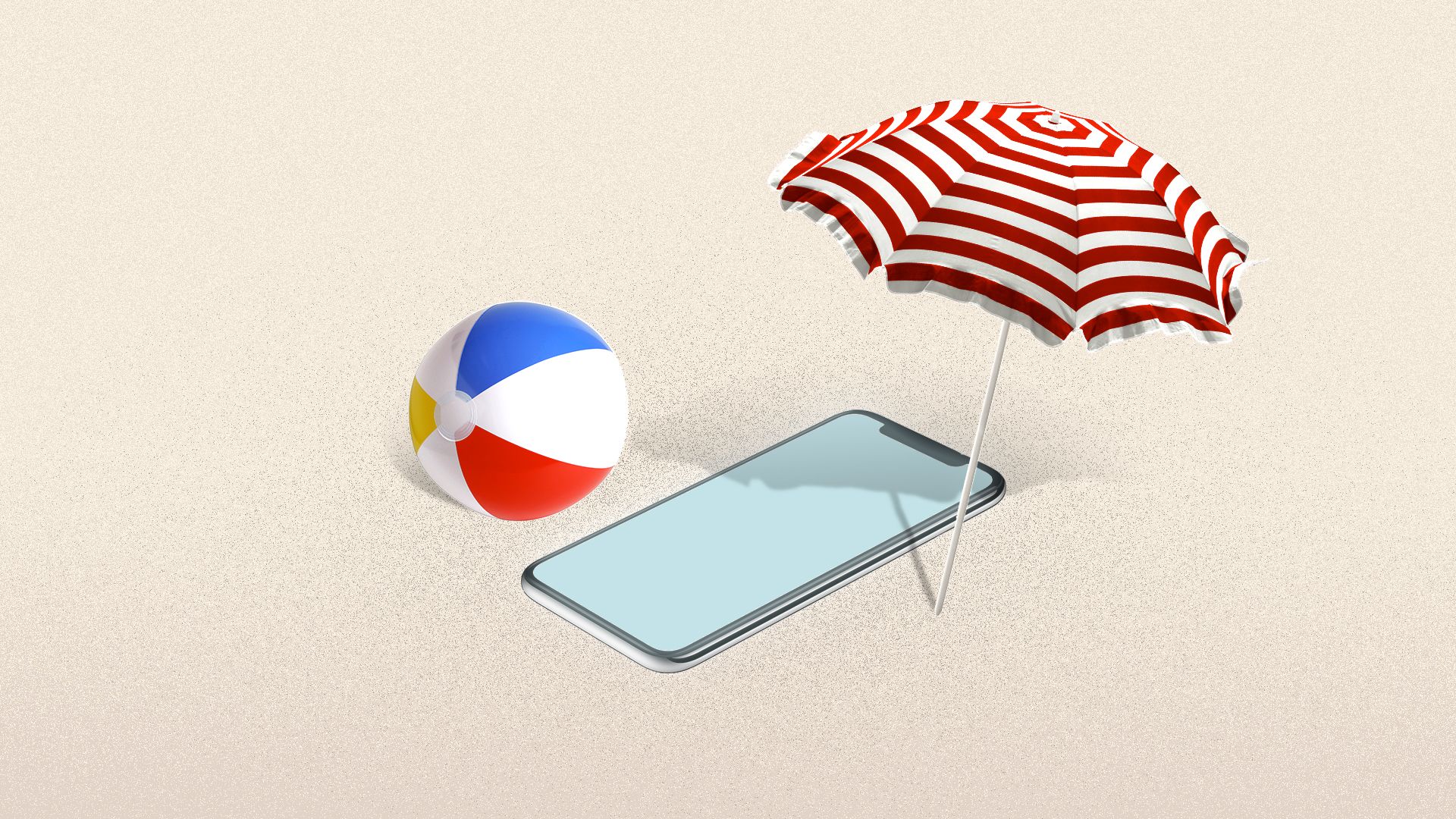 One byproduct of the techlash: After years of frustration that Silicon Valley companies seemed to get special treatment in Washington, telecom giants are finally gaining the upper hand, Axios' Kim Hart writes.
What's new: Agencies that typically govern communications and the internet, like the FTC, FCC and DOJ, under the current Republican administration are showing signs of increased scrutiny over Big Tech, and less scrutiny over the telecom industry, which has historically been more heavily regulated.
Be smart: A similar pattern is happening at the state level, where Republican attorneys general are applying more scrutiny to Big Tech, and less to telecom.
What to watch: The D.C. Circuit Court is expected to announce its decision on the FCC's roll-back of net neutrality rules any day. If the FCC's action is upheld, as many expect it to be (at least in part), it would be a major victory for broadband providers.
6. Summer box office slump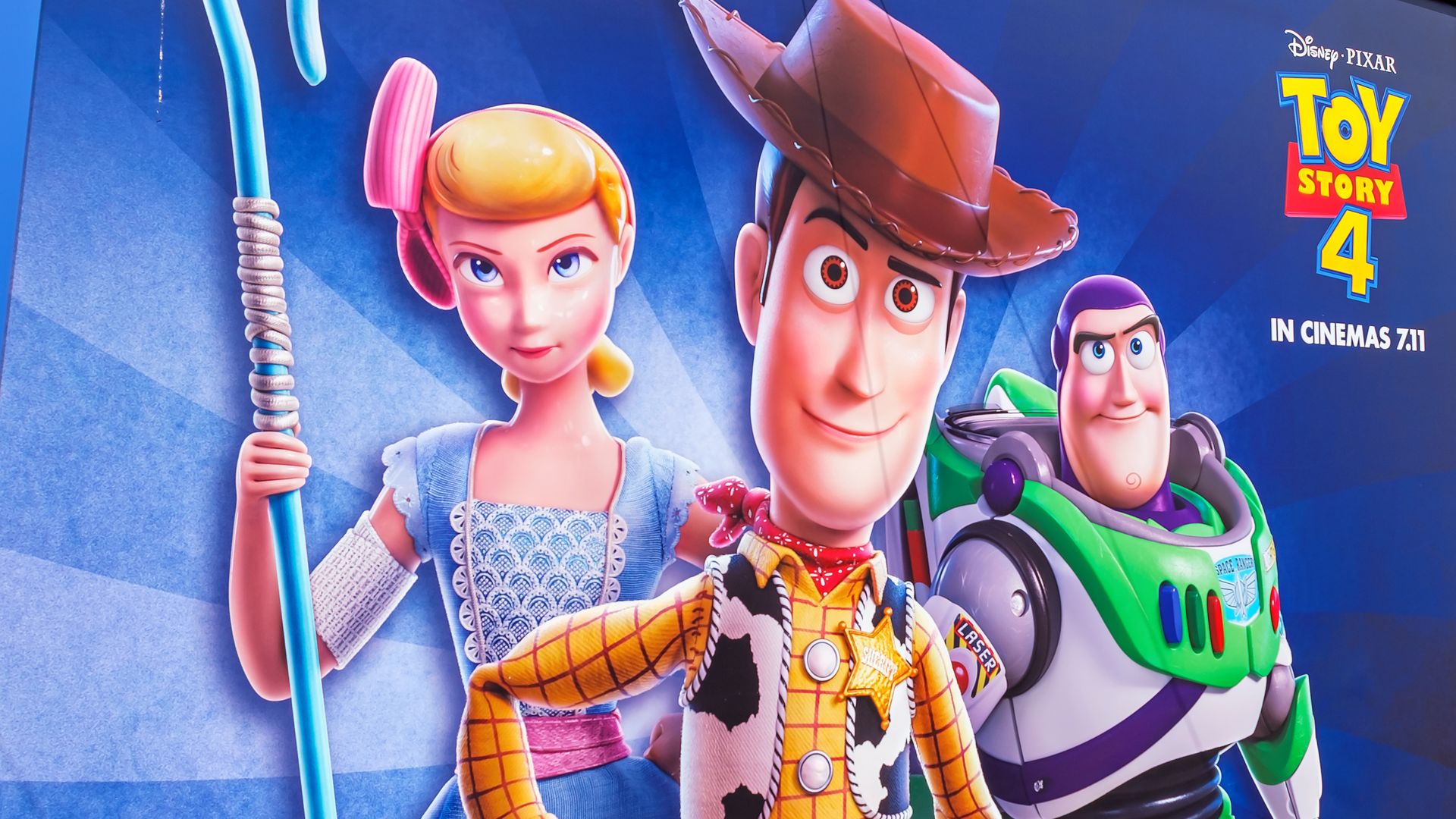 Summer box office revenues were down 2% this year from the same period (beginning of May to beginning of September) as last year, per Comscore.
Why it matters: Mega hits like "The Lion King," "Aladdin" and "Toy Story 4" were supposed to keep the box office alive this summer, but broader economic trends and less-than-compelling storylines kept audiences from turning out in droves.
"[E]conomic factors may be a part of this equation, but it's much more than dollars and cents that hang in the balance," says Paul​ Dergarabedian, senior media analyst at Comscore.
"It's not that audiences no longer want to go to the movie theatre, they just need a compelling reason to go," Dergarabedian says.
He argues that while streaming is a formidable competitor to theaters, it doesn't stop people from wanting to go to the movie theatre. Rather "it just means that the movies have to be a cut above, attractive in a way that is undeniable and a 'must see' event."
What to watch:  Netflix unveiled its fall movie slate last week, and said that it's planning to have 10 fall movies debut with exclusive theatrical release windows ahead of releasing those movies to subscribers on its streaming service.
The big picture: The move highlights the tricky balance Netflix needs to strike between playing ball with theater chains in order to ensure it gets enough buzz and critical claim around films, while also keeping its subscription retention high.
Bonus: Lights, camera ... and lots of action
Action and adventure movies have significantly increased their share of total box office revenues over the past few years, thanks in large part to the fact people still love remakes of their favorite franchises, like Marvel and Star Wars.
Why it matters: The decline of moviegoing isn't attributable to an increase in these types of films over dramas, comedies, etc., writes Matthew Ball, former head of strategy for Amazon Studios.
Rather, he argues, "nearly all the decline in theatrical consumption has instead come from a reduction in the frequency of attendance by the most intense moviegoers" who are rejecting content like dramas and comedies in theaters because it doesn't need to be watched on a big screen to be appreciated.
As a result, studios are producing fewer movies overall to focus their budgets on the big franchise hits that perform well, which is leading intense movie-goers to visit the box office less frequently.
7. Brexit bump
Some of the other big names in U.K. print media are experiencing success amid political turmoil in Britain.
Financial Times this week reported that it posted big profits for its media group in 2018, about 75% higher than 2017 due to digital subscription increases. Digital subscriptions grew by 11% year over year.
News UK, parent company of The Times and Sunday Times, says it now has more than 300,000 paid digital-only subscribers between the two outlets. The owner claims that 2019 had been its "most successful year" since launching a digital subscription model in 2010.
Guardian Media Group says it hit its goal of breaking even last year. The company says its main Guardian News & Media subsidiary "recorded an operational profit "of £800,000 for the first time in many years.
Yes, but: Corinne Podger, a journalism educator and media consultant, notes that some of those companies have been working on digital-first strategies ahead of the Brexit news cycle, which could have impacted their success.
The bottom line: It's hard to say whether there's really a "Brexit bump" or if other factors are at play, but the trend in the U.K. looks like the "Trump bump" in the U.S., where news subscriptions and engagement spiked in response to political drama.
8. 1 fun thing: You may not like this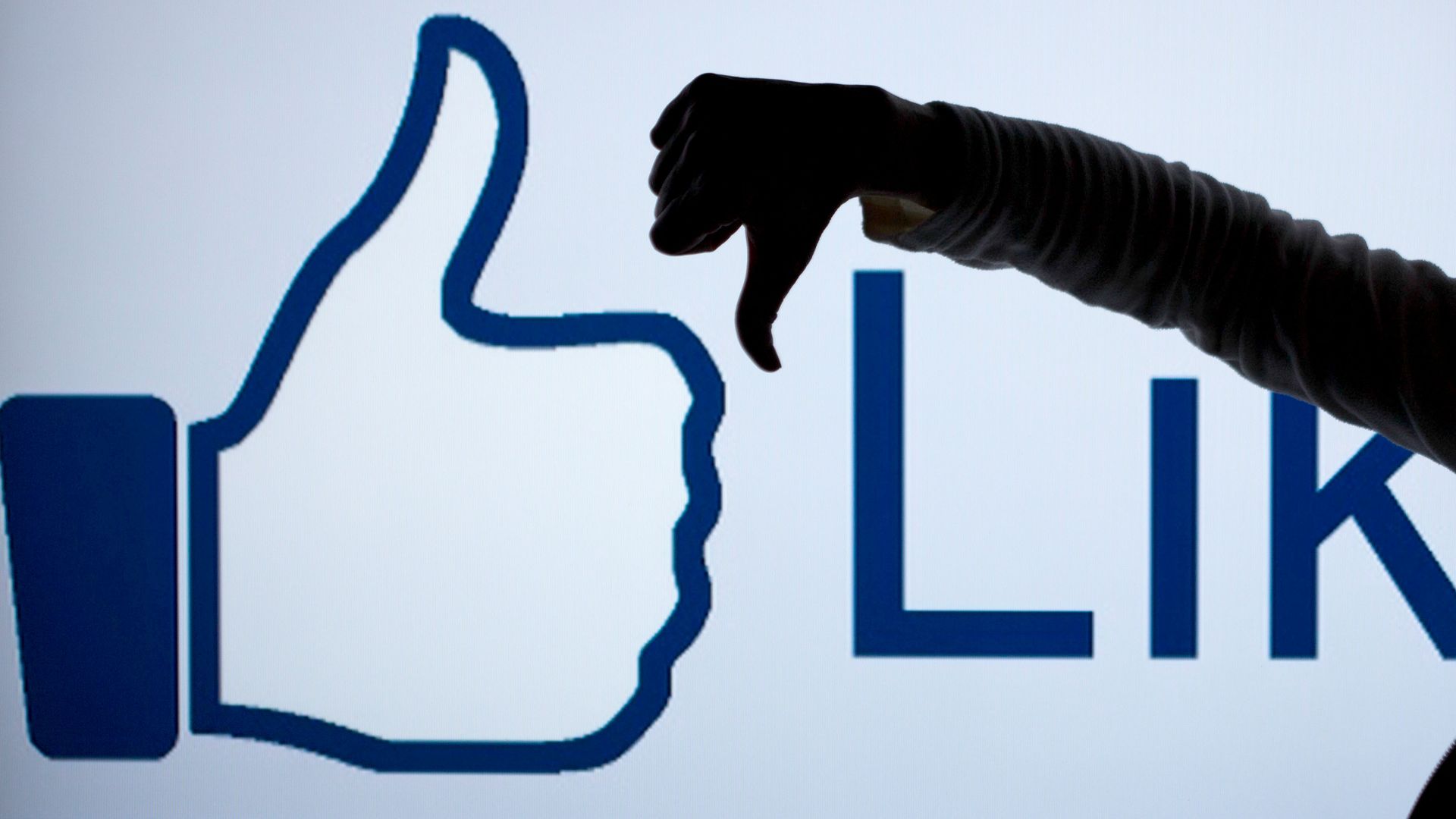 Social media companies that used engagement metrics, such as "likes" and "favorites" to get users hooked are now beginning to rethink those decisions.
Driving the news: Facebook says it's testing the removal of like counts, the company confirms to TechCrunch. An engineer spotted Facebook "prototyping the hidden Like counts" in its Android app, per the report.
Instagram began testing hiding the number of likes on posts in several countries in July, the BBC reports. The company says the move is meant to make users more focused on sharing what they care about, rather than the popularity of posts.
Twitter released an experimental app earlier this year that would hide engagement counts, such as likes and retweets, on replies to tweets.
Be smart: Snapchat's Evan Spiegel has for a long time criticized the "likes" system on social media for spurring fake news.