Axios Media Trends
June 06, 2023
Today's Media Trends, copy edited by Sheryl Miller, is 2,206 words, an 8½-minute read. Sign up.
⛳️ Situational awareness: The PGA Tour has agreed to merge with Saudi-backed rival LIV Golf. The deal ends months of antitrust litigation between the two parties.
1 big thing: Chaos at CNN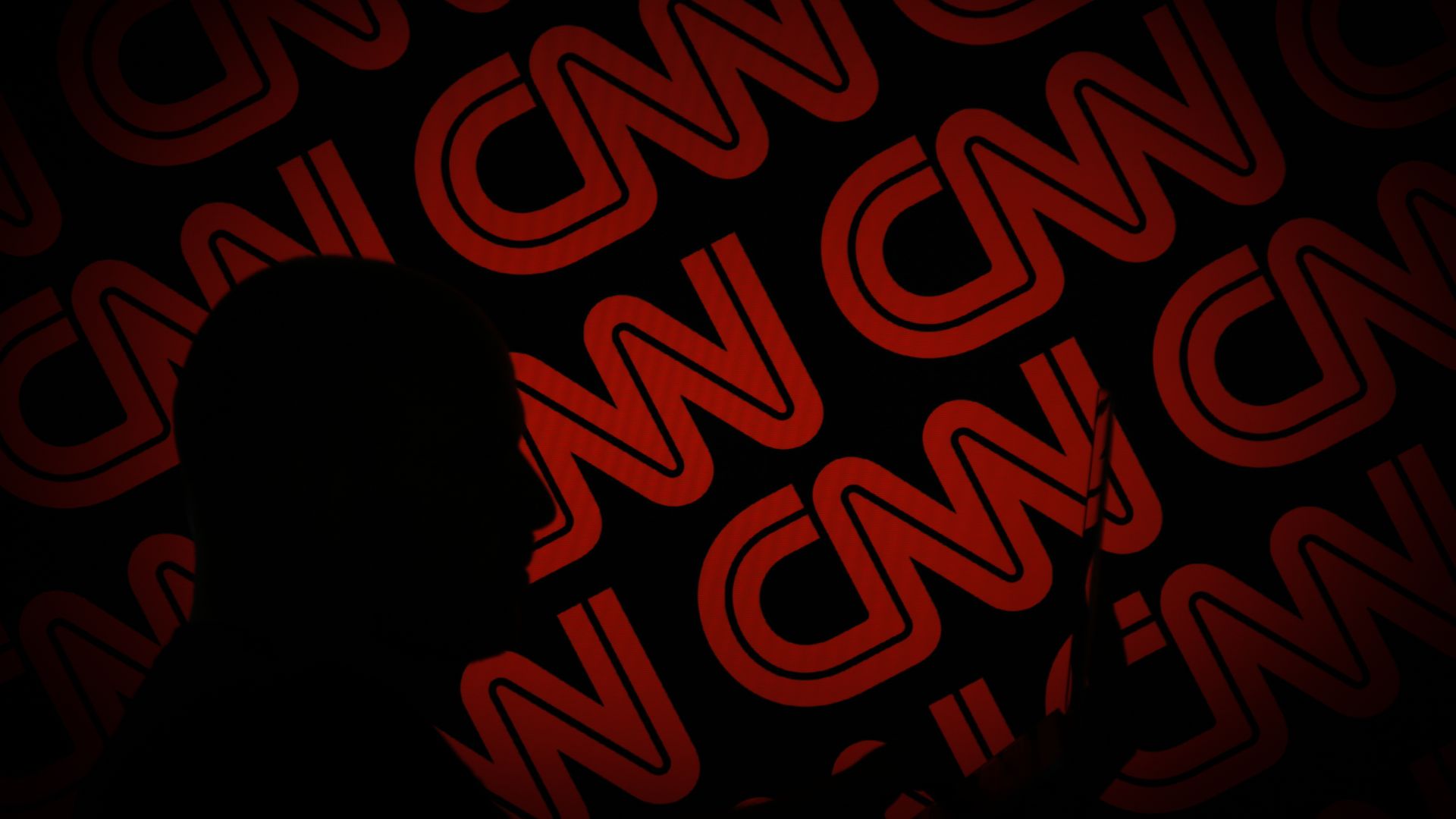 CNN is on edge following a chaotic weekend of media reports and headlines suggesting CEO Chris Licht's days at the network are numbered.
Why it matters: The network was already under enormous stress following years of corporate mergers, product pivots and evaporating cable viewership.
The latest saga calls into question how prepared the network will be to cover the 2024 elections — typically its most lucrative programming opportunity — and whether it's prepared for the eventual collapse of the cable bundle.
By the numbers: CNN brought in roughly $750 million in profit last year, down from the $1 billion+ it brought in for each year between 2016 and 2020, the New York Times has reported and sources have told Axios.
Part of that decline in profit can be attributed to the dismantling of CNN+.
CNN is today likely valued at far less than it was worth in late 2020, when CNN's former boss Jeff Zucker tried to explore a deal to sell the network.
That conversation, which was reported on by the New York Times and confirmed by Axios, would have valued the network at roughly $10 billion, two sources said.
Sources at CNN parent Warner Bros. Discovery said the company has no interest in spinning off CNN at this time.
The big picture: Morale at CNN is low, but the stress is bigger than conflicts over Licht.
Streaming: The dismantling of CNN+ last year, just three weeks after it launched, left staffers anxious about how the network will manage the transition to streaming once the cable bundle inevitably collapses.

Two sources told Axios that executives are having active discussions about how to add some of CNN's content onto Warner Bros. Discovery's streaming service, Max, without violating any distribution contracts with cable carriers.

Digital: Despite drawing a massive online audience, the company has struggled to build products to adequately monetize those viewers. Digital accounts for roughly 10% of the company's overall profits, a source said.
Editorial direction: There's concern from some staffers that Warner Bros. Discovery is trying to fix a newsroom that isn't broken, former CNN chief media correspondent Brian Stelter reported.
What to watch: Warner Bros. Discovery executive David Leavy, a longtime confidant of CEO David Zaslav, was named chief operating officer of CNN last week, the day before The Atlantic published a revealing profile of Licht.
Licht apologized to CNN staffers on an editorial call Monday and said, "I should not be in the news unless it's taking arrows for you," a source on the call told Axios.
Leavy, the network said, will assume responsibility over commercial, operational and promotional activities at CNN.
He is expected to make sweeping changes to the company's public relations department in the coming weeks, a source said. Semafor reported that Leavy plans to move CNN's PR team under his purview imminently.
Disclosure: Sara is a CNN contributor.
2. Media's "Succession" obsession
The media's obsession with HBO's hit series "Succession" drew outsized coverage of the show that was disproportionate to reader interest, according to new data.
Why it matters: While there's no question "Succession" was a huge hit, the countless spoilers, cast interviews and interpretations of the series may have been driven more by the media's obsession with its own industry rather than consumer interest.
Details: Data from Memo, a media analysis firm that uses artificial intelligence to monitor online article engagement, found that the "Succession" series finale drew a disproportionate amount of media coverage relative to its readership and compared to other major TV series whose season finales occurred in the last month.
Memo measured the number of articles written about some of the most-watched TV series from the 2022-2023 TV season in the past 30 days (excluding "Yellowstone" and sporting events) and compared that data to "Succession."
Unlike the other four shows in the top five most-watched scripted series of the season, the "Yellowstone" finale didn't occur in the last 30 days and couldn't be accurately used as a comparison. (It's also worth noting that "Succession" had its series finale, not just a season finale.)
The data found that "Succession" was covered six times more than any other show analyzed, but saw the second lowest average readership of that coverage.
Be smart: The top five most-watched scripted TV series during the 2022-2023 season were Paramount's "Yellowstone," CBS' "NCIS," "FBI" and "Young Sheldon," and NBC's "Chicago Fire," per Variety.
With the exception of "Yellowstone," which was the only nonsports show to draw more than 11 million viewers on average per week during the season, each show averaged more than 9 million viewers weekly.
A spokesperson for HBO said "Succession" drew 9 million viewers per episode on average during its last season across all of its platforms, which includes linear television and delayed, on-demand viewing.
The bottom line: Despite the huge success of "Succession," it remains a somewhat niche series, the New York Times notes.
Other HBO hits such as "House of the Dragon" and "The Last of Us" averaged roughly 30 million viewers per episode.
3. Summer of strikes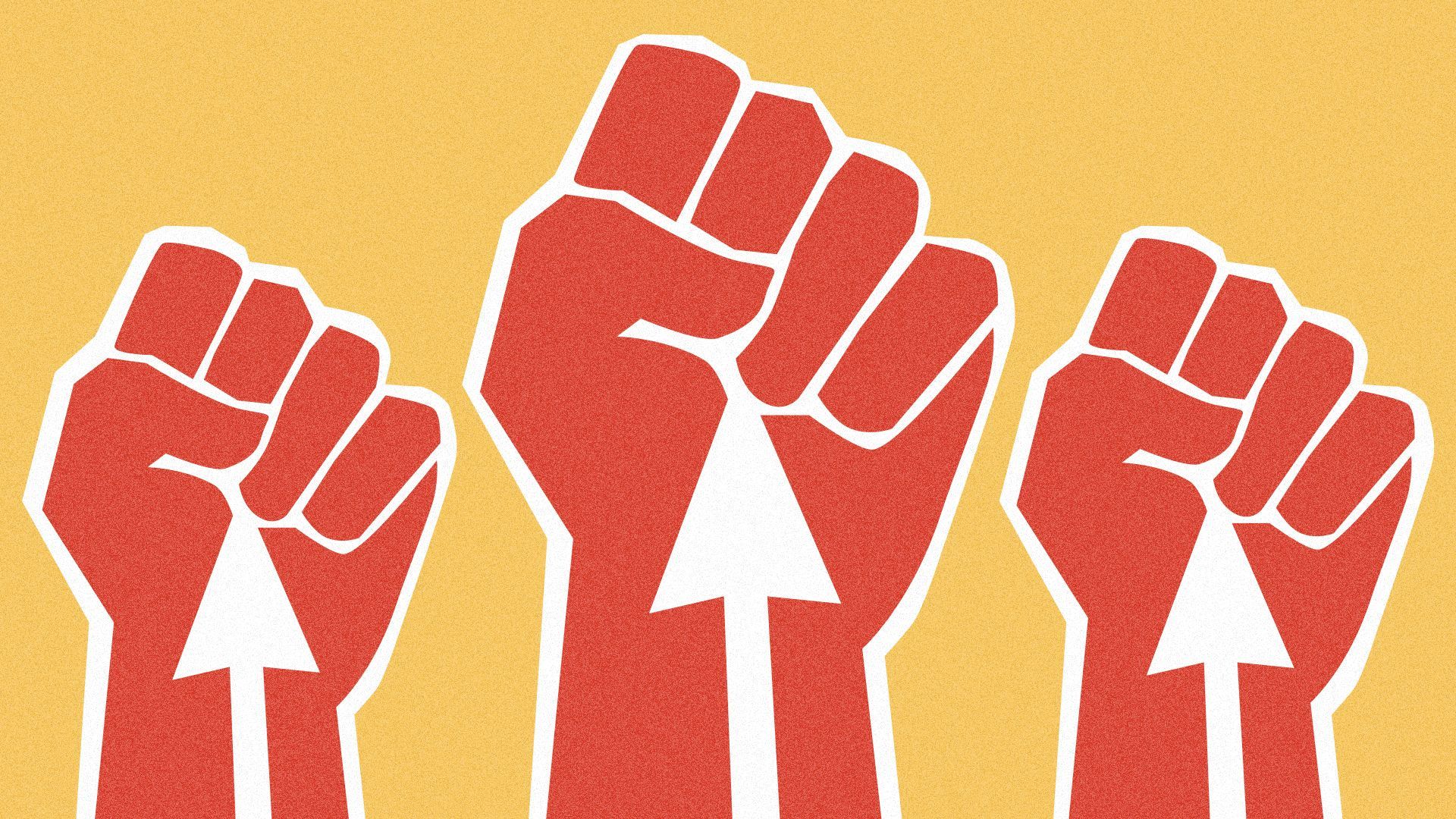 Members of the union representing Hollywood actors voted overwhelmingly to authorize a strike against the country's biggest TV and film studios Monday, should the two groups fail to reach a new contract deal by the end of the month.
Why it matters: If the two sides don't come to an agreement, Hollywood would likely face a two-pronged labor battle, Axios' Tim Baysinger and I write.
Driving the news: A vast majority (97.91%) of members of SAG-AFTRA (Screen Actors Guild - American Federation of Television and Radio Artists) voted in favor of authorizing a strike if they can't reach a contract deal by June 30th with Hollywood studios, the union said Monday.
Be smart: There's hope that the two sides can potentially come to an agreement.
Zoom out: The media industry is facing an unprecedented number of strikes and union battles as big companies wrestle with slowing profits and fears about artificial intelligence.
The big picture: Strikes have become a bigger part of union negotiation tactics in recent years, causing production delays and editorial disruptions.
Go deeper: Sign up for Axios Pro Media Deals authored Tim Baysinger and Kerry Flynn.
4. Search rivals come for Google
While Google still makes up the vast majority of search ad revenue in the United States, its Big Tech rivals are beginning to eat at its dominance, according to data from Insider Intelligence.
Why it matters: The explosion of generative AI, changes to the privacy landscape and the rise of retail media networks are all driving more competition in the search advertising market than ever before.
Microsoft's U.S. search ad revenues will grow more than three times as fast as Google's this year, according to Insider Intelligence. Its search ad revenue growth will soon rival that of Amazon's, per the data. Its early investments in generative AI are helping to bolster user growth of Bing.
Amazon continues to dominate retail search advertising, making up a whopping 80.7% share of retail media search ad spending. Like Google, Amazon is facing new pressure from e-commerce rivals like Walmart and Instacart, which are investing further in their own ad businesses.
Apple's ad revenue is expected to surpass $5 billion in 2023, per the report — nearly quadrupling over the last five years — thanks in part to some of its own privacy changes.
The big picture: Google's search dominance comes as search ad spending growth on its platform and broadly begins to slow, thanks to maturation.
Search ad spending is expected to grow 8.3% this year. While that's a lot compared to traditional media, it's the first time since 2009 that it's grown less than 10% year-over-year.
What to watch: TikTok and Instagram are both in the early days of experimenting with paid search ads.
5. Big Tech rolls back rules ahead of 2024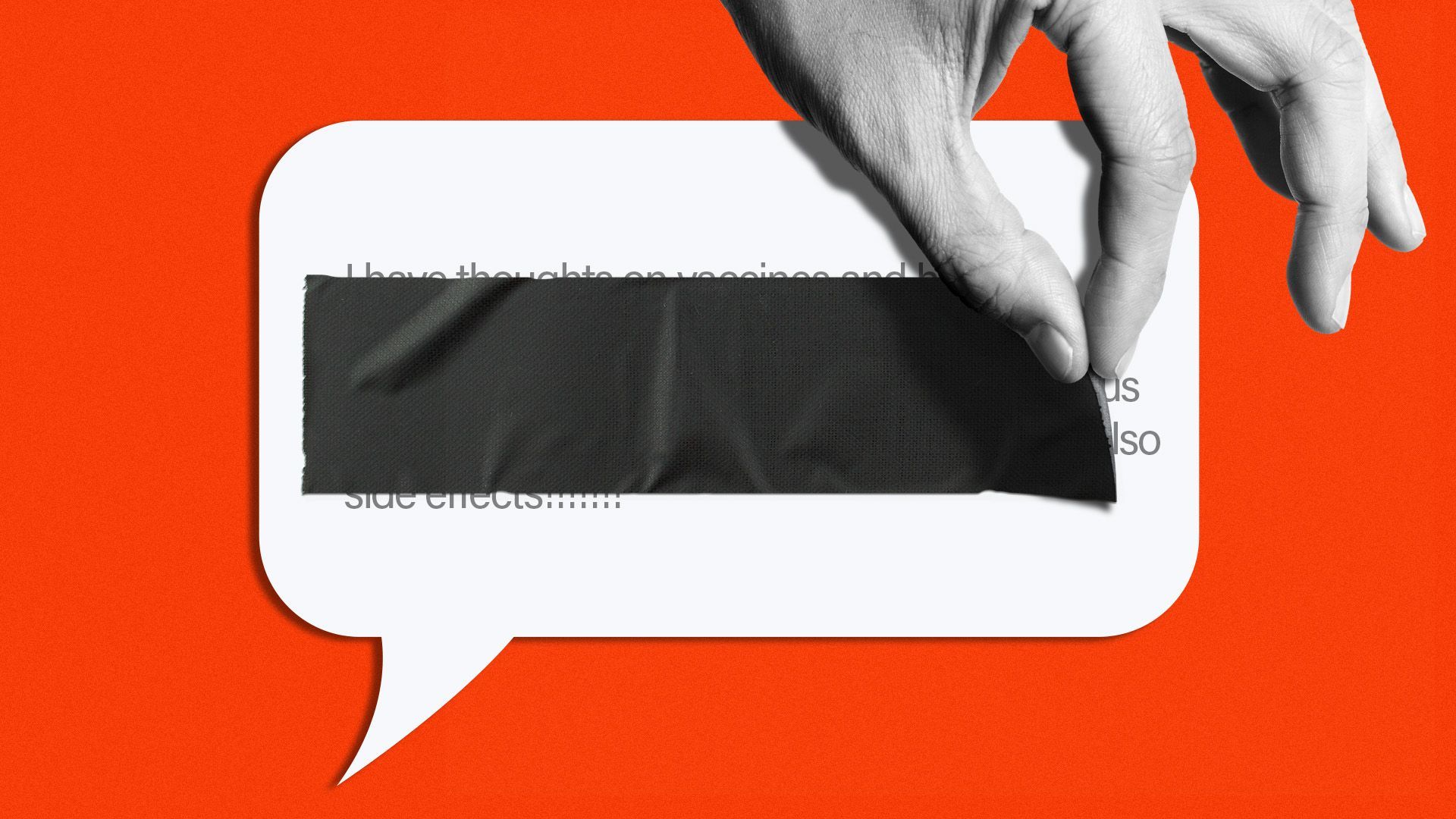 Ahead of the 2024 election cycle, the world's largest tech companies are walking back policies meant to curb misinformation around COVID-19 and the 2020 election.
Why it matters: Social media platforms are arguing that the risk of harm no longer outweighs the benefits of political dialogue, drawing concerns from lawmakers and consumer advocacy leaders.
YouTube last week confirmed that it will reverse its election integrity policy to leave up content that says fraud, errors or glitches occurred in the 2020 presidential election.
Meta on Monday reinstated the Instagram account of Robert F. Kennedy Jr., who was removed from the platform in 2021 for posting misinformation about COVID.
Twitter said it would no longer enforce its COVID misinformation policy last November after Elon Musk took over the platform. It restored the accounts of prominent election deniers in January and rolled back its policies against misgendering people in April.
What to watch: Some tech firms are also pulling back some of the restrictions they've traditionally placed on political ads.
6. TV networks battle for Republican debates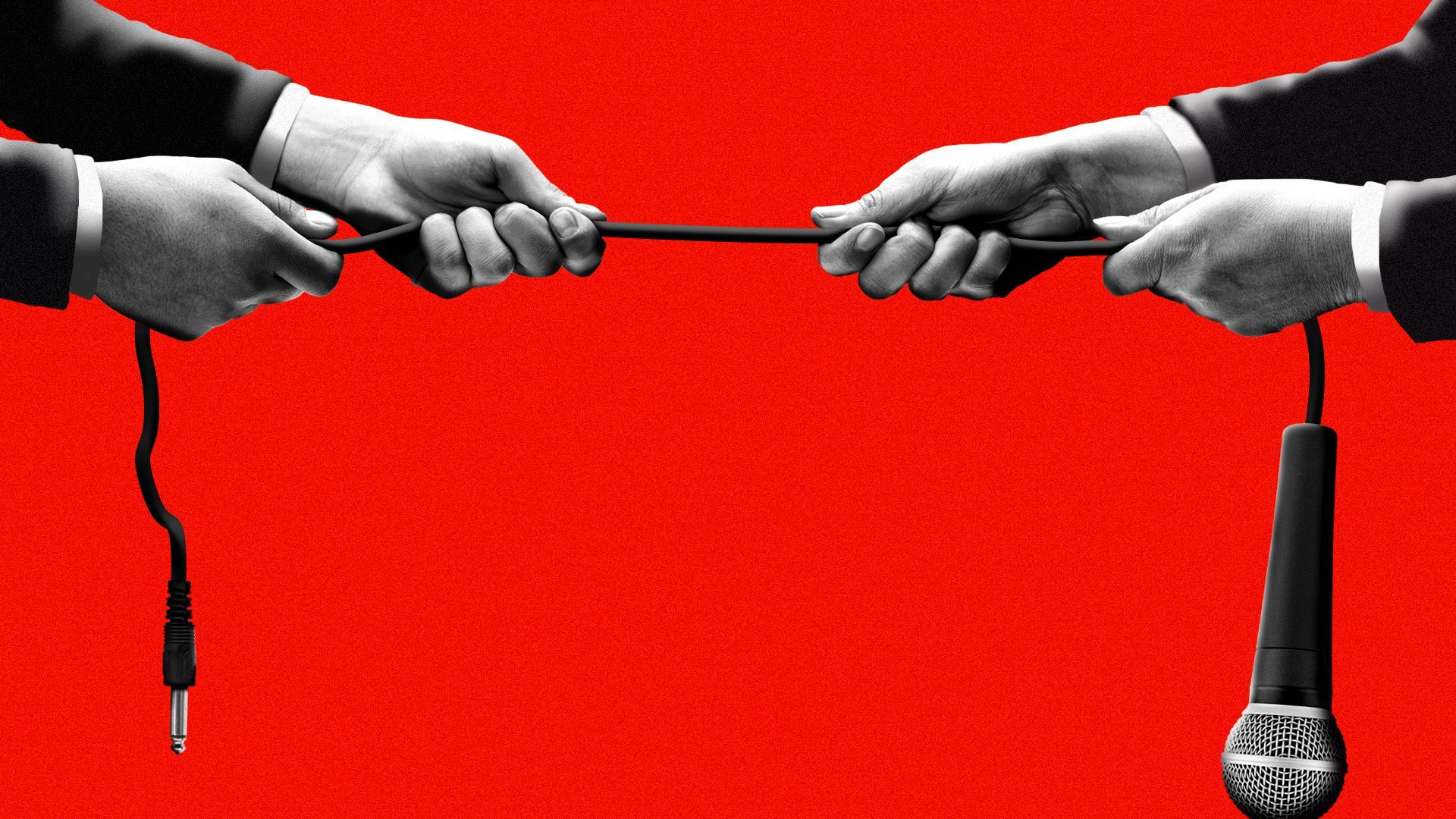 Rage against CNN and MSNBC by Florida Gov. Ron DeSantis — along with former President Trump's recent mistrust of Fox News — has created a deadlock over hosts for 2024 GOP presidential debates.
Why it matters: The fight has sparked uncertainty over whether debates will happen at all, Axios' Alex Thompson and I write.
What we're hearing: Trump's campaign believes his opponents need the primary debates more than he does because they're behind him in polls. Trump — feeling slighted by Fox News' coverage of DeSantis, is wary of the network hosting debates, two sources told Axios.
DeSantis has pushed back against the RNC sanctioning a debate with CNN or NBC News, both of which are salivating to host a 2024 primary debate, sources told Axios.
Trump hasn't committed to participating in the first RNC debate, to be hosted by Fox News in August.
The intrigue: The debate negotiations — among the networks, campaigns and the RNC — follow CNN's hotly debated decision to host a prime-time town hall event with Trump last month.
CNN CEO Chris Licht has told the RNC that CNN would air the debate not just on its linear feed, but also potentially on the linear networks of other Warner Bros. Discovery channels, two sources told Axios. By including those channels, Licht has argued, CNN could reach more conservatives than Fox, plus independent voters.
Licht has offered to partner with a conservative-leaning outlet, perhaps giving a journalist from the partner a co-moderator spot.
NBC News' Lester Holt, sources say, was part of an effort to court the RNC.
The bottom line: As TV viewing becomes more splintered, campaigns and parties are eager to explore new partnerships that can maximize viewership.
Disclosure: Sara is a CNN contributor.
7. Spotify combines podcast studios and shrinks workforce
Spotify is combining two divisions in a cost-cutting move that will hit its podcasting business after years of extravagant spending, Axios' Kerry Flynn writes.
Why it matters: Spotify is one of the biggest names in podcasting with more than 100 million listeners. The move shows that its explosive growth came at a significant cost.
Driving the news: Spotify announced Monday it was combining Parcast and Gimlet into one operation called Spotify Studios and reducing its podcast division by about 200 people, or 2% of the company's workforce.
Context: The above chart is not all-inclusive, but it provides a snapshot of some big names Spotify has signed over the past five years.
Some of the former Spotify-exclusive podcasters have signed deals with competitors. Higher Ground moved to Audible. Esther Perel is now part of the Vox Media Podcast Network.
Of note: Beyond exclusive licensing deals, Spotify had spent big on podcast-related acquisitions such as Gimlet, Anchor, Parcast and Bill Simmons' "The Ringer."
8. 🗞️ 1 fun thing: New freelancer deal
OutVoice, a freelancer management and payment platform for media companies, has acquired Study Hall, a newsletter and online community for freelance journalists, Study Hall's co-founder Kyle Chayka told Axios.
Why it matters: The six-figure deal shows that there can be successful exits for small, niche newsletters.
HubSpot, a marketing tech company, bought The Hustle, a newsletter company, for roughly $27 million in 2021.
Vox Media acquired Hot Pod, a podcasting newsletter, in 2021.
What's next: Study Hall's website will feature new integrations with OutVoice that will provide editorial opportunities directly to Study Hall's 3,000+ paid subscribers, many of which are freelancers.
Matt Saincome, the founder of OutVoice, said the company has raised $2 million and has six employees. Two Study Hall employees will join OutVoice with the deal.