Axios Media Trends
September 17, 2019
Good morning from Santa Barbara, where AT&T's ad division, Xandr, is hosting its 2nd annual advertising conference. I'll be interviewing executives from Hulu, WarnerMedia, Xandr, GroupM and more about the future of television advertising.
Today's Media Trends is 1,824 words, a 7 minute read. If you don't already subscribe, sign up here.
1 big thing: Reporters vs. trolls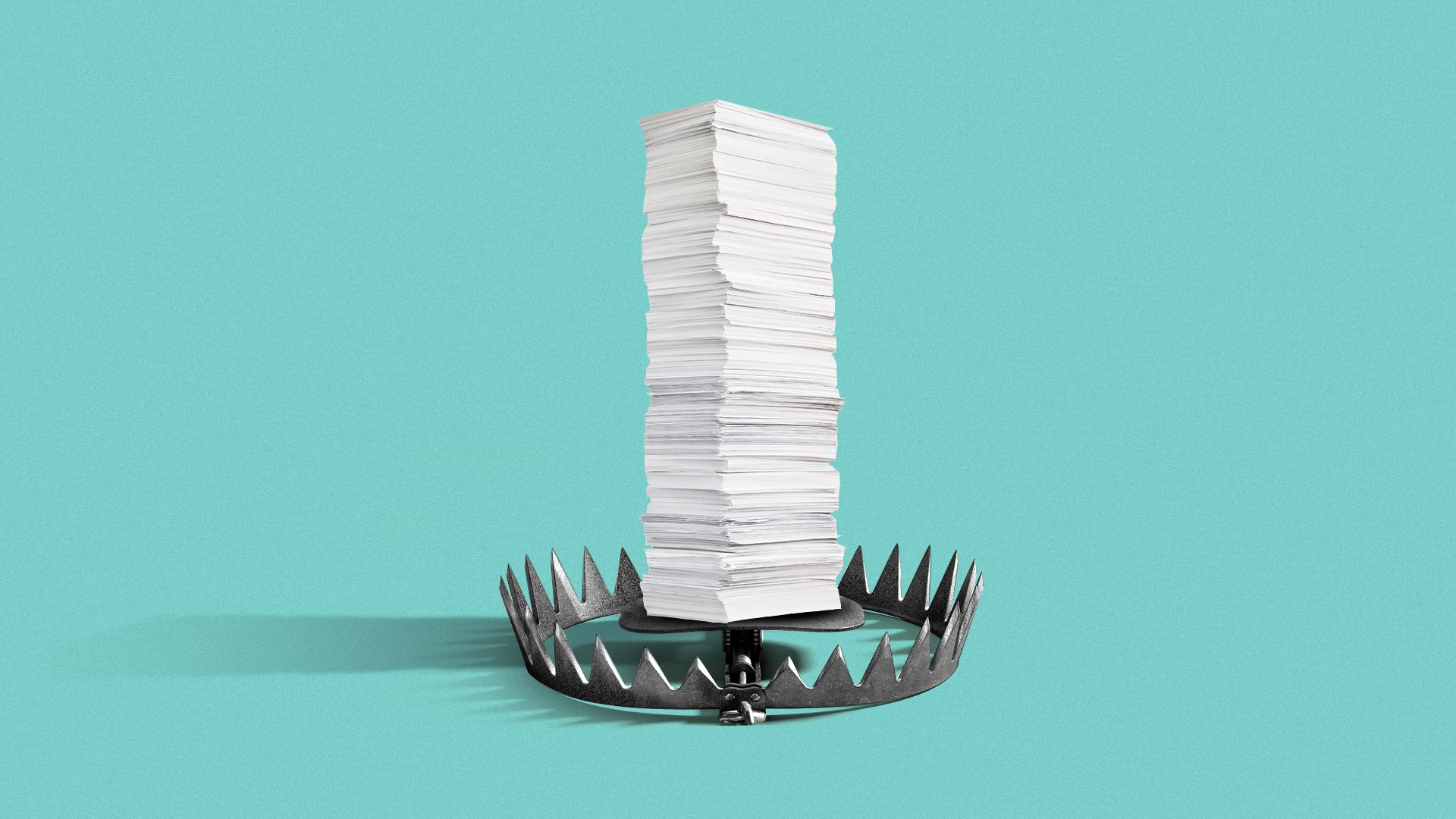 Some of the top journalists covering misinformation today look less like reporters and more cyber sleuths.
From decoding cryptic punctuation to using sources to spy on remote chatrooms, reporters are finding ways to outsmart the trolls that are constantly working to undermine them ahead of 2020.
Why it matters: The troll playbook has shifted since the last election, when fringe internet actors sought to sow discord by spreading divisive messages. Today, their main focus is to discredit the media by uncovering potentially harmful information about them and by tricking them into reporting false information.
What they're saying: Axios spoke with some of the top misinformation reporters from NBC News, CNN, Buzzfeed and The Daily Beast to break down the tactics they use to dodge these traps and identify the people behind them, including:
Planting spies within remote internet communities where trolls congregate
Using reverse image search to link those same avatar pictures to one person
Studying language and punctuation
Following trolls early during their early stages and then follow up and see how they act during breaking news situations in real-time
Using fake phone numbers to trolls that use those disposable numbers
Using encrypted messaging and emails app like Signal, Whatsapp, Viber and ProtonMail
2. WaPo creating new ad network to take on Big Tech
The Washington Post on Tuesday will unveil Zeus Prime, a product that will allow companies to buy automated ads in real-time, similar to Big Tech platforms. Zeus will also support a new ad network that will include other publishers.
Why it matters: Advertisers often complain that they would like a better alternative to buying ads on Google and Facebook — where the content isn't always vetted — but there are no other places where they can buy ads as quickly and efficiently in real-time. The Post hopes this product will change that, and put more ad money in publishers' pockets.
By the numbers: According to Jarrod Dicker, The Post's VP of Commercial Technology and Development, the cost to license the software will vary by client, but right now clients are "at the low volume range, half million annually and at the high range, in the millions."
WashPost CRO Joy Robins says the revenue that will be generated from the Zeus Prime product will be significant.
"We're shooting for eight-figures," Robins tells Axios.
Dicker thinks that Zeus Prime will enable publishers to earn revenue at a rate of more than $10 minimum CPM (the cost per every 1000 impressions), as opposed to the roughly $2 minimum CPM that publishers sell ads at right now, using outside vendors. 
The big picture: Publishers are investing more in developing their own advertising and publishing software as a way to make more money.
BONUS: Cutting the middle men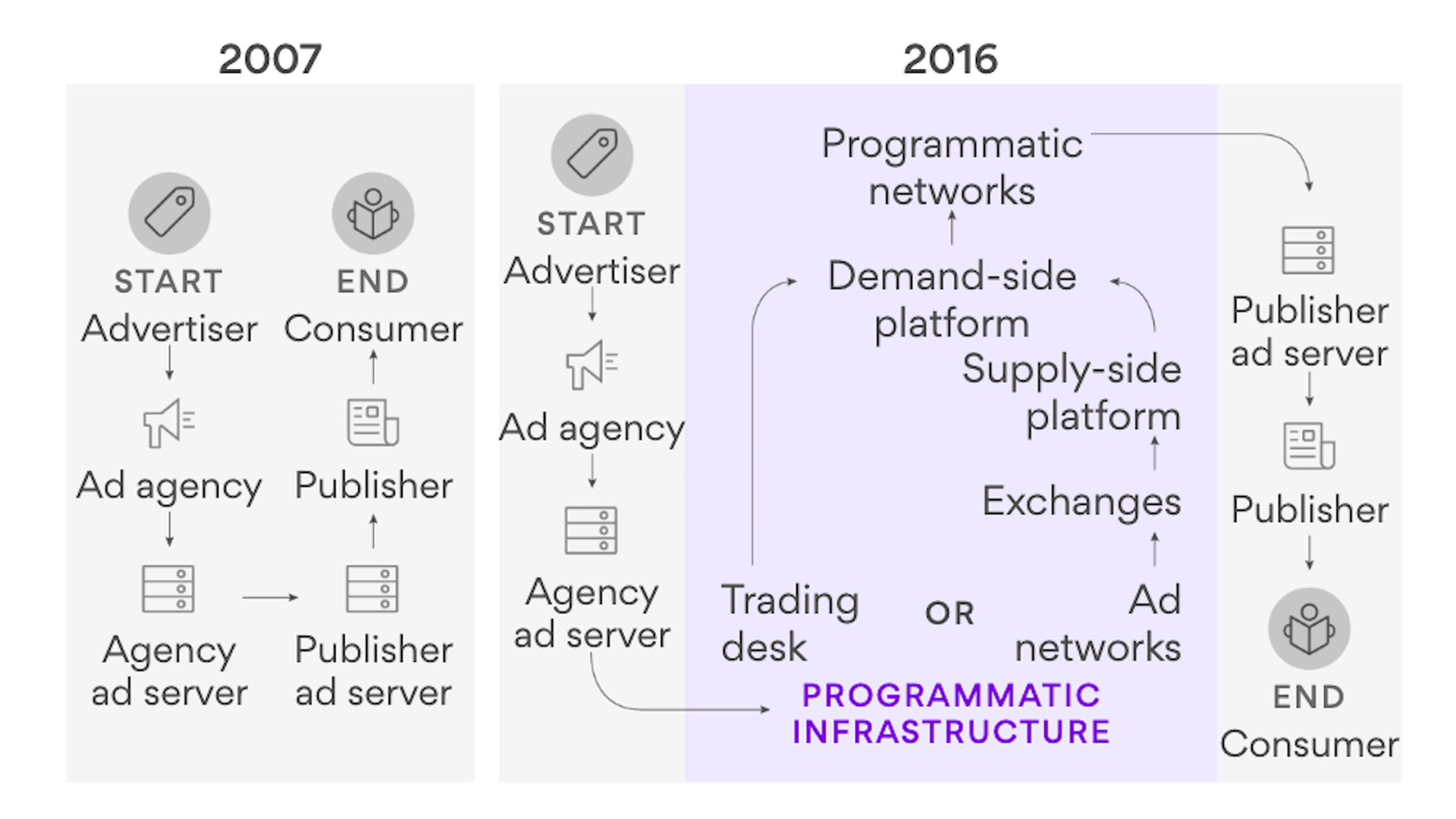 Buying and selling automated ads on websites and apps for premium web publishers has been a major technology challenge for years, and it's part of the reason that Google and Facebook have been able to grow their ad businesses so big and so fast.
Why it matters: The tech that The Post is building (above) allows publishers to cut third-party ad tech vendors out of their supply chains (the blue section above), so that they can take a much higher cut of the revenue.
3. The Daily hits 1 billion downloads
The New York Times' hit podcast "The Daily" hit a billion total downloads last week after launching just over 2.5 years ago, says Theo Balcomb, Executive Producer of The Daily.
Why it matters: The Daily has been a surprise success story in the saturated world of podcasting. The profitable show was credited with being one of the biggest drivers to Q2 digital advertising growth for The Times last quarter.
Details: According to Balcomb, The Daily experiences an increase in listenership when there is major, breaking news.
"When Comey was fired, we saw a spike. When Mueller was appointed, we saw a spike," says Balcomb. "What's been amazing for The Daily is that when we see spikes, we maintain them."
Be smart: Politics generally garners the most interest, says Balcomb.
"In general, something that feels like a huge political or cultural conversation brings people in. This is particularly true for debate coverage. Users rely on The Daily to explain big news of the day. Instead of watching a 3-hour-long debate, they will tune into a 25-minute recap from The Daily."
By the numbers: On average, The Daily now garners more than 2 million downloads per day, and approaching 10 million monthly uniques, per The Times. The show is also carried on over 150 public radio stations nationwide in the U.S.
4. Top regulators battle to crack down on Facebook
As investigations into tech giants' possible anti-competitive behavior multiply, authorities are beginning to tussle over turf — adding a new potential for discord to the regulatory chess game.
Why it matters: Multiple probes can help regulators cover the vast territory they have set out to explore. But any time and resources they spend fighting each other will only benefit the companies they are seeking to hold accountable.
Driving the news: Federal Trade Commission Chairman Joe Simons has written a letter to the Justice Department's antitrust division complaining about the DOJ's behavior in handling disagreements over which agency has the authority to probe Facebook, The Wall Street Journal reports.
Sen. Mike Lee (R-Utah) intends to bring up the letter and address the issue at a Senate Judiciary antitrust subcommittee hearing Tuesday, his office confirmed to Axios.
Be smart: Both agencies have clashed over who has jurisdiction to investigate, particularly Facebook.
The big picture: A growing list of media investigations are presenting evidence of tech platforms abusing their dominance to promote their own products and services.
Amazon has reportedly changed its search function to more prominently feature products that are more profitable for the company, which it denies.
Apple-owned apps often top rivals in its own App Store, a New York Times's investigation revealed last week.
5. Scoop: BuzzFeed looks for a president
BuzzFeed is looking to hire a new president, according to an internal memo sent from CEO and co-founder Jonah Peretti to staff on Tuesday, obtained by Axios.
According to the note, BuzzFeed will be profitable for the second half of 2019 and "the entirety of 2020."
Why it matters: The role has been vacant since 2017, when then-President Greg Coleman left the position to become a senior advisor to the company.
Since, BuzzFeed has diversified its revenue to be less dependent on advertising. It has relied on chief revenue officer Lee Brown to manage its ad sales and international business operations, but according to the note, Brown is departing to become Spotify's VP, Global Head of Advertising, so operations are shifting as a result.
Brown's responsibilities and newer revenue lines will eventually roll up underneath the new president. 
What's new: According to the memo, starting next month, Peretti will run business meetings with BuzzFeed's SVP Ad Strategy and Partnerships Ken Blom.
Over the next few months, Peretti says he will manage BuzzFeed's business team "in the style of a smaller startup, with many people reporting to me including sales leadership, international, commerce leadership, operations and research, with everyone stepping up to solve problems and get things done." 
Be smart: BuzzFeed's business is no longer only centered around viral content that brings in lots of ad revenue. Today, ads are only one part of the BuzzFeed business, and things like commerce, brand consulting, events, content licensing and studios all bring in significant portions of BuzzFeed's revenue.
By the numbers: Peretti says BuzzFeed is poised to have "its biggest fourth quarter in its history." He says new lines of businesses, like content licensing and commerce, that didn't exist two years ago, "represent 9-figures of revenue today."
At a conference last week, Peretti told Axios that BuzzFeed News isn't profitable. "The goal is to make it sustainable," Peretti said. He said that BuzzFeed's website, entertainment vertical and Tasty brands are profitable, which allows the company to invest in "something like news which is important to the DNA of company, and its brand."
Go deeper: BuzzFeed CEO's 8-step plan to "unbreak" the internet
6. The streaming battlefield is getting crowded
As the streaming wars heat up, consumers are going to have to be choosy about which services they subscribe to, or risk racking up steep monthly bills.
Why it matters: Digital streaming was supposed to break up the expensive cable bundle, but now that so many companies are launching their own services, paying for TV could get even more expensive and complicated.
Driving the news: Apple announced last week that it would charge $4.99 a month for its new streaming service, Apple TV+.
Its rivals, Netflix and Disney+, both price their services higher, at $8.99 and $6.99 monthly, respectively, for the cheapest packages.
Be smart: According to Mike Bloxham, SVP of global media and entertainment at research consultancy Magid, people are willing to spend around $38 monthly total on streaming services.
That means that they will likely chose 3-4 services out of more than a dozen options.
Yes, but: Unlike cable contracts, most streaming services allow users to share passwords, or cancel at any time. Because of this, streaming services need to worry about how to retain customers, not just accrue them.
What's next:
HBO Max has nabbed exclusive rights to stream all 12 seasons of The Big Bang Theory, Variety reports.
Netflix has secured "Seinfeld" at a cost of more than $500 million for the global rights, per The Hollywood Reporter. It's a big win after losing fan favorite sitcoms "Friends" and "The Office."
7. 1 📱 thing: New misinformation threats extend beyond Russia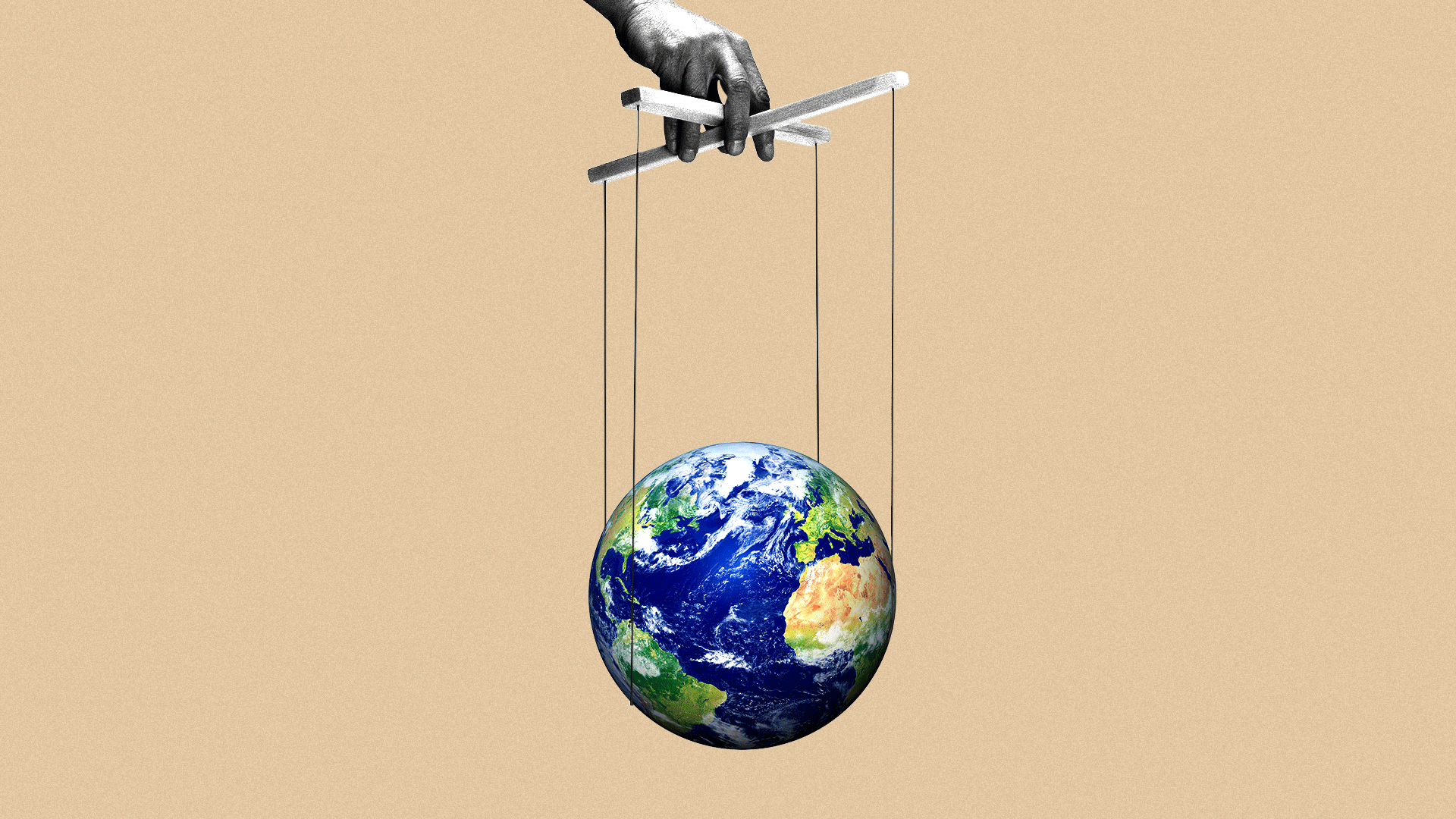 Security officials and social media giants are warning that new countries, specifically Iran and China, could pose a misinformation threat to U.S. elections in 2020 similar to Russia's interference in 2016, Axios' World Editor David Lawler and I write.
Why it matters: As President Trump faces off with Iran and China on the international stage, there is growing fear they could try to influence the next U.S. election right under his nose.
Beginning in early 2019, social media firms began revealing coordinated campaigns to spread misinformation from countries other than the typical hotbeds in Russia and the Balkans.
For Iran, there are potentially billions of dollars at stake in 2020, as the country is suffocating under U.S. sanctions and knows Democrats are keen to re-enter or renegotiate the 2015 nuclear deal.
But China sees the U.S. as "dysfunctional" internationally under Trump, Johnson says, and despite Trump's trade war, leaders in Beijing are unsure whether they'd be better off without him in the White House.
What to watch: Researchers worry Beijing could leverage the growth of TikTok to spread misinformation in the U.S.