Axios Media Trends
January 19, 2021
Today's Media Trends is 1,598 words, a 6-minute read. Sign up here.
Situational awareness:
Paramount+ launch date: March 4.
The 2021 edition of CES: What you may have missed.
🎬 Netflix will report Q4 earnings today. It's expected to have added roughly 6 million subscribers, bringing its global subscriber total to over 200 million.
🎧 Axios' newest podcast is "How It Happened: Trump's Last Stand," based on Jonathan Swan's reporting of President Trump's final days in office. Listen.
1 big thing: Journalism enters dangerous new era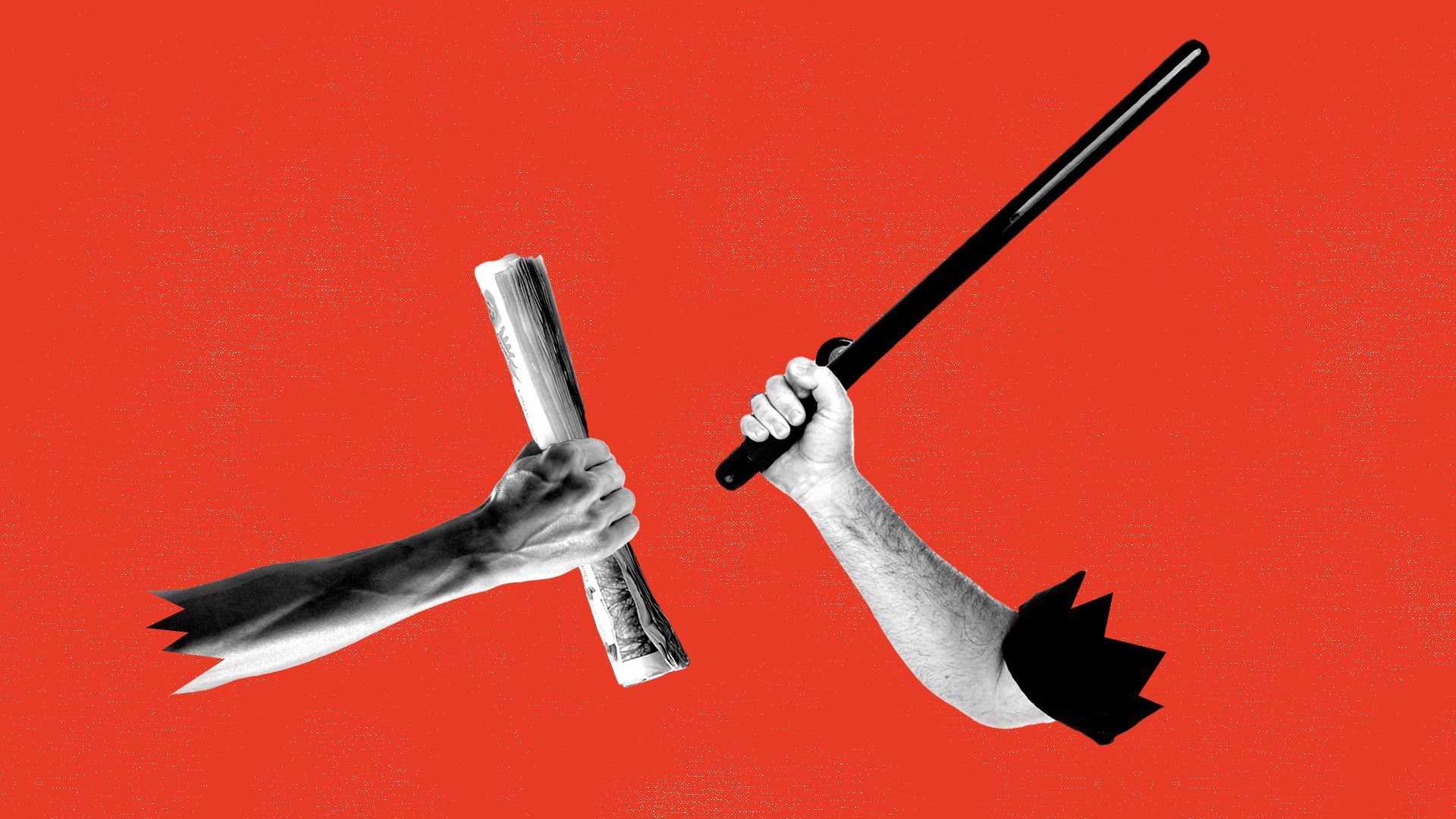 The Capitol attack on January 6th resulted in at least 9 physical assaults against journalists and at least 5 arrests, per the U.S. Press Freedom Tracker's top editor.
Why it matters: President Trump's harsh rhetoric towards the press has empowered leaders abroad and locally in the U.S. to continue to attack press that they don't like.
As Trump departs, he leaves a legacy of targeted vitriol towards the press that will live on via his supporters for many years to come.
Ahead of inauguration, several journalists tell CNN they plan to wear bullet-proof vests. Many newsrooms have instructed reporters not to wear any paraphernalia, including press badges, that could identify them as journalists.
A coalition of news organizations sent a letter to federal law enforcement agencies last week calling for greater transparency and more information about political violence threats at the inauguration.
The big picture: A record 110 journalists were arrested or criminally charged in the U.S. in 2020, according to the Committee to Protect Journalists, compared to 9 in 2019.
Roughly 300 journalists were assaulted, mostly by law enforcement officials.
A large portion of those assaults occurred over the summer during Black Lives matters protests and in November during election-related protests.
Several factors, including an increasingly hostile attitude towards the press, have helped to eradicate norms that once afforded journalists police protection, per CPJ.
The bottom line: 2020 set a new record for the number of imprisoned journalists globally. More journalists are being murdered in countries that aren't at war.
Of the 50 journalists killed last year, 84% were knowingly targeted and deliberately murdered for doing their jobs.
2. Exclusive: Forbes launches major paid newsletter platform
Forbes is launching a newsletter platform that will allow journalists to launch their own paid newsletters and split the revenue with the 103-year-old publisher, executives tell Axios.
The big picture: Forbes will hire 20-30 writers with big followings to help get the platform up and running. It later plans to add some of its existing editorial verticals to the platform and make the offering available to its 2,800-person contributor network.
How it works: The idea is to create a platform that offers writers all of the marketing, editorial and salary benefits of being a part of Forbes' newsroom, but gives them enough editorial independence to ensure that their audiences follow them over to Forbes.
Writers will be able to split subscription revenue for the newsletters 50/50 with Forbes. Subscription prices will be developed in collaboration with the writers.
They will also be able to receive a cut of ad revenue with Forbes, with no cap on potential earnings. The ad revenue share will be based on page views and recurring visitors, says Forbes' Chief Content Officer Randall Lane.
"We will pay a flat rate based on page views and a bonus based on recurring page views," a metric that represents reader loyalty.
Yes, but: Not only will Forbes compete with a number of tech firms getting into the newsletter business, but a few editorial publishers that are eyeing a similar idea.
Be smart: This is different from a platform like Substack, where content moderation policies are intentionally less strict because writers are paid directly and only by readers.
What's next: Later this quarter, Forbes will begin to add key Forbes franchises to the platform as paid newsletters, like the "Midas List," which focuses on venture capital, and "SportsMoney," which details the business of sports.
It will launch paid newsletters for popular writers from its contributor network closer to Q2.
3. The Daily Wire is profitable, eyeing entertainment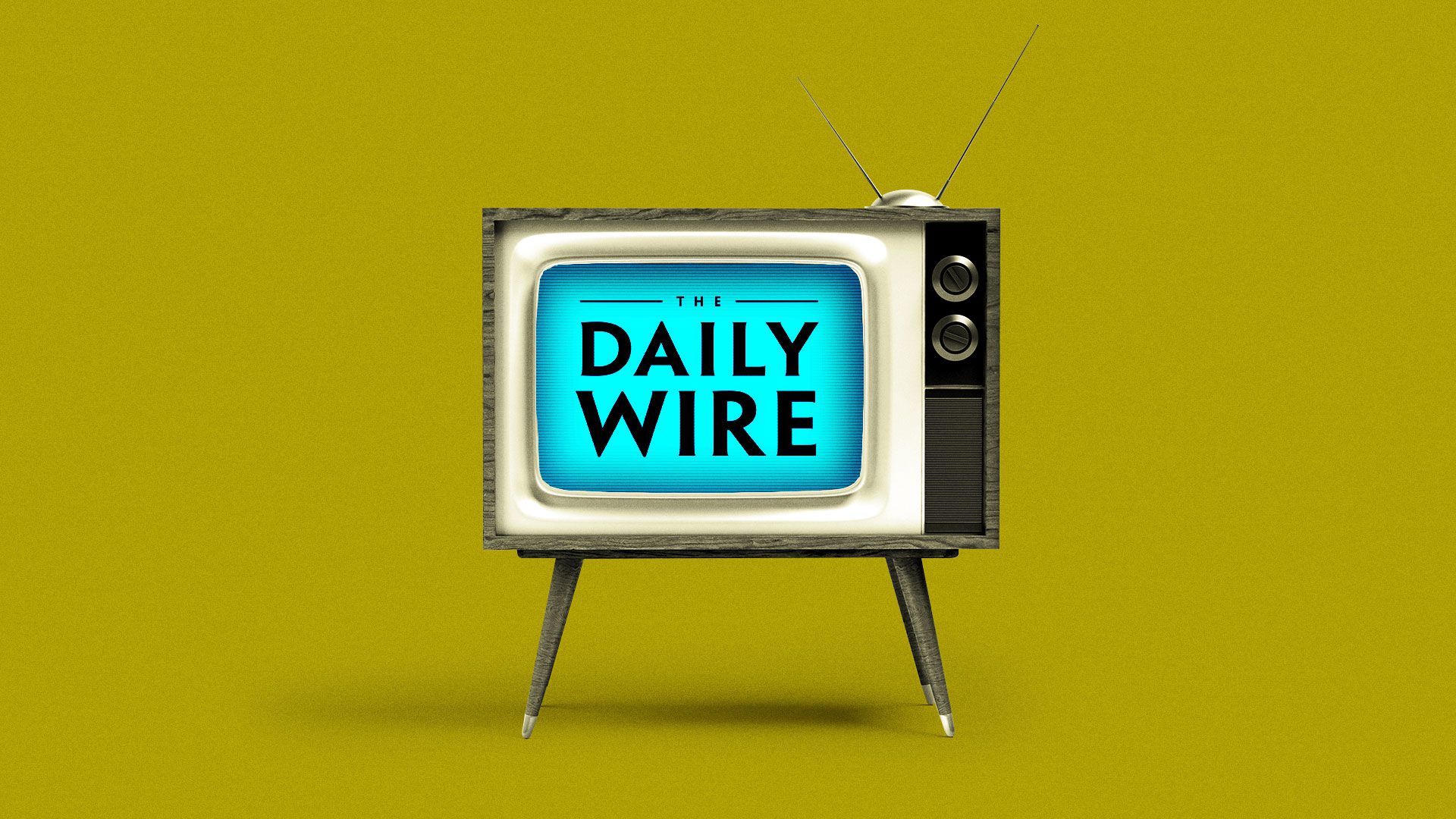 The Daily Wire, a conservative media brand known for its prolific Facebook presence and popular podcast "The Ben Shapiro show," is moving into entertainment, its CEO and co-founder Jeremy Boreing tells Axios.
The big picture: The company, which grossed $65 million in revenue last year, wants to differentiate itself from other conservative subscription media brands by focusing mostly on entertainment, rather than political commentary.
Boreing and co-founder Ben Shapiro debuted its first film last week, a school shooting thriller called "Run Hide Fight."
The premiere occurred during a "Daily Wire Backstage" virtual event and drew over 300,000 viewers across its site and YouTube, a company spokesperson says.
"We have to challenge what you think it means to make art with a conservative view so that we can compete with Hollywood for entertainment dollars," said Boreing.
He argues that most entertainment catered to conservatives is produced by elite Hollywood studios that need to appeal to conservatives — like shows about cops — but doesn't actually respect their values.
What's next: The Daily Wire has a scripted series in development, as well as another feature film. Boreing says it's in touch with several conservative producers about future projects.
"It's clear the entertainment industry is hostile to conservatives and there was an unserved market and no one knew how to reach," he says.
It's planning to launch a new weekly show with pro-Trump commentator Candace Owens that will also be released as a podcast.
4. Trump era sets FOIA record
More Freedom of Information Act (FOIA) requests were filed during the past four years than at any time in American history, per the FOIA Project, a non-profit project that gathers comprehensive information on federal FOIA decisions.
During the Trump administration, the media filed a total of 386 FOIA cases. That's more than all of the FOIA cases filed by the media during the 16 years of the Bush and Obama administrations combined.
Why it matters: FOIAs help the public the access records from federal agencies to help ensure a level of transparency and accountability within government.
Between the lines: Buzzfeed News has by far led media companies in FOIA filings during. the Trump Administration, followed by The New York Times.
Buzzfeed's FOIA requests have resulted in some of its best work over the past 4 years, including obtaining the un-redacted Mueller report and underlying FBI interviews, and the criminal referral letter from the Inspector General for the intelligence community that led to Trump's first impeachment.
A Buzzfeed spokesperson tells Axios that scoops from FOIA requests have racked up millions of total page views.

5. Parler shows signs of life
Far-right-friendly social network Parler is beginning to resurface after going dark last week following a series of bans by big tech, Axios' Kyle Daly and I write.
The big picture: By getting a new internet provider that's friendly to far-right sites, Parler — home to a great deal of pro-insurrection chatter before, during and after the Capitol siege — may have found a way to survive despite Big Tech's efforts to pull the plug.
Shortly after the bans, Parler switched its domain registration to Epik, a provider that has in the past revived other digital havens of the far right, including Gab, 8chan and neo-Nazi site the Daily Stormer.
6. Far-right turns to private, encrypted platforms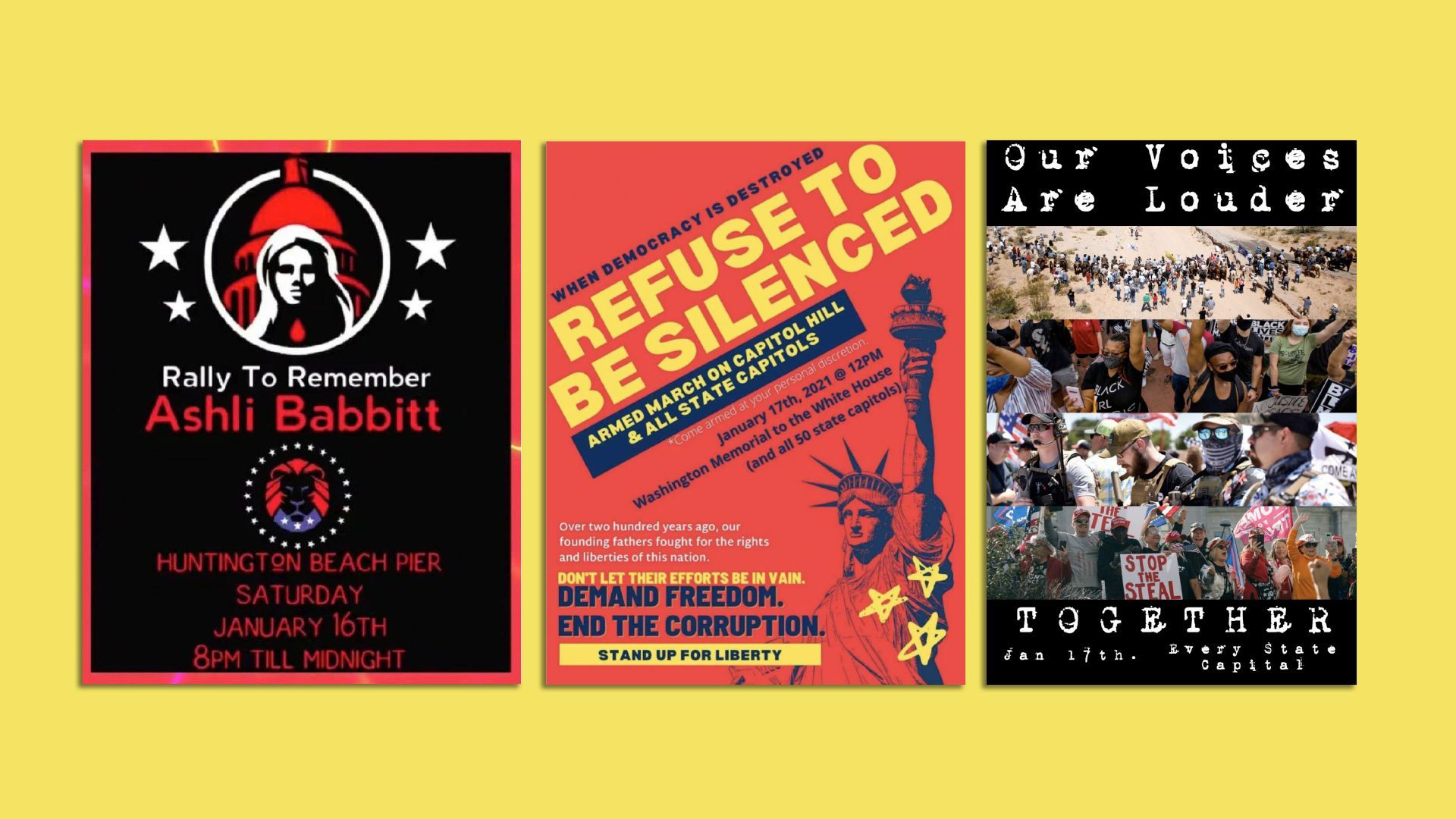 Domestic extremists are using obscure and private corners of the internet to plot new attacks ahead of Inauguration Day.
Yes, but: Researchers see one bright spot as far-right extremists turn to private and encrypted online platforms: Friction.
For fringe organizers, those platforms may provide more security than open social networks, but they make it harder to recruit new members.
The online far right is moving away from mainstream social networks and onto both right-wing-welcoming networks like Gab and privacy-friendly platforms like Telegram and Signal, due largely to the collision of three events:
The far right is exiting large social networks, either as a political statement or under force of a ban, as tech platforms crack down on extremists.
WhatsApp botched the rollout of a new privacy policy, confusing and worrying a massive number of users of all political stripes who then went looking for alternatives.
Public social media left a trail exposing the identities of a growing list of Capitol rioters.
The FBI says it has gathered at least 140,000 images that have helped identified more than 270 suspects involved in criminal activity in and around the Capitol.
A huge part of the recruitment process for both foreign and domestic terrorists is capturing imagery of foul play and using it later to recruit new members. But advances in technology make it easy for perpetrators to accidentally out themselves to law enforcement in the process.
Be smart: Experts say domestic extremists face a similar problem that groups like ISIS have faced after being de-platformed: recruiting gets harder.
When images and videos are removed from more public platforms, it becomes more difficult for hate groups to draw in fresh members.
What to watch: For some fringe groups, their plans are also hidden in plain sight, buried in podcasts and online video platforms.
7. Kids' screen time up 50% during pandemic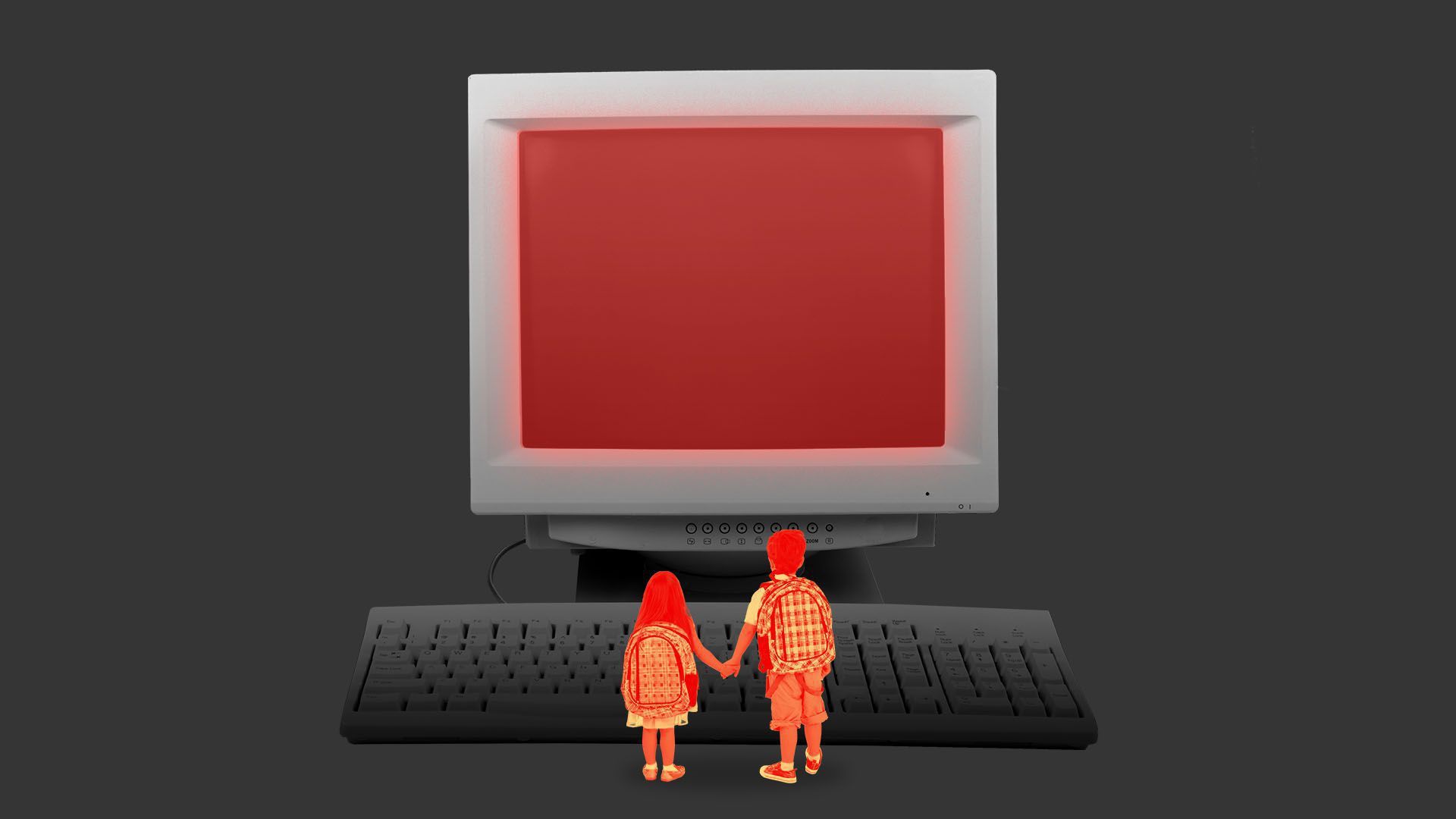 When the coronavirus lockdowns started in March, kidstech firm SuperAwesome found that screen time was up 50%. Nearly a year later, that percentage hasn't budged, according to new figures from the firm.
Why it matters: For most parents, pre-pandemic concern has shifted from the number of hours in front of screens to the quality of screen time.
Games and homework are the most prevalent type of content that parents say their kids are interacting with, per Morning Consult.
YouTube and Netflix are the two most popular sites among all age groups.
The bottom line: "As school shutdowns continue in so many parts of the world, so many of these behavioral changes (e.g. streaming versus theater) in the young audience are becoming permanent," SuperAwesome CEO Dylan Collins says.
8. 1 📚 thing: Digital reading
The pandemic has been a boon for the book industry, but specifically, it's helped to revive the eBook industry, and push the audiobook industry to new heights.
The big picture: eBooks, according to data from The Association of American Publishers, had been declining since 2014.
But for the first ten months of 2020, eBooks were up 16.5% compared to the 10 months of the prior year, bringing in nearly $1 billion.
That makes the eBooks industry roughly the same size as the booming podcast industry.
Audiobooks, on the other hand, have seen continuous growth every month since 2012, but the pandemic has given a huge boost to the medium.
In the first ten months of 2020, downloaded audio was up 17.3% as compared to the same period in 2019, with a total of $553.6 million for the year.