Axios Media Trends
July 09, 2019
Today's Media Trends is 1,848 words, a 7 minute read. Tell friends to follow along by signing up here.
Coming tomorrow, we're launching Axios Cities, a new once-weekly newsletter penned by Axios' Kim Hart. Sign up here.
Situational awareness: More American TV viewers watched the women's U.S. soccer team win their 4th World Cup than the final of the men's world cup in 2018.
1 big thing: Trump resistance media rising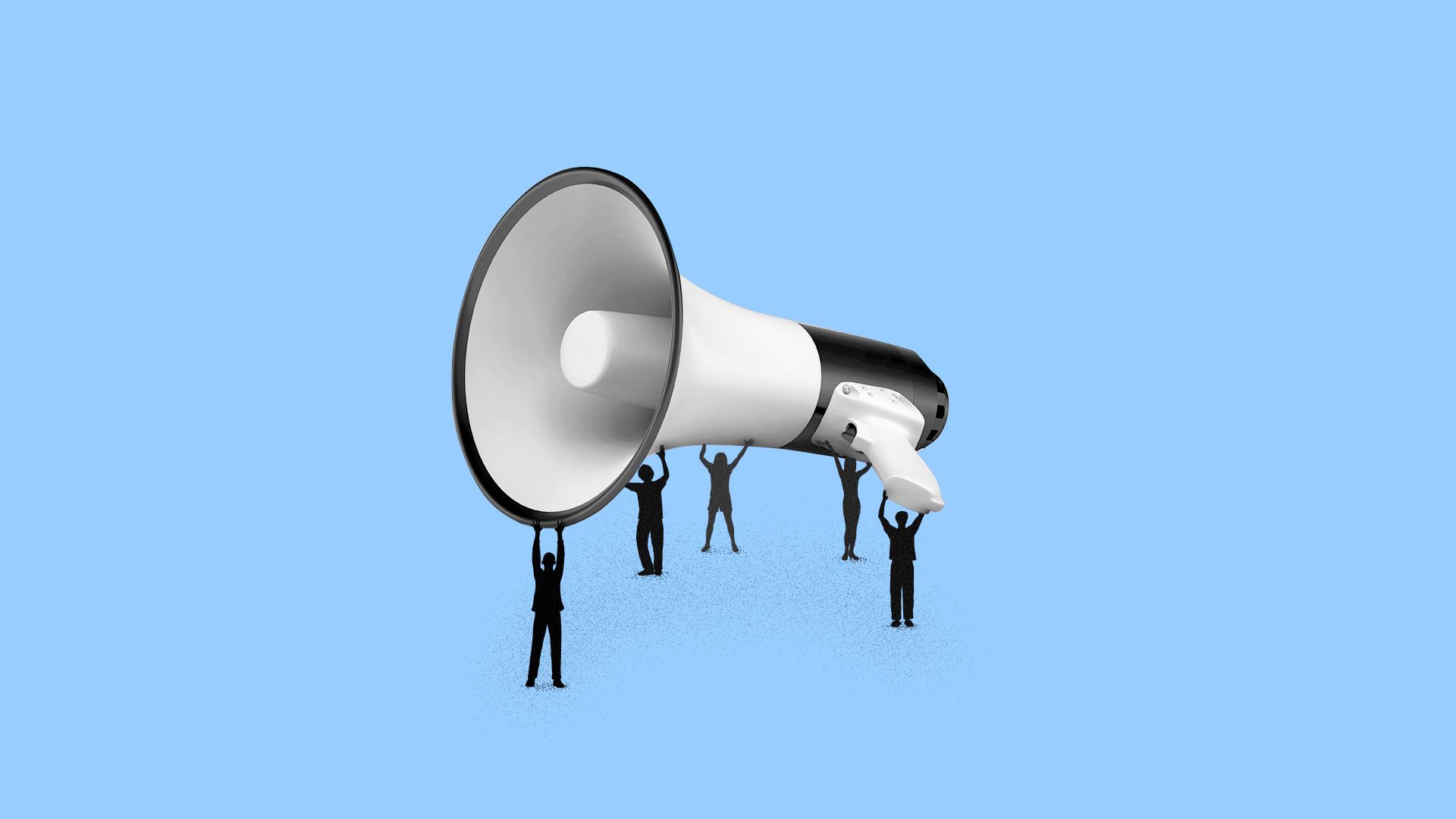 Left-leaning media companies designed to counter the rhetoric coming from the Trump White House and its conservative media machine are growing ahead of the 2020 election.
Why it matters: Partisan political media companies are often launched in response to whichever ideology holds power in Washington. In 2017, new left-leaning voices to counter the narrative from the Trump Administration hadn't yet taken hold. But two years into the Administration, they're beginning to rise.
Driving the news: ACRONYM, a progressive non-profit led by veteran Democratic consultant Tara McGowan, plans to invest over $1 million into "The Dogwood," a new hyper-local digital news site that caters to residents Virginia, over the next two years, Axios has learned.
ACRONYM says it's investing in The Dogwood to help counter partisan rhetoric from conservative media sites and false news in general.
Last week, former Fox News reporter Carl Cameron announced he's joining a new progressive website called Front Page Live, which aims to be the "Drudge Report" of the left.
Last year, cable news veteran David Bohrman launched "Political Voices Network," which aimed to compete with right-wing digital streaming networks like CRTV and Sinclair.
A progressive media company called "Versa" also launched last year to bring viral digital video news content to local constituents on Colorado, and possibly Arizona and Kentucky.
Be smart: As websites become marketing vehicles for bigger multi-media projects, progressive podcasts and streaming companies have also begun to take shape.
One of the most popular installations of a digital progressive media brands during the Trump Administration has been Crooked Media, the progressive podcast network made famous for its "Pod Save America" series that was founded by former Obama Administration staffers.
Yes but: The left-wing resistance wave hasn't drowned out an ever-growing right-wing media machine, especially on social media.
According to data from Newswhip, a social analytics company, hyper-partisan outlets on the right, have continued to perform in the top ten most engaged publishers for the first six months of the year.
"Each time we pull the data, we do see conservative media outlets in the top ten, particularly for Facebook engagement," says Katherine Ellis, a content strategist at NewsWhip.
The bottom line: It's taken some time for the Trump resistance media wave to set in, but now that it's here, expect these voices to grow, particularly in local constituencies, ahead of the 2020 election.
2. Podcast events are making a killing
The number of events that have sold based on podcasts has increased by over 2000% in the past six years, according to ticket sales data from Vivid Seats, one of the largest independent ticket vendors in North America.
Why it matters: Live events offer podcasts the opportunity to monetize outside of audio ad revenue, which is growing but still pretty small compared to radio ad revenue.
The big picture: Many of the most expensive tickets sell to shows that are personality-driven.
"What's even more interesting is what we're not seeing: narrative podcasts, which tends to more of the critical attention," says Nicholas Quah, the founder and writer of Hot Pod, a leading industry newsletter about podcasts.
"This probably has to do with adaptation — seems like the way you'd build good live podcast shows isn't too far from the way you'd think about booking bands," Quah notes.
The bottom line: Live events are often very community-driven, and podcasts, due to the more personalized nature of speaking to an audience versus writing to one, have been able develop very strong personal relationships with readers.
"At Vivid Seats, we've seen the enormous growth of fans looking to see their favorite podcast hosts in person. Certainly, huge summer concerts, traditional sporting events and theater shows remain popular, but fans are clearly enjoying more tailored forms of live entertainment that hardly even existed a decade ago."
— Michael O'Neil, Head of Public Policy and Community Engagement at Vivid Seats
3. The war to win creators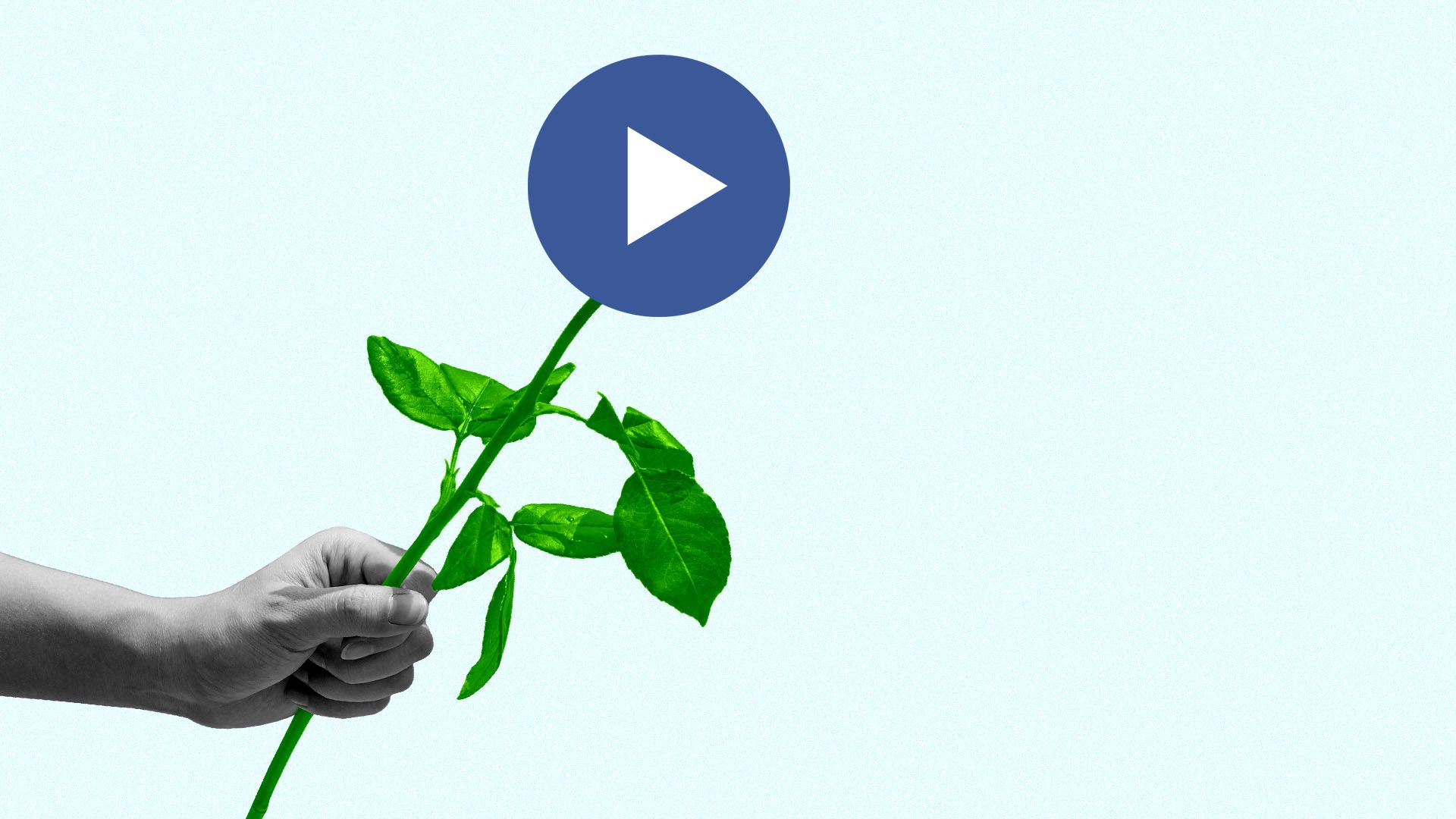 In advance of VidCon later this week, an annual conference for video creators, Facebook is announcing new updates to help content creators on Facebook earn revenue and grow their audience.
The big picture: It's doing so amid increased competition to win over the hearts of creators from other big tech companies, like YouTube and TikTok, as well as platforms that are designed specifically for creative business management, like Patreon. 
Why it matters: Investment in creators helps fuel the businesses of major tech platforms that rely on their content to sell ads and keep users engaged.  
Between the lines: Reports have suggested that Facebook has struggled to lure video creators amid increased competition from other video platforms, like YouTube, TikTok, and Twitch.  
There's also the issue of Facebook taking a higher cut of fan-base subscription payments than Patreon and other competitors. 
Our thought bubble: The ability for Patreon to cater to creators' needs across platforms has to-date given the platform a business advantage over individualized platforms. Several smaller companies, like Memberful and Podia, are also trying to compete for cross-platform creator opportunities. 
What's next: VidCon, one of the largest global conferences for video creators, kicks off in California on Wednesday. The conference, which was acquired by Viacom in 2017, pulled in over 75,000 fans and attendees last year. 
4. Chinese app downloads surge in U.S.
Several Chinese apps are experiencing high download levels in the U.S., according to data from Apptopia.
Why it matters: Many of these apps are leveraging ads on Facebook and other platforms targeted to people in the U.S. to drive app downloads here. This has led to the adoption of major Chinese services in many verticals, from retail to social media.
Driving the news: Shein, a major Chinese retailer, has experienced 2.5 million new installs in the United States alone, per Apptopia — its most ever from the country. This was only about 14.5% of its total app installs around the world.
SHEIN is currently the #5 top advertiser on iOS in the Shopping category and #20 on Google Play.
Shein is one of Facebook's biggest advertisers, and often uses Facebook ads to drive app installs in new markets, like the U.S.
Other Chinese apps are experiencing record success in the U.S., often using a similar strategy of relying on Facebook and platform advertising to drive app installs.
TikTok, the Bytedance-owned social karaoke app, is exploding in the U.S. According to The Wall Street Journal, TikTok spent $1 billion on advertising in the U.S. in 2018. Ironically, it mostly grew its audience by buying those ads on the social platforms of its competitors, like Facebook, Facebook-owned Instagram and Snapchat.
Wish, the Chinese retailer that rivals Shein, is still the number one shopping app in the U.S. for both the Apple App Store and Google Play store. Wish has focused on U.S. downloads last the past several quarters, capitalizing on the bargain direct-to-consumer shopping trend for some time.
The big picture: U.S. regulators have sought to curb the dominance of Chinese companies that leverage data in the U.S. by blocking strategic acquisitions of domestic companies by Chinese companies.
But the latest trend shows that Chinese companies can leverage advertising on U.S.-based platforms — ones that don't typically deny advertisers the right to run based on their home country — to assert their dominance anyway.
5. Battle for the future of Spanish-language TV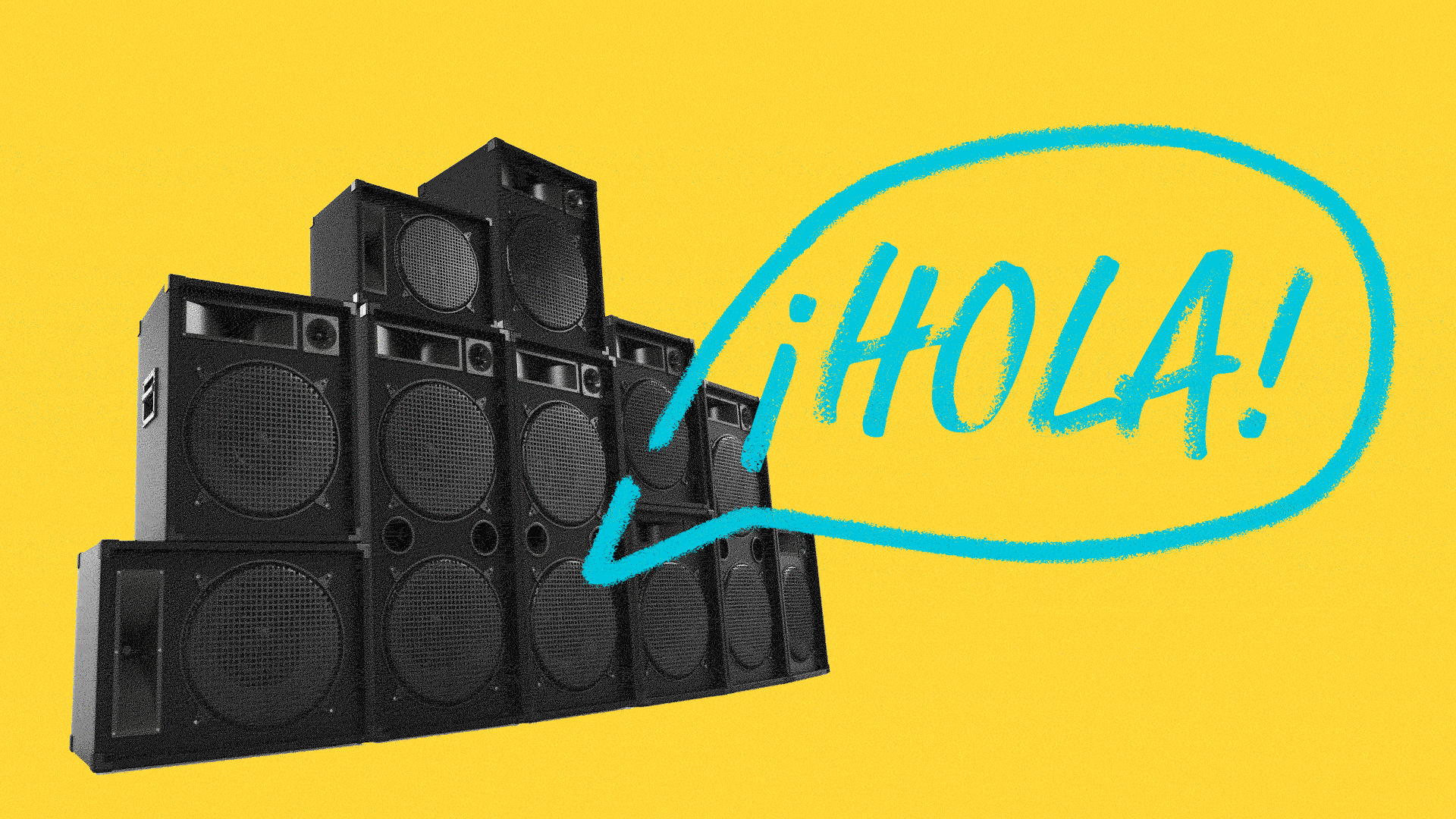 Univision, one of the two major Spanish-language broadcasters in the U.S., is in the early stages of exploring a sale, the company announced last week following a Wall Street Journal report.
It's looking for a strategic partner to help it scale so that it can be more competitive on advertising and distribution deals.
It's looking to sell now because sources say it's tied up the majority of its distribution agreements, and at this time, there is not one expiring soon.
Be smart: It's a buyer's market, as The Information's Jessica Toonkel points out. And there doesn't seem to be many buyers waving their hands at the last remaining independent broadcasting company, but it's still very early in the process.
Why it matters: It remains unclear what will be the long-term fate of Univision without a strategic buyer. But the Hispanic population is the fastest-growing minority population in the U.S., so one would hope that the market can support at least two Hispanic broadcasting companies.
Meanwhile, Univision's biggest competitor, Telemundo, seems to be reaping the benefits from its 2011 acquisition by NBCUniversal.
As The New York Times' Michael Grynbaum notes, the company has focused on building its news programming, and has seen success in the key advertising demo for weekday primetime viewership over the past three seasons. It's also invested heavily in live sports coverage, spending big bucks to poach Univision's World Cup rights.
Yes, but: Univision still tops in overall primetime ratings. The company closed the 2018-2019 broadcast season as the top Spanish-language network in primetime for the 27th consecutive season.
Our thought bubble: For Univision, and for all network TV companies, one difficult aspect of its sales pitch will be its renewed focus on live, as cable operators get pickier about carrying expensive channels.
The company sold its English-language digital assets, the Gizmodo Media Group, in April to focus on live TV, but it's still had some distribution hiccups.
Last year, the company experienced a months-long TV "blackout," from Dish, which impacted viewership. Eventually, Dish and Univision were able to strike a deal, even after Dish CEO Charlie Ergen said the blackout would be "probably permanent."
What's next: Univision's next big hurdle will be ensuring that it can strike distribution deals with all of the major cable carriers, so as not to experience similar blackout headaches as it did in 2018.
6. The right's big split on social media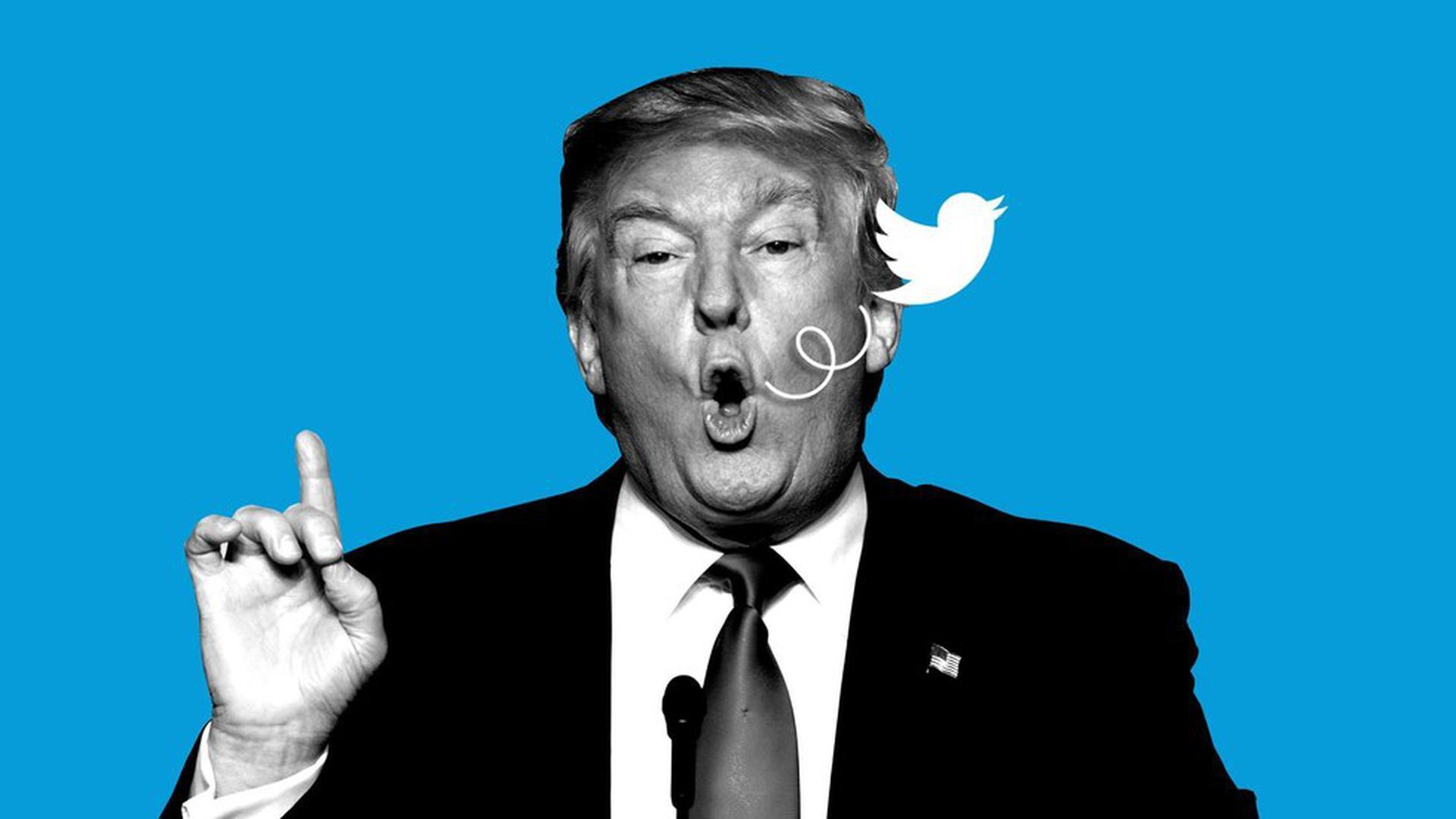 The White House's Thursday "social media summit," gathering conservative critics of social media platforms, will also highlight how Trump-era politics have split the right on tech issues, Axios' David McCabe reports.
Why it matters: As with trade, tech is an area where Trump's ascendancy has scrambled traditional power dynamics and policy positions. Free-market thinkers who drove the conservative side of the conversation for years have lost ground to social media personalities who are more open to government intervention against Big Tech — and have the ear of people in power.
On one side, some Republican lawmakers have seized on the charges of anti-conservative censorship as a sign something must be done about Silicon Valley's giants.
On the other, more traditional conservative players are pushing back. The Koch political network has been financing efforts to fight drastic regulation of tech companies, for example.
7. 1 fun thing: DAZN goes on offense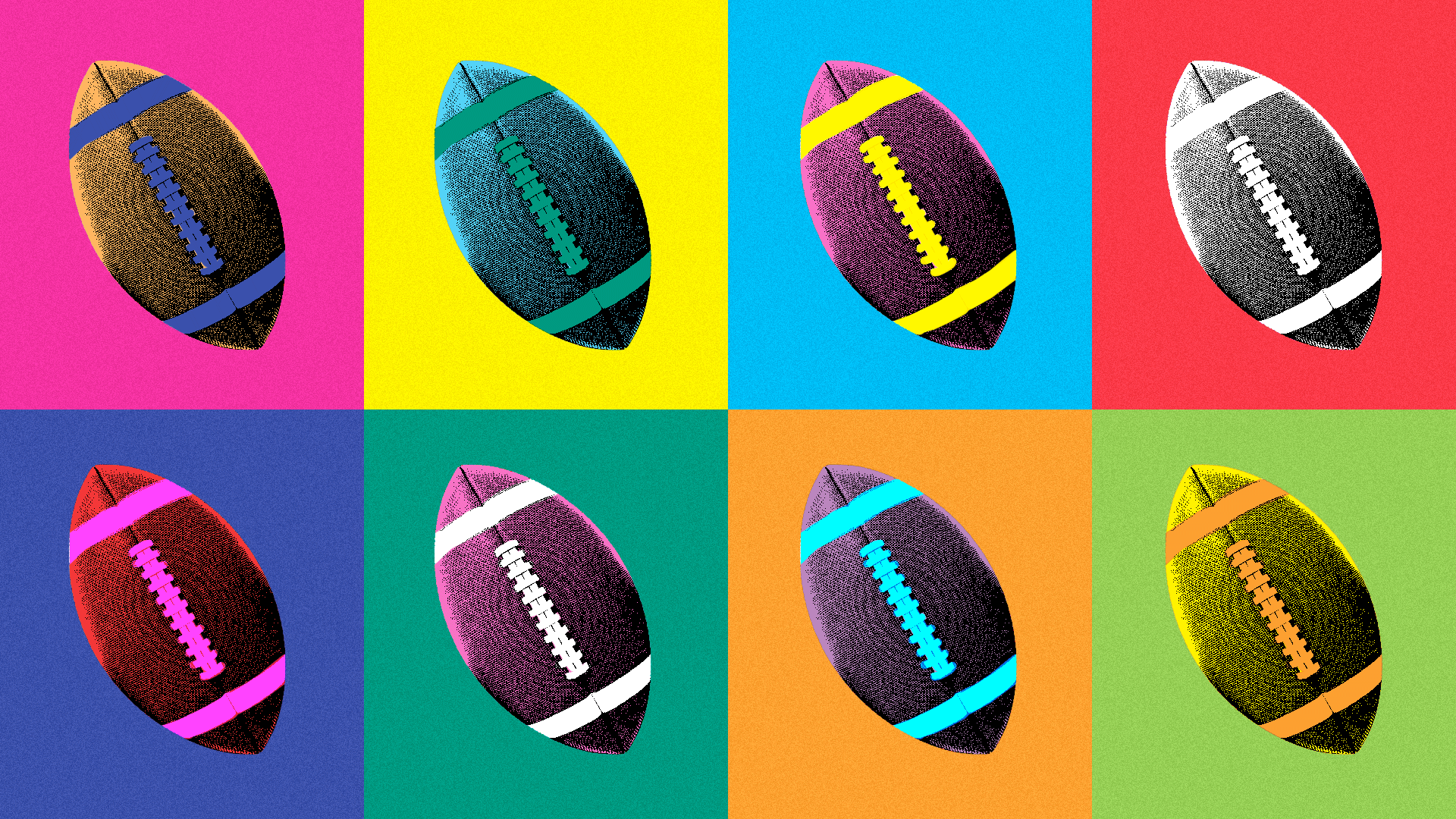 DAZN, an international sports streaming company that's been making inroads in the U.S., is eyeing rights to U.S. NFL games, its CEO told Bloomberg Tuesday.
It's also reportedly exploring deals with the NBA and the NFL in order to launch RedZone-style shows, according to a report last week from Sports By Brooks and a report Tuesday morning by Front Office Sports.
Why it matters: DAZN has been able to nab streaming rights for major leagues abroad, but so far has limited its influence in the U.S. mostly to pay-per-view type boxing matches. Now, it's looking to challenge the major U.S. sports broadcasters for rights to big-ticket events.
Pro tip: Join Axios's awesome daily sports newsletter, Axios Sports, by signing up here.