Axios Markets
November 22, 2022
Hello Tuesday, my old friend. Matt here. No big-time economic data on the docket today. Earnings season is largely finished. Things look pretty quiet out there. Here's your newsletter at 1,194 words, 4.5 minutes.
1 big thing: Mickey Mouse governance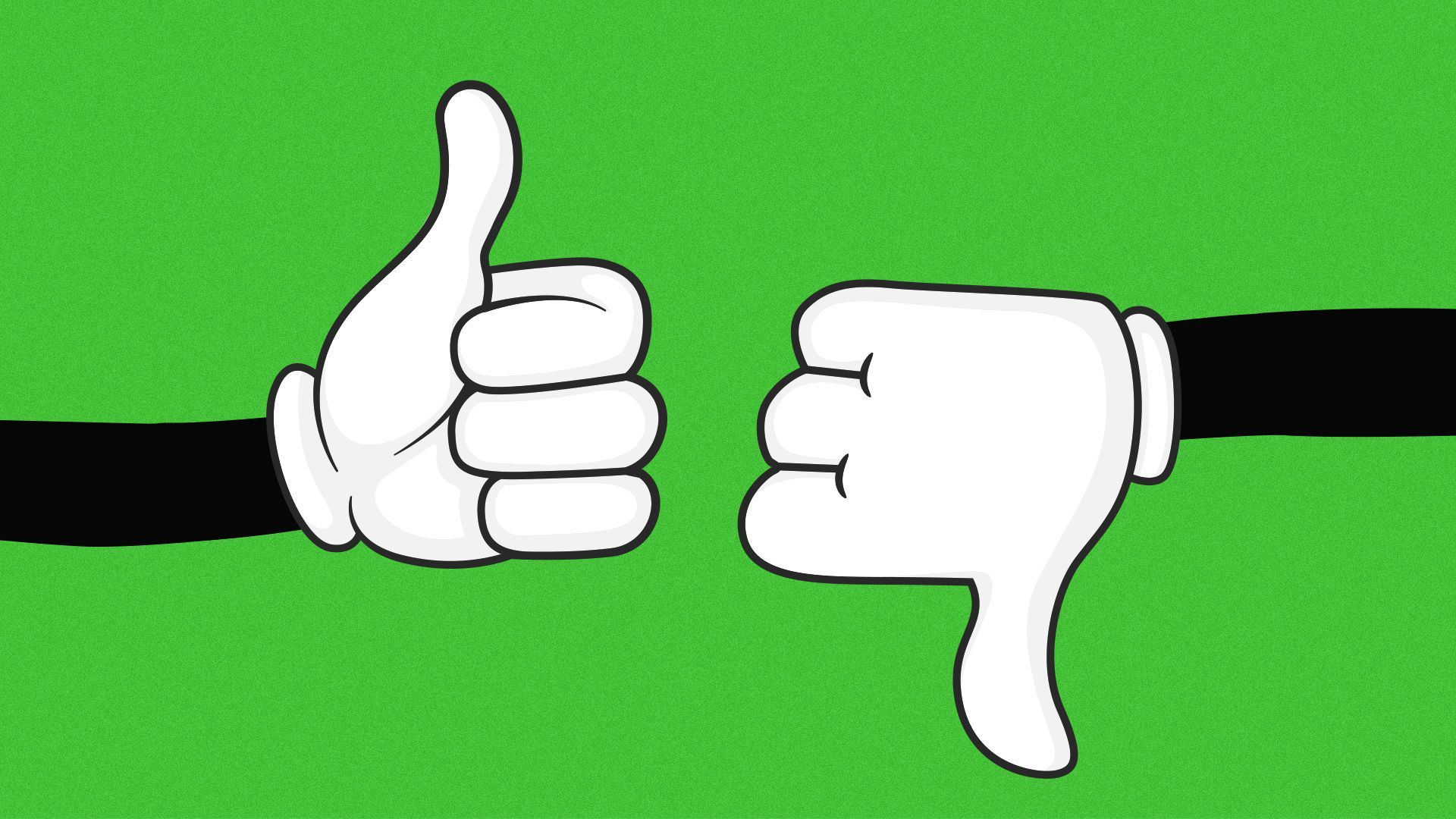 Bob Chapek, when he was CEO of Disney, struggled constantly against the fact that he was, in the words of former U.K. finance minister Norman Lamont, "in office but not in power."
That's not his fault, so much as it's the fault of the Disney board, and especially of former board chair Bob Iger, Axios' Felix Salmon writes.
Why it matters: Succession planning is really hard, especially for hard-driven CEOs who consider themselves to be irreplaceable.
Flashback: When Iger took over as Disney CEO for the first time, in 2005, the succession was handled in a smooth and professional manner. Iger was named the CEO-apparent in March; there was a clearly delineated six-month interregnum where outgoing CEO Michael Eisner brought him up to speed; and he became sole CEO in October.
When Iger took over as Disney CEO the second time, this week, the Financial Times led its front page with the word "Putsch."
In between was the elevation of Chapek to CEO, which was orchestrated by a board led by Iger.
Between the lines: Iger was a legendary CEO, but was terrible at succession planning.
Iger had 15 years as CEO to find a successor, and never really succeeded. Candidates like Tom Staggs and Kevin Mayer would be considered the heir apparent, only to be passed over.
Even when Iger finally settled on Chapek, he was reluctant to really hand over power, installing himself as "executive chairman" — a hands-on full-time employee who was also Chapek's boss.
The big picture: Chapek, who came from the theme-park arm of Disney, inherited a streaming strategy that was built by Iger and Mayer and that very deliberately involved spending billions of dollars to create a world-beating streaming platform.
That strategy was common across the media world, as Netflix and Warner Brothers and Paramount and Amazon can attest.
The stock market embraced that strategy in 2021, and then punished it in 2022, across the board.
The Disney board, however, which had imposed the strategy on Chapek, then blamed him for it.
The bottom line: While Iger embraced bold strategic shifts, he and his board wouldn't give Chapek the same freedom. In the end, the board seemed more willing to listen to former Iger lieutenants than they were to his handpicked successor.
2. Catch up quick
3. Oil prices boomerang on OPEC headlines
Oil prices whipsawed yesterday as news about what the OPEC oil price cartel would decide at its meeting next month sent traders scurrying, Matt writes.
Driving the news: News!
A story in the Wall Street Journal, suggesting that OPEC was considering a 500,000 barrel-a-day increase in production, jolted the crude oil markets at around 9am ET.
U.S. benchmark crude oil prices fell more than 5% in response, to about $75 a barrel.
Context: The news came as a surprise to oil industry observers, especially in light of the fact that just last month, OPEC and its petro-ally Russia announced plans to cut oil production sharply in an effort to prop up prices.
But, but, but: A statement from Saudi Arabian authorities later in the day seemed to knock down the Journal's reporting.
What they're saying: "The current cut of 2 million barrels per day by OPEC+ continues until the end of 2023," Saudi Energy Minister Prince Abdulaziz bin Salman said in a statement issued by the Saudi Press Agency.
Oil prices promptly reversed course and surged, briefly going positive before ending the day down less than half a percentage point, at just under $80 a barrel. (They're up another 1% this morning to about $81.)
The bottom line: If the trading activity is any indication, the actual announcement from OPEC and Russia after a meeting on Dec. 4 in Vienna could be a real market mover.
4. Trust issues
The market capitalization of Coinbase dropped below $10 billion yesterday. This time last year, it was more than $70 billion, Felix writes.
Why it matters: The amount of value lost in Coinbase stock is probably greater than the loss of value of FTX equity plus the loss of customer funds held at FTX.
The big picture: The fallout from FTX's implosion is rippling across crypto markets in the U.S., causing a loss of trust in all the major players.
BlockFi and Genesis have blocked withdrawals, with Genesis reportedly warning that it, too, might have to file for bankruptcy.
The bottom line: Coinbase is trying hard to make the case that as an SEC-regulated public company, it's more trustworthy than its rivals.
If there's any kind of flight-to-quality trade in Coinbase's favor, however, it's not visible in the share price.
5. What Mastodon doesn't have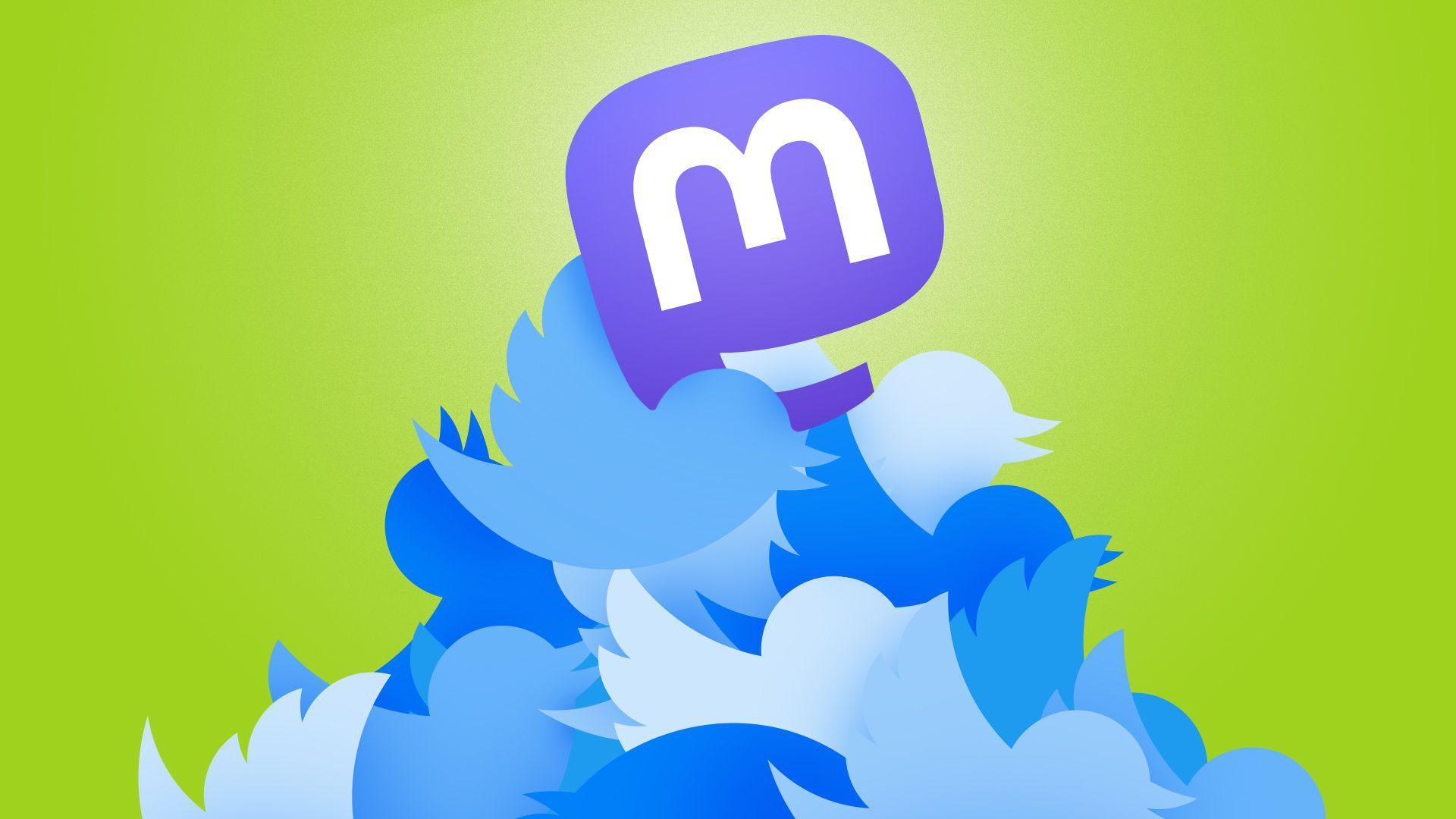 Mastodon has emerged as one of the fastest-growing and highest-profile options for people looking for an alternative to Twitter in the wake of Elon Musk's erratic changes, Axios' Scott Rosenberg writes.
The big picture: Mastodon says it had more than 1.8 million users active over the past month — more than triple the tally number it had on the day Musk took over Twitter.
But Mastodon isn't simply a Twitter clone — and isn't trying to be.
While much of Mastodon looks and feels a lot like Twitter, there are some key differences.
There's no algorithm promoting posts that have drawn heavy engagement from other users. You see a chronological list of everything that users you follow have posted.
There's no one list of trending topics across Mastodon, though individual servers can have their own lists. And while you can retweet ("boost") other users' messages, you can't "quote tweet."
The service's lack of polish and additional layers of complexity have left many Twitter users feeling confused or lost when they hop over to Mastodon.
Some Twitter communities — among them, science Twitter and journalism Twitter — have shown heavy interest in Mastodon. Others, including Black Twitter and MAGA Twitter, appear to be holding off.
💭 Felix's thought bubble: For most of us, the value and utility of Twitter have been built up over more than a decade of deciding which people to follow — combined with the fact that a huge proportion of the world's most interesting people are (or were) on the platform.
Starting from scratch on Mastodon, therefore, feels doubly daunting. There's no real way of saying "please follow everybody I follow on Twitter" — and even if there were, most of those people aren't on Mastodon.
The intrigue: Mastodon is not a company. It's a social media app that, like Twitter, allows users to share brief messages in real time — but, unlike Twitter, there isn't one giant system run by a for-profit company.
Instead, Mastodon is a network of privately operated servers that run on shared open-source code.
Mastodon has thousands of "instances" — individual servers — that users join as their home bases. These servers are "federated" into a network so that, once you've picked a server, you can readily follow posts from users based on other servers.
There are also many different choices of which app to use to read your feed. All of them are janky to a greater or lesser extent.
👓 1 thing Matt thinks is worth reading: Robert Armstrong over at the FT's Unhedged today, who makes a strong case for the regulation of crypto as a social ill, similar to smoking and gambling, rather than an as a form of finance.
Was this email forwarded to you? Sign up here to get Axios Markets in your inbox.
Today's newsletter was edited by Kate Marino and copy edited by Mickey Meece.