Axios Markets
January 14, 2022
🥳 Happy Friday! We Markets newsletter writers will be off on Monday observing Martin Luther King Jr. Day — we'll be back in your inbox Tuesday.
🚨Breaking late last night: President Biden's nominees for the Federal Reserve's board of governors. Read more about Sarah Bloom Raskin, Lisa Cook and Philip Jefferson — and what their nominations mean for the future of the Fed.
⏱ Today's newsletter is 1,189 words, 4.5 minutes.
1 big thing: The labor shortage is bigger than the pandemic
The shortage of workers in the U.S. has become a flywheel of doom, messing up our lives and society writ large. And many of the underlying problems that led to this breakdown are bigger than the pandemic, Axios' Emily Peck writes.
The big picture: Millions of immigrants, older workers and mothers are missing from the labor force. Those labor shortages create problems like supply chain woes, school closures, and skyrocketing child care costs — and some of those issues further exacerbate the worker shortages.
U.S. CEOs say labor shortages are the top threat to their businesses this year, in a survey released by the Conference Board yesterday.
State of play: The labor market problems are broadly about COVID, but with root causes that predate the pandemic:
Lost immigrants: There are about 2 million fewer working-age immigrants in the U.S. because of COVID immigration restrictions, according to calculations of census data from two economists at the University of California, Davis.
About 1 million are higher-educated working-age adults.
The immigration slowdown began during the Trump administration.
The Great Retirement: COVID spiked retirement rates. Flush with cash from the booming stock market and fearful for their health in a pandemic, many more older workers left the workforce.
There are 3.3 million more retirees as of October 2021 than January 2020 (aka the before time), according to estimates from economists at the St. Louis Fed. The number exceeded pre-pandemic demographic expectations.
Beleaguered moms: About 1.5 million fewer mothers of school-age kids are actively working compared with pre-pandemic times, according to Misty L. Heggeness, a principal economist at the Census Bureau.
Lack of social policy support for parents, particularly mothers — a key issue during the pandemic — has long depressed labor force participation rates for women in the U.S.
What's next: Economists are hopeful that when it becomes safer to return to work, more Americans will in fact go to work.
"The most obvious solutions are public health solutions," says Aaron Sojourner, a labor economist at the University of Minnesota's Carlson School of Management. If people are healthy, and risks are low they'll be more willing to get back to work. "It's a win-win."
But, but, but: Unless there is policy intervention, there will still be a shortage of immigrant workers, which holds back other parts of the economy.
"We have lost two years of immigration and there is nothing in our system that allows us to catch up," says Giovanni Peri, an economist at UC Davis, who calculated the 2 million number with a colleague.
Immigrant workers could help alleviate shortages in a range of industries, including child care.
More child care workers would have a downstream effect on working mothers and older women, who've stepped out of work to help with grandchildren's child care.
Bonus chart: Missing in action
2. Catch up quick
Nurses are striking across the country, in protest of working conditions stemming from widespread labor shortages as an influx of COVID-19 patients pressure hospitals. (Bloomberg)
A growing chorus of Federal Reserve officials — including Lael Brainard at her Senate hearing yesterday — are publicly signaling they will likely raise interest rates in March to battle inflation. (Reuters)
3. Rising mortgage rates could slow house price surge
Mortgage rates have jumped to their highest level since early 2020, Axios' Matt Phillips writes.
Why it matters: The rising cost of home loans could slow the booming American market for residential real estate.
State of play: Across the country, house prices have exploded over the last two years, as the pandemic — and super-low interest rates put in place by the Federal Reserve — ignited a home-buying frenzy not seen since the housing bubble of the mid-2000s.
Be smart: The Fed uses interest rates to influence how the economy works.
When the Fed pushes the interest rates it influences lower, it affects the costs of borrowing for everyone from major corporations to would-be home buyers.
In recent weeks, interest rates have risen as the Fed has signaled that it's moving quickly to try to stop inflation from getting out of control. Mortgage rates follow the rates the Fed influences.
The bottom line: Higher mortgage rates will make homes less affordable for some, especially first-time buyers.
In theory, fewer buyers should slow the pace of home price increases.
Over time, a slower ramp in home prices will help lower the headline inflation figures — shelter costs are the biggest component of the Consumer Price Index.
4. Corporate America's incredibly profitable pandemic
Companies are about to blast out a blizzard of quarterly profit and sales numbers over the next few weeks, as the carnival of Q4 corporate results kicks off, Matt writes.
Large banks will open the floodgates, issuing reports early Friday that mark the unofficial start of earnings season on Wall Street.
Why it matters: Earnings reports tell investors, analysts and economists how the economy translates into sales and profits for corporations. They also make stocks move — sometimes a lot.
The big picture: So far, corporate America has had a very good pandemic.
Though profits initially took a hit in 2020, they rebounded to what was almost certainly record highs last year. (We won't know for sure until the new batch of numbers, which cover the last three months of 2021, are in.)
State of play: You'll sometimes hear executives bellyaching about recent inflation trends such as rising raw material prices, and increasing wages, arguing that they could cut into profits.
It is true those input costs keep rising. A key gauge of wholesale prices — out yesterday — showed them up nearly 10% as of November, compared to the previous year.
The bottom line: Large companies have had no problem passing those costs along to consumers, which is why profit margins — that is, profits as a share of sales — are also at record highs.
5. Court nixes workplace vax mandate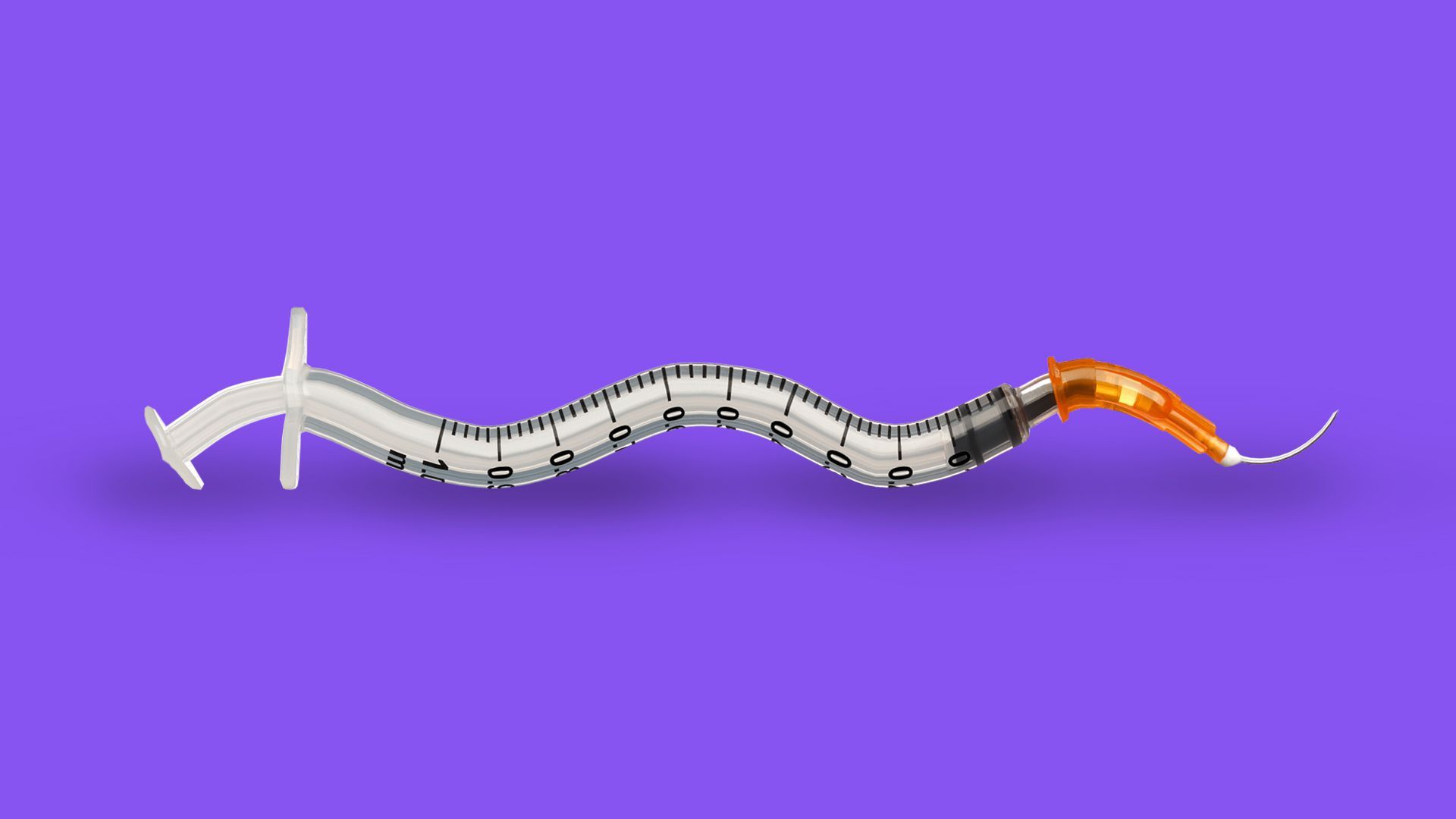 The Supreme Court yesterday blocked the Biden administration's vaccine mandate for large employers — but left the door open for narrower regulations, targeted to specific types of workplaces, Emily and Axios' Tina Reed write.
The Supreme Court also allowed the federal vaccine mandates for health care facilities to take effect.
Why it matters: Cash prizes and other incentives barely moved the needle on vaccinations. So the government turned from carrots to sticks — but now it has lost its biggest stick.
State of play: Only a few large companies, such as United Airlines, have required vaccines. Most employers haven't enacted a mandate, and labor shortages could make them even less likely to do so now.
Plus, 13 states prohibit employers from enacting vaccine mandates, according to data from KFF.
Between the lines: Early on in the pandemic, many companies tried to entice employees to get shots using cash incentives or paid days off but found limited success.
"Mandates appear to be the only way to get to that high a vaccination level, you cannot do it with education or nudges," Jeff Levin-Scherz, a population health leader at Willis Towers Watson, told Axios.
What to watch: Likely candidates for more narrowly targeted regulation include workplaces where social distancing is difficult, such as manufacturing lines, or where mask-wearing is impossible, such as restaurants, Aaron Goldstein, a partner in the firm of Dorsey & Whitney, said in an email.