Axios Markets
November 29, 2021
☀️ Good morning, Markets crew! While Kate Marino heads out on vacation, I am back in your inbox this week. Tell me things at [email protected] or at AjaWMoore on Twitter.
🚨Get ready: Today is expected to be the biggest online shopping day of the year, Adobe says.
⏱ Today's newsletter is 1,312 words, 5 minutes.
1 big thing: Tracking the pandemic's unequal impact
The pandemic was bound to hit the most economically vulnerable among us the hardest. New polling data from Morning Consult, out this morning, shows the degree to which those difficulties were more concentrated among people of color, Axios' Kate Marino writes.
Catch up quick: The Morning Consult/Axios Inequality Index has tracked the economic experience of adults in three wage groups since May 2020. We began publishing the findings in May of this year, and six months in, we're slicing the data a little differently — and looking at inequality between ethnicities.
Why it matters: This look-back illuminates the unequal effects of the pandemic on the American population — as well as how important the government's policy responses have been in blunting the impact.
How it works: The index measures whether economic inequality is rising or declining — as opposed to providing a snapshot of the distribution of income or wealth. A higher reading means more inequality.
It does so by tracking sentiment in four categories: whether or not respondents expect to experience a reduction in income, or a job loss, whether they can cover basic expenses for a month with their savings, and overall consumer confidence.
Details: Inequality increased the most over the course of the fall and winter of 2020 when COVID cases were rising and government support was winding down.
The index shows inequality contracted over the first half of this year when vaccinations were on the rise, expanded unemployment benefits were extended, and another round of stimulus checks hit bank accounts.
But since July, as the Delta variant began spreading and large swaths of government support wound down, inequality has started to creep back up again.
"As captured by the index, minority groups are generally more likely than white adults to experience pay losses, harbor fears of pay losses and lack savings to cover basic expenses," Morning Consult economic analyst Jesse Wheeler tells Axios.
For example, 17% of Black and 24% of Hispanic Americans on average over the last 12 months feared a loss of income, compared to 15% of white adults.
The big picture: This is consistent with what the government jobs data shows — that Black and Hispanic unemployment remains higher than unemployment for white Americans — with implications for how quickly the Federal Reserve moves to tighten monetary policy.
The Fed's view of full employment — something it would like to see before raising interest rates — specifically targets an inclusive recovery.
What we're watching: Assuming that pandemic-era direct fiscal stimulus payments are over, "my default assumption would be that inequality in this index are going to increase over time," John Leer, Morning Consult chief economist, tells Axios.
Bonus chart: Income loss by race
2. Catch up quick
A broad sell-off in equities on Friday, caused by the emergence of the new COVID-19 variant Omicron, highlights the way that increasing leverage in the system can potentially amplify pullbacks. Futures this morning are pointing to stabilization. (WSJ)
The European Central Bank is considering capping the leveraged lending that banks can originate, in an effort to prevent a potential market correction. (Bloomberg)
3. Charted: Gross domestic income
The Bureau of Economic Analysis released second-quarter GDP statistics just before Thanksgiving. You could be forgiven for having missed it — the report is normally just a minor revision to numbers that have already been released. This report, however, is worth a second look, Axios' Felix Salmon writes.
Why it matters: The BEA calculates GDP in two different ways — gross domestic product, and gross domestic income, or GDI. Economically speaking, the two are identical. But they're measured in different manners, which means that the numbers reported by the BEA can differ in interesting ways.
By the numbers: GDI came in at $23.8 trillion in the second quarter, significantly higher than the $23.2 trillion number for GDP.
The growth rate was higher, too: Nominal GDI was up 14% from a year previously, while GDP was up just 9.7%.
The bottom line: The true size of the economy probably lies somewhere between the two numbers. This means that we're bigger, and growing faster than the official GDP statistics would suggest.
4. Port thaw 🤞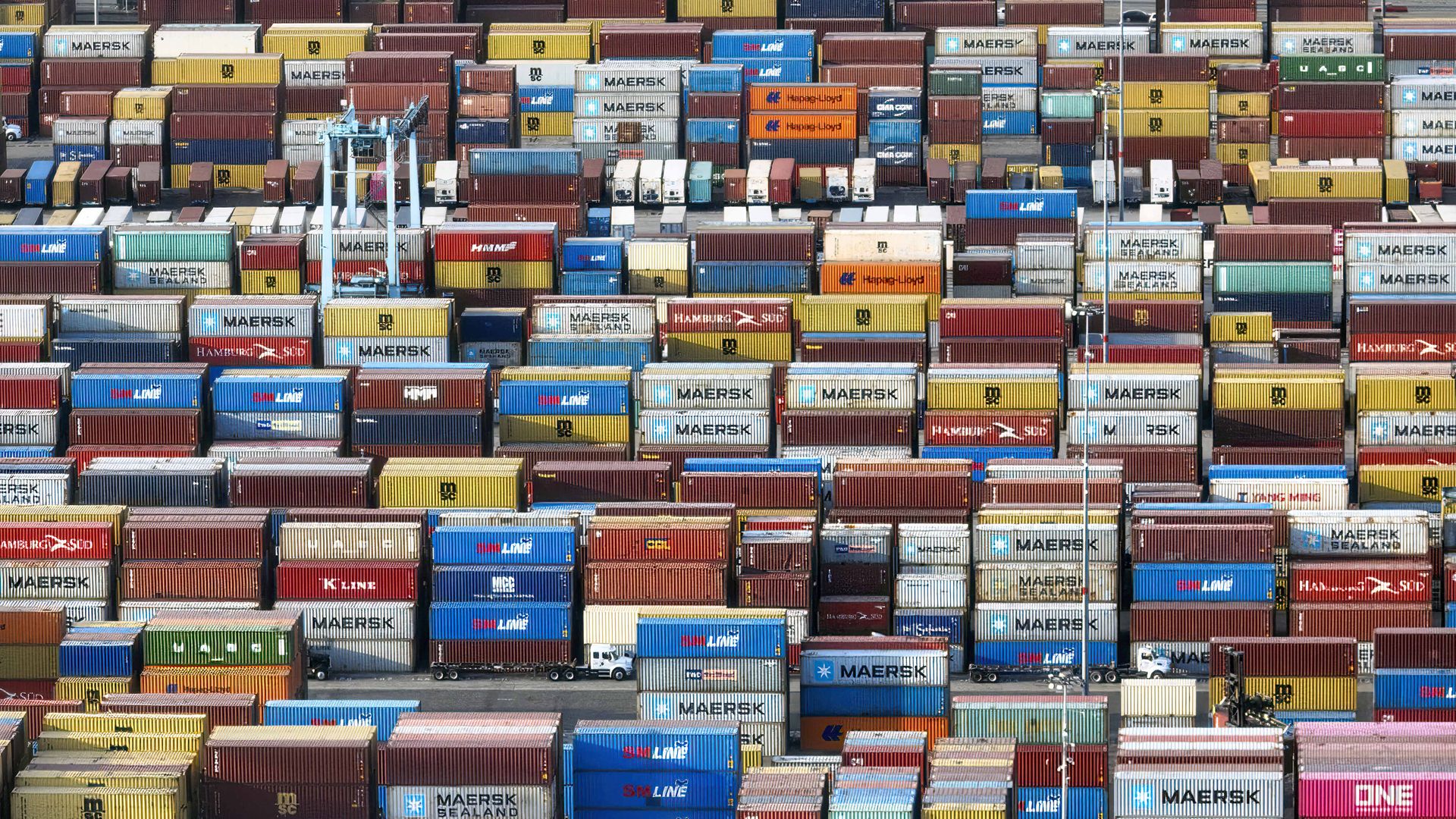 America's ports are still clogged — but signs of a nascent thaw started to emerge this month, Kate writes.
Make no mistake, the logjam is unlikely to clear up any time soon. A few metrics, however, show trends starting to move in the right direction.
Why it matters: The ports are ground zero for the supply chain bottlenecks that led to empty store shelves, crimped corporate profit margins — and contributed to rising consumer prices.
State of play: Container "dwell times" — the number of days a container sits at the port after it's unloaded, an important measure of efficiency — have improved at the ports of Los Angeles and Long Beach where 40% of inbound containers enter the U.S.
The volume of containers dwelling for nine days or more dropped by 37% over the first three weeks of November.
And the elite 0-3 day dwell times are on the rise. The Port of Long Beach reports that as of Nov. 24, those were 8% higher compared to two weeks earlier.
This is in part because of the $100 fees that the ports, in conjunction with the Biden administration, said they'd impose on ocean carriers for each of their containers that sit at the ports too long.
Meanwhile: The number of ships waiting to unload at the two ports declined to 57 as of Nov. 24, from 86 on Nov. 16, according to the Marine Exchange of Southern California. (During normal times that figure is zero to 1.)
What we're watching: The ports are targeting a 20% reduction in the number of empty containers at the two ports in short order, says John Porcari, who serves as port envoy to the Biden administration's task force on supply chain disruptions.
Getting to that point involves calling in "sweeper" ships, which enter the port purely to take away empty containers.
Go deeper: Dems fear supply-chain blame
5. Biden summons top CEOs
President Biden will meet this afternoon with CEOs of big retailers, grocers and consumer-products firms to send this message, according to the White House: Products will be on shelves for holiday shopping, Axios' Mike Allen and Margaret Harding McGill write.
Zoom out: Black Friday sales rebounded from 2020.
In-person participants for Biden's roundtable are scheduled to include the CEOs of Best Buy, Food Lion, Samsung North America, Qurate Retail Group, Todos Supermarket, Etsy, Mattel and Kroger.
Virtual participants are scheduled to include Walmart CEO Doug McMillon and CVS Health CEO Karen Lynch.
Afterward, Biden will speak on-camera about administration efforts to strengthen supply chains, lower costs for families, and ensure that shelves are stocked.
6. What we're watching this week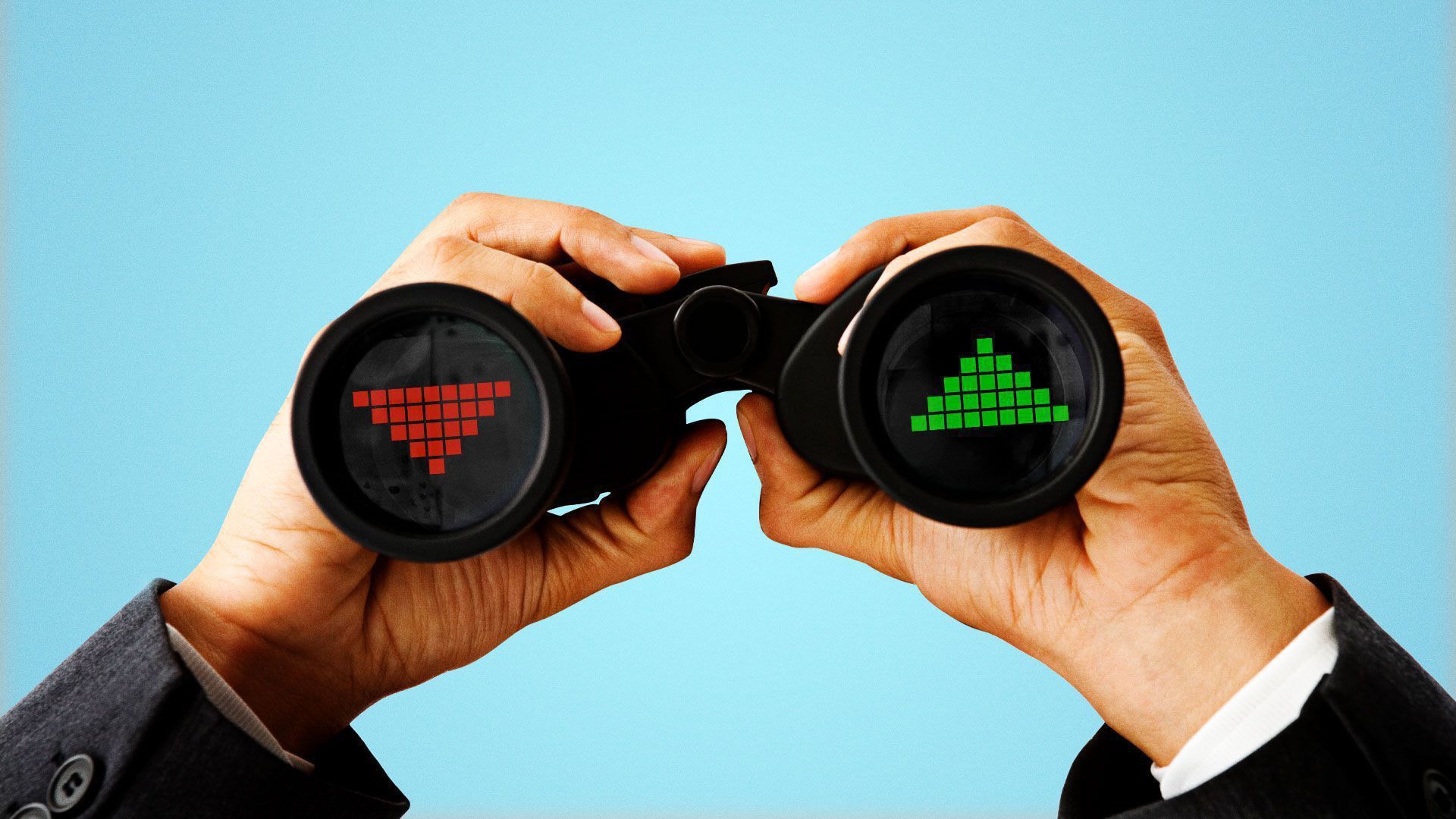 The November jobs numbers will drop Friday, into an economy on the cusp. Another blockbuster month of job gains, combined with a likely hot inflation print the following week, could move the needle of public opinion on how quickly the Fed should act to cool growth, Kate writes.
The big picture: The Fed doesn't bow to public opinion, but it is coming under increasing pressure from within its own ranks to more quickly taper its monthly bond purchases.
The implication: It would then have the option to raise rates sooner to quell the increasingly strong price growth.
The minutes from the November FOMC meeting, which were released on eve of Thanksgiving, show some willingness on the part of Fed governors to react more aggressively to the price pressures.
By the numbers: Economists expect 575,000 new jobs created in November, compared to the initial 531,000 figure for October, according to FactSet.
The unemployment rate is expected to tick down to 4.5%, from 4.6%.
Of note: We'll also be watching for more upward revisions to September and October stats if recent history is a guide, which would paint an even stronger picture of the fall's recovery.