Axios Markets
January 13, 2023
😅 Friday. It's a long weekend for us. We'll be back in your inbox Tuesday.
Today's newsletter is 1,011 words, 4 minutes.
1 big thing: No one knows anything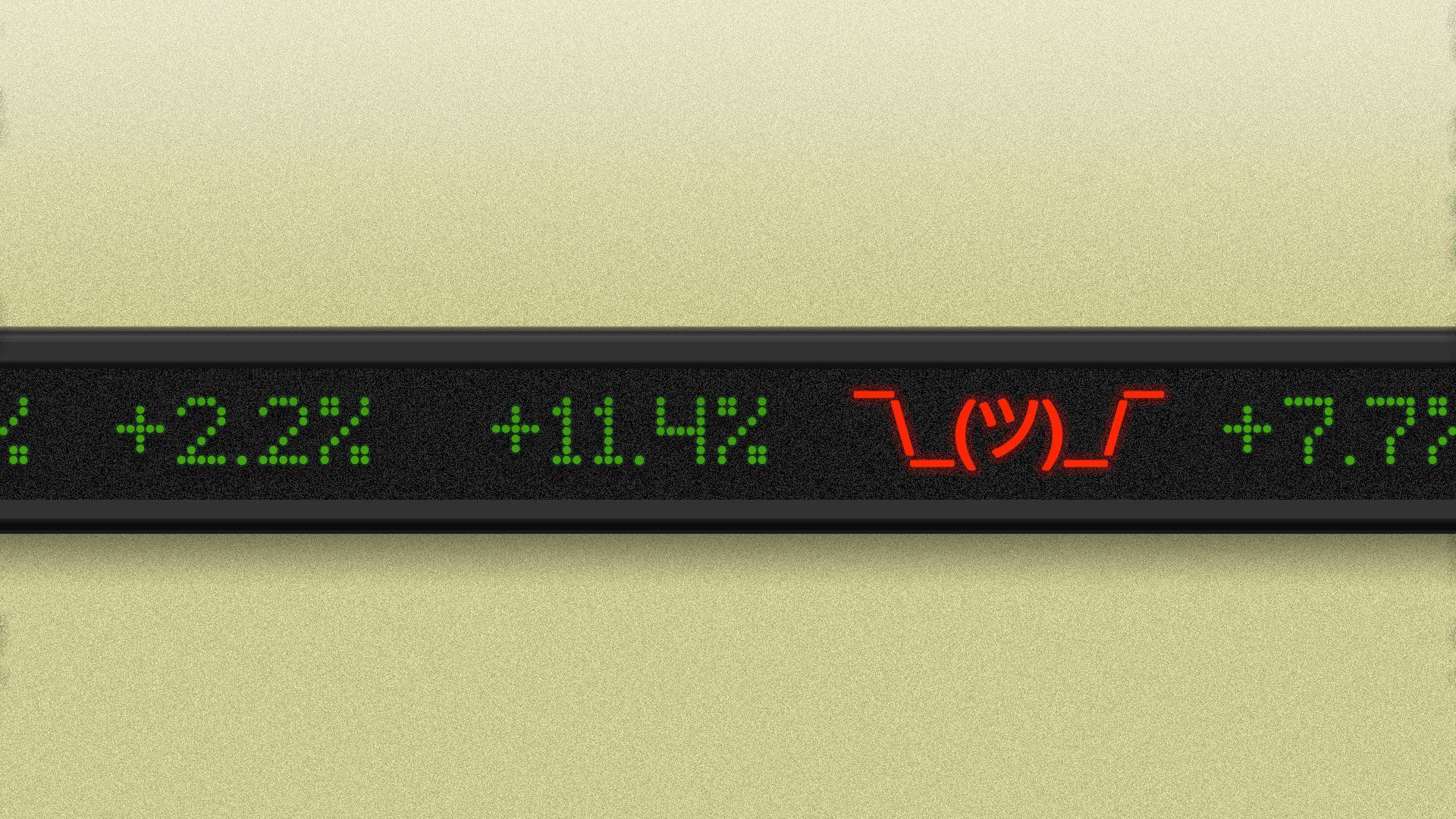 After nearly three years of unprecedented economic and geopolitical shocks, experts are effectively throwing up their hands and admitting they don't know what's coming next, Emily writes.
The latest: The probability of a recession in 2023 is between 45% and 55%, per the authors of a report from Goldman Sachs' Investment Strategy Group released this morning.
That's right down the middle — they'll basically be right either way.
Still, it's the highest number since the group began making its prediction more than a decade ago; and higher than the 35% forecast from Goldman's chief economist, Jan Hatzius, which is the official view of the firm.
"This year our outlook is called 'caution, heavy fog,'" said Sharmin Mossavar-Rahmani of Goldman at a briefing about the 110-page report. "We're trying to give a sense of uncertainty...and we should be cautious about how we proceed."
Zoom out: Recession talk in the media and among market experts was intense last year, peaking in the summer along with the Consumer Price Index (see the chart below).
And certainly, it was a rocky year with skyrocketing inflation, war, and a big drop in stock and bond prices. But the arbiters of recession have not declared that the U.S. was ever in one last year (at least not yet).
The number of news stories about recession in 2022 exceeded the number tracked in 2020 when the U.S. economy was actually in a recession, the Goldman report found.
Between the lines: Under the hood, the authors were actually fairly optimistic about what all this uncertainty means for the stock and bond markets — noting that 2023 is "likely to be less tumultuous."
Positive signs include cooling inflation, which would mean less extreme interest rate hikes. The authors also see falling wage growth as a good sign (which may be true for the markets but less so for many workers).
Two consecutive down years in the S&P is "very rare historically," said Brett Nelson of Goldman who co-authored the report.
If a recession does happen, the group thinks it will be mild and that the S&P could still post gains.
Yes, but: Forces outside of business are making folks nervous.
"As we talk about geopolitics, it is an irrational environment given what China and Russia are doing from our perspective," Mossavar-Rahmani said.
The report highlights China's aggressive posturing around Taiwan and the lack of a face-saving off-ramp for Russia in Ukraine.
"There could be things we just cannot anticipate," she said.
Chamber of Commerce CEO Suzanne Clark struck a similar point in a speech Thursday: The greatest risks to business are coming from outside the businesses themselves. But she focused on U.S. politics. "The only risk that businesses say is rising — is getting worse — is the risk that comes from our own government."
💭 Our thought bubble: After three eventful years, it would actually be weird for anyone to express much certainty about broad macro trends.
Bonus chart: In the news
2. Catch up quick
3. 🚘 Slump in used car prices accelerates
Used vehicle prices — once at the bleeding edge of the post-COVID inflationary upswing — are falling fast. And the pace of the downturn is building, according to a leading indicator, Matt writes.
Why it matters: While auto price movements are typically a small factor in overall inflation, outsized moves can exert a big influence on inflation data.
Driving the news: One component of yesterday's broadly cool CPI release was a nearly 9% drop in prices of used cars and trucks over the prior year.
Flashback: Used vehicles were in the vanguard of the post-pandemic price surge, which centered on goods that were in high demand but low supply due to COVID-related halts to production.
In June 2021, used auto prices were up a remarkable 45% from the previous year.
What we're watching: The Manheim Used Vehicle Value Index tracks wholesale prices of used cars sold at auction. It tends to predict prices shoppers see on auto lots a couple of months later.
The latest numbers from the firm (part of Cox Enterprises, which also owns Axios) showed a 13% drop in auction prices in December from the prior year — suggesting the consumer price slump will snowball in the coming months.
4. Nine cities where rent actually declined in 2022
Rents are starting to roll over in parts of the country that were near the epicenter of the COVID-era home-price boom, Matt writes.
Why it matters: Costs of shelter are currently key drivers of inflation.
In December 2022, rents were 8% higher nationally than they were the same month in 2021, according to yesterday's CPI figures.
Yes, but: Because of the way rents are measured in the government's CPI report, it can take as long as a year for the latest dynamics in the rental market to show up in official inflation readings.
The bottom line: Nevertheless, those shifts are becoming increasingly clear, especially in red-hot Sunbelt real estate markets such as Florida, Arizona and Texas.
Data from Realtor.com shows rents there are already falling. And that means downward pressure on the key inflation driver of the moment — housing — is already in the pipeline.
5. 🥚 But egg prices are still cracking records
The world of markets and economics continues to be rocked by the recent rise of egg prices.
Well, maybe not rocked — but even in inflation-adjusted terms, the average price of a dozen eggs hit a record in December, according to the CPI numbers out yesterday, Matt writes.
Flashback: The closest they've ever come to this level was back in 1984. Prices soared to a then-record as farmers moved to pass along rising feed costs driven by drought. A bird flu epidemic also broke out in the Northeast, particularly in Pennsylvania.
Prices also spiked in 2015 due to, you guessed it, bird flu.
Yes, but: At least the recent surge in egg prices, driven — in part — by the mass culling of hens due to avian flu is a visible outlier (outlayer?) to inflation's broader overall trend, which appears to be slowing nicely.
🔥 1 thing we're talking about: Our stoves. This week, Matt wrote about the hot controversy surrounding gas stoves, which are linked to a higher risk of respiratory problems. Have you heard about it?
Check out his story and let us know what kind of stove you use and what you make of the fuss. You can reply to this email to let us know.
Was this email forwarded to you? Sign up here to get Axios Markets in your inbox.
Today's newsletter was edited by Kate Marino and copy edited by Mickey Meece.