Axios Login
October 23, 2017
I have bad news and good news. The bad news is it's Monday and you have to go back to work. The good news is I have two fun After You Login items to make the start of the week a little less painful.
Why some screen time can be a good thing for kids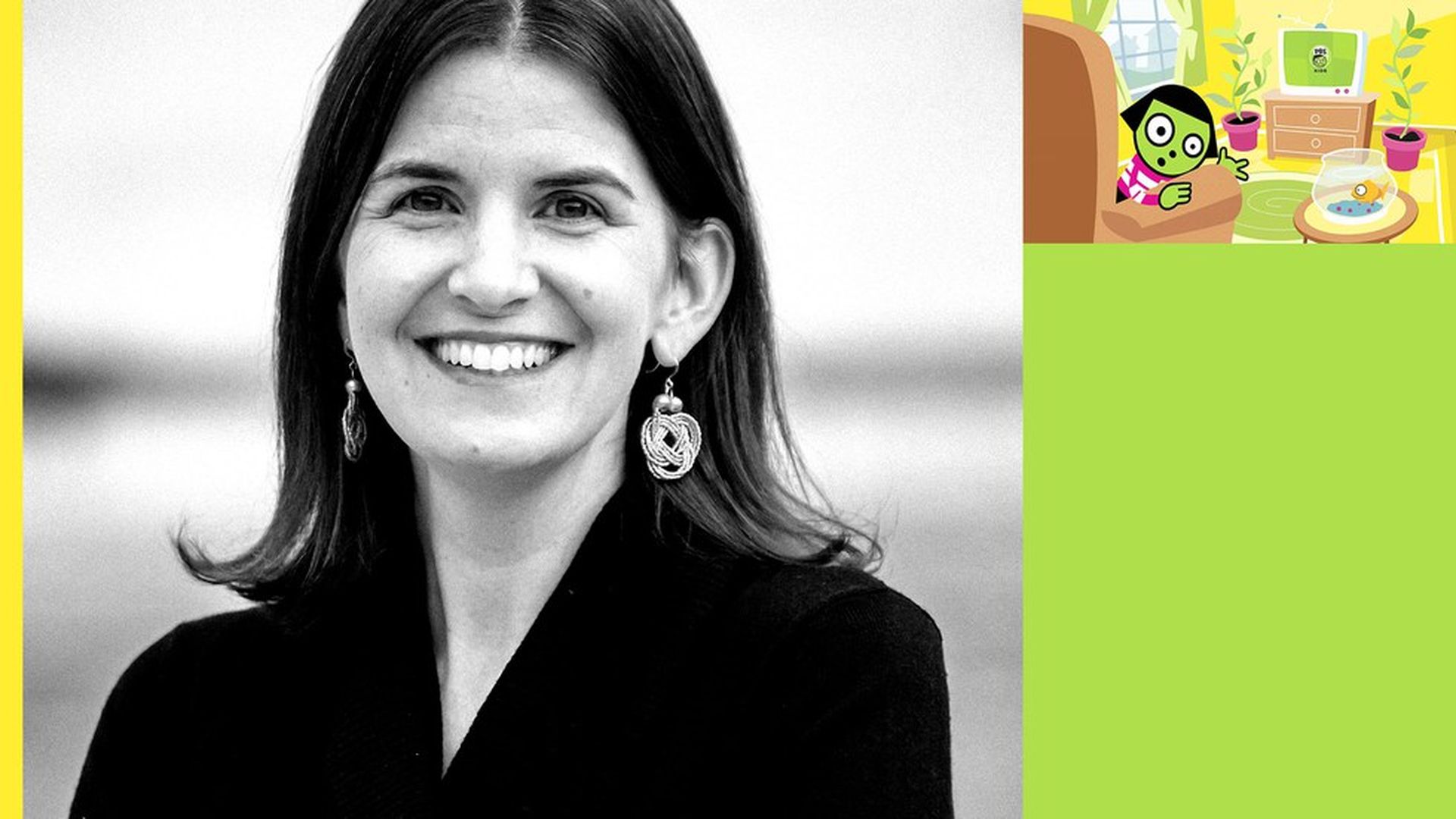 In her TED Talk earlier this year, Sara DeWitt, vice president of PBS Kids Digital, argued that all that screen time isn't necessarily a bad thing. But DeWitt says a few things got lost in the message. "It's not like blanket all screen time is great," she said in a recent interview with Axios.
The bottom line: There are two things to keep in mind, she says. One is that the right amount of screen time really depends on the kid, and the other is that not all screen time is created equal. The key, she says, is for parents to be proactive.
"There's a big difference between just kind of flipping on the TV when you need a few minutes of downtime and turning on whatever and really thinking about what is going to be the best time for media today and how can I make the best choice."
Read more: Check out our story based on several interviews with DeWitt here.
Cities hope self-driving vehicles can fix transit gaps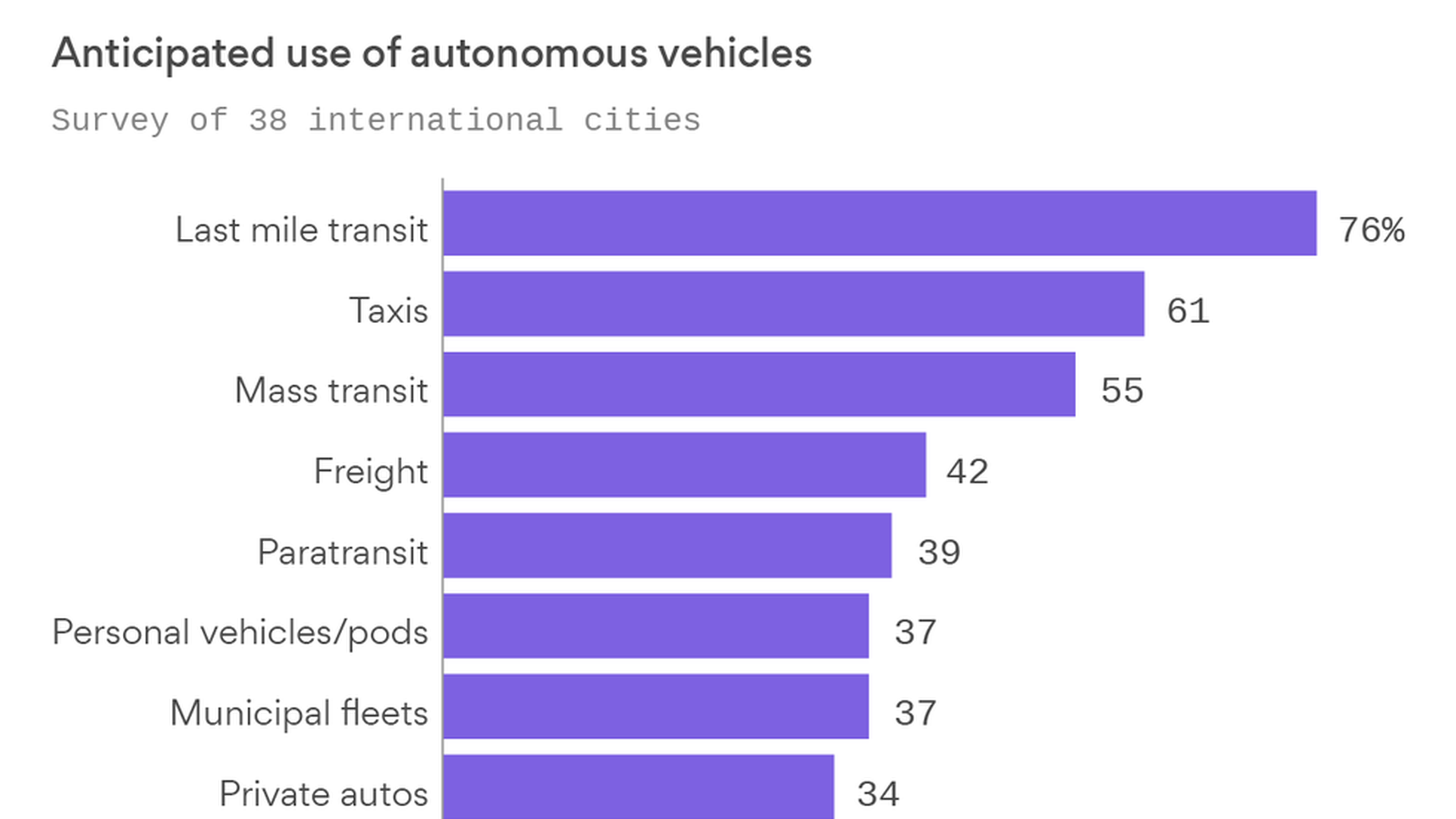 One way we may see autonomous vehicles changing our daily commutes is in the gaps at the edges of public transit systems — what urban planners call the "last-mile" problem, as Axios' Shannon Vavra reports.
One purpose: More than three-quarters of cities invested in mobilizing autonomous vehicles anticipate using them to solve "last-mile" transit gaps, such as transporting people between rail stations and employment centers or shuttles circulating within larger corporate campuses, according to a Bloomberg Philanthropies survey out today.
Why it matters: Autonomous vehicles may link public transportation and major employment hubs, something cities often struggle with. While addressing these "last mile" gaps will improve commutes, some predict self-driving cars could add to sprawl as well as traffic.
Context: According to the survey, autonomous vehicle programs are popping up in 53 cities worldwide on every continent, with Washington, Austin, Nashville, Paris, Helsinki, and London already piloting projects.
Testing areas include technology parks, college campuses, urban renewal districts, and former Olympic sites— places that make it easier to separate self-driving cars from the rest of the city. That means that, while the trials are happening within city limits, they aren't yet tackling the challenge of navigating complex urban environments.
Silicon Valley sex abuse scandals continue
Several more sexual harassment and assault scandals came to light in recent days, leading to the ouster of two executives, the closure of a website and a fresh wave of allegations against one of the tech world's better-known bloggers.
The big question: Will this be enough to lead to systemic change, or will it only cause repercussions for these specific individuals?
Here's what's happened since Thursday:
Separate, but awful: Vungle CEO Zain Jaffer was arrested on allegations of sexual abuse of a child. He was ousted as CEO, but this is in a separate category as it wasn't a workplace incident.
The big picture: Sexual assault and harassment issues are about power dynamics, something present in tech, but certainly not limited to this industry. Check out this Axios interactive infographic to see a timeline of alleged assaults by some high-profile people.
Clustertruck — an Indy startup trying to shake up food delivery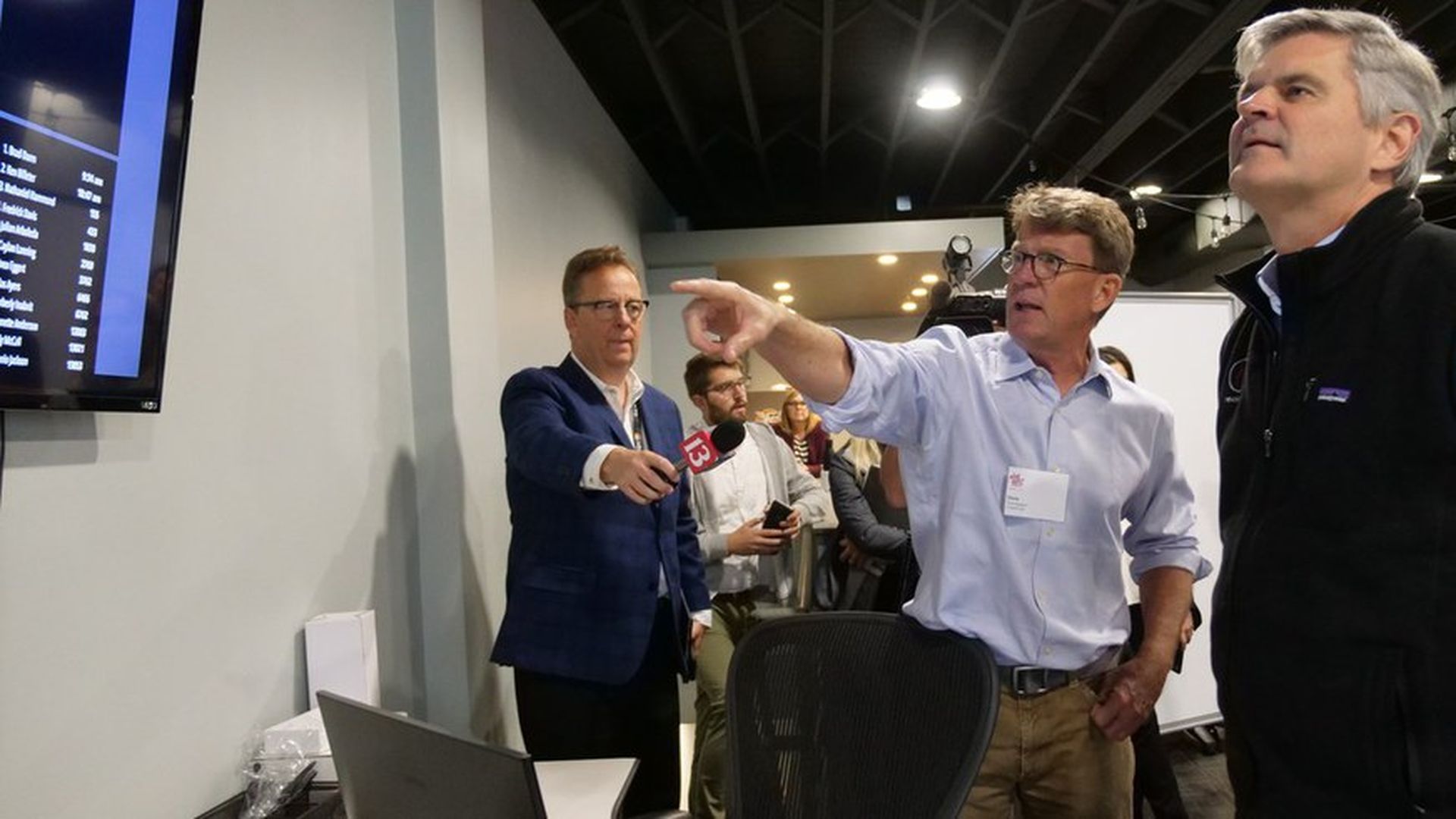 Entrepreneur Chris Baggott sold his last two companies to Oracle and Salesforce. Now he's looking to move from business software to food delivery.
His newest company: Indianapolis-based Clustertruck differs from rivals in that it's not picking up food from existing restaurants, but making the dishes itself. It offers 160 items from pad Thai to pizza and has its own delivery team too, promising food in 21 minutes or less, with free delivery.
Focused on Middle America: Clustertruck started in Indianapolis and opened in Columbus last week. It plans to be in Cleveland, Kansas City, Denver and Charlotte by the end of the year. Focusing on Midwestern states is the same expansion strategy Baggott used in building his other software companies:
"While everyone else is killing themselves to conquer New York and San Francisco, we're focusing on the rest of the country," Baggott said.
Baggott says Clustertruck has low driver turnover while competitors like Doordash spend millions on recruiting drivers. And drivers make good money — as much as $100,000 a year in some cases.
He developed the idea after meeting a Lyft driver who helped him to see the pitfalls of on-demand services. Many of his drivers are former Uber and Lyft drivers.
"I said, let's design a system that can be the best gig economy job in America," he said "We've designed software and an algorithm that maximizes revenue" and allows high volume food production and delivery.
During the 17 months since it opened with one kitchen, Baggott says it's "put over a million dollars in the pockets of 38 drivers."
My former Recode colleague Jason Del Rey has a piece looking at how other successful e-commerce startups are doing this too.
Go deeper: Kim has her full story here.
Will AI kill the era of the big startup?
Jon Evans has an interesting column for TechCrunch exploring whether the rise of big data and artificial intelligence will kill the era of the big startups in favor of the tech giants.
On the one hand: Certainly the tech giants have a leg up when it comes to access to massive amounts of customer data and it is hard to see that the shift to AI will hurt those companies.
On the other hand: There's also a case to be made that as the tools for AI become democratized we will see a ton of startups emerge with expertise (and data) in specific verticals.