Axios Login
December 09, 2021
As part of a conversation with Harvey yesterday I realized both that overwhelmed is not the opposite of underwhelmed and that there is no way to simply be whelmed.
I was both overwhelmed and underwhelmed by this realization.
Today's newsletter is 1,184 words, a 4-minute read.
1 big thing: Online platforms say it's hard to tell who is a kid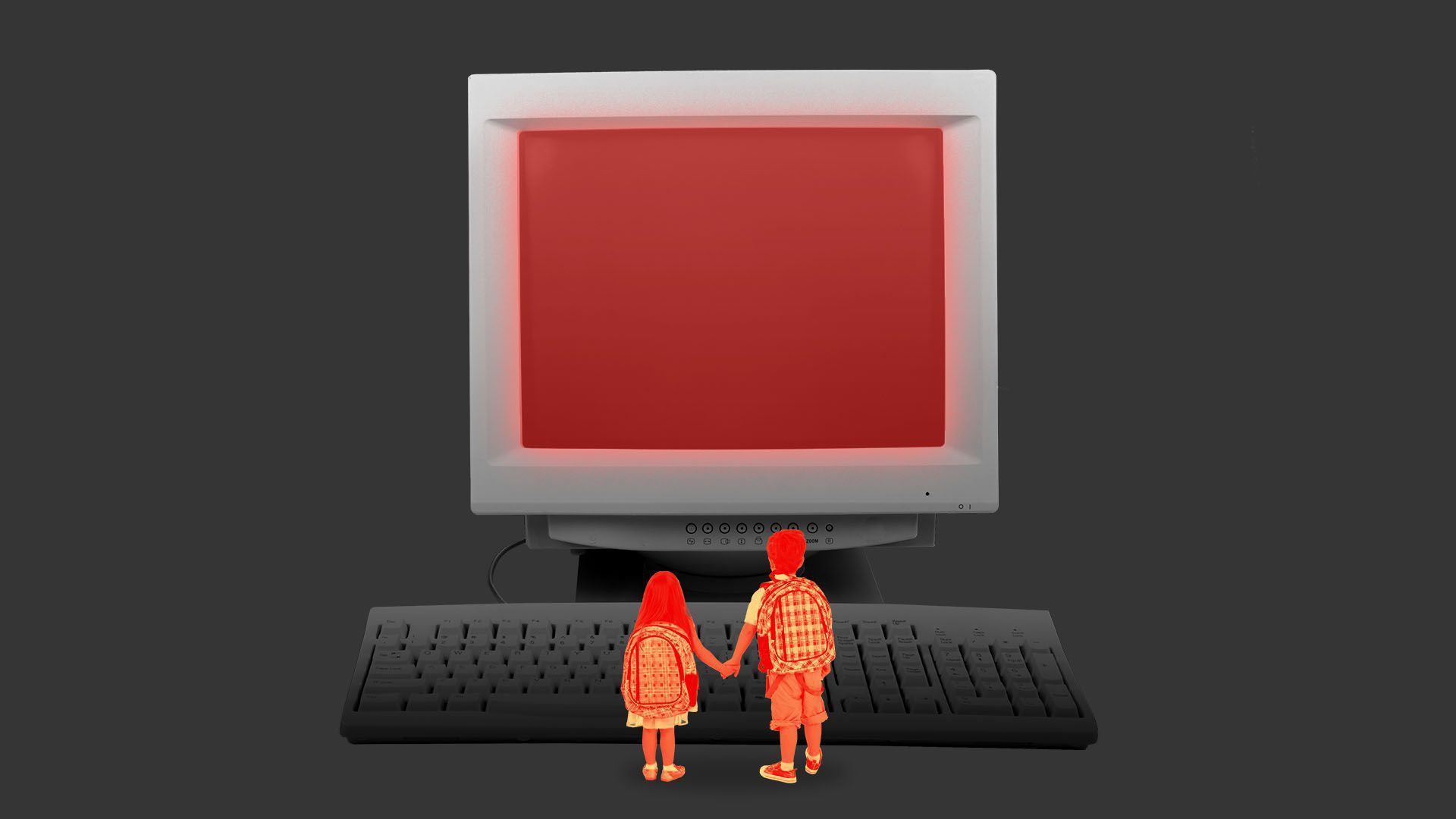 Tech giants including Instagram are calling for Congress' help in figuring out just how old their users actually are, Axios' Margaret Harding McGill reports.
Why it matters: In order to create child-friendly experiences, online platforms need to identify which users are actually children.
Driving the news: Instagram head Adam Mosseri became the latest industry leader to highlight the challenges of verifying the ages of users at a hearing before the Senate Commerce consumer protection subcommittee on Wednesday.
Children under 13 aren't allowed on Instagram, but Mosseri told lawmakers it is very difficult to verify ages on the internet, especially given many teens don't have government-issued IDs.
The company uses "classifiers" to try to predict age and asks users who appear too young to prove their age, Mosseri said.
"It's not perfect, which is why I believe there are better, industry-wide ways to solve age verification because it really is an industry challenge," Mosseri said.
Catch up quick: A federal law, the Children's Online Privacy Protection Act, or COPPA, requires online services to obtain parental consent before collecting data and personal information about users under 13.
Many online services use an age gate — asking a user to enter their birthdate — to determine age, but there are obvious limitations to that approach.
The intrigue: Mosseri pitched lawmakers on age verification at the phone level.
"Have a parent who gives their 14-year-old a device tell the phone that their child is 14, as opposed to having every app — and there's millions of apps out there — trying to verify the age on their own," Mosseri said.
Meanwhile, TikTok also has highlighted the limitations of the age-verification work it does, and has pushed for legislation from Congress to address the issue.
Michael Beckerman, vice president and head of U.S. public policy for TikTok, said an update to COPPA should include "a better way to verify age across the internet, across apps rather than the system that is in place now," during a Senate hearing in October.
Reality check: Some legislators and advocates find it hard to believe the platforms can't determine the ages of their users, given the information they collect.
"If a platform has information that allows them to serve up advertising and for them to offer advertisers age brackets below what is supposed to be available on their site, I think it demonstrates they have the capacity to protect those same individuals," Amina Fazlullah, director of equity policy for Common Sense Media, told Axios.
"They have the data," Sen. Marsha Blackburn (R-Tenn.) said about Instagram's age verification claims at a press conference following the hearing at the press conference about Instagram's age verification claims. "This is something they have the capability to do and we would like to see them implement this sooner rather than later."
2. Four key moments from Instagram's Hill hearing
During his Senate committee testimony, Mosseri was pressed by lawmakers on the app's impact on young children, Axios' Ashley Gold reports.
Why it matters: Protecting kids online is one area Congress has shown it's willing to regulate, as Axios previously reported.
Here are four key moments:
Mosseri did not commit to never pursuing an Instagram for Kids app in a back-and-forth with Sen. Richard Blumenthal (D- Conn.): "What I can commit to today, is that no child between the ages of 10 or 12, should we ever manage to build Instagram for 10- to 12-year-olds, will have access to that without their explicit parental consent," said Mosseri.
Senators managed to catch Mosseri off-guard a few times about Instagram policies: Sen. Marsha Blackburn (R-Tenn.) pressed Mosseri on an interview he did with influencer JoJo Siwa, who said in a June interview she's been on Instagram since age 8, against the platform's rules. "That was a missed opportunity," Mosseri said.
Mosseri hesitated to say Instagram was addictive or bad for mental health: Lawmakers referenced a recent Surgeon General report that says certain kinds of online activity "likely do harm some young people." Mosseri said he does not believe research shows that social media drives a rise in suicides.
Instagram will soon let users go back to a chronological feed. Mosseri said Instagram is working on the feature, which Instagram used to have prior to 2016. He said it will roll it out early next year.
Go deeper: Instagram's boss faces Congress' questions on harm to teens
3. Appeals court pauses Apple App Store changes
Apple won't have to implement changes to its App Store just yet after an appeals court granted the company a stay on the ruling from its case against Epic on Wednesday, Axios' Noah Garfinkel reports.
Why it matters: Apple can breathe a sigh of relief while its lawyers argue the case in coming months, knowing it does not have to open iOS to alternative in-app payment methods, as the trial court judge had ordered, until the appeal is resolved.
The changes were scheduled to go into effect on Dec. 9 prior to the court's ruling.
Background: In September, a judge ruled that Apple was required to let Epic, and other developers, tell users about alternative payment mechanisms and to link out to their own transaction systems.
Apple had kicked Epic out of the app store after the gaming company added its own payment area to the Fortnite app. Epic then filed suit, arguing that Apple was abusing a monopoly over its store.
4. Crypto makes its case to Congress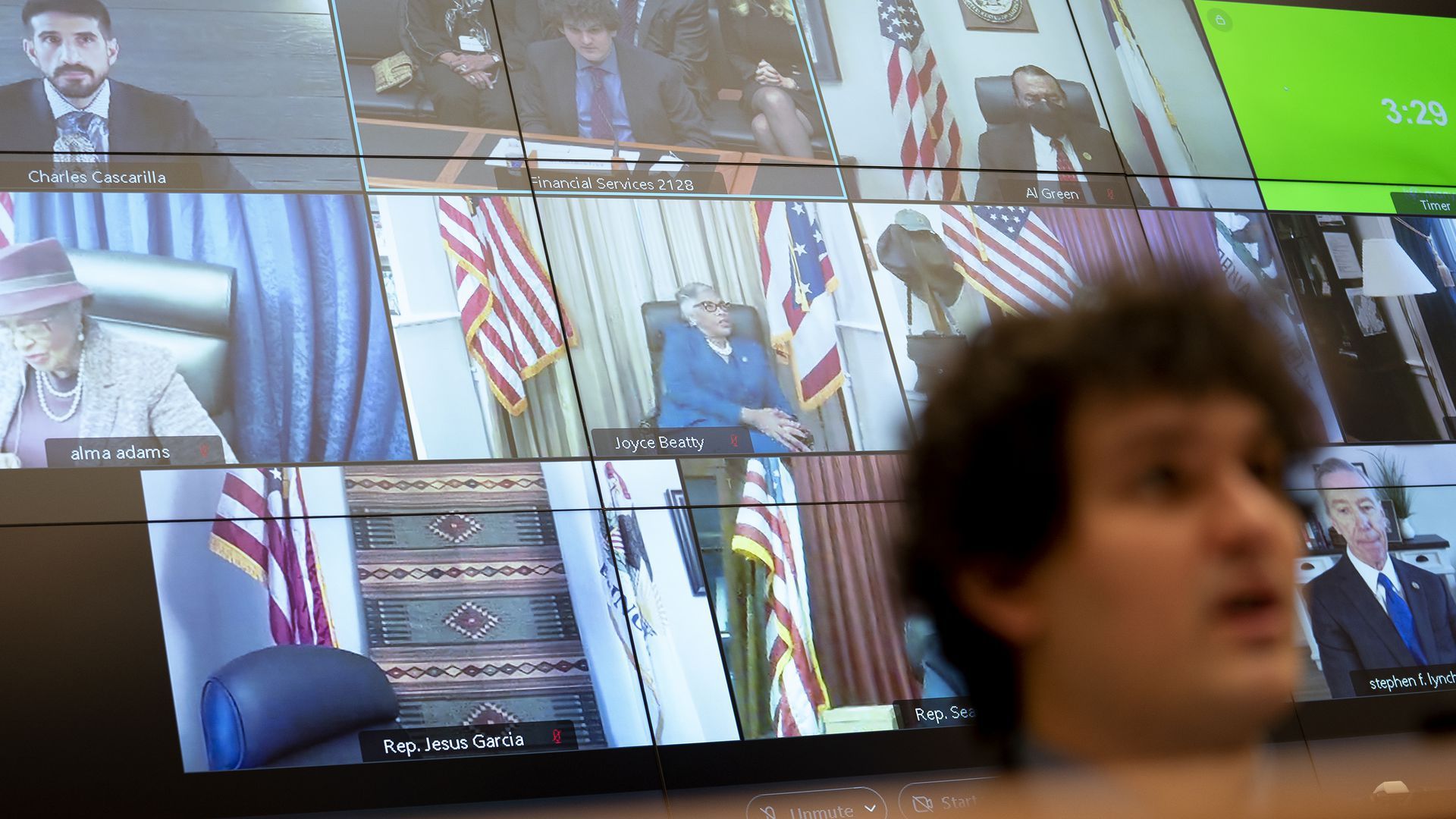 We're not the Wild West — but give us clearer rules of the road: This was the message to Congress from the heads of six cryptocurrency companies on Wednesday, Axios' Kia Kokalitcheva and Courtenay Brown report.
Panelists took a shot at pitching preferred rules.
"The solution is not to shoehorn digital assets into a regulatory system designed for earlier generations of financial assets," said Charles Cascarilla, CEO of Paxos, which issues stablecoins, digital currencies whose value is pegged to an asset (like the U.S. dollar).
"The single biggest thing is just ensuring the reserves are what they say they are. What if there is a trillion-dollar stablecoin with only a billion dollars actually backing it," says Sam Bankman-Fried, CEO of crypto exchange FTX, who called for "periodic third-party audits."
The bottom line: The hearing didn't clear up how lawmakers will clamp down on the industry. What's clear is they still have big concerns about fraud, manipulation and abuse.
5. Take note
On Tap
There's still time to join Axios' Bryan Walsh today at 12:30pm ET for a virtual event exploring the future of data security in a hybrid world. Guests include Rep. Ted Lieu (D-Calif.) and former Cybersecurity and Infrastructure Security Agency director Christopher Krebs. Register here.
Trading Places
AI chip startup MemryX named former Qualcomm SVP Keith Kressin as its new CEO.
Amazon Web Services VP Sandy Carter is leaving the company.
Block (nee Square) hired Tom Manatos as head of federal policy, reporting to Amanda Anderson who leads policy and government relations for the Americas.
ICYMI