Amazon may be all excited about today being Prime Day, but in my book July 11 will always be 7-Eleven Day. (You can get a free small Slurpee at 7-Eleven stores today.)
https://www.axios.com/newsletters/axios-login-619faaea-ffb5-450f-8fc0-0308d740b758.html?chunk=0#story0
Microsoft wants to connect rural areas in 5 years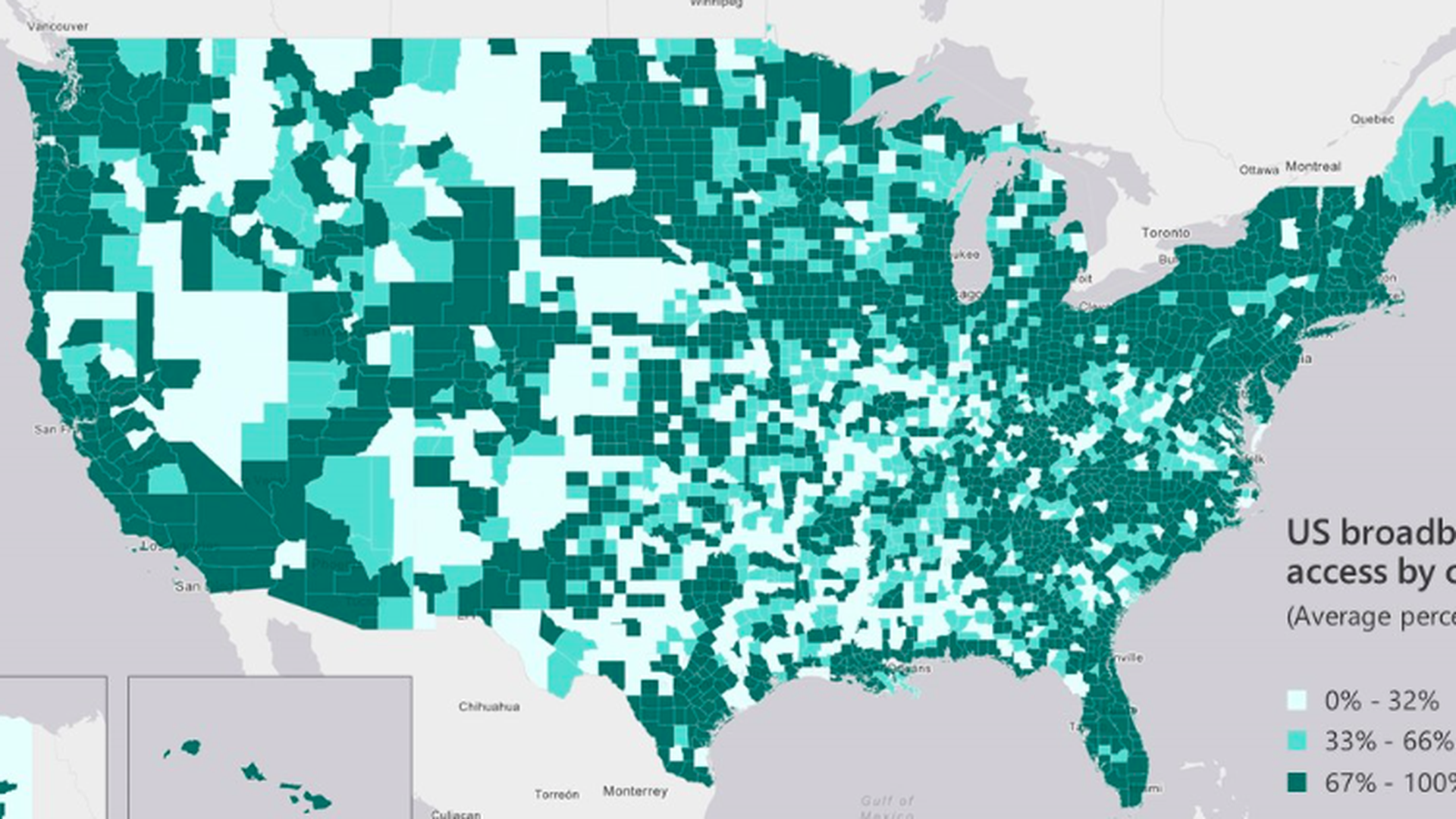 Microsoft president Brad Smith is in D.C. today to announce the company's ambitious goal of connecting all 23.4 million rural Americans to high-speed internet in a pretty tight time frame.
The strategy:
The company wants to use blend of technology, including TV white spaces (unlicensed spectrum), to dramatically lower the cost of expanding broadband service. Microsoft sees this lower cost as a game changer vs. fiber-based networks, which are extremely expensive to build and have difficulty reaching the most remote areas.
Microsoft is also partnering with The National 4-H Council to provide digital literacy skills training for young people and teen-led learning programs in rural communities.
It's investing in small telecom companies to build out broadband networks. It aims to have 12 projects up and running within the next year in states like Maine, North Dakota, Texas, and Virginia.
It also wants the FCC to free up more airwaves, and for state and local governments to put aside funds to match capital investment to reach this goal.
Why now? It's two-fold:
Spread the wealth: The election woke up many tech companies to the reality that rural communities don't have the same access to technology that their coastal hubs do. So Microsoft is trying to narrow that divide.
Smart business: Microsoft's growing cloud business has a lot to gain by connecting thousands of rural businesses and potential new customers.
Kim will be at the event today — stay tuned.
https://www.axios.com/newsletters/axios-login-619faaea-ffb5-450f-8fc0-0308d740b758.html?chunk=1#story1
The disappearing startup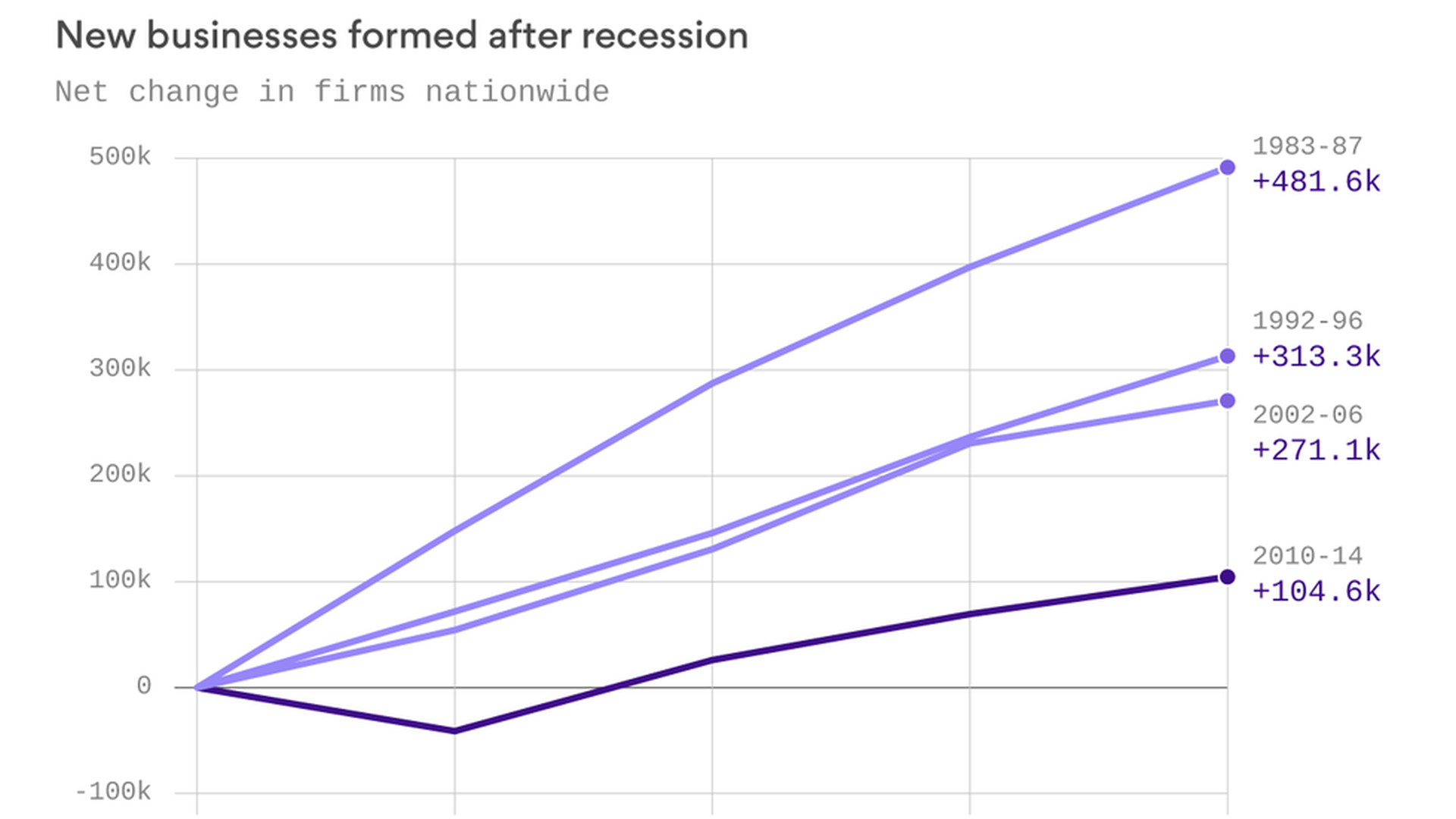 For the first time on record, U.S. companies are actually dying at a faster rate than they're being born.
Since the Great Recession, the U.S. economy is increasingly reliant on the expansion of companies in a few metropolitan areas, according to an analysis by the Economic Innovation Group, a non-profit research and advocacy organization.
Between 2010 and 2014, five metro areas produced the same net increase in firms as the entire rest of the country:
New York
Miami
Los Angeles
Houston
Dallas
Why it matters:
The slow rate of business starts means the U.S. economy is powered by a narrowing segment of companies, people, and geographies — making the overall economy less resilient than it was after previous recessions.
When fewer new companies are being born, it's less likely that the companies and jobs that are disappearing will be replaced by better ones.
Without competitive pressures from upstarts, big companies are able to grow bigger faster, increasing industry consolidation.
As Kim writes, this plays into the growing gaps we see across the country between the haves and have-nots, the urban and rural areas — and even political views.
https://www.axios.com/newsletters/axios-login-619faaea-ffb5-450f-8fc0-0308d740b758.html?chunk=2#story2
Building a brand around brandlessness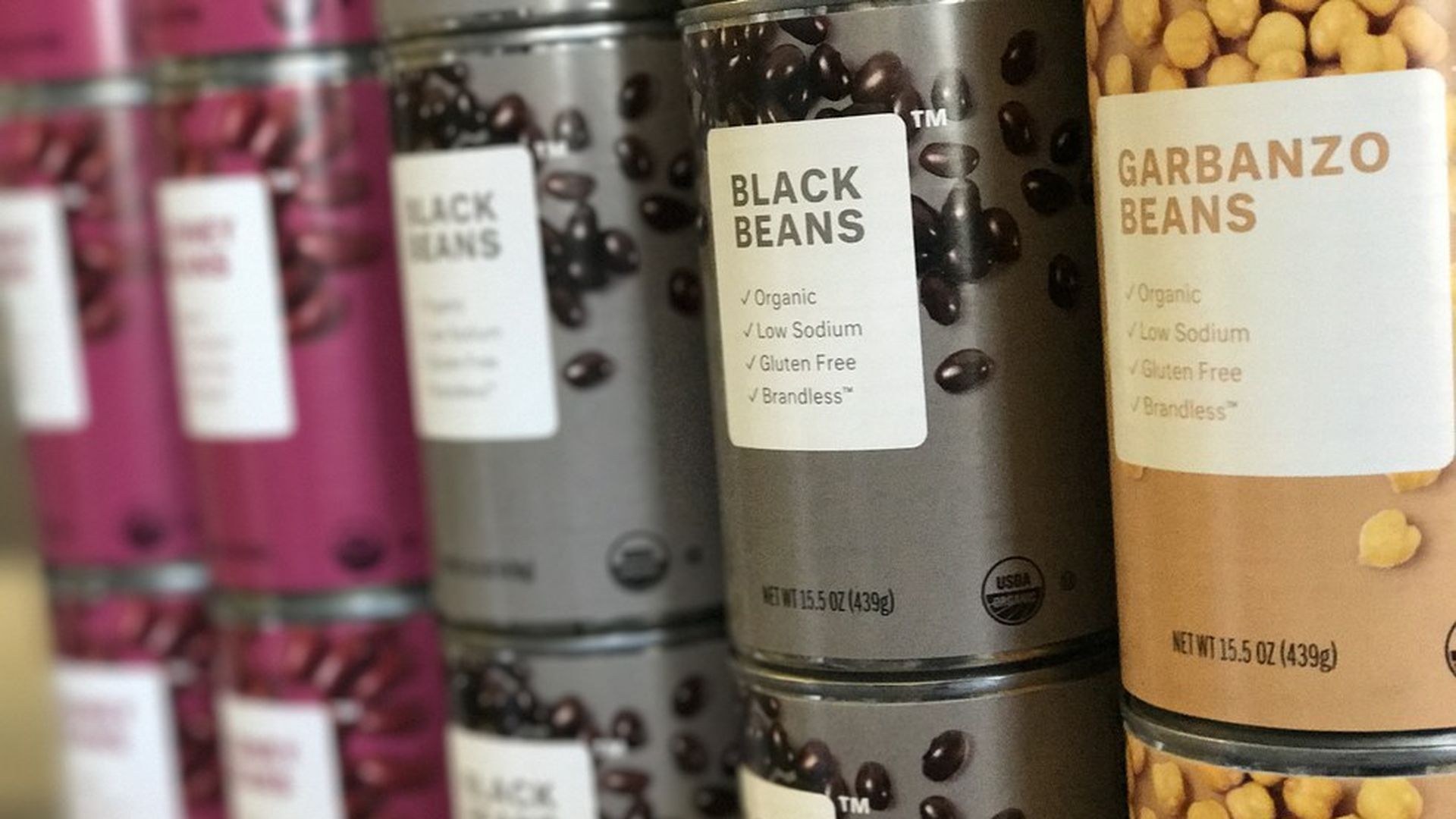 Tina Sharkey has been reinventing media for some time, having run both BabyCenter.com and NBC's iVillage before trying her hand at VC work at Sherpa Capital.
For the last couple of years, though, she's been working to upend the consumer goods space with Brandless, which launches today, charging $3 apiece for all manner of packaged food and household staples.
What it is: Think of it as an online Trader Joe's for the millennial set, with a little bit of Ikea's kitchen items thrown in. Rather than feature product brands, the front of each package lists the product's attributes, including details on whether it is organic, kosher, non-GMO, etc.
But make no mistake, Brandless is aiming to be a new kind of brand.
Meanwhile: Brandless is using the launch to announce a $35 million Series B round led by New Enterprise Associates, with GV, Redpoint Ventures, Cowboy Ventures and Slow Ventures also investing.
Read more here.
https://www.axios.com/newsletters/axios-login-619faaea-ffb5-450f-8fc0-0308d740b758.html?chunk=3#story3
Democrats' TV ad addiction
A number of Democrats worry their party's over-reliance on 1980s technology to get out their message is at the root of their loosing streak. They think party leaders, most of whom grew up in the television and newspaper era, spend way too little time and attention on digital advertising and targeting. They hire consultants who are often incentivized to place TV ads, because their cut is bigger than when buying digital ads, Sara and Kim are hearing.
"Our advertising strategy, flawed by economics, culture and stubbornness, is the least-known reason why Democrats are losing." -- Tim Lim, a partner at Bully Pulpit Interactive What to watch: Look for an acceleration in money moving from TV to digital, especially on the left. This will hit 2020 hardest, because few people vote in midterms and those who do tend to be the older TV watchers.Fun fact: You will have an impossible time tracking this new spending. The FCC does not require candidates to publicly disclose data on political ad spend on Facebook, Google, or any other digital property, as required for TV, radio, or cable spending. That won't change anytime soon. For more media stories in your inbox, be sure to subscribe to Sara Fischer's Axios Media Trends newsletter.
https://www.axios.com/newsletters/axios-login-619faaea-ffb5-450f-8fc0-0308d740b758.html?chunk=4#story4
Take note
On tap: It's Amazon Prime Day, so check the discounts if you were planning to buy an Echo, Kindle or other goods...VentureBeat's MobileBeat conference starts today in San Francisco; I'll be moderating a chat with Airbnb's Mike Curtis there on Wednesday.
Trading places: Infrastructure firm Cyxtera Technologies has hired retired General Gregory J. Touhill, the former U.S. chief information security officer, to head a new federal government business unit...Former CNN investigative journalist Chris Frates has joined Glen Echo Group as a senior counselor.
ICYMI: The Local Media Consortium is firing back at the National Media Alliance for its op-ed calling for collective government action against the Google/Facebook duopoly, saying it views the tech industry "as partners, not adversaries," Sara reports...In a study, the Electronic Frontier Foundation says that Adobe, Dropbox, Uber, Wickr, and Wordpress did the best job of protecting users from government data requests, while leading internet service providers, including Comcast, T-Mobile, AT&T and Verizon, did the worst...Snapchat shares closed below their $17 IPO price for the first time...Twitter introduced settings to make it easier to filter notifications.
https://www.axios.com/newsletters/axios-login-619faaea-ffb5-450f-8fc0-0308d740b758.html?chunk=5#story5
After you Login
It really is a Prime Day today, given that it is 7/11/17 (all prime numbers). And since we have prime numbers on the brain, here are some facts about those lovable, indivisible numerals, thanks to the fine folks at the University of Tennessee at Martin.