Axios Login
April 25, 2017
Greetings from Vancouver, where I'm starting a weeklong process of mental overload.
The dance between humans and robots lands on the TED stage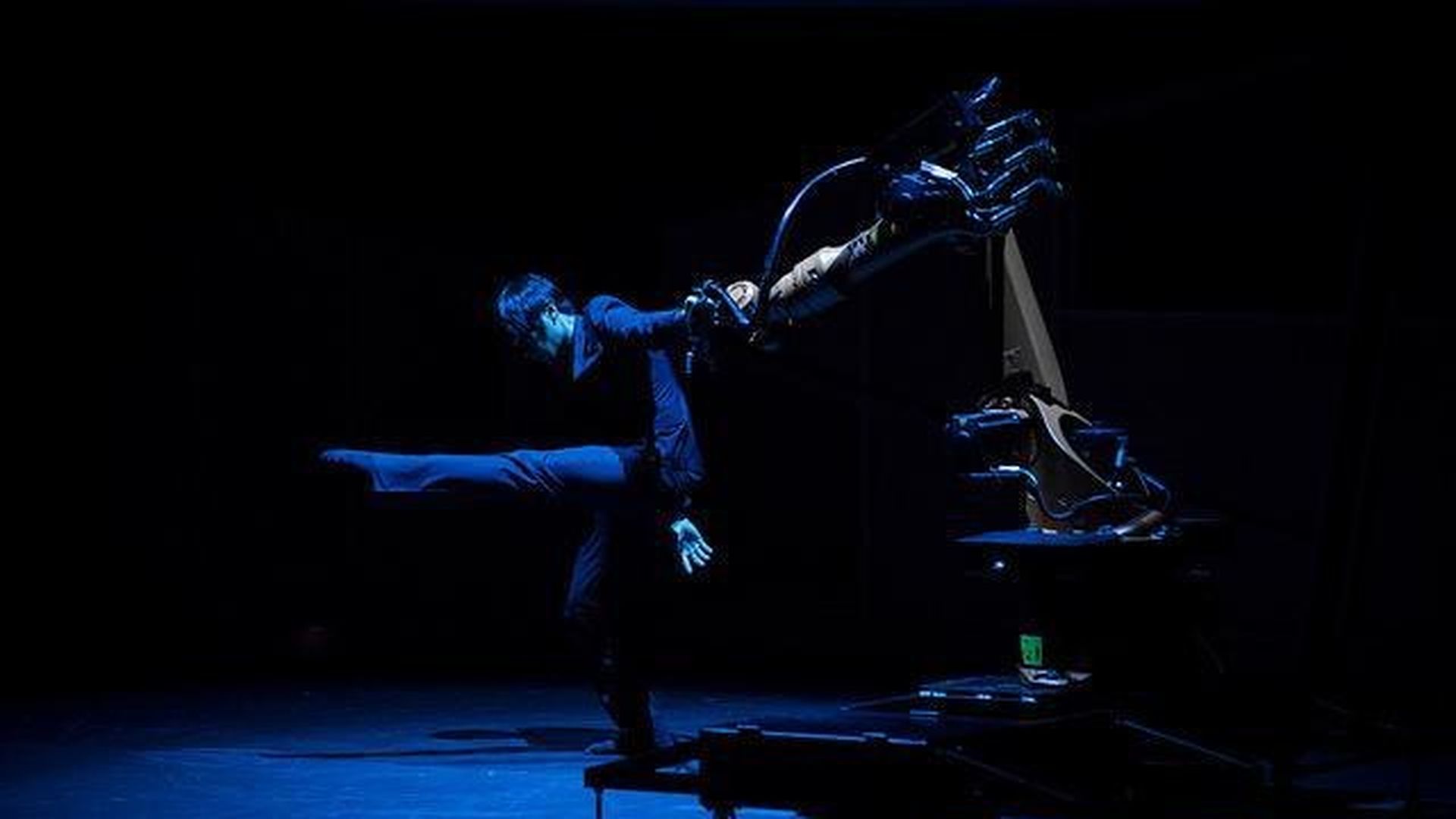 In what would appear to be an apt metaphor, this year's TED conference kicked off Monday night with Taiwanese dancer and choreographer Yi Huang doing an elaborate dance with a robot.
The relationship between man and machine is poised to be the key topic of discussion at the weeklong event.
"Will we dance with robots or will they just simply throw us off the stage," asked TED curator Chris Anderson, introducing this year's conference. "These are pretty urgent questions."
To help launch the discussion, TED turned to chess champion Garry Kasparov, who knows a thing or two about this, having beaten many computers before losing to IBM's Deep Blue in 1997.
"Machines have calculations; we have understanding," Kasparov said. "Machines have objectivity; we have passion."
"We should not worry about what our machines can do today. Instead we should worry about the things they still can't do. We will need the help of the new intelligent machines to turn our grandest dreams into reality."
Tuesday will feature dueling sessions on both "our robotic overlords" and "the human response," with a host of artificial intelligence experts set to speak including Apple's Tom Gruber. I'll bring you the best arguments on all sides for tomorrow's Login, unless I have been replaced with a robot.
VR is also big at TED, again.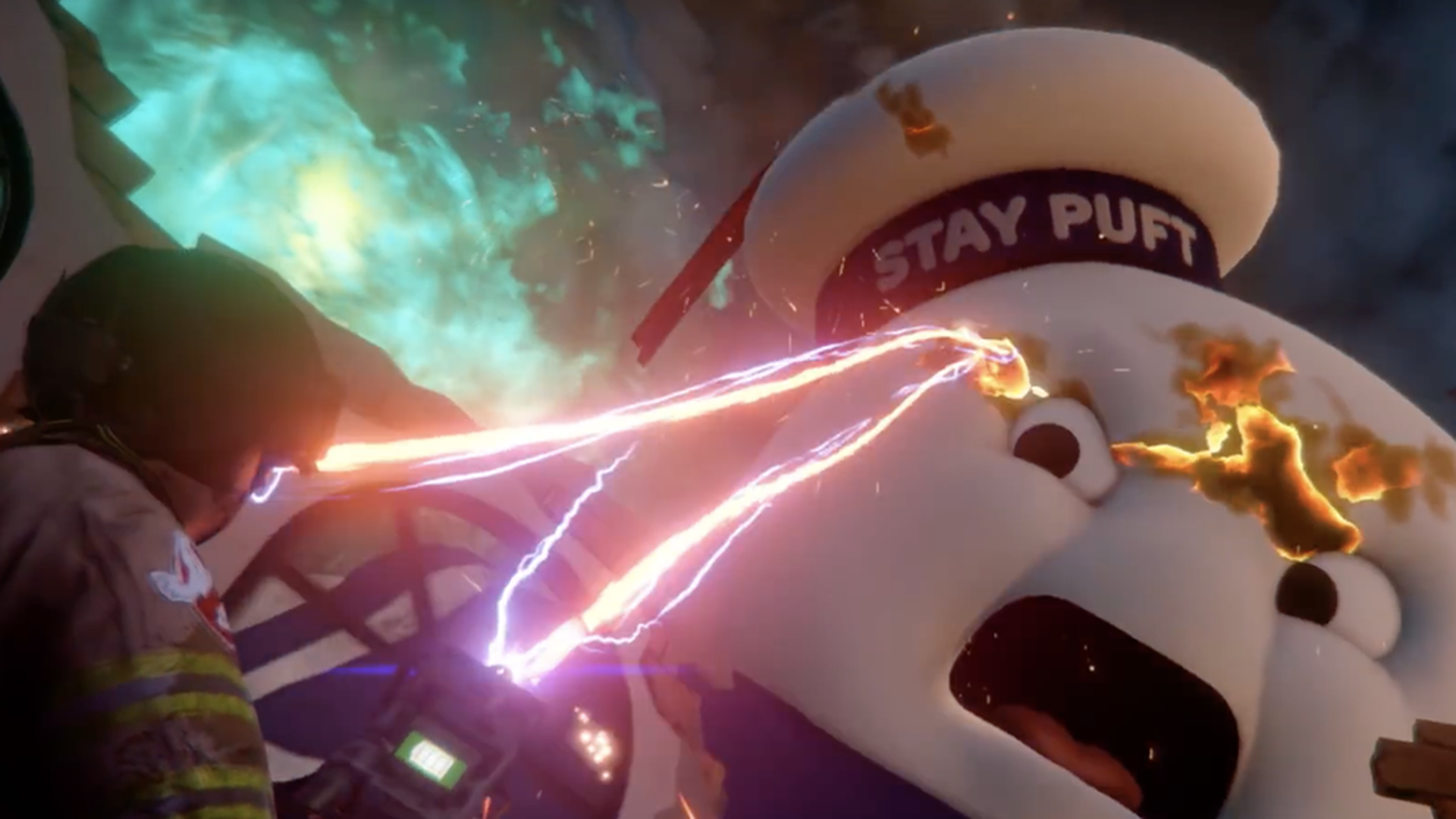 One big story around virtual reality is clearly just how far the hype has gotten ahead of reality. The consumer gear is still expensive, nerdy and limited. But another story, on full display at TED this year, is just how much progress has been made in a year toward solving at least the last two problems.
Yesterday, I had a chance to try out the Ghostbusters experience put on by The Void. It's such a marked improvement from the Indiana Jones-like exhibit that TED attendees experienced last year. The packs are lighter, the graphics more sophisticated, and the experience more compelling. The blaster shot accurately at ghosts of all shapes and sizes with a pleasing haptic feedback. A spray of water when a ghost exploded in a splat and the smell of marshmallows when you finally blast the Stay Puft guy were also nice touches.
How I would put it: Last year's demo felt exciting mainly for the future it portended; the Ghostbusters exhibit felt like something I might pay for and feel I got my money's worth – though the $30 price The Void typically charges still seems a bit steep.
The Void isn't the only VR experience at TED this year. A new interactive film from Chris Milk lets people don HTC Vive headsets and interactively wind their way through the evolution of life, from multi-cell organisms through the present and far into the future.
Don't trust your ears
We've learned to be skeptical that images might be photoshopped. But pretty soon it may be the case that the words we hear won't have been spoken by the person they sound like.
Adobe raised eyebrows last year when it talked about a Photoshop for audio that could create new speeches from recordings of spoken words. Now Canadian startup Lyrebird is touting technology that can mimic any voice from just 1 minute of recorded audio.
The technology may not be 100 percent yet, but in a time of growing attention to "fake news," now is probably the time for society to become aware that the recordings we hear may not be what they seem.
FCC's Clyburn: Voluntary net neutrality rules won't cut it
Sources tell David that FCC Chairman Pai will use a speech tomorrow to lay out his proposal to reverse the reclassification of broadband providers under Title II and explore less regulatory options for maintaining net neutrality principles.
But, but, but: David caught up Monday with Mignon Clyburn, the FCC's sole Democrat, who worries replacing the current rules with voluntary net neutrality commitments (an idea said to be floated by Pai) would give ISPs too much power. Pai doesn't need Clyburn's vote to move forward, but she'll play a central role in the opposition effort. Read David's interview here.
The Webby Award winners are in
Progressive artists and causes lead the list of winners in this year's Webby Awards. Lady Gaga, Teen Vogue, Solange and the Women's March were among those named as winners, while a lifetime achievement award is being given to InternetArchive.org.
After you Login
In an effort to stop the spread of hateful, malicious stereotypes, social justice comedian Negin Farsad is spreading her own ridiculously funny ones. The AltStereotypes Twitter account is filled with gems like "Zambians are adept at parallel parking" and "Albanians are really good at sneezing quietly."
No pressure. But the robots are coming for your job so you might want to step it up a notch.