Axios Login
July 15, 2019
There are 1,144 words in today's Login, and nearly all of them were written by my D.C.-based colleagues, so a huge thank you to David McCabe and Kim Hart.
1 big thing: Facebook shareholders OK with FTC fine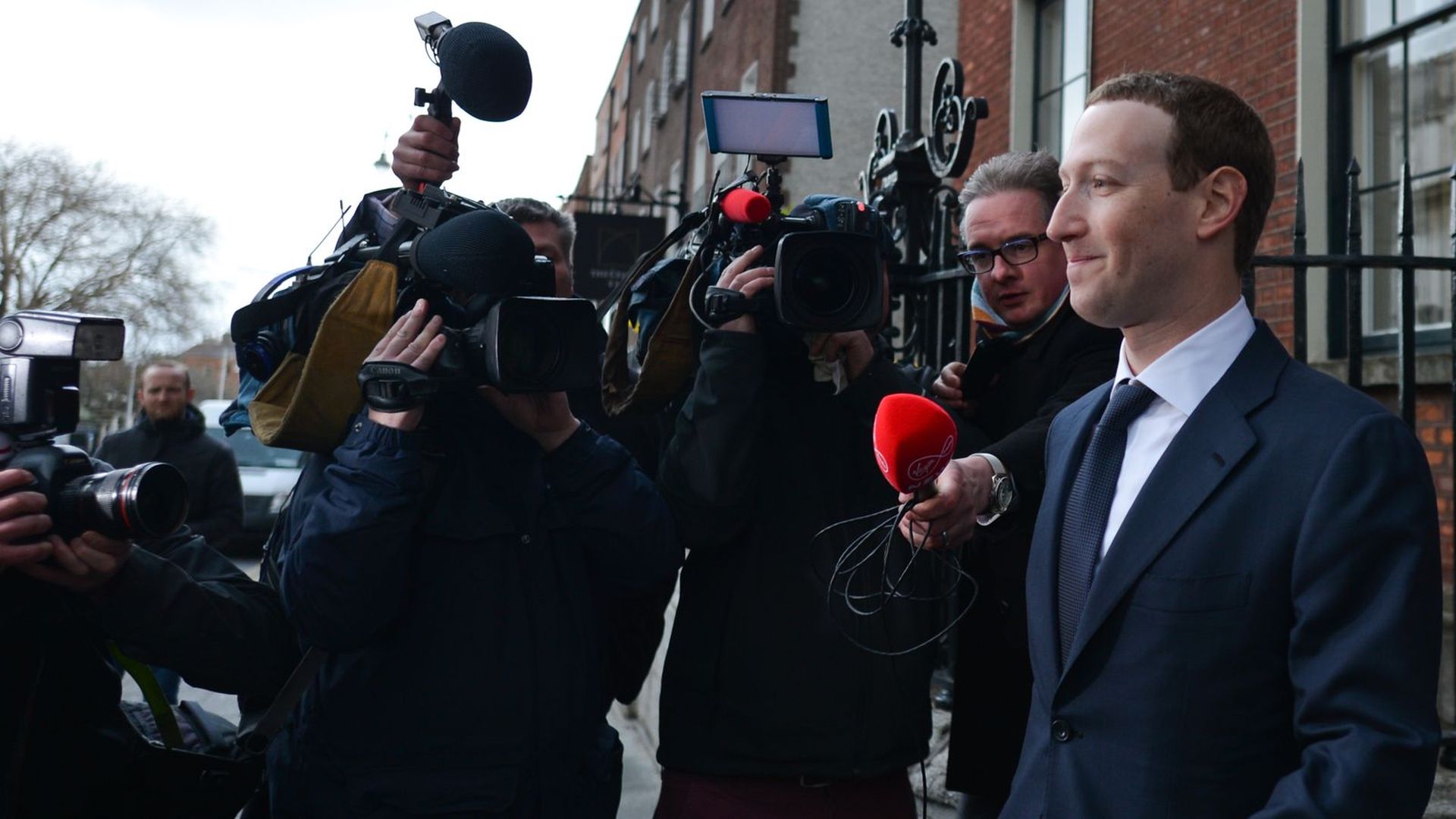 News that Facebook reached a $5 billion settlement with the Federal Trade Commission had critics fuming and Facebook shareholders breathing a sigh of relief, David McCabe reports.
Driving the news:
The New York Times and Wall Street Journal both reported on Friday afternoon that the FTC had voted 3-2 along party lines to approve a deal, with Democrats reportedly holding out for tougher conditions.
In after-hours trading on Friday, Facebook shares rallied. Shares opened down Monday morning.
The company's critics blasted the settlement for both the size of the fine and the apparent lack of tough new restraints on its conduct.
The Department of Justice still needs to sign off on the deal.
Capitol Hill Democrats and advocates of aggressive new privacy regulation panned the deal.
Sen. Richard Blumenthal (D-Conn.) called the $5 billion fine, the largest in FTC history, a "tap on the wrist" for the mammoth Facebook.
Presidential candidate Sen. Elizabeth Warren (D-Mass.) said the settlement was a "victory for Facebook."
Sen. Mark Warner (D-Va.) said that with "the FTC either unable or unwilling to put in place reasonable guardrails to ensure that user privacy and data are protected, it's time for Congress to act."
What we don't know: The exact terms of the settlement, which is expected to put restrictions of some kind on Facebook's behavior that go beyond just the financial penalty.
Both the FTC and Facebook declined to comment.
Background: It has been 475 days since the FTC confirmed that it was investigating the company, following revelations that a researcher associated with consultancy Cambridge Analytica had swept up Facebook user data.
Critics charged that Facebook had violated a previous 2012 settlement with the FTC that required it to take more care when it came to user privacy, allowing the agency to levy greater penalties.
The big picture: The FTC inquiry is far from the only regulatory probe facing the company.
2. Thiel alleges Google is compromised by China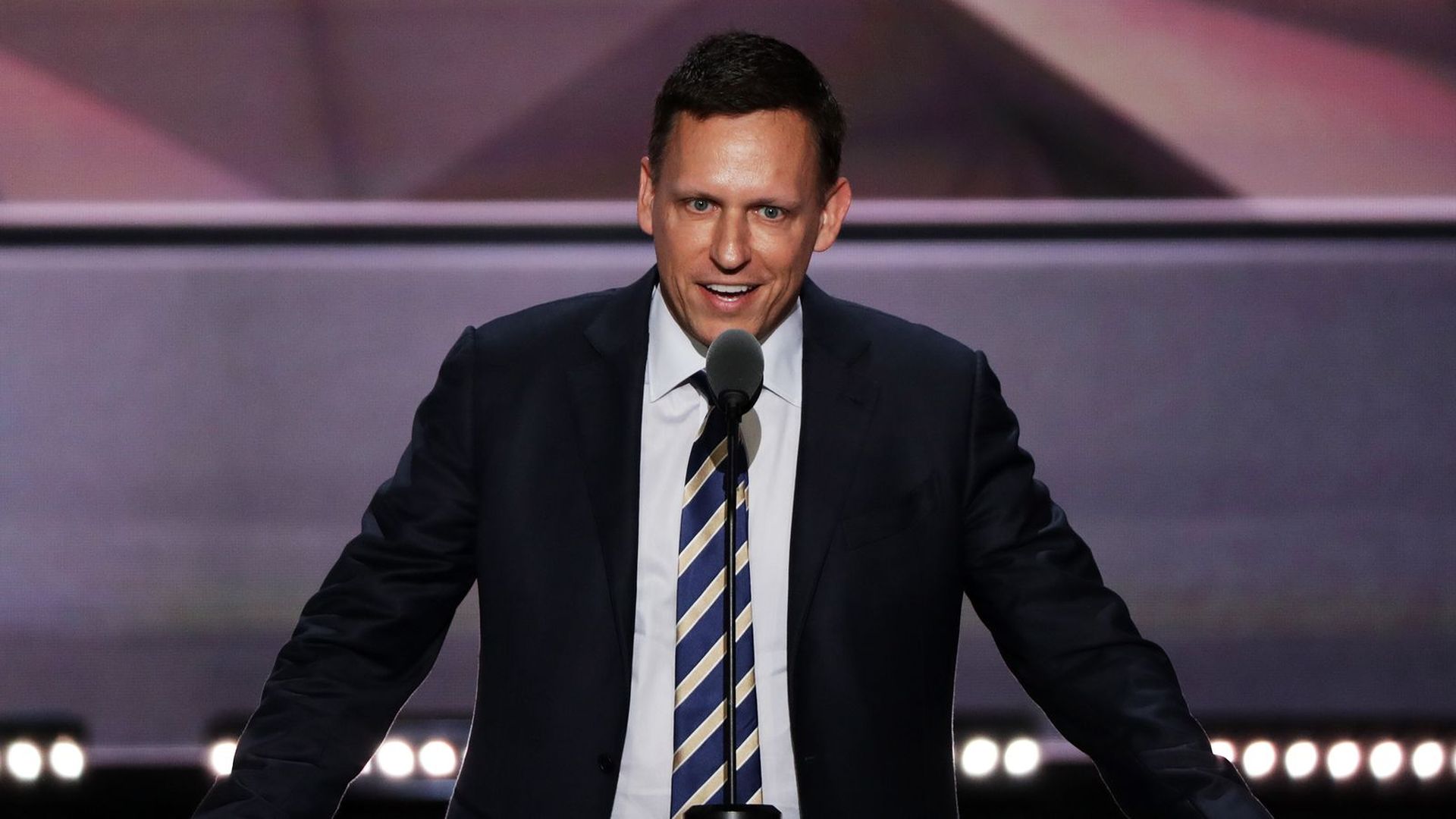 Meanwhile, Facebook board member Peter Thiel suggested Sunday that federal investigators should examine "infiltration" of Google by Chinese intelligence and "seemingly treasonous" decisions by the search giant, per David.
The tech industry's highest profile Trump supporter spoke at the National Conservatism Conference, a new event that bills itself as being focused on Trump-era nationalism.
Part of his speech focused on "three questions that should be asked" of Google:
"No. 1, how many foreign intelligence agencies have infiltrated your Manhattan Project for AI?"
"No. 2, does Google's senior management consider itself to have been thoroughly infiltrated by Chinese intelligence?"
"No. 3, is it because they consider themselves to be so thoroughly infiltrated that they have engaged in the seemingly treasonous decision to work with the Chinese military and not with the U.S. military ... because they are making the sort of bad, short-term rationalistic [decision] that if the technology doesn't go out the front door, it gets stolen out the backdoor anyway?"
He also added that those questions "need to be asked by the FBI, by the CIA, and I'm not sure quite how to put this, I would like them to be asked in a not excessively gentle manner."
3. Big Tech faces grilling over monopoly questions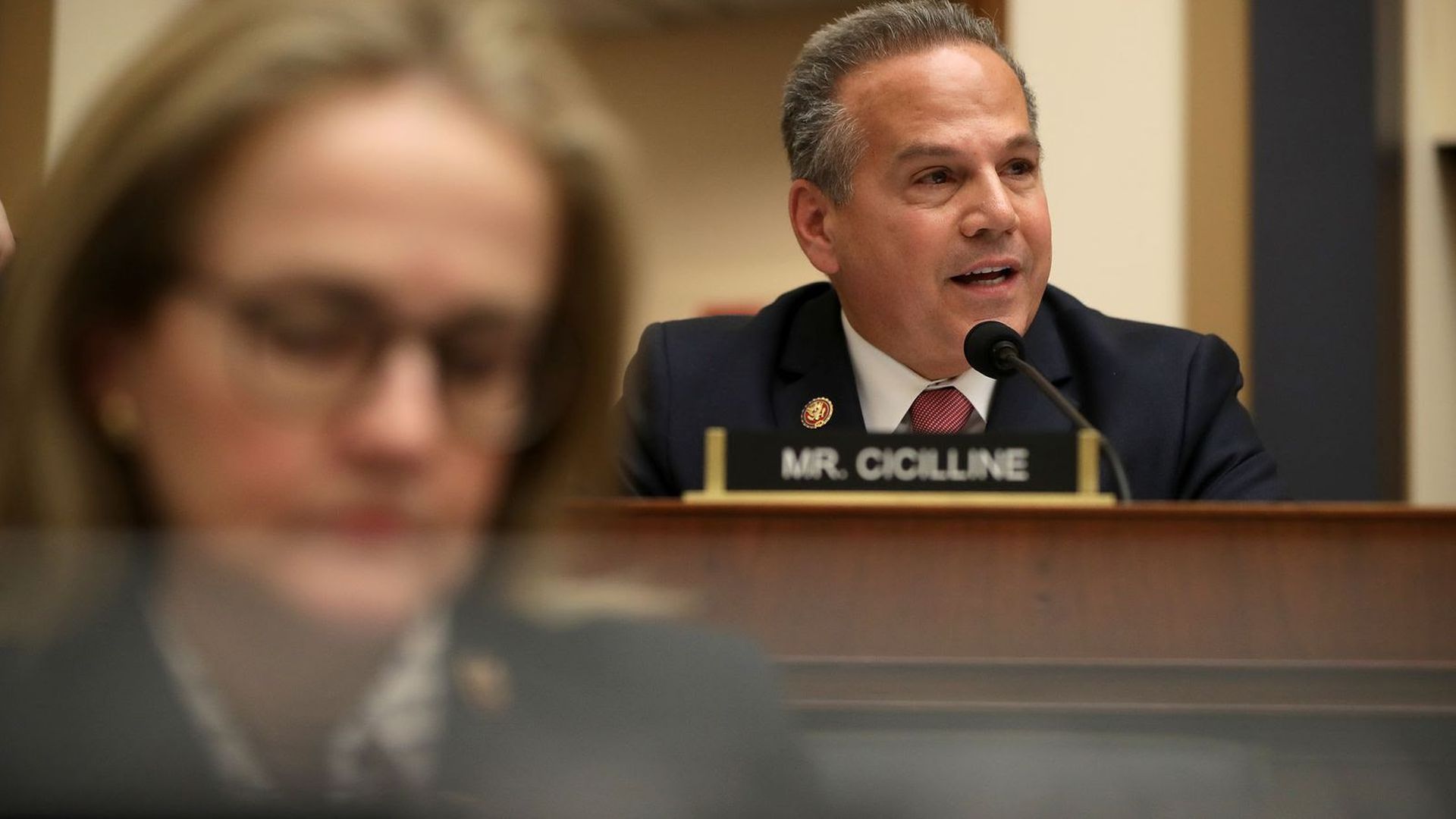 A behind-the-scenes battle to shape Capitol Hill scrutiny of Big Tech's power will burst into public view this week, David reports.
Driving the news: Representatives of Google, Facebook, Amazon and Apple will face questions Tuesday from members of the House Judiciary Committee's antitrust subcommittee as part of its investigation into their market power.
What we're hearing: The companies — all of which have briefed committee staff in the last month — are bringing antitrust heavy hitters to the hearing.
Google witness Adam Cohen has been a prominent part of its attempt to defang antitrust concerns in Europe.
Amazon's Nate Sutton is a veteran of the Justice Department's price-fixing case against Apple for allegedly conspiring with publishers to raise the price of ebooks.
What they're saying: An Apple spokesperson pointed Axios to its public website on the competition issue, while a Google spokesperson referred us to CEO Sundar Pichai's previous comments. Amazon and Facebook declined to comment.
Behind the scenes: Competitors and critics hoping to turn the heat up on the tech giants have been making the rounds in Washington.
Yelp chief executive and Google antagonist Jeremy Stoppelman took meetings on Capitol Hill last week.
Spotify, which is pursuing an antitrust case against Apple in Europe, has also been working Congress in advance of the hearing, according to two people familiar with its efforts.
The big picture: Numerous congressional committees and members are scrutinizing the major tech players, after several years of mounting criticism of the companies on different fronts.
Sen. Marsha Blackburn (R-Tenn.) announced last week she'd be leading a tech task force for the Senate Judiciary Committee. She also met for more than half an hour last week with Chris Hughes, the Facebook co-founder who has called for breaking up the social giant.
What to watch: We still don't know whether the Justice Department or Federal Trade Commission will pursue formal cases against any of the four companies testifying on Tuesday.
Yes, but: Even if they come to fruition, these cases can take years to develop.
4. D.C.'s Public Knowledge gets a new CEO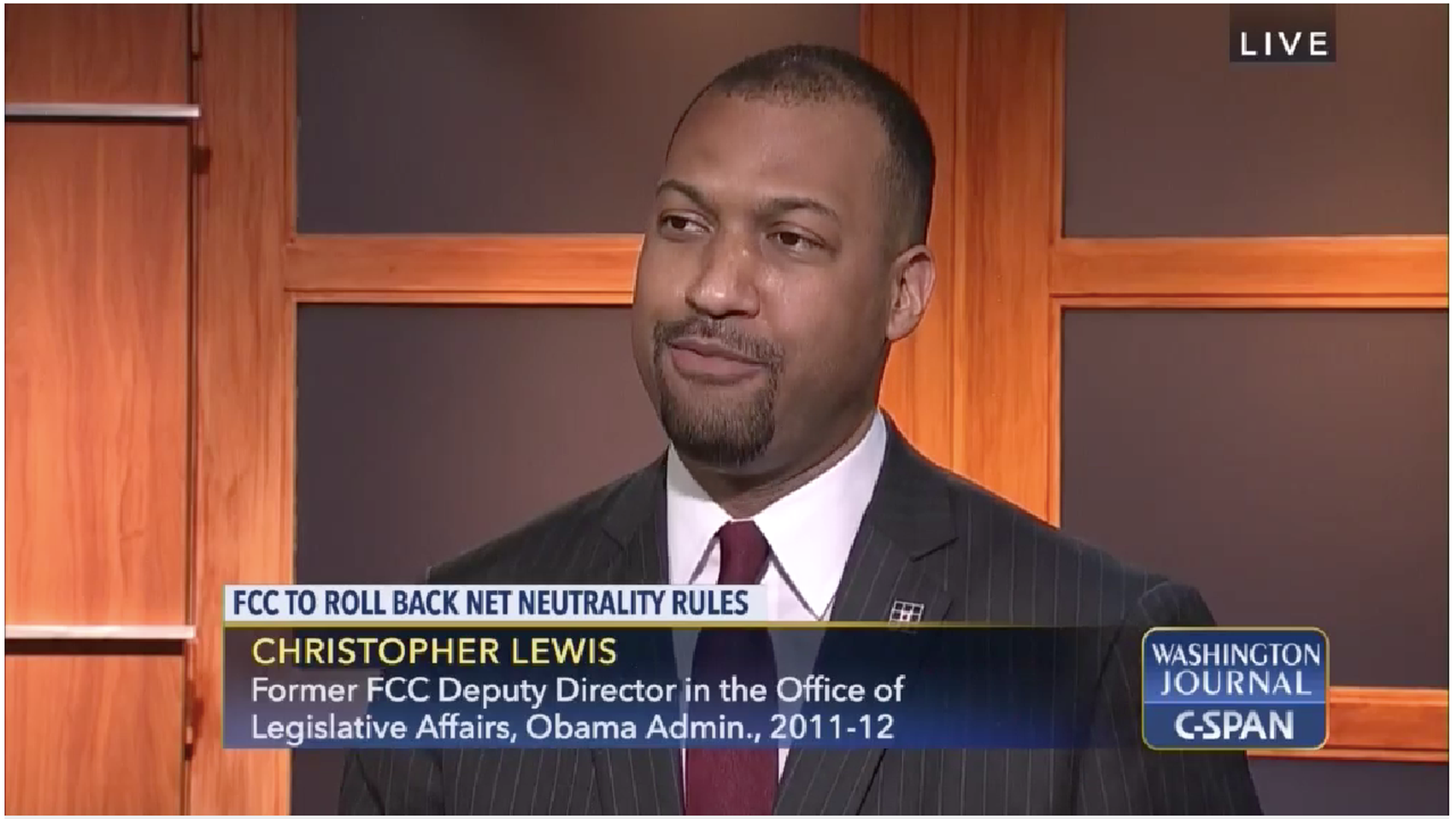 Public Knowledge, a prominent D.C.-based public interest group that works tech and telecom issues, announced today that the group's chief lobbyist Chris Lewis is taking the helm as CEO. Previous CEO Gene Kimmelman is stepping aside to take on a senior adviser role, Kim Hart reports.
Why it matters: PK has long been a key player and a leading progressive voice in media and tech policy debates, specifically net neutrality, broadband and antitrust issues. The leadership change also signifies a generational changing of the guard in the public interest community in D.C. as Big Tech battles heat up around town.
Details: Lewis joined PK 7 years ago and has led the group's political operations. He's also worked to create opportunities for young people from disadvantaged communities to engage policymakers through PK's fellowship program.
Lewis' resume includes stints on the Hill, FCC and the Obama campaign — and he's an elected member of the Alexandria, Virginia, public school board.
While PK's mission will remain the same, Lewis said he wants to bridge the legacy public interest community's expertise with the next generation's voice when it comes to tech policy.
Kimmelman was chief counsel in the Justice Department's antitrust division, and, before that, he was a longtime policy chief at Consumers Union.
In his new role, he'll continue to focus on tech competition policy and grooming the next generation of public interest advocates.
PK also announced other promotions. Eboni Speight, John Bergmayer and Phillip Berenbroick will assume new senior leadership roles as chief operating officer, legal director and policy director, respectively.
5. Take Note
On tap
Trading places
Netflix named former BBC executive Jackie Lee-Joe as its chief marketing officer.
ICYMI